« A Puzzling Omission at Politico | Main | After Correction, ABC Repeats Error on Settlements »
December 18, 2016
AFP, MSNBC Also Err on 'Palestinian Land'
In addition to NPR, this weekend Agence France Presse and MSNBC also incorrectly identify the disputed West Bank as "Palestinian land."
Using partisan language, AFP today refers to some Israelis who "view Trump's victory as an opportunity to expand settlements in the West Bank, Palestinian land occupied by Israel for nearly 50 years" ("Israelis look past anti-Semitism after Trump win," emphasis added.)
On Dec. 16, NBC's Katy Tur, reporting on Andrea Mitchell Report, also tripped up on the tendentious claim that the disputed West Bank is "Palestinian land."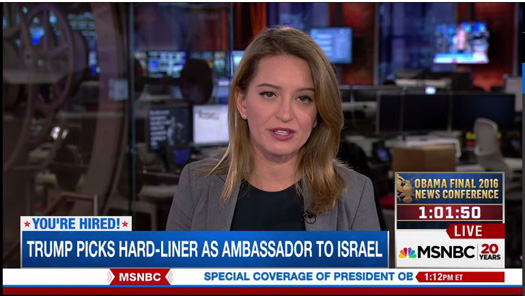 Just over four minutes into her report, Tur defines "settlers" for listeners as "Jews who are settling their homes in the West Bank which is, has been, Palestinian."
Identifying the land as "Palestinian" completely endorses one side's political claims over the other side's claims in what is, in reality, an unresolved dispute. (Given AFP's employment of reporter Nasser Abu Baker, who leads the boycott against Israeli journalists and recently ran for the Fatah Revolutionary Council, in a gross conflict of interest and violation of journalistic ethics, the agency's unabashed bias regarding the so-called "Palestinian land" is hardly surprising, though certainly not excusable.)
But as a 2014 Washington Post correction, prompted by CAMERA, noted, the "Israeli-occupied territories are disputed lands that Palestinians want for a future Palestinian state."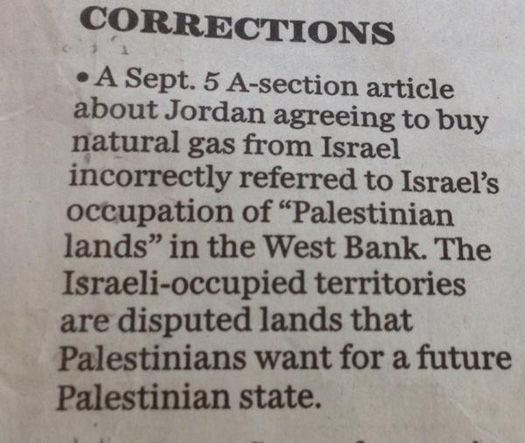 The West Bank's status is to be resolved by negotiations anticipated by U.N. Security Council resolutions 242 (1967) and 338 (1973), the 1995 Israeli-Palestinian interim accords, the 2003 international "road map" and related diplomatic efforts taking 242 and 338 as reference points. The co-authors of resolution 242, U.S. Under Secretary of State Eugene Rostow, U.S. ambassador to the United Nations Arthur Goldberg, and British ambassador Lord Caradon made clear at the time and subsequently that Jews and Arabs both had claims in the territories, no national sovereignty over the territories had been recognized since the end of Ottoman rule and negotiations would be necessary to resolve competing claims.

If the West Bank were simply Israeli-occupied Palestinian land, in particular sovereign territory belonging to another state and acquired by aggression, then Israel would be required to withdraw and no negotiations would be necessary. But since Israel is the obligatory military occupational authority, having won the territories in a war of self-defense in 1967 and retained them in a similar conflict in 1973, and competing claims remain unresolved, the West Bank is land Palestinians want for a future state, and land at least some of which many Israelis claim for Israel. Significantly, in the past Palestinians have indicated willingness to relinquish claims on the land on which the vast majority of Israeli settlers reside.
Posted by TS at December 18, 2016 04:34 AM
Comments
Guidelines for posting
This is a moderated blog. We will not post comments that include racism, bigotry, threats, or factually inaccurate material.
Post a comment