« UAE Supported Film That Demonizes Israel Shown at Museum of Fine Arts in Boston | Main | PA Official: Honoring Terrorists is Our Culture »
November 03, 2016
Where's the Coverage? Palestinian Police Officer Commits Terror Attack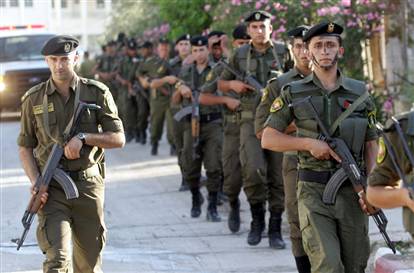 PA Security Forces

A Palestinian Authority (PA) police officer attacked and wounded three Israeli Defense Force (IDF) soldiers on Oct. 31, 2016. The terrorist assault, by PA security forces officer Muhammed Turkeman, went ignored by major U.S. news media outlets.
According to The Times of Israel, Turkeman approached an IDF checkpoint called Focus that is outside of the Jewish community of Beit El, and "opened fire with an AK-47 assault rifle at the troops stationed there ("Palestinian cop wounds 3 IDF soldiers in a shooting attack," Oct. 31, 2016)." Turkeman was shot and killed by IDF forces, but not before he had managed to wound three of them, one seriously.
A Lexis-Nexis search of U.S. print news media, including The Washington Post, USA Today, The Washington Times and USA Today, showed not a single mention of the terrorist attack.
Fatah, the movement that dominates the PA and is often labeled "moderate" by many in the Western press, celebrated the terror attack. In a Nov. 1, 2016 report, Palestinian Media Watch (PMW), a non-profit organization which monitors Arab media in eastern Jerusalem, the Gaza Strip and the West Bank (Judea and Samaria), pointed out that on their Facebook page Fatah praised Turkeman as a "heroic martyr" and a "martyr police officer."
PMW noted that Fatah also shared an image on social media of Turkeman in his police uniform and carrying an AK-47. Additionally, "A picture of the Al-Aqsa Mosque appeared together with photos of the terrorist in one of the posts. This connects the terrorist and his attack to the 'defense and protection' of the Al-Aqsa Mosque, perpetuating the Palestinian Authority's libel that the al-Aqsa Mosque is in danger from an Israeli attack."
Hamas, the U.S.-designated terrorist group that rules the Gaza Strip, also lauded Turkeman's assault. Further, Hamas "encouraged members of the Palestinian security services to carry out similar attacks," The Times of Israel reported.
This is not the first instance of PA security forces perpetrating a terrorist attack.
As CAMERA noted, a PA intelligence officer named Mazen Hassan, attempted to murder IDF soldiers at the Hizma checkpoint on Dec. 3, 2015 ("Where's the Coverage? Palestinian Official Shoots Israeli Soldier") before he was shot and killed. That incident also received scant media coverage.
The United States, other Western countries and the European Union have supported PA security forces with money, training and equipment as a result of the 1990s Olso accords that led to the establishment of the authority and limited self-rule—provided that Palestinian leaders recognized and sought to make peace with Israel.
According to a March 18, 2016 United States Congressional Research Service (CRS) report, U.S. Foreign Aid to Palestinians, that security aid is "aimed at countering" U.S.-designated terrorist organizations, such as Hamas and Palestinian Islamic Jihad and "establishing the rule of law for an expected Palestinian state."
What that Palestinian state might look like can perhaps be discerned from its institutions and apparent values and those tasked with upholding them.
Posted by SD at November 3, 2016 03:23 PM
Comments
Guidelines for posting
This is a moderated blog. We will not post comments that include racism, bigotry, threats, or factually inaccurate material.
Post a comment