« PA Official: Honoring Terrorists is Our Culture | Main | German Authorities Investigate Facebook for Allowing Holocaust Denial »
November 06, 2016
In Haaretz Headline, Alleged Attack Becomes Fact
Not for the first time, a Haaretz headline upgrades an unproven Arab allegation to fact.
A page-one print headline in the English edition today states as fact: "Palestinians harvesting olives attacked by settlers."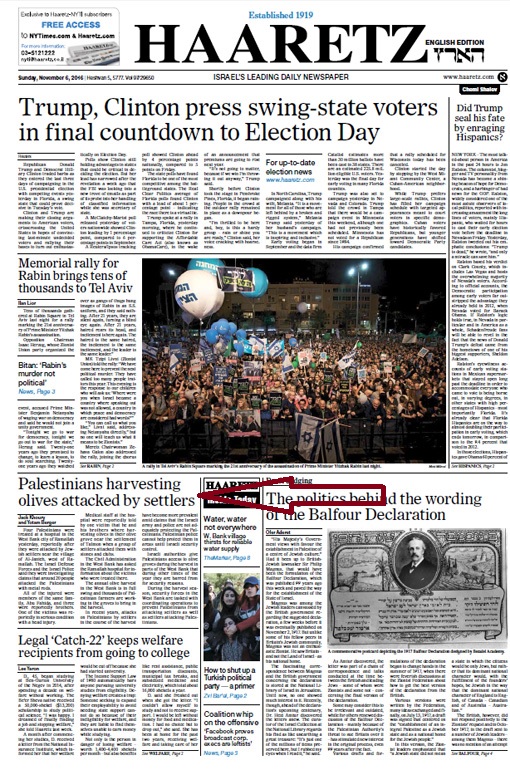 But as the accompanying article itself makes clear, Palestinians allege that settlers attacked olive harvesters, but that claim is under investigation and has not yet been confirmed. Jack Khoury and Yotam Berger wrote:
Four Palestinians were treated at a hospital in the West Bank city of Ramallah yesterday, reportedly after they were attacked by Jewish settlers near the village of Al-Janieh, west of Ramallah. The Israel Defense Forces and the Israel Police said they were investigating claims that around 20 people attacked the Palestinians with metal rods. (Emphases added.)
In addition, the headline and subheadline of the digital version of the article also makes clear that the claim is just that: "Palestinians Harvesting Olives Reportedly Attacked by Settlers Near Ramallah: Israeli authorities are investigating allegations that twenty assailants attacked four Palestinians west of Ramallah." (Emphasis added.)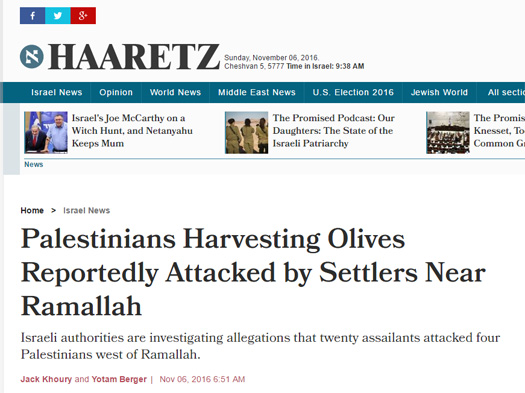 The page-one headline in the Hebrew print edition is likewise clear that the alleged incident has not been established as fact. It states (CAMERA's translation): "Suspicion: Settlers Attacked Palestinians with Metal Rods and One Was Seriously Injured."

CAMERA has contacted Haaretz to request a clarification of the print headline.
There is precedent for Haaretz publishing a print correction regarding a headline which wrongly presented an unsubstantiated claim as fact. A May 29, 2012 correction stated: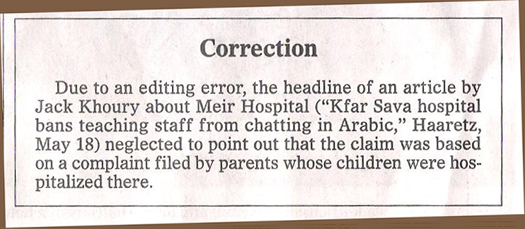 Stay tuned for an update.
Nov. 7 Update: For Second Day in Row, Page One Headline Depicts Palestinian Claim As Fact
For the second day in a row, Haaretz's English print edition depicts an unverified Palestinian claim about a settler attack as fact: "Palestinians file police complaint over weekend assault by settlers."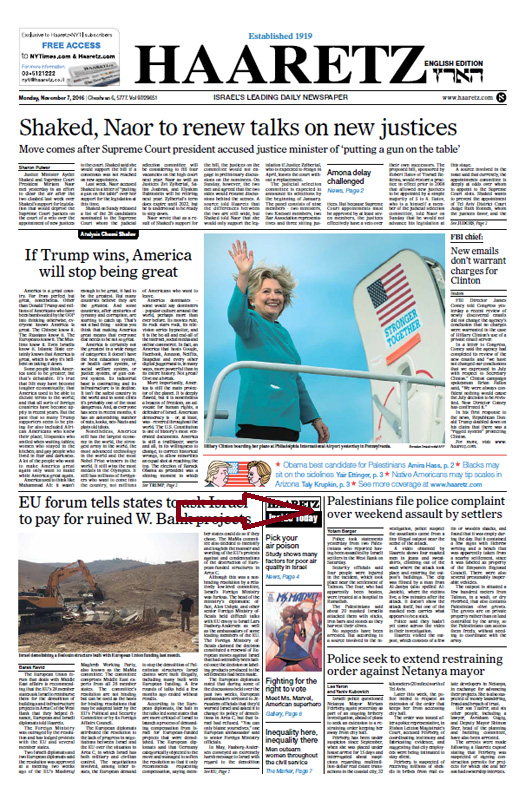 Like yesterday, Haaretz reporter Yotam Berger again today carefully presents the allegation that settlers assaulted Palestinian olive harvesters as just that -- an allegation. He writes:
Police took statements yesterday from two Palestinians who reported having been assaulted by Israeli settlers in the West Bank on Saturday.
Moreover, the Hebrew edition (but not the English) adds (CAMERA's translation):
Until now, no additional information has reached the police in the course of the investigation aside from the testimony of those who were attacked.
Moreover, once again, the English online headline and subheadline, as well as the Hebrew edition headline (online), carefully identified the reported incident as a Palestinian claim: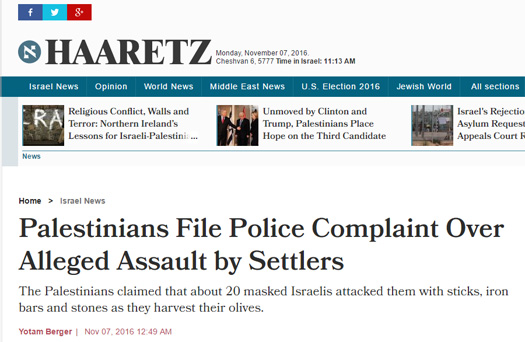 It would have been easy enough, and there is certainly enough space, to have printed the headline: "Palestinians file police complaint over alleged assault by settlers" as opposed to what had appeared: "Palestinians file police complaint over weekend assault by settlers." The accurate headline has exactly the same number of characters as the inaccurate headline.

A police investigation may very well determine in that end that settlers did assault the olive harvesters Saturday, but until that information has been determined, it is premature, and therefore wrong, for Haaretz to depict the unverified charge as fact.
Posted by TS at November 6, 2016 03:45 AM
Comments
Guidelines for posting
This is a moderated blog. We will not post comments that include racism, bigotry, threats, or factually inaccurate material.
Post a comment