« The Washington Post Gets CAIR-Less, Again | Main | Let Him Who Is Sinless Throw The First Stone »
November 29, 2016
Where's the Coverage? Palestinians Attack Palestinian Security Forces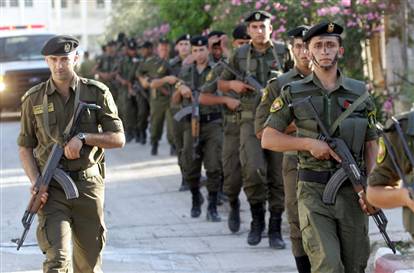 A group of Palestinians shot at and bombed Palestinian Authority (PA) security forces in a little reported incident on Nov. 17, 2016.
According to Palestinian Ma'an News Agency, "a group of Palestinian youth…shot live fire and locally made bombs at Palestinian security forces near the al-Faraa refugee camp…" Al-Faraa is located in the West Bank (Judea and Samaria).
The incident began when Palestinians closed a main street in the camp. Ma'an stated that the street was closed "in protest of Palestinian security forces continuing to detain youth from the camp without charge or trial." PA security forces that arrived on scene were attacked with explosives and responded with gunfire.
A Lexis-Nexis search of U.S. print news outlets, including The Washington Post, The Washington Times and USA Today, showed not a single mention of the clash.
As CAMERA has frequently highlighted (see, for example "The Washington Post Evicts Context on Palestinian Village Without Electricity," Nov. 2, 2016) many in the Western media fail to provide coverage of internal Palestinian conflicts or events.
In a recent Op-Ed in The Wall Street Journal, two analysts of Palestinian politics, Jonathan Schanzer and Grant Rumley, noted the tenuous nature of Palestinian politics ("The Fragile State of the Palestinian Authority," Sept. 8, 2016). Schanzer and Rumley, both of the Washington D.C.-based think tank Foundation for Defense of Democracies, emphasized that riots, protests, governmental corruption, and canceled elections are all factors in creating an atmosphere ripe for instability in areas ruled by the authority.
The Post's priorities are demonstrated by what it devotes more space on its pages to cover. For example, the newspaper ran a lengthy piece on Chinese tourists purportedly being overcharged at an Israeli restaurant. However, the PA's decision to postpone municipal elections scheduled for Oct. 8, was apparently deemed not sufficiently important to warrant coverage in the print version of the paper.
In failing to report internal Palestinian events and politics—and by often viewing them solely through the lens of the Israeli-Palestinian conflict—The Washington Post and other media that cover Israel and the Palestinians in a similar manner fail to inform their readers about some very important trends and developments.

Posted by SD at November 29, 2016 02:06 PM
Comments
Guidelines for posting
This is a moderated blog. We will not post comments that include racism, bigotry, threats, or factually inaccurate material.
Post a comment