« Touro Institute on Human Rights and the Holocaust: UN Hosts anti-Semitic, anti-Israel Hate Groups | Main | AFP Misleads Again, This Time About World Vision »
September 05, 2016
AFP Misleads on Gaza 'Food Shortages'
An Agence France Presse article yesterday about a dog shelter in the Gaza Strip begins:
In an impoverished and war-battered territory suffering food shortages and a scarcity of jobs, Saeed al-Ar knew it was a tall order opening a dog shelter in Gaza.
AFP photo captions about the dog shelter likewise contained the claim about alleged food shortages in the Gaza Strip.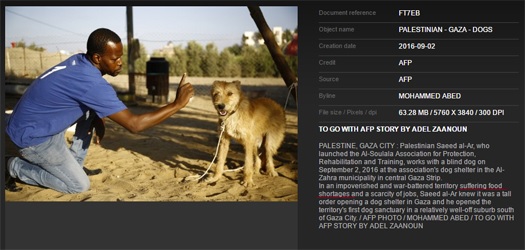 While food security is a major problem in the Gaza Strip due to poverty, the territory is not suffering from food shortages. As the World Food Programme reports, "Though food is readily available in Palestine, prices are often too high for poor families to afford."

As AFP reported on Feb. 10, 2016, "nearly half of the population has insufficient access to healthy food."
According a 2014 joint press release by the Palestinian Central Bureau of Statistics (PCBS), The Food and Agriculture Organization of the United Nations, and the United Nations Relief and Works Agency for Palestine Refugees in the Near East and the World Food Programme:
In Palestine, food insecurity is driven by high rates of poverty resulting from unemployment, which is in part due to ongoing Israeli access and movement restrictions, as well as high prices for food and economic shocks. Food is available in markets, but expensive, so households reduce the variety and nutritional value found in their diet. The majority of Palestinians in the Gaza Strip and the West Bank spend more than half their income on food. (Emphasis added.)
CAMERA has contacted AFP to request a correction. Stay tuned for an update.
Posted by TS at September 5, 2016 02:51 AM
Comments
Every time there's an outbreak of violence in Israel/Palestine, the inciting incident is orchestrated by Palestinians. Maybe if they would stop attacking Israelis their lives would get better. Just sayin'.

Posted by: Amy Wilson at September 6, 2016 11:06 AM
Guidelines for posting
This is a moderated blog. We will not post comments that include racism, bigotry, threats, or factually inaccurate material.
Post a comment