« Where's the Coverage? Four Palestinians Killed by Palestinians in 'Clashes' | Main | Updated with Correction: Another Biased Headline by Reuters »
August 24, 2016
Reuters Headline Describes Palestinian Attacker As "Driver"
The Israeli army today reported that a Palestinian attacker was killed after he stabbed a soldier.
But a Reuters headline about the attack suggests the man was killed while doing no more than driving his car: "Israeli soldier shoots dead Palestinian driver in West Bank: army."
By contrast, here's how Reuters described an incident in Belgium earlier this month in which an attacker was killed after slashing police officers: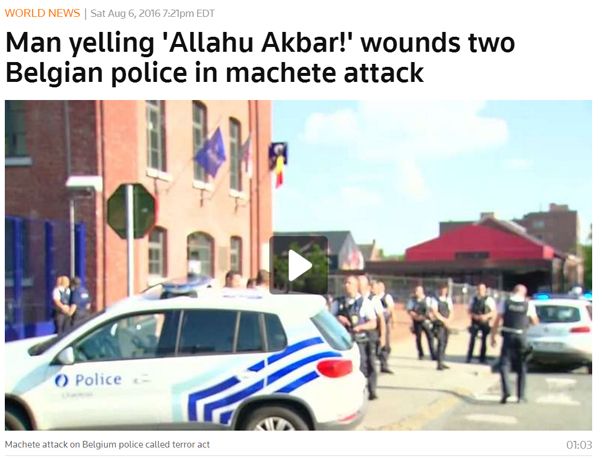 Why, then, isn't today's story headlined something like "Man wounds Israeli soldier in stabbing attack"? Unfortunately, distorted and misleading headlines about anti-Israel violence seem to be all the rage. Reuters' Jerusalem bureau chief Luke Baker, especially, is no stranger to skewed journalism and double standards.
But wait: Hasn't this same Luke Baker criticized headlines that cast attackers as nothing more than innocent victims? After CBS published headline about an anti-Israel attack that read, "3 Palestinians killed as daily violence grinds on," Baker called CBS's wording "horrible":
You can find that tweet by Baker here: https://twitter.com/LukeReuters/status/694959536680124416. Or not. The post has mysteriously vanished from Twitter, and now all you'll see is this:
The original tweet is gone, without a trace. Almost:
The disappearance of the post might seem strange. But then again, it sure would look bad if Baker's own bureau repeatedly publishes headlines of the type that he himself said were "horrible." And it does look bad.
But it might look equally bad for a journalist to surreptitiously delete his own tweets.

Aug. 25 update: Reuters has informed CAMERA that it has fixed its poor headline. See details here.
Posted by GI at August 24, 2016 03:50 PM
Comments
Unbelievably shameful headline. Hard to believe this kind of journalism exists.
This would be like Reuters having this headline for 9/11.
Arabs were killed in a plane when Americans threw the twin towers in middle of its flight path.
Posted by: Ken Kelso at August 25, 2016 09:35 AM
Posted by: James at August 25, 2016 10:33 AM
Guidelines for posting
This is a moderated blog. We will not post comments that include racism, bigotry, threats, or factually inaccurate material.
Post a comment