« LA Times Silent on International Aid Going to Hamas | Main | LA Times Errs on Western Wall, Still Silent on Stolen Aid »
August 10, 2016
'Pragmatic' Iranian Official Boasts of 'Tsunami' in Nuclear Activity—Media M.I.A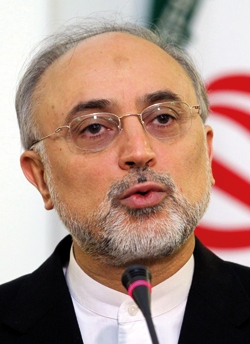 Ali Akbar Salehi

The head of the Atomic Energy Organization of Iran (AEOI), Ali Akbar Salehi, rejected claims that his country would decelerate its nuclear activity, instead promising a "tsunami" in Tehran's nuclear industry. Despite the fact that the AEOI is tasked with operating Iran' nuclear facilities, Salehi's remarks on Aug. 9, 2016 received scant coverage by major U.S. news media outlets.
Speaking before the Professional Center for Journalism, an Iranian non-profit organization, Salehi disputed rumors that Iran's nuclear activity was dissipating. Iran's one-time foreign minister told the audience, "With all my scientific, technological and administrative experience in the nuclear field for some 50 years, I insist that the nuclear industry has not been shut down and the work is going on. ("Iran's Atomic Energy Chief Rejects Rumors of Waning Nuclear Activity," The Algemeiner, Aug. 9, 2016)"
Salehi added that Iran's President, Hassan Rouhani, would be meeting with Russian leader Vladimir Putin to discuss, among other things, the construction of two new nuclear power plants for the Islamic Republic. The AEOI chief said that the $10 billion project, once approved by Moscow and Tehran, would create a "tsunami" in Iran's nuclear industry.
Although Salehi's comments were made before the Professional Center for Journalism, they were little noted by the U.S. news media. A Lexis-Nexis search of The New York Times, The Washington Post, The Washington Times, USA Today and The Baltimore Sun, among other print outlets, showed no mention of Salehi's remarks.
The failure to report Iran's nuclear chief promising growth in Tehran's nuclear program is conspicuous. As CAMERA has noted (see, for example "Watchdog: Iran Nuclear Deal Prevents Public Reporting of Violations," March 10, 2016), media coverage of Iran's nuclear program—while often flawed—has been extensive. Reporting was particularly substantial in the months before, during and after the July 2015 JCPOA (Joint Comprehensive Plan of Action) in which the United States, Germany, France, Russia, the United Kingdom, China and Iran reached an agreement over the latter's alleged nuclear weapons program.
Salehi himself is no stranger to the press. Reuters hailed his August 2013 appointment to head the AEOI, characterizing him as a "pragmatist ("Iran appoints pragmatist Salehi to head nuclear program," Aug. 16, 2013). The news service quoted Mark Fitzpatrick, the director of the non-proliferation and disarmament program at the International Institute for Strategic Studies, a U.K.-based think tank. Fitzpatrick called Salehi's appointment "wise…Salehi was the best of [former Iranian President Mahmoud] Ahmadinejad's ministers, a pragmatist who understands how the world works. It made sense to keep him on in some capacity."

Salehi may indeed be pragmatic in working to achieve his—and the mullahs—self-stated goals of increasing Iran's nuclear capabilities. As Richard Rorty, a deceased philosopher of pragmatism, once noted, "Truth is what your contemporaries let you get away with."
Iran's nuclear chief revealed a truth about his country's nuclear pursuits—one that seems to contravene the spirit of the Iran nuclear deal. And his contemporaries in the press failed to report it.
Where was the coverage?
Posted by SD at August 10, 2016 02:56 PM
Comments
Why indeed has this not rec'd more coverage? Glad you showed this.
Posted by: elen sue jacobson at August 12, 2016 05:40 PM
Guidelines for posting
This is a moderated blog. We will not post comments that include racism, bigotry, threats, or factually inaccurate material.
Post a comment