« ISIS Suspect Worked for ICNA | Main | USA Today Report Shines Light on Terrorist Motivations, Israeli Responses »
August 25, 2016
Palestinian Journalists Targeted by Hamas and Palestinian Authority, Media Silent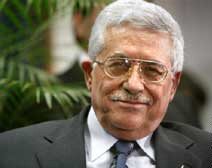 PA President Mahmoud Abbas

Palestinian journalists are being targeted by Palestinian officials ahead of local and municipal elections in the West Bank (Judea and Samaria) and the Gaza Strip scheduled for Oct. 8, 2016. Yet, the crackdown on Palestinian reporters by Hamas, the U.S.-designated terror group that rules the Gaza Strip, and the Palestinian Authority (PA), which governs the West Bank, has been largely ignored by U.S. news media outlets.
Writing in the Gatestone Institute, Israeli Arab journalist Khaled Abu Toameh detailed "repressive measures against Palestinian journalists" by Hamas and the PA ("Hamas, Palestinian Authority Target Journalists Ahead of Election," Aug. 23, 2016).
Toameh highlighted the Aug. 18, 2016 arrest by Hamas of a Gazan journalist named Ahmed Said. Said runs a radio program called Sawt Al Sha'ab (Voice of the People). Palestinian Arabs routinely call Said's show and vent about problems in the Gaza Strip.
Before Said was detained, Toameh noted that the radio host "had phone the spokesman of the Hamas police force, Ayman Al Batnihi, to discuss the recent rise in cases of homicides in the Gaza Strip." In response, al Batnihi reportedly threatened Said, telling him, "You are causing us a lot of problems and inciting people. I know how to deal with people. You need to be hanged."
Another Palestinian Arab reporter who has reported on problems in the Gaza Strip, Abu Awwad, also was arrested by Hamas shortly before Said.
Toameh pointed out in his article: "Both journalists made the mistake of reporting on the suffering of Palestinians living under Hamas rule. These are not the kind of stories that Hamas wishes to see ahead of the local and municipal elections."
Hamas is not the only Palestinian group to attack the press ahead of the October elections.
PA security forces detained Mohamed Abu Khabisah, a journalist for Anadolu, a Turkish news agency. Like Said and Awwad, his personal computer was seized. According to Toameh, Khabisah "was apparently arrested for reporting about financial corruption in the Palestinian Authority's official news agency, Wafa." This made him "the sixth journalist to be arrested by the PA since the decision to hold local and municipal elections was taken two months ago."
As CAMERA noted in a recent Washington Times Op-Ed ("When 'journalists' kill journalists," April 22, 2016), terrorist groups and authoritarian regimes often use intimidation to exploit and manipulate the press. Yet, the constraints imposed by terrorists and despotic governments often go unmentioned in media coverage.
Indeed, as Toameh pointed out, foreign journalists have chosen "not to report about the campaign of intimidation facing their Palestinian colleagues." Instead, some in the media—while ignoring abuses by Hamas and the PA—have accused Israel of "crushing" its own free press (see, for example "Jumbled, Incoherent NYT Op-Ed Slams Netanyahu," CAMERA, Aug. 1, 2016).
It may just be that distorting the news about Israel is a much easier—and perhaps a much safer—assignment than noting how Hamas and the PA are silencing criticism.
Remarking on the methods of fascist leaders such as Adolf Hitler and Benito Mussolini, the British leader Winston Churchill noted:
"You see these dictators on their pedestals, surrounded by the bayonets of their soldiers and the truncheons of their police ... yet in their hearts there is unspoken fear. They are afraid of words and thoughts: words spoken abroad, thoughts stirring at home…terrify them."
Both Hamas and the PA seem fearful. The press should take note.
Posted by SD at August 25, 2016 04:37 PM
Comments
Guidelines for posting
This is a moderated blog. We will not post comments that include racism, bigotry, threats, or factually inaccurate material.
Post a comment