« Anti-Israel Human Rights Watch Accidentally Admits: Israel Does Not Occupy Gaza | Main | Fatah Claims Murders as Accomplishments »
August 03, 2016
'Moderate' Hamas Media Favorite Calls for 'Small Stabs to All Parts' of Israel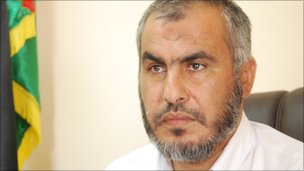 Hamas operative Ghazi Hamad
A top operative of Hamas and news media favorite named Ghazi Hamad has recommended "small stabs to all parts of Israel" as a strategy against the Jewish state. Hamad is currently the deputy foreign minister of Hamas, the U.S.-designated terrorist group that rules the Gaza Strip.
According to the Middle East Media Research Institute (MEMRI), a non-profit organization that translates Arab and Persian media, Hamad suggested a war of attrition against Israel in an Op-Ed he wrote for the Alwatanvoice.com, an online Palestinian news outlet based in the Gaza Strip.
Hamad—a former spokesperson for Hamas—has frequently been treated as a credible source by many media outlets. A Lexis-Nexis search showed that The New York Times alone quoted Hamad—often uncritically—no less than 18 times between 2006 and 2016. Despite, or perhaps because of the frequency with which he has been quoted, some U.S. news outlets seemingly have been taken in by the Hamas operative.
In a Sept. 12, 2006 story, The New York Times uncritically quoted Hamad's false claim that "the charter of Israel's conservative Likud Party calls for an Israel on both banks of the Jordan River." The Times offered a correction eight days later ("Don't Bank on Hamad's Word," CAMERA, Sept. 20, 2006).
In yet another example of the media giving Hamad undue credibility, Edmund Sanders, The Los Angeles Times Jerusalem bureau chief, wrote that Hamad was "considered a leading moderate voice in Hamas" in a June 8, 2012 interview ("LA Times Soft-Pedals Hamas Terrorist Agenda," CAMERA, June 20, 2012). But it seems that Sanders may have been confusing moderation with pragmatism; as MEMRI reported, Hamad's ultimate objective is precisely what Hamas spells out in its charter—the destruction of the Jewish state and the genocide of its citizens.
In his Altwatanvoice Op-Ed, Hamad criticized Hamas' "boasting" about future large-scale wars against the Jewish state. MEMRI noted that Hamad said, "Wars do not require words, speeches, or predictions—rather they require observation, understanding, and judgement."
In place of fiery rhetoric, the Hamas operative advocated smaller, more strategic attacks against Israelis. Hamad exhorted:
"Throughout history, and according to experience, rules and principles dictate how the resistance movement operates, and it does so based on sporadic attacks and retreat, striking at the underbelly, and avoiding direct conflict as much as possible—meaning that we must conduct 'guerrilla warfare.'"
Hamad clarified that although he believed in avoiding an open war with Israel, he did "not [want] to avoid conflict, but rather to achieve better results in fighting the enemy."
Perhaps anticipating criticism for his stance from possible Hamas rivals, Hamad wrote, "Before anyone [hastens] to formulate exaggerated slogans about me, let me reiterate that resistance is a legitimate and undisputed right." As CAMERA has noted (see, for example "New York Times Magazine Cheerleads for Terror," March 20, 2013), "resistance" is a term frequently used by Palestinian Arabs to describe—and justify—anti-Jewish violence, virtually always criminal under international law.
In his commentary, Hamad pointed out one way to "stab" Israel: "exhaust it and place it under intense public pressure, while the price that the Palestinian side must pay [for guerilla warfare] is less harmful and painful." That "intense public pressure" against Israel is aided by news media too willing to see a man advocating strategic terrorist attacks as opposed to immediate full-scale warfare as a "moderate."
Posted by SD at August 3, 2016 12:49 PM
Comments
Guidelines for posting
This is a moderated blog. We will not post comments that include racism, bigotry, threats, or factually inaccurate material.
Post a comment