« The Intensifying War in Syria - How is the Media Covering It? | Main | AFP Misleads on Gaza 'Food Shortages' »
August 31, 2016
Touro Institute on Human Rights and the Holocaust: UN Hosts anti-Semitic, anti-Israel Hate Groups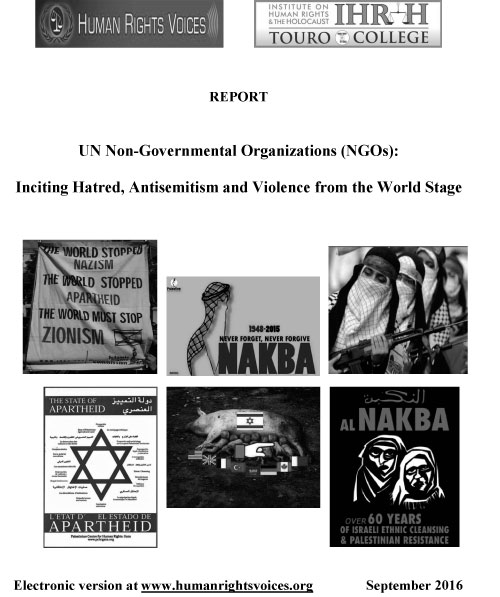 A shocking new report by Prof. Anne Bayefsky and Sarah Willig of Human Rights Voices and the Touro Institute for Human Rights and the Holocaust exposes how blatant antisemitism and incitement to violence is being spread at the United Nations by UN-accredited non-governmental organizations (NGOs).
According to the authors:
The UN is enabling these groups to spread hatred, encourage terrorism, and promote the destruction of the Jewish state from the world stage.

Democratic states, led by the United States, control the purse strings of the United Nations either from within the UN bureaucracy or through domestic policy. Getting serious about combating gross intolerance and violent extremism means putting an immediate stop to the use and abuse of the United Nations to broadcast and support antisemitism and bigotry and the lethal consequences.
For the full report click here.
Posted by AS at August 31, 2016 11:44 PM
Comments
Guidelines for posting
This is a moderated blog. We will not post comments that include racism, bigotry, threats, or factually inaccurate material.
Post a comment