« Los Angeles Times Whitewashes Murder of 3 Israelis | Main | 'Moderate' Hamas Media Favorite Calls for 'Small Stabs to All Parts' of Israel »
August 02, 2016
Anti-Israel Human Rights Watch Accidentally Admits: Israel Does Not Occupy Gaza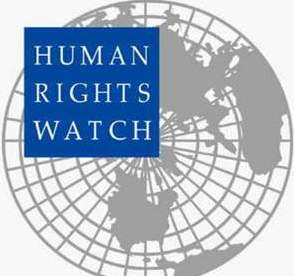 Human Rights Watch (HRW), a self-described human rights advocacy organization, inadvertently acknowledged that Israel does not occupy the Gaza Strip in a July 31, 2016 report. CAMERA has frequently highlighted HRW's record of anti-Israel bias and distortions (see, for example "Human Rights Watch Discredited Even By Its Founder," Oct. 20, 2009).
Elder of Ziyon, an American blogger who writes about the Arab-Israeli conflict and antisemitism, highlighted HRW's admission in its recent report on Palestinian Arabs seeking to visit family members incarcerated by Israel for terror-related offenses.
Ziyon noted that one theme of HRW's report is "Israel is violating international law by incarcerating Gazans in prisons within Israel rather than within the 'occupied territories.' They get this from the Fourth Geneva Convention article 76, which states 'Protected persons accused of offences shall be detained in the occupied territory, and if convicted they shall serve their sentences therein.'"
Yet, the HRW report proceeds to—if unintentionally—acknowledge that the Geneva rules cannot apply to Gaza, because "Israel ended its permanent ground troop presence in Gaza in 2005, Israel can and should transfer them [prisoners] to the West Bank, the other part of the occupied Palestinian territory [emphasis added]. …The prohibition against removing prisoners from the occupied territory is designed, in part, to allow them to maintain family ties, and the Israeli government should facilitate visits for family members from Gaza to the maximum extent possible."
However, as Elder of Ziyon pointed out, the Geneva conventions don't make a distinction between "occupied territory where the occupying army has actual control" and "occupied territory where the army has no possibility of maintaining the obligations of the Convention." Although the Geneva conventions don't make such a contrast, HRW is attempting to do so.
Elder of Ziyon explained the reason for HRW's effort to make a distinction where none exists:
"Because Gaza isn't occupied by any reasonable definition of international law, and HRW knows it. The state of occupation in international law is binary, either it is or it isn't, based on whether the occupying army has 'effective control.' If the army cannot set up a prison within the territory, then by definition the territory isn't occupied."
In an Oct. 19, 2009 New York Times Op-Ed entitled "Rights Watchdog, Lost in the Mideast," HRW's founder Robert Bernstein said his former organization had "lost critical perspective" on Israel. HRW's verbal gymnastics—as displayed in its attempt to reinvent the definition of "occupation"—illustrate that, when it comes to a fair analysis of Israel, it remains M.I.A.

Posted by SD at August 2, 2016 09:55 AM
Comments
Guidelines for posting
This is a moderated blog. We will not post comments that include racism, bigotry, threats, or factually inaccurate material.
Post a comment