« AFP Headline on Stabbing Says Less With More | Main | New York Times Casts Olympians' Anti-Israel Hostility As Mutual Animosity »
August 12, 2016
AFP Headlines Conceal Egyptian, Lebanese Bad Sportsmanship at Olympics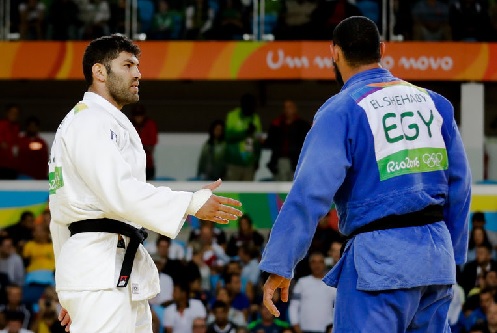 Lebanese and Egyptian athletes have been reproached for bad sportsmanship after a series of anti-Israel stunts at the Rio Olympics. AFP headline writers, though, appear to be going out of their way to obfuscate the facts.
As CAMERA's UK Media Watch has noted, when Lebanese Olympic delegation barred Israeli athletes from boarding a bus, an act for which they were reprimanded by the International Olympic Committee, an pitiful AFP headline announced: "Israeli and Lebanese teams compete for bus." The euphemistic language miserably failed to summarize the story, and obscured the discriminatory behavior of the Lebanese delegation.
And today, after an Egyptian judoka refused to shake the outstretched hand of his victorious Israeli challenger, earning boos from the audience, AFP again fell short. Its headline: "Egyptian judoka jeered after Israeli handshake snub."
The headline is perhaps less awful than the earlier one. But the language is still unnecessarily vague, and inexplicably so coming from a major professional media organization. To describe the incident as involving an "Israeli … snub" suggests it was the Israeli who snubbed his opponent, and not the opposite. And if it was an Israeli snub, was it also an Israeli jeer?
It's possible that some readers will be able to extrapolate from the AFP headline what actually happened. Others certainly won't.
The Poynter Institute has described headlines as "often the most important element on the page." A Columbia School of Journalism document says they "may be more important than any paragraph in a normal story." So why can't AFP get it right?
There's no good excuse for bad sportsmanship in the Olympics. And there's no good excuse for bad headlines about the bad sportsmanship.
Posted by GI at August 12, 2016 04:56 PM
Comments
Guidelines for posting
This is a moderated blog. We will not post comments that include racism, bigotry, threats, or factually inaccurate material.
Post a comment