« National Post Headline Casts Doubt: Murder of Hallel Ariel Maybe Not Terrorism | Main | AP Headline on Israeli Law Breaks Journalistic Rule »
July 07, 2016
Christian Science Monitor Headline Errs on 'New Israeli Settlements'
July 12 Update: CAMERA Prompts Christian Science Monitor Correction of Erroneous Headline on 'New Israeli Settlements'
Whenever Israel approves plans for new housing units in preexisting West Bank settlements, or in established Jewish neighborhoods in Jerusalem beyond the pre-1967 Armistice Line (the Green Line), it seems there's always at least one major media outlet which wrongly states that Israel is building "new settlements."
This time, there's this Christian Science Monitor Global News Blog headline:
As the accompanying article reports, the recent construction approval now drawing ire is for homes in the well-established settlement of Maale Adumim and for built up neighborhoods in Jerusalem beyond the Green Line. Not for any new Israeli settlements.
In 2013, CAMERA prompted an International New York Times correction of the identical error: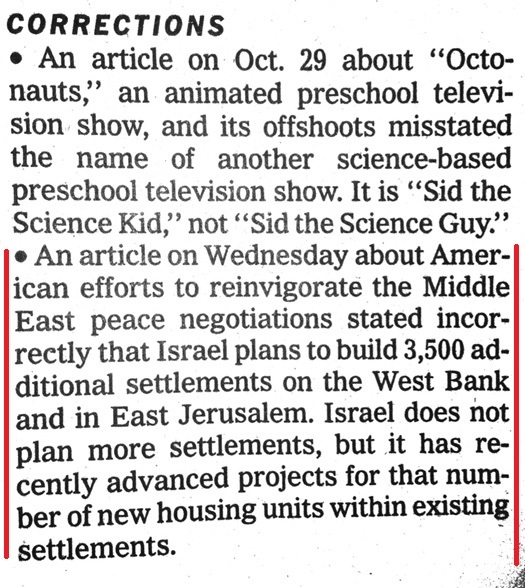 CAMERA has contacted editors to request a correction. Stay tuned for an update.
Posted by TS at July 7, 2016 08:00 AM
Comments
Guidelines for posting
This is a moderated blog. We will not post comments that include racism, bigotry, threats, or factually inaccurate material.
Post a comment