« June 2016 | Main | August 2016 »
July 29, 2016
Los Angeles Times Whitewashes Murder of 3 Israelis
From left: murder victims Alon Bakal, Shimon Ruimi and Amin Shaaban
On New Years' Day, Israeli Arab Nashat Milhem opened fire in a Tel Aviv bar, killing Alon Bakal and Shimon Ruimi and injuring at least three others. During his flight from the killing scene, Milhem killed taxi driver Amin Shaaban, his third murder victim.
Here's how The Los Angeles Times whitewashed that deadly attack this week: "After an Arab citizen attacked a Tel Aviv bar in January. . . "
The assailant did not merely attack a Tel Aviv bar. He murdered three people, so why the obfuscation?
Posted by TS at 11:25 AM | Comments (3)
July 27, 2016
A New York Times Round-Up Omits Anti-Israel Terror
Twice in one week, CNN inexplicably omitted anti-Israel attacks in its overviews of terrorism around the world. And although the broadcaster later updated both articles to mention Palestinian attacks on Israeli civilians, many readers couldn't help but wonder what was behind the omission in the first place. How could any well-versed journalist not remember that Israel has been a primary target of terrorists?
With today's New York Times feature that fails to refer to anti-Israel attacks, readers may ask the same question. To be sure, the primary focused of the feature on a two-week period in March during which no Israelis were killed. And a paragraph in the introduction refers to a more recent week of mass casualty attacks in Iraq, Turkey, Afghanistan, Bangladesh, Somalia, Cameroon, and Saudi Arabia, a week in which two Israelis were killed in separate, individual-casualty attacks. But the piece's introduction is more sweeping, referring to
an endless stream of terror attacks. Orlando and Beirut. Paris and Nice and St. Etienne-du-Rouvray, France. Germany and Japan and Egypt. Each bomb or bullet tearing holes in homes and communities.
The bullets targeting Israelis at Tel Aviv's Sarona Market this summer also tore holes in homes and communities, and took four lives. Israel was not mentioned, despite the attack causing more casualties than the recent attack in Etinee-du-Rouvray, or this summer's attack on a police officer in Paris that the feature appears to reference.
And while still, this passage doesn't purport to be an exhaustive list of all of this summer's terror attacks, the question again arises: Is The New York Times letting politics dissuade it from including anti-Israel terror attacks among those targeting civilians of other nationalities?
Although this one case doesn't allow for a clear answer, it is an appropriate question, especially considering the newspaper's documented tendency to downplay Palestinian violence against Israelis (see chapter four of CAMERA's six month study here). The newspaper's public editor in 2014 felt the need to remind her colleagues that Palestinians are "more than just victims." Perhaps they should also be reminded that Israelis, all too often, are victims of international terror.
Posted by GI at 01:19 PM | Comments (0)
July 25, 2016
Turkey Cracks Down on Academics, Anti-Israel Scholars Silent
TIME magazine's November 2011 cover wondering if Erdogan could "save" the Arab Spring

The government of Turkey has instituted a widespread crackdown that has affected academics, as well as the military, judiciary, journalists and others following the failed coup attempt against the country's president, Recep Tayyip Erdogan, on July 15, 2016. Many organizations quick to criticize Israel for alleged repression have largely been silent about Erdogan's actual measures.
Liel Leibovitz, a journalist with Tablet, an online magazine, noted that as of July 21, "Erdogan's government has stripped 59,628 private school teachers of their accreditation, and the state-run Council of Higher Education called on all 1,577 deans of private and public universities to immediately resign ("Hey, BDS-Loving Professors Watching the Assault on Academic Freedom in Turkey: Why so Quiet?" July 21, 2016). Leibovitz also noted that 100 additional academics were fired and a travel ban issued "on all professors still employed."
The response from many Western-based academic associations, however, was largely non-existent. These organizations include the American Studies Association, the Association for Asian American Studies, the Native American and Indigenous Studies Association, the National Association of Chicana and Chicano Studies and the Critical Ethnic Studies Association. Every one of them—while silent on Turkey's repression—supports the boycott, divestment and sanctions (BDS) movement which maligns and tries to delegitimize Israel.
Other academic associations offered weak critiques of the Turkish government's actions.
Winfield Myers, director of Campus Watch, a project of the Philadelphia-based think tank, Middle East Forum, highlighted one such organization, the Middle East Studies Association (MESA). In his Middle East Forum blog posts, Myers noted that, after an initial delay, MESA, "finally issued a letter condemning the actions against Turkish academics, days after the purges began." The condemnation, however, was tepid. Myers pointed out that "…while MESA et al. condemn the persecutions, they never mention Turkish president Erdogan by name, nor do they note (much less condemn, the reason behind the purges: to pave the way for the Islamization of all of Turkish society, long a goal of Erdogan and his AKP colleagues and followers."
The AKP (Justice and Development) party to which Erdogan belongs has its origins in the Muslim Brotherhood. As CAMERA has noted ("Egypt's Muslim Brotherhood in Its Own, Original Words," July 11, 2013), the Brotherhood was founded in Egypt in 1928 to repel Western influence and restore the Sunni Muslim caliphate that ended shortly after the collapse of the Ottoman Empire following World War I. The Brotherhood's credo is "Allah is our objective, The Prophet is our leader. The Koran is our law. Jihad is our way. Dying in the way of Allah is our highest hope."
MESA's lukewarm missive on Erdogan's repression stands in stark contrast to some of the much more heated and passionate rhetoric the group occasionally employs. The association's June 6, 2016 letter protesting New York Gov. Andrew Cuomo's support of anti-BDS legislation compared the governor's actions to a "blacklist…a distressing and dangerous throwback to the days of the 'Red Scare' of the 1950s."
In an earlier example, on Feb. 12, 2002, MESA said it was "deeply disturbed" over the University of South Florida's decision to fire Prof. Sami al-Arian. "The al-Arian case IS about academic freedom," MESA declared at the time. As CAMERA has noted ("Palestinian Islamic Jihad Backgrounder," July 19, 2016), al-Arian was indicted in February 2003 for fundraising for Palestinian Islamic Jihad, a U.S.-designated terror group. Al-Arian was later deported as a result of evidence brought forth by the U.S. government.
William Jacobson, the founder of Legal Insurrection, a blog that focuses on Israel and antisemitism, among other things, pointed out: "The Turkish academic purge raises a test for the anti-Israel academic boycotters. Will they devote themselves this coming academic season to an academic boycott of Turkish universities, in addition to other majority-Muslim nations where minorities are repressed and academic freedom stifled?"
Early returns, from silence to muted statements, are not encouraging. They do remind us though that another name for selective outrage is hypocrisy.
Note: An earlier version of this article, citing Tablet magazine, said the American Anthropological Association (AAA) supported BDS. Although the AAA voted overwhelmingly (1,040 to 136 margin) in November 2015 to put forward a resolution boycotting Israel, the association voted to oppose (2,423 against and 2,384 in support) that resolution in online voting that took place from April 15-May 31 2016.
Posted by SD at 02:49 PM | Comments (2)
On Death of Palestinian Boy, AFP Captions Treat Disputed Palestinian Claim as Fact
July 26 Update: AFP Partially Fixes Captions About Disputed Palestinian Casualty
July 25 -- A series of Agence France Presse photo captions July 20 treated as fact the disputed Palestinian claim that Israeli forces fired rubber coated bullets which killed 12-year-old Palestinian Mohiyeh al-Tabakhi a day earlier during clashes in al-Ram. Although Israeli police disputed the Palestinian account, saying the troops did not use live fire, the captions ignored this information and reported the Palestinian claim as fact. A sample of the many captions follows.
The caption states:
Palestinian Territories, Al-Ram : Palestinian mourners carry the body of 12-year-old Mohiyeh al-Tabakhi, who was killed by Israeli soldiers who fired rubber-coated bullets near Jerusalem the day before, during his funeral in the Palestinian village of al-Ram, between Jerusalem and Ramallah in the Israeli occupied West Bank, on July 20, 2016.

The boy was hit in the chest by a rubber-coated bullet which caused cardiac arrest, medical sources were quoted by the Palestinian news agency WAFA as saying. / AFP PHOTO / ABBAS MOMANI (Emphasis added.)
The caption reads:
Palestinian Territories, Al-Ram : The mother (C) of 12-year-old Palestinian Mohiyeh al-Tabakhi, who was killed by Israeli soldiers who fired rubber-coated bullets near Jerusalem the day before, mourns during his funeral in the Palestinian village of al-Ram, between Jerusalem and Ramallah in the Israeli occupied West Bank, on July 20, 2016.

The boy was hit in the chest by a rubber-coated bullet which caused cardiac arrest, medical sources were quoted by the Palestinian news agency WAFA as saying. / AFP PHOTO / ABBAS MOMANI (Emphasis added.)
In contrast, the Associated Press, another leading photo agency, commendably published captions which noted the disputed circumstances. (An example follows.)
AP's accurate caption states:
Palestinian relatives mourn the death of Mouhey Tabakhi, 12, during his funeral in the West Bank town of Al-Ram, near Jerusalem, Wednesday, July 20, 2016. A Palestinian hospital official says the boy was killed after clashes erupted between Israeli forces and protesters in the West Bank. Ramallah hospital director Ahmad Bitawi says the boy was killed by a bullet to the chest. Israeli police deny that live fire was used against protesters.(AP Photo/Nasser Shiyoukhi) (Emphasis added.)
Some at Agence France Presse were aware that the incident was disputed. The wire service's own July 19 news article reported the conflicting claims:
A Palestinian boy was killed by Israeli soldiers who fired rubber-coated bullets near Jerusalem on Tuesday, said the Palestinian health ministry.

"Mohiyeh al-Tabakhi, 12, was killed by shots fired by occupation soldiers in the Al-Ram area near Jerusalem," the ministry said in a statement.

The Palestinian suburb in the occupied West Bank near Jerusalem is cut off from the Holy City by the "separation wall" built by Israel.

The boy was hit in the chest by a rubber-coated bullet which caused cardiac arrest, medical sources were quoted by the Palestinian news agency WAFA as saying.

Israeli police said tear gas grenades and sound bombs had been used against demonstrators in the area.

"After being pelted with Molotov cocktails, police used tear gas and stun grenades to disperse the protesters," police spokeswoman Luba Samri told AFP.

"There was no live fire," she added.
CAMERA has contacted editors to request a clarification. Stay tuned for an update.
Posted by TS at 11:45 AM | Comments (0)
Mobs Attack Christians in Egypt, Activists Plea for Help
Jihadists are on the march in Egypt, attacking Coptic Christian churches and homes with impunity. Last week, a mob of Muslims attacked a group of Christian homes in Minya where many of Egypt's Christians are located. The attack was caught on video (displayed above) and has gone viral in Egypt.
In an effort to force the Sisi regime in Egypt to stop the violence, Coptic Solidarity, an American-based human rights organization, is calling for a protest to take place in front of the White House on Tuesday, August 2, 2016. A Search on Nexis indicates that this plea for help, issued on July 22, 2016 has largely been ignored by the mainstream media in the U.S., as have the attacks on Christians in Egypt.

Coptic Solidarity issued the statement three days after Bishop Macarius of Minya, the province where many of the attacks have taken place, condemned the Egyptian government led by President Abdel Fatah Sisi for not doing enough to protect the rights of Christians in the country. Speaking to the Egyptian newspaper Al-Ahram, Bishop Macarius stated, "Anger is mounting and authorities are taking steps too late," and that "Consolations are not enough." The report continues:
On Sunday, families of two priests in the Tahna El-Jabal village were attacked by assailants wielding knives and batons killing a 27-year-old man and injuring three others, including a woman.

According to eyewitnesses, the attack started as an argument between young Muslim men and Christian children over right of way on the narrow streets of the village. The disputing parties then involved the families of the Christian children, including the son of the local church's pastor.

In May, Muslim villagers set ablaze seven Christian homes and assaulted a Christian man's elderly mother, parading her naked in public. The assault in in Minya's El-Karm village was sparked by rumours that the man was having an illicit relationship with a Muslim woman.

Incidences of sectarian violence have frequently been reported over the past years. Christians, who make up about 10 percent of Egypt's population of 90 million, have long complained of discrimination and sectarian attacks in the predominantly Sunni Muslim country.
In an interview on Egyptian television summarized by Coptic Solidarity, Bishop Marcarius blamed the government for failing to stop the attacks. Coptic Solidarity reports:
When asked what the government did regarding this incident, he said it did what it always does: taking its time, "security comes after all the damage is complete, after the rioters have had their fill of plunder, then it stays in the area for a couple days, and once it leaves, the area again falls under the sway of certain elements."

Bishop Makarious ultimately held the government responsible for the repeated attacks on the Copts of Minya. After he pointed out that "some of the authorities always smile at what is happening," the surprised host asked him to explain, to which the bishop responded: "Of course I don't assume that all authorities have the interest of the nation at heart and are sincere, because if they did, these attacks would not happen time and again, at a rate now of every two or three days."
Here is a list of more than a dozen recent attacks compiled by Coptic Solidarity. This linked document also provides information about the upcoming peaceful protest planned for Washington, D.C.

Posted by dvz at 11:41 AM | Comments (0)
U.S. Government Sanctions Al-Qaeda Terrorists Living In Iran—Media M.I.A

The U.S. Treasury Department announced on July 20, 2016 that it had sanctioned three high-level operatives of al-Qaeda, a U.S.-designated terrorist group, who are living in Iran. Although U.S.-Iran relations and Islamic terrorism have been the focus of extensive U.S. news media coverage, many outlets failed to report Treasury's targeting of the Iranian-based al-Qaeda terrorists.
According to a departmental press release, "Treasury designated Faisal Jassim Mohammed al-Amri Al-Khalidi (Al-Khalidi), Yisra Muhammad Ibrahim Bayumi (Bayumi), and Abu Bakr Muhammad Ghumayn (Ghumayn) as Specially Designated Terrorists…for acting for or on behalf of al-Qaida." The action was taken to "disrupt the operations, fundraising, and support networks that help al-Qaida move money and operatives from South Asia and across the Middle East." All three operatives, Treasury noted, are "located in Iran."
Tehran has a long history of supporting terrorist groups, including al-Qaeda, Hezbollah, Hamas and Palestinian Islamic Jihad, among other U.S.-designated terror groups. Indeed, a June 2016 U.S. State Department report named Iran as the leading country sponsoring terrorism ("State Department report finds Iran is top state sponsor of terror," CNN, June 2, 2016).
Some U.S. news media did report the most recent sanctions against al-Qaeda members based in Iran. For example, The Chicago Tribune carried an Associated Press brief by reporter Matt Lee that noted the designations ("U.S. hits 3 Iran-based al-Qaida figures with terror sanctions," July 20). Similarly, Fox News ("US. Hits 3 Iran-based Al Qaeda figures with terror sanctions," July 20) and The Washington Free Beacon ("U.S. Sanctions Top Al Qaeda Operatives Working in Iran," July 20), a Washington D.C.-based online publication, informed their audiences of the story.
Yet, many major U.S. news media failed to mention the recent Treasury designation of the al-Qaeda terrorists in Iran. A Lexis-Nexis search of The Washington Post, The New York Times, USA Today and The Baltimore Sun, among others, showed no mention of Treasury's announcement.
Iran has frequently provided sanctuary to al-Qaeda. The 9/11 commission report, which investigated the Sept. 11, 2001 al-Qaeda terror attacks—the largest mass casualty terrorist attack in U.S. history—noted that there was "strong evidence that Iran facilitated the transit of Al Qaeda members into and out of Afghanistan before 9/11, and that some of these were future 9/11 hijackers."
This is not the first time that the U.S. Treasury Department has sanctioned al-Qaeda operatives under Iran's auspices. In July 2011, Treasury designated six al-Qaeda terrorists who were part of a cell "headed by Ezedin Abdel Aziz Khalil, a prominent Iran-based al-Qaeda facilitator, operating under an agreement between al Qaeda and the Iranian government," according to a press release from that U.S. agency ("Treasury targets Iran's 'secret deal' with al Qaeda," The Long War Journal, July 28, 2011).
Indeed, in January 2009, four al-Qaeda operatives living in Iran were also sanctioned—one of whom was Saad bin Laden, the now deceased son of al-Qaeda founder Osama bin Laden. Another, Mustafa Hamid, has been described as "al-Qaeda's emir in Iran ("U.S. Sanctions senior al-Qaeda members operating in Iran, The Long War Journal, Jan. 16, 2009)."
The failure by many media outlets to report that Iranian-based al-Qaeda figures received U.S. sanctions, is striking; both Iran and Islamic terrorism have received extensive—if sometimes flawed—coverage throughout the past year (see, for example "Where's the Coverage: Dead Terrorist was al-Qaeda's "leader in Iran," CAMERA, July 23, 2015).
Posted by SD at 11:40 AM | Comments (0)
July 22, 2016
Lost In Translation, This Time in Europe
An Arabic translator misled English listeners at an event held at the Massachusetts Institute of Technology in 2011. Arabic translators in Europe are misleading law enforcement officials in Germany according to an article published by the Gatestone Institute.
The Gatestone Institute has published a report about Arab-speaking translators mistranslating the testimony of sexual abuse victims in Germany and in some instances going so far as to threaten the victims who try to tell their stories to authorities. The article, written by Stefan Frank, indicates is that there is a "fraternal solidarity between interpreters and criminal defendants" in Germany.
The article is summarizes the story from a book titled Sex in Court written by a German author, Alexander Stevens, who works as a lawyer in Munich. He was approached by a young Syrian girl who had been forced by her family to marry a man who was 34 years older than she was.
After seeking help at a woman's shelter, the staff at the shelter brought her to Stevens who, after interviewing her, concluded that she was the victim of terrible abuse and humiliation.
He visited her the next day to bring her to the police, but by this point, the young Syrian girl did not want to speak to him. Later he was given a note by a staffer at the women's shelter in which the girl reported that she had gone to the police station, but that the interpreter intimidated her into not telling her story.
The interpreter told the girl, Sali, that she should not dishonor her husband and family by going to the police.
Subsequently to sending the note, the girl committed suicide.
The Gatestone article also documents how non-Muslim refugees who try to report abuse perpetrated by fellow refugees who are Muslim are oftentimes intimidated by Muslim interpreters who side with the accused. One source quoted in the article states that complaints are often retracted because the interpreters threaten to torpedo the victims' asylum applications.
The Gatestone article might spark a memory on the part of loyal Snapshot readers. In 2011, Snapshots highlighted a video that documented the mistranslation of a speaker at an event that took place at the Massachusetts Institute of Technology. Here's the summary:

The video indicates that in Arabic, [Ahmed] Maher, one of the founders of the April 6 Youth Movement, accused Israel of perpetrating a "genocide" against the Palestinians. …

The translator said in English that (and this is a paraphrase) in a neighboring territory, people are being oppressed and killed and are having their rights taken away. This is a long way from the accusation of genocide apparently leveled initially by Maher.
While the mistranslation at MIT was very disconcerting, imagine how awful it must be for the victims of abuse in Germany to know that they cannot trust the their own translators.
Posted by dvz at 04:22 PM | Comments (0)
July 21, 2016
At the United Nations, Saudi Money Trumps Rights Criticism

The Washington Post's "U.S. forces to stay longer in Yemen to fight al-Qaeda" (July 18, 2016) included a paragraph which revealed much about how the United Nations really works.
The article, by reporters Thomas Gibbons-Neff and Missy Ryan, detailed how the U.S. military is planning to keep advisers in Yemen on a counterterrorism mission against al-Qaeda, the U.S.-designated terror group responsible for the Sept. 1, 2001 attacks. Gibbons-Neff and Ryan said that the U.S. also was assisting Saudi Arabia in its fight against Iranian-backed Houthi rebels that are at war with the Yemeni government.
The Post pointed out that U.S. support for Saudi Arabia was "complicated" by criticism of "high civilian casualties in the conflict in Yemen." However, the paper then noted the kingdom's revealing response:
"Last month, the United Nations put Saudi Arabia on a list of countries responsible for violating children's rights in armed conflict after determining that the Saudi-led coalition was responsible for the deaths of 60 percent of the 1,953 children reported killed since the start of the conflict. Saudi Arabia has since been removed from the list after threatening to cut its support for U.N. peacekeeping programs [emphasis added]."
As CAMERA has frequently noted, U.N. bodies often unfairly single out and malign Israel (for a partial list of examples, see here). Yet, many in the U.S. news media often fail to point out the U.N.'s anti-Israel record; treating the organization, instead, as an unbiased actor.
In an article on U.S. intervention in Yemen, The Post—even if unintentionally—briefly highlighted how the U.N. really works, or perhaps more precisely, doesn't work. U.S. news media outlets would do well to note it in the future.
Posted by SD at 03:09 PM | Comments (0)
July 20, 2016
'Who You Callin' a Human Shield?'
It should not go unnoticed that a major U.S. news organization—in this case The Washington Post—used the term "human shields" in its own voice when describing the practice of an Islamic terrorist movement embedding itself among civilians and holding them hostage.
In an article headlined "Iraqi troops retake Fallujah; One of Last Havens of Islamic State; Humanitarian crisis grows as thousands flee" (June 18, 2016 in print, June 17 online), Post correspondents Loveday Morris and Mustafa Salim wrote, among other things:
"There have been concerns about the plight of civilians stuck inside Fallujah. When the operation began in late May, as many as 90,000 people were believed trapped in the city, with the Islamic State holding them to use as human shields [emphasis added]."
The Post does not say who believed as many as 90,000 people were trapped in Fallujah or that the Islamic State in Iraq and Syria planned to use them as human shields. However, based on past actions by the group, the description no doubt seemed probable.
Hamas in the Gaza Strip and Hezbollah in Lebanon long have used the populations they claim to represent but daily intimidate as human shields in their "resistance" to Israel. In reporting non-combatant casualties resulting from Israeli counter-attacks against Hamas and Hezbollah, news media sometimes note Israel's charges that the two terrorist organizations were hiding behind human shields. They have been less likely to report, in their own words and accurately, that the two Islamic fundamentalist movements did just that.
It's worth noting Washington Post usage in this case, and keeping it mind the next time the press deals with civilian casualties among populations ruled by Hamas and Hezbollah as a result of Israeli responses to the groups' aggressions. What's good for ISIS ought to be good for them too.
It's also worth recalling that using human shields, and attacking other non-combatant population from among them, is a double violation of international law and ought to be reported as such.

Posted by ER at 04:47 PM | Comments (0)
UPDATED: Israelis Killed in "Alleged" Actual Attacks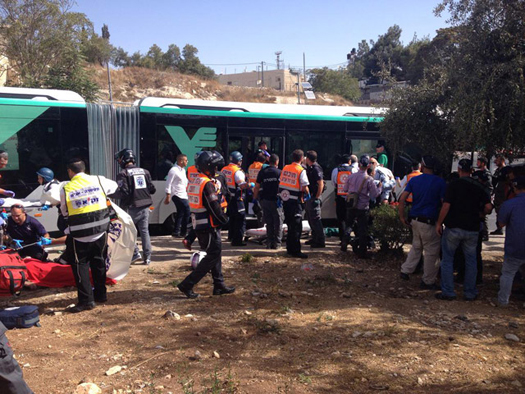 Bahaa Alyan took part in the Oct. 13, 2015 terror attack on a Jerusalem bus, killing three Israelis (Photo: Israel Police)
In an article about new Israeli legislation to allow for the ouster of members of Knesset accused of racial incitement, Agence France Presse today pulls a Time Magazine stunt, reporting:
The legislation was put forward after three Arab-Israeli opposition lawmakers sparked controversy when they visited relatives of Palestinians killed by Israeli security forces after alleged attacks in Israel.
Alleged attacks? Haviv Haim, Alon Govberg and Richard Lakin were not killed in an "alleged" attack on Oct. 13 when Bahaa Alyan boarded their Egged bus in East Talpiot, indiscriminately shooting and stabbing passengers. Alyan's father was among the Palestinian relatives with whom MKs Basel Ghattas, Jamal Zahalka and Hanin Zuabi met last February.
Indeed, AFP's headline and article at the time of the MKs' visit to the terrorists' families got it exactly right: "Israeli leaders slam MPs who met attackers' families." AFP's Feb. 5 headline rightly refers to "attackers' families," not "alleged attackers' families."
In addition, the Feb. 5 AFP story opened with the straightforward sentence: "Three Israeli Arab lawmakers who met relatives of Palestinians killed after carrying out attacks on Israelis faced fierce criticism. . . ." Indeed, there is no doubt that Baha Alyan, whose family the MKs visited, was one of the killers on that Egged bus Oct. 13.
As AFP's Feb. 5 article correctly detailed later on:
Balad said [the relatives with whom the MKs met] included the father of Bahaa Alyan, who in October boarded a bus in Jerusalem with a friend, shooting and stabbing passengers and killing three people.
After a Facebook campaign launched by Israel's Government Press Office, Time Magazine corrected the identical error concerning Alyan. CAMERA has contacted AFP editors to ask them to likewise correct their copy. Stay tuned for an update.
UPDATE: AFP has amended the text of the article to read:
The legislation was put forward after three Arab-Israeli opposition lawmakers sparked controversy when they visited relatives of Palestinians killed by Israeli security forces while carrying out attacks. [emphasis added]
Posted by TS at 06:39 AM | Comments (3)
New York Times Clarifies on Gaza Settlements
Yesterday CAMERA prompted clarification of an unclear passage which implied that there are still settlements in the Gaza Strip in an otherwise thorough and informative article on the effects of living with terrorism in Israel ("To France from Israel: Lessons on Dealing with Terror"). The article originally referred to an undated Ben-Gurion University study which "found that residents close to attack sites — in this case, those living in Israeli settlements in the Gaza Strip — reported a lower sense of personal threat."

The use of the present tense ("those living in Israeli settlements in the Gaza Strip") with respect to the undated study wrongly implied that Israelis are currently living in Israeli settlements in the Gaza Strip.
In response to communication from CAMERA, a Times reporter immediately replied and promised to pass to forward our note to the foreign desk. Later, editors commendably amended the text, which now notes that the study was carried out in 2003-04 and which refers to "those living in Israeli settlements then in the Gaza Strip" (emphasis added.)
Editors did not append a note to the article alerting readers to the clarification. The clarification has not yet appeared in print.
For additional New York Times corrections elicited by CAMERA, please see here.
Posted by TS at 04:34 AM | Comments (0)
July 19, 2016
Report Accuses Huffington Post of Selling Iran Deal Through Lies, Deception and Anti-Semitic Incitement
Savethewest.com has released another report documenting the journalistic malfeasance of the Huffington Post. The Huffington Post is an internet news magazine founded by Arianna Huffington. It is one of the leading purveyors of the far-left political agenda.
Jon Sutz, the author of the report, had previously released a film that dissected the Huffington Post's coverage of Palestinian stabbing attacks in Israel in late 2015. The film demonstrated a pattern of manipulation and omission to support Palestinian propaganda and reverse victims and victimizers.
This report focuses on the Huffington Post's coverage of the Iran nuclear deal. According to the Savethewest report summary, the Huffington Post
(1) engaged in a two-year, scorched-Earth campaign of lies, deception, bias and anti-Semitic incitement in order to help promote the Iranian nuclear deal.

(2) ignored, then downplayed the discovery, in May 2016, that Deputy National Security Adviser Ben Rhodes created a "war room" inside the White House, consisting of federal officials and outside groups, that misled uninformed journalists, Congress and the American people on the Iran deal.

(3) has provided no coverage of the rapidly-unfolding discoveries that pivotal claims concerning the origins, nature and specifics of the Iran deal are false, thus validating its critics' worst fears.
The report discusses elements of the Huffington Post's coverage of the deal, including its utilization of anti-Semitic themes. Read the whole thing.
Posted by SS at 10:47 AM | Comments (1)
Washington Post Sinks Mavi Marmara Facts
Recep Tayyip Erdogan, President of Turkey

A Washington Post article ("6 years after raid, Turkey and Israel to normalize relations," June 28, 2016) improperly identified the Mavi Marmara—a ship carrying armed individuals who in 2010 attempted to break the Israeli naval blockade of the Hamas-ruled Gaza Strip—as an aid ship. Despite being presented by CAMERA with evidence disproving its characterization of the Mavi Marmara, The Post—without explanation—refused to correct.
In their dispatch, ostensibly about Israel and Turkey normalizing relations, Post reporters Erin Cunningham and Ruth Eglash claimed, "Israel and Turkey reached an agreement to repair ties after six years of strained relations over a deadly Israeli raid on a Turkish ship delivering aid to Gaza in 2010…. Ten Turkish activists were killed in the assault."
However, as CAMERA has noted ("Radical, Pro-Hamas 'Flotilla' Seeks Media Win," May 31, 2010), no aid was found aboard the Mavi Marmara, the lead ship in the flotilla which sailed for the Gaza Strip under the guise of bringing humanitarian assistance to Palestinian Arabs. The Israeli Foreign Affairs Ministry (MFA) reported that of the seven flotilla ships, only four were freighters. The Challenger 1 (small yacht), the Sfendonh (small passenger boat) and the Mavi Marmara (passenger ship) did not carry any humanitarian aid. The UN Palmer Report appeared to support Israel's conclusion, noting that what little aid was on board the Mavi Marmara was likely only "intended for the voyage itself," that is, for passengers' use. Greta Berlin, one of the flotilla organizers, concurred, telling Al Jazeera at the time: "This mission is not about delivering humanitarian supplies..."
Additionally, The Post's characterization of Mavi Marmara "activists" could mislead readers. As CAMERA has noted ("New York Times Presents Attack on Soldiers by Mavi Marmara Activists as Israel Claim," Aug. 18, 2011), video footage of the incident clearly shows that Israeli troops boarding the ship were attacked—some while still climbing aboard—with metal bars and knives. Israeli Defense Forces (IDF) later found a variety of weapons, including sharpened stakes and knives, aboard the ship (pictures of which can be found here).
That the Mavi Marmara was a fake aid ship is not surprising considering that terrorist groups were connected to it—another fact that The Post failed to report.
As CAMERA has noted, the two main organizers of the flotilla were the Turkish Insani Yardim Vakfi (IHH), an Islamic charity that has worked closely with terrorist organizations, and the Free Gaza Movement, which is strongly linked to the extremist International Solidarity Movement (ISM).
According to the Washington Institute for Near East Policy, a Washington D.C.-based think tank, the IHH works closely with Hamas, the terrorist group that rules the Gaza Strip. The Meir Amit Intelligence and Terrorism Information Center has cited links between the group and al-Qaeda, the U.S. designated-terrorist group responsible for the Sept. 11, 2001 terror attacks. The information center also charged IHH with involvement in a failed plot to bomb the Los Angeles International Airport.
As the Middle East Media Research Institute (MEMRI), a non-profit organization that translates Arab media, has documented, many of the flotilla participants were members of the Muslim Brotherhood, and some had declared their desire for martyrdom before trying to run the Israeli blockade.
In addition to omitting important information about the Mavi Marmara, The Post singled out Israel for its "naval blockade of Gaza." The paper failed to mention that Egyptian authorities also maintain a blockade of the Gaza Strip. Both countries do so to curtail jihadist activity and prevent the smuggling of weapons to the terrorist groups that threaten them.
CAMERA twice contacted The Washington Post asking for a correction. Despite being presented with the evidence noted above—including video footage of "activists" attacking IDF soldiers—The Post failed to respond.
This is not the first time this year that The Post omitted essential information in its reporting relating to the Mavi Marmara: Twice in February 2016, the paper improperly identified the IHH as a "non-governmental Islamic charity group. ("Washington Post Fails to Properly I.D. Terrorist Charity," Feb. 16, 2016)." When it comes to the "aid ship" that wasn't, The Post apparently would rather the facts sink than sink in.
Posted by SD at 09:35 AM | Comments (0)
July 18, 2016
Updated: Is Yohanna Katanacho Telling the Whole Story About West Bank Travel Restrictions?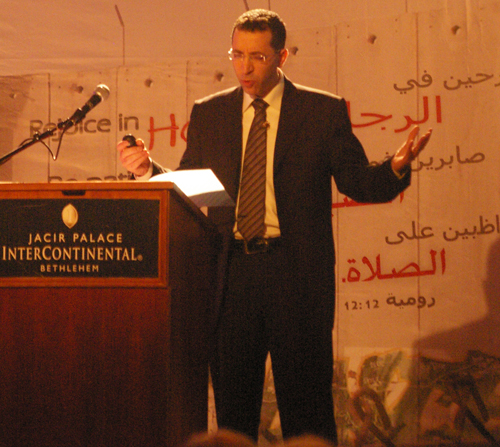 Rev. Dr. Yohanna Katanacho speaks at the 2012 Christ at the Checkpoint Conference in 2012. (Dexter Van Zile)
Note: This article has been updated. Scroll to the bottom to see the update. July 18, 2018
Rev. Dr. Yohanna Katanacho does not have a lot of nice things to say about Israel, where he lives as a citizen. Katanacho, who serves as a full professor of biblical sudies and academic dean at Nazareth Evangelical College in Israel, regularly denounces Israel to audiences of Christians from North America and Europe.
For example, he recently told an audience of Christians who had trekked to the West Bank for a "peacemaking" conference organized by his employer, Bethlehem Bible College, that "Jewishness in Israel has become an obsession for Israeli Jews and a nightmare for Palestinians because of its extremist views and determination to create a world filled with masters and slaves."
It's a dishonest way to describe Israel, the one country in the Middle East where the indigenous Christian population has increased and where Jews, Muslims and Christians work together to live in peace in ways that are unthinkable in many other countries in the region. (For a brief summary of some of the things Katanacho has said about Israel and its Jewish citizens please see this article on the Times of Israel website written by CAMERA researcher Dexter Van Zile.)
When speaking to a group of Christians at the first Christ at the Checkpoint Conference in Bethlehem in 2010, Katanacho lamented the fact that Israeli law prohibits Israeli citizens from entering into the areas in the West Bank controlled by the Palestinian Authority. He stated this fact to prove that the Israeli government has enacted policies that prevent Palestinians from "connecting with our families and relatives in the Occupied Palestinian territories. Even standing here today, I'm breaking the law. It's illegal for me to go inside Bethlehem."
Katanacho's declaration that he was breaking Israeli law by speaking at Christ at the Checkpoint in Bethlehem sounds very dramatic.
But is Katanacho telling the whole story?
It's a reasonable question to ask because according to his résumé, Katanacho worked at Bethlehem Bible College between 2007 and 2015, serving as the school's academic dean and as professor of biblical studies at the school. These are not the type of jobs one can do via Skype or Facetime, indicating that Katanacho passed through Israeli checkpoints in and out of the West Bank on a regular basis. If he was violating the law by speaking at the Christ at the Checkpoint in 2010, then it was not a one-time event, but something that happened a lot, hundreds if not thousands of times.
Either Israeli security officials are fundamentally incompetent, or there was a conscious, if implicit decision to let him through. Knowledgeable observers would go with the latter assessment.
To understand how this could be it's important to know some background about the regulations prohibiting Israeli citizens from entering areas under the control of the Palestinian Authority. Here is how the Times of Israel reported on the issue after two Israeli journalists were arrested from violating the law:
Israeli citizens are not permitted to enter "Area A," areas in the West Bank under Palestinian security control, without a permit from the army. The rules were instituted in the wake of the violence of the Second Intifada in 2000.
Snapshots has made some inquiries and has learned that Israeli officials, reasonably enough, are more concerned about violence against Israeli Jews in the West Bank than it is Israeli Arabs, because Israeli Jews are much more likely to be targets of violence than Arabs. (Remember, the prohibition against travel into the West Bank was imposed in 2000 in response to the violence against Israelis during the Second Intifada – violence which was mostly directed at Israeli Jews, not Israeli Arabs like Katanacho.)
As a result, the IDF, which controls passage into and out of the West Bank, will either grant a permit to an Israeli Arab allowing passage or even turn a blind eye to Israeli Arabs traveling into the area. "They bend the law on this issue," one source reported, "But the law is the same."
It stands to reason that Katanacho either had official sanction to travel into the West Bank or some sort of informal customary arrangement had been established allowing him to pass back and forth between Israel and the West Bank so he could do his job.
Given his responsibilities at Bethlehem Bible College, that seems like a reasonable and humane decision on the part of the Israeli officials, one that leads in the direction of establishing a badly needed modus vivendi between the Israelis and the Palestinians.
How does Katanacho respond to this? By mischaracterizing the law against Israeli citizens traveling into the West Bank as part of a scheme to keep Palestinians separated from one another, when in fact it was imposed to save the lives of Israeli Jews.
The upshot is that Katanacho is not telling the whole story. One way or the other, Israeli officials allowed him to pass into and out of the West Bank on a regular basis over several years. But instead of acknowledging the apparent willingness of Israeli security officials to cut him (and his employer Bethlehem Bible College) some slack, he used his presence in the West Bank to portray Israel in an unduly harsh light.
Note: On Friday, July 16, CAMERA sent emails to Rev. Dr. Katanacho asking for clarification about his statement, but so far, has gotten no response.
Update (July 18, 2016, 4:18 p.m.)
One of our correspondents has alerted Snapshots to a number of articles that indicate that, Israel has, on occasions, allowed Israeli Arabs into the West Bank.
In 2008, Ynet reported the following:
Israel began on Monday to allow its Arab citizens into the West Bank city of Jenin to visit relatives and shop for the first time since the start of a Palestinian uprising in 2000, Palestinian officials said.

The move follows the deployment of Palestinian security forces in the city in a campaign that Washington sees as a chance for Palestinian security forces to show they can rein in militants – an Israeli demand for Palestinian statehood. The move could also provide a badly needed economic boost to Jenin.
Haaretz also covered this story.
This bit of information indicates two things. First, Yohanna Katanacho was clearly not telling the full story when he said it was against the law for Israeli Arabs to visit the West Bank. There are exceptions. Secondly, it reveals that the restrictions were imposed to protect the lives of Israeli Jews, not to separate Israeli Arabs in Israel from their friends and relatives in the West Bank.
Posted by dvz at 02:09 PM | Comments (0)
July 15, 2016
List Ignoring Israeli Terror Victims Will Be Updated, CNN Assures CAMERA

July 17 Update Appended to Bottom of Post: CAMERA Success — CNN adds fatal attacks on Israelis


After the deadly terror attack in Nice, France, CNN posted an online feature entitled "30 Days of Terror Around the World," which offered readers "a look at the attacks that have happened from June 14 through July 14."
Glaringly absent from CNN's list, though, were any Israeli victims of Palestinian terror during that time period.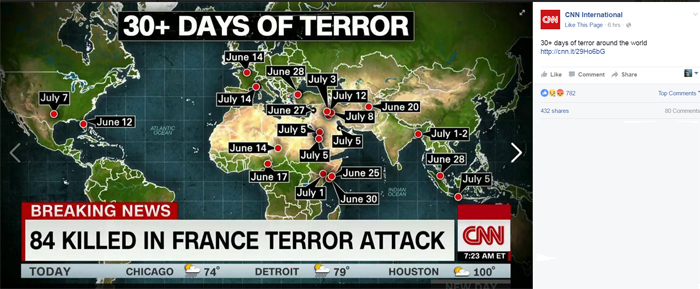 Readers were understandably outraged. Did CNN not consider Hallel Yaffa Ariel, a 13-year-old girl who was murdered in her bed, to be worthy of mention in this discussion of recent terror attacks? And what of Michael Mark, a rabbi killed in front of his wife and two children?
While these attacks were ignored, CNN did make sure to include even attacks that caused no fatalities, such as an attack on a police station in Indonesia …
… and an attack in Malaysia:
CNN has told CAMERA that the omissions were not intentional, and that it will be updating the feature with the attacks against Israelis. Stay tuned.
July 17 Update
As of Friday evening, CNN has included information on the Palestinian terror attacks in which 13-year-old Hallel Ariel and Rabbi Michael Mark were killed. Screen shots of the additions, which CNN included after CAMERA staff contacted editors, appear below.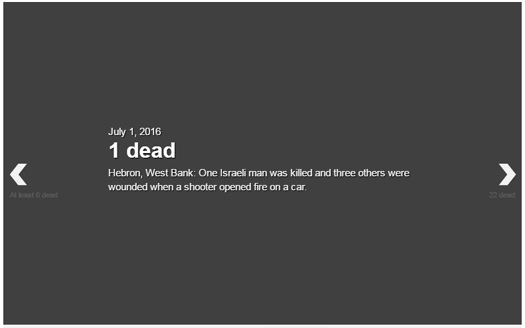 Posted by GI at 02:46 PM | Comments (1)
July 14, 2016
Christian Group Accuses WCC's Peace Activists of Violating Israeli Law
EAPPI activists in the West Bank. (Dexter Van Zile)
A subsidiary of the World Council of Churches (WCC), an umbrella organization that is comprised of more than 300 Protestant and Orthodox churches throughout the world, stands accused of violating Israeli law.
The organization is called the Ecumenical Accompaniment Program in Palestine and Israel, (EAPPI) which was founded by the WCC in 2001. EAPPI trains and sends "peace" activists into the West Bank to draw attention to the misdeeds of Israeli soldiers and settlers under the banner of "accompanying" Palestinians as they go about their daily lives.
EAPPI activists who come mostly from Europe and North America, spend several months in the West Bank and when they return home, they provide first-hand testimony to promote anti-Israel activism. EAPPI activists are regular supporters of the boycott, divestment and sanctions movement in mainline churches, for example.
Activists from the so-called peacemaking organization rarely, if ever, draw attention to the misdeeds of Palestinians, indicating that the EAPPI is really more interested in demonizing Israel than they are at promoting peace. (For a detailed analysis of the EAPPI and its parent organization, the World Council of Churches, please read this 2011 report prepared by CAMERA researcher Dexter Van Zile and published by the Jerusalem Center for Public Affairs about the WCC's anti-Zionist history. The upshot of this report is that "During times of conflict, WCC governing bodies, staffers, and activists have, to varying degrees, promoted a patently hostile attitude toward Israel and a permissive and appeasing attitude toward its enemies.")

Given the WCC's hostility toward Israel, it should come as no surprised that peace activists associated with the ecumenical body stand accused of violating Israeli law regarding visas. The allegations, leveled by the Christian Empowerment Council (CEC) appeared in an article published in Israel Hayom on July 12, 2016. The article states:
From their investigation into the EAPPI, which began in February of 2015, the CEC found that the activists arrived in Israel on tourist visas and not volunteer visas, as required by law. These BDS activists violate their tourist visas by masquerading as tourists.
If CEC's allegation is true, it would not be the first time that EAPPI activists have exhibited contempt for Israeli sovereignty. In 2007, the EAPPI published an article calling on its supporters to "hack" government websites as part of a campaign to bring the "occupation" to an end. In the context of the article, it was perfectly clear that the author was calling on activists to hack Israeli websites. (The article was eventually removed from the Internet after it was exposed.)
CAMERA has queried EAPPI informing the organization of the allegations and asking for a response. If and when the EAPPI replies to the article, Snapshots will post the response.

Posted by dvz at 12:00 PM | Comments (0)
July 13, 2016
Los Angeles Times' Fuzzy Figures on Gaza Patients
See July 14 update appended to this post: LA Times Corrects on Gaza Permits
In his article today about Gazan men receiving medical treatment in Turkey, freelance reporter Umar Farooq errs ("Residents of impoverished Gaza Strip turn to Turkey for lifesaving medical care"):

According to the World Health Organization, about 3,000 patients from Gaza with life-threatening illnesses apply each month to get treatment at Israeli hospitals, but fewer than two-thirds receive security clearance to pass through the Erez crossing.
According to monthly World Health Organization data, Farooq is wrong on two points.
1) During the most recent one-year period for which data is available (June 2015 to May 2016), about 2,000 patients from Gaza with life-threatening illnesses apply each month to get treatment at Israeli hospitals, not 3,000. In fact, the precise average number of monthly applicants during that time period is 2,048. The most applicants in any given month in the last year was 2,275 (October 2015).

2) Farooq also errs about the number of applicants who receive security clearance, stating: "fewer than two-thirds receive security clearance to pass through the Erez crossing." In the same 12 month period, the approval rate dipped below two-thirds just one time -- to 65.81 percent in May 2016. The average approval rating over the last most recent year for which data is available is 72.59 percent, or "fewer than three-quarters," not fewer than "two-thirds."

In a separate issue, the article notes that the 40 Gazan men seeking medical treatment "said they have no ties to the militant [sic] group Hamas, which rules Gaza." Then, interestingly, the end of the article notes that, in their apartment, "a television is tuned to Al Aqsa TV, broadcast from the Gaza Strip." Unfortunately, Farooq omitted to note that Al Aqsa TV is Hamas' official TV station.
July 14 Update: LA Times Issues Stealth Correction
Following communication from CAMERA, editors have amended the online article. The article now correctly reports:
According to the World Health Organization, about 2,000 patients from Gaza with life-threatening illnesses apply each month to get treatment at Israeli hospitals, but fewer than three-quarters on average receive security clearance to pass through the Erez crossing.
Contrary to standard journalistic practice, the editors have not appended a note to the article alerting readers to the correction.
For more Los Angeles Times corrections prompted by CAMERA, please see here.
Posted by TS at 07:14 AM | Comments (0)
July 12, 2016
AP Headline on Israeli Law Breaks Journalistic Rule
On a controversial new Israeli law to increase regulation of Israeli non-profit organizations which receive more than half of their funding from foreign states, an Associated Press headline violates the journalistic imperative to maintain impartiality. "Israel passes law targeting human rights organizations," is the AP news headline, mirroring the position of the law's critics.
The Associated Press is a leading wire service, and the tendentious headline was republished on top news sites including The Wall Street Journal, ABC News and Fox News.
This partial headline is coming down on one side of a controversial issue (the law's critics.)

As the article itself states: "Opponents of the law argued that the Netanyahu government was trying to target liberal human rights organizations that are critical of Israel's policies toward the Palestinians."

On the other side of the debate, as AP's Daniella Cheslow reports:
Israeli Prime Minister Benjamin Netanyahu has strongly supported the legislation, saying there is nothing anti-democratic about requiring transparency so the public is aware of the role of foreign governments in funding these groups.
A headline reflecting the law's supporters views might have said:
Israel passes law aimed at greater transparency for Israeli NGOs funded by foreign states.
Agence France Presse, another leading international wire service, opted for the neutral, descriptive and accurate headline: "Israel approves contentious NGO foreign funding law."
Reuters' headline also maintains greater objectivity, stating: "Israel NGO bill, seen as targeting left-wing groups, becomes law." (Emphasis added on the critical qualifying words.)

Hat tip: Eugene Kontorovich
Posted by TS at 07:17 AM | Comments (0)
July 07, 2016
Christian Science Monitor Headline Errs on 'New Israeli Settlements'
July 12 Update: CAMERA Prompts Christian Science Monitor Correction of Erroneous Headline on 'New Israeli Settlements'
Whenever Israel approves plans for new housing units in preexisting West Bank settlements, or in established Jewish neighborhoods in Jerusalem beyond the pre-1967 Armistice Line (the Green Line), it seems there's always at least one major media outlet which wrongly states that Israel is building "new settlements."
This time, there's this Christian Science Monitor Global News Blog headline:
As the accompanying article reports, the recent construction approval now drawing ire is for homes in the well-established settlement of Maale Adumim and for built up neighborhoods in Jerusalem beyond the Green Line. Not for any new Israeli settlements.
In 2013, CAMERA prompted an International New York Times correction of the identical error: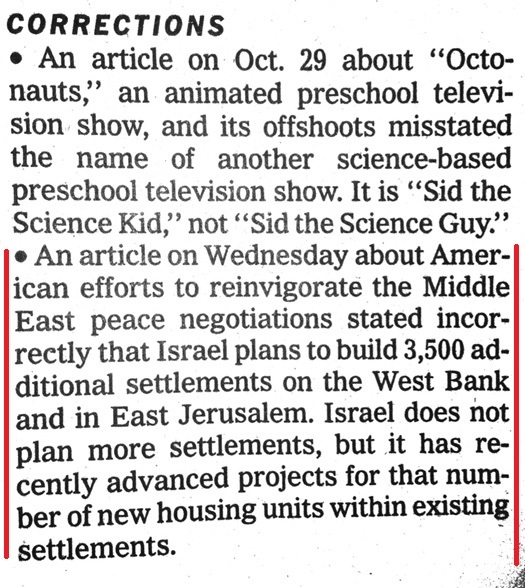 CAMERA has contacted editors to request a correction. Stay tuned for an update.
Posted by TS at 08:00 AM | Comments (0)
July 04, 2016
National Post Headline Casts Doubt: Murder of Hallel Ariel Maybe Not Terrorism
July 5 Update: National Post Amends the Headline
Following CAMERA's communication with several editors yesterday, editors commendably amended the headline. It now appropriately states: "Palestinian fatally stabs Israeli girl, 13, as she sleeps in her bedroom in West Bank settlement." CAMERA commends editors for their quick follow up.
July 4 -- Can the murder of a sleeping 13-year-old child out of nationalistic motives be considered anything other than a terrorist attack? Canada's The National Post ran the following headline about the murder of Hallel Yaffa Ariel, a 13-year-old Israel girl murdered in her bed last week by a Palestinian: "Palestinian fatally stabs sleeping Israel girl in West Bank settlement in what Israel calls a terrorist attack."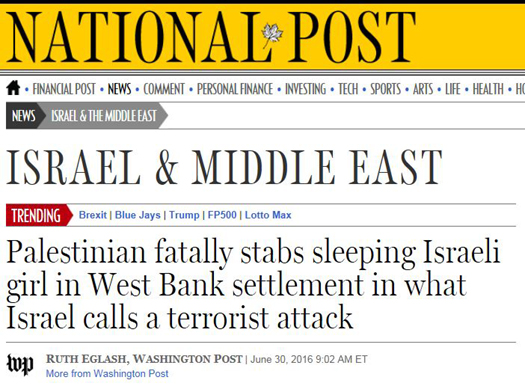 Why the qualifying reference to "what Israel calls a terrorist attack," as if there is a question as to whether the nationalistically motivated murder of a sleeping child is actually terrorism? The story, by Ruth Eglash, originated in The Washington Post where it was appropriately, and more briefly, headlined: "Palestinian fatally stabs sleeping Israeli girl, 13, in West Bank settlement."
Indeed, the reference to a "terrorist attack" is superfluous because the facts speak for themselves. But, once The National Post does lengthen the headline by including a reference to a "terrorist attack," on what grounds does it cast doubt on that fact that the nationalistic murder of a child is anything but a terror attack? Is this what The National Post calls a journalistically sound headline?
CAMERA has contacted editors to request that the bizarre headline be amended. Readers may also submit feedback to editors through The Post's site.
Posted by TS at 04:04 AM | Comments (3)