« May 2016 | Main | July 2016 »
June 30, 2016
After Mother of Terrorist Says Son "Hero" and "Martyr," NY Times Mistranslates to Hide Her Words (UPDATED)
UPDATE: Following communication with CAMERA staff, the New York Times has corrected its subtitles. They now accurately show the woman using the word "hero" to describe terrorists like her son, and no longer claim she called the killing a "crime."

A New York Times video segment entitled "Reactions to West Bank Stabbing" includes an interview with the mother of a Palestinian terrorist who murdered a 13-year-old girl today. But a series of mistranslations downplayed the mother's words, which showed her proud support for her son's deed.
A twitter user named Akiva Cohen flagged one error, noting that although the audio clearly captured the mother calling her son a shahid, or "martyr," the subtitle showed her saying only "son."
Mom of terrorist who murdered 13yr old girl calls him "martyr". @nytimes edits 2 "my son". @GileadIni @elderofziyon pic.twitter.com/Ag0hN2Rsag

— Akiva Cohen (@AkivaMCohen) June 30, 2016
The mistranslation was quickly corrected.
But other mistranslations, which also soften the mother's extreme rhetoric, remain. Where the mother says that of course anyone who would commit such an act is a "hero," the subtitle shows her saying the word "bold" instead of hero.
Likewise, the subtitle translates her referring to the murder as a "crime," though she does not actually use that word.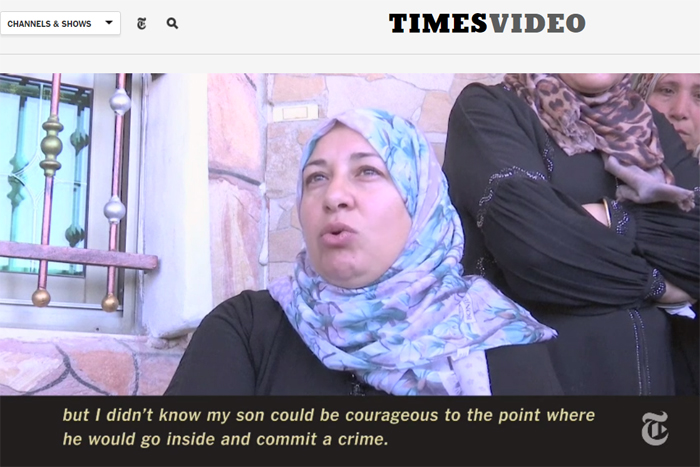 CAMERA has called on the newspaper to correct the remaining mistranslations. It should also figure out who mistranslated the segment in this way, what went wrong, and how to ensure that future translations — even of inflammatory statements by Palestinians — are rendered accurately.
Posted by GI at 04:29 PM | Comments (10)
June 27, 2016
CAIR Loses in Court, Media Fails to Notice

On June 21, 2016, the Council on American Islamic Relations (CAIR), a self-described U.S. civil rights organization with a history of Muslim Brotherhood and Hamas connections, lost an appellate court decision and will now have to stand trial for a "massive criminal fraud." However, this development was not reported by the major U.S. news media that frequently used CAIR as a source.
As CAMERA's Special Report "The Council on American Islamic Relations: Civil Rights, or Extremism?" (July 2009) has noted, CAIR is an unindicted co-conspirator in the 2009 Holy Land Foundation (HLF) retrial—the largest terrorism financing case in the country's history. At least five CAIR staff members and lay leaders have been imprisoned, indicted, arrested and/or deported on weapons or terrorism-related charges. As a result, the FBI, in a statement to members of the U.S. Congress, said that it would cease official cooperation with CAIR or its executives until it could resolve "whether there continues to be a connection between or its executives and Hamas"—a U.S.-designated terror group. As of this writing, the FBI's policy towards CAIR remains in effect.
Yet, CAIR is routinely treated as a credible source by news media which, as CAMERA has pointed out (see, for example "Washington Post CAIR Cover-Up Fails Readers," May 3, 2016), often fail to disclose the council's history. For example, according to search engine Lexis-Nexis, The Washington Post alone has cited the group more than 50 times in the last two years.
It is surprising, then, that many news outlets did not report that CAIR lost a significant recent legal battle in which it stands accused, among other things, of fraud. A Lexis-Nexis search showed that major U.S. news outlets, including The Washington Post, The New York Times, USA Today and The Los Angeles Times, among others, did not inform readers about CAIR's recent legal troubles.
The Clarion Project, a Washington D.C.-based non-profit organization that monitors Islamic extremism, wrote:
"The Council on American Islamic Relations will stand trial on charges of fraud and cover up for alleged crimes perpetrated against hundreds of victims, according to a new ruling by the U.S. Court of Appeals for the District of Columbia.
"The case against CAIR National was originally dismissed by a federal judge but unanimously overturned by the appellate court. Two cases are involved in the suit, which the appellate court consolidated into one, since both cases involve racketeering, a federal RICO (Racketeer Influenced and Corrupt Organizations) crime.
"The lawsuits claim that CAIR National was aware that Morris Days, the 'Resident Attorney' and 'Manager for Civil Rights' at the now defunct CAIR-Maryland/Virginia chapter in Herndon, Virginia, was in fact not an attorney and that he failed to provide legal services for clients who came to CAIR for legal representation.
"Moreover, the suits claim, CAIR knew of this fraud and purposefully conspired with Days to keep the CAIR clients from discovering that their legal matters were being mishandled or not handled at all. In addition, the complaints allege that, according to CAIR's own internal documents, there were hundreds of victims of the fraud scheme."
The senior counsel for the five plaintiffs suing CAIR, David Yerushalmi, called CAIR's actions a "massive criminal fraud."
Initially, the original federal judge ruled that Days and CAIR's Virginia chapter were liable for fraud, but that CAIR National could not be held responsible for Days' conduct. However, as the Clarion Project pointed out, "the appeals court decision found that, upon a review of the evidence, there was a direct relationship between CAIR National and Days."
Summarizing the implication of the appeals court decision, the Middle East Forum, a Philadelphia-based think tank, noted:
"The [Middle East] Forum-funded fraud lawsuit against CAIR's national office that had been summarily dismissed by a federal district judge in 2010 was unanimously reversed…by the United States Court of Appeals for the District of Columbia, sending the case back for a full trail."
A self-styled "civil liberties" organization and frequent news media source is accused of committing a "massive criminal fraud" against Muslim-Americans it claims to represent. Where was the coverage?
Posted by SD at 02:24 PM | Comments (1)
UPDATED: The PA Blood Libel Repeated by President Abbas was Already Debunked with CAMERA's Help
June 24, 2016
Today's New York Times features a forthright and informative article by Diaa Hadid about Palestinian President Mahmoud Abbas' blood libel to the EU. She writes:
Echoing anti-Semitic claims that led to the mass killings of European Jews in medieval times, President Mahmoud Abbas of the Palestinian Authority accused rabbis in Israel of calling on their government to poison the water used by Palestinians.

He made the unsubstantiated allegation during a speech to the European Parliament on Thursday.

Prime Minister Benjamin Netanyahu of Israel said in a statement later that Mr. Abbas had spread a "blood libel" in the speech.
Abbas was repeating the medieval blood libel that was revived last week by Palestinian Authority officials who invented a fictional rabbi named "Rabbi Shlomo Mma" and a fictional rabbinical council called the "Council of Rabbis in the West Bank Settlements" calling for the poisoning Palestinian water sources. Palestinian Media Watch describes how the PA turned an unsubstantiated claim against settlers by a radical activist into the full-blown blood libel, which was subsequently repeated by the PA president to the European Union.
The Jerusalem Post earlier published an article debunking the Palestinian Authority invention, quoting research from CAMERA. According to the Post, there is no evidence of any "Shlomo Mlma or Mlmad or the Coucnil of Rabbis in West Bank settlements." Rather:
There is a Council of Rabbis in Judea and Samaria, led by Yishai Babad. There is a Rabbi Zalman Melamed of Beit El. Mlmad is similar to Melamed, and Zalman is Yiddish for Shlomo.

Rabbi Zalman Melamed told Gidon Shaviv, a senior research analyst for press watchdog CAMERA, "I did not say that and do not believe any rabbi would say something like that." Melamed also called the report a blood libel. [emphasis added]
Updated, June 26: Abbas Retracts the Libel
The New York Times reports:
Mr. Abbas's retraction was sent to reporters early Saturday morning, issued by the P.L.O., of which Mr. Abbas is the chairman. It said that Mr. Abbas "rejected all claims that accuse him and the Palestinian people of offending the Jewish religion." It added that he "also condemned all accusations of anti-Semitism."

"After it has become evident that the alleged statements by a rabbi on poisoning Palestinian wells, which were reported by various media outlets, are baseless, President Mahmoud Abbas has affirmed that he didn't intend to do harm to Judaism or to offend Jewish people around the world," the statement continued.
Posted by RH at 01:15 PM | Comments (1)
Historical Malfeasance of The Daily Telegraph (Australia)
The Daily Telegraph (Australia) headline "Israeli Thunderbolt hostage-rescue raid on Entebbe was a drama worthy of Hollywood blockbusters" is certainly true. Despite the promising headline, the seemingly light "historical" article celebrating 40 years since the daring Entebbe rescue gives credence to a bizarre conspiracy theory from the 1970s.
Following an account of the well-known Israeli heroics popularized in various Hollywood movies, Telegraph history writer Marea Donnelly then ventures into less familiar territory. "[I]ntrigue surrounds" the choice of some westerners to join the Popular Front for the Liberation of Palestine terrorists in kidnapping Israelis, the article alleges. "Adding to the confusion," Donnelly continues, was the fact that the hijackers described themselves as belonging to the "Che Guevara Force and the Gaza Commando of the Popular Front for the Liberation of Palestine (PFLP)".
Readers then unexpectedly encounter an ostensible cause to doubt the heroic narrative:
Then in 2007 Britian's National Archives released a file suggesting Israel's Security Service, the Shin Bet, had helped subversive agents in the PFLP stage the hijack.

First secretary at the British embassy in Paris, David Colvin, told superiors a contact in the Euro-Arab Parliamentary Association suggested the attack was designed to torpedo the rival Palestine Liberation Organisation's standing in France, and prevent a perceived rapprochement between Americans and the PLO.
The apparent implication is that the aforementioned "confusion" can be attributed to the alleged Israeli engineering of the hijacking in which three Israeli hostages and one commando were killed.
The claim, popular in pro-Palestinian conspiracy sites, is based on a single "report" given to David Colvin, the first secretary at the British embassy in Paris in 1976. Recently released by the British archives, the document begins: "It might be useful to record some of the theories which are circulating about the incident." In other words, this document recounts various rumors or theories. The report notes the "theories," but does not assess them. Here is the relevant section:
When the document was first released in 2007, it was widely reported as a curiosity. However, news organizations were careful to note that there was no evidence this "report" was taken seriously. The Telegraph (British) noted: "The message was received without comment." Haaretz added: "The claim is not known to be backed up by corroborating evidence, and the file does not make it clear whether the British government took the claim seriously."
To include a baseless conspiracy theory, without clearly noting that it is unfounded, in a short and light historical piece is incredibly misleading. Casting rumors and conspiracy theories as potentially credible is a disservice both to the historical record and to sound journalism.

Posted by gs at 05:00 AM | Comments (0)
June 24, 2016
Some Cover, Others Cover Up, Abbas Anti-Semitism
It's difficult to imagine German chancellor Angela Merkel standing before the European Parliament and announcing that, having studied the misshapen skulls of minorities in Germany, she has concluded that phrenology is a legitimate science.
It's harder still to imagine major newspapers ignoring the deplorable allegation, or worse yet painting her speech as conciliatory.
But something to that effect is precisely what happened when Palestinian Authority president Mahmoud Abbas spoke at the European Parliament on Thursday. In a revival of the antisemitic European blood libel, Abbas told the parliamentarians that "a number of rabbis" in Israel petitioned their government to "poison water to kill the Palestinians."
In medieval Europe, the allegation that Jews caused the bubonic plague by poisoning wells led to the murder of thousands of Jews, and were a staple of antisemitism on the continent over the centuries that followed. Today, Palestinian claims about nefarious Jewish plots similarly contribute to a hateful atmosphere that helps sustains anti-Israel terrorism.
Some news organizations did cover Abbas's libel with appropriate focus. Reuters, for example, pointedly addressed the issue in the lede of its article, "Abbas says some Israeli rabbis called for poisoning Palestinian water":
Palestinian President Mahmoud Abbas accused Israeli rabbis on Thursday of calling for the poisoning of Palestinian water, in what appeared to be an invocation of a widely debunked media report that recalled a medieval anti-Semitic libel.
Even Diaa Hadid, a New York Times correspondent whose coverage of Israel at times has been dreadful, emphasized the importance of the story with a powerful opening paragraph:
Echoing anti-Semitic claims that led to the mass killings of European Jews in medieval times, President Mahmoud Abbas of the Palestinian Authority accused rabbis in Israel of calling on their government to poison the water used by Palestinians.
But other news organizations, including the Associated Press, ignored Abbas's antisemitic comments even while covering Abbas's speech.
The Wall Street Journal took it a step further. Not only did the newspaper ignore the Palestinian leader's hateful remarks in coverage of the speech, but it even framed Abbas's remarks as being moderate relative to a speech by Israeli president Reuven Rivlin:
The refusal of Mr. Abbas comes as an ironic finale to the two leaders' visits to the Belgian and European capital.

In a speech to the European Parliament on Wednesday, it was the Israeli president who brought the unpopular message that there were no prospects of a final peace deal in the near future and that a recent French initiative to revive negotiations amounted to little more than "negotiations for negotiations' sake."

Mr. Abbas, by contrast, talked Wednesday evening of the vital importance of the French peace initiative and said it was Israel that needed to get behind a two-state solution and start working on peace.

In a speech to EU lawmakers on Thursday, Mr Abbas condemned Israel's "never-ending provocations" and "fascist policies."

"Our hands are extended with a desire for peace and we have a will to achieve peace and we would ask [Israel], do you have the same will?" he said.
As if it isn't newsworthy, readers are left in the dark about the fact that Abbas recycled an antisemitic canard in that very same speech.
If a European leader like Merkel spewed such bigotry, it would certainly not be ignored. If Benjamin Netanyahu did so, it would be an international scandal. But too often, news organizations have different rules — one could call it different standards, or better yet a discriminatory triple standard — when it comes to Israelis, Palestinians, and the rest of the world.
Posted by GI at 01:55 PM | Comments (2)
June 23, 2016
Former Undersecretary of State Thomas Pickering Testified in Favor of Iran Deal While Taking Money From Boeing
The Daily Beast, an internet magazine covering current events, has disclosed that Thomas Pickering, an influential State Department official in both Democrat and Republican administrations, failed to sufficiently disclose his paid relationship with Boeing corporation while serving as a prominent advocate for the Iran deal. Pickering testified before Congress in favor of the deal, lobbied behind the scenes and published widely in the media. His testimony carried weight due to his standing in the foreign policy establishment. His resume includes serving as UN ambassador and ambassador to Israel, Russia and India. Pickering was a paid lobbyist for the Boeing corporation for many years. According to news reports, Boeing is in the process of finalizing a 25 billion dollar deal to provide Iran with commercial airliners.
According to the Daily Beast,
Pickering confirmed via email—from his Boeing corporate email address—that he was on staff at the company from 2001 to 2006 and has been a paid consultant for them ever since.
When queried as to whether he had disclosed his association with Boeing before providing testimony, PIckering did not respond. According to the Daily Beast, Neil Gordon—an investigator for the Project on Government Oversight, a Washington watchdog organization—indicated that this may represent a conflict of interest. Gordon recalled similar prior situations, where media outlets often presented influential commentators promoting certain policies as independent when they weren't.
The Daily Beast has found no evidence that Pickering mentioned his paid relationship with Boeing in the disclosure forms he provided to a Congressional committee prior to his providing testimony. Boeing also isn't mentioned in his bio that the White House kept on file.
The article notes,
Besides testifying before Congress, Pickering also signed a letter on July 7, 2015, to congressional leadership, along with other former diplomats, urging them to support the nuclear agreement. That letter didn't disclose his connection to Boeing, and it drew broad media coverage, including from the Huffington Post, Politico, and the AP. None of those reports noted his work for Boeing. The White House also cited the letter in its publication "The Iran Nuclear Deal: What You Need to Know About the JCPOA." Boeing is not mentioned anywhere in that document
.
The Daily Beast expose has been picked up by the Washington Examiner, the Tower, the Jewish Press and other sources critical of the Iran deal.
In July 2015, Pickering's argument in favor of the Iran deal appeared in the Tablet, an important news magazine for the Jewish community. The articles biographical information on Pickering only noted his service as a diplomat.
Pickering was also a signatory to a "Letter to the President from over 100 former American Ambassadors on the Joint Comprehensive Plan of Action on Iran's Nuclear Program." One can only wonder if other signators, which reads as a who's-who of the foreign policy establishment, are quietly profiting from the deal.
To be clear, there is nothing wrong with an individual, who is viewed as a disinterested expert and whose words carry considerable weight, offering testimony to Congress that favors a policy or agreement with life-and-death ramifications for the future. But there is a big problem when that same individual fails to disclose a personal financial stake in that policy or agreement.
So far, none of the mainstream media has picked up this story. Not the New York Times, National Public Radio, the Washington Post, BBC, CNN or Fox. Since the Daily Beast story is less than 24 hours old, further monitoring is in order to see what sort of coverage the story gets.
Such exposures reinforce the importance of alternative news outlets, distinct from the mainstream media, that do their own investigative reporting unfettered by political agendas. Unfortunately in a polarized political environment such fresh journalism can be difficult to find.
Posted by SS at 01:08 PM | Comments (0)
June 22, 2016
Bias by Editing: A Devilish Washington Post-Associated Press Detail
In journalism schools—those in which accuracy and context are still prized—it would have been an introductory example of bias by editing. In an Associated Press dispatch-turned Washington Post news brief it was a textbook case of minimizing Palestinian Arab violence against Israelis.
The Post's June 20, 2016 print edition included a news briefs from AP headed "West Bank: $18 million approved for settlement funding." The seventh and last paragraph as printed says:

"In the past nine months, Palestinians have carried out several [emphasis added] attacks, which have killed 32 Israelis and two Americans. About 200 Palestinians have been killed in that time, most identified by Israel as attackers."

Online, the first sentence of that paragraph, from AP's June 19 report, still read—as of June 22—"dozens [emphasis added] of attacks."

In fact, there had been nearly 300 assaults, according to a June 7 Israeli Foreign Ministry article and graphic, "Wave of Terror 2015/16."

It was possible that The Post's online AP item and its own in-print version were based on different AP reports, and the change to "several" from "dozens" of attacks was made by the wire service. But the printed brief in the newspaper's World Digest of five short items reads like a version of the online report edited for space, but with AP's "dozens" of attacks unwarrantedly replaced by, and minimized as "several."
Time and space constraints often compel journalists to use a type of shorthand. But in this case, for the wire service to report "dozens" of attacks and The Post "several" reads less like economy in reporting and editing than revisionism downplaying Palestinian aggression. That was especially so since the actual figure of anti-Israeli, anti-Jewish attacks was "hundreds," with 38 killed and 487 wounded.

CAMERA asked The Post's foreign desk on June 20 why AP's "dozens" of attacks became "several" in the newspaper and whether or not it thought a correction or clarification was in order. Two days later, no response had been received.
As we've noted, journalists have only their credibility to sell. Turning literally hundreds to virtually "dozens" to barely "several" obscures a nine-month wave of Palestinian terrorism and undercuts press credibility.
Posted by ER at 12:36 PM | Comments (0)
June 21, 2016
Where's the Coverage? Hezbollah Works with Drug Cartels

Hezbollah, the Lebanese-based, Iranian-backed Shi'ite Muslim terror group, has—in partnership with drug cartels—developed "the most sophisticated money laundering scheme or schemes that we have ever witnessed," a former top Drug Enforcement Agency (DEA) official told members of the U.S. House of Representatives Financial Services Committee. Yet, the June 8, 2016 testimony by previous DEA operations chief, Michael Braun, received little coverage by U.S. news media.
The Washington Times ("Cartels aid Hezbollah with mass drug scheme," June 9) reported Braun told lawmakers that Hezbollah—a U.S. designated terrorist organization—is "moving [multiple] tons of cocaine from South America to Europe." A Lexis-Nexis search of major U.S. print news outlets, including The Washington Post, USA Today, The New York Times, among others, showed that only The Washington Times noted Braun's testimony about expanding Hezbollah-drug cartel ties.
Hezbollah ("Party of God") is a virulently anti-Western, antisemitic terrorist group that was responsible for the Oct. 23, 1983 Marine barracks bombing in Lebanon killing 241 American personnel. Prior to the Sept. 11, 2001 terrorist attack by al-Qaeda, Hezbollah had killed more U.S. citizens than any other terrorist organization.
Washington Times correspondent Guy Taylor pointed out that prior to Braun's testimony, there has been "a backdrop of rising fears in Washington about smuggling connections between Middle East terrorist groups and the Western Hemisphere." Hezbollah, Braun warned lawmakers, has "metastasized into a hydra with international connections that the likes of [the Islamic State] and groups like al-Qaeda could only hope to have."
As CAMERA has noted, the DEA announced in February 2016 that it had arrested Hezbollah members ("DEA Uncovers Hezbollah Drug and Money Laundering," Feb. 3, 2016). The arrests were made as part of DEA's Project Cassandra, an effort to clamp down on Hezbollah's External Security Organization Business Affairs Component (BAC), which traffics cocaine in the United States and Europe. Over the past year, U.S. Department of Justice investigations into Hezbollah financing have resulted in the indictments of individuals living in Columbia, Lithuania, France and the United States.
Taylor said that after the February arrests, "The DEA said several of the BAC's Europe-based operatives had been arrested on charges of trafficking drugs and laundering money from South America to purchase weapons and finance the group's military activities in Syria. The agency described an intricate network of money couriers who collect and transport millions of euros in drug proceeds from Europe to the Middle East."
In addition to Braun, lawmakers also heard from Emanuele Ottolenghi, an Iran analyst with the Foundation for Defense of Democracies, a Washington D.C.-based think tank. Ottolenghi told the House committee that Hezbollah has a "vast network of support" in Latin America, particularly in Brazil, which is home to an estimate 7 million people of Lebanese descent. Ottolenghi cited a 2014 report by the Brazilian newspaper O Globo, which outlined a connection between Hezbollah and a Sao Paulo-based prison gang called Primeiro Comando da Capital.
The Washington Times observed that "the full scale of Hezbollah's operations has long been a subject of debate in Washington." In 2013, the U.S. State Department conducted a probe into the extent of Hezbollah's activities in Latin America and later claimed that Iran was not supporting any active terrorist cells in the region. The congressional testimony offered by Braun and Ottolenghi seem to contradict the State Department's previous claim.
Media largely failed to note an apparently newsworthy fact: a U.S.-designated terrorist group with a history of attacking Americans was named in congressional testimony as taking part in "the most sophisticated money laundering scheme" in the Western hemisphere in order to finance terrorist operations. Where was the coverage?
Posted by SD at 04:07 PM | Comments (0)
June 15, 2016
Tribune Newspapers Contradicts Themselves in Refusing to Correct

Tribune Newspapers (including The Chicago Tribune, Los Angeles Times and Baltimore Sun) offered a contradictory refusal to a request by CAMERA for a correction to an article calling disputed territories, some of which are held by Israel, "Palestinian lands."
The Tribune report "John Kerry joins French-led Middle East peace push," by correspondent Tracy Wilkinson, appeared in The Baltimore Sun, The Los Angeles Times and the Chicago Tribune (online June 3). It says, among other things: "…participants in Friday's talks, including U.N. Secretary-General Ban Ki-moon and about 25 senior European and Arab diplomats, urged Israelis and Palestinians to 'genuinely' commit to a two-state solution and to create conditions for 'fully ending' Israeli occupation of Palestinian lands [emphasis added]."
However, as CAMERA pointed out in its correction request, there are not now, nor have there ever been, "Palestinian lands." Since the collapse of the Ottoman Empire in World War I, no power has exercised recognized sovereignty over the land in question. Its status is to resolved by negotiations anticipated by U.N. Security Council resolutions 242 (1967) and 338 (1973), the 1995 Israeli-Palestinian interim accords, the 2003 international 'road map' and related diplomatic efforts taking 242 and 338 as reference points.
It would be more accurate to describe the status of the territories as disputed, not Palestinian. As U.S. Ambassador to the United Nations Madeline Albright stated in March 1994: "We simply do not support the description of the territories occupied by Israel in the 1967 War as occupied territory." That is, neither occupied Jordanian (the West Bank, 1948-1967) or Egyptian (the Gaza Strip, 1948-1967) land, nor occupied Palestinian territory.
Other newspapers have, if infrequently, noted as much. For example—following contact by CAMERA—The Washington Post updated a Sept. 5, 2014 article ("Washington Post Corrects on West Bank 'Palestinian Land,' Sept. 7, 2014, CAMERA). That update acknowledged that The Post article "incorrectly referred to Israel's occupation of 'Palestinian lands' in the West Bank." Further, it added "the Israeli-occupied territories are disputed lands that Palestinians want as a future state." Similarly, after contact from CAMERA, The New York Times offered a correction on Feb. 20, 2014, over what the paper acknowledged was "imprecise" wording.
However, Tribune newspapers refused to correct its use of "Palestinian lands." Instead, its rejection claimed—bizarrely—that the "article makes it more than clear that these lands are in dispute—it's what the discussions are about." Except it doesn't; the incorrect term "Palestinian lands" implies a fait accompli regarding the status of those territories, voiding any need for negotiation. Readers might well wonder what is there to negotiate if the lands are already "Palestinian."
It is worth noting however that Tribune, while affirming its choice in terminology, didn't contradict CAMERA's pointing out that the status of the lands are disputed. In fact, the chain agreed, asserting that "countless others [articles] we have published on the peace process, makes it more than clear that these lands are in dispute." Countless others, but not this one.
Posted by SD at 03:15 PM | Comments (0)
Former NYT Jerusalem Bureau Chief Sees the Light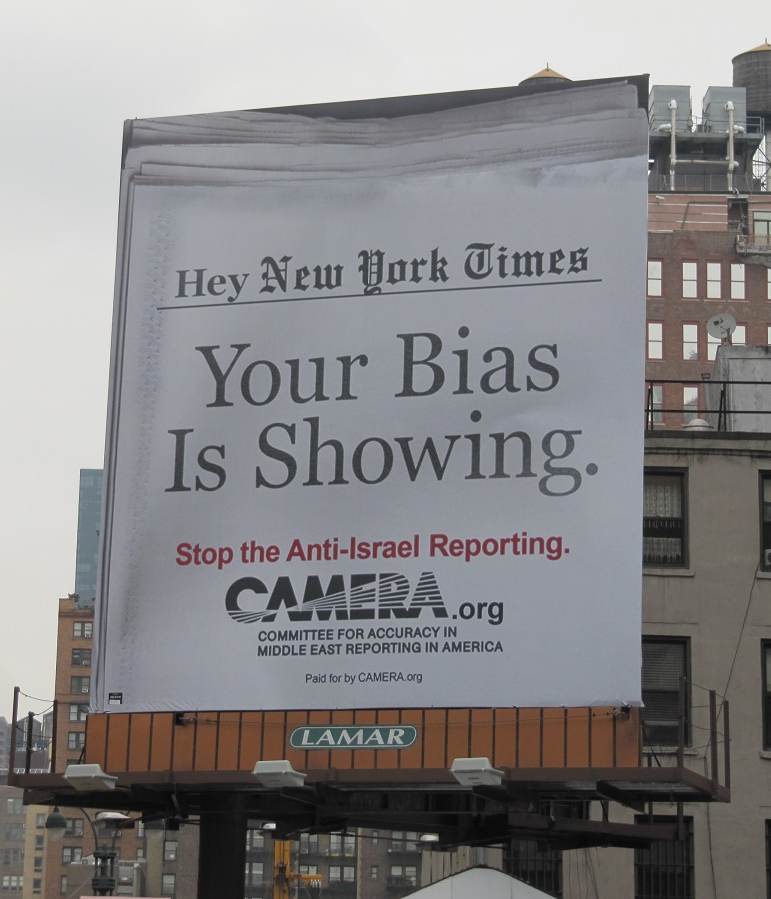 In a June 14, 2016 article in Commentary Magazine, Jonathan Tobin describes the evolution in the understanding of the Israeli-Palestinian conflict of former New York Times Jerusalem bureau chief David Shipler. Tobin writes:
As the New York Times' Jerusalem bureau chief from 1979 to 1994, David Shipler was the focus of a great deal of justified criticism about the paper's bias against Israel. He wrote a 1987 book titled Arab and Jew, which was the recipient both of a Pulitzer and full-throated and passionate criticism for its pure moral equivalence. But an interview with Shipler in the Times of Israel reveals a change in his thinking that tells us something about the way the conflict between Israel and the Palestinians has changed since his reporting days.

The conventional wisdom about Israeli society in most of the mainstream international media holds that the Jewish population has become more intractable and opposed to peace. Shipler provides a far more nuanced view, derived from conversations with young people conducted for a new edition of his book.

[…]

After two decades of concessions and withdrawals on Israel's part, Palestinians now routinely speak of all of Israel—including liberal, cosmopolitan Tel Aviv, where terrorists struck last week—as "occupied" territory. So, despite the emphasis on settlements and Netanyahu's supposedly hardline personality, Israel's willingness to do what Shipler and peace activists advised had the opposite effect on the Palestinians than they thought.

By granting legitimacy to Palestinian concerns, Israelis haven't inspired reciprocity but have encouraged their foes to double down on their narrative in which the Jews are interlopers without rights or history. It has convinced them that the Israelis are thieves who must be forced to disgorge all of their stolen goods (i.e. all of Israel) rather than fellow humans with whom they must share land if there is to be peace. Shipler seems to have caught onto the basic conundrum of the peace process that has eluded many of his successors at the Times and elsewhere in the media.
Maybe Mr. Shipler should have a chat with the newest Times Jerusalem bureau chief.

Posted by SC at 11:14 AM | Comments (0)
June 14, 2016
Timely Recall of Huffington Worldpost Op-Ed: More Acts of Jewish Terrorism than Muslim Terrorism in the United States
In the wake of a horrific Islamist inspired massacre, its important to remind readers of the mindset that exists in certain quarters of the media culture. On December 9, 2015, The World Post, a "Partnership of the Huffington Post and the Berggruen Institute" published an article by a self-described Palestinian-American humanitarian-student named Omar Alnatour titled, "Muslims are Not Terrorists: A Factual Look at Terrorism and Islam."
Alnatour condemns all acts of terrorism and his tone is moderate. The problem here is the absurdity of the piece and what it reveals about the contempt Huffington Post editors and the publisher must have for their readership.
We can start with title of the piece. The author introduces his subject by refuting a strawman argument. No reasonable person would seriously offer the equation that simply being Muslim means you are a terrorist.
In order to tear apart his strawman, Alnatour provides the following "facts":
According to the FBI, 94% of terrorist attacks carried out in the United States from 1980 to 2005 have been by non-Muslims... According to this same report, there were more Jewish acts of terrorism in the United States than Islamic, yet when was the last time we heard about the threat of Jewish terrorism in the media?
The study quoted by the author is from an outdated FBI tally of incidents up to 2005. it is a classic example of the misuse of information. The Jewish terrorist acts come almost entirely from the 1980s and involve relatively minor incidents in which few people were hurt. In fact, the report shows the single largest offender in terms of number of acts was a radical animal rights group that perpetrated numerous acts of vandalism against government laboratories. If one bothers to look at the data with any integrity, it is immediately evident that the mass casualty incidents overwhelming were perpetrated by Islamist terrorists, secondarily by rightwing racist extremists. And crucially, this list only goes up to 2005. Since 2005, terrorism has been overwhelmingly committed by Muslims as evidenced by the FBI's Most Wanted Terrorist list, which is made up almost entirely of Islamists. A larger list of one hundred international terrorists consists exclusively of Islamists.
It is a sad indicator of the current state of the humanities in American universities that the distorted report that attempts to decieve readers about the source of terrorism by misusing information contained in the outdated FBI report comes from a study at Duke University.
The author continues;
There have been 140,000 terror attacks committed worldwide since 1970. Even if Muslims carried out all of these attacks (which is an absurd assumption given the fact mentioned in my first point), those terrorists would represent less than 0.00009 percent of all Muslims. To put things into perspective, this means that you are more likely to be struck by lightening in your lifetime than a Muslim is likely to commit a terrorist attack during that same timespan.
CAMERA posting author's interjection: One thing this CAMERA author has noted over the years is that simplistic, over-the-top articles (the sort that one routinely finds in publications like the Huffington Post) often try to bolster their credibility by including precise-sounding figures. Invariably these are either fabrications (often pulled from other falsified sources) or figures carelessly gleaned from serious reports that are misunderstood, taken out of context and misused by the frenzied writer. It's an age-old tactic borrowed from conspiracy theorists, Holocaust deniers and their ilk. An associated feature is that scrutiny of the figures often reveals flawed computation. Political agitators, especially the radical variety, often treat numbers the same way they treat other facts, flinging them around with reckless abandon. That is the case here. The "percent of all Muslims" provided by the author is too small by a factor of 100 (he forgot to correct for percentage calculation). But of course the entire analogy is absurd.
The author doesn't stop there with his new math. The next percentage he offers - the number of American homicide victims who were killed by Muslims is even more ludicrous. The author continues,
If you are scared of Muslims then you should also be scared of household furniture and toddlers: A study carried out by the University of North Carolina showed that less than 0.0002% of Americans killed since 9/11 were killed by Muslims... Based on these numbers, and those of the Consumer Product Safety Commission, the average American is more likely to be crushed to death by their couch or television than they are to be killed by a Muslim. As a matter of fact, Americans were more likely to be killed by a toddler in 2013 than they were by a so-called "Muslim terrorist".
If roughly 15,000 Americans are killed each year (homicides), that amounts to about 225,000 since 9/11/2001. The author's figure of .0002% equals something less than 1, a fraction of a person.
I will not deny that terrorism is a real threat, it definitely is. However, it is extremely incorrect to associate the words "Muslim" and "terrorist" when literally all the facts implore you to do otherwise. The only way that we as Americans can defeat terrorism at home and across the world is by accurately targeting its root causes.
And pray tell, what are those root causes? No need to ask, Huffington Post readers all know what they are because they have been endlessly told.
When considering that the Huffington Post chose to publish this Op-Ed, it is important to recall the sanctimonious declarations of Huffington Post founder and namesake, Arianna Huffington, whose current bio says she serves on the board of The Center for Public Integrity:
So when it comes to the Huffington Post and other internet sources of news, basically we embrace journalistic values like accuracy, fact checking, and correct punctuation and grammar... I prefer to see what we're doing as part of a new future, which incorporates the best of traditional journalists and the best of traditional journalists and other writers.
Uh-huh.
Posted by SS at 01:43 PM | Comments (2)
June 13, 2016
A Preoccupied Western Media Fails to Appreciate the Historic Revival of Ties Between Russia and Israel
The recent meeting in Moscow between Israeli Prime Minister Benjamin Netanyahu and Russian President Vladimir Putin marks a milestone in the continuing rapproachment between Israel and Russia. The growing engagement between these former bitter adversaries has attracted limited attention in the Western media, obsessed as it is with Israeli-Palestinian issues.
In its prior embodiment as the Soviet Union, the Russian government armed and abetted Israel's enemies and had a central role in the worldwide campaign to delegitimize the Jewish state. Ironically, while Soviet propaganda against Israel remains to this day a staple of the anti-Israel left in the West, the post-Soviet successor state has adopted a more favorable stance toward Israel and the Jewish people.
From a historic perspective, a close bond between Israel and Russia is quite natural. Many of Israel's Jews trace their roots back to Russia and the lands formerly ruled by Czarist Russia and the Soviet Union. In more recent history, nearly a quarter of Israel's Jewish population was part of or descended from the migration that followed the collapse of the Soviet Union.
An article appearing in TASS, the news agency linked to the Russian government, closed with a powerful reminder of a tragic shared past between Russia and the Jewish people.
The article reports comments by President Putin.
Russia and Israel will pool efforts to counter attempts to revise the history of World War II, Putin said. "We are speaking about a very sensitive subject - the memory of World War II," Putin told journalists. "Our peoples fought together against Nazism and paid a huge price (sp) for the victory," Putin stressed. "That is why we must and will keep the memory of the heroes and victims of that war, we will counter attempts to revise its results, to forget the tragedy of Holocaust."
Putin's words serve as a reminder of the role the Soviet Union played in defeating Nazi Germany and the important role Soviet Jews had in the Soviet war effort. It was Soviet forces that liberated the major death camps containing the surviving remnant of Jews caught in the Nazi web. Despite the personal animosity of the Soviet dictator Josef Stalin towards Jews and a ruling Communist party disinterested in the dire circumstances confronting Jews both during and after the war, it was the Russian people, in the guise of the tens of millions serving in the Soviet armed forces, who deserve credit for saving the Jewish people of Eurasia from complete annihilation.
Some 500,000 Jewish men served in the Soviet armed forces and 200,000 lost their lives, evenly divided between combat losses and those murdered on the spot after being plucked out of prisoner lines by hawk-eyed German guards. Jews served at all levels in the Soviet armed forces, including as generals and received countless citations for bravery.
Jewish engineers and scientists also contributed enormously using their ingenuity to provide the Soviet armed forces with desperately needed modern weapons that enabled the reconstituted Soviet forces to recover from early calamitous defeats and overwhelm the German Wehrmacht.
While anti-Jewish sentiment persists in the Russian population and the growing Muslim minority imposes limitations on Russian support for Israel, revived Israeli-Russian relations would go a long way toward righting a historic wrong brought about by a cynical and callous Communist leadership.
Posted by SS at 12:12 PM | Comments (2)
June 10, 2016
CAMERA Waiting for Response to Letter to Mart Green About Little Town of Bethlehem
This is a screenshot of a plane shown in the 2010 movie Little Town of Bethlehem directed by Jim Hanon and produced by Mart Green, who currently serves as chief strategy officer for Hobby Lobby. The film, which is about the Arab-Israeli conflict, showed footage of this plane as if it were an Israeli fighter. The name on the fuselage, which can be seen clearly, is that of an Australian pilot. In sum, the film passed off footage of an Australian fighter as if it were an Israeli plane. The use of footage in this manner is a clear violation of the norms of documentary making.
CAMERA is waiting for a response to a letter sent to Mart Green, producer of the 2010 movie Little Town of Bethlehem.
On June 1, 2016, CAMERA sent a letter to Mart Green who currently serves as Chief Strategy Officer for Hobby Lobby Stores, Inc.
Copies of the letter were also sent to Mart Green's father David Green, CEO of Hobby Lobby and Mart Green's brother, Steve Green, who serves as President of the company, which has 700 stores throughout the United States.
Another copy of the letter was sent to Jim Hanon, the movie's director.
In the letter, CAMERA asks Mart Green to embark on a campaign to unwind the damage done to Israel's reputation (and to the reputation of American Jews who support the Jewish state) by the misinformation broadcast in the movie.
"The movie's propagandistic treatment of the Arab-Israeli conflict incited hostility and unwarranted contempt toward Israel and its Jewish supporters in the minds of thousands of viewers," the letter stated.
CAMERA asked Mart Green to publish and distribute a fact sheet that would be sent to officials at the 400 venues where the movie was shown. CAMERA also asked that Mart Green issue a press release drawing attention to his efforts to correct the record.
Accompanying the letter was a 20-page analysis of the factual misstatements and misinformation broadcast in the movie. Some, but not all of CAMERA's complaints about the movie can be seen in this article published in November 2015.
One problem described in the letter (but not the article) is how the movie misleads its viewers by passing off footage of an Australian jet as an Israeli fighter plane.
At various points throughout the film, LTOB shows footage of a jet fighter doing aerial maneuvers while Yonatan Shapira, who is featured at length in the film, speaks about serving in Israel's air force. Viewers are led to believe that the plane in being shown is an Israeli fighter jet.
It is not.
A close examination of the footage in question reveals that the plane in question has the name of an Australian fighter pilot whose name and rank and story can be readily found on the Internet. (A screenshot of the stenciling on the fuselage, with the pilot's name can be clearly seen in the image at the top of this entry).
This information can only be obtained by looking at the film on a frame-by-frame basis, as CAMERA has done. Viewers who see the film in a public setting simply will not be able to do this.
This is only one of the many problems in the list sent to Mart Green.
In the letter, CAMERA also asked Mart Green if the Green family was involved in the production of another anti-Israel film, With God on Our Side produced by Porter Speakman, Jr. Despite repeated requests for information about the funders of this film, Speakman has not revealed their identities. "Individuals and organizations who felt it was an important topic to address donated toward this project," Speakman wrote in an email to CAMERA in July 2012.
Earlier today, CAMERA contacted LTOB's director Jim Hanon and asked if he would be issuing a public statement in response to the letter. (No.)
While speaking with CAMERA, Hanon said that he produced Little Town of Bethlehem to allow people with a particular perspective a chance to tell their stories. He "was not offering it up as a historical document," Hanon said.
When told that he was not merely offering up different perspectives, but misinformation about the Arab-Israeli conflict, Hanon stated that the sources in the film would consider the information presented in the letter to the Greens as misinformation and that giving them a chance to tell their story in a public forum "is not harmful."
Watch this space for more information.

Posted by dvz at 01:42 PM | Comments (0)
June 08, 2016
Yahoo News, Russia Today, Misreport Tel Aviv Terror Attack
As we were posting an article noting Yahoo News's prior connections to radical hate sites, and its continued promotion of extreme and inaccurate anti-Israel propaganda, Palestinian terrorists opened fire outside a chocolate shop in a crowded area of Tel Aviv, leaving four Israelis dead.
After the attack, Yahoo News on Twitter gave the false impression that the "militant attack" targeted Israel's defense ministry:
Responsibility for that tweet might lie with AFP, whose breaking report, which Yahoo News linked to, used similar language. But while AFP has since updated its reporting to note that the shooting occurred at "a Tel Aviv bar and restaurant complex," Yahoo News seems to be sticking with the "Defense Ministry" spin. A subsequent tweet by the Yahoo account again described the attack as being "near Israel's defense ministry."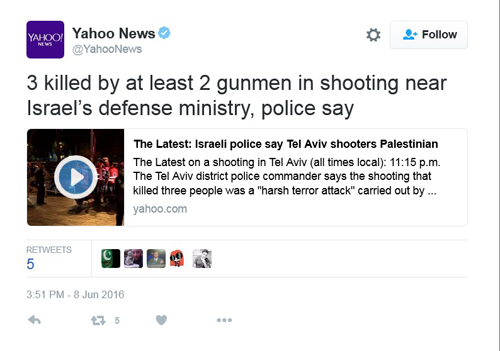 This time, though, Yahoo News did not link to an article that mentioned the defense ministry. Instead, it referred to an AP article correctly describing an attack "near a popular open-air market." Why, then, does Yahoo News continue suggest to its Twitter followers that the terrorists were targeting anything other than Israeli civilians?
It can always get worse, though. Russia Today initially claimed it the gunmen were Jewish:
(It subsequently corrected its headline, which currently reads, "'Harsh terror attack': 2 Palestinians dressed as Orthodox Jews kill 3 in Tel Aviv.")
Posted by GI at 04:34 PM | Comments (0)
June 06, 2016
Harvard Professor is Worried About 'Jewish Threat'

Ali Akbar Alikhani, an Iranian academic who is currently a visiting scholar at Harvard University, has warned about the "Jewish threat," according to Adam Kredo, a reporter for the Washington Free Beacon, a D.C.-based online news media outlet.
Alikhani, an associate professor at the University of Tehran, is currently employed by Harvard's Center for Middle Eastern Studies.

Kredo noted that "Alikhani is a member of Tehran University's Faculty of World Studies, which is closely tied to the Iranian ruling regime and has supported scholars who espouse the regime's hardline ideology."
Alikhani has praised an Arabic language book titled The Jewish Threat-Danger to Christianity and Islam as "strong and good." In his Farsi language review translated by the Free Beacon, Alikhani said the book should "show the quality and the method of the Jewish threat." The Harvard scholar also stated, "Considering the practical perspectives of this book, it was expected that the author at least in the areas of thoughts and beliefs, would provide practical and noticeable solutions or reject and refute the foundations of Judaism and Zionism itself."
Alikhani is not the only academic with ties to Tehran who has been hired by a U.S. university. As CAMERA has noted ("Iranian Agent Hides in Washington Post as U.S. Prof," Sept. 8, 2015), Seyed Hossein Mousavian, currently a "research scholar" at Princeton University, was previously Iran's ambassador to Germany in 1992 when Iranian agents assassinated dissident Iranian Kurdish leaders in a Berlin restaurant.
The Washington Free Beacon reported that Alikhani's scholar's work hews closely to the Islamist philosophy of Iran's theocratic, totalitarian rulers and "has been critical of Israel and Zionism." Despite his ties to the mullahs, the Free Beacon said that Alikhani has written—without a trace of irony—that Israel is "a country that from its inception was based on force, coercion and oppression of others."
The Free Beacon added that the Harvard staffer's works have cited Roger Garaudy, a Holocaust denying French academic and Rachid Ghannouchi, "a Tunisian Islamist figure who has promoted violence against Jewish people and heads a group that is accused of having ties to Hamas." Ghannouchi has been described, as has been his Ennahda (Renaissance) Party, as a moderate in the West, including by The Washington Post (see, for example "Tunisia's Acclaimed Moderate Islamist Party has Troubling View of Israel," Oct. 26, 2011). Hamas is the U.S.-designated terrorist organization in charge of the Gaza Strip; its charter calls for the destruction of Israel and genocide of the Jews.
Alikhani has argued that "the Jewish dissidents of Zionism" were actually created by the "Jewish government" in order to "pretend that Israel is a free country." This conspiratorial thinking is a staple of the Iranian regime. As CAMERA has noted (see, for example "The Media and the Myth of the Moderate Mullahs," March 2, 2016), current Iranian President Hassan Rouhani—frequently described by news media as a "moderate"—has suggested that the U.S. government was responsible for shooting down United Flight 93, which crashed in Pennsylvania after passengers fought the hijackers, during the Sept. 11, 2001 al-Qaeda terrorist attacks.
On May 29, 2016, Hollywood director Steven Spielberg gave a Harvard commencement speech in which he bemoaned the rise of antisemitism. Spielberg told the graduating class, "We must confront the reality that around the world, anti-Semitism is on the rise. We cannot deny it." One small but insidious example is Harvard University "scholar" Alikhani.
Posted by SD at 03:25 PM | Comments (2)