« Toronto Star Gives "Latitude" to Error | Main | A Letter-Writer Taps Into NPR Bias »
May 26, 2016
Media Misses Abbas' 'Humanitarian' Call to Destroy Israel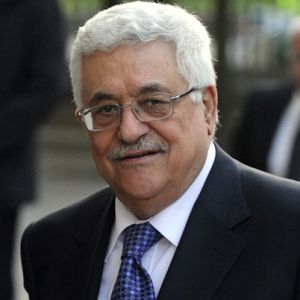 Mahmoud Abbas, the president of the Palestinian Authority (PA), called for Israel's destruction in a May 23, 2016 speech at the U.N. World Humanitarian Summit held in Istanbul, Turkey. Major U.S. print news media failed to report Abbas' remarks.
They also failed to cover the assertion at the same event by Dore Gold, director-general of Israel's foreign ministry, that Hamas obstructs his country's humanitarian aid by taking 95 percent of the cement Israel allows into the Gaza Strip for rebuilding structures damaged in the 2014 Israel-Hamas war ("Israel: Hamas stealing 95 percent of civilian cement transferred into Gaza," Jerusalem Post, May 25). Gold said the confiscated cement goes to build additional infiltration tunnels into Israel and other terrorism-related projects. Hamas (Islamic Resistance Movement) is the U.S.-designated terrorist organization the rules the Strip.

Elder of Ziyon, an American blogger who writes about the Arab-Israeli conflict and antisemitism, noted that Abbas told the summit that "we emphasize our support and our commitment to the responsibilities set out in the agenda of the Secretary-General for this humanitarian summit. In Palestine, our people and leadership seek with all our will and determination to end the suffering of our people, through peaceful means, since the question of Palestine and its people have been here for nearly 70 years.
"More than half of our people have been wrongfully displaced from our homeland, and are still waiting for a solution. Our people will not accept to remain under occupation, nor consistently in the current situation, which humiliate our freedom and humanity and dignity and basic rights" ("Abbas tells humanitarian summit it's time to erase Israel," Elder of Ziyon, May 24).
Abbas called for international involvement—ignoring Israeli Prime Minister Benjamin Netanyahu's recently reiterated invitation to direct negotiations—to implement a "just political solution to the Palestinian issue, as the basis for putting an end to the tragedy of the Palestinian people of all its aspects, which was implemented beginning in 1917, and has lasted until the present day."
Elder of Ziyon pointed out, "If the Palestinian tragedy began in 1917 [a reference to the Nov. 2, 1917 Balfour Declaration which supported the reestablishment of a Jewish national home in what was then a portion of the Ottoman Empire], and it is time to end it 'in all its aspects,' then Abbas is calling for the modern state of Israel to be retroactively erased from history. This is not a call to end 'occupation'—it is a call to end the entire concept of a Jewish state and for the world to apologize for even thinking that the Jewish people have any rights as a people."
It also is a statement filled with falsehoods. As CAMERA has noted (see, for example "Reality Goes Missing in Anti-Israel Hill Op-Ed," May 11, 2016), Abbas has not sought to "end the suffering of" the Palestinian people through "peaceful means." Rather he has incited anti-Jewish violence, blessed "every drop of [Arab] blood" spilled in Israeli counter-terrorism strikes, and consistently rejected U.S. and Israeli proposals for a "two-state solution" in exchange for peace with and recognition of the Jewish state.

Similarly false was Abbas' claim of "support" and "commitment to …the agenda…for this humanitarian summit." According to its Web site, among the core commitments of the U.N. World Humanitarian Summit were those to "prevent and end conflict" and "respect rules of war." That presumably would include not encouraging Palestinian children to murder as both the PA in the West Bank and Hamas in Gaza have done nor using civilians as human shields as the latter has.
The summit also urged participants to "work to end need and invest in humanity." The PA's use of international aid money to pay its imprisoned terrorists or their families and Hamas' confiscation of construction material for aggressive purposes also would seem to contradict the gathering's purposes.
Abbas' proclaimed adherence to the summit's core commitments was transparently false. His call for Israel's elimination echoed Palestinian rejectionism and maximalism of the pre-1993 Oslo "peace process" era. It also violated Oslo-related Palestinian pledges to end anti-Israeli incitement and resolve all outstanding differences through negotiations with Israel.
But a Lexis-Nexis search of The New York Times, The Washington Post, USA Today and The Los Angeles Times, among others, showed not a single mention of Abbas' remarks. Yet, all of these outlets provided other reporting about the Humanitarian Summit.
If Abbas has showed up wearing a headband, Hamas- and Hezbollah-style, with "Death to Israel!" stitched on it, would that have been considered newsworthy? The absence of coverage of his diplo-speak equivalent amounted to a widespread journalistic failure.--Sean Durns
Posted by ER at May 26, 2016 04:24 PM
Comments
"We must be ready to sacrifice all for our country Israel. For history does not long entrust the care of freedom to the weak or the timid. We must continue to acquire proficiency in defense and display determination and stamina in purpose." Never surrender - we are fighting for our survival and the alternative is extinction.
Israel's mission first and foremost is to take care of the Jewish people and insure their safety and security in Israel. Israel's obligation is to its Jewish People and not to pacify the world at large. The historical facts are that for thousands of years the world at large has always persecuted the Jewish people and stood idle while millions of Jews are exterminated and persecuted.
Right now we are in a badly separated, internally struggling, bickering state both within Israel and also in the Diaspora. And our enemies are happily latching onto this internal fragmentation exploiting us against each other and leading successful campaigns against us on all fronts.
No political wisdom, trickery no weapons and a mighty army can save Israel or Jews worldwide unless we rise above our differences, above our argumentative nature and form a single united Nation that is impenetrable.
And that wouldn't just save us but would blaze a trail of hope for others in this crazy world where there are no allies or friends any more only enemies waiting for the opportunity to destroy each other.
We may not agree on everything, but we must respect each other and work together for our common goal which is survival in this hostile world which is on spiral deterioration to mayhem.
"A United Israel is a Strong Israel"
YJ Draiman

Posted by: YJ Draiman at May 29, 2016 11:12 AM
I love the God of Israel, and stand in all promises to His People!
Posted by: Pascal at May 30, 2016 01:41 AM
As Abbass calls for the destruction of Israel, the God of Israel calls for the building up of the nation and restoring Jerusalem which He Himself will and has done-Psalm 147v2, Isaiah 44v26.
Abbass uses cunning and the nations of the world just close their eyes but God sees and will bring retribution. I like the previous writer love the God of Israel and stand on all His promises to His People.
Posted by: Dorothy Finlay at June 2, 2016 06:10 PM
Major newspapers the world over are ignoring this article.
Posted by: peter fernandez at June 7, 2016 10:34 AM
Guidelines for posting
This is a moderated blog. We will not post comments that include racism, bigotry, threats, or factually inaccurate material.
Post a comment