« U.S. Pro-Tehran Lobby Meets Putin's Propaganda Machine | Main | BBC's Jeremy Bowen Follows PLO Dictates »
May 05, 2016
Majority of Gazan Arabs Believe Attacking Israel is 'Important,' Poll Says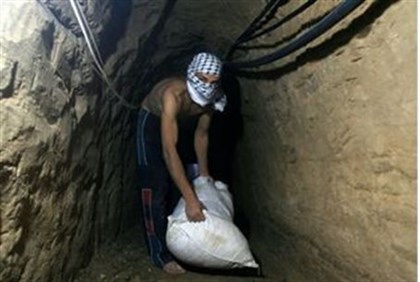 A Hamas terrorist in a Gazan "terror tunnel"

A recent survey shows that a majority of Palestinian Arabs in the Gaza Strip put a high premium on attacking Israel.
The poll was conducted by the Arab World for Research and Development (AWRAD), based in Ramallah, from April 18-21, 2016. Palestinian Arabs in both the West Bank (Judea and Samaria), which is administered by the Palestinian Authority (PA), and those living in the Gaza Strip, ruled by U.S.-designated terror group Hamas, were polled.
The survey had a margin of error of 3 and a sampling size of 1,200.
Seventy-one percent of Gazans polled deemed "armed attacks against Israel" as "important." Thirty-two percent of West Bankers shared this sentiment.
Forty-five percent of Gazans surveyed believed negotiations with Israel were important, whereas only 23 percent of West Bank Arabs believed this to be the case.
A majority of both West Bank (72 percent) and Gaza residents (77 percent) polled believe that reconciliation between Hamas and Fatah, the movement that dominates the PA, is important.
The poll indicated that Hamas is not considered trustworthy: the terrorist group's "political bureau," shura [decision-making body] council and "military wing," are not considered dependable by a majority of Palestinian Arabs in either the West Bank or Gaza. Fatah did only marginally better; 50 percent of West Bankers and 54 percent of Gazans surveyed said the movement was trustworthy.
Low opinions of Palestinian organizations were expressed in other ways as well.
Only 21 percent of West Bankers and 33 percent of Gazans described their rulers as transparent. Majorities of both, 60 and 52 percent respectively, didn't find their governments as "respectful of human rights." Seventy-seven percent of those surveyed in the West Bank did not believe the PA was "accountable to the people." Fifty-eight percent of Gazans polled said the same about Hamas.
Only five percent of all Palestinians surveyed believed the government of PA Prime Minister Rami Hamdallah was satisfactory at providing job opportunities. Similarly, single-digit expressions (6 percent) of confidence were evidenced by all Palestinians when asked if the PA was doing a good job at "improving financial transparency."
AWRAD noted that "more than 80 percent of respondents believe there is corruption in government institutions in both the West Bank and Gaza."
Yet, the leader most popular with Palestinian Arabs to resolve this and other complaints expressed in the survey, is a convicted terrorist and murderer.
Marwan Barghouti is the "most electable leader," according to AWRAD. Barghouti, the former head of Fatah's Tanzim faction, is currently serving five life sentences plus 40 years in an Israeli prison for his role in the murders of a Greek monk in 2001 and four Israelis in 2002. As CAMERA has noted, Barghouti's popularity was evident in a September 2015 poll by the Palestinian Center for Policy Survey ("Poll: Majority of Palestinians Support Another Intifada," Sept. 25, 2015).
AWRAD's poll can be found here.
Posted by SD at May 5, 2016 02:45 PM
Comments
I wonder what the response would've been if Gazans were asked, "Do you think it's worth attacking Israel, if Israel will bomb Gaza in response?"
Posted by: Gary Katz at May 12, 2016 04:16 PM
Guidelines for posting
This is a moderated blog. We will not post comments that include racism, bigotry, threats, or factually inaccurate material.
Post a comment