« April 2016 | Main | June 2016 »
May 31, 2016
For Memorial Day, CAIR Official Avoids Honoring U.S. Fallen


A high-ranking official of the Council on American Islamic Relations (CAIR) spent her 2016 Memorial Day weekend attacking the character of U.S. service men and women.
CAIR claims to be a leading civil rights group, but as CAMERA's 2009 Special Report "CAIR: Civil Rights or Extremism" has noted, the council is an unindicted co-conspirator in the 2009 Holy Land Foundation retrial—the largest terrorism financing case in the country's history. At least five former CAIR staff members and co-founders have been imprisoned, indicted, arrested and/or deported on weapons or terrorism-related charges.
Ryan Mauro, an analyst with the Clarion Project, a Washington D.C.-based nonprofit organization that monitors Islamic extremism, reported that the executive director of CAIR's San Francisco Bay Area Chapter, Zahra Billoo, "took time out of her Memorial Day weekend to stand by her opposition to honoring fallen U.S. soldiers on the holiday…" When asked this year if she stood by her previous bashing of American service members Billoo affirmed that she did. The CAIR official was questioned on Twitter social media if any U.S. soldiers, including Muslim Americans, were worth honoring. Billoo replied, "If they killed innocent people? Uncritically participated in an unjust war(s)? No."
Mauro noted that in 2014 Billoo criticized U.S. soldiers on Memorial Day weekend. The CAIR official said she "struggles with Memorial Day each year" and wondered whether she should honor American service members who died. Then Billoo justified her stance by using Twitter to quote another CAIR official, Dawud Walid, executive-director of CAIR's Michigan chapter. Perhaps referring to U.S. and coalition partners' actions in Iraq and Afghanistan, Walid questioned whether American soldiers who died in "unjust" wars and "occupations" should be honored. Islamic terrorist groups, such as al-Qaeda and ISIS, frequently use the term "occupation" to describe the presence of non-Muslims in lands that are currently or were at one point ruled by Muslims.
Although Billoo later deleted that tweet, her views emerged again on Memorial Day 2015. On that occasion, Billoo claimed that U.S. soldiers frequently "murder" innocent civilians. Afterwards, Mauro noted, she "equated Israel with ISIS [the Islamic State in Iraq and Syria, a U.S.-designated terrorist group]."
Billoo's remarks were criticized by Dr. Zuhdi Jasser, the leader of the American-Islamic Forum on Democracy, a Muslim group opposed to Islamic extremism. Jasser, a former U.S. Navy doctor, said Billoo's statements shows "that they [CAIR officials] have nothing but disdain for our armed forces."
CAIR officials' frequent extremist statements and ties to Islamic terrorist groups have not stopped many U.S. news media outlets from treating the council as a credible source.

Billoo herself was recently quoted in a Dec. 24, 2015 Los Angeles Times article ("Threat to harm Muslims is alleged"). Yet, her history of Israel-bashing and equating U.S. troops with murderers was omitted by The Times. Billoo also was treated as a credible source in a New York Times report ("College Student is Removed from Flight After Speaking Arabic on Plane," April 18, 2016) and by the Associated Press ("Stowaway on jetliner has left Hawaii," May 4, 2014).
CAIR has sought to intimidate those who point out the council's history. Writer Shireen Qudosi reported in the Counter Jihad Report, an online-publication that highlights Islamic extremism, that CAIR has "worked to discredit Mauro by questioning his ability as an expert, tarnishing him as an 'anti-Muslim conspiracy theorist'"—although Mauro has worked with Muslim reformers. In April 2016, CAIR tried, unsuccessfully, to prevent Mauro from delivering a lecture on Islamic terrorism to law enforcement personnel in New York.
As CAMERA has noted, (see, for example "CAMERA Letter in Washington Times Educates on CAIR," Nov. 1, 2007), in 2004 CAIR sued the Web site www.anticair.com for libel. The site had claimed, among other things, that the council had been founded by Islamic terrorists, started by Hamas members and functioned as a terrorist-supporting front group that sought to overthrow the U.S. government.
CAIR and www.anticair.com reached a confidential, mutually agreed settlement that appeared to leave intact the latter's charges that the council was founded and funded by Hamas members. Hamas, the Palestinian Islamic Resistance movement, has been designated a terrorist organization by the U.S. government. CAIR may have settled to avoid further disclosure of its finances, ideology and relationships, the lawyer for anti-cair-net.org surmised.
News media would do well to note that CAIR not only attacks it's critics, but some of its officials can't bring themselves to honor members of the U.S. military who have died serving their country.

Posted by SD at 03:35 PM | Comments (1)
Baltimore Sun Carries False AP Report on Iran's Holocaust Cartoon Contest

Listed below is an unpublished letter that was sent to The Baltimore Sun:
Dear Editor:
The Associated Press (AP) dispatch "Israel's Netanyahu: Iran contest mocks Holocaust," appearing in the Sun on May 16, wrongly claimed that an international cartoon contest with a Holocaust denial theme, held in Iran, was not supported and sponsored by the regime in Tehran.
AP, perhaps echoing claims made by Iranian Foreign Minister Mohammad Javad Zarif in an interview with The New Yorker, asserted that the contest "was organized by nongovernmental bodies." This is false.
As a May 9 Washington Post editorial noted, an Iranian official confirmed that his country's Ministry of Culture and Islamic Guidance supports the exhibition. As for those "nongovernmental bodies," the U.S. Holocaust Memorial Museum asserted that one of the organizations behind the festival, Owj Media and Cultural Institute, is funded by the Iranian Revolutionary Guards Corps, a key element of the regime.
Another, the Sarcheshmeh Cultural Complex, is supported by the Islamic Development Organization—an entity whose budget is approved by the Iranian parliament.
That is, the cartoon festival, aimed at minimizing, mocking, denying and/or inverting the Holocaust, is supported absolutely by the Iranian regime. Zarif—who, with current Iranian President Hassan Rouhani, is frequently mislabeled as a "moderate"—serves that dictatorship loyally.
A previous Holocaust cartoon contest was held in 2006 under Iran's then-President, Mahmoud Ahmadinejad (2005-2013) and a second took place in 2015. In a Dec. 16, 2005 article The Sun called Ahmadinejad's Holocaust denial "an effort to signal that Iran, not al-Qaida, is the leading force behind militant Islam."
More than a decade later, little has changed—a fact the AP failed to properly report for Sun readers.
Sincerely
Sean Durns
Durns is Media Assistant for CAMERA—the 65,000-member, Boston-based Committee for Accuracy in Middle East Reporting in America

Posted by SD at 02:46 PM | Comments (0)
Islamist Ideology Goes Missing in Post Report
Professor Bernard Haykel

The Washington Post's "Hezbollah blames Sunni extremists in recent killing of top commander" (May 15, 2016) by reporter Hugh Naylor failed to define an Islamic extremist term central to the news it reported.
Naylor, in a dispatch on fighting between Sunni Muslim terrorist groups, such as al-Qaeda and the Islamic State in Iraq and Syria (ISIS), and the Lebanese-based, Shiite Muslim terrorist organization Hezbollah, wrote:
"Hezbollah uses 'takfiri,' an Arabic word, to describe its extremist Sunni Muslim enemies, including al-Qaeda and the Islamic State."
But The Post, unjournalistically, doesn't explain the term "takfiri" for its readers.
Bernard Haykel, a professor of Middle Eastern studies at Princeton University, has noted that takfirism is the practice—often by adherents of the radical Salafist brand of Sunni Islam—of declaring a fellow Muslim to be an infidel, or non-believer. By declaring another Muslim to be a takfir, the Quranic prohibition of a Muslim killing a fellow religious adherent can be sidestepped. Islamic terrorist groups such as al-Qaeda and ISIS have employed the doctrine of takfirism, derived from the teachings of Ibn Taymiyyah, a 13th and 14th century Islamic scholar to justify their killings of countless other Muslims, combatants and non-combatants alike.
Yet, extremist Shi'ite Muslim groups, such as Hezbollah, a U.S.-designated terror movement, also use the term takfiri to describe Sunni Muslims. Fighting between Sunni and Shi'ite Muslims dates back to a seventh-century split over who should succeed Mohammed, the founder of Islam. This smoldering intra-Islamic conflict has exploded, once again, across the Middle East in recent years, as is evidenced by fighting in Yemen, Iraq, Syria, Lebanon and elsewhere.
According to the Council on Foreign Relations, a New York-based think tank:
"Iranian officials, Iraqi politicians, and Hassan Nasrallah, the leader of Hezbollah, routinely describe their Sunni opponents as takfiris (referring to the doctrine embraced by al-Qaeda of declaring fellow Muslims apostate) and Wahhabis (referring to the puritanical Saudi sect)."
In labeling their Sunni opponents takfiri, Hezbollah implies its adherents practice true Islam while their rivals amount to heretics.
By failing to define takfirism for readers, The Post, if unintentionally, downplayed a religious element that remains central to understanding fighting between Sunni and Shi'ite Muslim groups in Yemen, Lebanon, Syria, Iraq and elsewhere in the Middle East.
Posted by SD at 02:16 PM | Comments (2)
May 29, 2016
Palestinian Health Ministry Passes Off Fauxtography to WHO
The World Health Organization's (WHO) decision last week harshly critical of Israel for "Health conditions in the occupied Palestinian territory, including in east Jerusalem, and in the occupied Syrian Golan" prompted Yesh Atid Chairman Yair Lapid to describe it as antisemitic.
In preparation for WHO's publication of the decision, the Palestinian Ministry of Health submitted a report to the international organization. Apart from the usual allegations propagated by various NGOs, the official Palestinian submission also includes the following outrageous charges:
• Israel is damaging prisoners' health by "Holding prisoners in polluted areas, such as in the vicinity of the Dimona reactor or near areas in which waste from that reactor has been buried" (page 29).
• "In April 2013 the Russian newspaper Pravda accused Israel of injecting a number of Palestinian prisoners who were approaching their release date with cancer-causing viruses. Despite Israel's rejection of the accusations made by the newspaper, the question remains: is it true that Israel is injecting prisoners with viruses?" (page 29)
• A Palestinian doctor contends that the Israeli practice of freezing terrorists' bodies and insistence that they will only be returned to Palestinians if they are buried immediately "makes it impossible to ascertain whether the deceased individual's organs have been stolen" (page 49).
Beyond the unfounded, vitriolic allegations, the pictures appearing in the Palestinian Health Ministry's report highlight the submission's total lack of credibility. Here are some examples:
On page 30, the following picture is meant to illustrate "Settlers attacking a Palestinian child while being observed by Israeli occupation forces":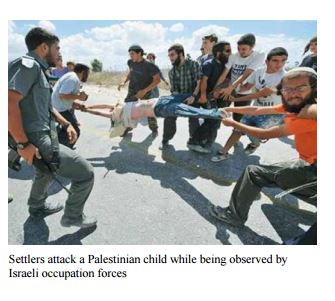 However, as noted by blogger Israellycool two years ago when this picture first started to appear on social media, it is a Getty Images picture showing the eviction of Israeli settlers. The scene does not at all involve Palestinians.
When it comes to the summer 2014 Operation Protective Edge, the Palestinian Ministry of Health delves into science fiction. This picture on page is accompanied by the following caption: "Photograph taken during the Israeli war on Gaza, 2014":
This image, with its primitive Photoshop makeover, was making the rounds in the summer of 2014, and Israellycool exposed it as a hoax at the time. The original picture was published on a blog to illustrate a story on how Israel might attack Iran's nuclear reactors: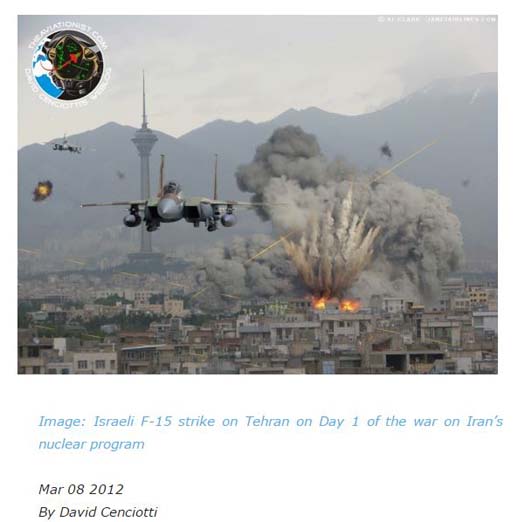 Editors of the "Gaza" version cropped the photo and changed the aspect ratio so that the mountains and tower of a building, which simply don't exist in Gaza, are no longer visible. (The previous sentence was updated to clarify how the mountains and tower of a building were essentially erased.)
The Palestinian Health Ministry's fallacious use of photos continues with two more pictures ostensibly illustrating the Operation Protective Edge:
The picture on the right is from Lebanon, not Gaza. The one on the left is from Gaza, but from 2012.
Even pictures from the current wave of violence are misleading:
The Palestinian "girl killed in cold blood" is Yasmin Tamimi. Tamimi is not, apparently, a "girl," nor is it even clear that she is dead. The Palestinian Center for Human Rights identifies her as 20 years old and does not claim that she was killed. And B'Tselem does not include her in its list of Palestinian casualties. According to Israeli reports, after her engagement to be married was called off, Tamimi attempted to stab an Israeli policeman, and Israeli forces fired on her, seriously wounding her. She survived, and was transported to Shaarei Tzedek hospital.
While searches did not reveal the source for the picture on the left, the image does date back as far as 2009.
Could you imagine the outrage if Israel was caught using just a single fake or distorted photo? On second thought, there's no need to imagine. Media outlets including Haaretz, The Jerusalem Post, The International Business Times and Times of Israel covered the 2013 case in which the Israeli army's English blog posted a photograph misidentifying a Malaysian mall as located in Gaza. Will those same outlets now cover the Palestinian Ministry of Health's use of several egregiously mislabeled and even photoshopped images in an official submission to the World Health Organization?
For the Hebrew version of this article, visit Presspectiva.
-- Gidon Shaviv
Posted by TS at 07:19 AM | Comments (5)
May 27, 2016
A Letter-Writer Taps Into NPR Bias
A concerned NPR listener, D.L., wrote the following to Morning Edition yesterday after hearing a segment on Israeli politics:
Dear Morning Edition,

Today's edition (Thursday May 26) contained yet another appallingly biased, strident, context free, anti-Israel report, taking the form of an interview between Renee Montagne and Emily Harris.

We were told that Lieberman's appointment "casts doubt on a two state solution"; that this is the most rightwing government in Israel's history; that the State Department expressed concern about the direction in which Israel is moving". We were told about Lieberman calling for a loyalty oath, and heads to be "chopped off" Israeli Arabs "who are not with us", that there are no negotiations, ... Of course Montagne and Harris used the words "hardline", "extreme" to describe Israeli leaders, never to Palestinians.

Of course, exactly the same things were said by NPR when Begin and Sharon and others came into power. Israel can do no right (except when it is making one-sided concessions of a type the US would never itself make) and the Palestinians can do no wrong.

There was not a stitch of context in this report, and the one soundbyte about tough leaders making changes did not balance the appalling bias.

How long will it take Emily Harris and NPR to point out that every Palestinian leader has explicitly rejected the notion of two states for two peoples, and repeatedly rejected ever accepting Israel as a Jewish state, behind any boundaries? And that Abbas has made it clear that a Palestinian state in the West Bank will not end the conflict, but be used as a springboard for further attacks? And that there has never been a Palestinian leader who has accepted a permanent two state solution, nor a permanent Israel behind any boundaries? And that Palestinian attitudes and leadership make a two state solution a drawing board idea?

How long will it take Emily Harris and NPR to point that it is Mahmoud Abbas who has repeatedly refused direct negotiations, while Netanyahu has offered them at any time? And that Abbas is seeking unilateral statehood without peace? How long will it take you to call Abbas and Saeb Erekat etc, "hardline", "extreme", because compared to them, Israeli leaders including even Lieberman, look like doves?

How long will it take Emily Harris and NPR to mention the incessant, virulent, racist, statements coming from all Palestinian leaders, including Mahmoud Abbas? Why do they get such a free pass when there is such a hostile focus and negative spotlight on anything said by Israel's leaders? It is Mahmoud Abbas who said that Jews' filthy feet desecrate the Temple Mount, who calls for days of rage, describes murderers as martyrs, who denied any Jewish connection to Jerusalem or the Holy Land, whose Palestinian Authority continues to celebrate and glorify terrorist attacks, and name youth camps, town squares, soccer tournaments after people like Dalal Mugrabi whose only act was to kill over 30 Israeli civilians in a bus attack.

How long will it take to recall that every Israel handover of land has led not to peace nor negotiations, but to more attacks and further calls for lawfare and warfare against Israel?

How long will it take to point out that core issue in the conflict remains Palestinian and broader Arab refusal to accept a permanent Israel behind any boundaries?

Shame on NPR for its unceasing anti-Israel bias.
He has a point, even if the concerns he flagged are likely to have been missed by the average listener. You can listen to the segment, entitled "Here's Why Israel's New Defense Minister Is So Controversial," here:

On a morning commute, this might sound no more nefarious than any other analysis of politics and its potential implications. But the writer picked up on how the segment fits in the broader context of NPR reporting.
Maybe if NPR regularly scrutinized Palestinian politics, parties, and politicians as it does when Israel is under the microscope, there would be little to say. But as the letter writer noted, that doesn't happen so frequently, especially when it comes to Palestinian Authority president Mahmoud Abbas and others in his Fatah party.
Case in point: Over the past five years, according to the Nexis news database, nine NPR programs used some form of the descriptor "hard-line" in reference to past, present, and future Israeli governments or politicians or movements. Another one addressed both sides with a reference to "hardliners among Israelis and Palestinians." It was used to describe Palestinians only twice. Both times it was in reference to Hamas, meaning policies and politicians related to the Palestinian Authority and the Fatah party that dominates it apparently haven't been cast by NPR as hardliners even once.
(This is not for lack of hardline attitudes. Palestinian Authority president Mahmoud Abbas, who heads the Fatah party, has in the past dabbled in Holocaust revisionism, and more recently has rebuffed peace offers, rejected the legitimacy of the Jewish state, and allowed his party's media to routinely broadcast anti-Israel incitement — for example, the extolling terrorists who murdered men, women and children as heroes. Palestinian Authority preachers on Palestinian Authority television call on god to "punish the wicked Jews." And so on.)
That numerical breakdown, of course, is more a glimpse than a study. "Hard line" is only one of many ways to indicate extremism or intransigence. But the lopsided use of the phrase does capture the sense many NPR listeners have: That the Israeli is subject to a level of scrutiny and suspicion the Palestinian Authority and its players are largely exempt from. That hard-line currents in Palestinian society are not viewed as being so important — or so hard-line. And that, as a result, the broadcaster cultivates an image of a wart-covered Israel juxtaposed with a more pure Palestinian movement. The segment criticized by D.L. above may not in a vacuum give the impression of glaring bias. But it is part of a larger, and distorted, picture.
Posted by GI at 10:06 AM | Comments (3)
May 26, 2016
Media Misses Abbas' 'Humanitarian' Call to Destroy Israel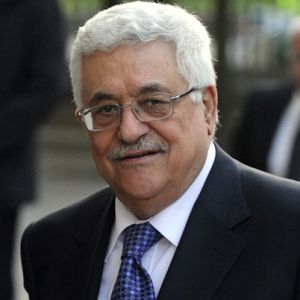 Mahmoud Abbas, the president of the Palestinian Authority (PA), called for Israel's destruction in a May 23, 2016 speech at the U.N. World Humanitarian Summit held in Istanbul, Turkey. Major U.S. print news media failed to report Abbas' remarks.
They also failed to cover the assertion at the same event by Dore Gold, director-general of Israel's foreign ministry, that Hamas obstructs his country's humanitarian aid by taking 95 percent of the cement Israel allows into the Gaza Strip for rebuilding structures damaged in the 2014 Israel-Hamas war ("Israel: Hamas stealing 95 percent of civilian cement transferred into Gaza," Jerusalem Post, May 25). Gold said the confiscated cement goes to build additional infiltration tunnels into Israel and other terrorism-related projects. Hamas (Islamic Resistance Movement) is the U.S.-designated terrorist organization the rules the Strip.

Elder of Ziyon, an American blogger who writes about the Arab-Israeli conflict and antisemitism, noted that Abbas told the summit that "we emphasize our support and our commitment to the responsibilities set out in the agenda of the Secretary-General for this humanitarian summit. In Palestine, our people and leadership seek with all our will and determination to end the suffering of our people, through peaceful means, since the question of Palestine and its people have been here for nearly 70 years.
"More than half of our people have been wrongfully displaced from our homeland, and are still waiting for a solution. Our people will not accept to remain under occupation, nor consistently in the current situation, which humiliate our freedom and humanity and dignity and basic rights" ("Abbas tells humanitarian summit it's time to erase Israel," Elder of Ziyon, May 24).
Abbas called for international involvement—ignoring Israeli Prime Minister Benjamin Netanyahu's recently reiterated invitation to direct negotiations—to implement a "just political solution to the Palestinian issue, as the basis for putting an end to the tragedy of the Palestinian people of all its aspects, which was implemented beginning in 1917, and has lasted until the present day."
Elder of Ziyon pointed out, "If the Palestinian tragedy began in 1917 [a reference to the Nov. 2, 1917 Balfour Declaration which supported the reestablishment of a Jewish national home in what was then a portion of the Ottoman Empire], and it is time to end it 'in all its aspects,' then Abbas is calling for the modern state of Israel to be retroactively erased from history. This is not a call to end 'occupation'—it is a call to end the entire concept of a Jewish state and for the world to apologize for even thinking that the Jewish people have any rights as a people."
It also is a statement filled with falsehoods. As CAMERA has noted (see, for example "Reality Goes Missing in Anti-Israel Hill Op-Ed," May 11, 2016), Abbas has not sought to "end the suffering of" the Palestinian people through "peaceful means." Rather he has incited anti-Jewish violence, blessed "every drop of [Arab] blood" spilled in Israeli counter-terrorism strikes, and consistently rejected U.S. and Israeli proposals for a "two-state solution" in exchange for peace with and recognition of the Jewish state.

Similarly false was Abbas' claim of "support" and "commitment to …the agenda…for this humanitarian summit." According to its Web site, among the core commitments of the U.N. World Humanitarian Summit were those to "prevent and end conflict" and "respect rules of war." That presumably would include not encouraging Palestinian children to murder as both the PA in the West Bank and Hamas in Gaza have done nor using civilians as human shields as the latter has.
The summit also urged participants to "work to end need and invest in humanity." The PA's use of international aid money to pay its imprisoned terrorists or their families and Hamas' confiscation of construction material for aggressive purposes also would seem to contradict the gathering's purposes.
Abbas' proclaimed adherence to the summit's core commitments was transparently false. His call for Israel's elimination echoed Palestinian rejectionism and maximalism of the pre-1993 Oslo "peace process" era. It also violated Oslo-related Palestinian pledges to end anti-Israeli incitement and resolve all outstanding differences through negotiations with Israel.
But a Lexis-Nexis search of The New York Times, The Washington Post, USA Today and The Los Angeles Times, among others, showed not a single mention of Abbas' remarks. Yet, all of these outlets provided other reporting about the Humanitarian Summit.
If Abbas has showed up wearing a headband, Hamas- and Hezbollah-style, with "Death to Israel!" stitched on it, would that have been considered newsworthy? The absence of coverage of his diplo-speak equivalent amounted to a widespread journalistic failure.--Sean Durns
Posted by ER at 04:24 PM | Comments (4)
Toronto Star Gives "Latitude" to Error
Toronto Star Columnist Tony Burman
Canadian journalist Tony Burman, former head of Al Jazeera English, is a frequent contributor to the Toronto Star. With columns that often include scathing commentary about Israel and its supporters, his anti-Israel bias is hardly a secret.
(See, for example, "Should U.S. diplomats meet with Hamas leaders when conducting 'shuttle diplomacy' in the Middle East?"; "What has prompted Canada's move against Iran?"; "Time for Canada, Israel to stop living in fantasy world"; "Israel's Netanyahu drops his mask and reveals ugliness"; Netanyahu, his pants on fire, brings torch to Washington")
So it was no surprise that his recent column about the centennial of the Sykes-Picot agreement included an anti-Israel slur. Burman, however, went further than just opinion, including an obvious error when he referred to "Israel's continuing brutal occupation of Palestinian lands."
It is neither factual nor historical to refer to "Palestinian lands" because their status is disputed. While the Palestinians seek to establish an independent state on these territories, the lands never belonged to the Palestinians -- either before or after the Sykes-Picot agreement. As to the future disposition of the territories, it is to be determined in final negotiations between the two sides.
By labeling the territories "Palestinian" as if this were a straightforward fact rather than the columnist's own partisan opinion of what he would like to see happen, Burman is guilty of misleading readers with dishonest journalism masquerading as history.
CAMERA contacted the Toronto Star about the error, noting that the Washington Post had earlier corrected a similar error referring to "Israel's continuing occupation of Palestinian land." But the Toronto Star, was having none of it. Editors attested to Burman's "considerable experience in matters pertaining to the Middle East" and insisted that as a columnist, he has "wide latitude to express his own views and perspective on controversial matters."
Perhaps so, but such latitude cannot extend to misleading readers with false information. As the late politician Daniel Patrick Moynihan famously put it, "Everyone is entitled to his own opinion, but not to his own facts."
Posted by RH at 02:02 PM | Comments (1)
May 25, 2016
A Guide to the Perplexed: Ploughshares and the Iran Deal Echo Chamber
Joe Cirincione, President of Ploughshares, declares victory in a video produced by his organization and posted on Youtube.com in September, 2015.
Last week, the Associated Press reported that Ploughshares has given a total of $700,000 to National Public Radio to support its coverage of Iran and the diplomatic effort to convince the mullahs who lead that country to refrain from building a nuclear bomb.
The story is important because Ben Rhodes, a national security advisor who works at the White House, described Ploughshares — a non-profit that promotes nuclear disarmament — as part of a pro-negotiations "echo chamber" that he helped create and use to manipulate public opinion. He created the echo chamber to promote support for the diplomatic agreement that relaxed sanctions on Iran in exchange for promises that it would dismantle parts of its nuclear program, in hopes of making it less likely that the country would be able to build an atomic bomb and menace its neighbors in the Middle East.
He also stated that his ability to create this echo chamber was a consequence of the youth and ignorance of American journalists. "They literally know nothing," he told Samuels.
Rhodes said all this in a May 5, 2016 article by David Samuels that appeared in The New York Times Sunday Magazine. The main thrust of the article was that Rhodes had successfully manipulated the press and incorporated it into the NSC echo chamber, a point that the AP article about Ploughshares money going to NPR seemed to confirm.
Prior to the AP article, Samuels' reporting in The New York Times Sunday Magazine was subjected to tremendous pushback, but The New York Times stood by the article, saying it was extensively fact-checked.
In a subsequent article published on May 13, 2016, Samuels reported that during his interviews with Rhodes, the young speechwriter "readily admitted to me that the work he does is a potentially dangerous distortion of democracy but he also felt it had become a necessary evil caused by the fracturing of 20th century mass audience and the decline of the American press. He expressed a deep personal hopelessness about the possibility of open, rational public debate in a brutally partisan environment."
It's an odd argument to make — that American journalists and thought leaders need to be manipulated because media audiences are not as unified as they once were and that journalists are no longer the intellectual giants that walked the earth during the 20th century. Rhodes is stating in effect that American civil society is in decline and as a result, he must behave in a dangerous way that accelerates its decline.
NPR Denies Impact on Coverage
NPR denies that the money it got from Ploughshares had any impact on its coverage of the Iran Deal. This denial is getting some pushback from at least one U.S. Rep. opposed to the Iran Deal who states that he was dropped from a scheduled interview about the deal, a point NPR initially denied, but later confirmed.

It doesn't help NPR's reputation that the annual report for Ploughshares lends credence to the notion that its donations did have an impact on NPR's coverage. The organization's annual report highlights three NPR stories that apparently advance Ploughshares' agenda under the headline "Amplifying Our Collective Voice." In its annual report, Ploughshares seems to be taking credit for the sympathetic coverage that NPR denies giving. Here's a screenshot of the section in question: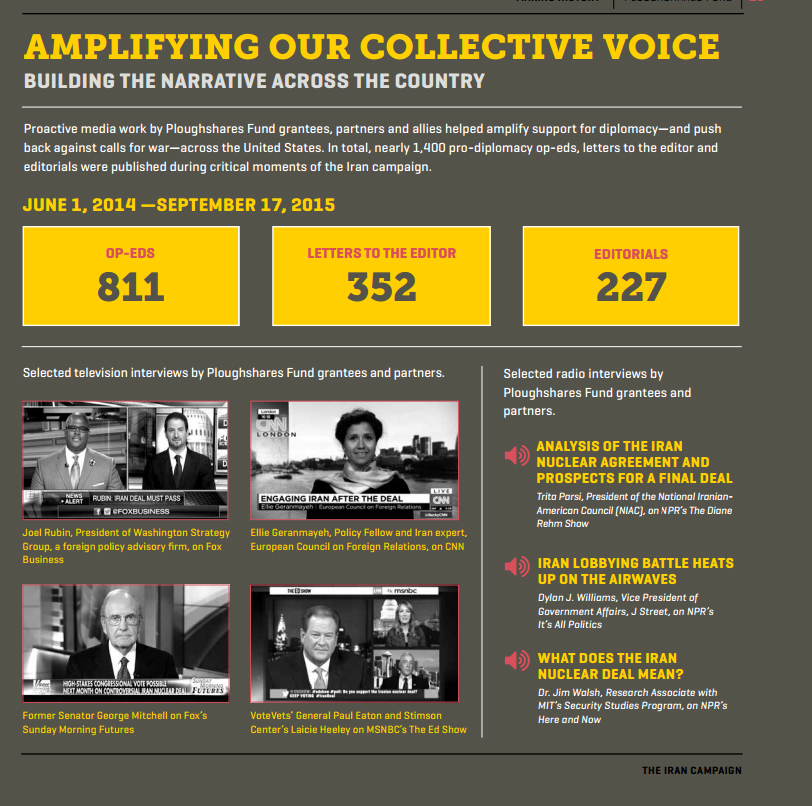 Other Organizations Feeding at the Ploughshares Trough
NPR was not the only organization to get money from Ploughshares. J Street, which bills itself as a pro-Israel lobby, but is regarded with deep suspicion by many Jews in America, received $576,000 from Ploughshares to promote the negotiations with Iran.
Ploughshares also gave the United States Conference of Catholic Bishops $50,000 to promote relations between religious leaders in Iran and America, according to the organization's annual report for 2015.
The fact that the organization representing American Catholic bishops took Ploughshares money to promote better relations between the U.S. and Iran is interesting, because the USCCB took part of a coalition of religious leaders in the U.S. that supported the Iran Deal in letters to Congress.
Other religious organizations that belonged to this coalition included the National Council of Churches, the Global Ministries of the United Church of Christ and Disciples of Christ, the United Church of Christ itself, and the Presbyterian Church USA.
All of these institutions have to varying degrees, condemned antisemitism, and yet here they were promoting the notion of Iran, one of the leading promoters of genocidal antisemitism in the world today, as a trustworthy negotiating partner.
National Iranian American Council
Also associated with this coalition was the National Iranian American Council, an organization that is viewed by some observers as an unofficial lobbying group of the Islamic Republic of Iran, or in other words, the mullahs who control Iran with an iron fist and promote Jew-hatred throughout the world and have bragged of being able to destroy Israel "in minutes."
As CAMERA analyst Sean Durns revealed in a recent report on NIAC, the organization is regarded with suspicion by Iranian human rights activists and dissidents:
"You cannot find any difference between [NIAC's] statements and the Iranian regime's statements. Either official or unofficially they are following the path of the regime," explained Amir Fakhravar, a once-jailed Iranian dissident who heads the Iranian Freedom Institute from the United States.
Friends Committee on National Legislation
The coalition to which NIAC, the UCC, the NCC, the USCCB and the PCUSA belonged to was created by the Friends Committee on National Legislation, a Quaker lobby organization that, predictably enough, received money from Ploughshares to promote negotiations with Iran.
In 2014, Ploughshares gave $100,000 to FCNL and in 2015, it gave $175,000 to the organization.
Kate Gould, lobbyist for FCNL's Middle East program, says her group was not part of Ben Rhodes' echo chamber in this CAMERA-authored piece in The Algemeiner about the echo chamber.
Her denial notwithstanding, Gould features prominently in Ploughshares' 2015 annual report. Here's a screenshot of a profile of Gould that appeared in the report:
Email List
In recent days, The Washington Free Beacon has published another story about the role Ploughshares had in setting the terms of the debate regarding negotiations with Iran. According to journalist Alana Goodman, Ploughshares supported an email forum, known as "Gulf/2000" that "was originally created by Columbia University professor and former Jimmy Carter aide Gary Sick in 1993." Goodman reports the following:
Gulf/2000 members said the forum posts, which are supposed to focus on Gulf State policy issues, often veer into defenses of the Iranian regime or conspiracy theories about Israel. Another member, speaking on background to the Washington Free Beacon, compared the group to a pro-Iran "info-op"—military jargon for a campaign to influence policy decisions.

"The most significant forum for scholars of Iranian studies to exchange ideas and views was dominated by apologists for the Iranian regime and was dominated by people who would reflexively push back on any argument that the Iranian regime was involved in what we would call 'malign activities' or 'illicit activities,'" said the member, who added that the majority of his colleagues who work on Gulf issues belong to the forum.
This isn't the first time Gary Sick's email list has been described as having a potentially negative impact on the debate surrounding Iran's nuclear program. The Institute on Science and International Security (which goes by the moniker "@ThegoodISIS" on Twitter) raised serious questions about the impact of the Gulf/2000 listserve and its impact on Iran-related analysis.
In a document published in late 2014, institute researchers stated that three organizations, Al Monitor, Arms Control Association (ACA), and the National Iranian American Council (NIAC) mischaracterized how Iran will deal with its stockpile of low enrichment uranium under the deal it signed with Western powers. It was a technically arcane, but important aspect of Iran's nuclear program. The article continues:
There appears to be groupthink going on among some of these and other groups leading to a willingness to uncritically and unwaveringly support the interim deal and defensively react to any compliance questions. In the past, at least, individuals from these three groups in particular participated in a Ploughshares Fund sponsored Iran listserv that shared and shaped positions on addressing the Iranian nuclear issue in the media and in analysis. Based on ISIS staff's experience as participants on this listserv a few years ago, this shaping too often devolved into poor analysis. ISIS first attempted to improve and correct analysis, and then ISIS staff decided to remove themselves from the listserv. It is unclear if the groupthink element and one-sided shaping are happening here, or if the listserv still exists, but it is worth asking.
When perusing the above paragraph, readers should remember that it is referring to National Iranian American Council that has been criticized by Iranian human rights activists as a potential shill for the Iranian government.
And they should also know that, another outlet mentioned above, Al Monitor, is a Washington, D.C.-based website whose correspondent in Washington, D.C., Laura Rozen, was described in the David Samuel's May 5, 2016 article as part of Ben Rhodes' echo chamber, an implication she denies. (Al Monitor, by the way, is also described by journalist Lee Smith in The Tablet as having published articles by pro-Hezbollah journalists from Lebanon.)
Conclusion
When thinking about the role Ploughshares had on media coverage of the Iran Deal, it is useful to ask some questions. Such questions include:
Would the Iranian government allow an organization like Ploughshares to operate in its country?
Would it allow such an organization to portray the United States (and Israel) as reliable negotiation partners, whose motives can be trusted or would it shut it down and imprison its members, the same way it has imprisoned dissidents, members of the Bahai faith and Christian missionaries?
Would the Iranian government allow an organization analogous to the National Iranian American Council operate in its country?
These questions are not meant to suggest that non-profits like Ploughshares and NIAC should not operate in the United States, which thankfully, is an open and free society.
These questions, however, do help focus attention on a crucial issue that American journalists cannot forget: The manner in which public opinion and discourse can be manipulated — not just by the country's leaders — but by its totalitarian adversaries.
It's an age-old issue facing democracies that responsible journalists must consider in times such as these.

Posted by dvz at 12:54 PM | Comments (1)
May 24, 2016
'Moderate' Palestinian Movement Honors Japanese Terrorist
Flag of the PFLP

Fatah, the movement that dominates the Palestinian Authority (PA), has honored a terrorist named Kozo Okamoto for his part in a 1972 attack in Israel that killed 25 people, including 16 tourists from Puerto Rico, and injured 70 others.
Palestinian Media Watch (PMW), a non-profit organization that monitors Arab media in the West Bank (Judea and Samaria), the Gaza Strip and eastern Jerusalem, reported that Okamato was praised on Fatah's Facebook page on May 18, 2016.
Okamoto and two fellow members of the Japanese Red Army, a terrorist movement that frequently partnered with Palestinian terror organizations, Yasuyuki Yasuda and Tsuyoshi Okudaira, perpetrated a terrorist attack at Israel's Ben Gurion International Airport on May 30, 1972. All three Japanese Red Army members had been recruited by the Popular Front for the Liberation of Palestine (PFLP).
One survivor of the attack, Ros Sloboda, recalled the sound of shattering glass, then "people started dropping, there was blood everywhere." The carnage, she told the BBC in May 2014, was "the stuff of nightmares, really ("Survivor Recounts 1972 PFLP-Red Army Terror Attack at Tel Aviv's Lod Airport," Algemeiner, May 21, 2014)."
Yasuda and Okudaira were killed carrying out the attack and Okamoto was captured and subsequently tried and convicted by an Israeli court. Despite a sentence of life imprisonment, Okamoto was released in 1985 as part of a prisoner exchange with Palestinian Arab terrorists for Israeli prisoners. Although still wanted by Japan for his crimes, Okamato has received sanctuary in Libya, Syria and most recently, Lebanon.
In its Facebook post—which included a picture of the bloody aftermath of Lod Airport massacre—Fatah wrote: "44 years since the airport operation (26 killed and 80 injured). A thousand greetings to the Japanese fighter and friend, Kozo Okamoto, the hero of the Lod airport operation, May 30, 1972."
As CAMERA has noted, (see, for example "Those Intransigent 'Moderates' of Fatah," May 6, 2014) Fatah is frequently referred to as "moderate" by a wide variety of news outlets, including The New York Times, The Washington Post, and the U.K.-based Daily Telegraph, among others.
After PMW highlighted the group's Facebook post, Fatah did not retreat from its praise of Okamoto. In a subsequent entry on the social media site, Fatah wrote:
"Responding to the Israeli media [PMW]…Blessings to the Japanese fighter, the comrade Kozo Okamoto, hero of the operation at the Lod airport. The Fatah movement is proud of all who have joined its ranks and the ranks of the Palestinian revolution for the freedom of the Palestinian people…" Fatah went on to describe the murderer as having "carried out one of the most famous self-sacrificing operations of the 20th century."
As CAMERA has pointed out ("CAMERA Notes Palestinian Incitement in Washington Times," Feb. 22, 2016), Fatah's praise—and often support—for terrorist attacks is not new.
In his 2016 book Undeclared Wars with Israel: East Germany and the West German Far Left 1967-1989 (Cambridge University Press), University of Maryland professor Jeffrey Herf noted that on May 31 1972, the BBC monitoring service recorded a broadcast on Voice of Fatah radio in Arabic from Cairo extolling the Lod terrorist attack:
"The great, humane, revolutionary choice by a group of youths [the members of the Japanese Red Army] who were born thousands of miles from Palestine demonstrates the greatness of these youths, which is equal to the justness of the Palestine cause. It also indicates the position our cause occupies on the world level…"
Herf writes that after the news of the Lod massacre broke in Israel, Israeli Prime Minister Golda Meir, speaking to the Knesset, said "Woe to any revolution, local or global, which is built on blood and murder, conducted in the name of murder. Immediately after they heard of last night's incident, both Cairo and Beirut hailed a great victory. Scores of people were killed and wounded. And their joy knows no bounds (Undeclared Wars with Israel, pg. 158-59)."
Fatah's "joy" over violent murders, or what it called a "great, humane revolutionary choice," remains unabated. And immoderate.
Posted by SD at 01:18 PM | Comments (1)
May 19, 2016
If Only Rhodes Had Waited, Like Phil Caputo
At 8 minutes and 14 seconds into this video, legendary war correspondent Phil Caputo confesses to misleading his readers while covering Lebanon's civil war. He made this confession while speaking at Moth Radio Hour in 2009.
Earlier this month, Ben Rhodes a speechwriter at the National Security Council, admitted to creating an "echo chamber" to promote a controversial agreement with Iran over its nuclear program.
In the story published by the New York Times Sunday Magazine and written by David Samuels, Rhodes speaks about how he was apparently able to generate sympathetic media coverage (and internet buzz) over the deal with Iran, a country that many Americans regard with suspicion.
Rhodes stated that one reason why he was able to manipulate the discourse over the Iran deal was the incompetence and naiveté of American journalists. "The average reporter we talk to is 27 years old, and their only reporting experience consists of being around political campaigns," Rhodes said. "They literally know nothing."
Rhodes' shocking admission and expression of contempt for American journalists prompted a lot of condemnations. Most of it was directed at Rhodes for the methods he used to promote the Iran deal, but there was another strain of criticism as well. This strain of criticism was directed at Rhodes for rubbing the con in the face of the people he fooled.
Maybe Rhodes should have waited a few decades before telling his story. If he had waited, his story would have elicited applause and laughter.
That's how it worked out for legendary war correspondent and author Phil Caputo. In 2009, Caputo, a Pulitzer Prize winner, appeared on Moth Radio hour and told the audience that he had misled his readers while working as an international correspondent in Lebanon in the 1970s. Rather than being booed off the stage, Caputo was rewarded with laughter and applause.

Caputo made his confession while speaking at a Moth event at Cooper Union in New York City on Sept. 10, 2009. It begins at 8:14 into the video posted at the top of this entry.
His story begins with a Telex message from the foreign desk asking him when they were going to see his interview with PLO commander Abu Rashid. Reporters at a competing publication (that Caputo calls "Scoop Magazine") were able to get an interview with the commander, why hadn't Caputo?
Caputo's first thought was to think that his foreign editor was crazy. "Of all the dangerous places you could go in Beirut, Lebanon, the most dangerous you could go were the neighborhoods and the refugee camps that were controlled by the Palestinian Liberation Organization," Caputo said. "To go into one of those places was a suicide mission. I couldn't figure out how 'Scoop Magazine' had done it."
Fortunately, Caputo was friends with the correspondents at the magazine so he goes over to their office and asks them if they could help set up an interview with this Abu Rashid. In response the two correspondents laughed at Caputo's request. And then one of the reporters leans back in his chair and says, "Go ahead," prompting a look of bafflement from Caputo. Then the other reporter for "Scoop" tells him that the reporter sitting in the chair is Abu Rashid.
Upon hearing this part of the story, the audience at Cooper Union laughed uproariously. When the laughter died down, Caputo continued his story. It turned out that the two journalists writing for "Scoop" had been getting messages from their bosses asking for interview with a PLO commander. Eventually, after continued pressure from their editor, they invented Abu Rashid.
As I said before, there were a lot of things you were supposed to do to go get a story, anything to get a story, but there was one thing you were never supposed to do and I did it. I interviewed Rick, AKA, Abu Rashid. [Rick was the pseudonym Caputo gave to the journalist.]
Again, there's more laughter from the audience when they hear this story, but here is where Caputo's story gets even more disturbing.
I'll say in my own defense, a lot of other correspondents did the same thing. [More laughter.] In the ensuing days, the fabulous Abu Rashid became the most quoted PLO commander in the entire Middle East.

Actually, I'm kind of glad you're laughing as far as journalistic ethics go it was pretty shocking. You weren't supposed to do a thing like that and I have to say that I felt pretty ashamed of myself.
Things would have gone so much better for Rhodes if instead of speaking with David Samuels, he told his story to Moth Radio. Or maybe he should have told his story to Phil Caputo.

Posted by dvz at 01:47 PM | Comments (0)
Israelis Discover Cure for Leukemia - Does the Media Care?
With the millions of words the New York Times, New Yorker, BBC, et al. have splashed on their pages decrying every new foundation poured in some obscure Israeli settlement or bemoaning the hardship imposed on Palestinians forced to endure delays at security checkpoints, will the legions of journalists and pontificators find space to report on the most extraordinary, life-changing developments coming out of Israel?
Millions have suffered the devastating consequences of Leukemia, a blood marrow cancer that strikes both the young and the old. The disease knows no ethnic or religious boundaries. Until recently, Acute Myeloblastic Leukemia, the most common form, was a death sentence. Despite extensive chemotherapy regimens that left patients tortured by pain and nausea, most of the stricken eventually succumbed to the disease.
But over the past few years, a number of small Israeli medical research firms have devised new compounds and technologies that hold the promise of targeting Leukemic cells with the same incredible accuracy that Iron dome targets incoming Hamas missiles, leaving the rest of the patient's body intact and producing a permanent cure. These developments should they pan out, represent a revolution in medicine and in the battle against cancer.
Will the Times or the BBC take time off from their relentless criticism of Israel to provide their audiences with another perspective of Israel? Will David Remnick, editor of the highbrow New Yorker, which reliably treats its readers to periodic exposures of israel's flaws and alleged injustice toward Palestinians, assign a writer to produce an in-depth report of this story?
Don't bet on it. Providing the world with a cure to a dreaded disease is not the Israel these media organizations care to portray.
Posted by SS at 12:36 PM | Comments (2)
May 18, 2016
Bias at NYT Arts/Cultural Desk
What Hamas refers to as "resistance against Israel's occupation"
A NYT article by James Glanz and Rami Nazzal seemed straightforward at first glance, discussing plans for the opening of a new Palestinian museum in Birzeit on Wednesday. The article appeared online on May 16 under the headline "Palestinian Museum Prepares to Open, Minus Exhibitions" and a day later, on the first page of the Arts & Culture section of the print edition, headlined "Palestinian Museum Is Set to Open, Empty of Art."
When they noted that the museum's opening ceremony was slated for "a few days after the 68th anniversary of what Palestinians call the Nakba, or catastrophe," the reporters appropriately made it clear that this was the Palestinians' terminology for "Israel's founding and the conflict that followed." But while they indicated that as a result, "hundreds of thousands" of Palestinians were "displaced," they did not explain the relevant circumstances, namely, that Arab leaders had invaded and declared war on the newly established State of Israel.
Worse, though, was that elsewhere, the authors themselves adopted the Palestinian narrative and presented it as fact in their own voices. They wrote:

In the West Bank, where Palestinians have for years struggled to build political and civic institutions while resisting Israel's occupation of the territory, the fate of the exhibition may say as much about the realities of Palestinian society as any art collection could. [emphasis added]
Objective and knowledgeable readers may well recognize that "resisting Israel's occupation" is the justification invoked by Hamas and other Palestinian terrorist groups for carrying out murderous attacks on civilian targets in Israel, but others may be misled by what amounts to the reporters' own stamp of approval on the biased language.
Posted by RH at 03:37 PM | Comments (1)
Al-Monitor Spins History

Al-Monitor ran a piece, ("How Palestinians plan to mark 50 years of occupation," May 15, 2016) outlining "a major Palestinian and international political and public campaign" being planned for next year to mark five decades since the Six-Day War of 1967. The theme of the planned campaign will be "enough with the occupation."
Author Uri Savir writes:
A senior PLO official in Ramallah told Al-Monitor on condition of anonymity that "50 years of military occupation spells to every single Palestinian that we, with whatever means we possess, have to end our humiliation and gain our independence. Strategically, June 2017 is an opportunity to place the Palestinian issue on the international agenda."

[…]

The PLO official said that one cannot rule out a "50-year occupation intifada," but that Palestinian President Mahmoud Abbas prefers to avoid it: "In 2017, the rules of the game will change. We have come to the end of our patience."
Savir does not acknowledge that these comments amount to endorsements by Palestinian officials of the murder Jews and Israelis in terrorist projects. Savir, founder of the Peres Center for Peace and the NGO's current honorary president, parrots incendiary PLO talking points and ignores the incitement of Palestinian violence which the PLO officials themselves unabashedly glorify.
Furthermore, he not only ignores the Jordanian occupation of the West Bank prior to 1967, he also fails to mention numerous offers of statehood made to the Palestinians by successive Israeli governments since. Instead, he chastises Israel:
"Enough with the occupation" should be the Israeli slogan instead. Occupation is the biggest strategic danger to Israel's identity, to its security and its international relations. It is turning Israel into a binational, immoral state, and it carries severe ramifications for Israel's democracy.
With pithy historical blindness, Savir places the weight of the conflict entirely on Israel's shoulders, giving the Palestinians a free pass even as they admit to turning to terrorism. Al-Monitor, the 2014 recipient of the International Press Institute's (IPI) Free Media Pioneer Award, eliminates any semblance of contextualize reporting, offering a biased perspective of the last half-century of events in Middle East.
--Rachel Frommer, CAMERA Intern
Posted by SC at 02:50 PM | Comments (0)
May 17, 2016
'Stabbing Intifada' Declines, Tribune Papers Tell Half the Story
The Tribune Newspapers—including The Los Angeles Times, Chicago Tribune and Baltimore Sun—asked, as a Times headline put it, "What's behind the sharp decline in lone-wolf stabbing attacks in the West Bank?" (May 11, 2016). The same report appeared that day in The Tribune and a shorter version ("Palestinian stabbings decrease, officials say") ran in the May 10 print Baltimore Sun.
Special correspondent Joshua Mitnick's timely article included some useful background. It indirectly and anonymously quoted a Palestinian security commander saying, "Many of the attacks [against Israelis] seem to be carried out by youths who suffer from depression or economic hardship," as well as those who "want revenge for relatives or friends injured in the violence."
But the article omitted too much. For example:
*It portrayed the Palestinian "stabbing intifada" as "being carried by individuals without ties to militant groups." But according to a detailed analysis by Adam Shay and Pinhas Inbari ("the Palestinian Authority-Fatah's Incitement Strategy," Jerusalem Center for Public Affairs, Feb. 29, 2016), "rather than plan and coordinate violent attacks, [Palestinian Authority President Mahmoud] Abbas uses the Palestinian public debate and the media as a mechanism for instigating waves of violence. The public debate also uses a dialogue based on cultural codes, which broadcast a specific, pre-defined meaning to the Palestinian listener.
"When President Abbas says that 'they [the Jews] have no right to defile them [the al-Aqsa mosque and the Church of the Holy Sepulcher]…we will not allow them, and we will do everything in our power to protect Jerusalem,' he is in fact giving permission and legitimacy to intensify the struggle. Within the context of the struggle this is an authorization to move from stone-throwing to knifing and vehicular attacks, as was indeed the case."
*The Tribune report misses what Shay and Inbari describe as Abbas' strategy to circumvent Israel's insistence on direct negotiations toward a "two-state solution" and Israeli-Palestinian peace. Abbas outlined this in January, 2015, eight months before the "stabbing intifada" erupted, declaring in reference to sporadic anti-Israel attacks already occurring: "The popular intifada will continue until the occupation is over and there will be no return to negotiations without full recognition of Palestinian rights. Movement towards a settlement will be achieved through international intervention." Palestinian support of French efforts to convene an international conference in place of direct talks with Israel reflects that strategy.
*The Tribune Newspapers quote PA official and Fatah movement member Kadoura Fares as claiming of "the stabbing intifada" that "the Palestinian national movement didn't lead this wave." Perhaps not with a direct order, but by setting and maintaining the atmosphere, including repeated official praise of "martyrs, it helped spark and sustain that wave. See, for one example among many "USA Today Downplays Anti-Jewish Violence as Clashes," CAMERA, March 7, 2016.

*"What's behind the sharp decline in lone-wolf stabbing attacks" states, without attribution, "Palestinians want to form an independent state in the West Bank and Gaza Strip, with East Jerusalem as their capital." This formula tends to appear chronically in news media coverage, usually—as here—out of context. That Palestinian leaders rejected U.S.-Israeli proposals of a West Bank and Gaza "Palestine" with eastern Jerusalem as its capital in 2000 and 2001, replying with the bloodshed of the second intifada, and rebuffed a similar Israeli-only offer in 2008 virtually always goes unmentioned.
In fact, recent polling indicates that pluralities of Palestinian Arabs continue to oppose a "two-state solution," still favor elimination of Israel as a Jewish state and support anti-Israeli violence over non-violence. See "Poll: Majority of Palestinians Favor a New Intifada," CAMERA, Sept. 25, 2015
Yes, Israeli authorities have credited PA officials with trying recently to minimize support for "the stabbing intifada," including among young people via social media. This Mitnick, formerly of The Wall Street Journal, now a Tribune Newspapers special correspondent, reports. But omitted is those same officials' role in stimulating such attacks in the first place. Also missing is the persistence of Palestinian hostility to Israel and opposition to peace with it as a Jewish state, which fuels those crimes.

Posted by ER at 05:08 PM | Comments (0)
Washington Post Notes Israel's Cyber Strength
Ben-Gurion University of the Negev

The Washington Post's "Cyber-city rises from the desert in Israel" (May 15, 2016) highlighted Israel's growing power in the realm of cyber-security—a strength made possible, in part, through innovation and cooperation.
The Post reported that in the middle of the Negev Desert, in southern Israel, a "cyber-city is rising to cement Israel's place as a major digital power." Beersheba, population 200,000 and home to Ben-Gurion University of the Negev, "will concentrate some of the country's top talent from the military, academia and business in an area of just a few square miles."
Beersheba houses a technology park that includes global companies such as PayPal, Lockheed Martin and Deutsche Telekom, among others. Unit 8200, a signals intelligence arm of the Israeli military (roughly analogous to the U.S. National Security Agency), will soon be located at the park. The Shin Bet, Israel's domestic security agency, will also take up residence at the complex adjacent to Ben-Gurion University.
The school will work with these global companies and Israeli military and security agencies to complete a cyber emergency response team.
In 2014, Israel launched the response team, as part of the National Cyber Security Authority, to respond to crises. Growing cyber threats to Israel, including those emanating from Iran, have helped to provide an incentive. As The Post article detailed, constant attacks, virtual as well as physical, against the Jewish state, as well as "cross-pollination" from different sectors, have helped propel Israeli growth in cyber.
The Post quoted Nadav Zafrir, a former head of Unit 8200, on the combined potency provided of private and public entities:
"What you get out of that is the research capabilities that academia brings, the real-world knowledge that the [tech firms] bring, the hands-on experience that the military brings, alongside the entrepreneurial ability that the start-ups bring." The Post seems to concur, concluding that "no other country is so purposefully integrating its private, scholarly, government and military cyber-expertise."
These different organizations reflect Israel's emphasis on cyber-security as well as its unique approach to the problems—and opportunities—posed by threats emanating online.
Eviatar Matania, the head of the National Cyber Bureau, told The Post that Israel "gains an advantage over other countries" through a high-tech and innovation-driven culture that emanates, in part, from cyber-security. According to Matania, the result is that Israel sees the cyber realm "not just as a threat to mitigate, but also as one of our economic engines."
As CAMERA has noted ("Defense One: Israel is a Rising Cyber 'Super Power,'" Feb. 2, 2016), Israel currently has more than 300 cybersecurity companies and accounts for 20 percent of the world's private investment in cyber. An estimated $6 billion in cybersecurity technology is exported by the Jewish state.
It seems likely that Israel's strength in cyber will continue to grow. By the end of 2017, The Israeli Defense Forces (IDF) are hoping to establish a cyber-command to "merge the missions of attack and defense."
The elite cyber-units recruit at an early age. The Post noted that "the cream of the computer science and math crop are scouted by the elite military cyber-units when they are as young as 14." Military cyber-officers mentor students at four Israeli high schools that offer advanced math and computer science curriculum. After serving Israel, cybersecurity specialists will have an opportunity to work for private companies, including those housed at Beersheba.
IDF Capt. Rotem Bashi, who heads a cyberdefense unit, told The Post, the "next war will be in cyberspace." If so—as this Washington Post article detailed—Israel intends to be ready.
Posted by SD at 12:42 PM | Comments (0)
ICNA's Selective Outrage on Bangladesh Violence

The Islamic Circle of North America (ICNA), a non-profit organization that claims to represent the interests of Muslims in America, has selectively condemned violence in Bangladesh. Although ICNA denounced the execution of Maluana Motiur Rahman Nizami, a Bangladeshi Islamist, the organization has been silent about Islamist attacks against secular writers and religious minorities in the country.
ICNA called the execution of Nizami "another shameful act of judicial killing which is part of the ongoing brutal persecution of political opponents by Sheikh Hasina's [Hasina Wazed, the current prime minister of Bangladesh] government."
The Investigative Project on Terrorism (IPT), a Washington D.C.-based organization that monitors extremist groups, noted that Nizami "was a top leader of Bangladesh's Jamaat-e-Islami (JI) party and a former president of its student affiliate, Islami Jamiat-e-Talaba Pakistan. He was also a permanent member of the Muslim World League, a Saudi-funded organization created in 1962 for the global propagation of Wahhabi Islam."
IPT noted that "ICNA's strong condemnation of Nizami's execution and those of other JI-tied Bangladeshi Islamists in the past stands in sharp contrast to the Islamist group's notable silence following recent horrific terror attacks in Bangladesh that have included the hacking to death of a Bangladeshi academic, gay rights activist, Hindu tailor, and Sufi leader. Some of these attacks have been linked to the Islamic State and al-Qaida, raising the total number of terrorist slayings of secular bloggers and critics of radical Islam in Bangladesh to 20 since 2013."
ICNA has shown a willingness to speak with many in the U.S. news media—who often treat the group as a credible source, failing to fully identify the Circle's radical roots, associations and activities (see, for example "Baltimore Sun Gives Islamic Circle a Free Pass," CAMERA, June 3, 2015).
As CAMERA has noted, the Islamic Circle is a subsidiary of the Islamic Society of North America, a Muslim Brotherhood spin-off. The Egyptian-based, Sunni Brotherhood seeks to spread sharia (Islamic law) globally. ICNA is part of a network of groups, including the Council on American Islamic Relations (CAIR) that stemmed from the Brotherhood's North American initiatives.
In 2010, the Anti-Defamation League (ADL) noted that a December 2009 ICNA conference featured calls to destroy Israel and distributed the writings of Anwar al-Awlaki—an American-born leader of al-Qaeda in the Arabian Peninsula who was later killed by a U.S. drone strike.

ICNA's magazines have featured interviews with terrorist leaders in Pakistan and encouraged jihadi recruitment in Kashmir. In December 2009, five young members of a JI mosque in Virginia were arrested and convicted on terrorism charges after trying to join a Pakistani terrorist group.
In Dec. 6, 2010 report, IPT pointed out that a 2010 ICNA Member's Hand Book spelled out that "the organizations ultimate goal is 'the Establishment of Islam' as the sole basis of global society and governance. It also encourages members to deceive people in its proselytizing campaign to help fulfill this goal."
Nizami was a violent man. IPT reported that he was convicted in 2014 by a Bangladeshi war crimes tribunal for leading a "secret killing squad called Al-Badar Bahini, which was created by the JI under orders from Pakistani intelligence" during Bangladesh's 1971 war.
The Islamic Circle's selective outrage over violence in Bangladesh is newsworthy. Media failure to note it is worrisome.
Posted by SD at 11:56 AM | Comments (1)
AFP's Lopsided Account of Slain Palestinian Teen
When a media outlet reports on a fact sheet published by a big international NGO, what is its responsibility to readers? Do journalists have an obligation to flag shortcomings in NGO reports? AFP, apparently, thinks not.
In a widely published article, AFP summarized a UNICEF fact sheet claiming that "25 Palestinian children killed in 3 months." The UNICEF provides identifying details (date and location) in just two out of the 25 alleged cases. AFP faithfully relays UNICEF's flawed account of one of the two cases:
UNICEF cited the example on October 25 in Hebron in the West Bank of a 17-year-old girl who was "taken by IDF (Israel Defence Forces) soldiers for a search, shot with at least five bullets and killed".

"Israeli authorities said that she had attempted to stab a policeman, however an eyewitness stated that she was not presenting any threat at the time she was shot, and was shouting that she did not have a knife," it said.
Relying solely on the UNICEF report, AFP failed to fulfill its duty to independently fact-check. A quick search reveals that Amnesty International, which has no great love for Israel, noted this relevant information concerning the Oct. 25 Hebron incident:
A photo of Ershied's body shows a knife lying near the body, and the Israeli police spokesperson has stated that she attempted to stab a border policeman.
In other words, there is a photograph that supports the Israeli account of events, a photograph that AFP ignored.
In recent months, following terror attacks, the publication - official or otherwise - of photographs showing the weapons used in the attack have been commonplace. Despite such evidence, Palestinians frequently insist that slain terrorists are innocent. In an attempt to explain the contrary photographic material, a bizarre conspiracy theory claiming Israeli forces plant knives on dead Palestinians thrives in Palestinian social media, and is even embraced by some Palestinian officials.
That UNICEF failed to note the photograph does not exonerate AFP from its responsibility to note the photograph of the knife. Whether or not AFP subscribes to outlandish anti-Israel conspiracy theories, it carries an obligation to its readers to fully present the facts, even when its NGO sources don't.
Posted by gs at 02:39 AM | Comments (1)
May 16, 2016
Iranian Military Admits Anti-Israel Missile Test
Hassan Rouhani, President of the Islamic Republic of Iran

A top member of Iran's military has admitted that the Islamic Republic test fired a ballistic missile inscribed with a call to destroy Israel.
USA Today reported that "Brig. Gen. Ali Abdolahi, the Iranian military's deputy chief of staff, told Iran's Tasnim news agency that Iran fired the test missile two weeks ago and that it was accurate to within 25 feet, which he described as zero error ("Iran defense chief denies long-range missile test," May 10, 2016)."
Abdolahi's admission of the tests in mid-April follows another ballistic missile test which took place in March and involved two types of missiles, Qadr-H and Qadr-E, both of which were launched from the East Alborz Mountains in northern Iran. The tests violated a U.N. Security Council resolution, according to a confidential report made in March by the council's panel of experts on Iran ("Exclusive: Iran missile tests were 'in defiance of' U.N. resolution—U.S., allies," Reuters, March 30, 2016).
USA Today reported that Iranian Defense Minister Brig. Gen. Hossein Dehqan denied that a missile test "of that distance" (1,250 miles) took place in mid-April. Dehqan also claimed that the United States and Saudi Arabia are conducting a "propaganda campaign to make the world believe Iran's missiles are not for defensive purposes."
Yet, evidence suggest that missiles being developed by Iran have an offensive purpose.
Reporting the tests in March, USA Today noted that, "two months ago, Iran test-fired two ballistic missiles, one of them with the phrase 'Israel should be wiped off the Earth' written on it in Hebrew. Iranian officials say the phrase was added by workers on the ground and was not a decision made by higher-level officials."
CAMERA has noted ("The Iranian Missile Photo That CNN Missed," March 21, 2016) that images of the missiles "emblazoned with the anti-Israel graffiti" were broadcasted on Iranian state-sponsored TV in March. Despite this, CNN erroneously reported at the time that Iranian media had not published photographs of the inscribed missiles and that CNN "could not independently confirm" whether the missiles were launched with the genocidal language displayed.
Similarly, in its report on the March missile tests, The Washington Post claimed that "Iran's semiofficial Fars News Agency reported that the missiles tested Wednesday were stamped with a message in Hebrew: 'Israel must be wiped out.' However, there was no confirmation of the report, and no such markings were seen in state-issued photos and video ("Biden: Iran under close watch amid reports of missile tests," March 9)."

Iranian officials' claims, reported in USA Today's May 10 edition, that the Iranian-inscription threatening Israel was added by "workers on the ground,"—workers who live in a totalitarian dictatorship that harshly punishes unauthorized activities—seems unlikely. Nor do they explain why the images were featured on state media and not removed by authorities.
Servants of the Iranian regime, including those commonly referred to as "moderate" by Western press and policymakers, have shown a willingness to deceive when confronted with evidence of their country's actions. As CAMERA pointed out ("Washington Post Editorial Notes Iranian 'Moderates' Mendacity on Holocaust," May 12, 2016), Iranian Foreign Minister Mohammad Javad Zarif, for example, obfuscated when asked by The New Yorker's Robin Wright about his country sponsoring an international Holocaust denial cartoon contest.
Yet, many news media persist in distinguishing between "moderates" and "hard-liners." USA Today's report uncritically quoted an analyst for consulting firm IHS Country Risk, Firas Abi-Ali, who claimed "Iran's government must pursue its missile program to appease hard-liners after striking a deal on its nuclear program with the West."
The Observer, a New York-based publication, referring to the Joint Comprehensive Plan of Action between the United States, Germany, the United Kingdom, France, Russia, China and Iran, in which sanctions relief to the latter was promised in exchange for concessions on its alleged illegal nuclear weapons program, recently editorialized:
"As soon as the deal was signed and previously frozen funds began to flow to the regime, the Iranians proceeded to behave as they have always behaved: they ramped up missile tests, denied inspectors access to sites supposedly covered by the agreement, seized American sailors on the high seas, and couldn't find a buyer for the heavy they were required to dispose of. So they asked the U.S. to pay for it—rather than just destroy it (Deception on—Not Just in—Iran," Observer, March 10, 2016)."
Mark Dubowitz, the Vice President of the Foundation for Defense of Democracies, told The Observer that recent parliamentary elections in Iran were not a contest between moderates and hard-liners (see, for example "The Media and the Myth of the Moderate Mullahs," CAMERA, March 2, 2016), but rather between "hardliner and hard-hardliners."
With Iran developing more accurate and longer range missiles, the news media could, at the least, use more accurate categorizations.
Posted by SD at 01:15 PM | Comments (0)
On 'Nakba Day,' a Beersheva 'Refugee' & AFP Time Warp
May 16 Update, 8:52 a.m. EST: AFP Corrects Photo Caption on Palestinian Refugee
Much has been said about the United Nations' unique definition for Palestinian refugees, probably the only group of displaced people in the entire world whose descendants also receive refugee status.
Among this group of special refugees -- the descendants of those Palestinians who fled or were expelled in 1948 --is a smaller, more rare group of time-defying Palestinian refugees: though they were born after 1948, somehow, inexplicably, they were there in 1948.
Five years ago, for instance, on "Nakba Day," Haaretz interviewed 57-year-old Salman Fakherldeen, who miraculously remembered events from 1948, seven years before he was born.
This year, Agence France Presse photographer Said Khatib apparently located another example of this rare breed of a post-1948 refugee, "refugee Aisha, 53," formerly of Beersheva. The photo and caption follow:
The caption states:
Palestinian refugee Aisha, 53, who says is a former [sic] inhabitant of the town of Beersheva, waves a group of keys outside her home in the Khan Yunis refugee camp in the southern Gaza Strip on May 15, 2016, on the 68th anniversary of the "Nakba".

"Nakba" means in Arabic "catastrophe" in reference to the birth of the state of Israel 68-years-ago in British-mandate Palestine, which led to the displacement of hundreds of thousands of Palestinians who either fled or were driven out of their homes during the 1948 war over Israel's creation. They key symbolises the homes left by Palestinians in 1948.
Aisha, who is reportedly 53 years old, could not have fled or been driven out of her Beersheva home 68 years ago, as the caption strongly suggests. She possibly could have lived in Beersheva and decided to move to Gaza for marriage, for example, but then she is not a "refugee" forced out of her home in the 1948 war, as the caption clearly implies.

Was Aisha an inhabitant of Beersheva? If she was, why did AFP conflate her decision to move with the fate of Palestinian Arabs who left in 1948 and became refugees? If she opted to leave Beersheva, how exactly, is she a "refugee," as the caption identifies her?
CAMERA has contacted AFP to request a clarification. Stay tuned for an update.
Posted by TS at 05:29 AM | Comments (0)
May 13, 2016
Michigan Public Radio Considers It Controversial to Acknowledge Israel's Birthday
Deadline Detroit asks whether Michigan Public Radio was right to reject a donor's request to wish Israel a happy birthday?
According to the publication, Michigan Radio, an NPR affiliate, offered one of their donors the opportunity to have a message of her choice read on air, but when it turned out she wanted to wish Israel a Happy Birthday in honour of Yom Ha'atzmaut, Michigan Radio demurred, arguing that such a message
would compromise the station's commitment to impartiality and that it crosses over into advocacy, or could imply advocacy.
Donor Lisa Lis was upset and explained why:
Why would Public Radio need to be impartial about a legally recognized country other than the fact, many want her wiped from the face of the earth. Would it be a problem if it were the birthday of England, Norway or South Sudan?

Israel is a hot button country that the world has accepted as questionable and debatable and the major infraction Israel has committed is purely her existence. By the way, I truly look forward to expressing my same salutation when Palestine can celebrate her birthday.
Do you agree?
Posted by RH at 02:01 PM | Comments (2)
The Money Trail Behind Jewish Voice for Peace
Jewish Voice for Peace is a fanatical anti-Israel group and a leading proponent of the Boycott, Divestment and Sanctions campaign to toxify Israel. As CAMERA has documented, the group disseminates the most vicious smears against the Jewish state, including blood libels. For example, in a guest editorial in the Detroit Free Press in 2008, Jewish Voice for Peace repeated a libelous charge that Israeli troops had committed a massacre in the village of Tantara during the 1948 war for Israeli independence. The individual who had fabricated the story, a graduate student under the tutelage of anti-Zionist professor Ilan Pappe, had admitted under oath in a libel suit brought against him that there was no evidence to support the charge of a massacre. Yet the guest editorial writers continued to promote the libelous smear.
Despite ample evidence of Jewish Voice for Peace's mendacity, there is an ongoing effort by Israel's detractors in both the media and academia to portray the cultish group as a legitimate participant in the discussion about Israel and the Palestinians.
On May 12, 2016, CAMERA received information about a course claiming to be affiliated with the University of Pittsburgh Global Studies Department that utilized Jewish Voice for Peace as its main information source to teach high school students about the Israeli-Palestinian conflict.
In the media, Jewish Voice for Peace is cited by journalists and commentators who share the same far left orientation. The New York Times' columnist Nicholas Kristof cited Jewish Voice for Peace in a column on Aug. 3, 2011 in which he discussed Jewish groups "seeking balance" in the United States' involvement in the Israeli-Palestinian peace process. Kristof depicted the group in benign terms as one that "supports divestment campaigns against companies profiting from the occupation of Palestinian territories."
J Street, a group funded by radical billionaire currrency speculator George Soros and an obscure Asian businesswoman named Consolacion Esdicul, also has engaged with the group. While officially not endorsing Jewish Voice for Peace, J Street has welcomed its representatives to its conferences and co-sponsored various letters promoting the Iran deal and other activities with negative repercussions for Israel.

A recent report by the Israel-based NGO Monitor illuminates those who fund the anti-Israel agitation of Jewish Voice for Peace. They include familiar anti-Israel money sources as well as some surprising additions.
In the 2014-5 period, the largest visible donations were provided by:
Rockefeller Brothers Fund- ($140,000 in 2015)
Tides Foundation- ($49,477 in 2014)
Firedoll Foundation- ($25,000 in 2014)
Schwab Charitable Foundation- ($158,800 in 2014)
Jewish Communal Fund- ($25,100 in 2015)
Most other grants were below $30,000.
The Rockefeller Foundation, along with several other foundation donors found on the list contribute to a variety of anti-Israel pressure groups.
The single largest source was the Schwab Charitable Foundation, but it's important to note that this is a donor-advised fund. Using such a fund individuals make tax-deductible contributions into a special account, and only later direct money from that account to non-profit organizations. Contributions from a donor-advised fund are decided by the donor and not by the company managing the fund, in this case Schwab.

According to NGO Monitor, $448,000 went to Jewish Voice for Peace through such Schwab donor-advised funds between the years 2012-2014.
The NGO Monitor report provides documentation of a money trail that funds an emotion-driven public relations war against Israel. It also exposes the duplicity of those in the media, academia and even the Jewish community who portray Jewish Voice for Peace as a legitimate voice within the Jewish community.
Update: This post has been modified to clarify that contributions from a Schwab donor-advised fund are decided by the donor and not by Schwab.
Posted by SS at 10:57 AM | Comments (5)
May 12, 2016
A Shell Game: Washington Post Report on Anxious French Jews
"France is home to the largest Jewish community in Europe, and its most troubled. A wave of anti-Semitic violence in recent years has shaken Jews to the point where growing numbers no longer see a future here."
So begins "Jews anxious about future in France," by Washington Post correspondent James McAuley (May 10, 2016 print edition, May 9 online). Who is responsible for the "wave of anti-Semitic violence" and "sense of anxiety" pervading "a [Jewish] community that accounts for just 1 percent of the total French population"? The Post does not exactly say.
The newspaper does tell readers that community accounts for "nearly half of all victims of what French authorities call 'Xenophobic' violence." Which "xenophobes"? In the 10th paragraph The Post finally says "Jews are struggling to consolidate safety and security in a France where radical Islamist violence has been rising."
So, radical Muslims threaten French Jews with violence? The newspaper implies that, but stops short of saying so explicitly. Instead, it recalls:
"In 2006, there was the abduction and murder of a Jewish cell phone salesman by a gang of anti-Semitic youths. In 2012, a shooting at a Jewish school in Toulouse. In 2015, a shooting at a kosher supermarket the day after the Charlie Hebdo attack. And In January of this year, the machete attack on a Jewish teacher as he walked on the street in Marseille."
That "gang of anti-Semitic youths" who tortured Ilan Halimi to death over a period of days while taunting his family in telephone calls was Muslims. The terrorist who murdered a teacher and three children in Toulouse in 2012 was a Muslim. The shooter who killed four Jews at Paris' Hyper-Cacher market in 2015 was a Muslim who claimed to have coordinated with the Charlie Hebdo murderers.
But The Post quickly moves on to other matters in the last 22 of the article's 34 paragraphs. These are the argument among French Jews over whether they should abandon France for Israel or elsewhere, or stay. And, if they stay, should they work with the anti-immigrant—essentially anti-Muslim and originally antisemitic but now ostensibly pro-Jewish National Front Party—or against it?
Early in the dispatch, a man identified as an Israeli "human rights lawyer living in Paris," is quoted as saying "in terms of security, I don't believe Israel is a safe place for Jews. Or for anyone else." The Post transmits that stenographically, without context.
In context, in terms of individual security, a U.N. office reports that the murder rate per 100,000 population in Israel in 2012 was 1.8; in France (2013) 1.2; Tunisia—where some French vacation—3.1 (2012); and in the United States, where more than five million Jews live and many French visit, 3.8 (2013). (Data from most recent years posted.)
Another article by McAuley ("World Views: France plans to set up 'anti-jihadist centers' to curb youth radicalization," May 10 online, not yet in print) crept a little closer to cause—Islamic extremism or Islamist supremacism—in addition to effect—rising violence against French Jews and others. The short dispatch used the words "anti-jihadist" and "jihadism" in direct quotes from the French prime minister. It also referred to "militant" and "militants" and once to the Islamic State. It also noted that "many Muslims" find state secularism "alienating."
But those whose radicalization government officials hoped to prevent turned out to be "young men," "young people" or "French youths." Young Catholics? Secular youths? Young French Jews?
Unlikely.
When predominately Muslim suburbs of Paris and other French cities erupted in riots and arsons four years ago, reporting by the Tribune Newspapers (including The Los Angeles Times, Chicago Tribune and Baltimore Sun) suffered from descriptions of acts by "disaffected youths," "rioting youths" and "gangs of youths." Tribune Co. journalists, professionally expected to report who, what, when, where, why and how, erased the Muslim and/or North African-Arab identity of most of these "youths." Washington Post coverage of violent threats to French Jews from radicalized Muslims suffers a similar erasure now.

Posted by ER at 05:43 PM | Comments (0)
Washington Post Editorial Notes Iranian 'Moderates' Mendacity on Holocaust

A Washington Post editorial "Iran's 'moderates' and the Holocaust," (May 10, 2016) noted that Iran's foreign minister, Mohammad Javad Zarif, offered an "unconvincing disavowal of the regime's hate speech," including Tehran's sponsoring of a Holocaust "cartoon festival."
Post editorialists pointed out that "at the heart of the Obama administration's diplomatic engagement with Iran is the notion that the regime is divided among hard-liners who foment its terrorism and regional aggression and more moderate forces who are open to cooperation with the West."

CAMERA has noted (see, for example "The Media and the Myth of the Moderate Mullahs," March 2, 2016) the tendency of major U.S. print news outlets, including The Washington Post, to refer to "moderates" in the theocratic, authoritarian regime that rules the Islamic Republic of Iran—often overlooking evidence that contradicts that idea.
Zarif is frequently labeled a "moderate" and is, The Post editorial said, "'an English-speaking favorite of many Western journalists and even more so, Secretary of State John Kerry."
Yet, this label doesn't match Zarif's actions or those of the regime he serves.
The Post pointed out that during the 18-month imprisonment of their Tehran bureau chief, Jason Rezain, by Iran, Zarif suggested that the journalist had been taken "advantage" of by an "overzealous low-level operative" of the U.S. government.
The foreign minister's mendacity also was on display when he was asked to explain why Iran is sponsoring an international cartoon contest with a Holocaust denial theme. A previous Holocaust cartoon contest was held in 2006 under Iran's then-President, Mahmoud Ahmadinejad (2005-2013) and a second in 2015. Ahmadinejad favored blunt anti-Western, anti-Israel rhetoric, unlike Zarif, was often referred to by press and policymakers as a "hard-liner." But both men served Iran's "Supreme Leader," Ayatollah Ali Khamenei, who is rarely if ever characterized by the press as "moderate."
The Post editorial noted that when Zarif was asked about the upcoming Holocaust cartoon contest by Robin Wright of The New Yorker magazine, his reaction "was a form of denialism: He claimed the Rouhani administration [Hassan Rouhani, Iran's current President who is also frequently called a "moderate" by Western journalists] had nothing to do with the exhibition. The sponsor is a nongovernmental organization 'that is not controlled by the Iranian government.'"
In his interview with Wright, Zarif tried to blur the lines, claiming that the event was comparable to the activity of the white supremacist Ku Klux Klan, in the United States. Zarif obfuscated, asking Wright: "Is the government of the United States responsible for the fact that there are racially hateful organizations in the United States?"
Wright, a former correspondent for The Post and Los Angeles Times, among other outlets, also works for the United States Institute of Peace and frequently argues for greater U.S. engagement with Tehran. She did not challenge Zarif's Klan-Holocaust cartoon contest comparison although she did question his claims that the Iranian government was not involved in the event. However, as The Post editorial noted, "a spokesman for the Ministry of Culture and Islamic Guidance confirmed that the ministry supports the [Holocaust cartoon] exhibition….A festival official also reported that it was cooperating with the ministry."
Additionally, The Post pointed out, "one of the organizations staging the festival, the Owj Media and Cultural Institute, is funded by the Iranian Revolutionary Guard Corps; another, the Sarcheshmeh Cultural Complex, is backed by the Islamic Development Organization, whose budget is approved by the Iranian Parliament."
That is, the Holocaust cartoon festival is absolutely supported by the Iranian regime, of which Zarif is a loyal servant.
"If there really is a gulf between Mr. Zarif and the supposed hard-liners," the editorial said, "he often does a good job of disguising it." Other news media outlets would do well to note that it's a rather thin disguise and think twice before separating members of Iran's largely self-selecting theocratic dictatorship, including Zarif and Rouhani, as well as Ayatollah Khamenei, into "moderate" and "hard-line" camps.
When it comes to Iran coverage, The Post's declared sharp separation of the news and editorial departments may be real. National and foreign desk references to Iranian "moderates" and "reformers" versus "hard-liners" abounded in reporting the 2015 nuclear deal between Iran and the United States, France, Great Britain, Germany, Russia and China. In this year's Iranian parliamentary elections, "moderates" made big gains, according to The Post.

Posted by SD at 10:48 AM | Comments (0)
May 11, 2016
Where's the Coverage? Antisemitism Rampant in the PA

Blogger Elder of Ziyon (EoZ) describes this week's Palestinian Book Fair in Ramallah, translating from the Arabic-language Feneeq News the statement of Palestinian Authority (PA) Prime Minister Rami Hamdallah, "On behalf of President Mahmoud Abbas and myself, I thank all of you, the owners of publishing houses and intellectuals, visitors and guests of Palestine, who have turned this event into a cultural gathering, challenging the occupation and its repressive practices, and breaking the siege and isolation Israel wants us to be under."
EoZ notes that, "There is not the slightest indication that Israel did anything to stop this fair." In fact, this year's fair is the 10th annual Palestinian Book Fair; with a decade of fairs having been held, the claim of Israeli attempts to squelch it is absurd on its face.
In addition to the insidious statements by top Palestinian officials, books on offer—many of which cannot be authenticated as no book list is made available to the public— contain antisemitic material. One confirmed example is Ramzy El-Menyawi's "Chaos Theory—The American Scenario to Fragment the Middle East and the Zionist Theory Adapted by America," of which EoZ writes:
In the introduction to the book Menyawi makes an analogy between the US army invading and fragmenting the Muslim world and matzah made from the bodies and blood of the people Jews murdered.

This sort of thinking such as the blood libel is not on the margins of Palestinian society - it is mainstream.
Indeed, Palestinian Authority antisemitism is rampant, as demonstrated by PMW's report on "Palestinian Authority Antisemitism in 2015". In its overview, Palestinian Media Watch chronicled the hate-speech promoted in Palestinian media, children's shows, news outlets, and educational programming. The regular stream of antisemitic language by officials of the PA government is also covered, like a Fatah spokesman referring to Jews as "sons of apes and pigs."
Yet, the international media continues to ignore this very real problem of Palestinians indoctrinated by their leaders, teachers, books and media to hate Jews because they are Jewish. Where's the coverage?
--Rachel Frommer, CAMERA Intern
Posted by SC at 04:49 PM | Comments (1)
At Haaretz, Is Style Guide Just a Suggestion?
About the word "settlement," Haaretz's English style guide states:
In these parts, a word with political connotations. Use it only for a Jewish locale in the West Bank (or former/evacuated settlements in Gaza).
Indeed, in the Israeli-Palestinian context, the word "settlement" refers to an Israeli community over the Green Line and that is how it is most often understood.
Nevertheless, in his Haaretz Op-Ed earlier this week, Moshe Arens uses the term to mean something else. His Op-Ed begins:
In Israel's doorstep -- within mortar range of Israeli settlements and rocket range of Ben-Gurion Aiport -- live two million Palestinians in the Gaza Strip.
Arens isn't referring here to a Jewish locale in the West Bank or an evacuated settlement in Gaza. He is talking about Jewish communities in southern Israel, close to the Gaza Strip.
CAMERA yesterday informed Haaretz English edition editors of the inconsistency with Haaretz's style guide. As of this writing, they have declined to amend the misleading language.
In 2014, Haaretz corrected after misleadingly identifying a Jewish community near the Gaza Strip as a "settlement." It's unclear why, in this case, they have declined to correct. Is the Haaretz style guide merely a suggestion? Do style guidelines, which promote consistency, accuracy and clarity, not apply to Haaretz Op-Eds?
Posted by TS at 03:49 AM | Comments (3)
May 10, 2016
WSJ Op-Ed: Israelis are Happy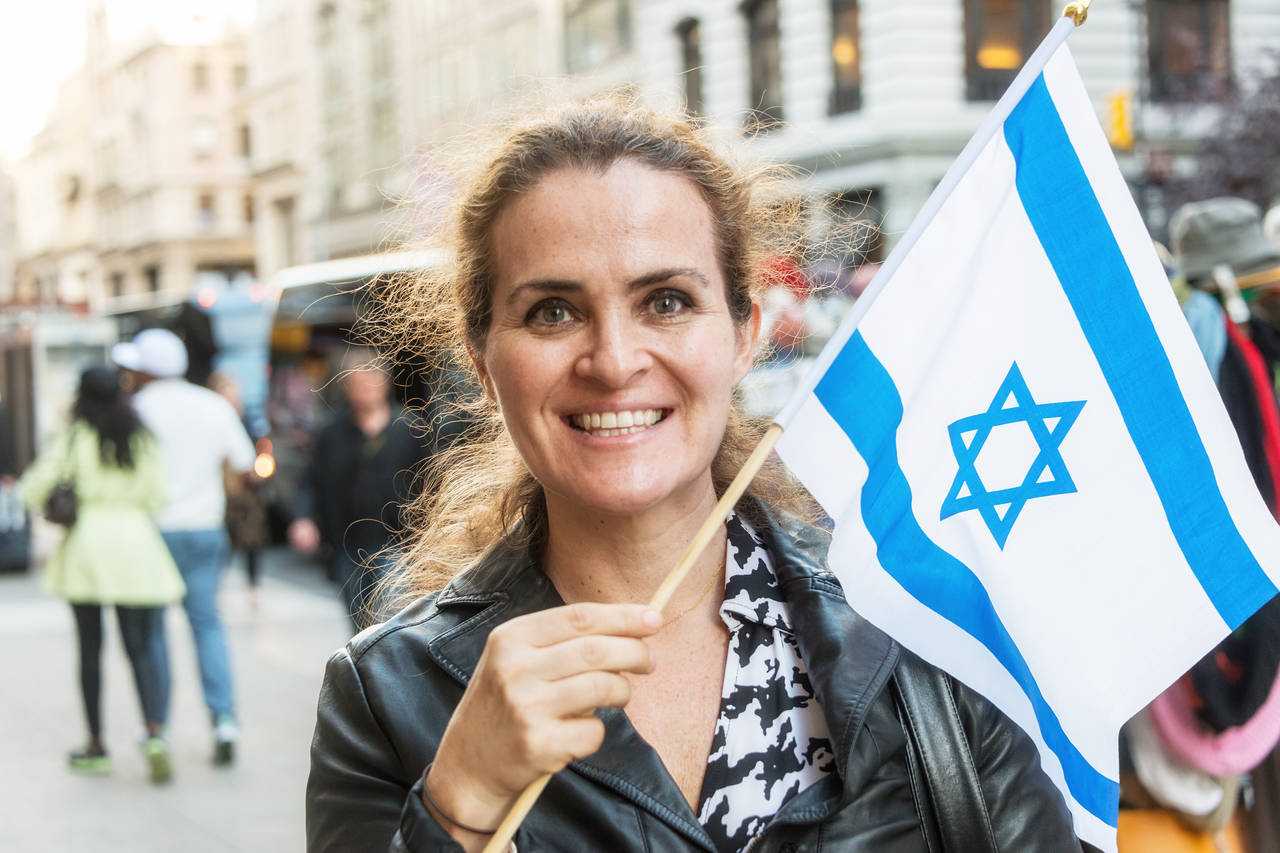 Photo: Getty Images
In an Op-Ed published May 10, 2016, Avinoam Bar-Yosef details "The Improbable Happiness of Israelis":
The World Happiness Report 2016 Update ranks Israel (Jews and Arabs) 11th of 158 countries evaluated for the United Nations. Israel also shines as No. 5 of the 36 Organization for Economic Cooperation and Development countries on the OECD's Life Satisfaction Index—ahead of the U.S., the U.K. and France.

[…]

And it isn't just Jews. Go to any beach or shopping mall and—despite the frictions—you will see Jews and Arabs peacefully coexisting. They all can take pride in their country's accomplishments, as when Israel faced a water crisis a decade ago and launched a desalination project that is now the envy of the world.
This despite the fact that, as Bar-Yosef notes, "Israelis live in a hostile and volatile neighborhood, engaged in an endless conflict with the Palestinians and under the threat of nuclear annihilation by Iran." He does not even mention the constant assaults on Israel's very right to exist, the movement to delegitimize the Jewish state in global fora, the media and at universities around the globe, or the outrageous attempts to deny the unique Jewish connection to the land of Israel and even to the Shoah.
So why are Israelis happy?
As Israel approaches its 68th Independence Day, perhaps Israelis understand that, notwithstanding these challenges—and perhaps in spite of them—they're doing a bang-up job building a free and democratic society and contributing to the well-being of humanity. Not many countries can say that, least of all Israel's neighbors.
Posted by SC at 09:15 AM | Comments (1)
May 09, 2016
Politico Downplays Palestinian Terrorism
In a May 5th article in Politico's U.S. Edition, entitled "State Dept. assures Leahy on Israeli human rights scrutiny", author Nahal Toosi misleads readers as she downplays Palestinian terrorism, and transfers blame for the violence onto Israel She writes:
In recent months, Palestinians have staged numerous attacks, many with knives, against Israeli security forces, who have often responded with gunfire. The violence has put both sides on edge and has led to allegations of overreaction by the Israeli military.[emphasis added]
Does Toosi consider Eitan and Naama Henkin, the young couple murdered in front of their children on October 1st to be "security forces"? How about 22-year-old yeshiva student Aharon Banita-Bennet, who was stabbed to death on his way to the Western Wall with his wife and two young children, who were stabbed as well? Or 18-year-old Ezra Schwartz from Massachusetts who was shot to death on November 19 while doing volunteer work during his gap year in Israel? Or 21-year-old Hadras Buchris who was stabbed to death as she waited for a ride on November 22? Or 45-year-old Rabbi Reuven Eduardo) Birmajer who was stabbed to death on December 23 near Jaffa gate? Or Dafna Meir, the mother of six, who was stabbed to death inside her home on January 17? Or 29-year-old Taylor Force, an American tourist who was stabbed to death on March 8?
These are just a few of the civilians who lost their lives lost their lives after being targeted by Palestinian terrorists, not to mention the dozens who were wounded and nearly lost their lives in such attacks. Anyone acquainted with the events in Israel over the past 6 months is well aware that Palestinian terrorist attacks have not just been aimed at Israeli security forces but at innocent civilians, including women, children and elderly victims. These attacks, which include 147 stabbings, 87 shootings, 43 car rammings and 1 bus bombing, have killed 34 people, 28 of them civilians, including two foreign nationals and an off-duty policeman. Of the 447 who were wounded in these attacks, nearly 200 were civilians and included several Arab and foreign national civilians .
But by falsely suggesting that these Palestinian assailants were targeting Israeli security forces who responded excessively with "gunfire" , Toosi succeeds in twisting the events completely.
CAMERA contacted both the journalist and news editor at Politico who refused to correct the erroneous reference to Palestinian violence stating that they "believe the story can stand as is."
Posted by RH at 02:27 PM | Comments (1)
May 06, 2016
BBC's Jeremy Bowen Follows PLO Dictates
BBC Middle East Editor Jeremy Bowen
CAMERA has long criticized BBC's Jeremy Bowen for his biased reporting on the Arab-Israeli conflict, and in March 2009, the BBC's highest body upheld a complaint by CAMERA that Bowen violated the broadcasters' guidelines requiring impartiality and accuracy. (For a full analysis of that BBC ruling and the CAMERA complaint that led up to it, see here.) As CAMERA's BBC-Watch often documents, Bowen has not since ceased his biased reporting.
The latest example comes in a May 4 web article and a World Service radio broadcast that aired on May 6 about the violence in Jerusalem in the wake of a bus bombing carried out by a Palestinian terrorist last month. After creating a tale of equivalent mutual hatred and violence on each side, Bowen attempts to dispel the Israeli charge that Palestinian attacks are a result of relentless incitement by the Palestinian leadership. The BBC journalist imposes a blame-Israel narrative on his audience as he "explains" the "core of the conflict":

But hundreds of conversations with Palestinians over many years here have convinced me that the biggest factor that shapes their attitudes to Israel is not the incitement to hate but the occupation of the Palestinian territories, including East Jerusalem, that started after Israel's victory in the 1967 Middle East war.

When Palestinians who agitate against Israel find an audience, it is because of the way that the occupation, which is inherently violent, has overshadowed and controlled Palestinian lives for almost 50 years.
Not only does Bowen echo the Palestinian narrative by describing disputed territories meant to be defined in bilateral negotiations as "Palestinian territories" but he servilely obeys the PLO's media advisory to journalists laying out what they should emphasize in their reporting, namely, that the conflict is totally and singularly about "the occupation."
As long as the BBC continues to allow the PLO to dictate the terms of how the Arab-Israeli conflict is reported, readers and listeners cannot expect to be accurately informed about what is really going on in that part of the world.
Posted by RH at 03:09 PM | Comments (2)
May 05, 2016
Majority of Gazan Arabs Believe Attacking Israel is 'Important,' Poll Says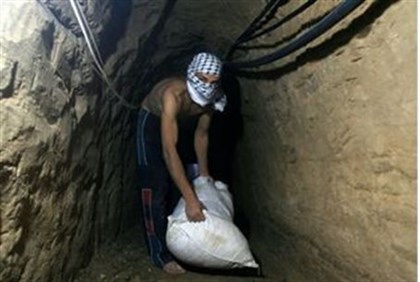 A Hamas terrorist in a Gazan "terror tunnel"

A recent survey shows that a majority of Palestinian Arabs in the Gaza Strip put a high premium on attacking Israel.
The poll was conducted by the Arab World for Research and Development (AWRAD), based in Ramallah, from April 18-21, 2016. Palestinian Arabs in both the West Bank (Judea and Samaria), which is administered by the Palestinian Authority (PA), and those living in the Gaza Strip, ruled by U.S.-designated terror group Hamas, were polled.
The survey had a margin of error of 3 and a sampling size of 1,200.
Seventy-one percent of Gazans polled deemed "armed attacks against Israel" as "important." Thirty-two percent of West Bankers shared this sentiment.
Forty-five percent of Gazans surveyed believed negotiations with Israel were important, whereas only 23 percent of West Bank Arabs believed this to be the case.
A majority of both West Bank (72 percent) and Gaza residents (77 percent) polled believe that reconciliation between Hamas and Fatah, the movement that dominates the PA, is important.
The poll indicated that Hamas is not considered trustworthy: the terrorist group's "political bureau," shura [decision-making body] council and "military wing," are not considered dependable by a majority of Palestinian Arabs in either the West Bank or Gaza. Fatah did only marginally better; 50 percent of West Bankers and 54 percent of Gazans surveyed said the movement was trustworthy.
Low opinions of Palestinian organizations were expressed in other ways as well.
Only 21 percent of West Bankers and 33 percent of Gazans described their rulers as transparent. Majorities of both, 60 and 52 percent respectively, didn't find their governments as "respectful of human rights." Seventy-seven percent of those surveyed in the West Bank did not believe the PA was "accountable to the people." Fifty-eight percent of Gazans polled said the same about Hamas.
Only five percent of all Palestinians surveyed believed the government of PA Prime Minister Rami Hamdallah was satisfactory at providing job opportunities. Similarly, single-digit expressions (6 percent) of confidence were evidenced by all Palestinians when asked if the PA was doing a good job at "improving financial transparency."
AWRAD noted that "more than 80 percent of respondents believe there is corruption in government institutions in both the West Bank and Gaza."
Yet, the leader most popular with Palestinian Arabs to resolve this and other complaints expressed in the survey, is a convicted terrorist and murderer.
Marwan Barghouti is the "most electable leader," according to AWRAD. Barghouti, the former head of Fatah's Tanzim faction, is currently serving five life sentences plus 40 years in an Israeli prison for his role in the murders of a Greek monk in 2001 and four Israelis in 2002. As CAMERA has noted, Barghouti's popularity was evident in a September 2015 poll by the Palestinian Center for Policy Survey ("Poll: Majority of Palestinians Support Another Intifada," Sept. 25, 2015).
AWRAD's poll can be found here.
Posted by SD at 02:45 PM | Comments (1)
U.S. Pro-Tehran Lobby Meets Putin's Propaganda Machine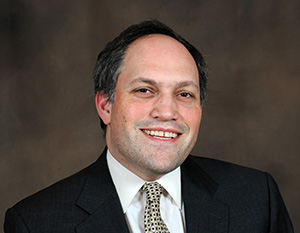 Dr. Michael Rubin

The National Iranian American Council (NIAC), a pro-Tehran non-governmental organization based in the United States, has ties to Russia Today (RT), a propaganda arm of the Russian government led by Vladimir Putin.
Michael Rubin, a scholar at the American Enterprise Institute (AEI), a Washington D.C.-based think tank, noted the connection between the NIAC and RT in a blog for Commentary magazine ("Is Iran Lobby Pro-US or Pro-Putin?," May 4, 2016).
As CAMERA noted in its Special Report on NIAC ("The National Iranian American Council; Tehran's Best Friend in Washington," Nov. 24, 2015), news media often rely on the Council as a source in covering U.S.-Iranian relations and the Middle East in general. Yet, the press usually fails to disclose NIAC's history, including ties to a corrupt former member of the U.S. Congress, connections to Iranian-state-backed businesses and the near-obstruction by the council of U.S. courts in unsuccessful lawsuits that NIAC filed to silence a critic.
CAMERA's Special Report noted that NIAC consistently has misled outsiders about its membership numbers, possible lobbying activities and even the council's reason for being. NIAC founder Trita Parsi has claimed the council was created "to enable Iranian Americans to condemn the Sept.11, 2001 terror attacks"—despite the origins of the group dating to 1999 with the purpose to oppose U.S. sanctions against Tehran for its presumed nuclear weapons program.
The report also highlighted Parsi and NIAC's penchant for conspiracy theories—a tactic Rubin noted is shared by RT.
Rubin quoted an October 2015 book called Putin's Propaganda Machine: Soft Power and Russian Foreign Policy, by Marcel H. Van Herpen, the director of the Cicero Foundation, a Paris and Maastricht think tank. In his book, Van Herpen noted that since 2009, "anchors of RT programs (such as Peter Lavelle) did not hide their explicit anti-American views. RT also started inviting representatives of marginal, often extreme right antigovernment groups, who were presented as 'experts.' One of these groups was the so-called 9/11 truthers, people who believe that the 9/11 attacks were not the work of al-Qaeda terrorists but a U.S. government conspiracy."
Rubin pointed that NIAC "has come to rely on RT to publicize itself during the same period in which RT had become an offensive propaganda weapon." The AEI scholar cited "just a few" of Parsi's RT conspiracy-tinged contributions, as well as those by other NIAC staffers, including NIAC policy director Jamal Abdi and Reza Marashi.
Marashi, Rubin wrote, "had started at the State Department as an intern and come to attention of his bosses for his unnatural curiosity about the identities of democracy grant recipients inside Iran." Now a NIAC staffer, he identified himself as "a former State Department officer" in an Feb. 2012 interview with RT.
Noting RT's guests and purported "experts," Rubin concluded:
"Many organizations seek to chime in and seek to inform or shape the policy debate, but few would think it wise to make their case alongside 9/11 Truthers, Neo-Nazis, and other hate-groups. Then again to argue that the Islamic Republic of Iran is a normal state that has shed its ideology is to be just as divorced from reality. What is shocking, however, and more than a bit worrying is that those purporting to advance a relationship which they argue would be good for the United States think nothing of associating themselves with such conspiracy theorists or lending themselves as agents of Kremlin propaganda."
Michael Rubin's article in Commentary can be found here.
Posted by SD at 12:37 PM | Comments (0)
May 04, 2016
Salon.com's Ben Norton Smears Israel, Again
Steven Van Zandt of Bruce Springsteen's E Street Band had been a vocal activist against South African apartheid and he does not support the anti-Israel boycott, divest, sanction (BDS) movement. Some fans called him out on this supposed contradiction so Van Zandt took to his Twitter account to express his pro-Israel opinions. Ben Norton of Salon.com, whose shoddy reporting on Israel is a frequent topic on CAMERA, covered Van Zandt's comments in a virulently anti-Israel article headlined, "Steven Van Zandt's Israel gaffe: Musician gets basic facts wrong in Twitter rant. It is apartheid — South African activists agree".
Unfortunately for Ben Norton, simply insisting that something "is," does not make it fact, and the facts prove that Israel is not apartheid South Africa. Norton's article proposes to right the erroneous statements the musician made, but does so with an inaccurate, ahistorical version of Israeli history and no acknowledgement of Palestinian antisemitic violence and terrorism.
Norton states "Palestinians have lived under illegal military occupation for almost 50 years, and Palestinian citizens of Israel face more than 50 Israeli laws that directly or indirectly discriminate against them 'in all areas of life,' according to Israeli human rights organization Adalah."
In fact, Israel's "occupation" in the West Bank is not illegal under international law. That is a claim journalists often make but it is refuted by many international legal scholars (and often exposed by CAMERA for example, here in response to the New York Times and here, regarding another Salon.com article).
CAMERA has also unmasked the fallacies riddling Adalah's list of Israel's allegedly "discriminatory laws," which include, for example, the ridiculous citation of the 1949 Flag and Emblem Law that put the Star of David on the Israeli flag. Adalah claims that the presence of the Jewish Star of David on the national flag is discriminatory to other religions, even while the cross is depicted on the flags of countries across Europe and the Islamic crescent appears on many national flags around the world.
Van Zandt tweets that "The problems there have existed for a thousand years and you want the solution in 140 characters?" How does Norton rebut this? By parroting Palestinian talking points:
In 1917, the British colonial regime's Balfour Declaration pledged the land of Palestine to the Jewish people, without consideration of the people who already lived there. From 1947 to 1948, Zionist militias waged a war of independence from the British, forming the state of Israel. In this war, Zionist militias ethnically cleansed the Palestinians, forcibly expelling roughly two-thirds of the population, as renowned Israeli historian Ilan Pappé documented in his book "The Ethnic Cleansing of Palestine." Today, the more than 5 million Palestinian refugees registered with the U.N. do not have the right to return to their home. One of the core demands of the BDS movement is the right to return.
The claim that "Zionist militias ethnically cleansed the Palestinians" trusts in the entirely unreliable research of Ilan Pappé, who is known for making up quotes to support his charges. Additionally, Norton's statement that "One of the core demands of the BDS movement is the right to return" does not acknowledge that Palestinian return is meant to cause the destruction of a Jewish state. Norton also misrepresents the entirety of the Palestinian refugee issue, failing to include important context.
Norton's description of the creation of the Jewish State of Israel suggests the destruction of an established national Palestinian people who had lived in the land for centuries. This is patently untrue. As others have done in their reporting of Israel, Norton also completely ignores the deep and long history of a Jewish presence in Israel, as well as the necessary context of antisemitic violence.
Refuting comparisons of Israel to South African apartheid does not amount to a ludicrous "Twitter rant." The facts prove that Israeli society, which is marked by Arab doctors, lawyers, judges, and academics working alongside Jews and Christians, is nothing like racist, apartheid South Africa. Norton quotes an Israeli activist who preposterously states that "Tel Aviv is a modern day Sun City," comparing the Israeli city known for its beaches, Gay Pride parade, and thriving cultural scene that welcomes racial diversity to the segregated South African metropolis of wealth whose only residents were white.
Ben Norton, not Steven Van Zandt, is the one who has made the "Israel gaffe."
--Rachel Frommer, CAMERA Intern

Posted by SC at 04:56 PM | Comments (2)
May 03, 2016
Washington Post CAIR Cover-Up Fails Readers

The Council on American Islamic Relations (CAIR), sells itself as a U.S. civil rights organization. Yet, as numerous terrorist analysts and the U.S. government has noted, CAIR is an unindicted co-conspirator in the 2009 Holy Land Foundation (HLF) retrial, the largest terrorism financing case in the country's history. CAIR staff members and co-founders, such as Ghassan Elashi, have been imprisoned, indicted, arrested and/or deported on weapons or terrorism-related charges. The Washington Post repeatedly—and often uncritically—quotes CAIR.
CAMERA has made The Post aware of CAIR's history, both in several unpublished letters to the editor and in correspondence to the papers' reporters. In addition to sending CAMERA's Special Report "The Council on American Islamic Relations: Civil Rights, or Extremism? (July 2009), CAMERA has also sent to The Post documents such as FBI Assistant Director Richard Powers statement to members of the U.S. Congress. Powers wrote that the bureau was ceasing official cooperation with CAIR or its executives until it could resolve "whether there continues to be a connection between CAIR or its executives and Hamas"—a U.S.-designated terror group.
However, The Post continually fails to print CAMERA's letters to the editor regarding CAIR—despite the paper relying on the unindicted co-conspirator as a source. In the few instances where the paper has noted CAIR's history (see, for example "Why the U.A.E. is calling 2 American groups terrorists," Nov. 17, 2014), it obfuscates, asserting that CAIR is not a "terrorist organization" as has been alleged by "right-wing U.S. news sites" and "some American lawmakers." Yet, this is not the issue as CAMERA's communications to The Post have made clear. It obscures CAIR's connections to the HLF trial, numerous documented apologias for terrorist group's by CAIR officials and, as noted above, the members and associates of the organization who have been connected to terror-related investigations.
That The Post continues to misinform readers about CAIR raises questions, as does the paper's seeming unwillingness to publish letters identifying the organization. As CAMERA noted before, "The Washington Post made its reputation, in part, by exposing cover-ups like Watergate. Why cover up for CAIR?"
The letter, listed below, was sent to The Post on April 25, 2016:

Dear Editor:

Washington Post coverage (for example, "For first-time lobbyists, a day of small victories," April 20) continues to omit the history of a questionable source repeatedly cited: the Council on American Islamic Relations (CAIR).
The Post uncritically calls the organization "one of the country's largest Muslim advocacy groups." But it fails note that CAIR was an unindicted co-conspirator in the largest terrorism funding case in U.S. history, the Holy Land Foundation trial. At least five former staff or lay leaders from CAIR have been indicted, arrested or deported on weapons or terrorism-related charges.
The Post quotes CAIR's executive director, Nihad Awad, but omits his history of extremist statements. In 1994, Awad said "I am in support of Hamas"—a U.S.-designated terrorist group. In a March 1998 article in the Georgetown Voice, Awad trafficked in antisemitic conspiracy mongering claiming that U.S. foreign policy was "driven in part by the Jewish origin of many Clinton administration officials." In June 1996, CAIR signed an open letter to then-Secretary of State Warren Christopher calling for the immediate release from a U.S. jail of Mousa Abu Marzook—a Hamas leader.
It is perhaps for these reasons that Steve Pomerantz, the former counterterrorism chief of the FBI, has written, "Any objective assessment of the material…leads to the conclusion that CAIR, its leaders, and its activities effectively give aid to international terrorist groups."
The chronic failure by The Post to fully identify CAIR and its history misleads readers.
Sincerely,
Sean Durns
The writer is media assistant for the Washington D.C. office of CAMERA, the 65,000-member, Boston-based Committee for Accuracy in Middle East Reporting in America
Updated May 4, 2016:
In his May 4, 2016 article "'It could get a lot worse for Muslims in America,'" The Washington Post's Dana Milbank relied on CAIR as a source for alleged hate-crime statistics. Milbank wrote that the rise of presidential candidate Donald Trump "has coincided with a rise in the number of anti-Muslim incidents to the highest level the Council on American-Islamic Relations has ever found." However, as CAMERA noted in its special report on the organization, "critics have charged that the council has shown a tendency to embellish statistics about hate crimes" against Muslims. For example, an examination by scholar Daniel Pipes showed that "an earlier CAIR hate crimes report in 2005...discovered that 'of twenty "anti-Muslim hate crimes" in 2004 that CAIR describes, at least six are invalid." In keeping with apparent Post practice, this didn't keep Milbank from relying on, and failing to identify, CAIR.
Updated May 12, 2016:
The Washington Post continues to cover for CAIR. Reporter Susan Svrluga used the organization as a source for an article on the Citadel, a U.S. military academy in South Carolina, refusing to allow a Muslim student to wear a hijab. The Citadel's president, Lt. Gen. John Rosa said that no exceptions could be made to the school's uniform. CAIR spokesman Ibrahim Hooper was quoted throughout the article. Hooper claimed that not granting religious accommodation amounted to a bar on any practicing Muslim.
CAIR's history was omitted by The Post. However, the article did quote Asra Nomani, co-founder of the Muslim Reform Movement. Nomani said, "The headscarf is not a requirement in Islam. It is a requirement of an interpretation of a fundamentalist, puritanical, political Islam that is sold by cleric in countries like Saudi Arabia, Qatar and Iran."
Of course, that is precisely the kind of Islam that CAIR advocates for. Readers would know, if The Post identified its source.
Updated May 19, 2016
In an article on Ashraf Nubani ("Terrorism cases don't deter him," May 18, 2016), an attorney who represents clients accused of terrorism, The Post called one of his clients, Randall "Ismail" Royer, "an activist with the Council on American-Islamic Relations." As CAMERA has noted in its Special Report, Royer was more than just an "activist." He was an employee of the organization.
Nonetheless, this mention, almost in passing, of Royer's CAIR association, is a rarity for The Post.
Posted by SD at 04:25 PM | Comments (0)
For ISIS, an Island Getaway

The Islamic State in Iraq and Syria (ISIS), a U.S.-designated terrorist group, is looking "looking beyond the Middle East and Europe to recruit new members," according to The Jerusalem Post ("Terrorism in the tropics: ISIS turning to recruitment in Caribbean," May 2, 2016).
The Post noted reports that nearly 100 ISIS recruits came from the island nation of Trinidad and Tobago.
Island countries in the Indian Ocean, such as Maldives and Mauritius, also have been targeted by ISIS for recruitment.
According to a report in The Daily Star, a U.K. newspaper, a British diplomat named Arthur Snell stated that ISIS' efforts at recruitment in the Caribbean could be successful. Snell claimed:
"Quite a lot of things that occur in jihadist groups elsewhere apply in Trinidad—people who are exposed to gang violence, broken homes, poor education opportunities, a lack of a sense of self-belonging."
However, a 2015 report on ISIS recruitment in the Caribbean prompted former U.S. Ambassador to the United Nations John Bolton to warn of ideology as a motivating factor. Bolton told Fox News ("General: 100 Recruits Have Left Caribbean to Join ISIS in Syria," March 12, 2015), "If we don't understand we're fighting an ideology, we're not going to understand its appeal, we're not gonna be able to defend against it."
Bolton's comments were prompted by a March 12, 2015 article by Washington Post reporter Dan Lamothe ("Islamic State could infiltrate U.S. through Caribbean and South America, general says"). Lamothe noted U.S. congressional testimony by Marine Gen. John F. Kelly on ISIS recruitment in the southern hemisphere. Kelly, then serving as the chief of the U.S. Southern Command, which oversees military operations in Central and South America and the Caribbean, told the Senate Armed Services Committee that human smuggling networks are "so efficient that if a terrorist or almost anyone wants to get into our country, they just pay the fare."
Gen. Kelly expressed concern that jihadists traveling to Syria from the Caribbean would acquire deadly skills that they could teach to others upon their return. Kelly warned, "the amount of movement…and the sophistication of the network overwhelms our ability to stop everything. So I think if [foreign fighters] get back to some of these countries that I've described, it's pretty easy for them to move around."
According to the Daily Mirror ("ISIS in Caribbean recruitment drive as idyllic holiday island popular with Brit holidaymakers 'becomes jihadi hotspot,'" April 30, 2016), a British newspaper, concerns over jihadist activity in the Caribbean led to a government-sponsored telephone hotline being set up "to allow islanders to contact authorities if they believe someone is planning to make the journey" to ISIS-controlled areas in the Middle East.
The Mirror reported that "Trinidad and Tobago's government estimates that 89 of its citizens have left to join Islamic State, a higher figure per head of population than even Belgium has recorded." The paper noted that four Trinidadian ISIS fighters were reportedly captured by Turkish security forces last year.

Aymenn Jawad Al-Tamimi, a research fellow at the Middle East Forum, a Philadelphia-based think tank, has noted that ISIS has increasingly come under pressure ("A Caliphate Under Strain," CTC Sentinel, April 22, 2016). Al-Tamimi pointed out that coalition air strikes and the loss of territory has put constraints on the terror group's "military, financial, administrative domain, forcing it to take measures to react and adopt." As a result, ISIS has had problems retaining some of its fighters.
With recruitment in the southern hemisphere, ISIS may be looking to replenish losses.

Posted by SD at 12:54 PM | Comments (0)
May 02, 2016
Iran Recruiting Its Children for War in Syria—to Prepare to 'Invade Israel'
Iranian Foreign Minister Zarif

Iran's Islamic Republic is recruiting Iranian children to fight in the Syrian civil wars, selling it as a step to invading Israel. Tehran supports Syrian dictator Bashar al-Assad in the country's ongoing conflict.
Washington Times journalist Rowan Scarborough ("Iran recruiting its teens against Islamic State," April 29, 2016) reported that the National Council of Resistance of Iran (NCRI), a dissident group that opposes the government in Tehran, released a translated video that appeared on Press TV, Iran's English language propaganda outlet.

Scarborough noted the video's selling pitch:
"You will be defending sacred Shiite shrines in Syria and will position yourselves to invade Israel, whose destruction is an Iranian regime priority."
The video, which runs four minutes, shows "a group of boys in a courtyard, with three of them singing to another boy they are trying to recruit as he watches from a window. The singers are dressed in camouflage and combat boots. On camera, they tie on a cloth headband to complete the warrior look."
The boys in the video sing a song that praises Iran's leader, Ayatollah Ali Khamenei, and makes religious references to Shiite Islam:
"On my leader's [Khamenei's] orders I am ready to give my life. The goal is not just to free Iraq and Syria; My path is through the sacred shrine, but my goal is to reach Jerusalem....I don't regret parting from my country; In this just path I am wearing my martyrdom shroud….From Mashhad [northeast Iran], I will walk on foot to Damascus. I am like the bird who flocks to the sacred shrine."
Shahin Gobadi, an NCRI official living in Paris, told The Times that this is the first time Iran has recruited children volunteers for fighting since the Iran-Iraq War in the 1980's. Gobaldi noted that the cloth headband and the sectarian imagery featured in the video also resemble recruiting tactics used by the Islamic Republic during that conflict.
In addition to the country's own children, the mullahs also are recruiting thousands of fighters from Afghanistan, Iraq and Lebanon to fight on the regime's behalf in Syria. Scarborough said that according to the BBC "thousands of Afghans have been recruited into the Guard's [Iran's Islamic Revolutionary Guard Corps] all-Afghan Fatemioun Brigade. Like the boys' song, the call to arms is to protect Shiite shrines."
The use of foreign fighters and the regime's recruitment of children illustrates Tehran's commitment to the Syrian conflict. Tehran announced earlier this month that it had sent commandos from the Artesh's 65th brigade to fight alongside IRGC elements, Shiite militias and Lebanon's Hezbollah, a U.S.-designated terrorist group that receives extensive Iranian support.
Iranian forces have suffered heavy losses in the Syrian conflict. For this reason, Gobaldi theorizes that "the bid to attract teenage volunteers is designed to boost morale among deployed troops and at home, where there is dissent against Iran's direct involvement in a foreign war."
As CAMERA has noted, the use of children under the age of 18 as combatants violates the United Nations 1989 Convention of the Rights of the Child ("Terrorist Groups Increase Child Recruitment Efforts," March 16, 2016).
Iran's use of children as soldiers, its support of militia groups accused of atrocities in regional conflicts in Syria, Lebanon, Iraq and Yemen and its financing of global terrorist organizations like Hezbollah, did not stop the country's foreign minister, Mohammad Javid Zarif, from making some mendacious claims in an April 20 Washington Post Op-Ed ("Zarif: Why Iran is building its defenses"). Zarif wrote that "at a time when bombs go off in public places throughout the Middle East and war is at our doorstep, we have a stable, safe and healthy environment for our citizens and for those visiting and doing business with us….Our people want nothing more than peace and cooperation with our neighbors and world at large."
Iran continues to "Lebanize" the Middle East, and as The Washington Times reported, seems to have no problem using children for its imperialistic objectives. Additional news outlets and the U.N. would do well to note.
Posted by SD at 01:05 PM | Comments (0)
Under Fire for Bias, Haaretz Editor Aluf Benn Lashes Out, Errs on Facts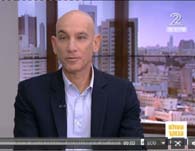 Aluf Benn on Israel's Channel 2 last month: "it's true there is an organization which specifically works to find these types of errors"
As reported last month, CAMERA's work exposing the distorted translations in Haaretz's English edition has become a topic of public concern in Israel. Haaretz editor Aluf Benn addressed the issue again in yet another media interview today, this time on Army Radio. CAMERA's translation of the relevant section of the broadcast (approximately 18 minutes into the show) follows:
Roey Idan: Haaretz has two entities. The paper here and the English version.

Benn: What is the difference?

Idan: The differences in the headlines are significant.

Benn: Really. Wait, wait. Did you check this? Or are you only quoting CAMERA's research which selectively cites headlines. It's not that they checked all the headlines.

-- Eral Segal interrupts: I enjoy --

Benn: When was the last time you read Haaretz in English to compare the headlines?

Idan: I always compare the headlines.

Benn: Ok, there is an organization which was established in order to find errors in Haaretz, which tries to persuade that Haaretz in English is a paper of extremist leftists who work against the state. They found, according to them, five errors in headlines in the course of a year. Part of them were factual and in many cases we are not ashamed to correct. When they claim that to write occupation is a mistake because there is no such thing, that is not correct.

Idan: Here, I am with you. I am not talking about that. . . .

. . . [Aluf signed off] . . . Segal: Too bad I didn't speak with him earlier. Hanan Amiur of Presspectiva writes to me that regarding Aluf Benn's statement that they found only five changes, Haaretz corrected 12 times because of our work in the last year alone. We found scores more disparities between the Hebrew and English. You are invited to follow on Twitter.

Idan: It's important to note we're not only talking about factual errors. We are talking also about tendentious headlines in English. In short, Haaretz in English is the fuel of BDS and antisemitism.
Presspectiva, CAMERA's Hebrew website, has successfully made the Israeli public aware of the Haaretz translation problems. Editor-in-chief Hanan Amur's recent article in Mida, available in both Hebrew and in English, sparked the flurry of media interviews with Haaretz representatives.
Is it true, as Haaretz editor Aluf Benn claims, that CAMERA has criticized Haaretz's English edition for using the term occupation because "there is no such thing"? Hardly. The record speaks for itself.

A search of CAMERA's collection of Haaretz skewed translations, many of them subsequently corrected thanks to CAMERA's intervention, reveals that the word occupation appears just one time. CAMERA's criticism of the word occupation, in that single instance, is that the English article in question falsely reported that a Knesset subcommittee "called in members of the Foreign Press Association yesterday to discuss their reporting of terrorism and the occupation in Israel." But as CAMERA noted at the time:
This CAMERA researcher, who testified at the session in question, informed Haaretz editors that, in fact, international media coverage of "occupation" was not discussed at the session, which focused on coverage of Palestinian attacks against Israelis (and, even more specifically, on misleading headlines which falsely depicted Palestinian attackers as victims).

Haaretz reporter Jonathan Lis got it right in his original Hebrew article, in which he accurately wrote (CAMERA's translation):

A subcommittee of the Knesset's Foreign Affairs and Defense Committee called in representatives of the foreign press today (Tuesday) in order to explain how they cover the Israeli-Palestinian conflict.

The English edition's insertion of misinformation — in this case turning a Knesset session on international media coverage of Palestinian terrorism into a session on international media coverage of terrorism and occupation — which had not appeared in the original Hebrew Haaretz article is a hallmark of what we call "Haaretz, Lost in Translation."
Following CAMERA's communication with editors, Haaretz did commendably remove the unfounded reference to "occupation," given that the Knesset session did not touch on the topic. Thus, Benn's efforts to depict CAMERA's complaints as frivolous and insubstantive do not hold up to even five seconds of scrutiny.
See here for Haaretz corrections prompted by CAMERA and Presspectiva.
Posted by TS at 06:46 AM | Comments (1)
May 01, 2016
Exposing Iranian Exploitation and Weakness
An article appearing inthe Washington Times, Iran touts Israel invasion to recruit teenage boys to fight in Syria, on the Iranian government's efforts to recruit fighters for the war in Syria, offers evidence of the lack of domestic enthusiasm for the regime's regional ambitions. The article describes how the regime has resorted to targeting teenagers in their recruitment effort and quotes a source identifying most of the current "Iranian" fighters in Syria as members of a disadvantaged migrant community, the Hazaras.
The Iranian regime displays the worst form of exploitation by recruiting displaced and impoverished refugees to fight and die on its behalf. Will the so-called human rights groups like Amnesty International and Human Rights Watch rail against the regime for this abuse with anywhere near the same fervor that they pursue Israel for what they allege are acts of impunity toward Palestinians?
The report shows the limited appeal to the Iranian population for the regime's adventurism. The direct Iranian military commitment in Syria is still quite limited, no more than a few thousand fighters out of a population of nearly 80 million. And yet, the regime already finds it necessary to resort to enticing teenagers from impoverished ethnic minorities. This suggests that the regime can't even find enough Revolutionary Guards personnel to send into battle.
Posted by SS at 09:46 AM | Comments (0)