« 'I Say Terrorist, I Say Militant': The Washington Post Talks to Itself | Main | Haaretz Validates Bernie with Bad Information »
April 17, 2016
Over Jerusalem, The Pot Calling the Kettle Black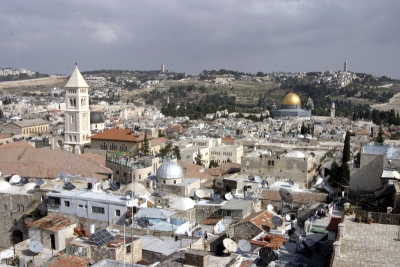 In a short hit piece in The Huffington Post ("Israel's 'Absurd' Map Of Jerusalem's Old City"), Palestinian journalist Daoud Kuttab spells out in great detail how a Jerusalem tourist map omits some notable Muslim and Christian sites. To Daoud this smacks of a wider trend where "Israel's apologists" are "working overtime to try and minimize Christian and Islamic cultural connections to the city of Jerusalem." To add insult to injury, he correctly notes that:
The United Nations Education and Cultural Organisation (UNESCO)and the Vatican have yet to publicly denounce this effort to monopolise the city's multi-religious history.
Shockingly though, Daoud fails to note a separate decision regarding Jerusalem passed by UNESCO's Executive Board just last week. The Times of Israel notes:
The resolution refers to Israel as the "occupying power" at every mention and uses the Arabic al-Aqsa Mosque/Al-Haram al-Sharif without ever calling it the Temple Mount, as it is known to Jews. The text does refer to the Western Wall Plaza but places it in quotation marks, after using the Arabic Al-Buraq Plaza.
Going one step further, the UNESCO decision also accused Israel of "planting Jewish fake graves in other spaces of the Muslim cemeteries."
In other words, the Palestinians are using their membership in UNESCO, to advance the very thing of which they accuse Israel of doing using a tourist map. This is a classic case of the pot calling the kettle black.
Posted by gs at April 17, 2016 07:15 AM
Comments
Guidelines for posting
This is a moderated blog. We will not post comments that include racism, bigotry, threats, or factually inaccurate material.
Post a comment