« CNN Fixes 'Bus Fire' Headline | Main | Where's the Coverage? Twenty-Nine German Soldiers Join ISIS »
April 19, 2016
LA Times Ignores Bus Bombing, Covers Charges for Israeli Soldier
The Los Angeles Times, which earlier this year entirely ignored the fatal stabbing of Israeli mother Dafna Meir, and also ignored the Palestinian stabbing attack of Michal Froman, a pregnant Israeli woman who suffered wounds, ignores yesterday's bus bombing in Jerusalem.
According to Lexis-Nexis searches, the print edition has mentioned not a word about the bus bombing in which over 20 Israelis were injured.
It's not that the paper's attention is focused on other regions. In fact, The Times is very much focused on Israel. Today's print edition carries this story about Israel on page 3: "Israeli soldier charged with manslaughter in shooting of wounded Palestinian knife attacker."
And the Israeli government's cabinet meeting on the Golan Heights got over 1,0000 words on yesterday's page 3. On April 3, an Associated Press article about Palestinian clowns working in Gaza hospitals appeared on page 9. But the bombing of a bus in Israel's capital, injuring more than 20? According to Lexis-Nexis, it gets not one word in the print edition.
The Middle East section of the The Times website carries an AP story about the bombing. As of this writing, the Mideast section leads off with the story about the Israeli soldier facing manslaughter charges, prioritizing it over the Islamic State's take over of 70 percent of Syria's Yarmouk refugee camp, which places over 10,000 civilians in danger of starvation.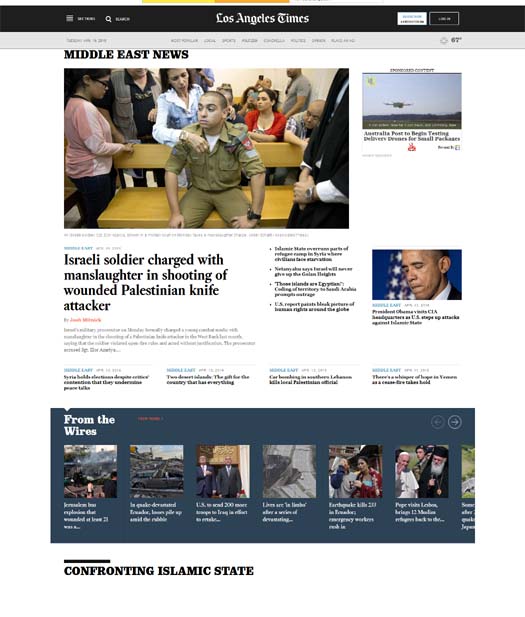 The Los Angeles Times, which just received a Pullitzer Prize for its coverage of terrorism of San Bernardino , falls short in its coverage of terrorism in Israel.
Posted by TS at April 19, 2016 04:30 AM
Comments
Guidelines for posting
This is a moderated blog. We will not post comments that include racism, bigotry, threats, or factually inaccurate material.
Post a comment