« New York Post Editorial Exposes Truth about BDS | Main | Jordan Closes Muslim Brotherhood Headquarters »
April 13, 2016
Journalist: Hamas is 'Poisoning' the Minds of Palestinian Children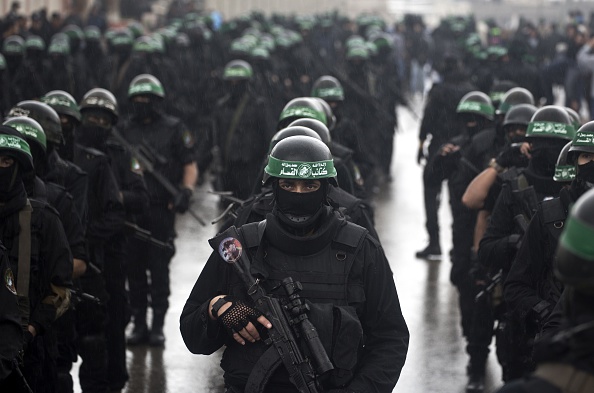 Members of Hamas' al-Qassam martyrs brigades

Officials from the Hamas-controlled Waqf (Islamic trust) Ministry in the Gaza Strip are "brainwashing" Palestinian children, according to an Arab Israeli journalist, Khaled Abu Toameh.
Writing for the Gatestone Institute ("Hamas's New Way of Poisoning the Minds of Palestinian Children," April 8, 2016), Toameh noted that the Waqf is using exorcism to indoctrinate children in Gaza schools.
Islamic preachers called The Ship of Missionary Salvation are entering schools to ensure that "through the exorcism rite" children are being "repentant and faithful to Islam." The Ship of Missionary Salvation is overseen by the Waqf Ministry's General Administration for Preaching and Guidance.
Toameh's article links to a video showing children kneeling and crying at the Al-Nil School in Gaza City while Hamas preachers hold microphones and shout "Allahu Akbar [God is Great)]" Toameh noted that the "Gaza City school video captures on camera the Palestinian leaders' brainwashing and abuse of their own children." The reporter described the children as "hysterical."
The video has caused consternation among some Palestinian Arabs, including members of rival groups such as the Popular Front for the Liberation of Palestine (PFLP) and Fatah, the movement that dominates the Palestinian Authority (PA).
Toameh reported that Palestine Liberation Organization (PLO) member Hanan Ashrawi "expressed revulsion over the video, noting that the preachers' sermons were full of intimidation and horror." PFLP, a Marxist-oriented terrorist group that has traditionally been more secular than Hamas or Fatah, referred to the exorcism rite as an "inhumane practice."
Such outrage by fellow terrorist groups seems selective.
As CAMERA has noted ("Leaders Encourage Palestinian Children to Murder Jews, Use Sing-Alongs," Nov. 24, 2015), Palestinian officials—including those in Fatah and the umbrella organization of the PLO—have used perverse methods to indoctrinate children before. Among other examples, Tawfiq Tirawi, a member of Fatah's Central Committee and the former head of the Palestinian General Intelligence Service, recounted teaching his 2-year old son a sing-along song with lyrics such as, "Daddy, buy me a machine gun and a rifle, so that I will defeat Israel and the Zionists" and "escort the Martyr to his wedding" (referring to the Islamic belief that those killed while waging holy war marry 72 virgins in Paradise).
Both Fatah and Hamas routinely glorify children killed committing terrorist attacks. On Jan. 7, 2016 Palestinian Arab children celebrated Fatah's 51st anniversary in a "huge ceremony" at which they dressed as suicide bombers ("Palestinian Children Wear Suicide Belts to Celebrate Fatah's Anniversary," CAMERA, Jan. 12, 2016).
As Toameh noted in his report, "this is how new generations of Palestinians are raised on the glorification of suicide bombers and jihadists."
Noting the long lasting damage incurred by Palestinian indoctrination in anti-Jewish hatred, Toameh concluded that the use of exorcism rites in the Gaza Strip, "captures the march of Palestinian society towards endorsing the tactics and ideology of radical Islam and groups such as ISIS and al-Qaeda. Now the peace process in the Middle East awaits an exorcism of its own."
Posted by SD at April 13, 2016 04:45 PM
Comments
Guidelines for posting
This is a moderated blog. We will not post comments that include racism, bigotry, threats, or factually inaccurate material.
Post a comment