« Harvard Law Record Abandons the First of the Five W's of Journalism | Main |

Freedom House Declares Free Newspaper a Threat to Free Press in Israel

»
April 26, 2016
Israel's Syrian Reactor Strike Slowed a N. Korean-Iranian-Jihadi Bomb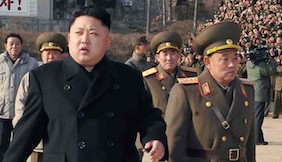 "The fact is that the United States dodged a bullet in Syria—and, it's worth stressing, all courtesy of the Israelis." So writes John Hannah, former national security advisor to Vice President Richard Cheney and now a senior counselor at the Foundation for the Defense of Democracies, a Washington, D.C. think tank.
In "It's the Proliferation, Stupid," an April 25, 2016 article for Foreign Policy online, Hannah notes North Korea's preparation for a possible fifth nuclear weapons test. His country cash, food and fuel-starved, Kim Jong Un might sell "part of his ever-expanding nuclear arsenal to other rogue actors that mean us harm."
Given that "North Korea has for decades sold missiles and missile technology to any state willing to pay," nuclear weapons proliferation could be next, according to Hannah. He notes that Pyongyang's "military relationship with the Islamic Republic of Iran, in particular, has been longstanding and deep."
He adds that "Iran's most deadly terrorist proxy, Lebanese Hezbollah, has also been an important recipient of North Korean military assistance. The North provided critical support to help Hezbollah build a massive network of underground military installations, tunnels, bunkers, depots and storage facilities in southern Lebanon," while helping Hezbollah, via Iran, build its huge missile arsenal aimed at Israel.
So imagine if Israel had not destroyed Syria's Al-Kibar reactor in 2007 and it now was producing nuclear material for either dictator Bashar al-Assad or one of his enemies in the Syrian civil wars, perhaps the Islamic State.
'Chilling' evidence
Hannah recalls the day in 2007 that the director of Israel's Mossad intelligence agency, the late Meir Dagan, briefed President George W. Bush and Vice President Cheney. Dagan revealed "chilling" evidence that in the desert east of Damascus, "North Korea was covertly building a plutonium-producing nuclear reactor" more or less a replica of its own "at Yongbyon, which formed the centerpiece of its weapons program.
"Making matters worse, Al-Kibar was perilously close to completition." Once the reactor became operational, attempting to destroy it "would run a high risk of dispersing deadly radioactive materials that could poison thousands of innocent civilians," Hannah writes.
"The U.S. intelligence community had totally missed Al-Kibar. It was completely taken aback by Dagan's stunning revelations," he adds. Israel's discovery and attack "was almost certainly the only means of ensuring the reactor never went hot."
Now, "the North is seeking to perfect precisely those elements of its military nuclear arsenal that Iran has yet to develop: the testing of an actual bomb; warhead miniaturization; reentry technology; and a functional ICBM [intercontinental ballisitic missile]," Hannah says. "The potential for synergy between these two rogue states and longtime proliferation partners is more than obvious."
Meanwhile, "no doubt less likely—but who's to say impossible?—is the risk that North Korea, for the right price and perhaps in cahoots with the Russian mafia or another anti-Western power, might be tempted to share some of its nuclear know-how with the likes of the Islamic State or some other jihadist non-state actor that's focused on staging a terrorist spectacular against the West."
Given his country's proliferation record and anti-American rhetoric from Kim Jong Un that parallels Islamic State declarations, "one hopes that the American intelligence community is focused like a laser on this element of the North Korean threat," including the link to Iran, Hannah says.

Posted by ER at April 26, 2016 05:07 PM
Comments
Guidelines for posting
This is a moderated blog. We will not post comments that include racism, bigotry, threats, or factually inaccurate material.
Post a comment