« Huffington Post's Entrenched Anti-Israel Bias Exposed in Documentary Film | Main | Bethlehem University Does Right Thing and Removes Anti-Israel Language from Site »
April 01, 2016
Why Is Bethlehem University, A Catholic Institution, Affirming Palestinian Rejectionism?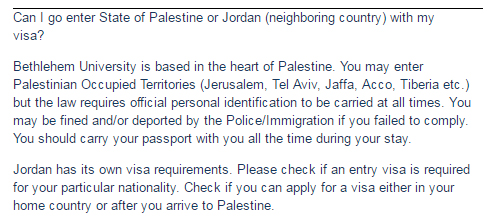 In the course of researching an apparent misstatement of fact from former Bethlehem Mayor Vera Baboun (see blog entry here), Snapshots came across an interesting webpage on the website of Bethlehem University, a Catholic-run school located in the West Bank. On the school's website, there is an FAQ page for foreign students that refers to Jerusalem, Tel Aviv, Jaffa, Acre and Tiberius — all Israeli cities — as "Palestinian Occupied Territories."
A screen shot of the section in question is at the top of this entry. The relevant section reads as follows: "You may enter Palestinian Occupied Territories (Jerusalem, Tel Aviv, Jaffa, Acco, Tiberia etc.)"
This is outrageous. A Vatican-founded and Catholic-run institution of higher learning is affirming the irredentist agenda of Hamas, declaring cities in Israel as Palestinian territory. Why is this school affirming a political agenda that has cost so many Palestinian and Israeli lives?
Posted by dvz at April 1, 2016 12:03 PM
Comments
Guidelines for posting
This is a moderated blog. We will not post comments that include racism, bigotry, threats, or factually inaccurate material.
Post a comment