« How Well Did Your News Source Cover the American Murdered by a Palestinian on March 8, 2016? | Main | A Striking Difference Between the AP and Reuters Reports on the Palestinian Response to the Murder of Taylor Force »
March 09, 2016
Updated: Two News Agencies Amend Original Role Reversing Headlines Concealing Palestinian Terrorism
It seems whenever there is a rise in Palestinian terrorism, there is a concomitant rise in bad headlines attempting to reverse the roles of victim and perpetrator.
Yesterday, we told you that New Zealand TV originally headlined an AP story about three of the day's terror attacks against Israelis perpetrated by Palestinians as follows:

But as soon as we contacted them about the problematic headline, they immediately amended it to the more accurate: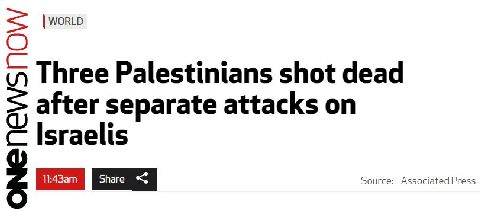 The International Business Times similarly weighed in with a role reversing headline and an article that erroneously minimized Palestinian aggression. The original IBT headline:

The article by Priyanka Mogul downplayed Palestinian violence by erroneously stating that

The attempted stabbings by Palestinians and shootings by Israeli forces occurred hours before US president Joe Biden arrived in Israel.
Contrary to her statement Palestinians did not just "attempt" to stab Israelis, nor was it only Israeli forces who "shot" with guns. Palestinians critically injured Israelis with guns and seriously wounded Israelis and murdered an American tourist by stabbing them.
We contacted the editors at the International Business Times, pointing out that their headline and article distort the news even as they claim to be "a trusted source of real-time news, intelligence and analysis." The story and headline were subsequently updated to accurately reflect the facts. The headline now reads: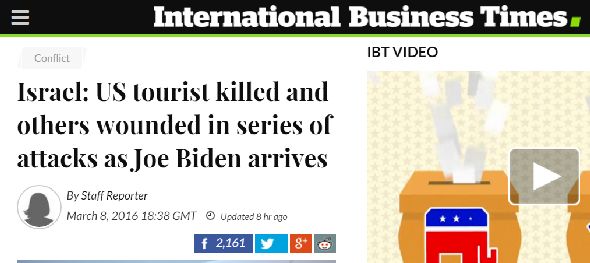 And the article now accurately relays the facts and identifies the perpetrator in the lede paragraph as follows:
An American tourist was killed and several others wounded in a series of attacks by Palestinians targeting civilians as well as Israeli security forces. The incidents took place on 8 March in Jerusalem's Old City, in Jaffa, south of Tel Aviv and in the central city of Petah Tikvah, Israeli police said. Three Palestinians attackers were shot dead by Israeli security forces.
Posted by RH at March 9, 2016 03:33 PM
Comments
Guidelines for posting
This is a moderated blog. We will not post comments that include racism, bigotry, threats, or factually inaccurate material.
Post a comment