« LA Times Obscures Judith Butler's Anti-Zionism | Main | Terrorist Groups Increase Child Recruitment Efforts »
March 16, 2016
Huffington Post Rewrites History
The World Post, an affiliate of The Huffington Post, hosted an article penned by a member of the American Anthropological Association, the academic organization most recently in the news for having passed a BDS resolution. One of the resolution's reasons for supporting BDS was that "the Israeli state has denied Palestinians — including scholars and students — their fundamental rights of freedom, equality, and self-determination through ethnic cleansing, colonization, discrimination, and military occupation."
CAMERA has reported on the real anti-Israel, anti-peace nature of the BDS movement, as well drawing attention to the possibility that these resolutions may be illegal, as they violate the organizations' charters which amount to contracts with their members.

Under the headline, "Israeli-Palestinian Violence is Not Inevitable," Assistant Professor of Anthropology Emily McKee of Northern Illinois University decries media accounts of "tit-for-tat violence". Ironically, she places blame for the current wave of terror in which dozens of Israelis have been stabbed in the streets, rammed with cars and shot at by Palestinian Arabs on Israelis.
Professor McKee claims Israel's "actions taken over the last several decades have created important distinctions between citizens of Israel, Palestinian residents of East Jerusalem, and West Bank Palestinians, which allow some to participate in government, travel freely, and live in well-provisioned neighborhoods and deny these possibilities to others." The article, which purports to offer historical context, does not report that Arab terrorism against Jews began long before there was a Jewish state, as exemplified by the 1929 Hebron massacre in which 69 Jews were murdered by Arabs after their leaders spread the false rumor that Jews were planning to seize control of the Temple Mount and destroy the Al-Aqsa mosque. It is that very same false same rumor that is being used to incite the current wave of Palestinian violence.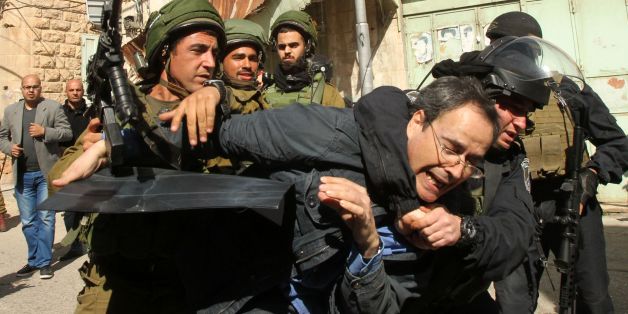 Photo Credit: Hazem Bader via Getty Images
The photo The World Post selected to accompany the article is similarly misleading. Posted without a caption, the image depicts Israeli soldiers violently strong-arming what appears to be a middle-aged Palestinian man with a look of pain on his face. Concerned civilians look on. The choice of photograph speaks directly to the article's intent to tacitly criminalize the IDF and portray Palestinian Arabs as victims. Without a caption, there is no context for this photo and no reader can understand who the man is or even when this incident took place.
In fact, an image search reveals that the photo is of an Israeli protester in Hebron from February. The photo appeared in the Daily Mail with the caption, "Israeli soldiers arrest an Israeli protester during clashes following a demonstration against Jewish settlements on February 20, 2016 in the West Bank city of Hebron ©Hazem Bader (AFP)"
According to the AAA and Huffington Post, "readers are blinded to real causes and potential solutions" to the conflict based on the failures of media coverage. This article contributes directly to that condition.
--Rachel Frommer, CAMERA Intern
Posted by SC at March 16, 2016 08:37 AM
Comments
Another example of the BDS movement which should stand for Bullying, Deception and Slander--rewriting history to fit into the anti-Zionist and Semitic narrative. It is shocking that so-called reputable academics and media outlets are so fixated on the Israel in an almost pathological fashion that they cannot even get a plain file photograph right--sloppy and abusive--that is what they are--if Israel disappeared tomorrow they would say the country had it coming to them and despite the fact that the middle east would continue to be the unmitigated mess that it is--they would feel justified in the elimination of a population that has sought to make a democratic nation for itself in its ancestral homeland.
Posted by: michael gordon at March 17, 2016 10:55 AM
Just a quick point of clarification -- the American Anthropological Association is currently neither for or against BDS. It's members will vote this spring on whether or not to accept a resolution to boycott Israeli academic institutions.
Posted by: Jeff Martin at March 17, 2016 11:02 AM
Guidelines for posting
This is a moderated blog. We will not post comments that include racism, bigotry, threats, or factually inaccurate material.
Post a comment