« North Korean Leaders are 'Devoted to Freedom,' Palestinian Official Says | Main | USA Today Imprisons Facts, Conceals Truths »
March 03, 2016
Hamas Cooperates with ISIS-Sinai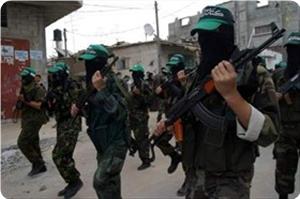 Members of Hamas' al-Qassam brigades

A letter posted online from an Islamic State in Iraq and Syria (ISIS) fighter appears to confirm that the terrorist group has ties with Hamas, a U.S.-designated terrorist group that rules the Gaza Strip.
The Middle East Media Research Institute (MEMRI), a non-profit organization that translates Arab and Persian media, reports that a letter from an ISIS fighter to Abu Bakr al-Baghdadi, the groups' head, "protests the close ties and cooperation between ISIS's Sinai province and Hamas, particularly Hamas's military wing." MEMRI notes that the letter is the "first confirmation of ties between the two organizations that comes from ISIS itself."
Abu 'Abdallah Al-Muhajir, a Gazan Arab who joined ISIS in Syria, wrote the letter. In it, he says that ISIS in the Sinai is smuggling weapons into Gaza for Hamas, and that Hamas is making weapons and explosive devices for ISIS Sinai. Al-Muhajir also states that Hamas is providing communications systems and hospitalization in Gaza for wounded ISIS fighters.
The letter from the ISIS terrorist states that ISIS Sinai leaders are visiting Gaza and even are treated as dinner guests at the homes of Hamas leaders.
MEMRI reports that the ISIS fighter "considers these Hamas-ISIS Sinai ties a violation of the principle of loyalty to the Muslims and rejection of non-Muslims (Al-Walaa Wal-Baraa), stating ISIS considers Hamas a movement that has betrayed Islam and that as such there is no justification, even on the pretext of tactical, operational, and logistical necessity, for maintaining ties with it." In the letter, Al-Muhajir says he's writing to al-Baghdadi because, "matters have reached a point where it is no longer possible to remain silent, and providing advice in secret would not have helped."
Al-Muhajir writes that the ISIS "Sinai province is a pawn of Hamas" and accused Hamas of torturing and ridiculing "Salafi jihad fighters" while taking advantage of cooperation with the Islamic State. The terrorist bemoans ISIS reliance on Hamas, stating, "The relationship between Sinai province and Hamas has crossed all limits, and has reached the point where the province is asking Hamas to manufacture the uniforms for its soldiers."
In August 2014, Israeli Prime Minister Benjamin Netanyahu compared ISIS to Hamas, noting their shared traits of "barbarism." Yet, Netanyahu's conclusion that "Hamas is Like ISIS, ISIS is like Hamas" was mocked by some journalists and anti-Israel pundits.
As recently as January 2016—while ISIS and Hamas were collaborating according to Al-Muhajir—the anti-Israel Web site Mondoweiss, which has long trafficked in conspiracy theories (see, for example, "ISM (and Mondoweiss) Demonstrate How to Propagandize with YouTube," CAMERA, July 5, 2011), called Netanyahu's statements a "lie." Mondoweiss author James North pointed to journalist Sarah Helm's article in the New York Review of Books, "ISIS in Gaza (Jan. 14, 2016)."
In it, Helm used the oxymoronic term "Hamas moderate" to describe Hamas spokesman Ahmed Yousef. According to Palestinian Media Watch, a non-profit organization that monitors Arab media in the West Bank (Judea and Samaria), the Gaza Strip and eastern Jerusalem, in July 2012 the "moderate" Yousef said that Palestinian TV broadcasts about suicide attacks "increased honor for Palestinians." Noting tensions between Hamas and ISIS, Helm concluded that they couldn't possibly be cooperating—a sentiment North fully endorsed when he noted that Helm "regularly visits Gaza." It's now apparent however, that ISIS has a similar travel itinerary.
Shortly after Netanyahu's remarks, Larry Derfner, writing for Web site +972 ("No, Hamas isn't ISIS, ISIS isn't Hamas," Aug. 24, 2014) charged that anyone who accepted Netanyahu's comments was a "shill for Israel" for believing in "a crude attempt to brainwash people, to put the most horrifying image in their minds and associate it with Gaza." Derfner charged Netanyahu with "insulting people's intelligence."

However, Netanyahu clarified his comments in October 2014: "I didn't say that Hamas and ISIS are twins, I said they are brothers. They're branches…of the same poisonous tree of militant Islam."
Like family members, Hamas and ISIS can be quite different—even rivals with differences of opinion and who fight for influence. Infighting between Islamist groups, often for territory and dominance, is common as ongoing battles between al-Nusra Front and ISIS in Syria attest. Yet, this "family feud" doesn't stop them from cooperating on shared goals, like seeking to destroy Israel and attacking the Western world. That's worth noting.

Posted by SD at March 3, 2016 03:39 PM
Comments
Guidelines for posting
This is a moderated blog. We will not post comments that include racism, bigotry, threats, or factually inaccurate material.
Post a comment