« American Veteran Killed by Palestinian Terrorist, Washington Post Drops Print Coverage | Main | Washington Post Lays Out the Cards Correctly and Calls a Terrorist, a Terrorist »
March 23, 2016
Analyst: New Hamas Leadership is Emerging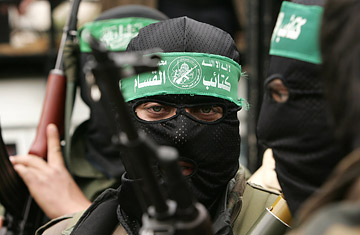 Hamas, the U.S.-designated Palestinian Arab terrorist group that rules the Gaza Strip, has a new leader, writes Avi Issacharoff, a Middle East analyst and journalist ("Inside Hamas, a bitter and very personal battle for control,� The Times of Israel, March 19, 2016).
Yahya Sinwar has "emerged� as a "new leader� of the terror group. Sinwar is based in the Strip and lives in the Khan Younis refugee camp. By contrast, Khaled Mashaal—frequently described by press and policymakers as head of Hamas' "military wing�—lives in reported opulence in the Gulf country of Qatar. Terrorist organizations, of course, while not exempt from fissures and factions and engaging in division of labor, do not have discrete "military� or "political� "wings� as sovereign nations do—their complementary segments all support their terrorist strategies.
Sinwar spent 22 years in Israel's prisons for terrorist activities. He was released in 2011 as part of the prisoner exchange for Gilad Shalit, an Israeli Defense Forces (IDF) soldier who was kidnapped in 2006 by Hamas and held hostage for five years. Issacharoff characterizes Sinwar as "a man who avoids the limelight� and "is considered a radical hardliner who inspires the loyalty of the leadership of Hamas's military wing.�
Sinwar, one of the founders of the Izz a-Din al-Qassam brigades, Hamas' armed units, opposed the exchange for Shalit, despite its leading to his release.
Issacharoff says that Sinwar's release in 2011 "wrought a change in the structure of the entire leadership� of Hamas. The journalist claims that change is related to different priorities between Sinwar and Mashaal; Sinwar believes that "Gaza is not a stepping-stone in a wider strategy of taking over the West Bank and the PLO, as it is for Mashaal. Rather, Gaza is a separate and sanctified goal; the first and only entity where the Muslim Brotherhood's doctrine holds sway.� This means that while Mashaal is willing to make temporary compromises regarding Hamas' position in the Gaza Strip with the goal of making gains for the terrorist group in areas controlled by Fatah, the rival movement that dominates the Palestinian Authority (PA), Sinwar is perhaps less likely to do so.
Issacharoff reports that Sinwar differs from Mashaal in other respects as well.

As CAMERA has noted, ("Journalist Profiles New Iranian-backed Palestinian Terror Group,� Oct. 29, 2015), Hamas, including Mashaal, failed to support publically the regime of Syrian dictator Bashar al-Assad in Syria's ongoing civil war—angering the terror group's chief financial backer, Iran, which has been working to ensure that Assad stays in power. By contrast, Sinwar and his allies "refused to part ways with their friends in Tehran and Damascus� and have "kept in close contact with the Iranian Revolutionary Guard's Al-Quds Force.� As a result, Sinwar has continued to receive Iranian funds although Mashaal's attempts to gain support from Saudi Arabia and his opposition to Iranian proxies in Yemen led to a cutback in financial assistance from the Islamic Republic.
Hamas leadership also differs on policy regarding Egypt and Islamic State in Iraq and Syria (ISIS). Mashaal and his deputy, Moussa Abu Marzouk, have been seeking to improve ties with Egypt by visiting Cairo and meeting with Egyptian intelligence officials. Issacharoff believes this is to counter the influence of Sinwar, who has been cooperated with and assisted Islamic State in the Sinai—a branch of ISIS, a U.S.-designated terrorist group.
Isaacharoff is careful to note that "Hamas is not about to fall apart, and the rifts are not unbridgeable.� Still, he believes that in Hamas elections this year, Sinwar is likely to gain influence and greater power within the Gaza Strip, perhaps at the expense of Mashaal and/or Ismail Haniyeh, a senior Hamas leader who lives in Gaza.
Posted by SD at March 23, 2016 09:59 AM
Comments
Guidelines for posting
This is a moderated blog. We will not post comments that include racism, bigotry, threats, or factually inaccurate material.
Post a comment