« February 2016 | Main | April 2016 »
March 31, 2016
Palestinian School Names Basketball Game after Terrorist—With EU Funding
Jibril Rajoub

A Palestinian Authority (PA) school has hosted a basketball game named for a terrorist and mass murderer.
According to Palestinian Media Watch, a non-profit organization that translates Arab media in the West Bank (Judea and Samaria), the Gaza Strip and eastern Jerusalem, the Al-Awael School for Girls hosted a "Dalal Mughrabi Cup" basketball game.
Mughrabi was a Palestinian Arab terrorist responsible for the 1978 Coastal Road massacre, in which 38 civilians (including 13 children and an American photographer) were murdered and 71 wounded. She was killed by Israeli security forces while conducting the attack.

The Al-Awael School for Girls is overseen by the PA Ministry of Education. The Al-Razi Cultural and Social Association, a Palestinian non-governmental organization (NGO), co-organized the "Dalal Mughrabi Cup." PMW notes that "this NGO is a member of the Networks program under the Anna Lindh Foundation (ALF)." ALF is "'an inter-governmental institution' established under EUROMED, an organization consisting of the 28 EU [European Union] member states and 15 Southern Mediterranean, African and Middle Eastern countries."
Mughrabi has been glorified in Palestinian Arab society for the Coastal Road massacre. As CAMERA has noted, PA President Mahmoud Abbas has praised Mughrabi ("Where's the Coverage? Abbas is No Angel," May 20, 2015).
PMW pointed out that in October 2013, the PA named a table tennis tournament after Mughrabi. That decision was made under Jibril Rajoub, a senior member of the Fatah Central Committee and head of the PA Olympic Committee. Rajoub himself—called "moderate" by some in the press—has described Palestinian terrorist attacks against Israelis, including women and children, "acts of bravery ("'Moderate' Palestinian Leaders Encourage Shedding Tears for Terrorists," CAMERA, Dec. 2, 2015)."
PMW reports that 25 Palestinian schools have been named after terrorists.
A fellow terrorist who helped Mughrabi organize the Coastal Road massacre, Khalil al-Wazir (aka Abu Jihad), also has been honored by Palestinian officials and society. As a CAMERA Op-Ed noted, Al Quds University in Jerusalem hosts the Abu Jihad Museum ("Omissions that distort the truth," The Hill, May 28, 2015). Like ALF, Al-Quds University receives EU funding, in addition to support from the United Nations and a partnership with an American university, Bard College in New York.
PMW's report on the "Dalal Mughrabi Cup" can be found here. A listing of the use of sports by Palestinian officials to commemorate terrorists can be found here.
Posted by SD at 03:10 PM | Comments (0)
March 30, 2016
Analysts: Islamist Terror Deaths up 774 percent
Current al-Qaeda head Dr. Ayman al-Zawahiri (right) and his predecessor Osama bin Laden (left)

A March 28, 2016 analysis by the Investigative Project on Terrorism (IPT), a Washington D.C.-based organization that monitors extremist groups, found a "stunning increase in deaths caused by radical Islamic terror." IPT says the threat from Islamic-rooted terrorism continues to grow.
IPT calculated that an average of 3,284 people were murdered in terror attacks from 2007 to 2011. The next year, 2012-2013, that figure jumped to 9,537. From 2014 to 2015, 28,708 people died in Islamist terror attacks—a 774 percent increase from the 2007-2011 statistics.
IPT's report was compiled using research from a variety of sources, including the University of Maryland Global Terrorism Database. The Investigative Project notes:
"The growth in terrorist victims corresponds to a wider theater of operations for terror groups. From 2001-2006, the threat was dispersed in area and occurring primarily in 10 countries, including the U.S. and Russia. By 2014-2015, significant Islamist terrorist activity could be found in 18 countries, with most concentrated in Africa and the Middle East."
Not surprisingly, terrorist attacks have also seen a marked increase.
IPT's analysis detailed 493 terror attacks from 2007-2011, increasing to 1,440 assaults between 2012 and 2013. By 2014 to 2015, there had been 2,930 recorded onslaughts by Islamic fundamentalists.
The report identified the rise of the Islamic State in Iraq and Syria (ISIS) as an "obvious cause" for the spike, but noted that the data also showed "the problem of Islamist terror is worsening beyond the reach of ISIS."
The skyrocketing number of terrorist attacks and resultant fatalities is one of several trends identified in the report. IPT noted that Africa has become a "primary growth target," with an increase that has been "led primarily by three Islamist organizations": ISIS affiliate Boko Haram in Nigeria and nearby countries, al-Qaeda affiliate al-Shabaab, primarily in Somalia and Kenya and al-Qaeda in the Islamic Maghreb (AQIM), which refers to north Africa.
The increase in terrorism also has extended across the Atlantic Ocean.
Noting a report by George Washington University's Program on Extremism, CAMERA wrote on Dec. 7, 2015 that "Islamic terror in the United States is at a height not seen since the Sept. 11, 2001 al-Qaeda terror attacks that murdered 2,977 people" ("Washington Times Notes Record Terror Levels"). GWU reported that "fifty-six individuals have been arrested" in the United States "on suspicion of plotting or helping support" ISIS in 2015.
Identifying what it considered to be another trend, IPT said that Western interventions, such as U.S. and NATO operations in Libya in 2011 that helped lead to the ouster of dictator Muammar Qaddafi and his government, have inflamed instability. Failed states, or countries in which the reach of governments does not fully extend to its geographical borders, such as Nigeria and Pakistan, also were highlighted as being contributing factors to the growth of Islamist terror.
In addition to noting increasing terror threats in Africa, the report predicts that Thailand, the Philippines, India and Bangladesh will "become more susceptible to an increase in attacks due to their perception as soft targets."
IPT also sees Europe's security systems as being unable to respond to the "rising challenges associated with the mass migration of refugees. Violence in Europe will increase in size and scope as Islamists exploit its nearly unregulated immigration system and Muslim enclaves such as Molenbeek in Brussels become more widespread."
Yet, Europe may be able to learn counterterrorist lessons from Israel.
A March 30, 2016 policy paper by an Israeli think-tank, the Begin-Sadat Center for Strategic Studies, stated that Israel can advise Europe on "strategies like effective intelligence collection, disruption of enemy money supply and interference with enemy access to the internet." The report, "Israel and Europe After Brussels: What Insights Can We Share?" by former Israeli Defense Forces (IDF) Col. Dr. Eran Lerman, recommended extensive intelligence collection and data-mining as a foremost step in countering jihadi terror. Close cross-national cooperation and a "strong and dedicated" group of intelligence analysts also are emphasized. The analysts, Lerman noted, must be "people who are not afraid to speak truth to power."
That truth begins with an acknowledgement that Islamist terror is increasing, claiming more victims even as the fight against it expands.
Posted by SD at 03:34 PM | Comments (1)
March 29, 2016
Getting to the Bottom of Lapido Media's Hit Piece on Israel
Last October, a British website, Lapido Media, published a dishonest little hit piece accusing Israel of "shunning" a Peace Studies Program at Bethlehem Bible College (BBC).
The main evidence used to prove that Israel was "shunning" this masters degree "peace studies" program at BBC was that a foreign student who was attending classes at the program could not get a visa to attend school in the West Bank. Here is what the article stated:
The Arab world's first Master's degree in Peace Studies – developed by a Bethlehem college – is getting the brush-off from a government whose commitment to peace is already being questioned from within the Jewish world.

Bethlehem Bible College (BBC) aims to train Muslim, Christian, and Jewish peacemakers to build bridges instead of walls.

But 24-year-old 'William', a Canadian, and one of five international students in the inaugural class, cannot obtain a student visa.

Instead he must come and go every three months as a tourist. Afraid of deportation, he shields his identity online and makes no mention of his studies to the authorities.

'My fear is maybe they would become aware of what I'm doing and reject any subsequent tourist visas,' William, using a pseudonym, told Lapido.

'It has been a step of faith, but I figured I would just take the risk and do it.'

[NOTE: CAMERA is not revealing the identity of the student in question despite the fact that "William" is no longer shielding his identity online.]
The article makes clear that it is Israel's fault that the student cannot get a visa. But a close reading of the article reveals, however, that the student in question never applied for the student. The article states: "William was advised by the BBC not even to try."
In sum, Israel was condemned for not issuing a visa to someone who did not even apply for one and this condemnation was used to portray Israel as giving the peace program the "brush-off."
The problems with the article were highlighted in a Times of Israel article published here. Aside from a few defensive Tweets, Lapido Media did not respond to the substantively to the issues raised in the Times of Israel article.
New Information
This writer (Dexter Van Zile) met the student who was profiled in the article at the recent Christ at the Checkpoint Conference which was held in Beit Jala earlier this month.
He challenged the student to explain why Israel should be condemned for denying him a visa for which he did not apply. He also challenged the student to think about whether or not he is truly promoting peace by helping to generate anti-Israel propaganda.
In the ensuing conversation, the student in question stated that he has since applied for (and been given) a one-year work visa by the Palestinian Authority and that the paper work associated with this visa has been forwarded to the Israeli government for final approval.
When asked whether or not the Israelis are likely to approve the work visa, the student in responded that it is likely that the Israelis will approve the visa because it does not want to make the Palestinian Authority angry.
This undercuts a significant premise of the original Lapido Media article – that Israel was giving the peace studies program the brush-off by denying one of its students a visa to participate. Israel will likely grant the visa because it wants to maintain good relations with the Palestinian Authority even as its leaders incite Palestinians to attack Israeli citizens.
This revelation prompted another challenge from the CAMERA researcher: Will the student tell the public that he has applied for a visa and that Israel will very likely allow him to stay, contrary to what the Lapido Media article stated?
To his credit, the student said he would speak to Lapido Media's correspondent, Jayson Kasper (who was in attendance at the Christ at the Checkpoint Conference) and encourage him to write an update to the story.
On the last night of the conference, Thursday March 10, 2016, Kasper approached this writer and stated that "William" had approached him about doing an update. Kasper stated that after the conference he would contact Lapido Media about doing an update to the story. It has been over two weeks and Lapido Media has yet to update or retract the original story.
Resolution?
On Friday, March 25, 2016 and again on Monday, March 28, 2016 CAMERA made repeated inquiries to Lapido Media via email and Twitter. In emails, CAMERA asked that the article be retracted and that Lapido Media publish an update including accurate information about William's visa application.
In a now deleted Tweet posted yesterday, Lapido Media confirmed that Kasper had spoken to the publication about doing an update. This same Tweet also declared that an update had been posted on Lapido Media's website, but this assertion seems to be an error because no update can be found on the website.
An email from the PR person for Lapido Media received this morning (March 29, 2016), indicates that the publication is "reviewing it and working on it."
Going Forward
However the story turns out, CAMERA is glad to have helped uncover the truth about William's so-called visa problem, which in light of the new information, appears to be an exaggeration.
CAMERA hopes that Lapido Media will adhere to stricter standards of proof in its future articles about Israel and the Palestinians.

Posted by dvz at 05:40 PM | Comments (0)
Jews Are Still the Canary
In "How to Stop Mass Casualty Terror Attacks: Take Violence against Jews Seriously," published last December in Tablet, Liel Leibovitz observed that Western leaders, media and analysts have long been willing to justify murderous violence against Jews as somehow "justified" or at least "understandable."
The piece, now even more clearly on point in the wake of the recent terrorist attacks in Brussels, explains of this mindset:
It's the logic of deluded men and women who are trying to organize a chaotic world into rational patterns and who are therefore willing to accept the indiscriminate slaughtering of Jews as somehow understandable, the consequence of some ancient blood feud having to do with a land and a faith far removed from the daily realities of most well-heeled westerners. To that crowd, the murder of a Jew is deplorable but rarely surprising; real shock is expressed only when the very same terrorists, literally speaking, who have orchestrated the killing of Jews turn their guns on other Belgians or Parisians or New Yorkers.

To the many—in government, in the media, in academia—who still hold this morally repugnant worldview, to those who endanger the well-being of us all by failing to seriously investigate and prosecute attacks on Jews because these can somehow be explained away by some imaginary rationale, it's time to say no more. Understand this: The very same people who are coming for the Jews will soon come for you, too.

Every father who is killed on a road in the West Bank in front of his children, every old man who is stabbed in Jerusalem with a pair of scissors, will be killed again in Paris, in Hanover, in Washington. Terror doesn't know any national boundaries. It doesn't care about anyone's religion. It couldn't care less about the nuances of Israeli-Palestinian peace negotiations. Terror is a technique for attaining power, and it has its own logic, which is the logic of indiscriminate death. Jews are merely this demented logic's first victims, but they are not, by a long shot, its last.

Posted by SC at 09:00 AM | Comments (0)
March 28, 2016
Israeli Firm Helps FBI Crack San Bernardino Terrorists' Phone Encryption
Amos Yadlin
Note: This post was updated on April 5, 2016 to reflect more current information
An Israeli digital forensics firm reportedly is helping the FBI try to gain access to data believed stored in an iPhone used by one of the terrorists killed in the Dec. 2, 2015 San Bernardino, Ca. attack that murdered 14 people and injured 22 others.
USA Today reported ("New Twist in Apple Case Leads to Israel," March 24, 2016) that Cellebrite, a company headquartered in Petah Tikva—a suburb of Tel Aviv—is working with the FBI to help access the phone. The paper noted that Cellebrite has associated offices in "Parsippany, N.J., and affiliates in Europe and Asia." It also has a history of working with the FBI, having previously provided kits for extracting data from cell phones in 2013.
Cellebrite's mobile forensics division has developed a mobile-extraction device that may enable the bureau to access the phone's encrypted data without assistance from Apple. USA Today noted that "the potential for this hack enabled the Department of Justice to ask for an eleventh-hour postponement in its hearing over a court order, fought by Apple, that the iPhone creator write a software override to the terrorist's phone."
Private entities are not the only groups of Israelis working to forestall and investigate Islamist terror in the West.
The former head of the Israeli Defense Forces' (IDF) military intelligence, Maj. Gen. Amos Yadlin, said on March 27 that Israeli intelligence sharing with Western counterparts had prevented additional terrorist attacks ("Former head of military intel: Russian army still in Syria," Israel Hayom, March 27).
The Times of Israel reported on March 28 that the head of the U.S. National Security Agency, Admiral Michael Rogers, "paid a secret visit to Israel last week to discuss cooperation in cyber-defense, in particular to counter attacks by Iran and its Lebanon-based proxy Hezbollah ("NSA chief 'makes secret Israel trip to talk Iran, Hezbollah cyber-warfare")." Rogers, who also oversees the U.S.'s Cyber Command, met with commanders from the IDF's 8200 intelligence unit, which focuses on signal intelligence (SIGINT) and code decryption.
As CAMERA has noted ("Where's the Coverage? Iran Cyber-Attacked New York City-Area Dam," Dec. 22, 2015), Iran, a country that has funded Islamist terror groups, such as Palestinian Islamic Jihad, Hamas and Hezbollah, is alleged to have been behind hacking attacks aimed at both the United States and Israel.
In fighting the common enemy of jihadist terror and those who sponsor it, U.S. and Israeli national security and technology cooperation will remain an important if not always reported story.
Update: An April 2, 2016 Washington Post article, "FBI ponders sharing tool to help unlock iPhone with local law agencies," noted: "The firm that helped the bureau—not the Israeli company Cellebrite, as had been widely rumored—charged a one-time flat fee, officials said. The bureau is not releasing the company's name."

Posted by SD at 01:36 PM | Comments (0)
Where's the Coverage? Palestinian Official Admits 'Torture Happens'
>
U.N. Secretary General Ban Ki-moon and PA Prime Minister Rami Hamdallah

Rami Hamdallah, the prime minister of the Palestinian Authority (PA), acknowledged in a March 16, 2016 interview with German media outlet Deutsche Welle, that "torture happens" in PA prisons. Yet, his admission apparently received no coverage by the mainstream U.S. news media.
The PA official's comments were highlighted in a policy brief by analyst Grant Rumley of Foundation for Defense of Democracies, a D.C.-based think tank.
Speaking on camera to Deutsche Welle, Hamdallah granted that, "Certain things happen, torture happens, but it is not the policy [of the Palestinian Authority].
As CAMERA has noted, ("Hamas Cracks Down—on Palestinian Journalists," Jan. 13, 2016) torture of Palestinian Arabs in both the West Bank (Judea and Samaria) by the PA and in Gaza by Hamas, is not uncommon.
The Independent Commission for Human Rights (ICHR), a Palestinian group that seeks to promote "inherent values of justice, equality and human rights," reports that over the last two years there has been a surge in complaints about torture in PA and Hamas prisons.
Torture by the PA extends past prison walls and has included the targeting of journalists and teachers, among others.
In December 2015, the Palestinian Center for Developments and Media Freedoms accused PA security forces of using "violent means" against journalists. Such forces "reportedly beat and detained [reporters]…preventing them from news coverage while inspecting and seizing their equipment" ("Group urges investigations into PA violations against journalists," Dec. 28, 2015). ICHR's director general, Dr. Ammar Dwaik, stated of the 782 complaints regarding torture of Palestinian Arabs by Hamas and the PA, at least 35 involved journalists who were detained. Fifteen of that number were "summoned for interrogation or briefly detained for posting controversial comments on social media, especially Facebook."
One individual detained for a critical Facebook post, Ahmad al-Deek, alleged in a law suit against the PA filed last year that he was deprived of sleep and beaten with sticks for five days for criticizing the authority.
FDD analyst Rumley noted that "ahead of a Palestinian teacher strike in February [2016], the PA arrested and held nearly two dozen teachers." As CAMERA reported at the time ("Journalist: Striking Palestinian Teachers Show PA Corruption," March 9), the PA's security crackdown and illegal detentions were to "hinder or prevent" rallies protesting corruption. Rumley also pointed out that "during last year's student council race at Birzeit University …the PA had arrested and beaten" several students affiliated with rival Hamas, a U.S.-designated terror group that rules the Gaza Strip.
Yet, major U.S. news media have shown little interest in reporting allegations of PA torture—or admissions by the authority's prime minister that those claims are not without merit. A Lexis-Nexis search of U.S. print news media, including USA Today, The Washington Post, The Washington Times and The New York Times, among others, showed no mention of Hamdallah's acknowledgement that PA torture occurs.
Rumley noted that "Palestinians have little recourse in confronting the PA's abuses" that indicate "the room for dissent in the West Bank is shrinking, and those who challenge the system continue to pay a painful price." That price likely will continue to be paid as long as news media outlets fail to report human rights violations by the PA.
Posted by SD at 12:16 PM | Comments (0)
March 25, 2016
World Post Pushes Myth of Moderate Iran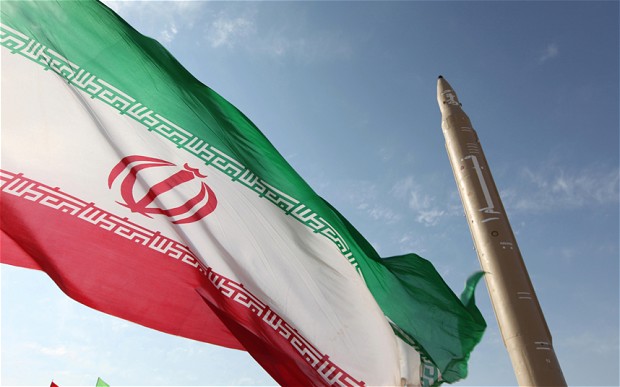 As CAMERA reported, many media outlets misapplied the Western label of "moderates" to those who gained parliamentary influence in Iran's February 2016 "elections" despite evidence that the elections took place as real reformers continue to sit in Iranian jails, many would-be moderate candidates were disqualified and left off the ballot, and that the interests, policies and practices of the Iranian regime remain unchanged.
But The World Post, an affiliate of the Huffington Post, in an article with the headline "Iranian Vote Affirms Obama Administration Nuclear Deal" misrepresents years of Iranian action and American policy. The repressive and violent Iranian regime's pursuit of nuclear weaponry is rationalized as follows: "Iran cannot be blamed for acting militarily when its neighbors and America do so as well." The nuclear capability Iran seeks to obliterate Israel and massacre Jews is explained as a defensive action: "Iran retained an obvious incentive to move forward. Israel, already a nuclear power with a sizeable arsenal, threatened to attack Iran. Most of Tehran's Gulf neighbors were hostile."
In The World Post, Doug Bandow, a Senior Fellow at the Cato Institute who used to write for the Web site antiwar.com that describes itself as "devoted to the cause of non-interventionism," overlooks that Israel's preparedness "to attack Iran" is actually a measure to defend its citizens, the first responsibility of any nation-state. The Islamic Republic of Iran is a hostile regime that frequently promises to "wipe Israel off of the earth," even putting those very words on its test missiles -- ballistic missiles that may be in violation of the nuclear deal Bandow praises as having successfully "pushed Tehran back from developing nuclear weapons and triggered a stronger fight for reform in Iran."
Bandow writes that "so far Tehran is living up to the (nuclear) accord," yet disregards a recent report from the nonpartisan Government Accountability Office that the United Nation's International Atomic Energy Agency (IAEA), tasked with monitoring Iran's compliance may simply not have the capability to do so. In addition, Bandow ignores the recent resolution by the IAEA Board of Governors that directed the agency to "cease reporting on Iran's compliance with its Nuclear Nonproliferation Treaty obligations and past Security Council resolutions."
The World Post may conclude that "moderate reformers did well" in Iran's elections, "vindicating the Obama administration's decision to try diplomacy after years of confrontation with the Islamic Republic," and rationalize its desire for nuclear arms, but it does so in the face of overwhelming evidence that Iran violently suppresses dissidents, flagrantly violates human rights, and has a stated intent to destroy the United States ("Death to America" ring a bell?) and the State of Israel. There is nothing moderate about that.
--Rachel Frommer, CAMERA Intern

Posted by SC at 01:32 PM | Comments (0)
March 24, 2016
U.S. and EU-Trained Palestinian Official Blames West for Brussels Terror Attack
PA security forces

A spokesman for the Palestinian Authority's (PA) security sorces has blamed the United States and Europe for the March 22, 2016 Brussels, Belgium terrorist attack for which the Islamic State in Iraq and Syria (ISIS) claimed responsibility.
On the day of the attacks that murdered 31 people, PA security forces spokesman Adnan Al-Damiri wrote on his Facebook page:
"Those who prepare the poison will taste it themselves, and today Europe is having a taste of what it prepared with its own hands."
Al-Damiri's remarks were reported by Palestinian Media Watch (PMW), a non-profit organization that monitors Arab media in the West Bank (Judea and Samaria), the Gaza Strip and eastern Jerusalem.
After claiming to offer a brief perfunctory condemnation of "terrorist acts everywhere in the world," al-Damiri's Facebook post makes clear that he blames the West for Islamist terror. He claims that "we Arabs are the ones who have been most severely burned by the fire of terror, which has been created and exported by the US and Europe since the Arab Jihad fighters in Afghanistan, and before that by exporting the Jewish terror to Palestine, supporting it and justifying it. Today, Europe is being burnt by its [the terror's] fire in its airports and squares."
Al-Damiri conveniently overlooked that Arab terrorists fighting under the banner of Islam existed long before the United States and its allies, including Arab countries such as Saudi Arabia, supported mujahiddeen [holy warriors] in the fight to repel the Soviet Union from Afghanistan in the 1980s. As CAMERA has previously noted ("Au Contraire, Prof. Picketty: Income Inequality Does Not Cause Middle East Terrorism," Dec. 9, 2015), Islamist terrorism predates the period of Western involvement in the region. In addition, terrorist groups comprised of Arabs living in and near British Mandatory Palestine attacked Jews long before the recreation of Israel as a modern state in 1948.
Al-Damiri's supposed condemnation of terrorism reads less believably when one considers that on Dec. 21, 2015 he called for Palestinian children to "water" the fight against Israel "with blood" (see CAMERA's "Palestinian Security 'Shares' Call to 'Water' anti-Israel Fight 'With Blood,'" Dec. 29, 2015).
PMW noted that the official PA daily, Al-Hayat Al-Jadida, echoed the spokesman's March 22 Facebook post with a cartoon depicting "a person whose head is the globe representing the Western world is shown attempting to blow up the Middle East, but inadvertently blows up himself."
The United States, other Western countries and the European Union have supported PA security forces with money, training and equipment as a result of the 1990s Olso accords that resulted in the establishment of the authority and limited self-rule—provided that Palestinian leaders recognized and sought to make peace with Israel. According to a March 18, 2016 United States Congressional Research Service (CRS) report, U.S. Foreign Aid to Palestinians, that security aid is "aimed at countering" U.S.-designated terrorist organizations, such as Hamas and Palestinian Islamic Jihad and "establishing the rule of law for an expected Palestinian state."
Cooperation between Israeli and PA security agencies has helped prevent the West Bank from becoming an open terror base like the Hamas-ruled Gaza Strip.
However, as CAMERA has noted ("Where's the Coverage? Palestinian Official Shoots Israeli Soldier," Dec. 9, 2015), some PA police and paramilitary have committed terrorist attacks against Israelis, soldiers and civilians alike—contravening professed reasons for the establishment of the PA and the funding and training of its forces.
When a spokesman for the PA security forces essentially blames the West for terrorism in Brussels, and his charge is reflected in the authority's daily paper, shouldn't donors to the PA to reconsider whether their aid money is being well spent?
Posted by SD at 10:05 AM | Comments (0)
March 23, 2016
Washington Post Lays Out the Cards Correctly and Calls a Terrorist, a Terrorist

Unlike some news outlets and in contrast to some of its previous articles, in a March 20, 2016 article, The Washington Post eschewed improper terminology in reporting the capture in Belgium of a key Islamic State in Syria and Iraq (ISIS) member—properly calling a terrorist a terrorist ("Terror suspect's capture in Brussels came after several watchful days").
Washington Post reporters James McAuley, Michael Birnbaum and Souad Mekhennet detailed the process that led to the March 18 capture of alleged ISIS member Salah Abdeslam. Abdeslam was described as "the last known surviving participant" in the Nov. 15, 2015 terrorist attacks that murdered 130 people in Paris. He is suspected of being "the logistics chief behind the worst terrorist attack in the French capitol in decades."
In their coverage, The Post reporters noted that a March 15 police raid on a "suspected terrorist safe house"—during which an Algerian with suspected ISIS ties was killed while resisting arrest—yielded information that led Belgian and French authorities to Abdeslam.
The Post reported that Abdeslam, a French citizen, was apprehended three days later in in "the city's predominantly Muslim Molenbeek quarter." The paper, in its own words, the paper noted that after receiving treatment for wounds suffered while resisting arrest, he was charged on March 19 with "participation in terrorist murder" and for "terrorist activities."
CAMERA has previously pointed out (see, for example, "Martyrs—the New 'Militants'—and Other Washington Post Word-Play," March 10, 2016) the tendency of some print news media—including The Post—to use misleading adjectives, such as "militant" and "gunmen," in substitute for the more accurate "terrorist." CAMERA also has noted that "the closer terrorists get to Israel, the more likely they are to be transformed linguistically" to a "fighter" or some word that is less descriptive than the reality ("News Media Makeovers—Terrorists Are Militants Are Fighters," March 11, 2009).
In the paper's March 23 coverage of the previous day's ISIS terrorist attack in Brussels, Belgium, The Post used "militant" on occasion, but still overwhelmingly employed "terrorist" to describe the murderers (for example "Bombings at Airport, on Subway," "Obama faces new pressure to forsake his instincts" and "Bombs underline city's status as a center of Islamist extremism").
In his 1946 essay, "Politics and the English Language," British author George Orwell wrote:
"Political language—and with variations this is true of all political parties, from Conservative to Anarchists—is designed to make lies sound truthful and murder respectable, and to give an appearance of solidity to pure wind."
The crimes of Islamic terrorists are unworthy of respectability, and The Post deserves recognition for not providing them with much of it in these cases.
Posted by SD at 02:01 PM | Comments (1)
Analyst: New Hamas Leadership is Emerging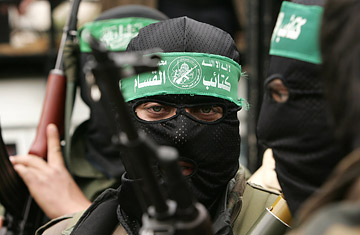 Hamas, the U.S.-designated Palestinian Arab terrorist group that rules the Gaza Strip, has a new leader, writes Avi Issacharoff, a Middle East analyst and journalist ("Inside Hamas, a bitter and very personal battle for control," The Times of Israel, March 19, 2016).
Yahya Sinwar has "emerged" as a "new leader" of the terror group. Sinwar is based in the Strip and lives in the Khan Younis refugee camp. By contrast, Khaled Mashaal—frequently described by press and policymakers as head of Hamas' "military wing"—lives in reported opulence in the Gulf country of Qatar. Terrorist organizations, of course, while not exempt from fissures and factions and engaging in division of labor, do not have discrete "military" or "political" "wings" as sovereign nations do—their complementary segments all support their terrorist strategies.
Sinwar spent 22 years in Israel's prisons for terrorist activities. He was released in 2011 as part of the prisoner exchange for Gilad Shalit, an Israeli Defense Forces (IDF) soldier who was kidnapped in 2006 by Hamas and held hostage for five years. Issacharoff characterizes Sinwar as "a man who avoids the limelight" and "is considered a radical hardliner who inspires the loyalty of the leadership of Hamas's military wing."
Sinwar, one of the founders of the Izz a-Din al-Qassam brigades, Hamas' armed units, opposed the exchange for Shalit, despite its leading to his release.
Issacharoff says that Sinwar's release in 2011 "wrought a change in the structure of the entire leadership" of Hamas. The journalist claims that change is related to different priorities between Sinwar and Mashaal; Sinwar believes that "Gaza is not a stepping-stone in a wider strategy of taking over the West Bank and the PLO, as it is for Mashaal. Rather, Gaza is a separate and sanctified goal; the first and only entity where the Muslim Brotherhood's doctrine holds sway." This means that while Mashaal is willing to make temporary compromises regarding Hamas' position in the Gaza Strip with the goal of making gains for the terrorist group in areas controlled by Fatah, the rival movement that dominates the Palestinian Authority (PA), Sinwar is perhaps less likely to do so.
Issacharoff reports that Sinwar differs from Mashaal in other respects as well.

As CAMERA has noted, ("Journalist Profiles New Iranian-backed Palestinian Terror Group," Oct. 29, 2015), Hamas, including Mashaal, failed to support publically the regime of Syrian dictator Bashar al-Assad in Syria's ongoing civil war—angering the terror group's chief financial backer, Iran, which has been working to ensure that Assad stays in power. By contrast, Sinwar and his allies "refused to part ways with their friends in Tehran and Damascus" and have "kept in close contact with the Iranian Revolutionary Guard's Al-Quds Force." As a result, Sinwar has continued to receive Iranian funds although Mashaal's attempts to gain support from Saudi Arabia and his opposition to Iranian proxies in Yemen led to a cutback in financial assistance from the Islamic Republic.
Hamas leadership also differs on policy regarding Egypt and Islamic State in Iraq and Syria (ISIS). Mashaal and his deputy, Moussa Abu Marzouk, have been seeking to improve ties with Egypt by visiting Cairo and meeting with Egyptian intelligence officials. Issacharoff believes this is to counter the influence of Sinwar, who has been cooperated with and assisted Islamic State in the Sinai—a branch of ISIS, a U.S.-designated terrorist group.
Isaacharoff is careful to note that "Hamas is not about to fall apart, and the rifts are not unbridgeable." Still, he believes that in Hamas elections this year, Sinwar is likely to gain influence and greater power within the Gaza Strip, perhaps at the expense of Mashaal and/or Ismail Haniyeh, a senior Hamas leader who lives in Gaza.
Posted by SD at 09:59 AM | Comments (0)
March 22, 2016
American Veteran Killed by Palestinian Terrorist, Washington Post Drops Print Coverage

The Washington Post has failed to provide print readers with information it posted online about a former U.S. serviceman killed in a Palestinian terrorist attack in Israel.
On March 8, 2016, 28-year-old American tourist Taylor Force was stabbed to death by a Palestinian Arab in part of municipal Tel Aviv. Ten others were also wounded, including Force's wife, before the attacker was shot by police. Three other terrorist attacks occurred in Israel on the same day, wounding a total of 14 victims. U.S. Vice President Joe Biden was in Israel the day of the attacks and was staying less than a mile from where Force was murdered.
Taylor Force was a graduate of the United States Military Academy at West Point and an Army officer who served in Iraq and Afghanistan. He was in Israel for a school trip with Vanderbilt University Owen School of Management's masters in business administration (MBA) program, in which he was a enrolled. Force was visiting Israel to learn about start-up companies and global entrepreneurship.
The Washington Post reported Force's death and, importantly, the details of his life in an online article about the terror attacks ("A rash of bloody attacks greets Biden in Israel," March 8). Online, The Post noted that Force was a "combat veteran" who was on an "Owen school trip to Tel Aviv" when he was murdered.
However, in print, The Post omitted this information about Force's life. The day after The Post article online, the paper's print edition condensed the U.S. veteran's life of service into two words at the end of a sentence in a story about Vice President Biden's trip:
"…less than a mile away a Palestinian went on a rampage in the Arab-Jewish quarter of Jaffa that left an American tourist dead ("Biden travels to Israel to discuss billions in military aid," March 9)." The Post failed—in an article that spanned more than 1,200 words—to mention the dead American's name or the fact that his wife, also an American, was critically injured.
Greater detail was provided in a Post online blog about education, called Grade Point. On March 9, the blog, written by Post reporter Susan Svrluga, offered details about Forces' life, including quotes from fellow soldiers who served with him ("Vanderbilt student fatally stabbed in Israel was West Point grad, war veteran"). One of those soldiers, David Campos-Contreras, called Force "the kind of person who would keep you alive. And did. He did keep us alive." A West Point classmate, David Simpkins said of the deceased veteran: "I couldn't think of someone was more of a model of 'America's finest' than him…He was as honest and heartfelt as they come, but now he'd dead."
Yet, none of this information could be found in the paper's print editions in the subsequent two weeks. A Lexis-Nexis search turned up no Post articles that were devoted to the murder of Force and near-murder of his wife.
An American veteran who fought terrorists in Iraq and Afghanistan was murdered by a Palestinian terrorist while on a school trip to Israel—less than a mile away from a visiting U.S. vice president; how could this not be worth ink and space in print?
Posted by SD at 12:40 PM | Comments (3)
Jewish Neighborhood Becomes Arab in NY Times AIPAC Story
In 2010, Israeli approval of 1600 housing units in the Jewish neighborhood of Ramat Shlomo in northern Jerusalem drew U.S. ire
March 23 Update: New York Times Corrects: Ramat Shlomo Not an "Arab Neighborhood"
In their article today in The New York Times, "Clinton and Trump, in Speeches, Vow to Protect Israel but Differ on the Means," Mark Landler and Maggie Haberman err:


In March 2010, while serving as secretary of state, [Hillary Clinton] sharply criticized the Israeli authorities for approving new Jewish housing in an Arab neighborhood of East Jerusalem when the United States was trying to get the Israelis and Palestinians back to the negotiating table.


In that speech, which was less warmly received than Monday's, Mrs. Clinton described the American role in the peace process as, if not neutral, then as an honest broker between the two sides. "Our credibility in this process," she said, "depends in part on our willingness to praise both sides when they are courageous, and when we don't agree, to say so, and say so unequivocally. (Emphasis added.)
In fact, the housing in question was not in "an Arab neighborhood of East Jerusalem," but in Ramat Shlomo, a Jewish neighborhood in northern Jerusalem located over the 1967 armistice line.

As Mark Landler himself reported at the time ("As U.S. and Israel Meet, Netanyahu Takes Hard Line on Jerusalem Housing," March 23, 2010):


The crowd of 7,000 quieted down quickly when Mrs. Clinton bluntly warned that the status quo in the Middle East was unsustainable, and that Israel's continued construction of Jewish housing was undermining the prospect for peace talks between Israelis and Palestinians.

Mrs. Clinton defended her rebuke of Mr. Netanyahu's government over its announcement of 1,600 housing units in East Jerusalem during Mr. Biden's visit. The move, she said, jeopardized indirect talks that the administration is trying to broker between Israelis and Palestinians.

''Our credibility in this process depends in part on our willingness to praise both sides when they are courageous, and when we don't agree, to say so, and say so unequivocally,'' she said.

In her call to Mr. Netanyahu, she demanded that Israel reverse the housing plan in the neighborhood of Ramat Shlomo; that the Israelis avoid further provocations in Jerusalem during planned peace talks; and that Mr. Netanyahu commit to substantive rather than procedural negotiations with the Palestinians, as Israel has said it would prefer. (Emphases added.)
CAMERA has contacted Times editors to request a correction. Stay tuned for an update.
Posted by TS at 07:20 AM | Comments (2)
March 21, 2016
The Iranian Missile Photo That CNN Missed
Two CNN articles erroneously reported this month that Iranian media have not published photographs of the missiles emblazoned with the Hebrew words "Israel must be wiped off the earth," and that CNN could not independently confirm the information. So CAMERA has helped CNN, directing editors to a photograph of the missile with anti-Israel graffiti which appeared in the Iranian media.

On March 15, Barbara Starr wrote ("U.S. official raises Iran rocket fears; Tehran denies tests are illegal"):


The missiles, capable of reaching Iran's archenemy Israel, were marked with a statement in Hebrew reading "Israel must be wiped off the Earth," Iran's semiofficial Fars News Agency reported.

The phrase originates from a remark made by the Ayatollah Ruhollah Khomeini, the founder of Iran's Islamic revolution. CNN has not independently confirmed this report, and Iranian media have not shown photographs of the message.
These very same two paragraphs first appeared on CNN's website March 9, in an article by Tim Hume and Alireza Hajihosseini wrote ("Iran fires ballistic missiles a day after test; U.S. officials hint at violation").
The following photograph of the missile emblazoned with the anti-Israel graffiti appears on the Fars News site.
CAMERA has contacted CNN to request corrections. Stay tuned for an update.
Posted by TS at 08:57 AM | Comments (2)
March 16, 2016
Terrorist Groups Increase Child Recruitment Efforts

Islamic terrorist organizations are increasingly "targeting" children for recruitment, according to the Investigative Project on Terrorism (IPT), a non-profit research group that focuses on radical Islamic groups.
IPT reports that children have become a "key target group" for Islamist-oriented terrorists that frequently use social media to advertise their new recruits. The use of children under the age of 15 as combatants violates the United Nations 1989 Convention on the Rights of the Child.
Citing a report by West Point's Combating Terrorism Center (CTC), IPT notes that in the last year, "at least 89 male child soldiers were eulogized as martyrs on Twitter as well as the Islamic State's [the U.S.-designated terrorist group also known as ISIS] official Telegram channel [a messaging app]. The child soldiers hailed from countries as varied as Iraq, Syria, Yemen, Libya, and Nigeria, Saudi Arabia, Tunisia, the United Kingdom, France and Australia.
The CTC report used a database of children eulogized by the ISIS between January 2015 and January 2016. The report concludes that "the number of child and youth militants far exceeds current estimates" and that Islamic terror groups are "mobilizing children at an ever-accelerating rate." The report is careful to note that it doesn't claim to be exhaustive and is rather a "snapshot in time of how the Islamic State" uses children in its propaganda.
CTC concludes that in contrast to other conflicts in which child soldiers are used as a "strategy of last resort," children used by ISIS "are fighting alongside, rather than in lieu of, adult males." The extent to which the terror group employ children suggests that "organizational concerns" are the primary driver instead of propaganda benefits. The center's report says:
"The presence and participation of children in the comprehensive corpus of Islamic State propaganda extends beyond ultra-violence. Indeed, on an almost daily basis, children are featured in multiple contexts, from highly publicized executions and training camps to Qur'an memorization fairs and dawa [proselytizing] caravans."
IPT notes that other jihadi groups are increasingly recruiting and using children: "The Pakistani Taliban run several so-called schools dedicated to graduating prepubescent bombers, Houthi rebels in Yemen have routinized the inclusion of children in their ranks, while the Lebanese Hezbollah has begun accepting adolescents into its ranks to boost its presence" in the Syrian civil war.
CAMERA has noted the use of children by Palestinian Arab terrorist groups, Hamas and Fatah's al-Aqsa martyr's brigade, both of which are U.S.-designated terrorist groups.
As recently as January 2016, Fatah, the dominant movement in the Palestinian Authority, held celebrations that featured masked children carrying models of "suicide belts," "RPG's [rocket propelled grenade launchers" and guns ("Palestinian Children Wear Suicide Belts to Celebrate Fatah's Anniversary," CAMERA, January 12).
Hamas also regularly uses children in its terrorist activities. CAMERA has reported how the group holds "summer camps" to train and indoctrinate children to murder Jews ("#HamasSummerCamp," July 9, 2015). Both Hamas and Fatah, similar to ISIS, also have used children as human shields; hiding behind them while launching indiscriminate attacks on civilian populations in Israel.
Despite these similarities, one PA official has claimed that a key difference exists. Palestinian Media Watch (PMW), a non-profit organization that monitors Arab media in the West Bank (Judea and Samaria), the Gaza Strip and eastern Jerusalem, has noted comments made on official PA TV by the authority's Minister of Women's Affairs, Haifa al-Agha. Speaking on Nov. 7, 2015, al-Agha claimed that Palestinian women are "unique" for receiving news of their "son's martyrdom" with "cries of joy."
Posted by SD at 01:32 PM | Comments (1)
Huffington Post Rewrites History
The World Post, an affiliate of The Huffington Post, hosted an article penned by a member of the American Anthropological Association, the academic organization most recently in the news for having passed a BDS resolution. One of the resolution's reasons for supporting BDS was that "the Israeli state has denied Palestinians — including scholars and students — their fundamental rights of freedom, equality, and self-determination through ethnic cleansing, colonization, discrimination, and military occupation."
CAMERA has reported on the real anti-Israel, anti-peace nature of the BDS movement, as well drawing attention to the possibility that these resolutions may be illegal, as they violate the organizations' charters which amount to contracts with their members.

Under the headline, "Israeli-Palestinian Violence is Not Inevitable," Assistant Professor of Anthropology Emily McKee of Northern Illinois University decries media accounts of "tit-for-tat violence". Ironically, she places blame for the current wave of terror in which dozens of Israelis have been stabbed in the streets, rammed with cars and shot at by Palestinian Arabs on Israelis.
Professor McKee claims Israel's "actions taken over the last several decades have created important distinctions between citizens of Israel, Palestinian residents of East Jerusalem, and West Bank Palestinians, which allow some to participate in government, travel freely, and live in well-provisioned neighborhoods and deny these possibilities to others." The article, which purports to offer historical context, does not report that Arab terrorism against Jews began long before there was a Jewish state, as exemplified by the 1929 Hebron massacre in which 69 Jews were murdered by Arabs after their leaders spread the false rumor that Jews were planning to seize control of the Temple Mount and destroy the Al-Aqsa mosque. It is that very same false same rumor that is being used to incite the current wave of Palestinian violence.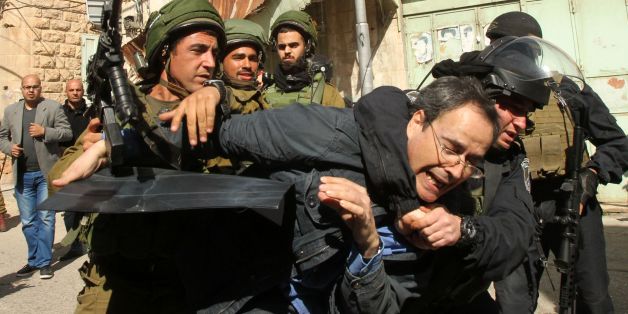 Photo Credit: Hazem Bader via Getty Images
The photo The World Post selected to accompany the article is similarly misleading. Posted without a caption, the image depicts Israeli soldiers violently strong-arming what appears to be a middle-aged Palestinian man with a look of pain on his face. Concerned civilians look on. The choice of photograph speaks directly to the article's intent to tacitly criminalize the IDF and portray Palestinian Arabs as victims. Without a caption, there is no context for this photo and no reader can understand who the man is or even when this incident took place.
In fact, an image search reveals that the photo is of an Israeli protester in Hebron from February. The photo appeared in the Daily Mail with the caption, "Israeli soldiers arrest an Israeli protester during clashes following a demonstration against Jewish settlements on February 20, 2016 in the West Bank city of Hebron ©Hazem Bader (AFP)"
According to the AAA and Huffington Post, "readers are blinded to real causes and potential solutions" to the conflict based on the failures of media coverage. This article contributes directly to that condition.
--Rachel Frommer, CAMERA Intern
Posted by SC at 08:37 AM | Comments (2)
LA Times Obscures Judith Butler's Anti-Zionism
The Los Angeles Times identified Judith Butler, an anti-Zionist activist, as a professor "who has written on Zionism"
The Code of Ethics of the Society of Professional Journalists calls on journalists to "Identify sources clearly. The public is entitled to as much information as possible to judge the reliability and motivations of sources." In her article today about the new University of California policy draft which includes anti-Zionism as a form of discrimination that is unacceptable on campus, The Los Angeles Times' Teresa Watanabe fails to clearly identify one on her sources as an extreme partisan on the issue ("UC proposal on intolerance says 'anti-Zionism' is unacceptable on campus").

She describes Judith Butler, a long-time anti-Zionist activist only as "a Berkeley professor of comparative literature who has written on Zionism." From Watanabe's incomplete and misleading description, readers would incorrectly conclude that Butler is an impartial academic who has written objectively about Zionism and who therefore is well positioned to give a balanced take on the UC draft.

The reality could not be further from the truth. Writing in Al Jazeera, Mark Levine, a professor of Middle Eastern History at UC Irvine, described Butler as "the literary critic and philosopher whose criticism of Israel and support for the Boycott, Divest and Sanctions (BDS) movement have recently defined her in the public eye for more than her seminal research on feminist, queer, literary theory and political philosophy."

A member of the radical Jewish Voices for Peace, Butler's anti-Zionist views envision a "binational" state, commonly understood to mean the dissolution of the Jewish nation state.

Her anti-Israel views were on display in 2011 when she defended the anti-Israel terrorist organizations Hamas and Hezbollah. She stated that "understanding Hamas, Hezbollah as social movements that are progressive, that are on the Left, that are part of a global Left, is extremely important."
Posted by TS at 08:36 AM | Comments (0)
March 15, 2016
'Contested' Sahara Versus 'Occupied' West Bank—Media Myopia

What's the difference between "contested" and "occupied" territories? Often apparently not the territories themselves but who's contesting them.
From Kashmir to Crimea, Nagorno-Karabakh to Taiwan, countries and movements contest dozens of disputed territories, from tiny to large. Except for one involving Jews and their state. In that case, major news media coverage almost always defaults from "contested" to "occupied." The latest example:
"Up to 1 million Moroccans marched through their capital on Sunday to protest the U.N. secretary-general's remarks about the contested [emphasis added] territory of Western Sahara," Associated Press reported ("U.N. chief's remarks spur massive protest," Washington Post news brief, online Mar. 13, 2016, in print March 14 [third item down, here]).
The brief added that "Morocco considers the vast mineral-rich Western Sahara its 'southern provinces' and took offense when U.N. Secretary-General Ban Ki-moon used the word 'occupation' [emphasis added] after a visit this month to refugee camps for the region's native Sahrawis in southern Algeria."
Of course, virtually all major news media refer virtually always to the West Bank (Judea and Samaria) as occupied if not "Israeli-occupied Palestinian territory." Rare—and correct—references to "contested" or "disputed" eastern Jerusalem do appear.
In fact, as the authors of U.N. Security Council Resolution 242 (1967), the cornerstone of all subsequent successful Arab-Israeli negotiations, made clear, the West Bank's legal status was—and remains—disputed. This will be so until a final Arab-Israeli peace agreement that resolves, among other things, Jewish and Arab contested claims in the area. (See, for example, "Washington Post Corrects on West Bank 'Palestinian Land,'" CAMERA, Sept. 7, 2014 here.)
U.N. Secretary General Ban obsessively and mistakenly lectures Israelis about "occupied Palestinian territory" on which it builds "illegal" Jewish settlements. CAMERA has spotlighted this, as in "Ban Ki-moon Wrong About Israeli Settlements," CAMERA, Mar. 15, 2013, Washington Times, March 9.
AP and The Washington Post cover Western Sahara as "contested territory." They—and other media—should do likewise regarding the West Bank. Considering Israel's predominant position under the League of Nations Palestine Mandate, Article 6 and U.N. Charter, Chapter 12, Article 80 among other international provisions, not to mention the Jewish people's more than 3,000-year-old ties to the territories, it's indisputably the least they could do.

Posted by ER at 04:41 PM | Comments (0)
U.S. Visa Service Site Erases Israel

A U.S. Visa Service Web site, used by foreign citizens to facilitate travel to the United States, apparently does not recognize Israel.
Elder of Ziyon, an American blogger who writes about the Arab-Israeli conflict and antisemitism, noted in a blog post on March 14, 2016, that the web site is not part of a government Internet domain. He reports that the service has been outsourced from the U.S. government to a private company, possibly Computer Sciences Corporation, which is listed at the bottom of the page. However, he noted:
"It really is the official U.S. visa site, though, and a number of U.S. embassy and consulate webpages point there." The U.S. Embassy in Chile even states that it is "the only authorized website for the payment of visa fees [emphasis added]."
Yet, the page on the web site that offers prospective travelers the ability to choose which country they are from, omits the nation of Israel. The names of other countries appear next to their respective flags and languages spoken.

Not only does the country listing for Israel not appear, but the Israeli flag is similarly missing. By contrast, nations much younger than the Jewish State (re-established in 1948), such as the United Arab Emirates (established 1971) are listed by name next to their flag.
Instead of showing Israel, the Israeli cities of Jerusalem and Tel Aviv are listed.
No other countries on the site feature city names, including the only other nation not to have its flag shown: Cyprus. Elder of Ziyon notes:
"But if Israel would be mentioned, then Palestinian Arabs would be far more upset than Israelis would be for pretending Israel doesn't exist. So this site used by the US embassies and consulates worldwide decided it is better to offend Israelis by pretending it doesn't exist than to offend Palestinians by saying Israel does exist."
The U.S. Visa Web site is not the only outlet or entity to make the Jewish state disappear. As CAMERA has noted, schools in Sweden ("School in Sweden Teaches Pupils Israel Doesn't Exist," Feb. 1, 2016), HarperCollins, a publisher of atlases ("HarperCollins Erases Israel, Then Corrects," Jan. 5, 2015) and Intercontinental Hotels ("Intercontinental Erases Israel," March 9, 2006), among others, each have removed any mention or reference to Israel, at one time or another.
More recently, in a graph claiming to detail every major refugee crisis in the last 75 years, The Washington Post omitted any mention of the more than 800,000 Jewish refugees from Middle Eastern and Arabic lands—twice refusing to correct without explanation ("The Post erases nearly 1 million Jews from history," Washington Jewish Week, Feb. 3, 2016).
Palestinian Authority (PA) President Mahmoud Abbas has made murdered Jews disappear: In his Soviet-sponsored doctoral dissertation Abbas claimed that less than a million Jews had been killed in the Holocaust—instead of the more than six million murdered by Nazi Germany and its collaborators.
The U.S. State Department's Bureau of Consular Affairs, which oversees the U.S. Visa Service, claims that it "contributes significantly" to the U.S. government's "goal of promoting international exchange and understanding." Exactly how does erasing the world's sole Jewish state and the Middle East's lone democracy do that?
Posted by SD at 01:25 PM | Comments (3)
March 14, 2016
LA Times Wrong on Rocket Redux
March 15 Update: Los Angeles Times Corrects After Underreporting Gaza Rocket Attacks
The Los Angeles Times incorrectly reported that Friday's rocket attacks against Israel were the first instance of rocket fire from Gaza since October 2015. In fact, at least twice monthly in November, in December and in January, Palestinian terrorists fired rockets at Israel.
Kate Shuttleworth and Rushi Abu Alouf erred yesterday: "The last missile attack from the Gaza Strip was in October 2015."
(Palestinian terror groups fired rockets, not missiles, into Israel, including in October 2015).

Thus, on Jan. 24, the Associated Press reported: "Earlier Monday, the Israeli military said it fired an aerial strike at a Hamas military training facility in the Gaza Strip in response to rocket fire from the territory. No injuries were reported."
According to Haaretz, Palestinian terror groups fired five rockets at Israel on New Year's Day.
On Jan. 1, the Associated Press reported: "Late on Friday, gunmen in the Gaza Strip fired two rockets at Israel causing no injuries or damage, the Israeli military said."
On Dec. 17, 2015, Haaretz reported that a rocket fired that evening at Israel fell short, landing in the Gaza Strip.
On Dec. 13, 2015, AP reported: "Late Sunday, the Israeli army said Palestinian militants in the Gaza Strip fired a rocket that landed in an open area of southern Israel. No injuries were reported."
On Nov. 18, Haaretz reported that a rocket fired from the Gaza Strip exploded near the border fence.
Again, on Nov. 8, 2015, AP reported: "Later [Sunday], militants in the Gaza Strip fired a rocket at Israeli that exploded in the south of the country causing no injuries or damage, the military said. Gaza militants inspired by the Islamic State group have taken responsibility for recent rocket attacks. Israel holds the Islamic militant group Hamas that rules Gaza accountable for all attacks emanating from the territory."
CAMERA has contacted editors to request a correction. Stay tuned for an update.
Posted by TS at 06:10 AM | Comments (0)
March 11, 2016
CAMERA Tells Times Dispatch: No, 'Moderates' Did Not Win in the Iran Elections

(The letter below was published by the Richmond Times-Dispatch on March 11, 2016)
"The Times-Dispatch editorial "Iran votes for reform—maybe (March 3)" omits important information about the recent elections in Iran for parliament and the Assembly of Experts.
The editorial rightfully notes that Iranian President Hassan Rouhani is "described as a moderate," but "does not resemble Joe Biden or John Kasich." This is correct—Rouhani is a regime insider who served as first secretary of the Supreme National Security Council when the Islamic Republic bombed Israel's embassy and a Jewish community center in early 1990's Argentina and assassinated regime critics on European soil.
Yet, the Times-Dispatch omitted that Iran's unelected Guardian Council disqualified around 60 percent of the candidates who sought to run for parliament, including 99 percent of the reformist candidates, as well as 80 percent of the candidates for the Assembly of Experts. The latter body chooses the Supreme Leader, the man who ultimately holds final say in the Islamic Republic's totalitarian theocratic system.
Of those not disqualified, Saeed Ghasseminejad, an analyst with Foundation for Defense of Democracies, a D.C.-think tank, said that the Rouhani camp saw it "could not win the AoE [Assembly of Experts] election so it decided to announce those who win are moderate and reformist even if they say they are not."
If Rouhani did—as the editorial claims—receive a "boost," it was from similarly immoderate regime insiders like former intelligence minister Ghorbnali Dorri Njafabadi and Mohammed Emami-Kashani, among others. The former is believed to be responsible for killing Iranian dissidents, the latter claims that the United States and Israel created al-Qaeda. Both won elections as "moderates."
Reformers did not, as your editorial states, prevail in the elections. The regime did.
Sincerely,
Sean Durns
Committee for Accuracy in Middle East Reporting in America"
Note: This post was updated on March 20, 2016
Posted by SD at 12:59 PM | Comments (0)
UPDATE: Peace Now Head Condemns Extrajudicial Killings, Not Self-Defense
PA President Mahmoud Abbas
(Note: This post was corrected on March 14, 2016. CAMERA, relying on a report from Israel National News, erred in saying that Peace Now's General Director, Yariv Oppenheimer, criticized terror victim Yonatan Azarihab for defending himself. In fact, Oppenheimer was criticizing those who, after Azarihab neutralized the Palestinian terrorist, killed him. CAMERA regrets the error)
The head of Peace Now, an Israel-based organization that repeatedly has opposed the policies of the Israeli government, has condemned Israeli responders to a Palestinian terror attack for committing an "extrajudicial" killing by shooting the terrorist.
Yariv Oppenheimer, the head of the organization, accused Israelis responding to the scene of an attack in Petach Tikva on March 8, 2016 of "executing" the terrorist without trial.
Eleven persons were wounded in terror attacks that day in Jaffa and Petach Tikva. The Jaffa attacks took the life of tourist and U.S. Army veteran Taylor Force, 29, a graduate student at Vanderbilt University.
During the assault in Petach Tikva, one of the victims, Yonatan Azarihab fought back. After being stabbed in the neck, the Israeli removed the knife from his own body and then used it to stab the terrorist who reportedly had set about to find other victims.
According to Israel National News (Artuz Sheva), Oppenheimer took to the social media platform, Twitter, claiming Israeli responders executed the terrorist:
"This is how it goes [,] from neutralizing terrorist to execution without trial."
Contrary to numerous instances of poor and biased anti-Israel media coverage (for a list of some examples, see "Wave of Palestinian Violence Accompanied by Spate of Bad Writing, "CAMERA, Oct. 14, 2015), Oppenheimer claimed "in the present atmosphere, no one in the media dares to report and deal with the issue." Perhaps this is because in reality the "issue" of Israeli extrajudicial killings as covered by news media has been minimal, unlike the wave of Palestinian Arabs wantonly trying to murder Israelis.

CAMERA has previously noted ("Israeli Court: Peace Now Lied, Must Pay Now," Dec. 23, 2008) Peace Now's credibility problem. Among other instances, the advocacy group falsely claimed that "a large proportion of the settlements built on the West Bank are built on privately owned Palestinian land," including 86.4 percent of the Jewish community of Ma'ale Adumim and 35.5 percent of Ariel. After repeatedly refusing to address concerns with these numbers raised by CAMERA and others, the group was forced to admit that only 0.54 percent of Ma'ale Adumim's land was privately owned by Palestinian Arabs—an error of nearly 16,000 percent.
In 2008, a similar failure by the group to admit another false claim regarding Israeli settlements and Palestinian-owned property led to a successful libel suit, in which Peace Now and some staffers were ordered to compensate aggrieved parties and to issue public apologies.
Despite this court decision, some media outlets still treat Peace Now as an unquestionably credible source, failing to provide details of the group's history to their readers (see, for example, "Post-Watch: Washington Post Discredits Itself on Israel," CAMERA, Dec. 9, 2011).
If Peace Now can document extrajudicial killings of terrorists already incapacitated by would-be victims, passers-by or police or other members of security forces, it should detail the evidence, not take to 140-character tweets.
Posted by SD at 10:55 AM | Comments (0)
March 10, 2016
Palestinian Evangelical Leader: Yep, We're Anti-Zionists
Munir Kakish, President of the Council of Evangelical Churches in the Holy Land (Photos: Dexter Van Zile)
The Christ at the Checkpoint Conference concluded today, March 10, 2016. The stated goal of the conference was to give Christians the information they needed to address religious extremism as it relates to the Israeli-Palestinian conflict.
The conference, which is organized by Bethlehem Bible College, a non-denominational Christian institution of higher learning in the West Bank, got off to a rough start.
Invitees said some things that they shouldn't have during the opening night of the conference, Monday, March 7, 2016.
For example, the Christian mayor of Beit Jala, where the conference was held, compared Israel to ISIS. That's not a good way to establish the credibility of Palestinian Christian leaders in the West Bank.
Also, an official from the Palestinian Authority (who spoke in Arabic) used conference director Rev. Dr. Munther Isaac as a puppet to tell the audience that the Palestinians have embraced the principle of coexistence, a tough thing to believe in the midst of a five-month stabbing spree that has cost dozens of Israelis their lives.
That's not all. A prominent Palestinian Evangelical leader said explicitly what many people believed all along: Palestinian Evangelical churches are dedicated to the cause of anti-Zionism.
Yes, that's what he said.

With politicians and security officials from the Palestinian Authority sitting in the front row, Munir Kakish, president of the Council of Evangelical Churches in the Holy Land boldly declared that his organization was at the service of anti-Zionism.
"Palestinian Evangelical churches are working on the intellectual and ideological rejection of Zionism and racism against our people," he said, echoing the language of the Zionism is racism resolution passed by the UN General Assembly in 1975.
It does not get any clearer than that. Anti-Zionism is part of the Evangelical agenda in the Holy Land.
It's not a hidden agenda.
It's a stated agenda.
The conference's main business began on Tuesday, when speakers addressed the problem of religious extremism in Islam. On Wednesday, they addressed the issue of extremism in Christianity (with Christian Zionism portrayed as an expression of this extremism). Today, the topic was Jewish extremism.
As stated on an article on CAMERA's main page, the Muslim speaker who addressed religious extremism in Islam was Mustafa Abu Sway, an Imam who serves on the Waqf Council which overseas the management of the Al Aqsa Mosque, which is a center of ugly anti-Semitic incitement in Palestinian society.
Abu Sway, who has stated that the narrative that comes out of Al Aqsa Mosque is a "decent, moderate narrative" despite mountains of evidence to the contrary, downplayed the impact Muslim extremism on the Arab-Israeli conflict. Palestinian violence, he stated, was rooted in anger at Israeli policies.
To further his point, Abu Sway falsely reported in a video interview with conference organizer Rev. Dr. Munther Isaac that Palestinians never taught their children to hate. Of course they have. Isaac should have pressed him on this issue in the interview, but he didn't.
One speaker who addressed Christian Zionism as an example of religious extremism was Hank Hanegraff, AKA the Bible Answer Man. Another speaker was the previously mentioned Munther Isaac.
Isaac argued that Christian Zionism has a negative impact on Palestinian Christians because as a theology it promotes prejudice and superiority and leaves no place for the Palestinians in Israel. He also lamented Christian Zionists "control the narrative" about the conflict in the Evangelical community.
Hanegraff's critique was based on the superssessionist notion that God's promises to the Jews are not relevant in the modern era because they have already been fulfilled in their entirety and that there is only one chosen people, the followers of Jesus Christ.
The demonstration of this reality, Hanegraff asserted, was revealed with the destruction of Jerusalem foretold by Jesus Christ in the New Testament. (German theologian Manfred Kohl has made this point previously at the Christ at the Checkpoint.)
It is ironic that Hanegraff would promote the notion that God's promises to the Jews are a dead letter at a conference dedicated to combating religious extremism, because such arguments have been used by both Christians and Muslims to justify the oppression and murder of Jews throughout history.
Hanegraff also argued that while "cultural Zionists" portray ethnic cleansing as a "defensible cruelty," Christian Zionists portrayed it as a "divine command."
At points during Hannegraff's talk, audience members said "Amen," and when he was through, he got a powerful round of applause. Apparently, they liked Hanegraff's brand of Christian triumphalism.
Rabbi Arik Ascherman from Rabbis for Human Rights, an Israeli organization that advocates for Palestinians in the West Bank spoke on the Jewish extremism. Unlike Mustafa Abu Sway, the Muslim dialogue partner at the conference, Ascherman addressed the impact of extremism in his faith tradition head-on.
His talk opened with a video of a masked man pushing Ascherman to the ground and placing a knife at his throat. (Subsequent discussion revealed that the man with the knife was an Israeli Jew who lived in the West Bank who felt apparently felt threatened by Ascherman's activism on behalf of the Palestinians.)
After the video Ascherman lamented that religious Jews are more likely to harbor hostility toward Arabs than secular Jews and that while Jews are a scarred people as the result of the Holocaust, they still have a special obligation to remember that their fellow human beings are made the in the name of God.
Ascherman took a risk. He bared his soul in a compelling manner and lamented the bad acts of his fellow Israeli Jews to an audience that the day before had been told that God's promises to the Jews were a dead letter.
It was a profound and moving display of Jewish self-criticism before an audience that the day before roundly applauded a Christian superssessionist who stated, in effect, that the destruction of Jerusalem was God's last word on the Jewish people.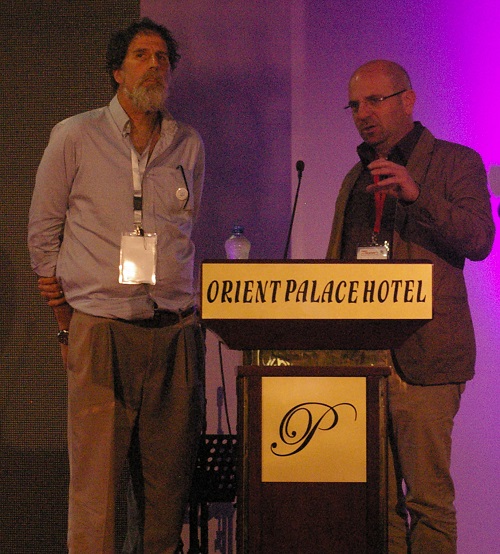 But Ascherman's risk-taking was not enough, for after he was through talking, Sami Awad, executive director of the Holy Land Trust and a prominent conference organizer, stepped up to the podium and asked the activist three questions. (Photo above.)
The first question was what was it in the Jewish tradition that made the man who attacked Ascherman see the activist as an enemy.
In response, Ascherman said he didn't know, but that the attacker was a friend of the Fogel family that was brutally murdered in their sleep in Itamar in 2011.
The second question was what God's will is for Awad, a Palestinian Christian, in light of the land promise to Jews. Ascherman said that while there are some Jews who believe that non-Jews have no rights in the land of Israel, the vast majority of them believe that stealing from non-Jews is theft.
The third question Awad asked is how Jews deal with the concept of chosenness. Ascherman answered that chosenness does not elevate Jews over non-Jews or make them better than non-Jews but places greater responsibility on them.
Note: Rabbi Ascherman has contacted CAMERA with a response which is posted at the end of this entry.
These are all reasonable topics of discussion, but the question is, why were these questions singularly directed at Ascherman? Why were the representatives and Islam and Christianity not challenged to address the issue of chosenness in their faiths? It's not as if chosenness is unique to Judaism, a point made later in the day by Father David Neuhaus, a Jewish convert to Catholicism and a Jesuit scholar, who reminded the audience that the concept of chosenness is also present in Islam and Christianity as well.
And why was Hanegraff not challenged on his triumphalism? Why wasn't Abu Sway called out on his evasions? Why was Ascherman the only one subjected to questioning after his talk?
Virtually every other speaker in physical attendance at the conference was allowed to leave the stage to applause without challenge.
But not the Jew. The different treatment was remarkable.
Ascherman and Awad are friends, but the singling out of Ascherman for further questioning still highlights the manner in which Christ at the Checkpoint and other Palestinian Christians subject Judaism, Zionism and Israel to intense scrutiny while giving Islam, Islamism and Palestinian leaders a pass.
With this behavior they have enlisted in the propaganda war against Israel, just as Evangelical pastor Munir Kakish said on the first night of the conference.
Nevertheless, there was one aspect of the conference that was noteworthy and praiseworthy. On Wednesday, during the day's discussion about Christian Zionism, Sami Awad showed a short video that included testimony from two of his friends in Hamas.
As the Hamas leaders spoke on camera, they made it perfectly clear they hate Israel and want to see it destroyed.
One Hamas member stated that there was no religious evidence of Jews living in the land and that Europe threw its problems onto the Middle East when it supported the creation of the Jewish state.
Another called Israel "a void state on land that belongs to the Palestinian people."
On one hand critics can assert that Awad had no business giving Hamas leaders a chance to air their views at the conference, but this misses an important point: No conference attendee who saw the video can deny that the Hamas members who appeared on screen hate Israel with a steely resolve. The Hamas leaders didn't shout, but expressed their contempt in quiet, even tones.
After the two leaders from Hamas spoke, Israeli Rabbi Hanan Schlesinger (another friend of Sami Awad's) explained why he was not all that bothered by Christian Zionism and was in fact glad for the movement's support.
Israel has enemies who want to destroy it and needs all the friends it can get, Schlesinger said. Moreover, Christian Zionism, Schlesinger said, was a nice change from the curses Christians have directed at Jews for the past 2,000 years.
By giving two Hamas leaders a chance to express their contempt for Israel, Awad demonstrated that Rabbi Schlesinger's statement about Israel having enemies who want to destroy it was not Zionist hyperbole, but grounded in reality.
Does this mean that Christ at the Checkpoint is going to turn over a new leaf? Don't hold your breath.
CATC organizers stated at the end of the conference that there will be another CATC conference in two years and that it will be devoted to confronting Christian Zionism, just like the previous events.
Maybe, in 2018, they will do a better job vetting the welcoming remarks of the people who speak the first night of the conference.

Note: Rabbi Ascherman has responded to this post via Facebook. Here is what he has written:
My comments didn't only contain self criticism. I challenged everybody not to use their faith traditions to justify oppressing others, spoke about Christian triumphalism, made it clear that I am a Zionist, spoke about Palestinian terror, etc. I didn't say that the vast majority of Jews oppose theft of land from Palestinians (although I do believe that many do oppose theft), but rather pointed out that the vast majority of Jewish authorities throughout the ages (not all) acknowledged the property rights of non-Jews in the Biblical Land of Israel, and said that theft of such lands is theft. I acknowledged that those who advocate the dispossession of Palestinians and violence have sources in the Jewish tradition to base themselves on, but also quoted sources in our tradition leading to a different approach. I also received many rounds of applause, and was requested to spend some more time with students in attendance. Many came up to me afterwards appreciating that I was able to avoid extremism in one direction or another: laying out the Judaism I believe in and its sources, without glossing over our tradition's complexities; confronting Israeli oppression of Palestinians while not delegitimizing Israel or ignoring Palestinian violence.

Posted by dvz at 07:33 PM | Comments (1)
Watchdog: Iran Nuclear Deal Prevents Public Reporting of Violations
Ayatollah Ali Khamenei, Iran's Supreme Leader

Yukiya Amano, head of the United Nations' International Atomic Energy Agency (IAEA) admitted on March 7, 2016 that the Iran nuclear deal limits public reporting on potential violations by Tehran.
The IAEA is tasked with ensuring Iranian compliance with the agreement between six countries—Germany, the United Kingdom, France, Russia, China, the United States—and Iran over the latter's purported illegal nuclear weapons program.
According to The Washington Free Beacon, an online newspaper, Amano "told reporters that his agency is no longer permitted to release details about Iran's nuclear program and compliance with the deal ("IAEA: Iran Nuke Deal Limits Public Reporting on Possible Violations," March 7, 2016)." Amano made his remarks after questions arose about the February IAEA oversight report not being transparent.
The IAEA head stated that the report was purposefully vague because the nuclear agreement prevents the watchdog from publishing critical data about the Iranian program that had been disclosed previously.
National Review Online noted that this is the result of a Dec. 15, 2015 IAEA Board of Governors resolution that directed the agency to "cease reporting on Iran's compliance with its Nuclear Nonproliferation Treaty obligations and past Security Council resolutions ("In Yet Another Secret Side Deal, Iran's Nuclear Violations Won't Be Publicly Disclosed," March 9, 2016)." The magazine notes that this also means that the possible military dimensions of the nuclear program no longer will be publicized by the IAEA—despite a December 2 report that "raised several serious unresolved questions about Iran's nuclear weapons-related activities."
The February IAEA report did not provide information about Iran's stockpiles of low-enriched uranium or Iran's nuclear centrifuges, the machines responsible for enriching uranium.
Free Beacon noted that both these omissions and others led to nuclear experts like former IAEA deputy director general Oli Heinonen raising questions about the report. Heinonen, now an analyst with Foundation for Defense of Democracies, a D.C.-based think tank, said that the report by the watchdog agency "does not list inventories of nuclear materials and equipment or the status of key sites and facilities."
Despite lacking these details, that report was used as the basis for the agreement to proceed to the next stage: implementation, which among other things included $100 billion in sanctions relief. As CAMERA noted, then-Chairman of the U.S. Joint Chiefs of Staff Gen. Martin Dempsey remarked in June 2015 that these unfrozen funds likely will be used by Iran to subsidize terrorists ("Gen. Dempsey: Iran Sanctions Relief Will Fund Terrorism," July 6, 2015).
Iranian belligerence and failure to comply with international law was on display in other recent Islamic Republic initiatives.
On March 8, Iranian state media stated that the Islamic Republic had conducted a series of precision-guided missile tests. This was the second such test since October 2015 and both instances violate U.N. Security Council resolutions.
Two of the ballistic missiles had the phrase "Israel must be wiped out" written on them according to Iranian information media. The head of the Iran's Islamic Revolutionary Guard Corps' aerospace division, Amir Ali Hajizadeh, told state TV: "The 2,000 kilometer range of our missiles is to confront the Zionist regime. Israel is surrounded by Islamic countries and it will not last long in a war. It will collapse even before being hit by these missiles." The test took place—perhaps not coincidentally—while U.S. Vice President Joe Biden visited Israel.

As CAMERA has noted ("Elie Wiesel Challenges President Obama; Washington Post Misses Story," April 30, 2012) Iran has threatened to destroy Israel—which violates the U.N. Charter Article 2 against aggression and the U.N. anti-genocide convention.
That violation can—unlike some violations of the nuclear agreement—be reported publically.
Posted by SD at 01:08 PM | Comments (0)
A Striking Difference Between the AP and Reuters Reports on the Palestinian Response to the Murder of Taylor Force
Yahoo News carried reports from both the Associated Press (AP) and Reuters on the fatal stabbing of American West Point graduate and combat veteran, Taylor Force.
The AP report included the following discussion of the official Palestinian response:

Biden criticized the Palestinians for failing to condemn the stabbing, after Palestinian President Mahmoud Abbas' political party posted a statement online praising the stabber.

A statement from Abbas' office following his meeting with Biden on Wednesday night said Abbas offered his condolences for the American's death, but stressed that Israel has killed nearly 200 Palestinians during the current round of bloodshed.
The Reuters report included the following:
"Let me say in no uncertain terms, the United States of America condemns these acts and condemns the failure to condemn these acts," Biden said, with Netanyahu at his side, in remarks that appeared critical of Palestinian leaders.

Palestinian leaders say many Palestinian attackers have acted out of desperation in the absence of movement towards creation of an independent state. Israel says they are being incited to violence by their leaders and on social media...

Abbas expressed his condolences over Force's death, according to the official Palestinian news agency WAFA, and said the establishment of a Palestinian state was key to ending the violence.
Notice that Reuters employs obtuse wording that fails to clearly convey that Vice President Joe Biden's remarks were directed at the Palestinian leadership for failing to condemn the murder and the Reuters report makes no mention at all of the ruling Fatah party's praise for the stabber.
Posted by SS at 11:39 AM | Comments (0)
March 09, 2016
Updated: Two News Agencies Amend Original Role Reversing Headlines Concealing Palestinian Terrorism
It seems whenever there is a rise in Palestinian terrorism, there is a concomitant rise in bad headlines attempting to reverse the roles of victim and perpetrator.
Yesterday, we told you that New Zealand TV originally headlined an AP story about three of the day's terror attacks against Israelis perpetrated by Palestinians as follows:

But as soon as we contacted them about the problematic headline, they immediately amended it to the more accurate: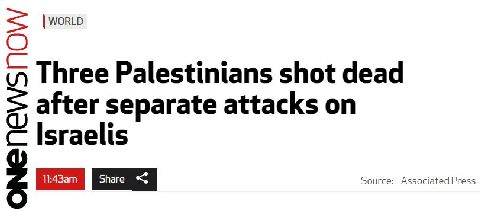 The International Business Times similarly weighed in with a role reversing headline and an article that erroneously minimized Palestinian aggression. The original IBT headline:

The article by Priyanka Mogul downplayed Palestinian violence by erroneously stating that

The attempted stabbings by Palestinians and shootings by Israeli forces occurred hours before US president Joe Biden arrived in Israel.
Contrary to her statement Palestinians did not just "attempt" to stab Israelis, nor was it only Israeli forces who "shot" with guns. Palestinians critically injured Israelis with guns and seriously wounded Israelis and murdered an American tourist by stabbing them.
We contacted the editors at the International Business Times, pointing out that their headline and article distort the news even as they claim to be "a trusted source of real-time news, intelligence and analysis." The story and headline were subsequently updated to accurately reflect the facts. The headline now reads: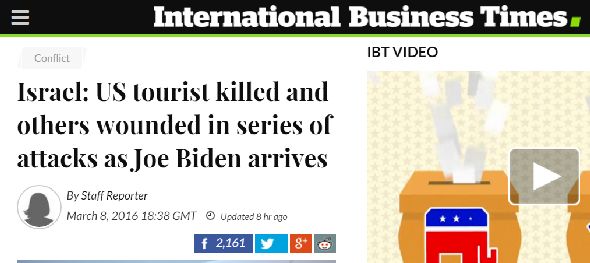 And the article now accurately relays the facts and identifies the perpetrator in the lede paragraph as follows:
An American tourist was killed and several others wounded in a series of attacks by Palestinians targeting civilians as well as Israeli security forces. The incidents took place on 8 March in Jerusalem's Old City, in Jaffa, south of Tel Aviv and in the central city of Petah Tikvah, Israeli police said. Three Palestinians attackers were shot dead by Israeli security forces.
Posted by RH at 03:33 PM | Comments (0)
How Well Did Your News Source Cover the American Murdered by a Palestinian on March 8, 2016?
The Knoxville News provided a brief biography of the American graduate student, Taylor Force, who was murdered in Jaffa, Israel by a Palestinian terrorist. The article's lead sentence stated, "A West Point graduate who served tours of duty in Iraq and Afghanistan was the Vanderbilt University student stabbed to death during a series of attacks in Israel, officials said." It also provided a photograph of Force (above).
A Reuters article identified Force as the victim of the attack, but offered no information except that he was a "tourist."
The Huffington Post, relying upon the Reuters report supplied no further information.
An Associated Press (AP) report appearing on Yahoo News identified Force as a graduate student at Vanderbilt, but did not mention his military service or that he was a graduate of West Point.
National Public Radio had not covered the tragic murder at all at the time this blog item was posted.
PBS's Gwen Ifill reported "In the day's other news: An American tourist was killed and a dozen Israelis wounded in a fresh wave of Palestinian attacks. The tourist, identified as a Vanderbilt University student, died in Jaffa, where an assailant stabbed seven people, before being killed by police."
Evidencing a disturbing detachment from the shocking incident, the Newshour proceded with an interview by Judy Woodruff of New York Times columnist Thomas Friedman about Vice President Biden's trip to Israel. After briefly noting the stabbing attack, the interview moved on and never mentioned it again. Friedman demonstrated exquisite poor timing with an analogy about the Israeli-Palestinian peace process, stating,

It's actually been dead for a while. I just called it by its real name. It's clear to me, Judy, that both sides have conspired. This was like "Murder on the Orient Express." There were so many stab wounds in this body, hard to tell exactly which one was the fatal blow.
Friedman closed the interview with his oft-repeated and tired analogy, "friends don't let friends drive drunk, and we have been letting a lot of people drive drunk."
In contrast, CBS News ran a segment providing information about Force, his military service and a photograph.
The BBC report identified Force as a Vanderbilt graduate student but did not mention his military service or that he was a graduate of West Point.
A USA Today report provided the information that Force was a graduate student at Vanderbuilt and that he was a graduate of West Point who had served as an Artillery officer in Iraq.
The International Business Times published a report at approximately the same time as the other sources listed above identifying Force as a veteran of both Iraq and Afghanistan and also noting that a pregnant woman was among the other seriously injured victims of the stabbing attack. The article included a photograph of Force.
London's Daily Mail carried the most extensive report on the incident. Its coverage included photographs of Force and his sister. Force's wife was also seriously injured in the attack. It included numerous photographs and video footage of the attack.
None of the early reports appear to have included statements by Fatah, the ruling party in the West Bank, praising the attacker as a hero and martyr. A New York Times article published around 9:00 AM on March 9, quotes Israeli Prime Minister Benjamin Netanyahu as stating, "But unfortunately President Abbas has not only refused to condemn these terrorist attacks, his Fatah party actually praised the murderer of this American citizen as a Palestinian martyr and a hero." The Washington Post also reported on Abbas's praise for the attack. It will be interesting to observe which, if any, of the above-mentioned sources will provide updated articles with this information.
Posted by SS at 10:24 AM | Comments (1)
LA Times Headline Double Standards
Like CNN, The Los Angeles Times opts for the passive voice in a headline about the murder of American tourist Taylor Force, obscuring Palestinian culpability for violence. In print, today's headline is:
Similarly, the online version reads:
Both of the headlines are in passive voice and neither identifies the Palestinian assailant who murdered Taylor Force on a peaceful street.
Now, let's compare with a recent case involving a Palestinian fatality. After two Israeli soldiers last week took a wrong turn into a Palestinian refugee camp, and residents pelted their vehicle with firebombs and rocks, forcing them to flee for their lives, the Israeli army sent in troops to rescue them. Residents battled the troops trying to save the soldiers, and in the course of the violent clash, there was one Palestinian casualty, Iyad Sajadiyya.
When it comes to a Palestinian killed as he participated in a gun battle, does The Los Angeles Times resort to the passive voice, as it did in the case of Force's murder? Hardly. The Times' headline in print was:
Here, Times headline writers find the active voice. If they can write "Israelis kill Palestinian" (even though the killed Palestinian was involved in clashes with Israeli troops trying to rescue soldiers at the time he was killed), why can't they say a "Palestinian killed U.S. tourist"?
In another instance of obscuring Palestinian responsibility for violence, Kate Shuttleworth writes in the article today about Taylor Force:
The violence Tuesday made it one of the bloodies days in a five-month wave that has left 33 Israelis and nearly 200 Palestinians dead.
She fails to note that the vast majority of the Palestinian fatalities were attacking or attempting to attack Israelis when they were killed. The rest were involved in violent clashes with Israeli troops. As the Associated Press reports:
The wave of near-daily Palestinian assaults on Israeli civilians and security forces erupted in mid-September and is showing no sign of abating. The bloodshed - mainly stabbings but also shootings and car-ramming attacks - has killed 28 Israelis. During the same time, at least 179 Palestinians were killed by Israeli fire. Most of the Palestinians have been identified by Israel as attackers, while the rest were killed in clashes with security forces.
Posted by TS at 07:50 AM | Comments (1)
CNN Obscures Palestinian Attacker's Identity, Again
Yet again, CNN obscures the identity of another Palestinian attacker. Yesterday evening, Bashar Masalha, a 22-year-old Palestinian from the northern West Bank, went on a stabbing spree in the mixed Arab-Jewish city of Jaffa, killing Taylor Force, and wounding several more. As of this writing, CNN's headline about the attack is: "American fatally stabbed in Israel terror attack that wounds 10 others."
The headline, in passive voice, fails to identify who stabbed the American, a key piece of information about the incident which was readily available. According to the time stamp, the post was last updated at 6:38 am GMT today. Some 12 hours before then, Israel police spokesman Micky Rosenfeld had already confirmed that the attacker was Palestinian.

In addition, the accompanying article buries the essential bit of information -- who carried out the attack -- in the 17th paragraph. The relatively few readers who make it that far learn:
Israeli police spokesman Micky Rosenfeld tweeted that the attacker, a Palestinian from the West Bank, was fatally shot by police.
Then, incredibly, several paragraphs later, CNN explains that Israeli authorities blame Palestinians for a spate of terror attacks, as if it isn't actually certain that Palestinians are responsible for the spate of terror attacks.
Finally, it should be noted, that in an earlier version of the article, the word terrorist appeared in scare quotes. (Screen capture is below.) Likewise, the original headline also referred to Taylor Force's killer as a "terrorist," with the qualifying quotes.
Posted by TS at 04:47 AM | Comments (3)
Mayor of Beit Jala Lays It on Thick at Christ at the Checkpoint
Nicola Khamis, the mayor of Bethlehem (pictured above), took full advantage of his shot at stardom two nights ago. Khamis gave one of the obligatory welcoming speeches on the opening night of the Christ at the Checkpoint Conference that is currently taking place in the Bethlehem suburb where he serves as mayor.
This guy makes Mayor Quimby from The Simpson's look like an honest politician. During his speech in the ball room of the newly opened Orient Palace (which by the way, is a pretty nice hotel!), Khamis laid on thick and nasty, telling his listeners that the Israeli occupation is reducing Beit Jala, a town where BMWs and Mercedes line the streets, to "starvation." Really.
"The Israeli occupation for the benefit of thousands of illegal settlements, have (sic) condemned our town to die of starvation," he said.
Khamis also compared Israel to ISIS and Israeli Prime Minister Benjamin Netanyahu to ISIS leader Abu Bakr Al Baghdadi: "Ladies and Gentlemen, it makes no sense to fight the Islamic State of Abu Bakr Baghdadi while supporting the Jewish state of Netanyahu."
That's just crazy.
It's not the only bizarre statement offered to the audience during this year's Christ at the Checkpoint Conference. Muslim Scholar Mustafa Abu Sway said that Palestinians "never" taught their children to hate. For more information about this falsehood, please go to CAMERA's main website and read this article.
This is the type of stuff that attendees are exposed to at the Christ at the Checkpoint conference, a so-called Christian peacemaking conference.
This is not peacemaking. This is propaganda and misinformation.

Posted by dvz at 01:59 AM | Comments (1)
March 08, 2016
Palestinian Leader Expresses 'Great Sorrow and Deep Anguish' Over Death of Terrorist
PA President Mahmoud Abbas addressing the U.N. General Assembly in November 2012

A condolence letter from Palestinian Authority (PA) President Mahmoud Abbas to the family of a terrorist killed trying to run over Jews expresses "great sorrow and deep anguish."
According to the Middle East Media Research Institute (MERI), a non-profit organization that translates Arab and Persian media, Abbas sent the letter on March 6, 2016 to the family of Amani Hosni Jawad Al-Sabatin. Two days before, on March 4, Sabatin was killed after she attempted a car-ramming attack against a group of Israeli soldiers at Gush Etzion junction, just south of Jerusalem.
In his letter, Abbas—who has frequently been referred to by press and policymakers as a "moderate"—calls the deceased terrorist a "martyr who quenched the land of Palestine with her pure soul." After expressing his sorrow and anguish, the PA leader states:
"I beseech Allah the Exalted and the Omnipotent to bestow upon this martyr His many mercies, and may she rest in Paradise. May Allah fill your heart with forbearance and consolation."
This was not the first instance of Abbas glorifying terrorists, live or dead. As CAMERA has noted ("Where's the coverage? Abbas is No Angel," May 20, 2015) Abbas has praised Dalal Mughrabi, a terrorist who helped perpetrate the 1978 Coastal Road Massacre that murdered 38 Israelis, including 13 children. He had similar kind words for Nazi collaborator Haj Amin al-Husseini, the Grand Mufti of Jerusalem. Abbas called al-Husseini—who organized attacks against Jews in British-ruled Mandate Palestine and was wanted by Yugoslavia for recruiting Muslims into Adolf Hitler's SS during World War II—a "pioneer" on official PA TV on Jan. 4, 2013.
On Feb. 4, 2016, Abbas hosted 11 families of Palestinians killed while attacking Israelis in his office ("Palestinian official takes time off from glorifying terrorists," The Hill, Feb. 12, 2016).
The Interim Agreement of the Oslo Accords of Sept. 28, 1995 states that the PA and Israel "shall seek to foster mutual understanding and tolerance and shall accordingly abstain from incitement, including hostile propaganda, against each other and, without derogating from the principle of freedom of expression, shall take legal measures to prevent such incitement by any organizations, groups or individuals within their jurisdiction."
The agreement was signed by Abbas' predecessor, Palestine Liberation Organization (PLO) head Yasser Arafat—who reaffirmed the Palestinian commitment on Jan. 15, 1997 in a Note for the Record attached to the Hebron Protocol.
Abbas also signed the Interim Agreement on behalf of the PLO, having served as the head of group's Negotiating Affairs Department during talks between Israel and the United States. Yet, unlike his letters in Arabic to the families of terrorists, Palestinian anti-incitement commitments have been better known in English.
The same day that MEMRI's translation of Abbas' letter praising al-Sabatin was made public, a senior aide to Abbas named Husam Zomlot told The Wall Street Journal, "Over the next 10 months [of the current U.S. administration], President Obama could be the savior of the two-state solution or bury it ("White House Working on Renewed Mideast Peace Push," March 8)." When it comes to burying peace, Abbas seems more than ready to affix his signature.
Posted by SD at 04:35 PM | Comments (1)
U.N. School Celebrates Palestinian Stabbing of Jews
Hamas leader Ismail Haniyeh and a toddler in al-Qassemite martyrs brigade regalia at a Hamas rally

A United National Relief Works Agency (UNRWA) school in Gaza City held a ceremony that celebrated stabbings of Jews by Arabs.
Elder of Ziyon, an American blogger and researcher who writes about antisemitism and the Arab-Israeli conflict, reported on March 7, 2016, that while "Israelis were being stabbed and run over daily by Palestinians," the UNRWA school held a function on Oct. 20, 2015 that supported the attacks.
The blogger notes that timing of the ceremony leaves no doubt that it was "specifically to support the wave of terror that was then reaching its height."
On his Web site, Elder of Ziyon shows pictures of UNRWA students—most of who appear to be younger than ten years old—holding signs praising attacks against Jews. The images were posted to the school's Facebook page. Among them are:
A young girl, kneeling and holding a sign reading, "We heed your call, oh al-Aqsa, our blood and souls we will sacrifice for you, oh al-Aqsa."
A smiling girl displaying a sign saying, "(We) are masters and not slaves, we are the ones from among whom a shahid [a "martyr"; someone killed while attempting a terrorist attack] is born every day."
Two young boys jointly lift a placard: "My soul is a sacrifice for you, oh al-Aqsa, Jerusalem is in our hearts, al-Aqsa is in danger, everybody rise in order to save Jerusalem, let us join hands in order to liberate and save Jerusalem."
Elder of Ziyon noted that none of the signs held by the children spoke of "despair" or any of the other excuses frequently offered by journalists and policymakers as the reason for Palestinian violence against Jews. Instead, the majority of the signs referred to the "al-Aqsa libel."
As CAMERA has noted ("Incitement over Temple Mount Leads to Palestinian Violence, Again," Sept. 16, 2015), that more than 80 year old libel consists of Palestinian leaders falsely claiming that Jews are somehow endangering the al-Aqsa mosque. This allegation has been used to provoke Arabs into attacking Jews in 1929, 1996 and 2000, among other instances. On Aug. 1, 2015, Abbas invoked the libel by claiming that Israel was seeking to "invent a history" regarding 3,000 years of Jewish connection to the Temple Mount, part of which is occupied by al-Aqsa mosque.

On Sept. 16, 2015 Abbas proclaimed on official PA TV: "The al-Aqsa [mosque] is ours…and they have no right to defile it with their filthy feet…We bless every drop of blood that has been spilled for Jerusalem, which is clean and pure blood, blood spilled for Allah, Allah willing." The PA leader's exhortations were followed by Palestinian terrorist attacks.
UNRWA schools and facilities have been used to promote hatred and murder of Israelis before, serving as a de facto employment and indoctrination bureau for the Palestine Liberation Organization (PLO) before in some cases being appropriated by Hamas. As CAMERA has noted ("Canadian Government Says Terrorists Can Receive Aid Funds," Feb. 18, 2016), a recent debate erupted in Canada's parliament over funding UNRWA after it was pointed out that the U.N. organization's payroll included employees drawing antisemitic cartoons and praising terrorist attacks. A 2015 investigation by the U.N. found that Hamas, the U.S.-designated terrorist group, used UNRWA schools as arsenals and launch pads for missiles fired indiscriminately at Israeli civilians during the 2014 Israel-Hamas war.
Elder of Ziyon reported that the recent images of children praising the murders of Jews by Arabs "is proof positive that despite UNRWA's denials, its schools are being used as a platform to teach hate and violence." He wrote that since "there are no checks and balances" against UNRWA's behavior, "the public, the media and the donors" must "demand answers."
The images of UNRWA school children endorsing hate and murder can be found here.
Posted by SD at 02:28 PM | Comments (0)
March 07, 2016
Palestinian Pastor Helps PA Official Broadcast Propaganda at Christ at the Checkpoint
Hanna Amira from the Palestinian Authority and Rev. Dr. Munther Isaac from the Bethlehem Bible College at Christ at the Checkpoint 2016. (Photo: Dexter Van Zile)
By now, most people have come to expect that officials from the Palestinian Authority will speak words of peace when addressing foreigners and words of hate when they speak to their own people. And most people realize that PA officials will level outrageous charges at Israel every chance they get. This is what the PA does. Governing through the use of misinformation and demonizing propaganda comes with the territory if you're in charge of the Palestinian Authority.
But even the most hardened and cynical observer of the Palestinian Authority would be shocked at the speech given by a PA official at the opening session of the Christ at the Checkpoint Conference that began today, Monday, March 7, 2016. (This conference, organized by the Bethlehem Bible College, a non-denominational Evangelical school located in the West Bank, has taken place every even-numbered year since 2010.)
The speech was given by Hanna Amira, who serves as the chairman of the Higher Presidential Committee for Christian Affairs for the Palestinian Authority. During his speech, he stated "The Israeli government is giving the green light to the Army and to the settlers to continue the acts of killing and attacking the Palestinian people, in particular, the children and the young and the women."
This is defamation, pure and simple. It is the Palestinian Authority, not the Israeli government that has given the green light for its people to kill. They have done this by falsely accusing the Israeli government of having designs on the Al Aqsa Mosque in Jerusalem. In response to this incitement (which will be addressed in more detail below), many young Palestinians have attacked Israeli soldiers and civilians with knives.
In the course of these attacks, which have killed more than two dozen Israelis (including one mother who died in front of her children), Palestinian attackers are sometimes shot to death. Israel is not giving its citizens or soldiers to kill anyone, most especially women and children. It is the PA that is doing this and as a result, the people it is supposed to protect are getting killed.
Amira also added that he and the audience were in "the cradle of religions and civilizations and it was in this context that many prophets spoke about the values of coexistence and forgiveness. And today in Palestine we continue to speak about these values despite the historical injustice we are going through for the last 68 years of occupation and aggression."
While Israel is continuing to commit crimes, Amira said, the Palestinians are "giving a historic example of coexistence and the rejection of violence and hatred." He continued:
We have created a national non-violent resistance [a] national peaceful resistance in our fight and in our struggle to achieve freedom and achieve peace and change the current circumstances and establish our Palestinian state.
This is an outrageous thing for Amira to say in light of the horrific stabbing attacks mentioned above. They are not the actions that can be characterized as "non-violent" and "peaceful resistance. They are acts of murder.
It's also an outrageous thing to say in light of the hateful polemics that the PA has been leveling at Israeli Jews since it was established in the mid-1990s and which have intensified during the stabbing attacks that began last fall. The Palestinian Authority is not presiding over a peaceful resistance movement. It is inciting young people to kill Israeli Jews going about their lives.
Amira's boss, Palestinian Authority President Mahmoud Abbas, has praised Palestinians who have murdered Israelis in cold blood. In September 2015, Abbas declared, "The Al-Aqsa [Mosque] is ours, and they have no right to defile it with their filthy feet. We will not allow them to, and we will do everything in our power to protect Jerusalem." He also stated ""We bless every drop of blood that has been spilled for Jerusalem, which is clean and pure blood, blood spilled for Allah, Allah willing. Every Martyr (Shahid) will reach Paradise, and everyone wounded will be rewarded by Allah."
This is not the language of coexistence. This is the language of religious incitement coming out of the mouth of PA President Mahmoud Abbas.
And here was Hanna Amira from the PA claiming that the Palestinians have applied the principles of coexistence handed down by the prophets.
We are used to politicians offering up a self-serving and distorted view of reality, but this was over the top. Anyone with even a passing knowledge of the events of the past few months know full well that the Palestinian leaders and the people they have incited to attack Jews. (PA President Mahmoud Abbas is not the only Palestinian leader who has spoken like this. There have been numerous others.)
Amira's speech, given to an audience of Christians from throughout the world, was disgraceful.
But what was even more disgraceful was how he conveyed this message to the approximately 300 international attendees at the conference.
You see, Amira does not speak English and he needed to have someone translate his speech for him.
Who did the translation? A pastor, a Christian pastor!
The pastor in question is Rev. Dr. Munther Isaac, who is ordained in the Evangelical Lutheran Church in Jordan and the Holy Land. In addition to serving as the director of the Christ at the Checkpoint Conference, Rev. Dr. Isaac also serves as academic dean of Bethlehem Bible College.
Despite his training and his credentials, Rev. Dr. Isaac allowed himself to be used as a mouthpiece for some pretty dishonest propaganda.
And to make matters worse, he did it at a conference dedicated to confronting religious extremism, a conference that he organized. By repeating Amira's speech word for word, Rev. Dr. Munther Isaac helped obscure the problem of religious extremism that the conference was intended to confront.
The scene, captured in the photo above at the top of this entry, is a key to understanding the Christ at the Checkpoint Conference. Suppose Rev. Dr. Isaac had, in the middle of Amira's presentation, refused to translate any more of the text for the audience, telling both Amira and the audience, "I can't go on. This is just too much. I'm sorry."
Suppose he did that. He'd be in a lot of trouble. He would have embarrassed an official from the PA in front of an audience of 300 foreigners (and a number of Palestinian security officials who were also in attendance). So Rev. Dr. Isaac continued on like a soldier, translating Amira's speech, as propagandistic as it was, until the very end.
It's hard for the school's supporters to admit, but the Bethlehem Bible College serves as a propaganda arm of the Palestinian Authority. Today, on the first night of the 2016 Christ at the Checkpoint Conference, that reality was on display for those who had eyes to see and ears to hear.
Posted by dvz at 04:49 PM | Comments (0)
Where's the Coverage? Jordan Forces Kill Likely Palestinian Terrorists; American Media are Silent

International wire services and American news media have failed to report an incident involving the killing of several terrorists in a Palestinian camp in Jordan by Jordanian forces. Such an event almost surely would have been reported if it had involved Israeli forces in the West Bank or Israel proper. Notice the penchant for headlines like "Palestinian shot dead" referring to a Palestinian killed by Israeli authorities after murderously assaulting Jews. It suggests a double standard, by which Palestinian terrorists "victimized" by Israel make news, those killed by non-Israeli forces in similar circumstances do not.
According to a March 2 (9:08 a.m.) Al-Jazeera America news hour report, "Jordanian security forces killed seven men while targeting fighters in the city of Irbid [in Jordan]. They were hold up inside a Palestinian refugee camp in the heart of the city… These were described as outlaws by Jordanian officials indicating, because it didn't say that they were a different nationality, that they are in fact Jordanian." In other words, they were most likely Jordanian Palestinians since more than half of the Jordanian population are of Palestinian Arab lineage (including Jordan's Queen Rania) and they were hiding in a Palestinian camp.
Al-Jazeera Web site reports (March 2), "Security forces kill seven men in northern city of Irbid in series of raids that also left a police officer dead."
The Jordan Times Web site reports (March 3), "Security and civil defence apparatuses on Thursday carried out operations in Irbid to 'cleanse' the area in which Tuesday's anti-terror raid took place, according to an official… Irbid governor noted that bodies of three out of the seven outlaws were identified as Jordanians, while the rest were 'unrecognisable.'"
It's hard to imagine the wire services and other major Western news media not at least mentioning, if not headlining, an Israeli operation targeting and killing seven Palestinian terrorists in hiding. Did an especially busy news day account for omission of the Jordanian story, or was something else at work?
Posted by MK at 02:12 PM | Comments (2)
USA Today Imprisons Facts, Conceals Truths

(Note: The letter below was sent to USA Today staff)
"USA Today's "Palestinian children as young as 11 join attacks on Israel" (Feb. 25, 2016), by Asma' Jawabreh and Jacob Wirtshafter, features omissions, minimizes anti-Jewish violence and relies on a questionable source without offering a counterbalancing view.
Not disclosing that most Palestinian Arab attackers incarcerated by Israel have been held for terrorist plots or attempts targeting Jews, the report uncritically quotes a "human-rights" lawyer who complains that incarcerated Israeli minors have rehabilitation options whereas Palestinian minors have "almost none." This misleading comparison omits that all Israeli citizens, Jews and Arabs, have equal access and rights under the law. But Palestinian Arabs are not Israeli citizens; in the West Bank (Judea and Samaria) their daily activities fall under the jurisdiction of the Palestinian Authority (PA). Why that authority chooses not to invest in rehabilitation measures, but in anti-Jewish violence by giving honors and money to terrorists and their families—while using state media to condone their acts—is a question USA Today should ask of the PA, not Israel.
The newspaper minimizes continuing Palestinian attacks against Israelis using cinder blocks, knives, meat cleaver, vehicles and guns, among other items, that have claimed 28 lives and wounded many more since September 2015, as merely a "spate of stabbings and other assaults." Further, it claims without substantiation that the violence is "over Israel's continued occupation of the West Bank."
In fact, since 1993 when the PA was established in the West Bank and Gaza Strip, given limited self-rule and a chance for statehood in exchange for promises of peace with Israel, Palestinian attacks have only increased. Since the PA's creation and refusal of peace and statehood, it has persisted in ceaseless demonization and dehumanization of Israel and Jews—encouraging terror.
Contravening established journalistic practice, the report uncritically quotes only Israel's critics and defamers. Not a single Israeli official is provided space to counter claims from questionable sources like Gerard Horton of Military Court Watch (MCW). NGO-Monitor, a non-profit watchdog group, has noted that MCW traffics in testimonies that are "anonymous, unverifiable, and lack credibility."
USA Today tried to tackle an important story. Unfortunately, this one-sided effort fell far short.
Sincerely,
Sean Durns
Media Assistant
Committee for Accuracy in Middle East Reporting in America"


Posted by SD at 09:32 AM | Comments (0)
March 03, 2016
Hamas Cooperates with ISIS-Sinai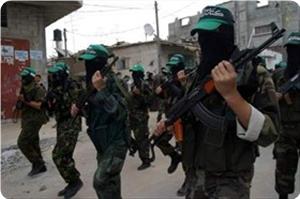 Members of Hamas' al-Qassam brigades

A letter posted online from an Islamic State in Iraq and Syria (ISIS) fighter appears to confirm that the terrorist group has ties with Hamas, a U.S.-designated terrorist group that rules the Gaza Strip.
The Middle East Media Research Institute (MEMRI), a non-profit organization that translates Arab and Persian media, reports that a letter from an ISIS fighter to Abu Bakr al-Baghdadi, the groups' head, "protests the close ties and cooperation between ISIS's Sinai province and Hamas, particularly Hamas's military wing." MEMRI notes that the letter is the "first confirmation of ties between the two organizations that comes from ISIS itself."
Abu 'Abdallah Al-Muhajir, a Gazan Arab who joined ISIS in Syria, wrote the letter. In it, he says that ISIS in the Sinai is smuggling weapons into Gaza for Hamas, and that Hamas is making weapons and explosive devices for ISIS Sinai. Al-Muhajir also states that Hamas is providing communications systems and hospitalization in Gaza for wounded ISIS fighters.
The letter from the ISIS terrorist states that ISIS Sinai leaders are visiting Gaza and even are treated as dinner guests at the homes of Hamas leaders.
MEMRI reports that the ISIS fighter "considers these Hamas-ISIS Sinai ties a violation of the principle of loyalty to the Muslims and rejection of non-Muslims (Al-Walaa Wal-Baraa), stating ISIS considers Hamas a movement that has betrayed Islam and that as such there is no justification, even on the pretext of tactical, operational, and logistical necessity, for maintaining ties with it." In the letter, Al-Muhajir says he's writing to al-Baghdadi because, "matters have reached a point where it is no longer possible to remain silent, and providing advice in secret would not have helped."
Al-Muhajir writes that the ISIS "Sinai province is a pawn of Hamas" and accused Hamas of torturing and ridiculing "Salafi jihad fighters" while taking advantage of cooperation with the Islamic State. The terrorist bemoans ISIS reliance on Hamas, stating, "The relationship between Sinai province and Hamas has crossed all limits, and has reached the point where the province is asking Hamas to manufacture the uniforms for its soldiers."
In August 2014, Israeli Prime Minister Benjamin Netanyahu compared ISIS to Hamas, noting their shared traits of "barbarism." Yet, Netanyahu's conclusion that "Hamas is Like ISIS, ISIS is like Hamas" was mocked by some journalists and anti-Israel pundits.
As recently as January 2016—while ISIS and Hamas were collaborating according to Al-Muhajir—the anti-Israel Web site Mondoweiss, which has long trafficked in conspiracy theories (see, for example, "ISM (and Mondoweiss) Demonstrate How to Propagandize with YouTube," CAMERA, July 5, 2011), called Netanyahu's statements a "lie." Mondoweiss author James North pointed to journalist Sarah Helm's article in the New York Review of Books, "ISIS in Gaza (Jan. 14, 2016)."
In it, Helm used the oxymoronic term "Hamas moderate" to describe Hamas spokesman Ahmed Yousef. According to Palestinian Media Watch, a non-profit organization that monitors Arab media in the West Bank (Judea and Samaria), the Gaza Strip and eastern Jerusalem, in July 2012 the "moderate" Yousef said that Palestinian TV broadcasts about suicide attacks "increased honor for Palestinians." Noting tensions between Hamas and ISIS, Helm concluded that they couldn't possibly be cooperating—a sentiment North fully endorsed when he noted that Helm "regularly visits Gaza." It's now apparent however, that ISIS has a similar travel itinerary.
Shortly after Netanyahu's remarks, Larry Derfner, writing for Web site +972 ("No, Hamas isn't ISIS, ISIS isn't Hamas," Aug. 24, 2014) charged that anyone who accepted Netanyahu's comments was a "shill for Israel" for believing in "a crude attempt to brainwash people, to put the most horrifying image in their minds and associate it with Gaza." Derfner charged Netanyahu with "insulting people's intelligence."

However, Netanyahu clarified his comments in October 2014: "I didn't say that Hamas and ISIS are twins, I said they are brothers. They're branches…of the same poisonous tree of militant Islam."
Like family members, Hamas and ISIS can be quite different—even rivals with differences of opinion and who fight for influence. Infighting between Islamist groups, often for territory and dominance, is common as ongoing battles between al-Nusra Front and ISIS in Syria attest. Yet, this "family feud" doesn't stop them from cooperating on shared goals, like seeking to destroy Israel and attacking the Western world. That's worth noting.

Posted by SD at 03:39 PM | Comments (0)
March 02, 2016
North Korean Leaders are 'Devoted to Freedom,' Palestinian Official Says
Kim Jong Il

The Palestinian Authority (PA) ambassador to North Korea has offered effusive words of praise for the brutal dictatorship that rules the country.
Elder of Ziyon, an American blogger who researches and writes about antisemitism and the Arab-Israeli conflict, reports that Ambassador Ismail Ahmed Mohamed Hasan hosted a reception at the PA embassy in Pyongyang, North Korea.
The occasion for the PA-provided festivities? To celebrate the birth anniversary of Kim Jong Il, the deceased previous dictator and father of current leader Kim Jong-Un. Elder of Ziyon reports that in a speech, Hasan toasted the deceased North Korean leader as "a state leader possessed of brilliant idea and creative caliber. He devoted himself to the freedom of the country and its people's happiness and the victory of the oppressed people's struggle."
North Korea, is one of the world's most repressive countries. According to The Wall Street Journal, it operates a system of city-sized gulags that are thought to hold as many as 80,000-120,000 people ("North Korea Plans Report on Human Rights," Aug. 11, 2014). A 2014 report by the United Nations Human Rights Office of the High Commissioner found that the regime is guilty of committing "arbitrary detention, torture, executions" of its own people, in addition to starving them in mass famines. Free thought and dissent are punishable by torture or death and a personality cult surrounds the North Korean leader. Potential rivals, including Kim Jong-Un's uncle, have been murdered. The commission found that DPRK officials misused international aid by "imposing conditions" on delivery of food aid that was not "based on humanitarian conditions.

The chair of the commission, Michael Kirby, remarked: "The gravity, scale and nature of these violations reveal a state that does not have any parallel in the contemporary world." The report concluded that "institutions and officials involved are not held accountable. Impunity reigns."
The PA also rules in a repressive, undemocratic fashion, if not as pervasively as North Korea. PA President Mahmoud Abbas is currently in the eleventh year of a single elected four-year term. He has refused to hold new elections.
As CAMERA has noted ("Palestinian Children Wear Suicide Belts to Celebrate Fatah's Anniversary," Jan. 12, 2016), the PA has imprisoned Palestinian Arabs for Facebook posts critical of Abbas and the PA. Possible Abbas rivals, like his former Gaza security chief Mohammad Dahlan, have been forced into exile in Abu Dhabi. Abbas' predecessor and the first head of the PA, Yasser Arafat, purportedly murdered critics and potential rivals like Abu Iyad, who disagreed with Arafat's supporting Iraqi dictator Saddam Hussein during the first Persian Gulf War.

Arab-Israeli journalist Khaled Abu Toameh recently has written about PA use of international aid to construct a police state in the West Bank (Judea and Samaria) ("U.S., Europe Fund Torture by Palestinian Authority," Gatestone Institute, Feb. 26, 2016). Toameh notes a recent report by the Euro-Mediterranean Human Rights Monitor that documents 179 cases of torture in PA prisons and 1,274 cases of arbitrary detention. He adds that "among those arrested were 35 Palestinian journalists and civil rights activists, and 476 students and academics." The PA security forces, funded by the United States, the European Union and others are responsible for these detentions and for the torture that purportedly frequently accompanies it.
Perhaps when the PA ambassador praised North Korean leadership as "devoted to freedom" he was applying the term as the Palestinian Authority seems to understand it.
Posted by SD at 04:00 PM | Comments (0)