« Poll: Majority in France Believe Jews Responsible for Antisemitism | Main | Washington Post Fails to Properly I.D. Terrorist 'Charity' »
February 16, 2016
Who Did It? CNN Won't Say
In a gross omission in an article Sunday about Palestinians opening fire on Israeli security forces near Damascus Gate, CNN fails to fulfill one of the basic journalistic requirements: to report who carried out the attack ("Israel says 2 men are dead after opening fire on police near Damascus Gate").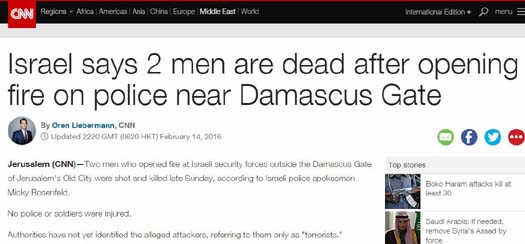 It's not only the headline which fails to note that the two attackers were Palestinian. Nowhere does the article itself identify the assailants as Palestinian, though that information had earlier been reported by other news services. The CNN story begins:
Two men who opened fire at Israeli security forces outside the Damascus Gate of Jerusalem's Old City were shot and killed late Sunday, according to Israeli police spokesman Micky Rosenfeld.

No police or soldiers were injured.

Authorities have not yet identified the alleged attackers, referring to them only as "terrorists."
According to the time stamp, the article was last updated at 22:20 GMT. Before then, news agencies had already identified the assailants as Palestinian.
For instance at 21:37 GMT, AFP reported ("Palestinians fire at Jerusalem police, attackers shot dead: police"):
Two Palestinians opened fire on Israeli police just outside Jerusalem's old city walls before being shot dead by officers, police told AFP. (Emphasis added).
Similarly, the Associated Press reported at 22:00 GMT:
Late Sunday, two Palestinians were fatally shot after they opened fire with automatic weapons on Israeli security forces near Jerusalem's Damascus Gate. (Emphasis added.)
CNN again covers up Palestinian violence at the end of the brief article by reporting:
Israel has experienced a spate of violence since October.
Specifically, Israel has experienced a spate of Palestinian violence since October, key information obscured by CNN.
This is not the first time in recent months that CNN has had trouble identifying Palestinian culprits or characterizing the last few months of Palestinian violence as Palestinian. See "CNN Dances Around Palestinian Violence, Refuses to Identify Culprits" for more details.
Posted by TS at February 16, 2016 03:35 AM
Comments
I do not understand how you can report an attack on Israeli police and fail to identify the attackers as Palestinian, when several other respected sources have done so.
Posted by: Thomas Kaplan at February 18, 2016 04:25 PM
CNN, along with many other media giants appears to be minimizing the importance of telling the truth when reporting stories concerning Jews and Israel.
It is interesting that in the United States, per capita hate crimes against Jews are the highest of all reporting groups. CNN under reports this news.
.
CNN constantly reports on anti-Black bias in the United States but completely disregards acts of anti-Semitism.
What is it with CNN and other media outlets, why is it that Jews who work at these companies don't stand up and say enough is enough, tell the truth!
Posted by: Rob Cohen at February 21, 2016 06:56 PM
Guidelines for posting
This is a moderated blog. We will not post comments that include racism, bigotry, threats, or factually inaccurate material.
Post a comment