« DEA Uncovers Hezbollah Drug and Money Laundering | Main | Where's the Coverage? Palestinian Official Calls to 'Intensify and Develop' Anti-Israel Violence »
February 08, 2016
Public Speech Without Accountability at Vassar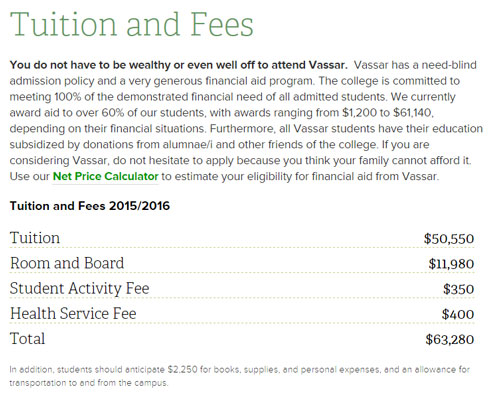 Vassar, which has become a hotbed of anti-Zionist intimidation, charges a pretty hefty sum for a year's tuition and room and board.(Screenshot from the school's website.)
Jasbir Puar, an associate professor at Rutgers University, recently appeared at Vassar College in Poughkeepsie, New York. During her Feb. 3 talk, she made a number of outlandish accusations that were recounted by Professor William A. Jacobson at his website, Legal Insurrection. Jacobson reported that "Puar's appearance amounted to an anti-Israel propaganda event at which Israel was portrayed in a manner reminiscent of ancient blood libels. A major theme of the talk was that Israel treats Palestinians as part of a type of scientific experiment developed to 'stunt' Palestinian bodies."
For example, Puar suggested that Israel has refused to release the bodies of young Palestinians who were killed in the aftermath of numerous attacks over the past few months because the Jewish state has harvested organs from the corpses.
In fact, Israel has delayed the return of the bodies of Palestinian attackers to prevent their use as propaganda props by the Palestinian Authority and terror organizations in the West Bank. Palestinian leaders use the funerals of the attackers to incite more violence against Israelis. The Associated Press reported on January 5, 2016 that "At the outset of the violence, Israel's public security minister, Gilad Erdan, recommended holding on to the bodies of Palestinian assailants, claiming the funerals turn into 'an exhibition of support for terror and incitement to murder.'"
According to Jacobson, the conclusion of her speech went as follows:

Technologies of measure, algorithmic computing, architecture and infrastructure — prehensive gendering operates at the sub, para and intimate levels as body parts and the kinds of changes that come with epigenetic deterioration take hold. In the context, then, of Palestine, hacking is not a computational metaphor, rather a distinct practice of reshaping the forms of human bodies and parts informed by computational platforms.
Underneath all this gobbledygook is the assertion that Israel is hacking and reshaping the bodies of Palestinians in an effort to oppress them, and ultimately perpetrate a genocide against them. (Predictably enough, during the Q and A, Puar did level the accusation of genocide at the Israeli government.)
Professor Jacobson reports that
In this supposedly academic appearance, there was no attempt to balance the presentation by discussing the goals and tactics of groups such as Hamas and Islamic Jihad. There was no context to the 2014 Gaza War, such as Hamas' relentless firing of long-range rockets at Israeli cities, and Israel's acceptance after one week of fighting of an Egyptian cease fire proposal, which Hamas rejected. Instead, this was a propaganda event. None of the Vassar professors challenged the presentation at all.
The organizers of the event asserted that they did not want the event tape recorded, because to do so without the speaker's permission is "unseemly and violates the modest contract of trust essential to the exchange of ideas."
Hogwash. The event was a publicly announced and publicized presentation offered by a scholar who was speaking about a very controversial subject. Neither she nor the organizers wanted her talk recorded for a very simply reason. Without a recording of the event, it would be harder to hold the speaker, and the people who invited her to Vassar, accountable.
It would also be harder for parents and potential applicants to see just how crazy things have gotten at Vassar, which charges its students as much as $63,000 a year in tuition and room and board to attend. To be sure, some students are given fee waivers according to need, but many (if not most) students will have to take out student loans, which will take decades to pay back, to cover the cost of their education (or indoctrination) at Vassar, which according to Professor Jacobson, has a serious problem with anti-Israelism on its campus.
In a previous post, Professor Jacobson recounted how the school has allowed for the creation of a climate of fear at Vassar.
For an in-depth view of the problems at Vassar documented at Legal Insurrection, click here and just scroll down.
Posted by dvz at February 8, 2016 02:38 PM
Comments
Dear Camera- Thanks as always for your coverage! how upsetting that this type of rhetoric is so allowed and welcomed. Vassar just dropped another notch in my opinion.
Posted by: Elisabeth at February 11, 2016 11:13 AM
Is anyone really surprised by Vassar's anti-Israel diatribe? This attitude is endemic in National and International academia. I suspect the best we can do is call out false accusations and hope to discredit their hate and harmful rhetoric.
Posted by: Bruce at February 11, 2016 11:24 AM
Lord Byron said "hatred is the madness of the heart. Based on Jasbir Puar's factually inaccurate speech it appears it has also affected her mind.
Posted by: norma wolens at February 14, 2016 08:11 PM
Today's Wall Street Journal (Feb. 18, 2106) ran an editorial entitled, "Majoring in Anti-Semitism at Vassar." The authors described a talk, "Inhumanist Biopolitics: How Palestine Matters," given by Jasbir Puar, a Rutgers associate professor of women's and gender studies. The account was highly disturbing, not only because of what it says about what passes for education today and how little speakers are vetted, but most of all by the behavior exhibited by the Jewish Studies faculty who were among the 8 departs endorsing this talk. I sent them a letter.
Posted by: Gina F at February 18, 2016 12:04 PM
Guidelines for posting
This is a moderated blog. We will not post comments that include racism, bigotry, threats, or factually inaccurate material.
Post a comment