« USA Today Highlights Terror Tunnels | Main | Israeli Researcher Finds Cure for Leukemia. British Doctors Campaign to Expel Israeli Physicians From World Body »
February 18, 2016
Canadian Government Says Terrorists Can Receive Aid Funds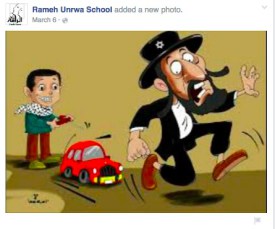 A cartoon posted on Facebook by the UNRWA Rameh school

Members of Canada's government have acknowledged that the country's humanitarian aid can end up in the hands of terrorists, including the Islamic State (also known as ISIS) and Hamas.
According to the Investigative Project on Terrorism (IPT), Canada's International Development Minister Marie-Claude Bibeau said the country's aid goes to "whoever needs help" and could help both sides in a conflict, potentially including terrorists.
Minister Bibeau's parliamentary secretary, Karina Gould, said that the policy of dispersing aid in a "neutral, impartial fashion" is in line with the Geneva Convention and previous Canadian policy.
IPT reports that on Feb. 16, 2016, the ruling Canadian government was asked about plans to give $15 million in new funds to the United Nations Relief and Works Agency (UNRWA).
Rona Ambrose, the interim Conservative party leader, asserted that Hamas, designated a terrorist group by Canada, the United States, European Union and Israel, among others, has ties with UNRWA.
Ambrose stated that UNRWA hospitals and schools in the Gaza Strip have been used by Hamas as shields to launch indiscriminate missile attacks at Israelis. Such attacks are war crimes under international law.
Publically available Israeli Defense Forces (IDF) footage has shown Hamas using schools for this purpose. On several occasions, stockpiles of rockets also have been found during inspections of UNRWA schools in the Gaza Strip. In one instance, in July 2014, 20 rockets were found in an UNRWA school—only to be given to what the organizations spokesperson called "local authorities." As an Israeli official pointed out that meant, "The rockets were passed on to the government authorities in Gaza, which is Hamas. In other words, UNRWA handed to Hamas rockets that could well be shot at Israel ("Rockets found in UNRWA school, for third time," Times of Israel, July 30, 2016)."
A 2015 investigation by the U.N. found that Hamas used UNRWA schools as arsenals and launch pads ("U.N. Report Confirms Hamas Stored and Fired Weapons from U.N. Schools," The Tower, April 28, 2015).
IPT notes that in 2004, UNRWA's then Commissioner-General, Peter Hansen, "confirmed the U.N. connection to Hamas to the Canadian Broadcasting Corporation." Hansen stated, "I am sure that there are Hamas members on the UNRWA payroll and I don't see that as a crime."
Although one doesn't have to be a Hamas member to be an UNRWA employee, being antisemitic may help.
Elder of Ziyon, an American blogger who researches and writes about Israel and antisemitism, has documented how UNRWA's Facebook for the Rameh school depicts cartoon Jews with hooked noses and Stars of David, being run over by Palestinian Arabs. Other UNRWA images similarly glorify vehicular assaults and praise terrorists.
U.N. Watch, a non-profit organization that seeks to ensure the United Nations is operating according to its own charter, launched a petition calling for U.N. Secretary General Ban Ki-moon to investigate. In response, UNRWA Director Chris Gunness closed down the Facebook page, didn't answer questions regarding the posts and sought to publically intimidate U.N. Watch on Twitter.
In the Canadian parliament, Ambrose noted the above issues with UNRWA and asked Prime Minister Justin Trudeau why "he was restoring funding to an organization that has been linked to Hamas?"

Trudeau said that he had been "happy to welcome the U.N. Secretary General in Ottawa last week and to highlight that Canada is open to reengaging with the world in an open, positive, constructive way. Quite frankly, Canadians expect us to be helpful in the world." Trudeau than went on to herald the "good work" of the U.N.
The prime minister did not specify how that included UNRWA's Hamas connection.
A video of the exchange between Trudeau and Ambrose can be found here.
Posted by SD at February 18, 2016 11:08 AM
Comments
Guidelines for posting
This is a moderated blog. We will not post comments that include racism, bigotry, threats, or factually inaccurate material.
Post a comment