« January 2016 | Main | March 2016 »
February 25, 2016
NPR Obfuscates and then Goes Silent on Possible Ethics Violation

National Public Radio (NPR) has refused to discipline one of its reporters for apparently violating the organization's own guidelines on ethical reporting.
As CAMERA previously reported ("NPR's Former Israel Reporter 'Sad' That Hoax Anti-Israel Agitprop Not Real," Feb. 2, 2016), the network's former Jerusalem bureau chief, Lourdes Garcia-Navarro said on Twitter that she was "sad" that a fake New York Times editorial distributed by anti-Israel activists wasn't real.
The fake New York Times editorial apologized—absurdly enough given the paper's documented anti-Israel slant (see, for example, "New York Times Tilts against Israel Whenever it Can," CAMERA, Jan. 14, 2016)—for a pro-Israel bias in its coverage. As CAMERA's Gilead Ini has documented, numerous journalists fell for the forgery despite it not appearing on The New York Times Web site and having several "farcical advertisements with anti-Israel messages." Lourdes Garcia-Navarro didn't—but on Twitter she did tell a believing colleague, Matthew Bell of Public Radio, that the material was "fake, sadly."
The editorial falsely claimed that "during the period of September-October 2015, eighteen headlines depicted Palestinians, while none depicted Israelis, as instigators of violence." Ini wondered: "Does Garcia-Navarro really want to see New York Times headlines cast innocent Israeli men, women, and children stabbed by Palestinian terrorists as 'instigators' of violence?"
During her time as a reporter in Israel, Garcia-Navarro exhibited a pronounced anti-Israel, pro-Arab tilt as CAMERA has noted (see, for example, "On Israel, NPR is No Perspective Radio," July, 18, 2012).
Unsure if the government-subsidized network was aware of the offending tweet, CAMERA contacted Elizabeth Jensen, NPR's ombudsman on February 3, pointing out that Garcia-Navarro seemingly violated the organization's social media policy. The guidelines state that journalists should "refrain from advocating for political or other polarizing issues online" and should not "express personal views on a political or other controversial issue that you could not write for the air or post on NPR.org." Further, the guidelines insist, "Our standards of impartiality also apply to social media."

CAMERA asked Jensen what NPR intended to do regarding Garcia-Navarro's display of bias. The ombudsman passed on the following response from the newsroom:
"Lourdes Garcia-Navarro no longer covers the Middle East and does not shape NPR's coverage of the region. We do not think her two-word tweet—"fake, sadly"—was advocacy. But it was subject to misinterpretation. It's particularly important to be careful when posting on social media."
NPR did not say how the tweet could be misinterpreted nor did it specify how it did not amount to advocacy. Moreover, as CAMERA pointed out to Jensen, the organization's claim that Garcia-Navarro no longer shapes NPR coverage of the Middle East due to her current posting in Brazil does not pass muster.
Brazil's domestic and foreign policy have components strongly related to the Arab-Israeli conflict. And the claim that Garcia-Navarro, from Brazil, no longer covers news relating to the Arab-Israeli conflict is patently false, as her December 30 report "Brazil Rejects Israel's Ambassador: Israel Threatens Relations Downgrade," illustrates. Brazil, the reporter writes, "Has made a point of its policies on the Israeli-Palestinian issue."
CAMERA noted these points to NPR's ombudsman, who said she took note of them. Here the newsroom's obfuscation turned to silence.
By its silence, NPR has answered the question whether or not it will reprimand a staffer for an apparent violation of its own guidelines against political advocacy. The network's own written standards are explicit in this matter—even if enforcement of them is lacking. The next time listeners hear NPR invoke its commitment to impartiality, they would be wise to take it with a grain of salt. Or maybe the whole shaker.
Posted by SD at 12:28 PM | Comments (0)
February 24, 2016
Hamas Reaching Out to Iran, Analysts Say
Ismail Haniyeh of Hamas and Ayatollah Ali Khamenei, Iran's Supreme Leader

Hamas, the U.S.-designated terror group that rules the Gaza Strip, wants to "mend ties with Iran," according to two analysts.
Grant Rumley and Amir Toumaj, researchers at the Foundation for Defense of Democracies, a Washington, D.C. think tank, note that Hamas is reaching out to Tehran.
Rumley and Tourmaj report that a "senior Hamas delegation," including the movement's international relations head Osama Hamdan, politburo member Mohammad Nasr and Khalid al-Qaddoumi, Hamas' ambassador to Iran, went to Iran to attend celebrations of the 37th anniversary of the 1979 Islamic Revolution on February 11.
The Hamas delegation met with the secretary of Iran's Supreme National Security Council, Ali Shamkhani.
Relations between Hamas and its principal benefactor, Iran, have been shaky in recent years. As Rumley and Tourmaj note, the terrorist group "has historically enjoyed Tehran's generous financial, material and political support, but relations soured in 2012 when the Hamas leadership—then based in Damascus—publicly sided with the largely Sunni rebels against the Iranian-backed Syrian regime."
Had Hamas chosen to side overtly with Tehran in the Syrian civil war, it likely would have faced blowback in the Sunni Arab world. Hamas, like other Iranian-supported Palestinian Arab terror groups such as Palestinian Islamic Jihad (PIJ), is comprised of Sunni Muslims, the dominant brand of Islam in the Gaza Strip, the West Bank (Judea and Samaria), and eastern Jerusalem. In this, it conflicts with the Shi'ite theocracy of the Islamic Republic. As Middle East scholar Jonathan Schanzer, among others, has pointed out, ties with Tehran have led to rivals and the Palestinian public questioning both PIJ and Hamas' legitimacy (Hamas vs. Fatah, Palgrave Macmillan, 2010).
PIJ's refusal to support Iranian backing of the Houthis in Yemen's ongoing civil war also has led to a deterioration of that group's relations with its Iranian benefactor—leading to Tehran reportedly cutting 90 percent of its funding for Islamic Jihad. In addition, the mullahs have supported a new Palestinian terror group called Al-Sabireen, which is Shi'te and as CAMERA has noted ("Journalist Profiles New Iranian-backed Palestinian Terror Group," Oct. 29, 2015) is thought to be recruiting from disaffected members of Fatah, the majority movement in the Palestinian Authority.
In 2012, Hamas leader Ismail Haniyeh declared his support for opponents of Iranian-backed Syrian dictator Bashar al-Assad, saying he "salutes the heroic people of Syria who are striving for freedom, democracy and reform." Of course, Haniyeh's praise for democracy and reform do not extend to the Hamas-ruled Gaza Strip where the group has refused to hold elections and routinely imprisons—and tortures—journalists (see, for example, "Hamas Cracks Down—on Palestinian Journalists," CAMERA, Jan. 13, 2016).
Yet, Haniyeh's stance was not unanimously supported within the terror group. Rumley and Tourmaj note that "several members affiliated with the military wing" of Hamas, "continued to court Iranian support and technology just as before. In March 2014, Israel intercepted a cargo ship bearing Iranian arms headed for Gaza." In August of that year, the Iran's Islamic Revolutionary Guard Corps (IRGC) stated that it had given Hamas advanced rockets for use during Israel's 2014 Operation Protective Edge against the movement, PIJ and similar groups.
According to Hamas' Hamdan, the objective of the recent visit to Tehran was to reach an understanding on the Syrian civil war. Hamdan said that Hamas now supports a political resolution in the country—a reversal that is perhaps the result of recognition of growing Assad wins and strength following increased Iranian and Russian involvement to prop up the dictator.

Hamas member Khalid al-Qaddoumi said the Iranians pledged continued support against Israel. Hamdan told Iranian media that Iranian officials fully supported the ongoing terror attacks against Israelis that have occurred in Jerusalem and elsewhere.
The FDD analysts report that although Hamas has fissures and elements of the terror group have increasingly sought support from Iranian-rivals like Saudi Arabia, Qatar and Turkey, nonetheless the group "knows it will find no more committed or generous patron than the Islamic Republic of Iran."
Grant Rumley and Amir Toumaj's February 23 Jerusalem Post Op-ed can be found here.
Posted by SD at 02:41 PM | Comments (0)
February 23, 2016
Thoughtful Time Magazine Story Offers Insight on Looming Gaza Tunnel Campaign
So much of the news coverage of the Israeli-Palestinian conflict is tainted by bias and subjectivity. That is why it is notable when a major media outlet publishes an article on the topic that is informative and free from bias. Such was the case on Feb. 22, 2016 in Time Magazine. In "The Next War Between Israel and Hamas May Be Fought Underground," correspondent Kate Shuttleworth (with help from Mohammad al-Zaharna) provides readers with the facts and refreshing insight from interviews in Gaza about the looming danger.
Shuttleworth describes Hamas's expansive tunnel digging into Israel near the Gaza border in preparation for its next war with Israel. She manages to find unusually candid subjects to explore the diverging opinions among Gazans.
One of them, Mkhaimer Abusada, is a professor of political science at al-Azhar University in Gaza. Abusada "estimates that two-thirds of the Gazan population do not support another war with Israel," but admits there are many who do. According to Abusada,
"The Palestinian community in Gaza is divided — those affiliated with Hamas are very comfortable with the strategy of digging tunnels and developing missiles. Hamas creates an illusion that Israel will be defeated and that people will be able to pray in al-Aqsa mosque — people buy this fantasy."
Abusada also asserts that building materials intended to help rebuild homes destroyed in the last round of fighting are diverted by Hamas to help in the construction of the tunnels.
Shuttleworth also interviews a Gazan mother of a tunnel digger who firmly supports Hamas. Shuttleworth writes,
Yousra al Shobaki, mother of 22-year-old Ghazwan, who dug tunnels and fought for Hamas's military wing, al-Qassam, told TIME she supports Hamas' efforts. "We will win in the end. I ask all the mothers in Gaza to support the jihad and to go to the mosques to teach them how to defend their country — and to teach their sons what jihad means. I wish all the young Qassam men the best in their work, and I hope they will win in the end of all these conflicts with the Israelis. There is no such thing as Israel — these people occupied our land, there is nothing called Israel.
The Time piece puts the Gaza population at 1.2 million. This estimate is in line with figures calculated by a group of Israeli demographers, whose controversial study asserts that the official Palestinian Authority figures exaggerate the Palestinian population in the West Bank and Gaza by more than a million.
Shuttleworth's informed and objective reporting contrasts with that of longtime correspondent Karl Vick, whom CAMERA has criticized on several occasions. It also demonstrates more of a commitment to journalistic standards in covering the Israeli-Arab conflict than found at the struggling news magazine Newsweek, once regarded as Time's main competitor.
Posted by SS at 03:13 PM | Comments (0)
Reuters Relays Palestinian Claims as Fact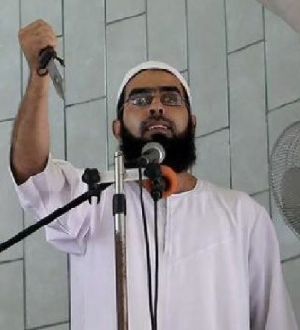 A Reuters article about the demolition of the homes of 2 Palestinian terrorists who murdered several innocent civilians -- Israelis, an American and a Palestinian -- adopted the Palestinian position about recent violence.
While the article presented both the Israeli claim that such demolitions serve as a deterrence to would-be terrorists and the Palestinian claim that the demolitions are collective punishment, when it came to explaining the recent wave of Palestinian terrorist stabbings, shootings, slayings and rioting, the article relayed the Palestinian position as fact, not claim. It asserted that:
The recent violence has been stoked by various factors, including a dispute over Jerusalem's al-Aqsa mosque compound and the failure of several rounds of peace talks to secure the Palestinians an independent state in Israeli-occupied territory.
This indirect shifting of the blame for violence onto Israel may be what the Palestinian leadership claims, but it is not what the Israeli leadership believes and is certainly not a given fact, as the article suggests. It is not an agreed upon fact that the failure of peace talks is what motivates terrorists to kill innocent cvilians, or that Israelis visiting the "al Aqsa mosque compound" has caused Palestinians to attack Israelis with knives and guns. Indeed, Israelis view the "al Aqsa mosque compound", otherwise known as "The Temple Mount," as the holiest site in Judaism and they cling to their right under the status quo to visit, just like members of any other faith. Israelis do not see this as the issue stoking Palestinian violence, despite efforts by the Palestinian leadership to claim it is.
Although the article's last paragraph notes that "Israel says young Palestinians are being incited to violence by their leaders and by Islamist groups calling for Israel's destruction." this is presented as a "claim" by Israel, unlike the earlier paragraph where the Palestinian position is presented as fact.
It is just these sort of subtle difference that can tinge an article with bias and skew the story toward one side's position.
Posted by RH at 12:53 PM | Comments (0)
UCC and Disciples Do The Right Thing, Delete Hateful Lenten Document
The Global Ministries of the United Church of Christ and the Christian Church (Disciples of Christ) has done the right thing and deleted a page that promoted a dishonest and hateful Lenten Reflection edited by one of its missionaries who works for the YWCA of Palestine. Evidence of the deletion can be seen here. Also, screenshot of the now defunct page can be seen at the top of this entry.
Global Ministries has also deleted the link to the page promoting the document from its newsfeed.
The action came after CAMERA published an article highlighting the problems with the Lenten document (which was in turn covered by The Jerusalem Post).
In addition to highlighting the problems with the text, CAMERA also contacted all of the Conference Ministers in the United Church of Christ and the Disciples of Christ alerting them to the problems with the Lenten Reflection.
The YWCA of Palestine was the first institution that stopped promoting the document. Global Ministries promoted the text for approximately another day after the YWCA stopped promoting it.
CAMERA commends Global Ministries for doing the right thing.
Posted by dvz at 10:50 AM | Comments (0)
Washington Post's Singling Out of Israel is in the Bag
With all of the incredibly important issues requiring reporting, it is hard to understand why The Washington Post chose to highlight a 10-day trip to Israel being included in the Oscars gift bag ("This Year's Oscar Swag Bag Includes a $55,000 Trip to Israel"). Many countries use the opulent, high profile Oscar night as a promotional tool to boost tourism, with tours, hotel stays, and vacations. Specifically, the quarter-million-dollar gift bag includes a private 15-day walking tour of Japan valued at nearly the same price as the Israel trip, $54,000, as well as stays at the Golden Door Resort & Spa in San Marcos, California, at the Grand Hotel Excelsior Vittoria in Sorrento, Italy, and at the Grand Hotel Tremezzo in Lake Como, Italy. The choice by Israel's Ministry of Tourism to do the same is neither unique nor compelling. Yet, Post Israel Bureau Chief William Booth labels the Israel package as "part of an effort to sell Israel as a travel destination and not a conflict zone," overlooking the many other trips in the "bag" and the fact that Israel is a travel destination, drawing over 3 million visitors per year. There is nothing revolutionary in the Ministry's move to promote its appeal to an international audience.
Furthermore, though the news of the $55,000 Israel package being offered in the gift bag sparked efforts by advocates of the "Boycott, Divest, Sanction" (BDS) movement to have the certificate removed, Booth overstates the movement's success. He uses Omar Barghouti, founder of the Palestinian BDS National Committee, as a credible source on the matter, despite Barghouti's hypocrisy. While advocating boycott of Israel even in academia, Barghouti himself obtained a graduate degree from Tel Aviv University. His explanation of this? "My studies at Tel-Aviv University are a personal matter and I have no interest in commenting." Barghouti has repeatedly obfuscated the fact that the intention of BDS is not a two-state solution, but dissolution of Israel and the establishment of a Palestinian state in its place. According to Barghouti, Israel's Ministry of Tourism's move to have this trip included on Oscar night is proof of the State "desperately trying to fight its increasing isolation through bribes and intimidation rather than ending its occupation and apartheid." In fact, this is a non-story of a country going about normal governmental and promotional business, yet Booth does not question Barghouti's statements. There is not any suggestion that, perhaps, such a conclusion is unfounded and biased.
Booth does not point to the overwhelming evidence that directly contradicts Barghouti's claim that BDS is successfully isolating Israel. There is no mention of Israel having recently signed a new trade deal with Russia, of Angela Merkel, Chancellor of Germany, making an official visit to the State during which she stated her unequivocal support of Israel, or of the EU's decision not to remove "Made in Israel" labels from products originating beyond Israel's 1967 lines. All of this despite the unceasing efforts of BDS to seal Israel off from the international community. Rather than finding itself in "increasingly isolation," as Barghouti and Booth would have readers believe, Israel continues to make and be recognized for its vital contributions to research in technology, medicine, and other industries.
So, why is Israel singled out for taking identical promotional actions as several other countries? Is this evidence of some bias when it comes to Post reporting on Israel? Well, is any other country impugned or maligned in a story as unimportant as the gifts actors and directors can expect to receive at the Academy Awards?
--Rachel Frommer, CAMERA Intern

Posted by SC at 09:09 AM | Comments (0)
February 22, 2016
Palestinian Officials Seeking Greater Ties with Iran
PA President Mahmoud Abbas

The Palestinian Authority (PA) is hoping to upgrade its ties with the Islamic Republic of Iran.
According to Palestinian Media Watch (PMW), a non-profit organization that translates Arab media in the West Bank (Judea and Samaria), the Gaza Strip and eastern Jerusalem, the PA is making a concerted effort to court Tehran.
PMW notes that PA President Mahmoud Abbas sent a letter to Iranian President Hassan Rouhani offering congratulations on the 37th anniversary of the Iranian Islamic Revolution, Feb. 11, 2016. Abbas Zaki, a central committee member of Fatah, the movement that dominates the PA, traveled to Iran to celebrate the anniversary. On his way to the Islamic Republic, Zaki stopped at the Iranian embassy in Amman, Jordan to celebrate.
Once in Iran, Zaki told Lebanese TV station Al-Mayadeen (which claims objectivity but reportedly reflects Syrian and Iran governmental views): "Iran is treating the Palestinian cause as an internal [Iranian] cause…Iran should be available for its primary mission, which is Palestine."
Previous statements by Zaki seem to indicate that the "primary mission," as the Fatah leader may conceive it, it is the destruction of the Jewish state.
On March 12, 2014 Zaki said, "Israelis have no religion and no principles. They are nothing but advanced tools for evil…Allah will gather them so that we can kill them."
As CAMERA has noted ("'Pragmatic' and 'Self-Critical' Palestinian Official Claims the U.S. Created ISIS (Again)," Jan. 20, 2016) Zaki, once called "self-critical" by The Washington Post and "pragmatic" by The New York Times, has claimed that the United States created the terrorist group ISIS.
PMW reports that speaking to Al-Mayadeen, Zaki extolled the virtues of the theocratic, totalitarian dictatorship in Tehran:
"This anniversary has significance for us Palestinians, as it influenced life in Iran and the entire region, and created changes which still exist in the consciousness and in politics…we need to update them [Iran] about it [the Palestinian cause], especially since Iran is a key player in the Middle East.'"
Perhaps referring to role of Iranian-backed terrorist groups like Hamas (the Palestinian Islamic Resistance Movement) and Palestinian Islamic Jihad (PIJ), Zaki then claimed that Palestinian Arabs are "firefighters in the case of conflicts here or there." Hamas and PIJ are sometime rivals of the PA and its ruling Fatah bloc.
PMW notes that a visit by Palestinian officials to Iran was talked about by PA President Abbas last August. At the time, Abbas said PA-Iranian relations "haven't been good." According to a PMW translation of PA daily Al-Hayat Al-Jadida, Abbas said Tehran would welcome a visit by Palestinian officials and the possibility of improved relations "especially after the nuclear agreement between Iran and the countries of the world has been achieved."
According to the U.S. State Department, Iran is the leading state sponsor of terrorism, including backing groups that call for Israel's destruction like Hamas, Hezbollah, PIJ and Al-Sabireen, among others. In January 2016, U.S. Secretary of State John Kerry acknowledged that some of the estimated $100 billion or more in sanctions relief given to Iran as part of the agreement between the United States, China, Russia, Germany, the United Kingdom, France and Iran over the latter's presumed and if confirmed illegal nuclear weapons program is likely to go to terrorism.
Perhaps with these funds in mind, Zaki told Al-Hayat Al-Jadida in August 2015 that he would go to Iran to prepare for a future visit by Abbas. The "development of our ties with Iran is an inevitable step if we want to confront the Israeli occupation," Zaki said.
Zaki did not specify who he expected to foot the bill for such a "confrontation." Sometimes travel itineraries speak louder than words.
Posted by SD at 04:52 PM | Comments (0)
Updated: YWCA in Jerusalem Removes Hate-filled Lenten Reflection from Website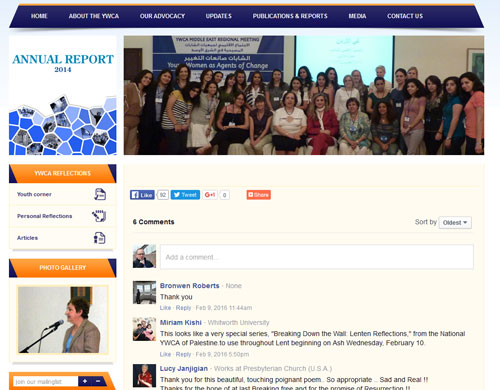 The YWCA Chapter located in Jerusalem, which bills itself as the YWCA of Palestine has, as of this writing, removed a hateful Lenten Reflection produced by an American missionary from the United Church of Christ.
CAMERA exposed and documented the hostility and falsehoods included in the reflection, edited by Rev. Loren McGrail in an article posted on Friday, February 19, 2016.
The Lenten Reflection was posted on the WYCA's website here, but readers who click on the link will not find the document.
The Jerusalem Post covered the controversy with this article.
The image above shows how the URL in question is currently displayed.
CAMERA commends the YWCA in Jerusalem for doing the right thing.
Update 10:44 a.m.: The document in question is still available on the YWCA's website, it's just that the link to the document has been removed. The URL for the PDF still provides access to the document in question.
Posted by dvz at 09:54 AM | Comments (0)
February 19, 2016
Israeli Researcher Finds Cure for Leukemia. British Doctors Campaign to Expel Israeli Physicians From World Body
1. A form of treating Leukemia pioneered by Israeli immunologist Zelig Esshar cured 94% of cases of Leukemia in a recent trial. Eshhar has been conducting T-cell research for over a decade, and in 2014 was recognized by leading industry publication Human Gene Therapy along with Dr. Carl June of the University of Pennsylvania for their work in the field. Their immune-based treatment is especially effective against Acute Lymphoblastic Leukemia, the most common and once the most deadly childhood cancer, that only a few decades ago was considered incurable.
Israel is a world leader in the treatment of Leukemia. For example, the Herzliya Medical Center boasts of extraordinary cure rates for Acute Myelogenous Leukemia (claiming up to 91%), a form of Leukemia that was once a virtual death sentence. Breakthroughs in Leukemia are of particular significance because of the blood cancer's occurrence in all age groups including the very young.
2. Apparently such life-saving breakthroughs do not impress everyone. Seveny-one British physicians have called for the expulsion of Israeli physicians from the World Medical Association (WMA). This is not the first time this group has demanded the expulsion of Israel from the world medical body. None of the letter signers can claim to have pioneered a breakthrough in treating childhood Leukemia, but they wear their self-proclaimed humanitarianism ever so ostentatiously.
An anti-Zionist web site published what it claims is a copy of the letter sent to the WMA. The letter rehashes the sort of allegations made in a similar letter seven years ago accusing Israeli doctors of using "torture as an instrument of state policy." Such allegations have previously been exposed as lacking substantiation.
In fact, despite the state of war that exists between Israel and Hamas, the terrorist group that governs the Gaza Strip, Israeli hospitals provide life-saving medical services to thousands of Gazans. This continues despite the risk that Gazan patients will carry out terrorist attacks against Israeli medical personnel providing them with critical care. Such an incident occurred in 2005, when a Gazan woman, Wafa al Bass, undergoing treatment at an Israeli facility for severe burns from a cooking accident, tried to detonate a concealed bomb in order to kill the nurses and doctors attending to her.
One of the letter's co-signers, British psychiatrist Derek Summerfield, has campaigned for decades to ostracize Israel. The fact that Palestinians stricken by intractable illnesses and devastating childhood conditions benefit enormously from Israeli medical interventions is apparently unimportant to these anti-Israel doctors who through their political agitation against Israeli doctors expose the emptiness of their hippocratic oath.

Posted by SS at 02:25 PM | Comments (0)
February 18, 2016
Canadian Government Says Terrorists Can Receive Aid Funds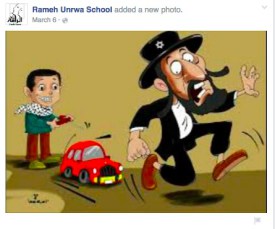 A cartoon posted on Facebook by the UNRWA Rameh school

Members of Canada's government have acknowledged that the country's humanitarian aid can end up in the hands of terrorists, including the Islamic State (also known as ISIS) and Hamas.
According to the Investigative Project on Terrorism (IPT), Canada's International Development Minister Marie-Claude Bibeau said the country's aid goes to "whoever needs help" and could help both sides in a conflict, potentially including terrorists.
Minister Bibeau's parliamentary secretary, Karina Gould, said that the policy of dispersing aid in a "neutral, impartial fashion" is in line with the Geneva Convention and previous Canadian policy.
IPT reports that on Feb. 16, 2016, the ruling Canadian government was asked about plans to give $15 million in new funds to the United Nations Relief and Works Agency (UNRWA).
Rona Ambrose, the interim Conservative party leader, asserted that Hamas, designated a terrorist group by Canada, the United States, European Union and Israel, among others, has ties with UNRWA.
Ambrose stated that UNRWA hospitals and schools in the Gaza Strip have been used by Hamas as shields to launch indiscriminate missile attacks at Israelis. Such attacks are war crimes under international law.
Publically available Israeli Defense Forces (IDF) footage has shown Hamas using schools for this purpose. On several occasions, stockpiles of rockets also have been found during inspections of UNRWA schools in the Gaza Strip. In one instance, in July 2014, 20 rockets were found in an UNRWA school—only to be given to what the organizations spokesperson called "local authorities." As an Israeli official pointed out that meant, "The rockets were passed on to the government authorities in Gaza, which is Hamas. In other words, UNRWA handed to Hamas rockets that could well be shot at Israel ("Rockets found in UNRWA school, for third time," Times of Israel, July 30, 2016)."
A 2015 investigation by the U.N. found that Hamas used UNRWA schools as arsenals and launch pads ("U.N. Report Confirms Hamas Stored and Fired Weapons from U.N. Schools," The Tower, April 28, 2015).
IPT notes that in 2004, UNRWA's then Commissioner-General, Peter Hansen, "confirmed the U.N. connection to Hamas to the Canadian Broadcasting Corporation." Hansen stated, "I am sure that there are Hamas members on the UNRWA payroll and I don't see that as a crime."
Although one doesn't have to be a Hamas member to be an UNRWA employee, being antisemitic may help.
Elder of Ziyon, an American blogger who researches and writes about Israel and antisemitism, has documented how UNRWA's Facebook for the Rameh school depicts cartoon Jews with hooked noses and Stars of David, being run over by Palestinian Arabs. Other UNRWA images similarly glorify vehicular assaults and praise terrorists.
U.N. Watch, a non-profit organization that seeks to ensure the United Nations is operating according to its own charter, launched a petition calling for U.N. Secretary General Ban Ki-moon to investigate. In response, UNRWA Director Chris Gunness closed down the Facebook page, didn't answer questions regarding the posts and sought to publically intimidate U.N. Watch on Twitter.
In the Canadian parliament, Ambrose noted the above issues with UNRWA and asked Prime Minister Justin Trudeau why "he was restoring funding to an organization that has been linked to Hamas?"

Trudeau said that he had been "happy to welcome the U.N. Secretary General in Ottawa last week and to highlight that Canada is open to reengaging with the world in an open, positive, constructive way. Quite frankly, Canadians expect us to be helpful in the world." Trudeau than went on to herald the "good work" of the U.N.
The prime minister did not specify how that included UNRWA's Hamas connection.
A video of the exchange between Trudeau and Ambrose can be found here.
Posted by SD at 11:08 AM | Comments (0)
February 17, 2016
USA Today Highlights Terror Tunnels
IDF soldiers stand outside the entrance of a Hamas terror tunnel

Writing in USA Today, Shira Rubin ("Israel Fears Tunnel War by Hamas," Feb. 15, 2016) covers Israeli concerns about Hamas' tunnel construction.
Rubin notes an Israeli military assessment that Hamas, the U.S.-designated terrorist group which rules the Gaza Strip, is employing 1,000 Gazan diggers to construct a large underground tunnel to sit atop smaller tunnel systems. The purpose of these tunnels is to kidnap and murder Israelis.
Some of the tunnels have electricity and telephone lines, but most do not. The underground passages, Rubin reports, give Hamas "a rare advantage against a vastly superior Israeli military."
In 2006, the tunnels were used by Hamas to kill two Israeli Defense Force (IDF) soldiers and to kidnap a third, Gilad Shalit. Shalit was held captive for five years before he was released in exchange for 1,027 Palestinian prisoners.
USA Today quotes Betty Gavri, who lives on Kibbutz Nir Am, where residents can hear Hamas digging underneath them: "This conflict has reached a point where you're fighting not another army but terrorism, which…makes all public spaces into a battlefield."
By taking the time to note everyday Israeli concerns, Rubin reports an aspect of the Arab-Israeli conflict that many in the media too often miss. She details not only Hamas' actions, but the group's statements as well.
USA Today notes Jan. 29, 2016 statements by Hamas head Ismael Hanieyeh praising diggers killed in tunnel collapses as "heroes" and calling for more terror tunnel construction and "experimenting" with rockets aimed at the Jewish state. Although winter rains have caused some tunnels to collapse, Hamas nonetheless has boasted that it is only expanding construction.
A Lexis-Nexis search of other major U.S. print news media shows only USA Today detailed Hanieyeh's exhortations.
The paper also reports IDF efforts to counter the tunnels.
Israel received a $120 million U.S. grant to develop an underground defense system that, Rubin says is "able to detect the digging of tunnels dozens of yards below ground." This system "could represent a major military defeat for Hamas and a big psychological boost for Israelis."
In addition to this high-tech effort, the IDF is using "considerable engineering and intelligence efforts" to locate and destroy the terror tunnels, according to Israeli military chief Lt. Gen. Gadi Eizenkot.
Yet, the danger to Israel is great. Rubin reports quotes Eado Hecht, a military researcher who testified during the 2015 U.N. commission investigating the 2014 Israel-Hamas war. "Israel's only short-term option is to go into Gaza to destroy the tunnels, as was done in the 2014 war, which was enormously costly in terms of casualties and also politically," Hecht said.
USA Today deserves recognition for shining a light on Hamas' terror tunnels.
Posted by SD at 01:07 PM | Comments (1)
February 16, 2016
Palestinian University Honors Terrorist with 'Cultural Event'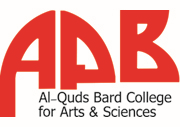 Al-Quds University in Jerusalem honored Palestinian terrorist Baha 'Alyan on Feb. 13, 2016.
Middle East Media Research Institute (MEMRI), a non-profit organization that monitors Arab and Iranian media, reports that the university celebrated 'Alyan, who along with Bilal Ghanem, shot and stabbed seven people on a Jerusalem bus on Oct. 13, 2015, killing three Israelis, including Richard Lakin, a dual American-Israeli citizen.
The "cultural event" took place at the university with the support of the Palestinian Authority (PA)'s High Commission for Youth and Sports, a branch of the Palestine Liberation Organization (PLO) tasked with coordinating youth and sports activities.

The terrorist was glorified by 2,500 students who sat side-by-side, forming a chain "of readers and writers" under the slogan "The Baha al-Shuhada Chain" (meaning "Light of the Martyrs chain").
The event was promoted via a Facebook page and a special hashtag on social media to attract a following.

Muhammad 'Alyan, the terrorist's father, spoke during the event. He praised the students who attended as "continuing" in his son's "footsteps" and stated, "the occupation has turned the entire Palestinian people into seekers of martyrdom."
Another speaker, an Al Quds communications student named Muhammad al-Azraq, said the deceased terrorist proved that "defending the homeland required education."
The event featured pictures of Baha 'Alyan, t-shirts with his image and a box for students to put messages to 'Alyan and other terrorists killed while attacking Israelis.
This is not the first time that Al-Quds University has hosted activities glorifying terrorists.
As a CAMERA Op-Ed has noted ("Omissions that distort the truth," The Hill, May 28, 2015), the university has an Abu Jihad Museum that honors Khalil al-Wazir (aka Abu Jihad). Al-Wazir was responsible for murdering 124 Israelis, including 11 Israeli athletes at the 1972 Munich Olympic Games. A leader in the Palestine Liberation Organization (PLO), he also took part in the 1978 Coastal Road massacre that killed 38 civilians, including 11 schoolchildren. Al-Wazir, like 'Alyan, also murdered U.S. citizens—the terrorist played a key role in the 1973 murder of two American diplomats in Sudan by a PLO contingent calling itself "Black September."
Al-Quds University previously had a partnership with Brandeis University, the Massachusetts college named after American Zionist leader and U.S. Supreme Court Justice Louis Brandeis. From 1998 to 2013, the two were "sister institutions." Brandeis ended the partnership after a Nazi-themed demonstration at Al-Quds by Islamic Jihad, a U.S.-listed terror group. As the Washington Free Beacon has reported, another U.S.-designated terror group, Hamas, has held rallies at the college ("Hamas Holds Military Rally at Al Quds University," March 25, 2014).
Al-Quds University currently has a partnership with Bard College, a New York-based liberal arts school. The university also receives grants from European governments. According to Palestinian Media Watch, a non-profit that translates Arab media in the West Bank (Judea and Samaria), the Gaza Strip and eastern Jerusalem, in 2013 Al-Quds University received a donation of 3 million USD from the United Nations and European Union to "contribute to the development and protection of Palestinian cultural heritage in the old city of Jerusalem." Other donors include UNICEF, the pontifical mission, the British consulate and French consulate, among others.
The French novelist Victor Hugo once remarked, "He who opens a school door, closes a prison." But the author of Les Miserables and The Hunchback of Notre-Dame likely had a different definition from Al-Quds of what goes on behind a school door.
Posted by SD at 03:21 PM | Comments (1)
Washington Post Fails to Properly I.D. Terrorist 'Charity'
Ahmet Davutoglu, Prime Minister of Turkey

Twice in the same week, The Washington Post has failed to fully identify a Turkish "charity" that has ties to terrorist groups.
A Feb. 12, 2016 Post article ("Turkey won't open border to refugees") on Ankara rejecting demands to open its borders to Syrian refugees, noted efforts by a "Turkish relief agency IHH, which has been shipping tents and meals across the [Syrian] border."
Three days previously, an online article ("Merkel 'horrified' by Russian air attacks in Syria") referred to IHH as a "nongovernmental Islamic charity group." The Post quoted Burak Karacaoglu, the group's spokesman, expressing concern over "opening the gates" to refugees. Karacaoglu said he was "concerned about the [Syrian] airstrikes, which are increasingly targeting civilian areas."
Yet, The Post fails to mention that IHH is more than just a "nongovernmental Islamic charity group." In fact, IHH has close ties to both the current Turkish regime and terrorist organizations.
According to a 2011 report by the Meir Amit Intelligence and Terrorism Information Center, an Israeli think tank that studies Islamic terrorism, "the Turkish IHH…has a record of supporting terrorist groups" and "has close relations with Turkey's AKP government."
In its Jan. 24, 2011 report on IHH, the center says that collaboration between IHH and ruling AKP (Justice and Development Party) party in Turkey is based on a "common Islamic worldview" and "the concept that IHH can be used as a tool to implement Turkish foreign policy." According to the center, approximately one-quarter of senior IHH members have been appointed to government positions by the AKP.
The center reports:
"IHH has its roots in the conservative Islamic Mili Görüş movement, the parent of the Islamic Welfare Party which the AKP and the extremist Islamist Saadet party splintered from in 2001. Given its provenance, IHH is a clearly Islamist movement, which in the past was considered suspect and investigated by the Turkish authorities because of its involvement in providing support for Islamist groups (including those with ties to the global jihad) in combat zones such as Bosnia, Chechnya and Afghanistan. Ideologically IHH is or was originally based on the worldview of a central order of the Sufi tradition of Islam. The order, called Naqshbandiyya, has millions of adherents, including senior figures of the Turkish government."
Cooperation between IHH and Turkey's leaders was made plain in the Mavi Marmara flotilla incident.
As CAMERA has noted ("Radical, Pro-Hamas "Flotilla" Seeks Media Win," May 31, 2010), IHH participated in—with the blessing of the Turkish government—a flotilla including armed activists sailing for the Gaza Strip under the guise of bringing aid to Palestinian Arabs. No aid was found aboard the lead ship, the Mavi Marmara, and video showed armed passengers attacking IDF forces who boarded the ship once it violated Israel's blockade. The U.N. Palmer Report later upheld the blockade as legal.
The stated goal of flotilla organizers was to spark an international incident and use the confrontation over "humanitarian aid" to slander Israel. Passengers included members of the extremist group ISM (International Solidarity Movement) which supports violence against Israel, as well as sympathizers and financiers of Hamas, a U.S.-designated terror group.
The Meir Amit Intelligence and Terrorism Information Center reported that IHH in Germany has been designated a terrorist group and that the United States also has examined the possibility of making a similar designation due to the organization's "past support for global jihad," its involvement in the foiled terrorist attack on Los Angeles International Airport in 2000, its extremist anti-Western anti-Israeli Islamist character "and the support it gives Hamas, which is designated as a terrorist organization by the United States."
For towing the Turkish government's line and actively working for its frequently pro-Islamist, anti-Israel agenda, IHH has received awards from the AKP. In 2005 and 2007 it received awards from the Turkish vice prime minister's office.
The Washington Post failed to report that IHH is much more than a "nongovernmental charity" or "relief agency."
Posted by SD at 12:11 PM | Comments (0)
Who Did It? CNN Won't Say
In a gross omission in an article Sunday about Palestinians opening fire on Israeli security forces near Damascus Gate, CNN fails to fulfill one of the basic journalistic requirements: to report who carried out the attack ("Israel says 2 men are dead after opening fire on police near Damascus Gate").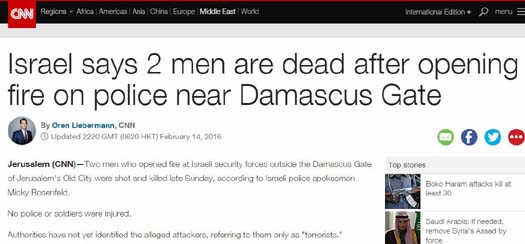 It's not only the headline which fails to note that the two attackers were Palestinian. Nowhere does the article itself identify the assailants as Palestinian, though that information had earlier been reported by other news services. The CNN story begins:
Two men who opened fire at Israeli security forces outside the Damascus Gate of Jerusalem's Old City were shot and killed late Sunday, according to Israeli police spokesman Micky Rosenfeld.

No police or soldiers were injured.

Authorities have not yet identified the alleged attackers, referring to them only as "terrorists."
According to the time stamp, the article was last updated at 22:20 GMT. Before then, news agencies had already identified the assailants as Palestinian.
For instance at 21:37 GMT, AFP reported ("Palestinians fire at Jerusalem police, attackers shot dead: police"):
Two Palestinians opened fire on Israeli police just outside Jerusalem's old city walls before being shot dead by officers, police told AFP. (Emphasis added).
Similarly, the Associated Press reported at 22:00 GMT:
Late Sunday, two Palestinians were fatally shot after they opened fire with automatic weapons on Israeli security forces near Jerusalem's Damascus Gate. (Emphasis added.)
CNN again covers up Palestinian violence at the end of the brief article by reporting:
Israel has experienced a spate of violence since October.
Specifically, Israel has experienced a spate of Palestinian violence since October, key information obscured by CNN.
This is not the first time in recent months that CNN has had trouble identifying Palestinian culprits or characterizing the last few months of Palestinian violence as Palestinian. See "CNN Dances Around Palestinian Violence, Refuses to Identify Culprits" for more details.
Posted by TS at 03:35 AM | Comments (2)
February 12, 2016
Poll: Majority in France Believe Jews Responsible for Antisemitism

Sixty percent of French citizens believe that Jews are at least partially responsible for rising antisemitism, according to a poll by Ipsos, a market research firm.
The survey, reported by The Jerusalem Post, is part of an 18-month study sponsored by the Fondation du judaisme francais ("Poll: Most Frenchmen believe Jews responsible for rise in anti-Semitism," Feb. 2, 2016).
The poll also found that 56 percent of the country believe Jews have "a lot of power" and possess great wealth. Repeating another old antisemitic trope, 40 percent said Jews are "a little too present in the media."
Thirteen percent of those surveyed said "there are a few too many Jews in France."
For their part, many French Jews are expressing a growing interest in leaving the republic.
The Jerusalem Post notes another recent poll by the "Institut francais d'opinion publique, which pegged the number of French Jews mulling moving to Israel at 43 percent. Given France's approximately 700,000 Jews, that translates to about 200,000."
In 2015, nearly 8,000 French Jews made aliyah. By contrast, in 2013 less than 3,300 Jews moved to Israel. Figures from 2011, show only 1,900 French Jews immigrating to the Jewish State ("Au revoir and shalom: Jews leave France in record numbers," CNN, Jan. 25, 2016).
Jews have increasingly come under attack in France.
On Jan. 9, 2015 four French Jews were murdered in Paris at a Jewish kosher deli by Islamic state sympathizers. In one week in June 2014, Jews were attacked in three different incidents in Paris, with the assailants using tear gas, axes and an electric taser ("Jewish teen wearing yarmulke tasered in Paris," Tablet Magazine, June 11, 2014).
More recently, French Jews have been increasingly attacked in the city of Marseille. In January 2015, a fifteen-year old ethnic Kurd who supports the Islamic State terrorist group stabbed a Jewish school teacher, Benjamin Amsellem, nearly killing him. At his arraignment, the unnamed teenager said he was "ashamed" his attempt was unsuccessful ("Teen Jihadi 'proud' of attack on Jewish man in Marseille," Times of Israel, Jan. 13 2016).
The Times of Israel reports that the attack was the third in as many months in the French city. "France's Jewish community has grown used to living under the surveillance of armed soldiers around synagogues and schools," the paper says.
As CAMERA has noted, antisemitism has been rapidly growing in Europe—anti-Jewish violence up forty percent in 2014, according to a study by Tel Aviv University. The majority of these attacks were in western Europe ("Violent antisemitic attacks up 40 percent—Where's the Coverage?" April 21, 2015).
With the current trend of antisemitic violence in France—and a majority of the public willing to blame the victim—it may come as little surprise if French immigration to Israel increases in 2016.
Posted by SD at 10:35 AM | Comments (0)
February 09, 2016
Zionism is "Threat to Democracy" according to Haaretz
In a recent article in Haaretz, contributor Revital Madar states that, "The threat to democracy in Israel, from 1948 to the present, is rooted in Zionism." Madar claims that the there are insidious bodies at work at the core of Israel's political and ideological character whose goal is to destroy human rights, "impose collective punishment," and govern by stringent religious doctrine. These accusations ignore the obvious facts to the contrary, namely Israel's democratic elections, judicial system, and non-discriminatory character.
Responding to the condemnation of Joint Arab List Members of Knesset (MKs) for visiting the families of Palestinian terrorists, the author takes the position that the Joint List is the "only" Knesset party in Israel that "truly understands what democracy is." Madar writes that the condemnation the Joint List MKs have faced in the aftermath of their visiting the families of Palestinian terrorists is a desecration of free speech and a violation of democratic rights. The Joint List ministers who observed moments of silence together with the relatives of terrorists in memory of the dead attackers are lauded for having a sensitivity that Israel as a nation lacks and cannot understand; unlike the rest of Israel, these MKs can "care more for a person who committed a crime…and for the rights of his family."
One of the MKs being celebrated by Haaretz for her humane, fair, and balanced views is Hanin Zoabi, who has voiced anti-Israel views on numerous occasions. She has stated that she is against a two-state solution, believes Israel should work with Hamas as a partner in peace, and has exited the Knesset during the recitation of the national anthem saying, "Hatikvah does not represent me." After the 2014 kidnapping and murder of three Jewish boys, Zoabi refused to recognize the kidnappers as terrorists, and rationalized the attack as the desperate actions of oppressed teens.
The Haaretz article falsely claims that Israel has a doctrine "to differentiate between human beings," failing to characterize Israel as it exists in reality, a free and democratic nation: Tel Aviv is continuously listed among the most popular gay cities in the world, known for its massive annual Gay Pride Parade; Israeli Arabs enjoy the richest opportunities, educational and professional, of any Arabs in the region; women in Israel are treated with respect unparalleled in the Middle East and afforded equal rights under the law; and freedom of speech and political thought are afforded to all. In fact, it is these very freedoms that Joint List MKs exercise in celebrating terrorists and that Madar enjoys in criticizing the Jewish state.
- Rachel Frommer, CAMERA intern

Posted by SC at 03:21 PM | Comments (4)
Where's the Coverage? Palestinian Official Calls to 'Intensify and Develop' Anti-Israel Violence
Fatah emblem

Referring to Palestinian Arab terror attacks against Israelis, Fayez Abu Aita, a spokesman for the Fatah movement that controls the Palestinian Authority (PA), has called to "intensify and develop this popular uprising." Despite frequently quoting him in his role as a Fatah spokesman, major U.S. print news outlets have failed to report these comments.
According to the Middle East Media Research Institute (MEMRI), a non-profit organization that translates Arab and Iranian media, Aita's comments were made on official PA TV on Jan. 21, 2016.
Aita also claimed that the "popular uprising" [a series of stabbing, shooting, vehicular and other attacks since September 2015] is "growing today. It has moral and material support from the Palestinian leadership and from the Fatah movement, so that it will be able to continue."
The Fatah official did not seem to notice the potential contradiction of calling the anti-Jewish violence a "popular uprising" that also has "moral and material support" from PA and Fatah leadership.
Seeming to support Aita's contention that the PA supports the continuing terror attacks: On Feb. 3, 2016, PA President Mahmoud Abbas met with the parents of several young Palestinian Arabs who were killed by Israeli security forces while murdering Jews. Abbas did so only hours after three Palestinian Arabs murdered nineteen-year old Border Police officer, Hadar Cohen ("Abbas Signals Solidarity with Terrorism," The Times of Israel, Feb. 16, 2016).
Despite acknowledging PA support for terror attacks, Aita blamed Israelis for the violence.
Alluding to U.S. and Israeli-led negotiations with PA leaders for a "two-state solution" in return for peace with and recognition of the Jewish state, the Fatah official said, "Palestinian leaders suffered in those negotiations like Job suffered. All the smart-asses say that 20 years have passed and the negotiations have failed. We have suffered like Job, and we are not going for this popular uprising just for fun."
What Aita did not mention was that Palestinian leaders prolonged either their "suffering," the negotiations or both by rejecting statehood in exchange for peace with Israel in 2000, 2001 and 2008, among other instances.
Instead, the Fatah spokesman asserted:
"As far as we [the PA and Fatah] are concerned, it [the "stabbing intifada"] will gradually escalate. It plays an extremely significant role at this state, but it could develop into an intifada throughout our homeland. It depends on how much Israel succumbs to the will of the international community, and to the Palestinian people's right to end the occupation, to self-determination, and to the establishment of the Palestinian state, with Jerusalem as its capital."
As Fatah's spokesman, Aita is regularly quoted by news media (see, for example, "Hamas Suspends Voter Registration Process in Gaza," The New York Times, July 2, 2012). Yet, despite treatment of him as a go-to source, Aita's recent admission of Palestinian leadership supporting anti-Israeli terror attacks was not mentioned by a single major U.S. print news outlet.
Where's the coverage?
Posted by SD at 10:31 AM | Comments (0)
February 08, 2016
Public Speech Without Accountability at Vassar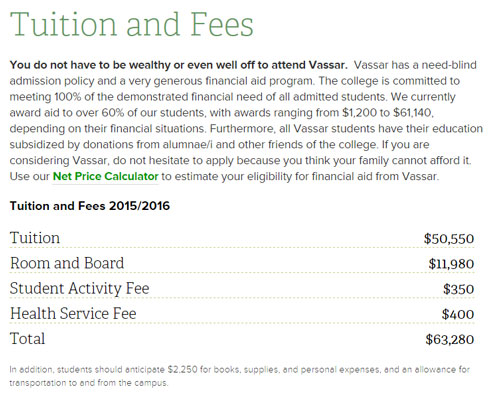 Vassar, which has become a hotbed of anti-Zionist intimidation, charges a pretty hefty sum for a year's tuition and room and board.(Screenshot from the school's website.)
Jasbir Puar, an associate professor at Rutgers University, recently appeared at Vassar College in Poughkeepsie, New York. During her Feb. 3 talk, she made a number of outlandish accusations that were recounted by Professor William A. Jacobson at his website, Legal Insurrection. Jacobson reported that "Puar's appearance amounted to an anti-Israel propaganda event at which Israel was portrayed in a manner reminiscent of ancient blood libels. A major theme of the talk was that Israel treats Palestinians as part of a type of scientific experiment developed to 'stunt' Palestinian bodies."
For example, Puar suggested that Israel has refused to release the bodies of young Palestinians who were killed in the aftermath of numerous attacks over the past few months because the Jewish state has harvested organs from the corpses.
In fact, Israel has delayed the return of the bodies of Palestinian attackers to prevent their use as propaganda props by the Palestinian Authority and terror organizations in the West Bank. Palestinian leaders use the funerals of the attackers to incite more violence against Israelis. The Associated Press reported on January 5, 2016 that "At the outset of the violence, Israel's public security minister, Gilad Erdan, recommended holding on to the bodies of Palestinian assailants, claiming the funerals turn into 'an exhibition of support for terror and incitement to murder.'"
According to Jacobson, the conclusion of her speech went as follows:

Technologies of measure, algorithmic computing, architecture and infrastructure — prehensive gendering operates at the sub, para and intimate levels as body parts and the kinds of changes that come with epigenetic deterioration take hold. In the context, then, of Palestine, hacking is not a computational metaphor, rather a distinct practice of reshaping the forms of human bodies and parts informed by computational platforms.
Underneath all this gobbledygook is the assertion that Israel is hacking and reshaping the bodies of Palestinians in an effort to oppress them, and ultimately perpetrate a genocide against them. (Predictably enough, during the Q and A, Puar did level the accusation of genocide at the Israeli government.)
Professor Jacobson reports that
In this supposedly academic appearance, there was no attempt to balance the presentation by discussing the goals and tactics of groups such as Hamas and Islamic Jihad. There was no context to the 2014 Gaza War, such as Hamas' relentless firing of long-range rockets at Israeli cities, and Israel's acceptance after one week of fighting of an Egyptian cease fire proposal, which Hamas rejected. Instead, this was a propaganda event. None of the Vassar professors challenged the presentation at all.
The organizers of the event asserted that they did not want the event tape recorded, because to do so without the speaker's permission is "unseemly and violates the modest contract of trust essential to the exchange of ideas."
Hogwash. The event was a publicly announced and publicized presentation offered by a scholar who was speaking about a very controversial subject. Neither she nor the organizers wanted her talk recorded for a very simply reason. Without a recording of the event, it would be harder to hold the speaker, and the people who invited her to Vassar, accountable.
It would also be harder for parents and potential applicants to see just how crazy things have gotten at Vassar, which charges its students as much as $63,000 a year in tuition and room and board to attend. To be sure, some students are given fee waivers according to need, but many (if not most) students will have to take out student loans, which will take decades to pay back, to cover the cost of their education (or indoctrination) at Vassar, which according to Professor Jacobson, has a serious problem with anti-Israelism on its campus.
In a previous post, Professor Jacobson recounted how the school has allowed for the creation of a climate of fear at Vassar.
For an in-depth view of the problems at Vassar documented at Legal Insurrection, click here and just scroll down.
Posted by dvz at 02:38 PM | Comments (4)
February 03, 2016
DEA Uncovers Hezbollah Drug and Money Laundering
Imad Mughniyah

The United States Drug Enforcement Administration (DEA) announced that it arrested top leaders of a European cell of Hezbollah, a U.S.-designated terror group, according to a Feb. 1, 2016 press release. Hezbollah, the Lebanese Shi'ite "Party of God," is an Iranian surrogate with reported worldwide reach.
The DEA said the arrests targeted members of Hezbollah's External Security Organization Business Affairs Component (BAC), "which is involved in international criminal activities such as drug trafficking and drug proceed money laundering." Profits made in these illicit efforts are used to buy weapons.
The arrests were made as part of DEA's Project Cassandra, an effort to clamp down on the BAC, which traffics cocaine in the United States and Europe. "The most significant arrest" according to the agency, was that of Mohamed Noureddine, a Lebanese money launderer who used his Lebanon-based company, Trade Point International S.A.R.L to launder Hezbollah funds. Noureddine has "direct ties" to Hezbollah elements in both Lebanon and Iraq.
Over the past year, U.S. Department of Justice investigations into Hezbollah financing have resulted in the indictments of individuals living in Columbia, Lithuania, France and the United States.
The BAC was founded by Hezbollah international operations head Imad Mughniyah. Mughniyah, reportedly behind the 1983 bombing of the U.S. Marine Corps barracks in Beirut, among many other attacks, was killed in Damascus, Syria on Feb. 12, 2008 reportedly in a joint U.S.-Israel operation conducted by the Central Intelligence Agency (CIA) and its Israeli equivalent, the Mossad. The Hezbollah component is currently overseen by Abdallah Safieddine.
According to DEA, its investigation began with a look into the Lebanese Canadian Bank. Working with authorities in France, Belgium, Germany and Italy, the agency "uncovered an intricate network of money couriers who collect and transport millions of euros in drug proceeds from Europe to the Middle East. The currency is then paid in Columbia to drug traffickers." The DEA notes that a "large portion" of the profits go through Lebanon and a "significant percentage" benefit terrorist organizations, particularly Hezbollah.
The U.S. Department of Treasury announced on January 28 that sanctions have been placed on more than 100 people and entities associated with the terrorist group ("U.S. Puts Sanctions on Alleged Hezbollah Money Launderers," The Wall Street Journal, January 28).
Writing for The Wall Street Journal's online Think Tank blog, analyst Matthew Levitt, says that Hezbollah is "facing hard times" as a result of the group's intervention in the Syrian civil war, a decline in oil prices that have "led Iran to cut back support" and sanctions ("The Crackdown on Hezbollah's Financing Network," January 27). Levitt is a former Treasury Department deputy assistant secretary who has written extensively about Hezbollah and sanctions, and is currently the director of the Stein Program on Counterterrorism and Intelligence at the D.C.-based think tank, Washington Institute for Near East Policy.
Levitt notes that sanctions have targeted foreign companies that supply material for unmanned aerial vehicles (UAV's) Hezbollah uses in Syria and Israel. The analyst says investigations into Hezbollah's financing have "led to the inner circle" of the group's leadership and are increasingly putting pressure on Hezbollah leader Hassan Nasrallah.
Hezbollah has long denied that it engages in drug trafficking and money laundering. In 2011, responding to a criminal complaint in a New York federal court, the organization claimed: "The United States' allegations that Hezbollah is funding its activities illegitimately is merely another attempt to tarnish the image of the resistance…Hezbollah categorically denies the false charges of its direct or indirect involvement in money laundering, drug trafficking or illegal banking operations."
But then, Hezbollah also has denied targeting Israeli civilians in terrorist attacks throughout the world and starving the Syrian town of Madaya via siege on behalf of Syrian dictator Bashar al-Assad—actions it has taken. From lies to murder, the group is nothing if not consistent.
Posted by SD at 12:01 PM | Comments (0)
February 02, 2016
Defense One: Israel Is a Rising Cyber 'Super Power'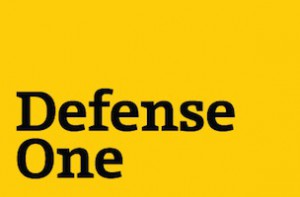 Israel is a rapidly growing power in cybersecurity. An article in Defense One, a publication that focuses on military and international affairs, details Israel's expanding cyber power ("The Middle East's Quietly Rising Cyber Super Power," Jan. 27, 2016).
Author Adam Segal, a senior fellow at the New York City-based think tank Council on Foreign Relations (CFR), describes Israel as having "an ambitious domestic and international agenda designed to make it one of the world's super cyber powers." Segal's focus at CFR, where he runs a blog called Net Politics, is on cybersecurity and cyberconflict.
Israel currently has more than 300 cybersecurity companies and accounts for 20 percent of the world's private investment in cyber. The Jewish state currently exports $6 billion in cybersecurity technology.
Segal attended the January Cybertech 2016 in Tel Aviv, at which Israeli Prime Minister Benjamin Netanyahu spoke about Israeli cybersecurity and its future. Delegations from the International Monetary Fund, U.S. Department of Homeland Security and business and banking officials from Canada and Japan, among other countries attended the conference. The Jerusalem Post called Cybertech 2016 "the largest exhibition of cyber technologies outside the United States ("Israel's electrical grid attacked in massive cyber attack," January 26)."

In his conference speech, Netanyahu highlighted the February 2015 establishment of an Israeli National Cyber Authority as part of a comprehensive plan to boost Israel's cyber readiness. The authority is tasked with ensuring a comprehensive response against cyber-attacks and "strengthening the resilience of organizations and sectors in the economy," according to a press release by the prime minister's office. Netanyahu also hinted at bureaucratic turf battles between the Shin Bet, Israel's domestic security agency, and the authority over cybersecurity responsibilities—a conflict that Segal called an "entirely predictable outcome of bureaucratic politics" that is expected to be "resolved quickly."
Netanyahu, Segal reported, also evidenced skepticism towards "the idea of a universal code of cyber norms. Instead, he advocated a meeting of like-minded countries to define norms and sanctions against those who violate those standards."
The Israeli prime minister said the Israeli government is expected to release soon guidance on export control laws for cybersecurity products.
On January 26, the day before the Cybertech Conference, Israel's electrical grid was the target of a massive cyberattack. Speaking about the incident at the conference, Israeli Minister of Infrastructure, Energy and Water, Yuval Steinitz said, "the virus was identified and software was activated to neutralize it." The perpetrators of the attack have not been named.
Steinitz added: "This is a fresh example of what we need to be prepared to face at any time."
As Defense One noted, Israel appears to be taking such preparation seriously.
Posted by SD at 01:30 PM | Comments (0)
February 01, 2016
School in Sweden Teaches Pupils Israel Doesn't Exist
Margot Wallstrom

A commentary in Arutz Sheva, Israel National News, "Indoctrinating Swedish children" (Jan. 28 2016) charges a Swedish school with attempting to teach children anti-Israel bias and hated. Author Tobias Petersson, chairman of the Swedish pro-Israel organization Perspective on Israel (PPI), warns of textbooks that have been distributed in the city of Malmo, Sweden by a non-governmental organization.
Petersson says the "Swedish pro-Palestinian NGO Palestinian Centre for Justice (PRC) recently began to educate children in one or more schools" in the city.
In 2006, PRC arranged a conference in which Ismail Haniyeh spoke. Haniyeh is the leader of Gaza Strip-based Hamas, a U.S-designated terrorist group. According to Petersson, the PRC is slated to hold another of these conferences, entitled "Palestinians in Europe" in 2016.
In June 2015, the PRC vice chairman held a meeting with Margot Wallstrom, currently Sweden's foreign minister. Wallstrom has been criticized for her Jan. 12, 2016 remarks which falsely alleged that Israelis shooting Palestinian attackers were potentially guilty of "summary executions."
The textbook distributed by the PRC is called "To Palestine I Belong." Written entirely in Arabic, the book shows a map that depicts all of Israel and territories ruled by the Palestinian Authority and Hamas as Palestine. Some Israeli cities are still shown—however Tel Aviv, is not.
Jewish history in the land of Israel before the 1917 Balfour Declaration is completely erased, whereas Muslim activity in the region is depicted. The book refers to Jewish presence in Israel as "the occupation" and accuses the country of harboring a "dangerous plan" to destroy the "Palestinian cause" via "war crimes against the land, the people and the holy shrines." Israel is also falsely charged with preventing Palestinian Arabs from working, stealing land and enacting "Judaization" projects to erase Islamic history in Jerusalem.
In what Petersson calls the "most controversial part of the textbook," the 1987-1994 intifada in which Palestinian Arabs attacked Israelis, both civilians and soldiers, is described as brave children fighting the "Zionist machines and soldiers with their bare chests." Petersson notes that this language directly mirrors that of Hamas spokesman Sami Abu Zuhri. Terrorist attacks against Israelis are praised in the book as a "heroic saga."
According to Petersson, in November and December 2015, the PRC Facebook page displayed photographs of teaching sessions with this textbook—only to remove them after journalists started asking questions. Other images show PRC rallies at which the Jewish Star of David is depicted—but made of barbed wire.
Swedish Foreign Minister Wallstrom has cited her government's unilateral recognition of a Palestinian state as proof of "consideration and solidarity" with Muslims. Sweden recently has accepted thousands of Muslim immigrants, some of whom were fleeing the Syrian civil war. In a Jerusalem Post Op-ed, Petersson notes that Wallstrom's statements on "solidarity" with the Islamic world (a notional concept for a divided, violence-torn region) frequently begin with an emphasis on her government's recognition of a Palestinian state—to "show how good Sweden is for Muslims ("Wallstrom has to resign," Nov. 21, 2015)."
According to the terms of the 1990s Oslo peace accords—which Sweden supported—recognition of a Palestinian state must be the result of bilateral negotiations with Israel. U.S. and Israeli offers for a "two-state solution" in exchange for peace with and recognition of Israel made in 2000, 2001 and 2008, were all rejected by Palestinian Arab leaders, without any counter-offers. This may render Wallstrom's recognition of a Palestinian state when none exists and may not be the main goal of Palestinian leaders, premature at best, an obstacle to peaceful coexistence at worst.
What the Palestinian leaders rejected in favor of launching and continuing the anti-Jewish violence of the second intifada, the Swedish foreign minister and an anti-Israeli NGO also apparently reject: a peaceful "two-state solution." Instead they take Palestinian rejectionism as a given, implicitly treat anti-Israeli, anti-Jewish terrorism as acceptable and seek to indoctrinate Swedish children in those views. By erasing Israel from the map, the PRC and its supporters are doing more than just echoing the rhetoric of groups like Hamas or Fatah's al Aqsa Martyrs Brigades—they're serving the strategic aims of terrorist groups.
By using text books that advance that line, Sweden's second largest city—from which many members of its 700-strong Jewish community fled because of antisemitic harassment half-a-dozen years ago—supports efforts to make not only itself, but also the Middle East, judenrein.
Posted by SD at 04:34 PM | Comments (1)
Iranian Leader Marks Holocaust Remembrance Day with Denial Video
Ayatollah Ali Khamenei

The "Supreme Leader" of Iran, Ayatollah Ali Khamenei, released a Holocaust denial video on Jan. 27, 2016—International Holocaust Remembrance Day.
According to the Middle East Media Research Institute (MEMRI), a non-profit organization that translates Arab and Iranian media sources, Khamenei's three-minute video was published on his official website. The "Iran Military" Facebook page, which is affiliated with the Islamic Revolutionary Guards Corps (IRGC), disseminated the video.
MEMRI says in the video Khamenei "expresses doubt about whether the Holocaust actually happened…and hints at a conspiracy on the part of Western Europe and the U.S."
Khamenei exhorts:
"You dear brothers, dear people of Iran, Muslims of the great Islamic Ummah [transnational Muslim community], and officials in different countries, should know that we can stand up against the Ignorance." The "Ignorance" is a term frequently used by Iranian leaders to refer to the non-Islamic West, particularly the United States.
The Iranian leader claimed that "no one in European countries dares to speak about the Holocaust, while it is not clear whether the core of this matter is a reality or not." Khamenei claimed, "Even if it [the Holocaust] is a reality, it is not clear how it happened."

As CAMERA has noted, similar false claims have been propagated by Palestinian Authority President Mahmoud Abbas, among others.
Without a hint of irony, the ayatollah, head of a theocratic police state, charged European leaders with suppressing freedom to question or debate the historical fact of the Nazi-led destruction of European Jewry. He pointed to lawsuits and arrests that some democratic countries, such as Germany, have taken against Holocaust deniers.
Khamenei's claims may have another purpose as well. MEMRI says, the ayatollah's charge implies the "silence about the Holocaust that is imposed by the West on their citizens…is a conspiracy by the Western countries and the Zionist regime [Israel], aimed at establishing falsely, justification for Israel's existence, as it expels the Palestinians."
The Islamic Republic of Iran's embrace of Holocaust denial is nothing new. Its former President, Mahmoud Ahmadinejad, repeatedly denied the murder of 6 million Jews by Nazi Germany and its collaborators occurred.
His successor, current Iranian President Hassan Rouhani, earned plaudits from media outlets, like the U.K. newspaper The Guardian, for purportedly putting "an end to eight years of Holocaust denial." Yet, as Marc Tracy pointed out in The New Republic in 2013, Rouhani did not actually denounce Holocaust denial. He said "Let the historians decide"—effectively casting doubt on the historical nature of the Holocaust by falsely implying that historians had not yet verified the genocide ("Hassan Rouhani Is Still a Holocaust Denier," Sept. 26, 2013).
In an activity meant to help indoctrinate the next generation of Iranians, the regime is slated to hold its latest annual contest to "see who can create the best Holocaust denial cartoon" this June. Last year 839 cartoons were submitted. This year's winner will take home $50,000—$12,000 more than the last winner was awarded ("Iran to Host State-Sponsored Holocaust Denial Cartoon Contest," Breitbart News, Jan. 16, 2016).
The MEMRI clip of Khamenei's Holocaust denial video can be found here.
Posted by SD at 01:11 PM | Comments (0)