« 'Pragmatic' and 'Self-Critical' Palestinian Official Claims the U.S. Created ISIS (Again) | Main | Palestinian Cleric: ISIS 'Must Conquer Rome, Washington and Paris' »
January 21, 2016
New York Times "Terrorism" Double Standard
On the same day CAMERA slammed the New York Times for an article referencing Palestinian violence, including the stabbing of an Israeli civilian, as "resistance," the newspaper gave yet another indication that it is hesitant to describe violence against Israeli civilians as terrorism.
The Algemeiner yesterday reported on CAMERA's criticism of the Times adoption of the word "resistance":
"To describe the history of violence by residents of the town of Sa'ir merely as 'resistance' is to describe the act of plunging a knife into an Israeli civilian's chest — an act perpetrated by a Sa'ir resident last October — as something readers are likely to associate with noble World War II partisans or fictional Jedi heroes," senior CAMERA research analyst Gilead Ini told The Algemeiner.

"This outlandish abuse of language, meant to downplay Palestinian violence recalls The New York Times' recent description of a butterfly knife wielded by a Palestinian attacker as a 'Boy Scout' knife."

Contrasting this with the newspaper's word choice when it comes to Israeli behavior, Ini said, "The New York Times hasn't described rare acts of anti-Palestinian violence by Israeli extremists as 'resistance.' On the contrary, a recent article referred to a 'Jewish terrorist' network, even though the Times has not once used the phrase 'Palestinian terrorist' in reference to the current wave of stabbing attacks targeting Israeli men, women and children."

Ini asked, "Why does the newspaper have such a hard time straightforwardly dealing with anti-Israel violence?"

He concluded: "Palestinian assailants should not be confused with Boy Scouts. Violent antisemitism should not be confused with resistance. And New York Times advocacy journalism should not be confused with the fair and impartial reporting readers expect."
Also yesterday, the newspaper called on its readers to "share their thoughts on recent terrorist attacks and memories of victims."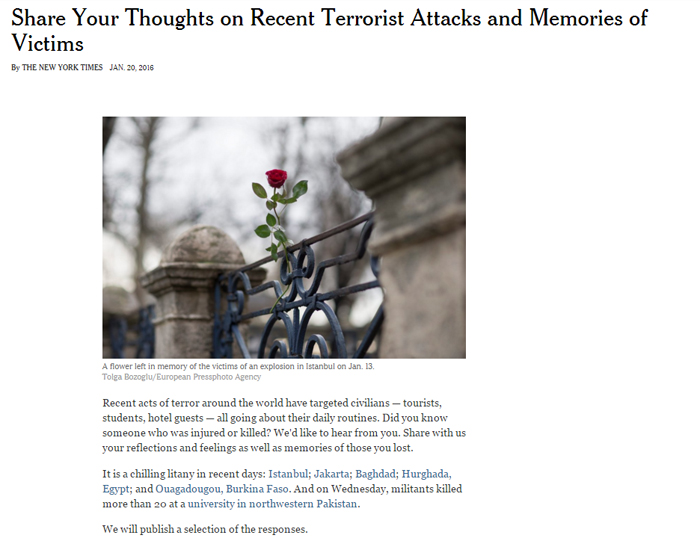 The newspaper lists a "chilling litany" of attacks on civilians, but recent Palestinian attacks against Israelis, including the slaying of Dafna Meir in front of her children last Sunday and the stabbing of a pregnant Israeli woman, are glaringly absent.
Although many of the terror attacks listed by The New York Times were deadly, mass casualty attacks, the newspaper does include the wounding of three Europeans in Egypt earlier this month.
Does The New York Times believe the stabbing of European civilians is chilling terrorism but the stabbing death of Israeli civilians is not?
Posted by GI at January 21, 2016 02:43 PM
Comments
How is it that the New York Times raises issues of terrorism committed against European civilians, but neglects such issues when they involve terrorist attacks against Israeli civilians? I'm referring to the recent Palestinian murder of Dafna Meir in front of her children.
Posted by: Thomas Kaplan at January 28, 2016 04:49 PM
Guidelines for posting
This is a moderated blog. We will not post comments that include racism, bigotry, threats, or factually inaccurate material.
Post a comment