« CNN's Brianna Keilar: Tel Aviv Is Israel's Capital | Main | Palestinian Officials Continue to Promote Antisemitic Blood Libel »
January 04, 2016
Media Reports Iranian Anger at Saudi Executions But Ignores Iranian Executions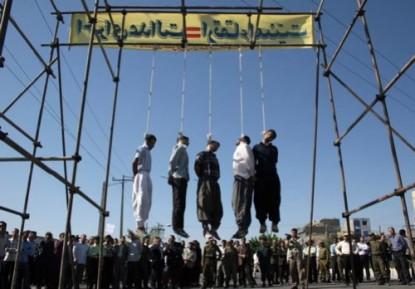 Kurds executed in Iran
The news media has reported on worldwide reaction to Saudi Arabia's execution of 47 prisoners. Among those executed was a prominent Shiite activist, Nimr al-Nimr. His execution has prompted considerable discussion of the harsh nature of the Saudi regime. Many Western news outlets have made a point of noting the angry recriminations voiced by Iran's Supreme Leader, Ayatollah Khamenei.
The Saudi regime carries out numerous executions every year. In 2015, the BBC reports the Saudis executed 150 prisoners. However, the Iranian condemnation is truly a case of the pot calling the kettle black. Iran executes hundreds every year. Yet these executions, usually by hanging, receive little attention in the Western media.
An article in the English language version of the London-based Arab newspaper, Ashaq al-Awsat, reports that Iran executed 750 political prisoners in the last nine months of 2015. The majority of those executed were ethnic Kurds, the largest Sunni muslim group in Iran.
According to the article, the Vice President of the Iranian Kurdistan Freedom Party, Hussein Yazdan Bina stated,

"In order to hide the facts from the international public opinion, the Iranian regime fabricated the charge of narcotics trafficking. In reality, trafficking is being carried out by Iranian authorities and by officials of the Iranian Revolutionary Guards and the Iranian Intelligence in a project to suppress the Kurdish people in Iran. Iran has deluded the international community into thinking that the executions are not based on political grounds."
The rate of executions has increased with the advent of the Iranian nuclear agreement. According to the article,
Yazdan Bina also pointed out that the nuclear deal concluded by Tehran with the great six powers has set the Iranian regime into carrying out more execution campaigns against the Kurds in eastern Kurdistan...
Posted by SS at January 4, 2016 02:09 PM
Comments
Guidelines for posting
This is a moderated blog. We will not post comments that include racism, bigotry, threats, or factually inaccurate material.
Post a comment