« Hamas Cracks Down—on Palestinian Journalists | Main | The Demise of Cable News Channel Al-Jazeera America? »
January 14, 2016
Israeli Diplomat: Iran Wants to Turn Syria Into a Base for Attacking Israel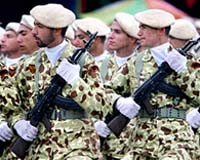 Members of the Iranian Islamic Revolutionary Guard Corps

Iran aims to turn Syria into an Iranian province, according to the director-general of Israel's Foreign Ministry, Dore Gold. Gold noted his concerns while speaking at the D.C.-based think tank, the Woodrow Wilson Center for International Scholars, on January 11, 2015.
The former Israeli ambassador to the United Nations said his country considers Tehran to be its top strategic threat. Gold also elaborated on why Iran's desire to acquire nuclear weapons is not the only security concern that Israel has regarding the Islamic Republic.
Gold was careful to note that Israel had made the decision not to become involved in any way in the ongoing civil war in Syria.
In remarks noted by Business Insider reporter Armin Rosen ("Top Israeli diplomat: 'Iran wants to turn Syria into a province of Iran,'" January 12), the diplomat said he "firmly believes Iran want to turn Syria into a province of Iran."
Gold cited Iranian activity in Syria as proof, noting that Tehran is promoting Shi'ite Islam in Syria—an act he categorized as indicating objectives beyond keeping Iranian-sponsored Syrian dictator Bashar al-Assad in power. The mullahs are "involved in creating a social and political change that incorporates Syria into the Iranian state."
Rosen observed that by incorporating part of Syrian into the Iranian state, Tehran would gain "a strategic foothold along Israel's northern border"—a possibility which Gold said Israel "cannot accept." Among other U.S.-designated terrorist groups, Iran funds Hezbollah, Hamas and Palestinian Islamic Jihad—all of which have attacked Israel and have the destruction of the Jewish state as a publically declared goal.
Rosen theorized: "It's possible that his [Gold's] portrayal of Iran's end-game in Syria isn't intended as an actual analysis, but as a way of suggesting a distinction between Israeli perceptions of Iranian and Russian activities in the war-torn country."
Both Russia and Iran are using military forces, and in Iran's case militias and terrorist groups, to support al-Assad. However, Russia and Israel reportedly have agreed the Israelis possess a "degree of freedom" to target "assets belonging to Hezbollah." Still, a recent report by The Daily Beast notes Hezbollah claims that Russia is supplying it with "long-range tactical missiles, laser guided rockets, and anti-tank weapons ("Russia is Arming Hezbollah, Say Two of the Group's Field Commanders," January 11)."
In their recent report for the RAND Corporation think tank, Jeffrey Martini, Phillip Gordon and James Dobbins proposed a "peace-plan" for the Syrian civil war that would leave Iran on the borders of both Israel and Turkey. Dobbins and Gordon are both former high-level advisers on the Middle East for the Obama administration. Lee Smith, an analyst and senior fellow at a D.C.-based think tank, the Hudson Institute, noted that some have described the report as a "trial balloon."
CAMERA has noted Iranian claims that another sovereign country, Bahrain, is a "province" of Iran—and a subsequent Hezbollah terror plot to overthrow the Bahraini government ("Where's the Coverage? Bahrain Foils Terror Plot," Jan. 11, 2016).
In August 2015, Iran's Supreme Leader, Ayatollah Ali Khamenei published a book in Farsi called Palestine. In it Khamenei repeatedly called for the destruction of Israel. The Iranian leader called himself the "flagbearer of Jihad to liberate Jerusalem" and recommended pursuing a long-term strategy of war by attrition against the Jewish state.
Posted by SD at January 14, 2016 03:24 PM
Comments
Iran wants o turn Syria into a launch pad against Israel; I'm shocked. How many times does the Ayatollah have to pretty much spell it out before anyone believes him? The new Iranian Empire from Tehran to Beirut by way of Baghdad and summer vacation spots for the Imams in Tel-Aviv. I guess the Ayatollah figured the best way to keep this secret is to telegraph it to everyone.
Posted by: jeb at January 21, 2016 07:33 PM
Guidelines for posting
This is a moderated blog. We will not post comments that include racism, bigotry, threats, or factually inaccurate material.
Post a comment