« Where's the Coverage? Israeli Women Being Murdered by Terrorists | Main | Where's the Coverage? Palestinian Official Praises Hitler, Says Goal of 2 States is Elimination of Israel »
January 28, 2016
Before Huge Diaa Hadid Correction, Signs of Bias
Recently on Twitter, we shared a pithy summary of the broader context to the massive Editors' Note The New York Times had to append to Diaa Hadid's hit piece on Jerusalem evictions.
Our readers who don't use Twitter might not have seen it, so here it is: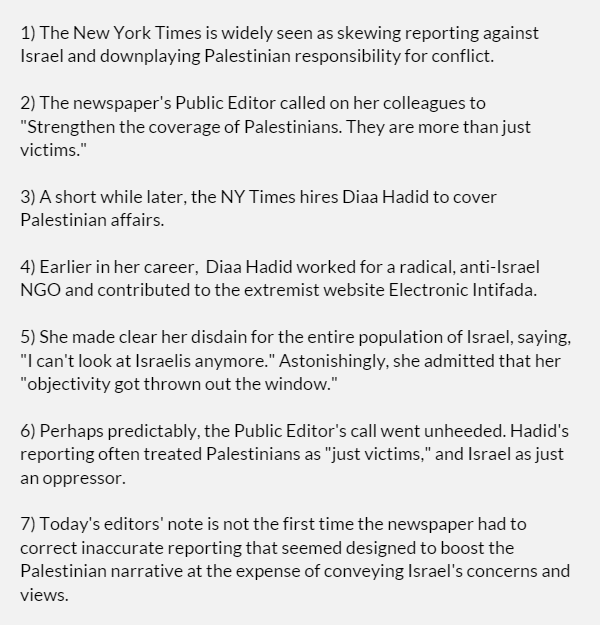 We also shared this graphic showing some of the hostile comments Hadid made before being hired by the New York Times:
There have been a number of corrections over the past year to inaccurate or misleading reporting by Hadid that consistently skewed against Israel.
And the corrections hardly tell the whole story. There are plenty of other examples of bad reporting to be found, including Hadid's description of a Palestinian stoning attack that led to the death of a Jewish driver as an "accident," and her absurd reference to the assailants stoning not the driver, but merely pelting "the road he was driving on."
In another article, Hadid interviewed two witnesses to an security incident in Hebron. One of the witnesses claimed a Palestinian shot by security forces was not carrying a knife. According to Hadid's account, the second witness did not say otherwise. But that same second witness actually admitted, in a conversation with another organization, to seeing a knife. Hadid failed to get, or failed to share, this essential information from the witness.
Posted by GI at January 28, 2016 09:21 AM
Comments
Guidelines for posting
This is a moderated blog. We will not post comments that include racism, bigotry, threats, or factually inaccurate material.
Post a comment