« HuffPo Argument for Moral Indefensibility of Israel's "Occupation" is Indefensible | Main | Lost in Haaretz Translation: Saeb Erekat's Relative Shot 2 Israelis »
December 12, 2015
Haaretz: 'Ramming Car Fled the Scene'
Image for illustrative purposes only. This car was not involved in the attack.
What happens when Pixar's "Cars" meet a Haaretz news story about a Palestinian attack? Anthropomorphic vehicles ram soldiers and flee the scene.
Haaretz's page-one article yesterday ("Four soldiers wounded in car-ramming") begins: "Four soldiers were wounded when a car deliberately drove into them at the Beit Arye junction in the West Bank yesterday afternoon."
It's very doubtful that the car made a deliberate decision to drive into the soldiers. In fact, it's probably safe to say that the vehicle did not make any decision of any kind.
Nevertheless, further assigning agency to the personified attacking vehicle, the article also states:
The car crashed into a military vehicle after hitting the soldiers, wounding its driver.

The soldiers were standing near the military vehicle when a speeding car rammed three of them. It then crashed into the vehicle and wounded its driver as well.

The ramming car fled the scene, but it was later found. . .
That's one reckless ramming car, fleeing the scene after deliberately driving into soldiers. Fortunately, though, the belligerent, though not particularly stealthy, automotive outlaw was no match for Israeli authorities which successfully located the fugitive.
The online version of the article was only marginally better. It did not mention a "car deliberately driving into soldiers," but it did state that the car escaped the scene.

See also "Wave of Palestinian Violence Accompanied by Spate of Bad Writing"
Dec. 16 Update: Anthropomorphic Car in English Edition Only
An examination of the original Hebrew version of the same article by Gili Cohen indicates that the anthropomorphic car is another example of "Haaretz, Lost in Translation," in which reports in the English edition downplay or omit Palestinian violence or other misdeeds.
The Hebrew article clearly reports (CAMERA's translation):
Four soldiers were injured yesterday in a ramming attack at the Beit Arye junction in the West Bank. One is in moderate condition, and the other three are lightly injured.

The driver [literally, the rammer] fled the scene, but later security forces located the vehicle that he apparently drove. . .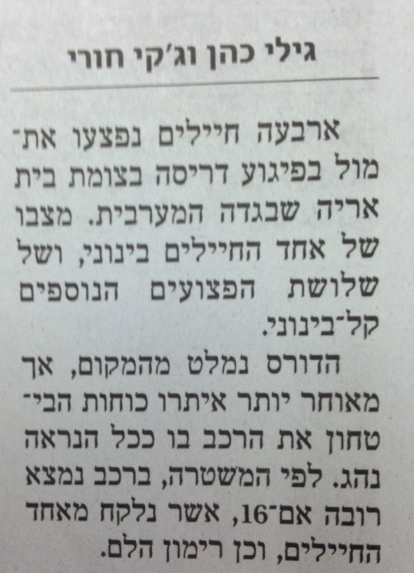 Posted by TS at December 12, 2015 04:11 PM
Comments
Please specify: is this another episode of "Lost in Translation" or was the Hebrew version equally egregious?
Posted by: wsg at December 14, 2015 04:51 PM
Guidelines for posting
This is a moderated blog. We will not post comments that include racism, bigotry, threats, or factually inaccurate material.
Post a comment