« November 2015 | Main | January 2016 »
December 30, 2015
USA Today Provides Rare Look at Anti-Israel Terror

Writing for USA Today, special correspondent Shira Rubin provides readers with a brief, but surprisingly direct report on the recent terror attacks by Palestinian Arabs against Israelis—and the effects of these attacks on every day Israeli citizens ("In Jerusalem, living on edge is new normal," Dec. 24, 2015). Surprising because such "start with the basics" coverage is comparatively rare.
The USA Today article begins by doing something not frequently done by major dailies such as The Washington Post and The New York Times, among others—quoting an Israeli civilian, in this instance a teacher named Talia Malek—who speaks about news worthy developments without equivocation.
Describing Malek's use of public transport in Jerusalem to get to work—amid three months of "near daily attacks by Palestinians"—Rubin provides readers with an important perspective, one often missed.
"'This is our city, this is our country, and we need to show that we cannot be intimidated,' Malek says about her daily trips.
While noting Malek's defiance in the face of terror, Rubin also quotes her concerns:
"Co-existence in Israel is possible… but this current situation reminds us that Palestinians see us as their enemy….And the moment that they have the chance they will—literally—stab us in the back."
The USA Today article provides details about the recent terror attacks, noting that 20 Israelis and an American student have been killed.
In contrast to other recent coverage noted by CAMERA (for example, "AP, NYT Headlines Cast Palestinian Attackers as Victims, Ignore Dead Israelis," December 24), Rubin evidences no problem with distinguishing attackers from victims.
In a one sentence paragraph, Rubin informs readers about a major cause of the violence:
"The attacks began after false word spread among Palestinians that Israel was going to take control of their holy site, [al-Aqsa mosque on Temple Mount] a claim repeated by Palestinian leaders despite repeated Israeli denials."
CAMERA has noted ("Rocks Attack Cars, 'Violence Spikes' but Palestinian Arabs not Responsible," October 5) how many major print news media outlets have failed to detail this use by Palestinian Authority President Mahmoud Abbas and others of the so-called "al-Aqsa is in danger libel." The false charge historically has encouraged violence against Jews and replicates earlier propaganda by Palestinian Arab leaders. Despite being provided via email with CAMERA background on the libel and its use by Abbas that preceded the recent terror attacks ("Incitement over Temple Mount Leads to Palestinian Violence, Again," Sept. 16, 2015), The Washington Post among other major outlets downplayed when it did not ignore.
For example, in its December 26 coverage ("In Israel, a new form of violence"), The Post uncritically repeats PA officials claims that "Palestinian authorities are not initiating the violence" and "this [terror attacks] is caused by our humiliation and suffering"—omitting any mention of the incitement by Abbas and others.
Yet, in a one-sentence paragraph Rubin reports "root causes" other media—mesmerized by Palestinian claims about "the occupation," "humiliation" and "frustration"—have missed or omitted. In eight short paragraphs she provides readers with Israeli perspectives and essential facts, frequently diminished or missing in much lengthier coverage.
Sometimes, less is more. And in this case it certainly was.
Posted by SD at 10:24 AM | Comments (0)
On Mavi Marmara, Los Angeles Times Throws Facts Over Board
Knives, wrenches, and wooden clubs used to attack the soldiers on board the Mavi Marmara (photo courtesy of IDF)
In an article about Turkish-Israeli ties last week, The Los Angeles Times incorrectly reported:
In 2010, however, Israeli commandos intercepted a Turkish ship, the Mavi Marmara, that was attempting to deliver supplies to the Gaza Strip.
The photo caption in the print edition repeated the erroneous claim that the Mavi Marmara was "attempting to deliver supplies to Gaza."
While the ship was part of a flotilla attempting to break Israel's legal naval blockade of the Gaza Strip, the Mavi Marmara was not carrying any supplies and therefore was not attempting to deliver supplies. As Israel's Ministry of Foreign Affairs reported at the time:
Of the seven flotilla ships, only four were freight ships. The Challenger 1 (small yacht), the Sfendonh (small passenger boat) and the Mavi Marmara (passenger ship) did not carry any humanitarian aid, except for the passengers' personal belongings. (Emphasis added.)
And, as Greta Berlin, one of the flotilla organizers, told Al Jazeera at the time: "This mission is not about delivering humanitarian supplies. . . "
CAMERA contacted editors to request a correction. Stay tuned for an update.
Posted by TS at 04:18 AM | Comments (0)
December 29, 2015
Palestinian Security 'Shares' Call to 'Water' anti-Israel Fight 'With Blood'
PA President Mahmoud Abbas

The Facebook page of Adnan al-Damiri, official spokesman for Palestinian Authority (PA) Security Forces, posted a message on Dec. 21, 2015 calling for "revolution" against Israel.
According to Palestinian Media Watch (PMW), a non-profit organization that monitors Arab media in the West Bank (Judea and Samaria), the Gaza Strip and eastern Jerusalem, al-Damiri's official Facebook page shared the message from the Fatah Shabiba youth movement. The majority of PA officials belong to the Fatah movement, including current President Mahmoud Abbas.
The message stated:
"Teach your children to love the land
Teach them that we live a life of suffering
Teach them that there is a
seed in the ground If they water it with blood, a
revolution will flower
Teach them that Fatah is the
eternal revolution
That the 'Storm'
Is the blade of the intifada
And that the Shabiba are the knights of the rocks" [.]
The post also celebrated the first Fatah attack against Israel, which it claims took place in 1965 (other sources, such as the Jewish Virtual Library, date the first attack as occurring in 1964).
PMW notes that Fatah also has recently shared cartoons on its Web site that encourage anti-Jewish violence and glorification of martyrdom. One such cartoon, shared by Fatah's Information and Culture Commission on December 27, depicted a Palestinian Arab emerging from the blood of a dead compatriot clasping a rock and slingshot. This blood-covered Palestinian continues to throw rocks at an Israeli soldier.
Ten days earlier, PA Deputy Minister of Information Mahmoud Khalifa and Nida Younis, head of the PA's Press Office, denied inciting anti-Jewish violence and accused PMW of "incitement against Palestinians."
PMW notes that the use of cartoons and social media by Fatah and the PA to glorify terrorist attacks against Israel is common—and frequently mirrors statements by PA officials, such as Abbas encouraging spilling blood in Jerusalem in a Sept. 16, 2015 speech on official PA T.V.
A cartoon in Al-Hayat Al-Jadida [an official PA daily newspaper] on December 26 features Santa Claus approaching a Palestinian "martyr's" mother who tells him, "I want to bury my son in the bosom of the land he redeemed with his blood, and [I ask] that he not remain in the Zionist refrigerators [referring to terrorists' bodies being held temporarily by Israel before being transferred to the PA]."
According to the Oslo diplomatic process of the 1990s and the accords that created the PA and allowed for limited Palestinian Arab self-rule in the West Bank and the Gaza Strip, the authority is required to prevent both incitement to and acts of, anti-Jewish violence. The agreement also called for greater cooperation between Israeli and PA security forces, with the latter receiving training and assistance from the U.S. and European forces.
CAMERA previously has documented ("Where's the Coverage? Palestinian Official Shoots Israeli Soldier," Dec. 9, 2015) how PA security officials have, at times, committed terror attacks against Israelis, civilian and non-civilian alike.
Are Palestinian Arabs, including members of PA security forces who commit terror attacks, merely 'sharing' the incitement to anti-Jewish violence condoned by PA leadership and disseminated through social media, cartoons, and daily newspapers, among other sources? It's a good question journalists should be asking, and covering the answers.
Posted by SD at 03:51 PM | Comments (0)
Pro-Israel Kuwaiti Journalist Calls a Spade a Spade
Kuwaiti journalist Abdullah al-Hadlaq, a columnist for the Al-Watan newspaper has come out vocally in support of Israel several times before. In October, he ignited a firestorm of condemnation on Arab social media when he defended Israel's right to defend itself against the "terrorism of [Palestinian] knives" in an Al Watan column.
Al-Hadlaq has now written a column criticizing the Arab media and defending Israel's position for the Israeli media, published today in Israel Hayom.
He notes that
The Arab media has become afflicted with stupidity and delusion and has lost its ability make true distinctions. The words "wisdom" and "reason" are no longer part of its lexicon. It has become debased and mentally challenged. It considers the victims of battles in Iraq, Syria, Lebanon, Yemen, etc. "casualties," whereas the Palestinian terrorists killed in the Gaza Strip or in the West Bank are dubbed "shahids" (martyrs). This same media, which is biased in favor of a group of people called "Palestinians," neglects every human, Arab, or Muslim issue and associates shahada (a martyr's death in the name of belief) with them only....
...

Why, when Palestinian terrorists and murderers holding knives and rocks are killed by Israeli soldiers, who are forced to open fire in cases of legitimate self-defense, do these debased Arab media outlets twist the truth and call the Palestinian terrorists "shahids"? By what right did they earn that exalted rank, while being murderous terrorists and criminals? The accursed Arab media outlets that warp and make things up, glorify the murderers and terrorists as well as Palestinian crimes, and give them, exclusively, the title "shahid."
Read the entire column
here.
Posted by RH at 01:26 PM | Comments (1)
Newshour's Christmas Eve Error on Palestinian Fatalities
Channel WABC in New York was not the only television broadcast to slip up in its coverage of Palestinian fatalities Christmas Eve.
Judy Woodruff of PBS' "Newshour" erred Dec. 24:
In Bethlehem, Christian pilgrims and tourists alike flocked to Manger Square, the traditional birthplace of Jesus. Other celebrations were canceled, as four more Palestinians died in clashes with Israeli forces. (Emphasis added.)
The excerpt in question is 4:26 seconds into the broadcast.
In fact, one Palestinian, gunman Bilal Omar Zayed, died in clashes with Israeli forces that day, not four. A Palestinian witness reported that Abu Zayed shot at Israeli troops in Kalandiya during an arrest. Troops returned fire. The other three Palestinians were killed as they carried out attacks against Israelis.
As the Associated Press reported that day:
Four Palestinians were killed on Thursday, among them three who Israel said were carrying out attacks on soldiers [sic -- they also attacked civilian security guards, as indicated below] in the West Bank, the latest in a three month-long wave of unrelenting Israeli-Palestinian violence.

The four separate incidents came as revelers were gathering in the West Bank city of Bethlehem for Christmas celebrations, festivities that are being dampened by the latest outburst of violence.

Israeli authorities said that three Palestinians were killed after they carried out or attempted to carry out attacks against Israelis across the West Bank. A fourth Palestinian was killed in clashes with Israeli troops, according to a Palestinian hospital official.

In the first incident, police spokeswoman Luba Samri said the attacker approached the entrance to an industrial zone in the Ariel settlement and stabbed two security guards, wounding them moderately, before they shot and killed him. Two other Palestinians were killed in two other incidents, including an attack by a motorist on Israeli troops, with one soldier lightly wounded.

The fourth Palestinian, who died in clashes with the Israeli military in the Qalandiya refugee camp in the West Bank, was hit in the head by live fire, according to Ahmad Bitawi, the director of Ramallah hospital. (Emphases added.)
CAMERA has contacted "Newshour" editors to request a correction making clear, that contrary to the Dec. 24 report, one Palestinian died in clashes with Israeli forces that day (after he fired on Israeli troops), not four, while another three were killed as they carried out stabbings and car-ramming attacks against Israelis.
Posted by TS at 08:00 AM | Comments (0)
In WABC Report, Palestinian Assailants Are the Victims
An egregiously misleading and distorted Channel 7 WABC Christmas Eve news broadcast in New York (11 pm) depicts Palestinian assailants as victims. Anchor Shirleen Allicot concludes a brief report about Christmas in Bethlehem as follows:
They were not kept away by the recent wave of violence between Palestinians and Israelis. Four Palestinians died in attacks across the West Bank. (Emphasis added.)
Viewers have no way of understanding from this skewed account that three of the Palestinians were killed as they carried out attacks against Israelis. The fourth was killed in clashes with Israeli soldiers.
As the Associated Press reported that day:
Four Palestinians were killed on Thursday, among them three who Israel said were carrying out attacks on soldiers in the West Bank, the latest in a three month-long wave of unrelenting Israeli-Palestinian violence.

The four separate incidents came as revelers were gathering in the West Bank city of Bethlehem for Christmas celebrations, festivities that are being dampened by the latest outburst of violence.

Israeli authorities said that three Palestinians were killed after they carried out or attempted to carry out attacks against Israelis across the West Bank. A fourth Palestinian was killed in clashes with Israeli troops, according to a Palestinian hospital official.

In the first incident, police spokeswoman Luba Samri said the attacker approached the entrance to an industrial zone in the Ariel settlement and stabbed two security guards, wounding them moderately, before they shot and killed him. Two other Palestinians were killed in two other incidents, including an attack by a motorist on Israeli troops, with one soldier lightly wounded.

The fourth Palestinian, who died in clashes with the Israeli military in the Qalandiya refugee camp in the West Bank, was hit in the head by live fire, according to Ahmad Bitawi, the director of Ramallah hospital. (Emphases added.)
CAMERA has contacted editors ABC's New York station to request a clarification making clear that of the four Palestinians killed Dec. 24, three were killed as they carried out attacks against Israelis, and the fourth was killed in a violent clash with Israeli soldiers. Contrary to the false impression given in the Dec. 24 report, they were the perpetrators of West Bank attacks, not the victims.
The Associated Press, on Dec. 23, commendably corrected a headline which similarly had falsely depicted Palestinian assailants as victims.
Posted by TS at 03:57 AM | Comments (0)
December 28, 2015
Palestinian Student Movement Uses Pictures of Murderers as Christmas Ornaments
PA Prime Minister Rami Hamdallah

Shabiba, a Palestinian Arab student group that belongs to the Fatah movement, decorated a Christmas tree with pictures of murderers and terrorists.
According to Palestinian Media Watch (PMW), an organization that monitors Arab media in the West Bank (Judea and Samaria), the Gaza Strip and eastern Jerusalem, Fatah posted pictures "of the tree along with members of its student movement on its official Facebook page."
The majority of officials in the Palestinian Authority (PA) belong to Fatah. The PA was created as part of the 1990's Oslo diplomatic process which allowed the Palestine Liberation Organization (PLO), previously designated a terror group by the United States, Israel and others, and its ruling Fatah party to relocate from Tunisia and establish limited self-rule in the West Bank and Gaza Strip. As part of Oslo, PA officials are required to prevent incitement to anti-Jewish violence, as well as attacks themselves.
Terrorists whose images were adorned by Fatah on the tree include Fathi Shaqaqi, the founder of Islamic Jihad, which is a U.S.-designated terrorist group responsible for more than 1,000 attacks and Abu Ali Mustafa, secretary-general of the Popular Front for the Liberation of Palestine (PFLP), another U.S.-listed terrorist organization and one that rejected the Oslo accords.
A picture of Muhannad Halabi also was hung proudly by Fatah as a Christmas ornament. Halabi murdered 2 Israeli civilians, Rabbi Nehemiah Lavi and Aharon Bennet, during an Oct. 3, 2015 terrorist attack in Jerusalem's Old City. Before he was killed by Israeli police, Halabi also stabbed Bennett's wife Adele and their 2-year-old child, who both survived.
In a Facebook post prior to the attack, Halabi stated that he was committing the attacks in response to PA claims that Israel was going to change the status quo at the Al-Aqsa Mosque. As CAMERA has documented ("Incitement over Temple Mount Leads to Palestinian Violence, Again," Sept. 16 2015), this libel has been used on numerous occasions to incite anti-Jewish violence.
CAMERA has noted other efforts by Palestinian Arab leadership to honor Halabi, such as the PA ministry of education planting trees in his name and the PA Bar Association awarding him an honorary law degree ("'Moderate' Palestinian Authority Honors Murderers with Trees and Law Degrees," October 15).
A sign near the Christmas tree that appeared in Shabiba's Facebook post was translated by PMW:
"The way to freedom is a bullet and a Martyr, a pen and a prisoner, an olive tree and a wounded, a crescent and a cross [.] Merry Christmas [Fatah] Shabiba student movement Birzeit University."
Birzeit University, where the photographed tree and smiling Shabiba students are apparently located, has active student groups representing both Fatah and its sometime rival Hamas, also U.S.-designated terrorist group. The university is located in the town of Birzeit near Ramallah and has hosted previously anti-Israel guest speakers, including American linguist Noam Chomsky. Birzeit University Fund, a self-described charitable organization based in Royal, Oak Michigan, raises money for the college.
PMW reports that at a recent December 15 meeting with British and Australian politicians, the PA Minister of Education, Sabri Saidam, and PA Prime Minister, Rami Hamdallah, denied that the PA and Fatah glorify terrorists.
Regarding PA incitement to violence and memorializing murderers, perhaps Charles Dickens, the famous Victorian-era author, said it best in A Christmas Carol: "An idea, like a ghost, must be spoken to a little before it will explain itself."
Posted by SD at 01:50 PM | Comments (0)
December 22, 2015
Where's the Coverage? Iran Cyber-Attacked New York City-Area Dam
Iranian Supreme Leader Ayatollah Ali Khamenei

The Islamic Republic of Iran hacked into the control system of a dam near New York City two years ago, according to The Wall Street Journal ("Iranian Hackers Infiltrated New York Dam in 2013," Dec. 20, 2015). WSJ reported that the incident sparked "concerns that reached to the White House, according to former and current U.S. officials and experts familiar with the previously undisclosed incident." The Journal broke the news of this still classified dam intrusion through interviews and an unclassified Homeland Security document, among other sources.

The paper reported that systems of the type hacked by Iran "control the flow in pipelines, the movements of drawbridges and water releases from dams. A hacker could theoretically cause an explosion, a flood or a traffic jam." The attacks occurred during a period of intensive computer hacking by the Iranian government, targets of which included U.S. banks, such as Capital One Financial Corp., PNC Financial Services and SunTrust Banks.
According to an unclassified Homeland Security summary of the dam intrusion, Iranian hackers were thought to have gained access via a cellular modem. The hackers did not take control of the dam, but rather probed the system.
The breach was noticed by U.S. intelligence agencies who were monitoring computers linked to Iranian hackers. WSJ reports:
"Intelligence analysts then noticed that one of the machines was crawling the Internet, looking for vulnerable U.S. industrial-control systems. The hackers appeared to be focusing on certain Internet addresses….Eventually, investigators linked one address to a 'Bowman' dam."
Since there are 31 different dams in the U.S. that include the word "Bowman" in their names, officials originally worried that the Bowman Dam in Oregon had been compromised. That is a 245-foot-tall structure that prevents flooding in Prineville, population of 9,200. At this point, the White House was notified.

However, the breach was traced eventually to the Bowman Avenue Dam, a 20-foot-tall structure near the village of Rye Brook, N.Y.
In a separate but related Associated Press story that ran in The Boston Globe and appeared on the ABC News Web site ("U.S. electrical grid vulnerable to hackers," December 21), reporters Garance Burke and Jonathan Fahey noted that "digital clues pointed to Iranian hackers" infiltrating the United States power grid. The hackers had "already taken passwords, as well as engineering drawings of dozens of power plants, at least one with the title 'Mission Critical.' The drawings were so detailed that experts say skilled attackers could have used them, along with other tools and malicious code, to knock out electricity flowing to millions of homes. The breach involved Calpine Corp., a power producer with 82 plants operating in 18 states and Canada."
AP reported that cyber breaches of the power grid provide potential enemies with the information and ability to "strike at will."
USA Today, The Baltimore Sun, The Washington Post and The New York Times, among others, did not cover this Iranian cyber-attack on U.S. infrastructure which had resulted in a White House briefing. While the dam intrusion is still classified, unclassified summaries by Homeland Security and The Wall Street Journal report itself give information that other outlets could have provided to their readers.
CAMERA recently noted ("Iran Increases Cyber-attacks against the United States; Where's the Coverage," November 30) that Iran has increased its cyber-attacks against the United States—although much of the media has failed to take note.
"The public," Burke and Fahey of the Associated Press wrote," almost never learns the details of these types of attacks—they're rare but also more intricate and potentially dangerous than data theft. Information about the government's response to these hacks is often protected and sometimes classified; many are never even reported to the government."
Perhaps another reason the public "never learns" about cyber-attacks on the power grid is due to their being unreported by the news media.
Where was the coverage?
Posted by SD at 04:44 PM | Comments (2)
December 21, 2015
UK House of Commons Report Finds Muslim Brotherhood "Contrary to Our National Interests and Our National Security"
There has been considerable debate over the beliefs and goals of the Muslim Brotherhood. Many prominent Muslim organizations in both the United Kingdom and the United States are linked to the Muslim Brotherhood, including the highly visible Council on American Islamic Relations (CAIR). Muslim Brotherhood-affiliated student groups feature prominently on college campuses.
Despite the fact that CAIR and other groups have been linked by law enforcement to terrorist groups, some American and British officials have gone on record describing the Muslim Brotherhood as a moderating force that should be engaged. Departments of the United States government, including those involved in homeland security, have worked with Muslim Brotherhood-linked organizations. Individuals associated with Muslim Brotherhood affiliates have been invited to the White House and even officiated at government events.
Other officials, scholars and commentators have argued that the Muslim Brotherhood should be ostracized, accusing the group and its affiliates of seeking to infiltrate and subvert western society. In some cases, such warnings have been met with accusations of Islamophobia.
In April 2014, British Prime Minister David Cameron commissioned an internal review of the Muslim Brotherhood, "including its origins, ideology, record in and out of government; and its organisation and activities in the UK and abroad." The chief authors of the report were Sir John Jenkins, until recently HM Ambassador to Riyadh, Saudi Arabia and Charles Farr, who served as the Director General of the Office for Security and Counter Terrorism in the Home Office.
On December 17, 2015, the authors presented their findings to the House of Commons. The investigators concluded that the Muslim Brotherhood represents a break from traditional Islam. It has "promoted a radical, transformative politics, at odds with a millennium of Islamic jurisprudence and statecraft."
The authors observed that although "the Muslim Brotherhood historically focused on remodelling individuals and communities through grassroots activism... they have also selectively used violence and sometimes terror in pursuit of their institutional goals."
Although much of the report remains classified, the public portion discloses that "Their [Muslim Brotherhood] public narrative – notably in the West - emphasised engagement not violence. But there have been significant differences between Muslim Brotherhood communications in English and Arabic."
Contrary to the hoped for moderation of the Muslim Brotherhood when it achieved political power in Egypt, a concept advocated by media mavens like Christiane Amanpour and The New York Times, the British investigation refuted these prognostications as nonsense, noting,
there is little evidence that the experience of power in Egypt has caused a rethinking in the Muslim Brotherhood of its ideology or conduct. UK official engagement with the Egyptian Muslim Brotherhood produced no discernible change in their thinking. Indeed even by mid-2014 statements from Egyptian Muslim Brotherhood-linked media platforms seem to have deliberately incited violence...
Concerning Muslim Brotherhood activities within the UK itself, the commission offered disturbing observations that

much about the Muslim Brotherhood in the UK remains secretive, including membership, fund raising and educational programmes. But Muslim Brotherhood associates and affiliates here have at times had significant influence on the largest UK Muslim student organisation, national organisations which have claimed to represent Muslim communities (and on that basis have sought and had a dialogue with Government), charities and some mosques.

Though their domestic influence has declined organisations associated with the Muslim Brotherhood continue to have an influence here which is disproportionate to their size...
Those who have made similar observations about the radical disposition and disproportionate influence of the Muslim Brotherhood in the United States find themselves marginalized and rebuked by government officials.
The British report also notes that

the Muslim Brotherhood have been publicly committed to political engagement in this country... But this engagement did not take account of Muslim Brotherhood support for a proscribed terrorist group and its views about terrorism which, in reality, were quite different from our own.
The commission report concludes on a sober note, establishing that

aspects of Muslim Brotherhood ideology and tactics, in this country and overseas, are contrary to our values and have been contrary to our national interests and our national security.
Supporting the report's findings, Prime Minister Cameron described the movement as "deliberately opaque and habitually secretive" and in a statement to MPs, the Prime Minister wrote: "Aspects of the Muslim Brotherhood's ideology and activities… run counter to British values of democracy, the rule of law, individual liberty, equality and the mutual respect and tolerance of different faiths and beliefs (The Independent, Dec. 17, 2015)."
Posted by SS at 11:30 AM | Comments (1)
Foreign Affairs Goes Silent on Anti-Israel Group

The following letter was sent to Foreign Affairs Nov. 23 2015, but went unpublished:
"Dear Editor:
Violeta Moura's photo gallery and accompanying article on "Breaking the Silence" ("Israeli Soldiers Break Their Silence," November 18) omits far too much about this essentially anti-Israel group that claims to report alleged abuses by the Israeli Defense Forces (IDF).

"Breaking the Silence" (BTS) has been described by NGO-Monitor, an organization that tracks non-governmental organizations operating in Israel, as dedicated to providing non-Israelis with defamatory, often unsubstantiated allegations about the IDF. The group has consistently refused to provide authorities with evidence for its allegations, despite the Israeli army's order requiring members to report any violation of regulations that results in harm to noncombatants and investigate substantial charges.

Moura rightfully notes that the group's allegations are presented anonymously, but she repeats uncritically—in a photo essay with pictures of BTS members—its claims that the anonymity in question is for protection. While she briefly notes "accusations that the stories are fabricated," she quickly repeats—without detail—the groups assertion it "use[s] a rigorous investigative method to corroborate all claims." What exactly this method is neither BTS nor Moura say.
Instead of providing Israeli authorities with evidence to back charges of Israeli military abuse of non-combatants, the group conducts speaking tours before anti-Israel audiences far from the borders of the Jewish state.

"Breaking the Silence" bills itself as an Israeli non-profit. However, it receives substantial funding from European groups and governments opposed not only to Israeli policies, but in some instances to Israel itself. Some of the groups' donors, such as Broederlijik Delen, a Belgian Christian charity, also fund openly anti-Israel organizations. Moura's article omits this important background. These tactics raise questions about the group's objectives, as does the source of their funding.
The group's unsubstantiated allegations that the IDF commits crimes and regularly uses disproportionate force runs counter to expert testimony from independent military sources. After an American military delegation visited Israel following the summer 2014 Hamas-initiated war, then-chairman of the U.S. Joint Chiefs of Staff Gen. Martin Dempsey stated that Israel "went to extraordinary lengths to limit collateral damage and civilian casualties."

Similarly, a 2015 report by the High Level International Military Group—which includes former chiefs of staff of German, Italian and Spanish militaries, among others—concluded that "Israel not only met a reasonable international standard of observance of the laws of armed conflict, but in many cases significantly exceeded that standard." The group concluded that Israel's adherence to the laws of war—while fighting an enemy that does not share its moral compunctions—was "scrupulous."
Foreign Affairs readers examining the "Breaking the Silence" photo gallery would learn none of this. The essay broke the journalistic standard of fully disclosing the "who," which could have offered answers to readers looking for the feature's "why."
Sincerely,
Sean Durns
Media Assistant
CAMERA—Committee for Accuracy in Middle East Reporting in America"
Posted by SD at 10:34 AM | Comments (0)
December 18, 2015
Media Misses: U.S. Intelligence Wrong on Iran Nukes

The International Atomic Energy Agency (IAEA) announced on Dec. 2, 2015 that Iran was actively designing a nuclear weapon until at least 2009—rebutting a 2007 National Intelligence Estimate (NIE) that concluded Iran was no longer working to develop nuclear arms.
The IAEA report contradicted intelligence estimates and statements by the United States and other Western intelligence agencies that received considerable attention at the time from press and policymakers.
The New York Times notes that the report, based only "on partial answers Iran provided after reaching its nuclear accord with the West in July, concluded that Tehran conducted 'computer modeling of a nuclear explosive device' before 2004. It then resumed the efforts during President Bush's second term and continued them into President Barack Obama's first year in office ("Nuclear Agency Says Iran Worked on Weapons Design Until 2009," Dec. 2, 2015)."
The Times reports that although the IAEA "found no evidence" that Iran had succeeded in developing a nuclear weapon that "may have been because Iran refused to answer several essential questions, and appeared to have destroyed potential evidence in others."
On December 15 the IAEA closed its investigation into Iran's past nuclear weapons activities, a development noted in The Washington Post ("Nuclear probe on Iran is closed," December 16) and The Baltimore Sun ("Nuclear weapons probe of Iran is closed by U.N.," December 16), among other outlets.
The Post reported that the IAEA's announcement occurred the same day as reports emerged of an internal U.N. report documenting that Iran had violated resolutions from the world bod by firing a missile capable of delivering a nuclear warhead on October 10.
The Sun's coverage of the IAEA decision was delivered in a nine sentence news brief. Neither The Sun or The Post noted that the decision followed an investigation, which as The New York Times and an Associated Press story in The Los Angeles Times ("U.N. ends Iran nuclear inquiry; The move, part of a deal with six nations, leaves questions about suspected weapons work unanswered," December 16), reported, faced Iranian obstinacy against providing investigators full cooperation.
None of the above mentioned papers noted that the IAEA conclusion countered a 2007 U.S. NIE that concluded Iran was no longer working to develop a nuclear weapon.
This is particularly surprising in the case of The Baltimore Sun, which as recently as July 21 ("No more 'military option'") ran a guest editorial by Ray McGovern that championed the merits of the 2007 NIE. McGovern, a former intelligence official and co-founder of fringe-group Veteran Intelligence Professionals for Sanity (VIPS), has routinely expounded conspiracy theories regarding the Iraq war and the Sept. 11, 2001 al-Qaeda terror attacks—some of which appear on a "9/11 truth" Web site.
The Sun has published at least eight editorials or letters to the editor by McGovern in the last three years alone, some alleging that Israel manipulates intelligence on Iranian nuclear ambitions (July 31, 2012 "Is Israel fixing the intel?") and others blaming the U.S. for Russian imperialism (July 15, 2014, "When the U.S. welched on Shevardnadze").
In a letter sent to The Sun on Aug., 4, 2015, CAMERA noted both McGovern's history as an anti-Israel "truther" as well as problems with the 2007 NIE that he touted. CAMERA noted that among other issues, that NIE defined "nuclear weapons program" to exclude "Iran's declared civil work related to uranium conversion and enrichment the fringe activist heralds."
While questions remain about the extent of Iran's nuclear weapons program, some media don't seem interested in reporting them, even those who have previously offered editorial space to flog a since debunked intelligence assessment.
Posted by SD at 10:19 AM | Comments (0)
December 16, 2015
CBS Radio Commentator Misses a Frequency on 9/11 'Celebration'
Former New York City Mayor Rudy Giuliani

Many news media reports or commentaries have refuted the claim by Donald Trump, a candidate for the Republican presidential nomination, that "thousands and thousands of Muslims in New Jersey cheered the destruction of New York City's World Trade Center on Sept. 11, 2001. A Dave Ross commentary (KIRO, syndicated by CBS Radio in Seattle and aired in Washington D.C. on WTOP-FM) on November 24, discussed an Atlanta-Journal-Constitution article. It noted five Israelis were taken into custody in New Jersey after being reported "clowning around" with the World Trade Center burning across the Hudson River in the background.
What of claims Muslims celebrated the Twin Towers destruction?
In the U.S.
•Former New York City Mayor Rudy Giuliani said on Dec. 1, 2015 to CNN: "We had some pockets of celebrating." Asked how many people he witnessed celebrating the attacks, he said, "Ten. Twelve. Thirty. Forty. We had one situation in which a candy store owned by a Muslim family was celebrating that day, right near a housing development. And the kids in the housing development came in and beat them up."
However, Giuliani said that had there been "thousands and thousands" of people cheering as the twin towers fell—as Trump claimed—he would have known.
•"We had a number of reports of people celebrating. I remember Atlantic Avenue in Brooklyn. There were some in Queens. There were also some in Patterson, New Jersey and Jersey City."—Bernard Kerik, former New York Police Commissioner speaking to One America News on Dec. 1, 2015
•Breitbart unearthed a local CBS News (WCBS-TV in New York, Sept. 16, 2001) that also discusses Muslims celebrating in Patterson, New Jersey, subsequently investigated by the FBI, with eight individuals detained:
"Just a couple of blocks away from that Jersey City apartment the F.B.I. raided yesterday and had evidence removed, there is another apartment building, one that investigators told me, quote, was swarming with suspects — suspects who I'm told were cheering on the roof when they saw the planes slam into the Trade Center. Police were called to the building by neighbors and found eight men celebrating, six of them tenants in the building.
The F.B.I. and other terrorist task force agencies arrived, and the older investigators on the task force recalled that they had been to this building before, eight years ago, when the first World Trade Center attack led them to Sheik Omar Abdel-Rahman, whose Jersey City mosque lies between the two buildings getting attention today. And the older investigators remember that the suspects that eventually got convicted for the first Trade Center case … lived in the building where these same eight men were celebrating the destruction that they saw from the roof. Calling this a hot address, the task force investigators ordered everyone detained."
•Breitbart also reported that The Washington Post wrote ("Northern New Jersey Draws Probers' Eyes," BY Serge F. Kovaleski and Frderick Kunkle) on Sept. 18, 2001:
"In Jersey City, within hours of two jetliners' plowing into the World Trade Center, law enforcement authorities detained and questioned a number of people who were allegedly seen celebrating the attacks and holding tailgate-style parties on rooftops while they watched the devastation on the other side of the river."
•And on Sept. 14 2001, a New York Post commentary by Fred Siegel said:
"Here in New York, it was easy to get angry listening to Egyptians, Palestinians and the Arabs of nearby Paterson, N.J., celebrate as they received word of the murderous attack in New York and Washington. But Mayor Giuliani (who has been tireless and magnificent in this crisis) rightly warned New Yorkers that it would be wrong to take their anger out on the city's Arab and Muslim residents. Attacks on Arab-Americans in Paterson or elsewhere are utterly indefensible."
According to Breibart: "Siegel told Daily Intelligencer that he first heard about the celebrations (and the nationalities of the perpetrators) on the radio, though he couldn't remember which station. In addition to those news reports, he said, he believes that some Muslims did celebrate because he heard it from two sources: an acquaintance from Clifton, New Jersey, and an Arab-American professor with whom he corresponded."
Outside U.S.—Palestinian Arabs
"In the wake of the September 11 atrocity, mass celebrations were held in Palestinian towns and cities. The incidents were far from isolated and sparsely attended as reported later by Palestinian apologists. Thousands of people took to the streets, chanting Allahu Akbar (God is Great), distributing candies to passerby, and shooting guns in the air to express their delight. To keep these disturbing scenes from world attention, PA [Palestinian Authority] security forces confiscated filmed footage and intimidated foreign journalists, news agencies, and television networks. In Gaza, Palestinian policemen detained cameramen who had filmed a Hamas demonstration in which Palestinians carried pictures of Osama bin Laden. In Nablus, foreign photojournalists were reportedly forced to remain confined in their hotels, guarded by armed Palestinians—both in uniform and in plain clothes—while crowds celebrated in the streets. A freelance photographer on assignment for Associated Press Television News, who had somehow managed to film the festivities, was summoned to the Nablus security office and warned that the material must not be aired. This was backed by death threats from Tanzim operatives. Ahmad Abdel Rahman, Arafat's cabinet secretary, threatened Associated Press producers that the PA 'cannot guarantee the life' of the cameraman if the footage was broadcast."
"In a terse protest to the Palestinian Authority, the Foreign Press Association, representing hundreds of mainstream journalists in Israel, expressed concern over:
'The harassment of journalists by the Palestinian Authority as police forces and armed gunmen tried to prevent photo and video coverage of Tuesday's rally in Nablus where hundreds of Palestinians celebrated the terror attacks in N.Y. and Washington. We strongly condemn the direct threats made against local videographers by local militia members and the attitude of Palestinian officials who made no effort to counter the threats, control the situation, or to guarantee the safety of the journalists and the freedom of the press (Efraim Karsh, Arafat's War, Grove Press, 2003, pg. 224).' "
Posted by SD at 02:31 PM | Comments (1)
By Popular Demand: Hamas Celebrates Anniversary, Calls for Murdering more Jews
Hamas leader Ismail Haniyeh
Hamas, a U.S.-designated terrorist group, celebrated its 28th anniversary on Dec. 14, 2015 by calling for more violence against Israel. The group's charter calls for the destruction of Israel and genocide of the Jews.
The Jerusalem Post reported that tens of thousands of Palestinian Arabs took to the streets to march in celebration of Hamas' anniversary (December 15, "On its anniversary, Hamas vows to 'keep its weapons directed at the Israeli occupation only").
The terror group has been labeled by some, including former U.S. President Jimmy Carter and current Obama administration "ISIS czar" Rob Malley, as a potential peace partner with the United States and Israel.
Hamas has praised recent terror attacks against Israeli's and encouraged Palestinian Arabs to commit more.
In a statement released on its English language website, Hamas (the Palestinian Islamic Resistance Movement) affirmed that it "will never recognize the Israeli occupation, and confirms that Palestine form the Jordan River to the Mediterranean is an Arab, Islamic country."
Reporting on the celebrations, The Investigative Project on Terrorism (IPT) noted that Hamas leader Khaled Meshaal called for "jihad, sacrifice, and blood" as the only way Gaza and West Bank Arabs can achieve their objective.
In a video clip translated by the Middle East Media Research (MEMRI), Meshaal stated:
"Weapons like Kalashnikovs or missiles are not at hand, but there are knives and cars with which to run over the enemies…By God, after the knives used by the people of the West Bank and Jerusalem, can anyone possibly have an excuse to abandon the path of jihad? Nobody can have such an excuse."
The celebration of Hamas' anniversary comes the same day as a survey showing widespread support amongst Palestinian Arabs for anti-Israeli terrorism and murder.

According to a new poll by the Palestinian Center for Policy and Survey Research (PSR), a Ramallah-based non-profit, two-thirds of Palestinian Arabs in Gaza and the West Bank support the current wave of attacks against Israelis, and a "growing majority rejects the two-state solution." Over one-third believe that current violence targeting Israelis, civilian and non-civilian alike, will lead to greater violence in the form of another intifada (uprising)—and two-thirds of those believe this would "serve Palestinian national interests in ways that negotiations could not."
67percent of Palestinian Arabs polled supported the use of knives in attacks against Israelis, however 73percent expressed a preference against "young school girls" carrying out such acts of murder and attempted murder.
21percent of West Bank Palestinian Arabs, ruled by the Palestinian Authority and the Fatah movement that dominates the authority, expressed a "positive evaluation" of living conditions. 15percent of Gazans living under Hamas rule expressed similar satisfaction.
65percent of Palestinian Arabs polled want to see PA President Mahmoud Abbas resign, with a majority believing Abbas should, but likely won't, end commitments to peace and security with Israel brought about by the 1990s Oslo process. According to the survey:
"If new presidential elections were held today and only two were nominated, [Hamas leader] Ismail Haniyeh and Mahmoud Abbas," Abbas and Haniyeh would receive an almost equal percentage of support in the Gaza Strip. However, in the West Bank Haniyeh would win with 53percent compared to Abbas' 37percent.
71percent of those polled believe that Hamas supports ongoing terror attacks, while 59percent believe Fatah does as well.
At its 28th anniversary, Hamas—and its commitment to genocidal violence—apparently remains popular with many Palestinian Arabs. A qualification: Both Hamas and, to a somewhat lesser extent Fatah, run authoritarian administrations. Respondents to public opinion surveys may feel some intimidation in answering pollsters.
The PSR poll can be found here.

Posted by SD at 01:48 PM | Comments (2)
Washington Post Doesn't CAIR About Terrorism History
The following letter to the editor was sent, but went unpublished:
"Dear Editor:
Washington Post coverage (for example, "Trump wants 'total' ban on Muslims entering U.S.," December 8) continues to omit the history of a questionable source repeatedly cited: the Council on American Islamic Relations (CAIR).
CAIR—founded as a Muslim Brotherhood spin-off—was an un-indicted co-conspirator in the largest terrorism funding case in U.S. history, the 2009 Holy Land Foundation trial. As a result of evidence presented at that trial, FBI Assistant Director Richard Powers said the bureau was ceasing official cooperation with CAIR or its executives until it could resolve "whether there continues to be a connection between CAIR or its executives and Hamas"—a U.S. listed terror group.

CAIR has criticized undercover operations by the FBI and others that seek to prevent terror attacks, but failed to specifically condemn terror groups Hamas or Hezbollah. At least five former staff or lay leaders from CAIR have been indicted, arrested or deported on weapons or terrorism-related charges.
The Post's failure to identify CAIR is conspicuous given that it "identified" Frank Gaffney—a former U.S. assistant secretary of defense whose current organization, Center for Security Policy, includes former U.S. intelligence and defense professionals—as a "anti-Muslim extremist." Why would The Post parrot the Southern Poverty Law Center's reiteration of CAIR's allegations against Gaffney, but fail to note CAIR's own history?
The Washington Post made its reputation, in part, by exposing cover-ups like Watergate. Why cover up for CAIR?
Durns is Media Assistant for the Washington D.C. office of CAMERA—the 65,000 member Committee for Accuracy in Middle East Reporting in America "
Posted by SD at 11:08 AM | Comments (0)
December 15, 2015
Palestinian 'Peace' Negotiator Refuses to Take Stage With Israeli Flag
Saeb Erekat

Saeb Erekat, a top Palestinian Authority (PA) official, refused to speak at an event sponsored by an Israeli newspaper, Ha'aretz and the New Israel Fund (NIF) if an Israeli flag was on-stage.
Erekat has worked as the PA's chief negotiator and has frequently been referred to by many journalists and policymakers as a "moderate."
The PA official attended a joint Ha'aretz-NIF New York City conference on Dec. 13, 2015. As Arutz Sheva, a news organization associated with Israel's settler movement, reported, Erekat "demanded that event organizers take the [Israeli] flag down as his price for gracing the event with his comments—and they complied, upon which Erekat agreed to make his prepared speech (December 13, "Ha'aretz removes Israeli flag to accommodate PA's Erekat")."
Other speakers and guests at the conference included the U.S. Ambassador to the United Nations, Samantha Powers, commentator Peter Beinart, J Street founder Jeremy Ben-Ami and 1960-1970s rock star and anti-Israel boycott advocate Roger Waters, among others.
Arutz Sheva described Erekat's speech as a "rehashing of the usual themes," including laying sole blame for failure to achieve a two-state solution on Israeli Prime Minister Benjamin Netanyahu, who Erekat claimed was trying to create an "apartheid state." The PA chief negotiator lauded the recent European Union decision supporting a boycott against Israeli products made in areas held by Israel as a result of the 1967 and 1973 wars.
Erekat served as chief negotiator for the Palestinian Authority when Israel and, in the first two cases the United States, offered a two-state solution in exchange for peace and recognition in 2000 at Camp David, 2001 at Taba and 2008 following the Annapolis Conference. Each offer was rejected without a counter proposal, by Palestinian Arab leadership, including Erekat.
In his remarks, Erekat rejected criticism that the PA was not fighting anti-Israel incitement, claiming, "It is sometimes difficult to distinguish between incitement and freedom of expression. We try to fix the mistakes we make."
However, as CAMERA has documented, the PA—led by the Fatah movement—repeatedly has incited violence against Israelis, civilians and non-civilians alike, using everything from children's sing alongs to poems and PA official broadcasts featuring PA officials, such as Jibril Rajoub, among others, who praise terror attacks as "courageous" (November 24, "Leaders Encourage Palestinian Children to Murder Jews, Use Sing-Alongs").
Palestinian Media Watch (PMW), an organization that monitors Arab media in the West Bank (Judea and Samaria), Gaza and eastern Jerusalem, noted that the day before Erekat spoke Fatah posted a cartoon on its web site depicting both U.S. and Israeli soldiers murdering children. As CAMERA has noted, Fatah and the PA have repeatedly invoked this modern-day version of the medieval blood-libel, alleging that Jews murder innocent children (November 11, "Palestinian T.V. Favorite Accuses Israel of 'Harvesting' Terrorists' Organs").
PA rhetoric endorsing violence frequently correlates to terrorist attacks committed against Israelis. For example, on December 3, Mazen Hassan, a PA intelligence officer, attacked and wounded an Israeli civilian and soldier before he was shot and killed. Hassan's family received a condolence visit from Erekat. This is not surprising as PA officials frequently pay respects to deceased terrorists.
However, it's perhaps even less surprising given that Hassan was Erekat's nephew—a fact not reported by Ha'aretz, which perhaps did not want to embarrass their future guest speaker (December 15, "Lost in Haaretz Translation: Saeb Erekat's Relative Shot 2 Israelis").
Nor is this the first time that Erekat has shown a willingness to lie publicly.
In 2002, Erekat claimed that Israel committed a massacre in Jenin with at least 500 dead. Eventually, PA officials admitted that 52 were killed, mostly combatants, in house-to-house fighting in Jenin that claimed 23 Israeli soldiers.
CAMERA has documented how Erekat has attempted to fabricate history by claiming—in contrast to the Qu'ran, historical consensus, and fellow PA officials—that Palestinian Arabs are the real descendants of the Canaanites who lived in the Jordan Valley and Judean and Samarian hill country before the Israelis (Feb. 19, 2014, "Saeb Erekat's Fabrication Exposes 'Palestinian Narrative'").
Grant Rumley, an analyst of Jordanian and Palestinian politics at D.C.-based think tank Foundation for Defense of Democracies, has written that Erekat may be a possible successor to PA President Mahmoud Abbas (September 3, "The Race to Replace Mahmoud Abbas"). If so, observers may want to remember a 'peace negotiator' who refuses to be seen with an Israeli flag and pays tribute to slain terrorists/relatives. It's said a diplomat is a gentleman sent abroad to lie for his country. In Erekat's case—he's from Jericho—he need not travel far.
Posted by SD at 03:31 PM | Comments (0)
UNHRC Condemns Israelis Defending Themselves Against Palestinian Terrorism
UN "Human Rights" Council spokeswoman Cécile Pouilly expressed grave concern "at the unrelenting violence in the Occupied Palestinian Territory and in Israel." While she acknowledged the "unacceptable" wave of Palestinian stabbings, shootings and car rammings that kill and injure Israelis, she reserved her deepest condemnation for Israelis' attempt to defend themselves, expressing "deep concern over reports of excessive use of force by Israeli forces" and calling for "prompt, independent and impartial investigations" of every instance where Israeli use of force resulted in the "death or injury" of Palestinian assailants. She also condemned Israel's deterrent demolition of Palestinian terrorists' houses.
There are numerous videos showing how terrorists charging at their intended victims with knives or other deadly weapons have been killed in self defense. The UNHRC's equation of aggressive terrorism with self-defense and its condemnation of the latter provides yet another example of the virulent bias of this UN body and explains why the UNHRC has rendered itself meaningless.
Posted by RH at 12:41 PM | Comments (2)
Lost in Haaretz Translation: Saeb Erekat's Relative Shot 2 Israelis
In the past, CAMERA and others have noted how Palestinian leaders and social media have falsely claimed that Palestinians killed as they were carrying out terror attacks were innocent, and that the purported Palestinian victims were killed in cold blood. As previously noted here, "It is precisely the unfounded claims of Palestinian perpetrators' innocence and false charges of 'extrajudicial killings' which fuel additional Palestinian attacks."
Palestinian negotiator Saeb Erekat is the latest to pull this deadly trick, and yesterday he found a helping hand at Haaretz's English print edition. The Dec. 14 page-one article by Barak Ravid ("Obama to HaaretzQ conference: Peace a must for Israel to remain a Jewish state") referred to Erekat's nephew, who had carried out a terror attack on Dec. 3, as follows: "Palestinian negotiator Saeb Erekat, whose 37-year-old nephrew [sic] killed [sic] last week at the Hizme checkpoint . . . "
The print edition article does not include the critical information that Erekat's nephew carried out a shooting attack on Dec. 3, moderately injuring an Israeli Arab man and lightly hurting a soldier. It was then that Israeli forces shot him dead.

The English print edition's omission is all the more glaring in light of the fact that Ravid's original article in the Hebrew print edition appropriately includes the following (CAMERA's translation):
Erekat did not point out that his nephew -- Mazen Erekat, an officer in the Palestinian security forces, was shot after he carried out a shooting attack in which he injured two Israelis.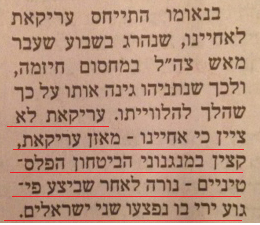 Also, it should be noted that Allison Kaplan Sommer's online article covering Erekat's speech responsibly noted that the negotiator's nephew carried out a terror attack, although Erekat himself ignored that fact. She wrote:


Seemingly choked up, Erekat told his audience that his nephew was shot and killed earlier this month at a West Bank checkpoint, apparently a reference to Mazen Aribeh, who was killed by Israeli security forces after shooting and wounding two Israelis at the Hizmeh checkpoint north of Jerusalem.
Yesterday's English print edition, which omitted critical information about a Palestinian attack which had appeared in the Hebrew print edition, is the latest instance of "Haaretz, Lost in Translation," a phenomenon in which Haaretz's English edition omits or downplays instances of Palestinian violence or other misdeeds noted in the Hebrew edition, or includes erroneous information about Israel that did not appear in Hebrew.
CAMERA calls on editors to publish a clarification in the print edition. Stay tuned for an update.
Update: 5:13 am EST: Barak Ravid Responds
Twitter user Jed Galilee asked Haaretz reporter Barak Ravid, whose story was mangled in the English edition, "Barak, how does this happen? Is there an English censor?" (Hebrew tweets translation by CAMERA.)
Ravid responded: "No censor. I dictated this article by telephone to the Hebrew editors and they didn't pass on this information to the English desk."
Posted by TS at 03:12 AM | Comments (1)
December 12, 2015
Haaretz: 'Ramming Car Fled the Scene'
Image for illustrative purposes only. This car was not involved in the attack.
What happens when Pixar's "Cars" meet a Haaretz news story about a Palestinian attack? Anthropomorphic vehicles ram soldiers and flee the scene.
Haaretz's page-one article yesterday ("Four soldiers wounded in car-ramming") begins: "Four soldiers were wounded when a car deliberately drove into them at the Beit Arye junction in the West Bank yesterday afternoon."
It's very doubtful that the car made a deliberate decision to drive into the soldiers. In fact, it's probably safe to say that the vehicle did not make any decision of any kind.
Nevertheless, further assigning agency to the personified attacking vehicle, the article also states:
The car crashed into a military vehicle after hitting the soldiers, wounding its driver.

The soldiers were standing near the military vehicle when a speeding car rammed three of them. It then crashed into the vehicle and wounded its driver as well.

The ramming car fled the scene, but it was later found. . .
That's one reckless ramming car, fleeing the scene after deliberately driving into soldiers. Fortunately, though, the belligerent, though not particularly stealthy, automotive outlaw was no match for Israeli authorities which successfully located the fugitive.
The online version of the article was only marginally better. It did not mention a "car deliberately driving into soldiers," but it did state that the car escaped the scene.

See also "Wave of Palestinian Violence Accompanied by Spate of Bad Writing"
Dec. 16 Update: Anthropomorphic Car in English Edition Only
An examination of the original Hebrew version of the same article by Gili Cohen indicates that the anthropomorphic car is another example of "Haaretz, Lost in Translation," in which reports in the English edition downplay or omit Palestinian violence or other misdeeds.
The Hebrew article clearly reports (CAMERA's translation):
Four soldiers were injured yesterday in a ramming attack at the Beit Arye junction in the West Bank. One is in moderate condition, and the other three are lightly injured.

The driver [literally, the rammer] fled the scene, but later security forces located the vehicle that he apparently drove. . .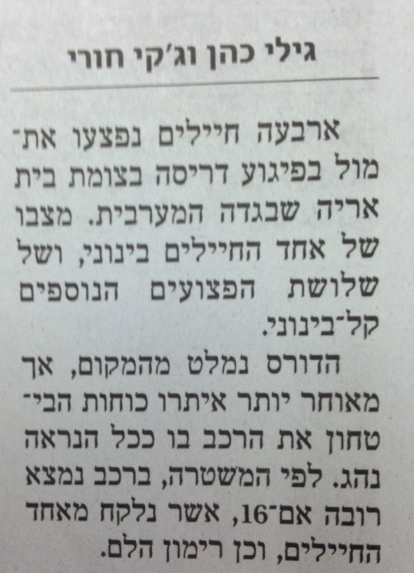 Posted by TS at 04:11 PM | Comments (1)
December 11, 2015
HuffPo Argument for Moral Indefensibility of Israel's "Occupation" is Indefensible
Alon Ben-Meir, Senior Fellow and professor of international relations and Middle East studies at NYU's Center for Global Affairs, published a Huffington Post opinion piece finding Israel's presence in the West Bank to be a transgression of the principles of four moral theories. His summations of Israel's moral violations are weakly constructed and equivocal. He fails to back up with fact the harsh judgments he passes on the Jewish state and instead seems to mold the theories to uphold a finding he's predetermined. Of course, he completely ignores the fact that Israel captured this territory in a defensive war making it disputed and not occupied. Further, Israel has repeatedly made offers of statehood on this land to the Palestinian Arab leadership, which they admittedly rejected.
Ben-Meir states that Israel treats Palestinians as "objects rather than persons who can rationally consent to the way they are being treated. Israel is coercing the Palestinians physically and psychologically by denying them human rights, through, for example, administrative detention, night raids, and expulsion, thereby robbing them of their dignity and denying them their autonomy."
Of course, Ben-Meir does not note that Israeli Jews are also subject to administrative detention. The summer saw the administrative detention of three Israeli Jews on for potentially possessing information about certain arson attacks. He may take issue with the broad concept of administrative detention, but to present Israel as only exercising that approach toward Palestinians is false. The author claims Palestinian Arabs have been psychologically harmed by the Israeli "occupation" while ignoring the well-documented trauma of Israelis who live under constant threat of rocket attacks.
Incredibly, Ben-Meir claims that "Israel is making an exception of itself," exempting itself "from moral and political norms that the rest of the international community recognizes." In truth, Israel is constantly made "an exception" by the international community, held to a double standard applied to no other country. Further, he discounts the fact that no other country lives under the conditions in which Israel exists; its security situation has no comparison, as no other democracy faces direct threat of annihilation by its neighbors. Faced with lesser national security threats, other countries have acted with far less restraint than Israel.
Ben-Meir rewrites history, making Israel the culpable party in the repeated disintegration of peace talks and moves toward a two-state solution. To Ben-Meir, it Israel's move to "usurp Palestinian land," and not the actions of the Palestinian leaders, that destroyed UN Resolution 242 and the Oslo Accords.
He states that Israel cannot claim to be acting in the moral interest even of its own, recognized citizens. Ben-Meir's most illogical conclusion is that Israel's security measures, which impinge on Palestinian rights, are "in fact undermining the security of the state, as is evident from the repeated bloody clashes." With extraordinary and brazen victim-blaming, Ben-Meir surmises that the Israelis inability to stamp out Islamic terror is somehow its own fault.
The Israeli citizenry is then taken to task, with "the occupation" being named the cause of the Israeli people "hardening their hearts," a nonsense statement crafted to appeal to the emotional response of Ben-Meir's readership. Supposedly, Israelis are raising generations who know nothing of moral substance and character as they "continue to commit transgressions against the Palestinians without any sense of moral culpability." The evidence that exists to the contrary is, of course, wholly ignored.
Many facts undermine Ben-Meir's arguments, so he ignores them. But one central fact cannot be ignored: the threats to Israel and the violence perpetrated upon Israelis, as well as Jewish residents of pre-1948 Palestine, precede "the occupation". How then is it possible that "the occupation" is the cause of these threats and violence?

- Rachel Frommer, CAMERA Intern
Posted by SC at 01:14 PM | Comments (2)
Where's the Coverage? Iran Threatens U.S. Troops
Members of Iran's Islamic Revolutionary Guard Corps
Iranian proxies have threatened to attack United States troops if the U.S. arms Kurdish Peshmerga forces fighting the Islamic State in Iraq and Syria—although you may not have seen it reported in major U.S. print news outlets.
On Dec. 9, 2015 the U.S. House of Representatives Foreign Affairs Committee passed bipartisan legislation that would authorize the military to arm and train Kurdish forces fighting ISIS.
Buried in the middle of an article on that legislation, The Hill (Dec. 10, "House panel votes to directly arm Kurdish forces against ISIS") briefly notes the Iranian threats:
"Powerful Iran-backed Shiite militias in Iraq also oppose the U.S. directly arming the Kurds or the Sunnis, who are from a different Islamic sect, since it could also undermine their influence in Iraq. They have threatened to attack U.S. forces in Iraq in response to U.S. legislation that would grant those groups more autonomy."
Current U.S. law requires all American military assistance to the Kurds to go through the central government in Baghdad, controlled by Shiites—many of whom have close ties to, and are even funded by Tehran.
House Foreign Affairs Chairman Ed Royce (R-Ca) told those at the committee hearing that "Kurdish forces in northern Iraq have been some of our closest partners in the fight against the ISIS." Royce said the newly-passed legislation will remove "roadblocks" that have delayed providing Peshmerga with training and weapons, including anti-tank missiles, armored vehicles and long-range artillery. Kurds are currently using light weapons dating back to at least Saddam Hussein's rule—with some World War II-era weaponry.
The Hill reports the bill "would authorize President Obama to provide equipment and training directly to Iraqi Kurds for three years, urges the president to continue consulting with the Iraqi government and requires that the weapons be used to meet the shared goal with the U.S. of defeating ISIS."
This is not the first time that Iranian proxies have threatened to harm the United States in the event it arms Kurds fighting ISIS.
In April 2015, a proposed bill in the House Armed Services Committee that would have directly armed Peshmerga forces was opposed by the Obama administration, Shiite leaders in the Iraqi government, and Iraqi Shiite cleric Muqtada al-Sadr. Al-Sadr is the head of the Mahdi Army militia responsible for killing and wounding numerous U.S. and coalition troops following the 2003 Second Iraq War. He has received extensive funding and material support from Tehran.
At the time, The Associated Press noted al-Sadr wrote on his website that "In the event of approving this bill by the U.S. Congress, we will find ourselves obliged to unfreeze the military wing and start targeting the American interests in Iraq—even abroad, which is doable (Breitbart, April 30, 2015, "Shiite Cleric Threatens U.S. Over GOP Proposal to Arm Kurds, Sunnis in Iraq")."
As Politico reported in March 2015: "The allegiances of many Iraqi Shiite fighters are no secret. Some openly display posters of Iran's Supreme Leader, Ali Khamenei….the concern is that those fighters, under the direction of Suleimani [Qassem Suleimani, head of the Islamic Revolutionary Guard Corps Quds Force], may again train their sights on American troops (March 25, 2015, "Iran might attack American troops in Iraq, U.S. officials fear")."
Yet, fast forward more than half a year and according to a Lexis-Nexis search, not a single major U.S. print outlet reported that Iran is—through its proxies—threatening American troops if Washington arms an ally in the fight against the Islamic State.
Where's the coverage?
Posted by SD at 09:48 AM | Comments (1)
Reuters Vilifies Israel for Acting in Self-Defense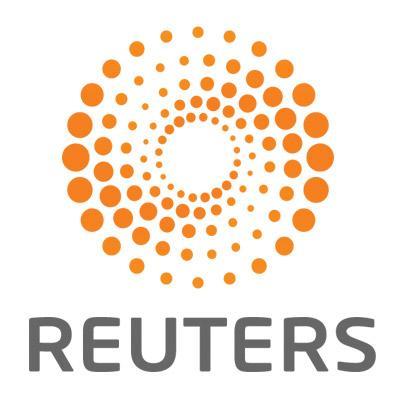 The Reuters article "Israel applies lethal response to wave of Palestinian attacks," puts the onus on Israel for not peacefully subduing violent attackers stabbing, shooting, and running down Israelis in the streets, drawing a comparison to last week's attack in the London underground in which police stopped a man during a stabbing attack using a Taser gun. Author Luke Baker flippantly reports that suggestions of adopting this approach in Israel "are dismissed out of hand" by Israel's defenders, then tries to argue the wrongfulness of the Israeli response by laying out "statistics" writing, "the numbers show a high percentage of people who carry out attacks are killed rather than detained." Baker downplays the fact that, when arrest is possible, the Israeli authorities make every effort to detain the terrorist. His report shares the Swedish Foreign Minister's perspective that the Israelis' handling of terror is a form of "extrajudicial execution."
Baker writes:
The disparity in the number killed on each side — and the fact more than 13,500 Palestinians have been injured, including many in demonstrations, according to the Palestinian Health Ministry — has led to accusations by rights groups and others that Israel is using excessive force to quell the unrest.
Here appears the popular tactic employed by media to purportedly demonstrate Israel's moral culpability through the fact that more Palestinians have died than Israelis -- as a result of the violence perpetrated by the Palestinian attackers themselves. In his argument, Baker cites the questionable figures provided by the Palestinian Health Ministry, and gives no time frame or criteria of what "13,500 Palestinians have been injured, including many in demonstrations" includes. He inaccurately represents the extent of the violence against Jews by not beginning his tally from the true start date of the wave of violence in September and completely ignoring the many injured. Though Baker cites researcher Nehemia Gershuni Aylho, he does not include the researcher's statistics:
Innocent Israelis killed by Arabs: 21
Innocent Arabs Killed by Civilians: 0

Innocent Israelis wounded by Arabs: 427
Innocent Arabs wounded by Civilians: 13
No doubt Palestinians dispute these numbers, just as Israeli researchers have disputed Palestinian Health Ministry numbers in the past.
Baker makes much of U.S. Secretary of State John Kerry's warning against vigilantism, linking it to Jerusalem Mayor Nir Barkat's call for authorized citizens to carry their guns to protect themselves and others, and therefore framing it as a rebuke despite the fact that Israeli Prime Minister Netanyahu and other Israeli leaders have also condemned vigilantism. There is a difference between vigilantism and self-defense, the latter of which Kerry has explicitly supported saying, "Israel has every right in the world to protect its citizens, as it has been, from random acts of violence." [Emphasis added.] This part of Kerry's statement was not quoted.
Rather than concluding his report with facts, Baker leaves the reader with the Palestinian perspective that "there is no question that Israel, which has occupied the West Bank and East Jerusalem since 1967 and limits Palestinians' movement throughout areas they want for a state, is carrying out extrajudicial killings." He finishes with a quote from Palestinian legislator and long-time anti-Israel activist, Hanan Ashrawi, "The majority of Palestinians are being shot and killed on the spot, whether they represent a threat or not," a categorically false statement that Baker leaves unquestioned. The last word goes to Ashrawi, who states that Israelis "are carrying out on-the-spot executions. They are extrajudicial and a crime."
- Rachel Frommer, CAMERA Intern

Posted by SC at 09:27 AM | Comments (3)
December 09, 2015
Where's the Coverage? Palestinian Official Shoots Israeli Soldier
PA Security Forces

A Palestinian Authority (PA) intelligence officer attacked and wounded an Israeli civilian and Israel Defense Forces (IDF) soldier on December 3, 2015—although you may not have seen it reported that way in major U.S. print news outlets.
The PA official, later identified as Mazen Hassan, was shot and killed after he got out of his vehicle at the Hizma checkpoint near the West Bank and began shooting at Israeli soldiers and civilians.
The terror attack was reported by the Investigative Project on Terrorism (IPT) on December 3, but received scant U.S. media coverage.
An Associated Press story that ran in The Los Angeles Times expended 926 words on the topic of an app developed to help Palestinians navigate their way around what the paper called "burdensome" checkpoints ("Apps help to navigate Israeli checkpoints, December 6"). The article featured extensive quotes from Palestinian sources, who claimed that checkpoints were an unnecessary form of "collective punishment." Not a single Israeli official appeared as a source.
The report quoted a former PA official who said that while the app "will be helpful…it would be even more helpful if we didn't have checkpoints." The recent terror attack at a checkpoint by another PA official, occurring only three days prior, was omitted.
The Boston Globe, covering remarks by U.S. Secretary of State John Kerry at D.C.-based think tank Brookings Institute, seemed to put the onus for a lack of peace between Israel and Palestinian Arabs on the Jewish state, failing to note that a PA official had attempted to murder Israelis ("Netanyahu rejects warning from US on Israel's future," December 7). In 653 words, The Globe sought to frame the recent terror attacks as being random violence by "Palestinian individuals." Israeli actions against terrorists, were framed as "Israel says"—implying skepticism the paper does not explain.
Palestinian terror was given short shrift by The Globe; omitted were the actions of PA officials, be it an intelligence officer carrying out terror attacks or PA President Mahmoud Abbas August 1 speech calling to spill blood in Jerusalem (CAMERA, September 16, "Incitement over Temple Mount Leads to Palestinian Violence, Again").
According to a Lexis-Nexis search, the only two papers to have noted that a PA security official committed a terror attack were The Washington Post (December 4, "Israeli holds suspects in July arson deaths") and The New York Times (December 4, "Israel Arrests Young Jews Deemed Extremists"). However, both only did so in one or two sentences in articles on topics casting Israel in an unfavorable light.
The PA is committed to security cooperation with Israel as part of the 1990s Oslo diplomatic process that created it and allowed the Palestine Liberation Organization (PLO), previously designated a terror group by the United States and others, to relocate from Tunisia and establish limited self-rule in the West Bank and Gaza Strip. Despite this requirement, PA security officials have a history of participating in or encouraging the very terror attacks they are supposed to help prevent.
One of the first terror attacks during the second intifada (uprising), that lasted from 2000 until 2005, occurred when a Palestinian security services official shot two Israeli soldiers during a joint PA-IDF patrol, killing one and injuring the other. PA security and intelligence units, including then-PA head Yasser Arafat's bodyguard unit, Force 17, also participated in terrorist activities during the second intifada.
As described in Kings College historian Efraim Karsh's book Arafat's War (Grove Press, 2003), Force 17 operatives shot and wounded Jews in several terrorist attacks outside Ramallah, following a visit by then-U.S. Secretary of State Colin Powell in February 2001. Prior to the attacks, Force 17 had been guarding Powell during his visit.
According to Palestinian Media Watch (PMW), an organization that monitors Arab media in the West Bank, Gaza Strip and eastern Jerusalem, former Palestinian security forces head Jibril Rajoub said that he was "proud of" every Palestinian Arab who has carried out recent terror attacks. Rajoub's comments were made on official PA television on Oct. 17, 2015.
In Tested by Zion (Cambridge University Press, 2013), former U.S. deputy national security adviser Elliot Abrams noted that the United States and other countries provided training to Palestinian security services in the hopes they would help Israel deter terrorist attacks. IPT reports that Israeli and Palestinian sources say together they have "foiled more than 100 stabbing plots targeting Israelis."
Yet, it seems that sometimes Palestinian security officials conduct terror attacks instead of preventing them.
Where was the coverage?
Posted by SD at 11:26 AM | Comments (0)
Injured Soldier's Mother Slams New York Times Coverage
Debbie Laznik, the mother of brand new lone soldier Jake, who was injured in a Palestinian ramming attack on November 27, slams The New York Times' grossly distorted headline about the incident. CAMERA posted about the outrageously skewed headline (pictured below) for the Nov. 27 news brief and communicated directly editors, prompting significant improvement.
A Haaretz feature today by Allison Kaplan Summer about Jake, whose legs, chest and hand were injured, reports("'If I leave the country, the terrorists win,' says American victim of Palestinian attack"):
[Jake's mother] said she is still coming to terms with the fact that a Ramallah resident in his 30's would aim his car at her child with deadly intent. The terrorist was the brother of the man who attempted to run over a group of Israelis at the same Kfar Adumim bus stop just five days earlier. The incident, she said, has been a challenge to her politics, which have always leaned left. "I'm very sensitive to the legitimate desires and grievances of Palestinians and I think they deserve their own country."

She also said she's always been a defender of the New York Times against those bashing it and accusing it of being anti-Israel, but had an angry personal moment when saw the headline about the incident and another attack that day was "Palestinians Killed After Hit and Run Attacks." It was later changed following complaints, to "Palestinians Killed After Attacks on Troops."

"I saw that first headline and I was shaking with anger. I felt violated." (Emphases added.)
At the time, CAMERA wrote about the headline:
Readers who glance only at headlines and don't bother with the accompanying item would reasonably conclude that Palestinians were the victims of the hit and-run attacks, as opposed to the perpetrators.

The original AP headline for an earlier version of the brief was much more accurate than The Times' headline. It at least referred to an attack on Israelis: "Palestinian killed after West Bank attack on Israeli troops." A later version of the AP story explicitly identified the Palestinians as the attackers: "2 Palestinians killed after attacking troops." (Source: Lexis-Nexis.)

In other words, Times editors discarded AP's relatively sound, if not 100 percent perfect, headlines, and actively replaced them with a headline which obfuscated Palestinian responsibility for violence.
In response to CAMERA's direct communication with The New York Times, editors commendably improved the headline, which now reads:

About the amended headline, CAMERA had noted:
The improved headline is not perfect. It does not state that the Palestinians who were killed were the perpetrators of the attacks on the troops, though readers may (or may not) infer that information. Also, it does not identify the targeted troops as Israeli. (As mentioned above, AP's original headline, in contrast, was "Palestinian killed after West Bank attack on Israeli troops.") Again, from the new Times headline, readers may understand that the troops were Israeli, or maybe they won't. And the headline still leads with the killing of the Palestinian (attackers), as opposed to the fact that Palestinians attacked Israelis. Nevertheless, compared to the original headline in which the killed Palestinians appeared to be the victims of the hit-and-run attacks, the change is welcome.
For additional New York Times corrections prompted by CAMERA (including yesterday's), please see here.
Posted by TS at 03:04 AM | Comments (4)
December 08, 2015
Israel Seizes Palestinian Incitement Dolls
Israel seized a shipment of 4,000 masked, rock-throwing dolls, like the one above, headed to the Palestinian Authority. The dolls were smuggled in a purported shipment of clothing and rugs from the United Arab Emirates. Customs officials seized this along with other smuggled items. Israeli government officials have suggested these dolls, sporting an image of the Al Aqsa mosque on their scarves, are part of a PA campaign to foment anti-Israel hatred, encourage violence and indoctrinate Palestinian children. An investigation is ongoing. Read more about it here.
Posted by RH at 02:34 PM | Comments (1)
December 07, 2015
Where is the Coverage? Greece and Hungary Reject EU's Settlement Labelling Guidelines
On Nov. 11, the European Commissioner formally called on all EU countries to label the"origin of goods from the territories occupied by Israel since June 1967."
Israel condemned the EU's guidelines as discriminatory, pointing out that it amounts to a call for boycott, and halted diplomatic contacts with EU representatives about the peace process.
All this was widely reported in the mainstream media. But far less attention was given to the fact that Hungary's Foreign Minister Péter Szijjártó criticized the EU's labelling call, calling it an "inefficient instrument" that is "irrational" and does not promote a solution to the Palestinian-Israeli conflict. And aside from the Jewish and Israeli press, few reported that Greece too indicated that it would defy the settlement labelling guidelines. Read more about it here.
Where is the mainstream media's coverage?
Posted by RH at 04:50 PM | Comments (0)
Washington Times Notes Record Terror Levels

Islamic terror in the United States is at a height not seen since the Sept. 11, 2001 al-Qaeda terror attacks that murdered 2,977, according to a report by George Washington University's Program on Extremism, highlighted by The Washington Times ("56 arrested this year for supporting Islamic State," Dec. 3, 2015).
According to Times reporter Andrea Noble, the report notes that "fifty-six individuals have been arrested on suspicion of plotting or helping support the Islamic State [ISIS] in the U.S. this year, the largest number arrested in support of Islamist terrorism in any year since Sept.11 [2001]."
Those caught are a young and diverse group, "with many being converts to Islam."
The report offers details about the 71 suspects arrested since March 2014: 86 percent of whom were men, 40 percent were converts to Islam and the average age was 26—although one-third were under 21.
Among those terror suspects were "a recently married couple from Missouri who secretly planned to travel to Syria on their honeymoon in order to join the Islamic State, a Cincinnati man who converted to Islam after falling in with a group of radicals online and was later arrested when he divulged plans to bomb the U.S. Capitol, and a 15-year-old boy arrested near Philadelphia for a purported 'ISIS-inspired' plot to attack Pope Francis during his visit to the U.S."
USA Today has noted that FBI Director James Comey said his agency has 900 active investigations in the U.S. involving suspected Islamic State sympathizers and other potential terrorists residing in the country ("San Bernardino inquiry stretches across globe," December 7).
The Washington Times reports that researchers identified 300 Americans or U.S.-based ISIS sympathizers who disseminate propaganda from the terror group. It concluded that online communications and social media play a "crucial" role in "radicalizing individuals."
Noble says the Program on Extremism offered possible policy solutions to combating the rising influence of those sympathetic to or supportive of Islamic terrorism, including increasing its own publicity campaign highlight the stories of disillusioned terrorists.
The report says that 55 percent of suspects arrested were caught in operations that involved undercover law-enforcement work.
As CAMERA has previously noted ("The New York Times Doesn't CAIR to Report," Feb. 6, 2012), organizations like the Council on American Islamic Relations (CAIR), the Brennan Center for Justice at New York University and others have criticized the use of undercover operations to conduct surveillance of mosques and other Islamic infiltrations for intelligence gathering.
CAIR was an unindicated co-conspirator in the 2009 Holy Land Foundation for Relief and Development retrial, which is the largest U.S. terrorism-funding trial to date. It led to the FBI and other federal agencies breaking formal contact with CAIR. The group was founded as a Muslim Brotherhood spin-off.
The same day the The Washington Times reported on record terror levels in the U.S., The Washington Post uncritically quoted CAIR leaders on the Dec. 3, 2015 terror attack in San Bernardino, California ("After Paris and California attacks, U.S. Muslims feel intense backlash,")—while failing to inform readers about CAIR's history.
CAIR, which frequently works to advance the narrative that many American Muslims are persecuted as a result of "Islamophobia", spoke with news media shortly after it was revealed that the San Bernardino terrorists were Muslim. But since the Sept. 11, 2001 al-Qaeda attacks, annual FBI hate crimes statists have not shown large, sustained numbers of anti-Muslim assaults.
Yet, many mainstream news outlets, including The Post, as in the article mentioned above, have failed to report CAIR's dubious ties and its apologetics. This, despite the fact the CAMERA has provided its Special Report on CAIR, "The Council on American Islamic Relations: Civil Rights or Extremism?" to various outlets, including, most recently—on Nov. 5, 2015—The Post.
Posted by SD at 11:41 AM | Comments (0)
December 03, 2015
Academic Boycotts of Israel Not Just Stupid and Immoral, Also Illegal
On December 2, The Wall Street Journal published an Op-Ed by law school professors Eugene Kontorovich and Steven Davidoff Solomon, "Those Israel Boycotts Are Illegal." In it, the professors take on the increasingly frequent boycott resolutions under consideration at –and approved by many– academic associations such as the American Anthropological Association and the American Studies Association. They note:
The moral myopia and academic perversity of these boycotts have been widely discussed. Less well understood is that in many cases they also are illegal. Under corporate law, an organization, including a nonprofit, can do only what is permitted under the purposes specified in its charter.

Boycott resolutions that are beyond the powers of an organization are void, and individual members can sue to have a court declare them invalid. The individuals serving on the boards of these organizations may be liable for damages.

[…]

Saying that organizations cannot act beyond the purposes specified in their charters is no mere legal nitpicking. The charter is an explicit contract with members, declaring that their money will be dedicated to agreed-upon goals and that their group will not turn into a motorcycle club or a political party.
On its face, an academic boycott undermines academic freedom, a broad-based education and the exchange of ideas. That's stupid. Holding only Israel to some imaginary standard and holding Israeli academics responsible for Israeli policy, whatever one thinks of it, is clearly immoral. Academic associations don't seem to care about this. A couple of well-prosecuted lawsuits might, however, make them take notice.

Posted by SC at 12:28 PM | Comments (0)
Updated, Dec. 3: Reuters Corrects Role Reversing Headline
Throughout the wave of Palestinian terrorism that began two months ago, the mainstream media has frequently turned truth on its head by reversing the roles of perpetrator and victim, of assailant and defender. Reuters joins the crowd with a recent headline about a Palestinian from Ramallah who attempted to kill IDF soldiers at a bus stop before being halted by a fatal bullet.
The headline: "Palestinian Dies in Ramming Attack" provides no clue that the Palestinian was the perpetrator of the "ramming" attack, and instead turns him into the victim. Other more objective sources reported that the perpetrator, Fadi Hasib -- whose brother had, just days ago, used the same ram and stab tactic - - had plowed into a group of Israeli soldiers waiting for a bus, hurling one over the guard rail and wounding two. The perpetrator then exited his car presumably to stab the soldiers, much like his brother had tried to do. But as he ran toward his victims, he was shot and killed by a volunteer officer.
And that is how the wire service Reuters joins those in the mainstream media who skew the news.
UPDATE: Following written complaints about the skewed headline, it was changed to the following: "Palestinian rams car into Israeli soldiers, is shot dead".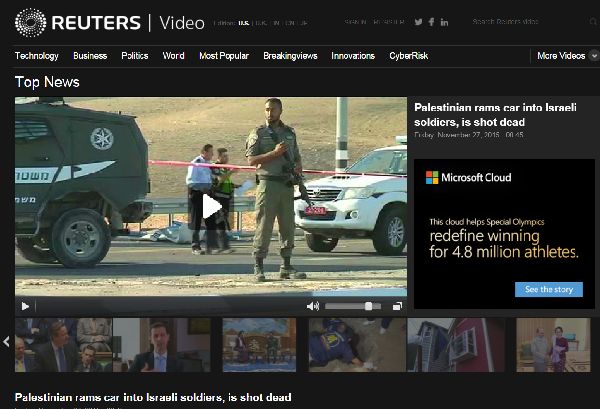 Posted by RH at 11:19 AM | Comments (0)
December 02, 2015
'Moderate' Palestinian Leaders Encourage Shedding Tears for Terrorists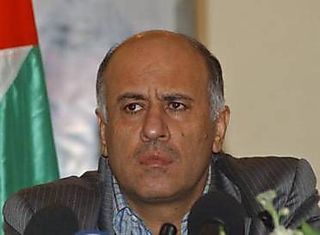 Jibril Rajoub

A Palestinian Authority (PA) official has claimed that Palestinian Arab women cry with "joy" upon receiving news of their children's deaths as terrorists.
Haifa Al-Agha, who serves as the PA's Minister of Women's Affairs, praised Palestinian women for being happy when their sons die while attempting to murder Jews.
According to Palestinian Media Watch (PMW), a non-profit organization that monitors Arab communications and educational media in the Gaza Strip, West Bank (Judea and Samaria) and eastern Jerusalem, Al-Agha made remarks to this effect as repeated by Al-Hayat Al-Jadida, a Palestinian Authority daily, on Nov. 7, 2015. In a video of the statement, the PA minister, "noted the Palestinian woman's uniqueness, which differentiates her from the women of the world, as [only] she receives the news of her son's martyrdom with cries of joy."
Al-Hayat Al-Jadida reports Al-Agha added that "Palestinian girls and women have proven their ability to contribute to their homeland, and that they have a significant presence in the field and battle arenas."
The PA minister's remarks were made amid more than two months of ongoing Palestinian terror attacks using guns, knives, meat cleavers and cars among other weapons, targeting Israelis, civilians, police and soldiers alike. As CAMERA has noted, Middle East analyst Jonathan Halevi of the Jerusalem Center for Public Affairs has alleged that Palestinian leaders have helped to "orchestrate" these attacks (Dec. 1, 2015, "Analyst: Palestinian Leadership Behind "Spontaneous" Attacks").
PMW has documented other recent PA celebrations of terrorist operations:
"In keeping with PA policy of honoring terrorists and promoting them as heroes and role models, official PA school the Al-Rashideen High School for Boys, held a tennis tournament named after terrorists Basel and Farouq Sidr who recently attempted to murder Israelis. Several teams in the tournament were also named after terrorists who either murdered or attempted to murder Israelis in the last two months."
PMW has also noted that Jibril Rajoub, head of the Supreme Council for Sport and Youth Affairs and longshot successor to PA President Mahmoud Abbas, expressed support for the current terror attacks. Rajoub said they are "acts of bravery, I am proud of them [terrorists]."
Abbas himself has refused to condemn any of the murders of Israelis that have taken place since September. The PA president announced on state-run TV on November 16 that the attacks against civilians are in fact, a "peaceful uprising."
PMW notes that Abbas admitted to calling for terror attacks: "We said to everyone that we want peaceful popular uprising, and that's what this is. That's what this is."
The PA has received considerable international aid, despite documented cases of corruption and embezzlement, in part for promises that it would work towards peace with Israel. It is frequently referred to as "moderate" by many journalists and policymakers.
Celebrating terrorist attacks with tears of joy, sports, songs and poems may make Palestinian political culture "unique" as al-Agaha says. If so, not uniquely peaceable.
Posted by SD at 03:53 PM | Comments (1)
December 01, 2015
Analyst: Palestinian Leadership Behind 'Spontaneous' Attacks
Palestinian Authority President Mahmoud Abbas

The Palestinian Authority (PA) and Hamas are responsible for supporting and directing current attacks against Israelis, civilian and soldier alike, according to a recent article by Middle East analyst Jonathan Halevi (Nov. 29, 2015, "The 'Spontaneous Intifada' Is Orchestrated by the Palestinian Leadership").
Halevi, a former Israeli Defense Forces (IDF) Lt. Colonel and currently a senior researcher at the Jerusalem Center for Public Affairs, argues that Palestinian Arab attacks since September, using knives, vehicles and guns, are not "spontaneous." The analyst says that despite Palestinian leadership attempts to portray the violence as "a kind of popular, spontaneous struggle," it is in fact orchestrated, noting: "It is a Palestinian strategy that has been seen before."
Halevi says both West Bank Palestinian leadership including the PA, the Fatah movement that dominates the authority, the Palestine Liberation Organization, and Gaza Strip and Palestinian leadership, under Hamas, are responsible. This sponsorship, he argues, has clear goals.
The PA wants to "use it as a tool to achieve its political objectives, which include compelling Israel to withdraw from Judea, Samaria, and east Jerusalem under international pressure."
The former IDF Lt. Col. notes that Hamas Political Bureau member Mousa Abu Marzook described the anti-Jewish violence as an "effective instrument for achieving political objectives."
Marzook argued that the first intifada (uprising) in December 1987 led to the Oslo accords and the establishment of the Palestinian Authority. The second intifada, occurring from 2000 until 2005, preceded Israel's withdrawal from Gaza and Israel's construction of a security fence, the latter of which to Marzook, "symbolizes the end of the Zionist endeavor."
The goals of the latest intifada, according to the Hamas leader are forcing Israel to withdrawal from Judea, Samaria, the release of Palestinian Arab prisoners and lifting the Israel blockade of Gaza—currently in place to prevent the smuggling of weapons and terrorist supplies.
Marzook's remarks were made at the General Arab Conference to Support the intifada, held in Beirut on Nov. 20, 2015. Officials from the PA and Fatah attended along with Hamas leaders like Marzook.
Halevi notes that these officials adopted resolutions at the conference calling for an "all-out war" against Israel until the Jewish state is destroyed.
Resolutions at the conference called for an end to rivalries between Hamas and Fatah and for pursuing a joint strategy based on the intifada—with the shared goal being to "liberate all the occupied land [Israel]." The committee's resolutions also call for the implementation of the PLO Central Committee's March 2015 resolution, which advocated ending security cooperation with Israel.
Security cooperation between Israel and the PA is the result of the 1990s Oslo peace process that created the PA and allowed the PLO, previously designated a terror group by the U.S. and others, to relocate from Tunisia and establish limited self-rule in the West Bank and Gaza Strip.
Halevi says that the closing declaration of the Beirut conference makes clear the current outbreak of violence, "seeks to make it less costly for the IDF to withdraw from Jerusalem and the territories than to keep fighting both the intifada itself and international opinion…the Palestinians were already benefiting from the tension between Israel and the United States and Europe, which weaken Israel."
Posted by SD at 02:37 PM | Comments (2)
Is the Media Hesitant to Expose the Extent of Iran's Presence in Syria?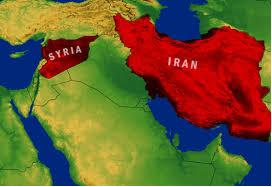 The Western media has devoted extensive coverage to several facets of the war in Syria, in particular, the refugee problem and the growing military involvement of Russia. But media focus lags on the extent of Iranian involvement. Iran has backed the Syrian regime since the civil war broke out. But initially the Islamic Republic acted through proxies, like Hezbollah or exerted influence on the Syrian government behind the scenes.
Non-mainstream media sources, especially those affiliated with the opposition to the Syrian regime, identify numerous Iranian Revolutionary Guards (IRGC) commanders directing the war against insurgents. More recently, they allege the presence and involvement in combat operations of growing numbers of Iranian troops.
One source is the Iranian News Update (INU) which states that its

News and information is provided in cooperation with the National Council of Resistance of Iran (NCRI), the parliament in exile of the Iranian Resistance, and the People's Mojahedin Organization of Iran (PMOI/MEK)
INU claims over a hundred members of the IRGC have been killed in Syria during October and November 2015 and further contends that over 3000 "IRGC forces and agents" have died in Syria since the civil war began. It is likely that this number includes Hezbollah forces, which an Israeli source recently estimated had suffered 1263 fatalities in Syria. Among the fatalities are a long list of senior officers, including more than a dozen who held the rank equivalent of Brigadier General.
If the INU figures are reliable, they attest to the increasingly central role assumed by Iranian and Iranian proxy forces in defending the Syrian regime. It is also consistent with the reported upon trend of disaffection among the decimated Syrian Alawite contingent in the Syrian army. At the outset of the civil war, the Syrian regime counted upon the Alawites, who are 10-12 percent of the Syrian population, but contribute the leadership and the most loyal units in the Syrian armed forces.
There are reasons the Western mainstream media may be inclined to devote less attention to the Iranian role in the civil war. Much of the media has been supportive of the Iranian nuclear agreement proposed by the United States. This agreement includes provisions that would provide Iran with as much as 150 billion dollars and the promise of ending economic sanctions. Escalating Iranian involvement would cast provisions of the agreement in a negative light and vindicate critics of the agreement who warned that funds freed up by the West would be used to support Iranian expansion and aggression in the Middle East.
Posted by SS at 12:35 PM | Comments (0)