« AP Captions: 'Incidents' in Hebron | Main | New York Times: 'Violent Loop' Responsible for Palestinian Attacks »
November 10, 2015
Haaretz Headline on Palestinian Attack: 'Palestinian shot dead'
"Palestinian woman shot dead," is the page 2 headline in Haaretz's English edition today, the latest in a series of news headlines obscuring Palestinian terror attacks.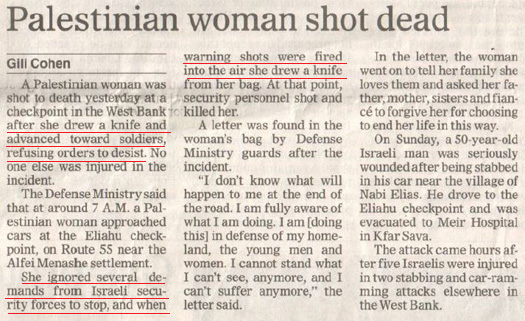 Who is this Palestinian woman, depicted in the headline as a victim, as opposed to a perpetrator?
Those who bother to read the accompanying article learn:
A Palestinian woman was shot to death yesterday at a checkpoint in the West Bank after she drew a knife and advanced towards soldiers, refusing orders to desist. No one else was injured in the incident.

The Defense Ministry said that at around 7 A.M. a Palestinian woman approached cars at the Eliahu checkpoint, on Route 55 near the Alfei Menashe settlement.

She ignored several demands from the Israeli security forces to stop, and when warning shots were fired into the air, she drew a knife from her bag. At that point, security personnel shot and killed her.
But as noted by Adam Levick, managing editor of UK Media, a member of CAMERA's British department:
In our social media obsessed world dominated by Twitter, Facebook and internet memes, the headlines and blurbs of mainstream news stories are often all that news consumers notice.
Could it be that Haaretz's own headline writer notice anything past the first seven words of the accompanying article ("A Palestinian woman was shot to death") before selecting the grossly distorted headline?
The online edition of Haaretz, on the other hand, did much better with its headline about the same incident. Its appropriate headline is: "Stabbing Attack Thwarted at Eliyahu Checkpoint, Defense Ministry Says.'

Posted by TS at November 10, 2015 06:20 AM
Comments
what about the Hebrew headline?
Posted by: wsg at November 10, 2015 10:26 AM
Would a better title be "Suicide by Authorities"?
as she had already written her suicide note which was in her pocket. Gladly she was never allowed to be in a position to harm anyone.
She was a potential threat that wanted to die for her cause. Sad are the people that still believe in Human Sacrifice.
It reminds me of the Buddhist Monks in the Vietnam era that immolated themselves in protest against both sides of that War.
Posted by: Christopher at November 10, 2015 01:41 PM
The Hebrew print edition did not run a story on this attack. A separate article on developments with respect to an earlier attack included a paragraph or two at the bottom on the Alfei Menashe attempted attack.
Posted by: TS at November 11, 2015 03:04 AM
Guidelines for posting
This is a moderated blog. We will not post comments that include racism, bigotry, threats, or factually inaccurate material.
Post a comment