« Another Algemeiner Article Blocked from Facebook | Main | CAMERA Fills In Richmond Times Dispatch Omissions »
October 26, 2015
Update: One Algemeiner Article Restored on Facebook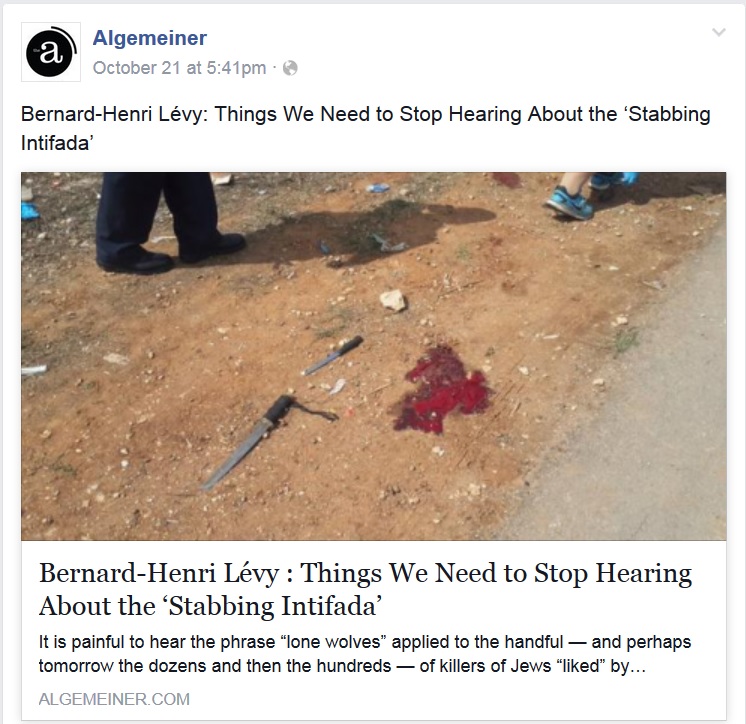 Snapshots has been monitoring an Algemeiner article that had been deleted from Facebook.
The Bernard-Henri Levi article that was previously blocked from being posted by Facebook (and deleted from users' personal pages) has been restored to The Algemeiner's Facebook page and can now be posted. The previously mentioned article about the stabbing at Kiryat Arba is still not shareable on Facebook however.
Update Oct. 26, 2015: The Algemeiner reports: "UPDATE 10/26 2:00 pm: After Jewish human-rights group the Simon Wiesenthal Center (SWC) — which communicates regularly with Facebook about online hate issues — contacted the company on The Algemeiner's behalf, the post was returned to Facebook. A representative told SWC that the post had not been banned because of its content and that further inquiries would be made to determine why it had been removed."
Posted by dvz at October 26, 2015 01:31 PM
Comments
Guidelines for posting
This is a moderated blog. We will not post comments that include racism, bigotry, threats, or factually inaccurate material.
Post a comment