« Bombings in Byzantium | Main | NY Times Source Slams Article on Temple Mount »
October 12, 2015
NPR Guest Draws Attention to Israel's Water Solutions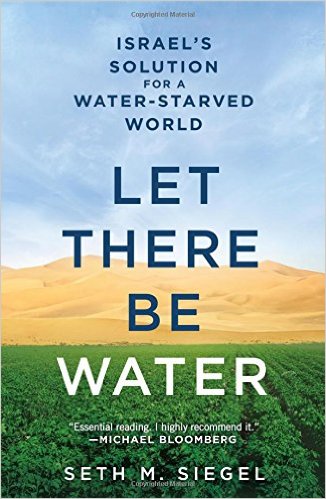 (This post was updated on Dec. 8, 2015)
On Oct. 7, 2015 Seth Siegel, the author of a new book examining Israeli responses to chronic water shortages, Let There Be Water: Israel's Solution For A Water-Starved World, was a guest on National Public Radio's nationally-syndicated Diane Rehm Show. Despite some attempts to shift the conversation in an anti-Israel direction by Rehm, whose biases CAMERA has documented (for example "NPR'S Diane Rehm Plays Gaza Wild Card: Herself," July 22, 2014), the segment offered considerable information on Israeli achievements in water conservation.
Peter Gleick of the Pacific Institute and Patricia Mulroy of a D.C.-based think tank, the Brookings Institution, joined Siegel on Rehm's show.
After a brief discussion on water scarcity, Rehm turned quickly to the Arab-Israeli conflict by asking her guests what role water played in it.
Gleick noted that "Israel and Jordan signed a peace treaty almost two decades ago and water was a component of that agreement and they're working, not always successfully, but they're working to try and deal with the limited water they have and to find joint solutions to reduce the risk of conflict."
Siegel pointed out that Israel provides education courses in water technology and engineering for water managers and water engineers "in the West Bank and previously Gaza." The author asserted this Israeli act created an "opportunity for dialogue" that's "quite remarkable and quite wonderful."
Rehm responded with, "And yet, you call Gaza City one of the least water secure places in the world."
Siegel agreed but pointed out the real culprit for Gaza City's water insecurity: Hamas, the U.S.-listed terror group, which has ruled the Gaza Strip since its election in 2006. Water scarcity in Gaza was the result of "ideology" and "government incompetence on the part of Hamas" resulting in water being "woefully mismanaged," Siegel said. The author noted that both Israel and the Gaza Strip have the same climate and topography, yet Israel's water security and quality are vastly greater. Siegel observed that these differences in water were the result of choice, not circumstance.
"Gazans could be enjoying something very similar," he observed, "were they to agree to get into a compact of some kind with Israel in terms of developing the water resources from the Mediterranean or otherwise."
Perhaps not satisfied with Siegel's answer, Rehm asked Gleick of the Pacific Institute for his thoughts on the "relationship on water between the Israelis and Palestinians."
Gleick characterized it as a "serious political problem" in that "Israel and the Palestinians do not agree about water. There is serious mismatch in control over access to resources." He failed to inform listeners that this "mismatch" was the result of Palestinian Arab seeking to destroy the Jewish state instead of learning from and working with it.
Siegel made this point when responding to a question from a program listener. He noted that Gaza's water situation is the result of "poor governance" that allows illegal well drilling, unregulated agricultural, avoidable flooding and sewage-dumping. "The solution," Siegel asserted, is a "partnership with Israel, and Israel has shown repeatedly a desire to do that, but ideology gets into the way…."
Siegel observed that Israel sends a "significant amount" of water to the Gaza Strip every day and is even ready to use its own desalination plants and to buy sewage from Gaza and "treat it in the Western Negev so that its farmers there can reuse it [for irrigation] as they do Israeli sewage….So the solution is actually right at hand. It's easy to do. But you need to have a situation where Hamas, which has a rejectionist ideology, needs to come to terms with serving their people best."
Writing in The Washington Times, journalist Clifford May(December 2, "Unexpected Miracle in the desert") also notes Israeli solutions to water scarcity. Referencing Siegel's book, May notes that the Jewish state has succeeded in a task many previously may have considered to be impossible: making water more plentiful in a part of the world where it is a rare commodity.
Israeli solutions to vexing water issues confronting the globe are "right at hand"—for those who want them.
A transcript of this segment of the Diane Rehm Show can be found here.
CAMERA's backgrounder on Israel and water issues ("Does Israel Use 'Palestinian' Water?" July 1, 2001) can be found here.

Posted by SD at October 12, 2015 01:29 PM
Comments
Guidelines for posting
This is a moderated blog. We will not post comments that include racism, bigotry, threats, or factually inaccurate material.
Post a comment