« Lazy Sensationalist Journalism Exposed | Main | AFP Headline Fumbles, Drops Palestinian Bombing »
October 11, 2015
LA Times Headline: When Palestinian Violence Becomes 'Israeli Violence'
Oct. 14 Update: LA Times Corrects Headline, Article on Palestinian Terrorism
Flipping reality on its head, a Los Angeles Times headline online earlier today absurdly declared: "4 Palestinians are killed in Israeli violence."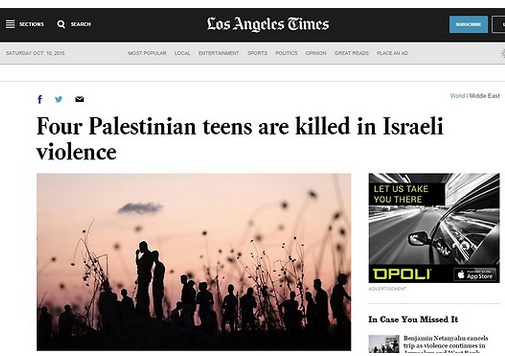 The Los Angeles Times is just the latest in a string of media outlets to depict the Palestinian perpetrators of terror attacks as victims.
As the accompanying article reported, two of the Palestinian fatalities were killed as they stabbed Israelis. In other words they were killed after they perpetrated what some would call "Palestinian violence":
Two Palestinian teenagers were shot to death in Jerusalem on Saturday, officials said, after they carried out separate stabbing attacks on an ultraorthodox Jews and two Israeli police officers.

Two more Palestinian teens were killed by Israeli forces Saturday along the border of the Gaza Strip as violence spread and appeared to escalate. According to the Israeli military, scores of Palestinians later breached the border fence in a violent demonstration.
Editors have since only very marginally improved the headline:
But readers who only glimpse the newer headline, and don't get as far as the actual story, would have no idea that two of the dead Palestinians carried out stabbing attacks against Israeli civilians and police in Jerusalem.
Also, in a factual error, not one, but two ultraorthodox Jews, were stabbed near Damascus Gate yesterday. According to Haaretz (print edition today):


Yesterday four Israelis -- two police officers and two civilians -- were wounded in Jerusalem. The civilians were stabbed in the first of two incidents near East Jerusalem's Damascus Gate. One man suffered moderate wounds and the second light wounds, the Magen David Adom rescue service said. The men, both in their 60s, were rushed to Hadassah University Hospital Ein-Kerem.

Hours later a Palestinian stabbed two police officers after they asked for his I.D. outside the Damascus Gate, the police said.
CAMERA has contacted Los Angeles Times editors for a correction. Stay tuned for an update.
See also: "LA Times Corrects Caption That Downplayed Har Nof Atrocity"
Oct. 14 Update: Print Headline Also Abominable
The headline in the print edition was no better:
Posted by TS at October 11, 2015 04:54 AM
Comments
I love the work that you do, and am very grateful for it. That being said, please explain your reasoning in identifying a Jewish victim as "ultra orthodox", when no one else's religious beliefs and practices are announced in your story? What is the purpose and reasoning behind doing so, and what positive goal does it accomplish?
Posted by: Ruth Lachman Sueker at October 12, 2015 07:35 PM
@Ruth
Are you implying that it was just coincidence that they were orthodox jews? Or would it not make more sense that they were targeted?
Posted by: CHD at October 13, 2015 01:42 PM
Guidelines for posting
This is a moderated blog. We will not post comments that include racism, bigotry, threats, or factually inaccurate material.
Post a comment