« September 2015 | Main | November 2015 »
October 29, 2015
Journalist Profiles New Iranian-backed Palestinian Terror Group
Since its creation in 1979, the Islamic Republic of Iran has been, according to U.S. government listings, a leading state-sponsor of terrorism. Among its surrogates and/or recipients of Iranian largesse are the Lebanese-based Shi'ite Hezbollah and Palestinian Arab groups Hamas and Palestinian Islamic Jihad (PIJ). All three are U.S.-designated terror groups. Tehran is now directing support to a new Palestinian terror group operating in the Gaza Strip, called Harakat as-Sabeereen Nasran il-Filastin (The Movement of the Patient Ones for the Liberation of Palestine), also known as Hesn or al-Sabireen.
Writing for the Gatestone Institute, Israeli Arab journalist Khaled Abu Toameh profiles Tehran's latest proxy.
Al-Sabireen is led by Hisham Salem, a former commander of PIJ's Quds (Jerusalem) Force Brigades in Gaza. Salem also headed a Shi'ite charity based in Jabaliya refugee district also in Gaza. The self-described goal of his group is to "eliminate the Zionist entity."
Initial hints of al-Sabireen's emergence appeared in May 2014, according to a June 18, 2014 report by Jonathan Schanzer and Grant Rumley of the D.C.-based think tank Foundation for Defense of Democracies ("Iran Spawns New Jihadist Group in Gaza," The Long War Journal). Toameh notes the terror group has recently drawn increased attention when one of its leaders, Ahmed Sharif Al-Sarhi, was killed by Israeli Defense Forces near the Gaza Strip on Oct. 20, 2015 ("Pro-Iran group in Gaza says IDF killed one of its members," The Times of Israel, Oct. 20, 2015).
Al-Sabireen was established following tensions between the Islamic Republic and its beneficiaries Hamas and PIJ, who refused to publicly support another ally of Tehran: Syrian dictator President Bashar al-Assad, currently engaged in a bloody civil war. For this lack of support, Hamas and PIJ leaders were kicked out of Syria and Iran has decreased its funding.
Toameh writes that "most of the Al-Sabireen terrorists" are "disgruntled" former members of Palestinian Islamic Jihad.
Salem's group is thought to have 400 followers so far in the Gaza Strip. The organization's symbols are similar to that of fellow Iranian-backed terror group Hezbollah, a fist gripping a Kalashnikov assault rifle featured prominently in the center of the al-Sabireen flag.
Each al-Sabireen member receives a monthly salary of $250-$300 in U.S. dollars, while high-ranking officials receive more than twice as much.
Iranian support goes beyond funding salaries. Tehran is thought to have supplied Salem and his group with Grad and Fajr missiles that can reach Tel Aviv, from the Strip, a distance of about 35 miles. Other weaponry also has been presented to al-Sabireen, including long-range sniper rifles.
Toameh reports that Salem's "activities and rhetoric" worry PIJ and Hamas, both of whom fear that al-Sabireen is "beginning to attract many of their followers."
Hamas and PIJ are not the only Palestinian Arab groups losing members to the new terror group. Toameh says that the group is "believed to have succeeded in recruiting scores of militiamen belonging to [Palestinian Authority] President Mahmoud Abbas's Fatah faction in the Gaza Strip. These militiamen have gone to the Iranian-backed group mostly for financial considerations."
Salem was stabbed and lightly wounded by unidentified assailants thought to belong to either Hamas or PIJ shortly after giving an interview to a newspaper in the northern Gaza Strip two weeks ago. The terrorist leader and his group have been accused by Hamas of helping the Islamic Republic spread Shiite Islam within the largely Sunni Muslim Gaza Strip. In the past, Hamas has leveled similar charges against Palestinian Islamic Jihad (Hamas vs. Fatah, Jonathan Schanzer, Palgrave Macmillan, 2008).
FDD's Schanzer and Rumley noted that al-Sabireen's "very existence is a sign that Iran is not prepared to allow for quiet in the Palestinian territories…This serves only to underscore Iran's goals in the Palestinian arena…Iran appears intent to push the Palestinians into conflict with Israel—or even themselves."
Posted by SD at 02:57 PM | Comments (0)
October 28, 2015
Jodi Rudoren's Guide to Advocacy "Journalism"
The guide below, complete with case studies, could have easily been written by New York Times Jerusalem bureau chief Jodi Rudoren. See "Updated: New York Times: Journalism of Few Facts" for further details.
Guide to Advocacy Journalism
Goal:
To promote a selected party's allegations while pretending to report objectively about "dueling" narratives

Tactic 1: Ignore and conceal the most incriminating evidence against the selected party.
Case Studies: 1) "The Dueling Narratives of the Israeli-Palestinian Conflict"
2) "Israel Bolsters Security in East Jerusalem After Violence"

These examples demonstrate how to conceal incriminating evidence, for example, televised footage of a knife-wielding assailant charging toward his victim.
Tactic 2: Cast doubt and minimize other evidence against the selected party, by using descriptions that conjure up wholesome values.
Case Studiy: "The Dueling Narratives of the Israeli-Palestinian Conflict"

This example A) supports the suggestion that a photo of the assailant's knife was planted evidence; and
B) describes the attack knife as a much more innocent "boy scout" knife.
Tactic 3: Mention the existence of a video that supports allegations made by the selected party and that rebuts the other party's version of events, even if there is no such film.
Case Studies: "The Dueling Narratives of the Israeli-Palestinian Conflict"
"Leaderless Palestinian Youth, Inspired by Social Media, Drive Rise in Violence in Israel"

Important Note: This tactic can be used even if
a) you've never seen this film
b) the film is not available
c)) the film does not show what it is alleged to show
d) the film does not actually exist and has never existed
or any combination of the above.
Tactic 4: If you or your newspaper are challenged on any of the above, claim space limitations did not allow you to give a "full accounting of the events."
Case Study: "Updated: New York Times: Journalism of Few Facts"

This example quotes a typical response to an organization that challenged these tactics.
Posted by RH at 02:52 PM | Comments (1)
The War in Syria Expands

It can't be said that the media ignores the war in Syria. New elements in the conflict are reported and certainly the flow of refugees has become a visible issue. But connecting these different strands into a more coherent discussion of the evolution of the conflict is helpful.
Over this past year, there has been a noticeable trend toward the internationalization of the civil war.
Outside powers driven by ambition and ideology are increasingly injecting themselves into the conflict. Meanwhile the continual violence has set in motion population flight, creating new problems that reach far beyond the borders of the war-torn land. Some have drawn analogies to the Spanish civil war in the 1930s, which was a prelude to a much greater conflagration.
This past week, several articles from varied non-mainstream news sites provided updated information on the conflict.
Several Arab sources recently claimed a figure of 1263 hezbollah dead. While it is wise to be wary of precise casualty figures, there is little doubt that Hezbollah continues to experience the drip-drip of losses in Syria. Whether Hezbollah's involvement in this war will enhance or diminish the organization remains an open question. That will depend at least in part on the depth of allegiance to it felt by the Shiite population in Lebanon.
Iran is expanding its role in the conflict. This past week saw reports of several senior Iranian Revolutionary Guard [IRGC] commanders killed in the fighting and a tally of 20 IRGC fatalities. While the numbers are still quite small, they do suggest that Iranians are playing a more direct role in the fighting. New funds that will flow to Iran from the nuclear agreement are likely to lead to increased Iranian involvement.
The Russian intervention represents a major step in the internationalization of the war. It is unclear at this point where the direct Russian involvement will lead. Is this the beginning of a large scale intervention or will Russian activity be limited?
An area of interest, especially for those concerned about Israel, is whether Russian or Iranian influence is felt most strongly in whatever Syrian regime emerges from the war. The Alawite-dominated Syrian regime has aligned itself with Iran in opposition to the regional Sunni majority. It would be interesting to learn more about the compatibility of Alawites with Shiite fundamentalism.
This past week also saw reports of Jordanian cooperation with Russia. Jordan has traditionally been exclusively aligned with the United States.
Turkey is another potential intervener with a long history of confrontation with Russia. Its domestic stability is threatened by the consolidation of power by its Islamist president, an increasingly vocal Kurdish minority and economic mismanagement. Turkey is a NATO member and a major transit point for the emigration of Middle Easterners into Europe.
In sum, this is a combustible mixture, that could lead to a more expansive war.
Posted by SS at 02:01 PM | Comments (0)
Jodi Rudoren Turns Palestinian Attacker Into "Boy Scout"
Nov. 11 update: CAMERA has prompted a New York Times correction. See details here.


There are many things wrong with this New York Times passage:

Jodi Rudoren outrageously decided not to inform readers that, in fact, there is video footage, captured by an MSNBC cameraman, of the man holding his knife in the air while running toward Israelis. Instead, working within the boundaries of conspiracy theory, she mentions only that Israeli police, after the fact, shared a photo of a knife next to the boy. We discuss that journalistic whitewash here.
But the reporter goes even further. Note the highlighted portion of the text above. The way the newspaper frames it, even if the photo wasn't a nefarious setup by the Israeli police, the "slain teenager" — and it's worth mentioning that The New York Times refers to 19-year-old "men" overwhelming more often than 19-year-old "teenagers" (see update below) — was merely holding a "Boy Scout" knife.
No, it was very much not a Boy Scout knife. This, to the right, is the image of the knife released by Israeli police.
That's a butterfly (or balisong) knife, not the Swiss-army type knife generally associated with Boy Scouts.
On the contrary, butterfly knives are associated either with martial arts …
… thugs in 80s movies …
… or knife-play by "Boy Scouts" like this:
What line of thinking would inspire a reporter to insert into the story language about this being a "pocketknife, the kind Boy Scouts use"?
It is how The New York Times transforms a fact — a Palestinian man caught on video wielding a knife while charging at Israelis — into a story of a Palestinian boy scout, a teen who may or may not have had a knife slain by Israel which may or may not have planted evidence near his body.
Update: According to Ma'an, a Palestinian media outlet, and PCHR, a Palestinian monitoring group, the man was 20 years old, not 19, and thus not a "teenager."
Posted by GI at 11:22 AM | Comments (1)
October 27, 2015
USA Today Turns Jerusalem 'Neighborhood' into 'Jewish Settlement'
USA Today's "1 Single Street, 2 Worlds Apart" makes several errors that could potentially misinform readers. Reporter Michele Chabin describes two east Jerusalem neighborhoods. One, Jabel Mukaber, is Arab. The other, Armon Hanatziv, is Jewish. As the headline notes, the neighborhoods are separated by a single street. So why are they described as "worlds apart?" The article omits essential details that could have gone far in explaining why this is the case.
USA Today can't seem to make up its mind on how to describe the eastern Jerusalem neighborhoods. Beneath a large photograph depicting a young Palestinian girl running past a wall constructed to prevent Arab attacks on Israelis, a cutline describes Jabel Mukaber as a "Palestinian neighborhood." By contrast, the Jewish neighborhood of Armon Hanatziv next door is called a "Jewish settlement." This contradicts the article's own description of Armon Hanatziv as a "Jewish neighborhood." "Settlement" implies a temporary, even colonial status when contrasted with "neighborhood."
Chabin uncritically quotes Daoud Kuttab who claims "Palestinians in East Jerusalem pay the same national and municipal taxes as Jews in West Jerusalem but receive a fraction of the services." A visit to these neighborhoods Kuttab says, "Show clearly a huge disparity." USA Today fails to ask Kuttab why differences exist. CAMERA previously has noted that disparities between Jewish and Arab neighborhoods in east Jerusalem or Israeli Jewish and nearby Israeli Arab towns are sometimes the result of higher rates of Arab tax avoidance or failure to pay for municipal services and/or even accepting services from the Jewish state. In eastern Jerusalem some such instances may reflect an intention not to accept the legitimacy of Israel or reluctance or refusal to have any involvement with municipal politics ("East Jerusalem: Setting the Record Straight," Nov. 21, 2013).
The reporter writes that residents of Jabel Mukaber "do not recognize Israeli sovereignty over East Jerusalem, territory Israel captured from Jordan in the 1967 Six-Day War." In addition to failing to connect the dots as to how this leads to the "disparities" mentioned the article fails to inform readers about the Jordanian occupation of east Jerusalem. Jordan occupied East Jerusalem after it, along with other Arab allies, attacked the Jewish state upon its creation in 1948. From 1948 until 1967, Jordan illegally occupied these areas, its sovereignty recognized only by Pakistan and Great Britain. That Arabs living in the area objected and did not wish to cooperate with the obligatory military occupation that followed Israel's successful defense in the 1967 Six-Day War is missing context.
Had USA Today pressed Kuttab—whom it calls a "Palestinian media expert"—it's unlikely they would have got a straight answer. CAMERA has previously documented how Kuttab has worked as an apologist for Palestinian Arab violence directed at Jews and distorted facts to support propaganda (see, for example, "Daoud Kuttab's Delusional Mahmoud Abbas Apologia in Washington Post," CAMERA, July 17, 2014). In a March 26, 2007 Washington Post Op-Ed ("Obstacle or Opportunity") Kuttab asserted that a short-lived coalition in the Palestinian Authority between the corrupt Fatah movement and Hamas, a U.S.-listed terror group whose charter calls for the destruction of Israel, "offers a path to peace [with Israel]." One could be forgiven for thinking that the subsequent 2008 Hamas-initiated war with Israel may have changed Kuttab's mind. Instead Kuttab wrote another Washington Post Op-Ed calling for the United States and others to "Extend a hand to Hamas" (June 5, 2010).
It's not just a Palestinian propagandist and a Jewish neighborhoods that get misdescribed in the Today article: Jewish holy sites get short shrift as well. The newspaper writes that al-Aqsa mosque on the Temple Mount is "considered the third holiest site in Islam." However, it fails to note that the Temple Mount is Judaism's most holy site.
USA Today's Middle East reporting often is better than this. In this instance, however the reporter—whose work has previously been praised by CAMERA—and the paper failed.
Posted by SD at 10:22 AM | Comments (0)
Reuters Graphic: Palestinians, Israelis Die in "Street Violence"
Following last week's photo caption which whitewashed Palestinian attacks against Israelis as "Palestinians confronting Israelis," Reuters' graphics department has come up with new terminology for Palestinian stabbings, shootings and ramming attacks against Israeli civilians and security forces: "street violence."
The text at the top left of the graphic reads:
At least fifty-five Palestinians and nine Israelis have died in recent street violence, which was in part triggered by Palestinians' anger over what they see as Jewish encroachment on Jerusalem's Al-Aqsa Mosque compound.
In fact, some 30 Palestinians were killed as they carried out, or attempted to carry out, stabbing, shooting and ramming attacks against Israelis. The rest were killed as they engaged in violent clashes with Israeli security forces. The nine Israelis were killed in Palestinian stabbing, ramming and shooting attacks.
The "street violence" euphemism does nothing to explain the nature of the "Incidents since Oct. 1" (both "incidents with fatalities" and "Ooher incidents") mapped out in the large map in the graphic's right side. The graphic does commendably detail the most recent attacks -- "A Palestinian man was shot dead after he tried to stab a security guard," "A Palestinian man was shot dead after he stabbed and wounded an Israeli soldier," and "A Palestinian woman was shot dead by Israeli police when she drew a knife after being asked to identify herself" -- but what are readers supposed to make of the other "incidents" dotting the map in places like Raanana, Petah Tikva, Tel Aviv, Afula, Kiryat Gat, Beersheba, and more? That Israeli and Palestinian gangs of errant teenagers were duking it out in "street violence"?
This distorted terminology earns Reuters yet another entry in the popular collection of abominable and absurd journalistic characterizations of Palestinian violence, "Wave of Palestinian Violence Accompanied By Spate of Bad Writing."
Posted by TS at 08:10 AM | Comments (0)
October 26, 2015
CAMERA Fills In Richmond Times Dispatch Omissions
The following letter to the editor appeared in the Richmond Times Dispatch on Oct. 26, 2015:
"Dr. Yehuda Lukacs omits key details in his Op-Ed 'America's bipartisan moment in the Middle East' (October 20). Stating that Judaism's holiest site, the Temple Mount, 'has been the site of almost daily clashes between Palestinians and Israeli police,' the George Mason University professor omits mention of the incitement to violence by Palestinian Arab leaders.
Palestinian Authority President Mahmoud Abbas engaged in a libel long-used, in 1929 and 2000 among other instances, to provoke anti-Jewish violence by falsely claiming that Jews hold secret designs on the al-Aqsa mosque. In his August 1 speech Abbas said Jews planned 'to get rid of al-Aqsa and establish their so-called 'Temple.' On September 16, he exhorted, 'The al-Aqsa is ours…and they [Jews] have no right to defile it with their filthy feet…We bless every drop of blood that has been spilled for Jerusalem.'
Calling for another round of U.S.-led peace talks, Lukacs briefly mentions 'Secretary of State John Kerry's unsuccessful peace mission in 2014.' Yet, he omits that Abbas rejected that mission, just as PA authorities rejected Israeli and U.S. offers of statehood in exchange for peace with Israel in 2000, 2001 and 2008. The author also fails to note that Abbas—currently in the tenth-year of a four-year term—can at best, only claim to represent West Bank Palestinian Arabs. Hamas, a U.S.-listed terror group that calls for Jewish genocide and the destruction of Israel, has ruled the Gaza Strip since its sole election in 2006 and subsequent 2007 coup when they seized power. Which of these groups, Hamas or Abbas' corrupt Fatah movement that controls the PA, is Israel supposed to make peace with?
Lukacs claims that 'only Obama can make a difference' and turn 'swords into plowshares.' By omitting key details the author misdescribes the moment—its Palestinian leaders who could make a difference, but it seems they would rather reject peace and call for Jewish blood.
Sean Durns
Committee for Accuracy in Middle East Reporting in America"
The original letter to the Richmond Times Dispatch can be found here.

Posted by SD at 02:44 PM | Comments (0)
Update: One Algemeiner Article Restored on Facebook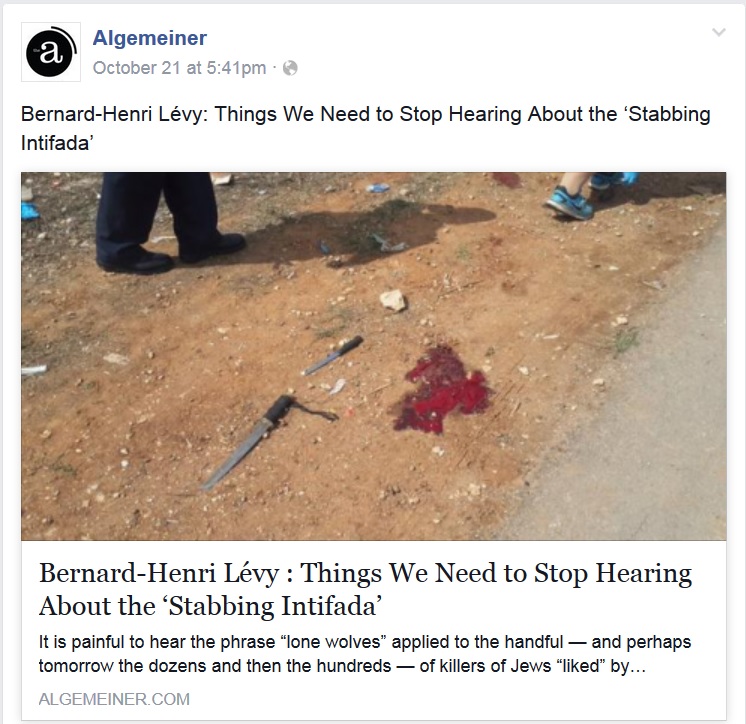 Snapshots has been monitoring an Algemeiner article that had been deleted from Facebook.
The Bernard-Henri Levi article that was previously blocked from being posted by Facebook (and deleted from users' personal pages) has been restored to The Algemeiner's Facebook page and can now be posted. The previously mentioned article about the stabbing at Kiryat Arba is still not shareable on Facebook however.
Update Oct. 26, 2015: The Algemeiner reports: "UPDATE 10/26 2:00 pm: After Jewish human-rights group the Simon Wiesenthal Center (SWC) — which communicates regularly with Facebook about online hate issues — contacted the company on The Algemeiner's behalf, the post was returned to Facebook. A representative told SWC that the post had not been banned because of its content and that further inquiries would be made to determine why it had been removed."
Posted by dvz at 01:31 PM | Comments (0)
Another Algemeiner Article Blocked from Facebook
Just over an hour ago, Snapshots reported about an article by Bernard-Henry Lévy that cannot be posted on Facebook pages from The Algemeiner's website.
It appears that this is not the only article published by The Algemeiner that cannot be posted on Facebook from the publication's website.
Efforts to post this article about a stabbing in Kiryat Arba have failed.
Update: The article can now be shared.
Posted by dvz at 12:44 PM | Comments (0)
Facebook Allows Hamas News Agency to Operate Freely, But What about The Algemeiner?
In an odd inversion, Facebook, the huge social media network is allowing Shehab News Agency operated by Hamas, an antisemtic terrorist organization, to operate freely on its platform. At the same time, it appears to be blocking an article by Bernard-Henri Lévy published by The Algemeiner.
Last Wednesday, October 21, 2015, The Algemeiner published an article by Lévy, a prominent French intellectual. It was titled "Bernard-Henri Lévy: Things We Need to Stop Hearing About the 'Stabbing Intifada'.
CAMERA staffers and a number of other people have tried to share it via the Facebook button on The Algemeiner's site, but have failed. This writer got the following message when he tried to post the article:

Facebook users who post the actual link on their own pages will discover that it appears as a URL, but no preview is provided.

It does not appear to be a mistake. The article has apparently been removed from people's personal Facebook pages. The Algemeiner reports that the "disappearance of the article from Facebook was first brought to The Algemeiner's attention by watchdog group The Committee for Accuracy in Middle East Reporting in America (CAMERA) which noted that their constituents had noticed the article's absence."
The article continues:
The post was also removed from The Algemeiner's own Facebook page where it had amassed some 40,000 views. Other readers of The Algemeiner also noted that it had been removed from their own Facebook pages, and a Facebook search for the article came up empty.
While Facebook is, for one reason or another, denying The Algemeiner the free use of its platform, it is giving free rein to Shehab News Agency, which is run by Hamas. Despite a February 2015 report from YNET that Facebook has taken down the Shehab website, it remains up and has over 4.3 million "likes." Snapshots will not provide a link to the page, (which includes accusations that Israel has "executed" Palestinians), but will provide the following screenshot of the page itself:
So what is going on? Why is Facebook preventing The Algemeiner (and other users) from posting an article written by Bernard-Henri Lévy on their pages, but is allowing the news agency for a terror organization to post its material?

Posted by dvz at 11:36 AM | Comments (1)
October 23, 2015
CNN Headline Schizophrenia
Schizophrenia is defined as "a state characterized by the coexistence of contradictory or incompatible elements." This certainly applies to CNN headlines for articles about two separate but similar events.
An armed man attacks school children and is killed by security forces.
CNN headlined the story, "Sword-wielding man kills 2 in Swedish school attack."

You see, the emphasis is on the attacker's actions. That is the genesis of the story. The headline does not even mention that the killer was himself killed. But, that was in Sweden, with Swedish school children and Swedish security forces.
In Israel, two armed men tried to board a school bus full of children, were prevented from doing so by people on the bus, then stabbed a man waiting at a bus stop. They were shot and wounded by security forces and were taken to a hospital, along with their victim. One of the terrorists later died of his wounds.
Does the CNN headline read, "Knife-wielding attackers stab civilian after trying to board school bus full of children"?
No. The original headline does not even mention the victim. Instead, it makes the Palestinian terrorists into the victims, reading "Armed Palestinians shot after trying to board bus with children on board".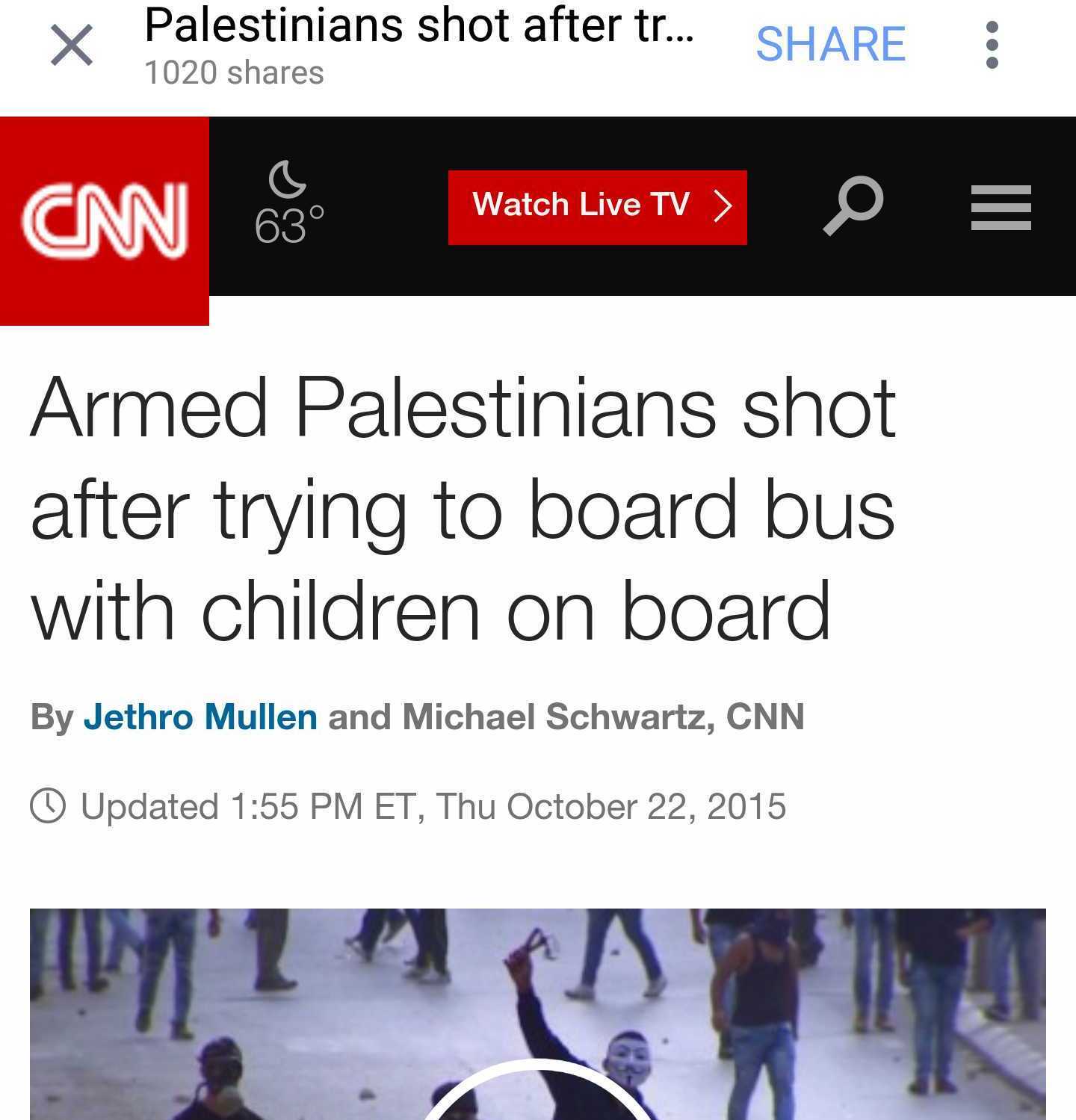 These are similar incidents but CNN handles them in contradictory and incompatible ways.
A revised, slightly better but still inadequate, headline reads, as of this writing, "Knife-wielding Palestinians shot after stabbing Israeli man". While mentioning the victim of the stabbing, though now ignoring the terrorized children, the headline also presents the Palestinian assailants as victims.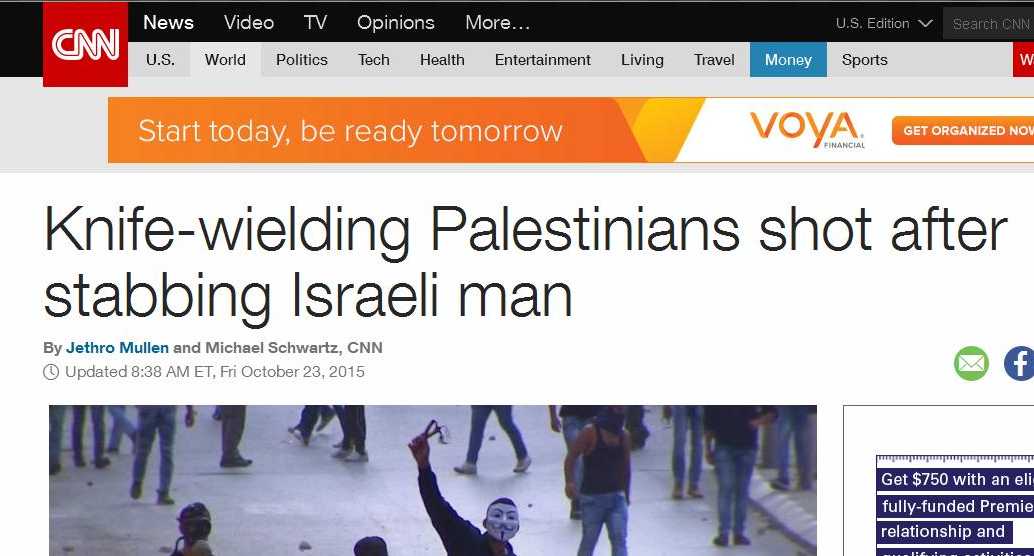 Since most readers simply scan headlines and never read the accompanying articles, they never get the full story – even if the article is accurate, which it frequently is not. Extra care must be used by editors when writing these important phrases. In this case, CNN could use some therapy.

Posted by SC at 11:39 AM | Comments (1)
October 22, 2015
ISIS Echoes Palestinian Calls for Attacking Israelis
Terror group the Islamic State in Iraq and Syria (referred to variously as ISIS, ISIL or IS) joins several Palestinian Arab terror groups, including Hamas and factions of the Fatah movement, in calling for attacks against Israelis.
A report compiled by the Middle East Media Research Institute (MEMRI) details ISIS propaganda efforts, including videos and social media,that recently have targeted Palestinian Arabs.
Some of the videos refer to Arabs residing in Jerusalem (referred to as Bayt al-Maqdis the "holy house in Arabic, following the Hebrew Bible's reference to the Temple as "the most holy house," but ha-Kodesh) as mujahideen (holy warriors). They encourage viewers to murder Jews using knives, cars, car bombs, stones, IEDs (improvised explosive devices) and other methods. Perhaps in case the message was somehow ambiguous, ISIS news agency A'maq created an infographic illustrating these and other recommended methods to murder Jews. Some ISIS members refer to the Banu Qurayza, a Jewish tribe accused of treason and subsequently beheaded or sold into slavery by followers of Muhammed in 627 CE.
In its appeals, ISIS claims that it will "liberate" the al-Aqsa mosque. One ISIS terrorist in southern Iraq, Abu Nour Al-Ansari, claimed:
"We will not enjoy our lives or take pleasure with a lavish abode until we liberate Al-Aqsa from the defilement of the sons of apes and pigs [Jews]. Here they are, the soldiers of the ISIS caliphate, fighting in Iraq and Syria, and advancing on Palestine. Your day approaches, oh community of Jews."
"Liberate" by their definition and that of other Islamist terror groups like Hamas and Fatah's al-Aqsa Martyrs Brigades, frequently means to kill or enslave those, such as Jews, Christians and other Middle Eastern minorities who do not share their doctrinal, Salafist interpretation of Islam.
Al-Ansari's rhetoric is far from original.
PA state-run media periodically refers to Jews as the "sons of pigs and apes," as a CAMERA monograph has noted (Indicting Israel: New York Times Coverage of the Palestinian-Israeli Conflict, 2012).
Palestinian Authority President and Fatah party head Mahmoud Abbas has recently also called for shedding Jewish blood over al-Aqsa. In a August 1 speech Abbas employed a long-used libel, inciting anti-Jewish violence by falsely claiming Jews planned "to get rid of al-Aqsa and establish their so-called 'Temple.'" On September 16, he exhorted, "The al-Aqsa is ours…and they [Jews] have no right to defile it with their filthy feet…We bless every drop of blood that has been spilled for Jerusalem." Abbas adviser Sultan Aub Al-Einein has, like the ISIS terrorists in the video, praised Palestinian Arabs for attacking Jews.
Hamas also has called for murdering Jews. According to The Times of Israel, Hamas leaders are encouraging Palestinian Arabs living in Fatah-ruled West Bank (Judea and Samaria) to murder Israelis by suicide bombings ("Hamas said urging Palestinians to carry out suicide bombings," Oct. 19, 2015). The MEMRI report notes that ISIS media, including those featuring a song called "Soon, Soon" and an eight-minute video entitled "The Slaughter of the Jews," are popular in the Gaza Strip.
While the report shows ISIS encouraging Palestinian violence, it also may indicate that the Islamic State views other terror groups like Hamas as rivals. According to the MEMRI research fellows who produced the report, M. Shemesh and R. Green, ISIS is attempting to "insert itself" into the Palestinian issue and portray itself as "the force defending all the world's Muslims." Green and Shemesh write that these efforts by ISIS attempt to counter criticism by Islamist rivals that it doesn't "devote sufficient attention" to fighting Israel. They write that "it should be stressed that except for statements of support and encouragement for the attackers, the videos include no ISIS statement of intent to actually join in the war on Israel in the foreseeable future" as the group is "busy with their wars in Iraq, Syria, and elsewhere."
With the recent and ongoing terror attacks by Palestinian Arabs, it could be said that while ISIS is "busy," others are fighting the Islamic State's declared war on Israel in almost exactly the manner ISIS prescribes and using remarkably similar language to describe it.
The MEMRI report on ISIS and Israel can be found here.
Posted by SD at 10:21 AM | Comments (0)
October 21, 2015
Reuters Captions: "Palestinians Confronting Israelis"
Reuters photo captions yesterday referred to Palestinian stabbing, shooting and ramming attacks against Israelis as "Palestinians confronting Israelis."
The caption states:
A Palestinian woman supporting the Islamic Jihad movement holds a copy of the Koran as she takes part in a rally in Gaza City to show solidarity with Palestinians confronting Israelis in the West Bank and Jerusalem October 20, 2015. REUTERS/Mohammed Salem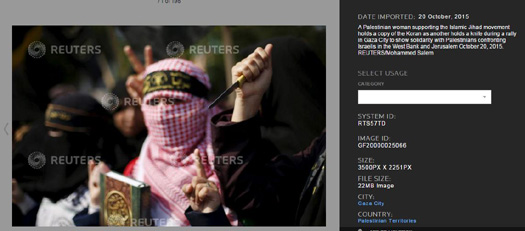 This one is:
A Palestinian woman supporting the Islamic Jihad movement holds a copy of the Koran as another holds a knife during a rally in Gaza City to show solidarity with Palestinians confronting Israelis in the West Bank and Jerusalem October 20, 2015. REUTERS/Mohammed Salem
If the recent spate of stabbings, shootings and rammings were Palestinians "confronting" Israelis, I'd sure hate to see how Palestinians attack Israelis.
Posted by TS at 07:33 AM | Comments (2)
Update: UNESCO to Consider Designating Kotel as Part of Al-Aqsa
The Executive Council of the United Nations Educational, Scientific, and Cultural Organization (UNESCO) is expected to take up a draft resolution prepared by the Palestinian Authority that would designate the Western Wall, or Kotel HaMa'aravi, as part of al-Aqsa Mosque, the tomb of Rachel as the burial place of Bilal Ibn Rabah, a companion of Islam's prophet, Mohammed, and declare the Cave of the Patriarchs as a Muslim shrine and part of "Palestine." This matter may go to the full UNESCO plenum, where "Palestine," which has no established boundaries, no government in control of its population or other attributes of a sovereign country, is a recognized member state. As in all matters before committees at the United Nations, the overwhelming pro-Arab -- or, more to the point, anti-Israel -- majority guarantees passage of proposals that are utterly without merit and often, as in this case, simultaneously ludicrous and outrageous.

For years, Palestinian Authority President Mahmoud Abbas and other Palestinian leaders have denied the existence of the First and Second Temples and attempted to expunge any Jewish -- and therefore key Christian -- connections to Jerusalem's holy sites. Last month, Abbas declared that the Temple Mount and the Church of the Holy Sepulchre "are ours". This historical revisionism and attempted religious suppression is an affront to Jews and Christians alike as these sites are central to both religions. Furthermore, rather than protecting holy sites, Palestinian groups have been desecrating and destroying them, including Rachel's Tomb, Joseph's Tomb and the Church of the Nativity.

Some Arab and Muslim representatives long have decried non-existent attempts to "Judaize" Jerusalem. The archaeological evidence of Judaism's deep connection to the holy city are everywhere and the Hebrew Bible mentions Jerusalem or its synonym, Zion, hundreds of times, the Koran not at all. But this very real and sinister movement to de-Judaize Jerusalem, and thereby implicitly deny Christianity's attachment to some of its holy places, should not be promoted by any nation or international body. Rather, it should be condemned. Passage of such a proclamation would only legitimize the bloodthirsty incitement perpetuated by Palestinian leaders through public statements, media reports, sermons and television shows. This incitement is the cause of the surge in violence against Jews sweeping Israel and the resultant self-defense measures being undertaken there. Any nation or group that claims to promote peace and understanding must reject this resolution.

For more information on the history of Jerusalem and its connection to the three monotheistic religions, please click here.
Update: According to Times of Israel:
Israel's ambassador to UNESCO, Carmel Shama Hacohen, confirmed to Israel Radio Wednesday that the Palestinian delegation had proposed a new version of the controversial resolution, removing the clause that would have declared the Western Wall a Muslim site.

[…]

The resolution... still contains a request to recognize Rachel's Tomb in Bethlehem and the Tomb of the Patriarchs in Hebron as Muslim sites. Israeli diplomats said they would continue to fight the resolution, and try to get allied states to reject it.
Update #2: Arutz Sheva reports the revised resolution has passed:
UNESCO (the United Nations Educational, Scientific, and Cultural Organization) passed a resolution Wednesday listing the Cave of the Patriarchs in Hevron and Rachel's Tomb in Bethlehem as Muslim sites.
Posted by SC at 07:02 AM | Comments (0)
October 19, 2015
Los Angeles Times Cover Up: Palestinian Police Beat Israelis at Joseph's Tomb
The Los Angeles Times today covers up the fact that Palestinian police beat Jews who illegally visited Joseph's Tomb. The article today, with the somewhat vague headline "Man opens fire in crowded bus station in Israel, 1 killed; 9 injured," mentions the Joseph's Tomb incident at the end of the piece.
A reminder of the explosive role of religion in the conflict came overnight as 30 Jews violated standing instructions from Israel's military and entered the West Bank city of Nablus to visit the site of Joseph's Tomb, a Jewish holy site under Palestinian control, parts of which were damaged by fire the night before.

Palestinian security services blocked the Jews from entering and coordinated with Israel's military to extricate them from an angry crowd. Israeli soldiers detained five of the violators, who were later placed under house arrest.
In two paragraphs about the incident, The Los Angeles Times provides not a word about how the Palestinian Authority police themselves beat the Israelis. Haaretz reported:
Some 30 Israelis made their way to Nablus early Sunday morning in order to pray at Joseph's Tomb. Upon arrival they were attacked by local Palestinians. One of the vehicles they came in was set ablaze.

Palestinian security forces rushed to the scene and arrested five of the Israelis, beating a few in the process, before turning them over to the Israel Police. Israeli soldiers, in coordination with the Palestinian forces on the ground, were called in and extracted the remaining Israelis.
Similarly, Times of Israel reported:
The detainees told police that after they arrived at the shrine, Palestinian Authority Police officers confronted them and cocked their guns at them. The police officers also attacked them with clubs and sticks and hit them with the butts of their guns, they said.
Can you imagine how The Times would cover an incident in which Israeli security forces beat Palestinian worshipers? Actually, there's no need for imagination.
Take this Sept. 15, 2015 Los Angeles Times article which carried the following headline in the print edition: "Israeli police battle again battle Palestinian protesters at disputed holy site in Old City." The article begins:
For the third day in a row, Israeli police clashed Tuesday with Palestinian protesters at a disputed holy site in Jerusalem's Old City, according to Palestinian officials and Israeli police. . . .

Palestinians said police fired stun grenades at the protesters and attacked others with clubs, injuring several and causing damage to the mosque building. Israeli police said forces entered the compound to disperse Palestinian protesters who threw rocks at them.
Posted by TS at 07:40 AM | Comments (0)
Who Gets the Facts Wrong? NBC or Netanyahu?
Oct. 20 Update: NBC Corrects: Netanyahu Didn't Spread False Information on Pisgat Zeev Victim
In a highly skewed article last week "about the swirl of conflicting information" concerning the Oct. 12 stabbing in which two Palestinian teens, cousins Ahmed and Hassan Manasrah, critically wounded two Israelis, one of them 13, NBC News charges Prime Minister Netanyahu of contributing to the misinformation ("Dispute Over Viral Video of Shot Ahmed Manasrah Sums Up Israeli-Palestinian Conflict"). Cassandra Vinograd, Lawazej Jabari and Paul Goldman write:
Israeli President [sic] Benjamin Netanyahu slammed the sea of misinformation and misinformation -- but himself got the facts wrong, saying a Jewish child had been killed of injured -- in an impassioned speech telling Palestinian authorities to "stop lying" and inciting violence.

"An Arab boy fatally wounds a Jewish child and after that the security forces stop and prevent him fro continuing on a stabbing spree and he becomes a martyr supposedly executed unjustly?" Netanyahu told the Knesset. . . .
It's NBC -- not Netanyahu -- who is getting the facts wrong. First, Netanyahu is Israel's Prime Minister, not President. Second, Netanyahu did not say "An Arab boy fatally wounds a Jewish child."
In his Oct. 13 address to the Knesset, he said (see Hebrew speech here) an Israeli youth was critically wounded, not killed: "An Arab youth critically wounded an Israeli youth. . ."
Unfortunately, the Israeli Ministry of Foreign Affairs provided an incorrect English translation of Netanyahu's speech, and NBC exploited that error to falsely cast Netanyahu as the purveyor of false information. Indeed, on her Facebook page, Cassandra Vinograd bemoans "the misinformation on both sides."
Meanwhile, the article does not at all mention Palestinian President Mahmoud Abbas' false claim that Israeli police shot dead the 13-year-old perpetrator, Ahmed Manasrah. Read here for Vinograd's explanation as to why.
Posted by TS at 05:56 AM | Comments (1)
October 18, 2015
In USA Today Headline, Palestinian Stabbers Are the Victims
Following four Palestinian stabbing attacks against Israelis yesterday, a USA Today headline is the latest in a series of media outlets which have falsely depicted Palestinian attackers as victims.
The completely misleading headline reads: "Israelis kill 4 Palestinians as violence surges."

The article's first paragraph is equally derelict as it fails to clearly report that the four Palestinians were killed had carried out, or attempted to carry out, stabbing attacks yesterday -- three in Hebron, one in Jerusalem. (A fifth attack took place at the Qalandiya checkpoint later in the evening.) The article, by Doug Stanglin, begins:
Four Palestinians were shot and killed by Israelis Saturday in separate stabbing incidents in Jerusalem and the West Bank in the latest in a month-long surge in violent confrontations.
Only in the second paragraph is there the beginning of an indication that it is actually the Palestinian fatalities who initiated violent attacks, seeking to kill Israelis. But, as noted by Adam Levick, managing editor of UK Media, a member of CAMERA's British department:
In our social media obsessed world dominated by Twitter, Facebook and internet memes, the headlines and blurbs of mainstream news stories are often all that news consumers notice.
Stay tuned for an update about a correction of this headline.
Posted by TS at 04:02 AM | Comments (0)
October 16, 2015
Clownish Headline from CNN
<

Remember when CNN hired James Earl Jones as the voice for its identifier that it played during commercial breaks?
"This is CNN," he said in that deep, sonorous voice of his.
Jones sounded so commanding, so authoritative, so reliable, so trustworthy. You just had to stay tuned to the network.
These days, CNN would do better to hire Krusty the Clown from The Simpsons to state the identifier for the network during commercial breaks. He'd be perfect: "Hey boys and girls, this is CNN. A few people watch us, but nobody trusts us!"
CNN demonstrated its unreliability with a headline for a story about Joseph's Tomb being set on fire in the West Bank on Thursday. In a display of callous indifference for religious freedom and tolerance, a group of Palestinians torched the building. USA Today covered the story as follows:
Palestinians late Thursday set fire to a religious site in the West Bank revered by some Jews as the tomb of biblical patriarch Joseph.

In a separate incident on Friday, a Palestinian impersonating a journalist stabbed an Israeli solider.

The attacks came as the militant group Hamas called for a "day of rage" against Israel to begin following afternoon prayers.
Here is CNN's headline for the story:

<

OK. So Joseph's Tomb just "caught fire." Really? How? Was it an "electrical fire?" like the one that the Palestinian Authority says took place at Charbel Monastery in Bethlehem a while back? There have been a lot of those recently.
Or did different parts of the tomb's stone structure magically rub themselves together and cause some fabric to erupt in flames? Was it one of those instances of spontaneous combustion we read about in the supermarket tabloids?
No, Joseph's Tomb did not "catch fire." Palestinians set it on fire. They torched it. They set it ablaze. They initiated its combustion. It did not "catch" fire. It did not spontaneously combust.
Just to get a sense of CNN's ineptitude, take a look at this Tweet from Israeli commentator Avi Mayer, who compares CNN's take on the fire at Joseph's Tomb with another fire presumably set by Jews in the West Bank in January.
Compare and contrast: Mosque torched – "radical Israeli settlers" blamed, Jewish holy site torched — "catches fire." pic.twitter.com/UJwHr1tQcV

— Avi Mayer (@AviMayer) October 16, 2015
CNN has no problem pointing the finger of blame at Jews in a fire at a Mosque that took place in January, but a few months later, when there's no doubt that Palestinian Muslims set Joseph's Tomb on fire, CNN does everything it has to obscure responsibility for the fire.
It's a disgusting and dishonest double standard.
Update12:30 p.m.: After being contacted by CAMERA, CNN has changed the headline to report that the tomb has been "set ablaze."
Posted by dvz at 10:50 AM | Comments (4)
October 15, 2015
'Israel' Collateral Damage in Report of U.S. Restraint
The following unpublished letter was sent to The Wall Street Journal on Oct. 7, 2015:
"Dear Editor:
"The U.S. military does go to great lengths to minimize civilian casualties, an accomplishment made more impressive given the frequent use of civilians as 'human shields' by terrorists ('The Taliban and the Hospital,' October 5). Yet, it should be noted that the Israeli military may well have set the standard in this regard, according to a former commander of British forces in Afghanistan."
"Col. Richard Kemp has pointed out that according to U.N. estimates, the ratio of civilian to combat deaths in most conflicts worldwide, including U.S. and coalition operations in Afghanistan, is 3:1; three civilians for every combatant killed. Citing U.N. figures showing a ratio of roughly 1:1 civilian-to-combat deaths during Israel's 2008 war against the Hamas terror group, Kemp said 'the Israeli Defence Forces did more to safeguard the rights of civilians in a combat zone than any other army in the history of warfare.'"
"Such ratios highlight the distinction between the values of Western militaries and their enemies. It might be worth examining whether those militaries' practice of incurring disproportionate risks and losses of life often unrecognized by the press or other countries emboldens enemies and prolongs conflicts.
Sincerely,
Sean Durns
Media Assistant
CAMERA—Committee for Accuracy in Middle East Reporting in America"

Posted by SD at 03:24 PM | Comments (0)
'Moderate' Palestinian Authority Honors Murderers with Trees and Law Degrees
The Fatah movement, led by Palestinian Authority (PA) President Mahmoud Abbas, has honored Muhannad Shafeq Halabi by bringing soil from near the al-Aqsa mosque on Temple Mount to his grave. On Oct. 8, 2015 Halabi murdered two Israelis, Rabbi Nehemiah Lavi and Ahharon Bennett, and stabbed Benet's wife and two-year old child in Jerusalem's Old City before he was killed by Israeli police.
Illustrating their continued use of the "al-Aqsa" libel, as has been documented by CAMERA ("Incitement over Temple Mount Leads to Palestinian Violence, Again," Sept. 16, 2015), Fatah officials said they brought the soil to Halabi's grave, "so that the dead body of Martyr Muhannad Halabi can hug the soil for which he died a Martyr."
According to Palestinian Media Watch (PMW), a non-profit watchdog that monitors Palestinian news outlets, Abbas justified current terror attacks by Palestinian Arabs against Israeli civilians and security forces, saying, "We have to protect our holy sites"—again falsely implying that al-Aqsa mosque and other Islamic shrines are in danger from a Jewish conspiracy.
Abbas similarly lied and incited violence in a PA-state television speech in which he claimed that Israel had "executed the child Ahmed Mansara in cold blood, just like they do to other children in Jerusalem and other Palestinian territories ("Abbas Accuses Israel of 'Executing' Child Terrorist," Arutz Sheva, Oct. 14, 2015).
In fact, Ahmed Mansara was not executed, but is currently being treated in an Israeli hospital for injuries sustained from being hit by a car. Mansara was hit while fleeing, after he and his cousin stabbed a 13 year-old Jewish child on a bicycle.
On his Facebook page, Abbas adviser Sultan Abu Al-Einen called the attacks against Lavi, Bennett and his family a "heroic operation." The PA received $440 million in U.S. aid last year alone, and under Abbas' leadership, is frequently referred to by some in the press and policymakers as "moderate" ("PA to receive $440 million in U.S. funds in 2014," The Jerusalem Post, Jan. 1, 2014).
Before murdering Lavi and Bennett, Halabi took to Facebook to justify his actions, stating that Palestinian "resistance" was a response to Israel's (non-existent) activity at al-Aqsa.
On October 13, the PA Ministry of Education announced that it would plant olive trees and place signs with the names of terrorists, like Halabi, who have died killing Israelis.
By contrast, the Jewish National Fund (JNF), the largest environmental, conservation and development organization in Israel, has been planting trees since 1901, often to honor the memories of Jews and non-Jews alike. JNF efforts have even led to Israel being one of only two countries in the world that saw a net increase in the number of trees at the beginning of the 21st century ("Helsinki Environmental 'World Village' Bans Jewish National Fund," The Jewish Press, May 31, 2015).
Despite these efforts, Boycott Israel and other groups associated with the boycott, divestment and sanctions (BDS) effort, such as Jewish Voice for Peace Rabbinical Council, have lobbied to ban the JNF, claiming it prevents peace by planting trees. A look at Boycott Israel's website shows no similar outcry over recent PA tree-planting policies—nor any mention of recent Palestinian Arab terror attacks against Jews.
The PA Ministry of Education said it is planting trees and placing signs to honor "martyrs", claiming doing so would "instill national and humanitarian values in the minds of the young, and respect for the symbols of the struggle."
The PA Bar Association, which receives funds from the European Union and the United Nations, also honored Halabi's memory by awarding him posthumously an honorary law degree. As PMW notes, the association also called the killer a "heroic Martyr" on its website, paid a condolence visit to his family and decided that it will "name its swearing-in ceremony for the next class of lawyers after Martyr Muhannad Halabi."
Writing in The Washington Post's online blog, the Volokh Conspiracy, law professor David Bernstein also noted the PA Bar Association's decision ("Palestinian Bar Association Grants Honorary Degree to Terrorist Who Murdered Two Israeli's," December 30). Bernstein wrote, "I think it deserves more attention. Glorification of brutal terrorist murderers is hardly uncommon in the Palestinian territories; indeed, it's official government policy in both the West Bank and Gaza. But to have the bar association do it seems particularly noteworthy."
Mahmoud Abbas once asserted, "We cannot build foundations of a state without rule of law." By naming a graduating class of lawyers after a dead murderer, what kind of state does Abbas expect to build?
PMW's reports on PA efforts to honor perpetrators of recent terror attacks can be found here and here.
This post was updated on Jan. 4, 2016 to add The Washington Post article by David Bernstein
Posted by SD at 11:08 AM | Comments (1)
October 14, 2015
Where's the Coverage? Hamas Official Calls for Attacking Israeli Embassies Overseas
A former senior Hamas official, Khalel Abu Hilal, called for terrorist attacks on Israeli embassies in the United States, Europe and the Middle East in an Oct. 8, 2015 speech that aired on Qatari-owned network Al-Jazeera. Hamas, the Palestinian Islamic Resistance Movement, is a U.S.-designated terrorist organization. Despite numerous recent attacks against Jews in Israel, Europe, and the U.S.—including a Molotov cocktail thrown at Jews in New York City—major new media outlets failed to note Hilal's incitement. This is all the more surprising given that Hilal, who served as Hamas' minister of information before becoming leader of the Palestinian Freedom Movement, has personally received attention in the past.
The former Hamas spokesman was quoted at length and profiled as part of a 5,282-word 2007 New York Times article on the rise of Hamas in the Gaza Strip ("A Life of Unrest," July 15, 2007). That article described Hilal as a "thin, grizzled chain-smoker who sucks in tobacco smoke the way an emphysema patient sucks in oxygen, is at the center of the revolution. His journey," The Times claimed, "is Gaza's journey." He also was quoted by Reuters and in turn by Times Op-Ed columnist Tom Friedman in a profile on Hamas ("Behind the Masks," June 20, 2007).
Yet, his latest calls for attacks against Israeli embassies and kill Jews abroad, translated by the Middle East Media Research Institute (MEMRI), have received no coverage by either The New York Times or other major U.S. media.
According to MEMRI, Hilal said, "We want [Palestinians abroad] to launch a holy march on all the Zionist embassies, in all the Arab and Muslim countries, as well as in Europe and America. All these embassies must be stoned with holy stones, like Satan is stoned." This apparently is a reference to a ritual enacted during Muslims' annual pilgrimage to Mecca.
Hilal offered specifics as to what weapons should be used to commit the attacks. "These embassies," he exhorted, "should be attacked with Molotov cocktails." The day after Hilal's Oct. 9 remarks, two Israeli students studying in New York City were targeted with a Molotov cocktail thrown by unidentified assailants, in a crime currently being investigated by the New York City Police Department ("Israeli Jews Assaulted With Molotov Cocktail in New York City," Algemeiner, Oct. 12, 2015).
The former Hamas spokesman's incitement was general:
"Why not target every infidel Zionist, who spreads corruption and depravity throughout the Arab and Islamic land? Why not stab this plundering settler? Why not run over this Zionist in Germany, in Tunisia, in Egypt, or in Jordan? Why not throw stones and Molotov cocktails at him? Why not stab him in his heart?"
Hilal's statements encouraging violence and murder are hardly his first. He has exclaimed previously, "We have a Legislative Council whose members are martyrdom seekers….We raise our children from kindergarten to love martyrdom." Hamas and other Palestinian sources including Fatah frequently referred to attacks against Jews in which the perpetrator dies as "martyrdom operations."
A former high-ranking Hamas official now heading the misnamed "Palestinian Freedom Movement" calls to attack Israelis on foreign soil. Where was the coverage?
The MEMRI clip of Hilal's remarks can be found here.
Posted by SD at 01:34 PM | Comments (0)
October 13, 2015
VOA: Palestinian Wounded by Gas Cylinder (That She Exploded)
The scene of the A-Zaim checkpoint where a Palestinian terrorist exploded a gas canister, injuring a police officer (Photo: Courtesy of Israel Police)
A Voice of America article Sunday casts the Palestinian woman who blew up a gas canister in her car that day, injuring a police officer, as a blameless victim as opposed to the perpetrator responsible for the explosion ("Israeli Airstrike Kills Pregnant Woman and Toddler in Gaza"). The Oct. 11 article distorts:
And a Palestinian woman was seriously wounded when a gas cylinder blew up in her car at a checkpoint outside a West Bank Jewish settlement.
Here's what actually happened, via Haaretz:
In the Sunday morning attack, a Palestinian drove up to the Al-Zayim checkpoint near the West Bank settlement of Ma'aleh Adumim and blew up a gas canister in her car after a policeman ordered her to pull over. The policeman, 45, was lightly wounded, while the terrorist was hospitalized in very serious condition.
In a separate journalistic failure, the article states:
An Israeli airstrike on Gaza in response to Palestinian rocket fire killed a pregnant Palestinian woman and her toddler daughter. Medics say they died when the building in which they were taking cover collapsed. Several others were hurt.
Nowhere does the article note that the army said it targeted Hamas weapons manufacturing facilities.
Posted by TS at 06:54 AM | Comments (0)
Al Jazeera Kills Off Wounded Afula Attacker
Al Jazeera English falsely reported yesterday ("Bringing into question Israel's extra-judicial killings"):
[Mahmoud] Abu Rahma [of the Al Mezan Center for Human Rights in Gaza] referred to another case, saying that Israa Abed, 30, from Afula in Israel, was shot dead by a group of police and soldiers who were two metres away and surrounding her. The Israelis claim she was holding a knife, though this remains unproven.
Israa Abed was, wounded, not killed when police shot after she attempted to carry out a stabbing in Afula. As Al Jazeera itself earlier reported:
In the northern town of Afula, a Palestinian woman was shot several times and wounded by police who closed in on her as she held up a knife, a video clip circulated on social media showed. Police said she had tried to stab a bus station guard.
Similarly, a separate Al Jazeera article published the same day as the Al Jazeera piece claiming she had been "shot dead" reported that Abed was "seriously wounded":
Likewise, Palestinian Maan News Agency reported:
A Palestinian woman was shot and injured after an alleged stabbing attempt in Afula on Friday, Israel's army and police said.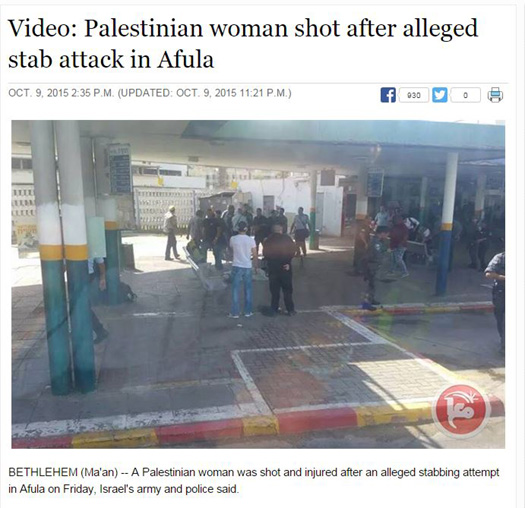 Stay tuned for an update about a correction.
Update 6:46 EST: Al Jazeera Can't Get Its Story Straight on The Knife
One of our readers points out that the Al Jazeera story which reported without challenge the false claim by Mahmoud Abu Rahma, of Al Mazen, that Abed was "shot dead" also fabricated: "Israelis claim she was holding a knife, though this remains unproven."
But, as the second Al Jazeera article notes: " . . . a Palestinian woman was shot several times and wounded by police who closed in on her as she held up a knife, a video clip circulated on social media showed."
Posted by TS at 05:28 AM | Comments (1)
NY Times Source Slams Article on Temple Mount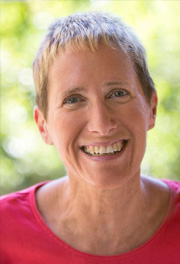 Prof. Jodi Magness: "I know of no credible scholars who question the existence of the two temples or who deny that they stood somewhere on the Temple Mount"
Professor Jodi Magness, one of the scholars quoted -- actually misrepresented and exploited -- in The New York Times article last week which outrageously called into question the presence of the biblical temples, an allegation that was subsequently retracted -- slams the article in a letter to the editor yesterday.
Professor Magness writes:
I am one of the specialists interviewed for "Historical Certainty Proves Elusive at Jerusalem's Holiest Place" (news article, Oct. 9).

The question of the existence and location of two successive temples on the Temple Mount in Jerusalem is not nearly as contested as the article suggests.

Literary sources leave little doubt that there were two successive ancient temples in Jerusalem dedicated to the God of Israel (the first destroyed in 586 B.C., and the second in 70 A.D.). These sources and archaeological remains indicate that both temples stood somewhere on the Temple Mount.

The only real question is the precise location of the temple(s) on the Temple Mount. The site of the Dome of the Rock is the most likely spot for various reasons, despite the lack of archaeological evidence or excavations. I know of no credible scholars who question the existence of the two temples or who deny that they stood somewhere on the Temple Mount.

JODI MAGNESS

Chapel Hill, N.C.
The writer is a professor specializing in early Judaism at the University of North Carolina, Chapel Hill.
Posted by TS at 03:35 AM | Comments (0)
October 12, 2015
NPR Guest Draws Attention to Israel's Water Solutions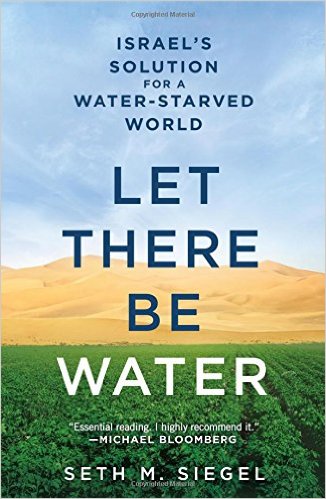 (This post was updated on Dec. 8, 2015)
On Oct. 7, 2015 Seth Siegel, the author of a new book examining Israeli responses to chronic water shortages, Let There Be Water: Israel's Solution For A Water-Starved World, was a guest on National Public Radio's nationally-syndicated Diane Rehm Show. Despite some attempts to shift the conversation in an anti-Israel direction by Rehm, whose biases CAMERA has documented (for example "NPR'S Diane Rehm Plays Gaza Wild Card: Herself," July 22, 2014), the segment offered considerable information on Israeli achievements in water conservation.
Peter Gleick of the Pacific Institute and Patricia Mulroy of a D.C.-based think tank, the Brookings Institution, joined Siegel on Rehm's show.
After a brief discussion on water scarcity, Rehm turned quickly to the Arab-Israeli conflict by asking her guests what role water played in it.
Gleick noted that "Israel and Jordan signed a peace treaty almost two decades ago and water was a component of that agreement and they're working, not always successfully, but they're working to try and deal with the limited water they have and to find joint solutions to reduce the risk of conflict."
Siegel pointed out that Israel provides education courses in water technology and engineering for water managers and water engineers "in the West Bank and previously Gaza." The author asserted this Israeli act created an "opportunity for dialogue" that's "quite remarkable and quite wonderful."
Rehm responded with, "And yet, you call Gaza City one of the least water secure places in the world."
Siegel agreed but pointed out the real culprit for Gaza City's water insecurity: Hamas, the U.S.-listed terror group, which has ruled the Gaza Strip since its election in 2006. Water scarcity in Gaza was the result of "ideology" and "government incompetence on the part of Hamas" resulting in water being "woefully mismanaged," Siegel said. The author noted that both Israel and the Gaza Strip have the same climate and topography, yet Israel's water security and quality are vastly greater. Siegel observed that these differences in water were the result of choice, not circumstance.
"Gazans could be enjoying something very similar," he observed, "were they to agree to get into a compact of some kind with Israel in terms of developing the water resources from the Mediterranean or otherwise."
Perhaps not satisfied with Siegel's answer, Rehm asked Gleick of the Pacific Institute for his thoughts on the "relationship on water between the Israelis and Palestinians."
Gleick characterized it as a "serious political problem" in that "Israel and the Palestinians do not agree about water. There is serious mismatch in control over access to resources." He failed to inform listeners that this "mismatch" was the result of Palestinian Arab seeking to destroy the Jewish state instead of learning from and working with it.
Siegel made this point when responding to a question from a program listener. He noted that Gaza's water situation is the result of "poor governance" that allows illegal well drilling, unregulated agricultural, avoidable flooding and sewage-dumping. "The solution," Siegel asserted, is a "partnership with Israel, and Israel has shown repeatedly a desire to do that, but ideology gets into the way…."
Siegel observed that Israel sends a "significant amount" of water to the Gaza Strip every day and is even ready to use its own desalination plants and to buy sewage from Gaza and "treat it in the Western Negev so that its farmers there can reuse it [for irrigation] as they do Israeli sewage….So the solution is actually right at hand. It's easy to do. But you need to have a situation where Hamas, which has a rejectionist ideology, needs to come to terms with serving their people best."
Writing in The Washington Times, journalist Clifford May(December 2, "Unexpected Miracle in the desert") also notes Israeli solutions to water scarcity. Referencing Siegel's book, May notes that the Jewish state has succeeded in a task many previously may have considered to be impossible: making water more plentiful in a part of the world where it is a rare commodity.
Israeli solutions to vexing water issues confronting the globe are "right at hand"—for those who want them.
A transcript of this segment of the Diane Rehm Show can be found here.
CAMERA's backgrounder on Israel and water issues ("Does Israel Use 'Palestinian' Water?" July 1, 2001) can be found here.

Posted by SD at 01:29 PM | Comments (0)
Bombings in Byzantium
More than 100 people died in a horrific bombing on Saturday, October 10, in Ankara, Turkey. The Turkish President, Recep Tayyip Erdogan, blamed the Islamic State. The Western media and governments have mostly gone along with his assignment of responsibility. But there is as yet no clear evidence identifying the perpetrators.
The victims of the bombings were Kurds. The Kurds are deeply suspicious of Erdogan and his party, the AKP, who are maneuvering to reverse the setback they suffered in elections in June when the Islamist party lost its majority. Erdogan has called for November 1 elections. Suspicions intensified when in the wake of the terrorist attack Turkey immediately launched air strikes against the PKK, a militant Kurdish group based in Iraq and Syria with which Turkey has been at war for several decades. The PKK has recently expressed willingness to abide by a cease-fire with Turkey.
Meanwhile, on the Turkish side, some have even suggested that the terrorist bombing was the work of the PKK in order to stir unrest within Turkey.
The bombings on Saturday targeted a peace rally of Turkish Kurds, who are in opposition to Erdogan's government. A Kurdish party gained parliamentary representation for the first time in the June elections helping to undermine Erdogan's parliamentary majority.
Historical context here is helpful. Recent history has not been kind to the Kurds. After the collapse of Ottoman rule, the Kurds were the odd-man-out in the region as the Arabs, Turks, British and French carved up the former provinces of the Turkish empire. More than 40 million Kurds are spread out over Turkey, Syria, Iraq and Iran. Despite the fact that Kurds can trace their identity as a distinct people back many centuries, they have been denied autonomy and have been victimized by the regimes that rule over them. Comprising more than 20 percent of Turkey's population, Kurdish aspirations are viewed as a particularly serious threat by the Turkish majority.
The carnage on October 10 is the most recent and worst of a series of bombings targeting Kurdish peace activists this year alone. The bombings occurred within the context of heightened conflict between the Turkish government and Kurds, both in Turkey and in neighboring Iraq and Syria. Turkey is unyielding in its opposition to the creation of a Kurdish state on its borders. The Kurds accuse the Erdogan government of using the war against ISIS as a pretext to intensify attacks on Kurdish enclaves in Iraq and Syria.
Erdogan has been portrayed as scheming to restore the Ottoman empire, with himself at the helm. However, the inscrutable nature of contemporary Turkish politics, characterized by accusations, counter-accusations and suspected subterfuge, is a reminder that before the Ottomans arrived, this was the heartland of the Byzantine empire, seated in Constantinople, where political duplicity got its name.
Posted by SS at 11:18 AM | Comments (0)
AFP Headline Fumbles, Drops Palestinian Bombing
An Agence France Presse headline yesterday attributes a bombing attack, carried out yesterday morning by Palestinian Asra Jabas at a checkpoint near Jerusalem, to Israel:
The casual reader who glances only at headlines and does not read the accompanying story would believe that Israeli carried both a bomb strike and a bomb attack.
Following CAMERA's communication with AFP, editors updated the story with a new headline, opting to omit the bombing entirely, rather than noting that it was carried out by a Palestinian.
Posted by TS at 04:20 AM | Comments (0)
October 11, 2015
LA Times Headline: When Palestinian Violence Becomes 'Israeli Violence'
Oct. 14 Update: LA Times Corrects Headline, Article on Palestinian Terrorism
Flipping reality on its head, a Los Angeles Times headline online earlier today absurdly declared: "4 Palestinians are killed in Israeli violence."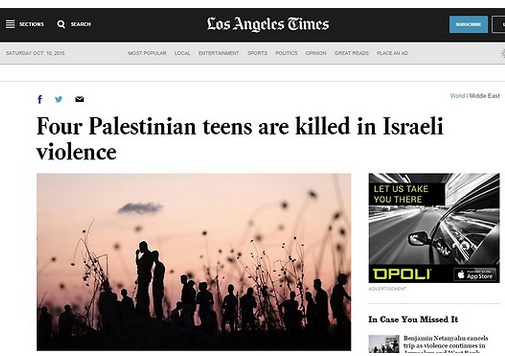 The Los Angeles Times is just the latest in a string of media outlets to depict the Palestinian perpetrators of terror attacks as victims.
As the accompanying article reported, two of the Palestinian fatalities were killed as they stabbed Israelis. In other words they were killed after they perpetrated what some would call "Palestinian violence":
Two Palestinian teenagers were shot to death in Jerusalem on Saturday, officials said, after they carried out separate stabbing attacks on an ultraorthodox Jews and two Israeli police officers.

Two more Palestinian teens were killed by Israeli forces Saturday along the border of the Gaza Strip as violence spread and appeared to escalate. According to the Israeli military, scores of Palestinians later breached the border fence in a violent demonstration.
Editors have since only very marginally improved the headline:
But readers who only glimpse the newer headline, and don't get as far as the actual story, would have no idea that two of the dead Palestinians carried out stabbing attacks against Israeli civilians and police in Jerusalem.
Also, in a factual error, not one, but two ultraorthodox Jews, were stabbed near Damascus Gate yesterday. According to Haaretz (print edition today):


Yesterday four Israelis -- two police officers and two civilians -- were wounded in Jerusalem. The civilians were stabbed in the first of two incidents near East Jerusalem's Damascus Gate. One man suffered moderate wounds and the second light wounds, the Magen David Adom rescue service said. The men, both in their 60s, were rushed to Hadassah University Hospital Ein-Kerem.

Hours later a Palestinian stabbed two police officers after they asked for his I.D. outside the Damascus Gate, the police said.
CAMERA has contacted Los Angeles Times editors for a correction. Stay tuned for an update.
See also: "LA Times Corrects Caption That Downplayed Har Nof Atrocity"
Oct. 14 Update: Print Headline Also Abominable
The headline in the print edition was no better:
Posted by TS at 04:54 AM | Comments (2)
October 08, 2015
Lazy Sensationalist Journalism Exposed
On September 22, 2015 Salon.com, an internet news-current events magazine, emblazoned on its front page the following
The problem was this incident had already been exposed as a staged "Pallywood" production three weeks earlier. The actors, children from the Tamimi family, have appeared in a series of staged videotaped incidents in which they intentionally provoke Israeli soldiers through aggressive behavior, such as biting. CAMERA has documented the Tamimi provocations. The little girl, Ahed Tamimi, shown as the victim of the bullying Israeli soldier, has earned the epithet, Shirley Temper, for her behavior.
Noticing that news items on the event quickly disappeared from British newspapers, CAMERA's British news monitor UK Media Watch on September 1 quoted Israeli news source YNET's observation that "even the British media – at the forefront of delegitimization efforts against the Jewish state – may be tiring of the transparent efforts by Palestinian activists to manipulate their coverage of the region."
Yet three weeks after the rest of the media had caught on to the ruse, lazy editors at Salon.com, apparently unaware the story had already been debunked, featured it as their main story.
Posted by SS at 03:11 PM | Comments (1)
"Moderate" Palestinian Authority Pays Convicted and Imprisoned Hamas Terrorists
Under the leadership of President Mahmoud Abbas the Palestinian Authority gives money to convicted murderers.

Documents obtained by Israel Radio on Oct. 6, 2015 show that the Palestinian Authority (PA) has been paying imprisoned terrorists, including those belonging to rival Hamas—the U.S.-listed terrorist organization that rules the Gaza Strip.
According to The Jerusalem Post, "most of those receiving PA money are members of Hamas who were behind some of the bloodiest terror attacks in Israeli history, from the second intifada" ("Documents reveal Palestinian Authority paying convicted Hamas terrorists," October 6). All terrorists receiving money from the PA—routinely referred to by some press and policymakers as "moderate"—are serving time in Israeli maximum-security prisons. Among those receiving compensation for their deeds are Hamas bomb maker Abdullah Barghouti and Ibrahim Hamad, the top Hamas official in the West Bank.
Shortly after the January 2006 Palestinian legislative council elections in which Hamas defeated the Fatah movement, the U.S. Congress passed legislation prohibiting any taxpayer money from aiding a Palestinian government in which terrorists were given a role. In 2007, in a "five-day war" Hamas ousted Fatah from the Gaza Strip, leaving the Palestinian Authority split between Hamas rule in Gaza and Fatah control over West Bank Arabs. The years since have seen many futile attempts at PA unity governments between Fatah and Hamas.
The Post notes that "Barghouti and Hamad were involved in some of the worst suicide bombings of the second intifada, including the bombings at a cafeteria at the Hebrew University in Jerusalem… the Sbarro restaurant bombing in Jerusalem… and a nightclub bombing in Rishon Lezion."
Documents show that Barghouti and Hamad receive $66,000 and $53,000 respectively, in U.S. dollars (USD). By contrast, according to figures from The World Bank, the gross national income per capita of West Bank and Gaza Palestinians is $3,060 USD.
Similar to the amounts some Hamas members receive, PA security service figures also receive "salaries" for committing terror attacks during the second intifada.
The second intifada was planned in advance by PA officials under the direction of then-PA President Yasser Arafat. Lasting from 2000 until 2005, the uprising took more than 1,000 Israeli and 4,000 Palestinian lives. 70 percent of Israelis killed were non-combatants; most Palestinians killed were armed participants. Arafat privately planned the attacks while publicly engaging in U.S.-led talks with Israel for a two-state solution as part of the 1993 Oslo accords process, which created the PA and brought it foreign aid money.
That intifada erupted following PA incitement over false claims of Jewish designs on the al-Aqsa mosque.
Arafat's successor, current PA president and Fatah movement head Mahmoud Abbas, has used the specter of Hamas making gains with West Bank Palestinians to maintain international aid and support from Western countries, some of whom perceive Abbas and the PA to be more moderate than the theocratic Hamas.
As CAMERA has noted, Abbas formally annulled Oslo and negotiations with Israel in a Sept. 30, 2015 speech to the U.N. General Assembly ("Abbas in U.N. Wonderland; Media Miss Cheshire Cat," October 2). In the weeks leading up to that speech, Abbas—like Arafat and other Palestinian Arab leaders before him—used the "al-Aqsa libel" to incite violence ("Incitement over Temple Mount Leads to Palestinian Violence, Again," September 16).
Since Oslo, the PA, while claiming to seek peace, has received billions of dollars in aid—and been accused by many Palestinian Arabs, including former PA officials, of embezzling much of it ("Leaked documents raise anger over Palestinian corruption," Ynet News, Aug. 12, 2015).
Now the world, presumably including the U.S. Congress, is reminded about how the PA spends donor aid.
Posted by SD at 02:42 PM | Comments (0)
Erroneous LA Times Downplays Har Nof Atrocity
Oct. 9 Update: LA Times Corrects Caption Which Downplayed Har Nof Atrocity
An erroneous Los Angeles Times photo caption Tuesday (Oct. 6) minimizes a 2014 Palestinian attack in a Jerusalem synagogue in which the assailants killed five Israelis, four of them in prayer, along with a policeman who came to assist.
The caption states:
A relative of Ghassan abu Jamal, who was killed last year after attacking a religious school in Jerusalem, at the family home in East Jerusalem demolished by Israel.
Ghassan abu Jamal's attack was not on a "religious school." It was on four Jews engaged in their morning prayers in a Jerusalem synagogue, along with a Druze police officer who came to the scene to try to halt the murderous rampage. Abu Jamal, along with his another Palestinian attacker, brutally murdered the five Israelis. As The Los Angeles Times reported at the time:


Two attackers brandishing weapons including a handgun and a meat cleaver burst into the synagogue early Tuesday, killing four worshipers -- three of them with American citizenship, including a prominent rabbi, and the fourth a British national. As police officers converged on the scene within minutes, the assailants shot at least one of them before being slain. The officer later died, Israeli media reported.
CAMERA has contacted editors to request a correction. Stay tuned for an update.
Posted by TS at 04:03 AM | Comments (0)
October 06, 2015
AP Reporter Highlights State Department Double Standard on 'Collateral Damage'
Associated Press (AP) correspondent Matt Lee highlighted seeming hypocrisy from the U.S. State Department in an Oct. 5, 2015 press briefing. Lee asked State Department deputy spokesperson Mark Toner whether his agency was "appalled" at the result of an October 3 U.S. airstrike that targeted Taliban terrorists in the Afghan city of Kunduz. The U.S. attack accidentally killed at least 19 people in a hospital run by the international non-profit organization Doctors Without Borders.
The AP correspondent pointed out that the State Department used that exact terminology—"appalled"—to describe an Aug. 4, 2014 Israeli bombing aimed at Palestinian terrorists near (or possibly in) an United Nations Relief and Works Agency (UNRWA) school in the Gaza Strip. That strike—similar to its U.S. successor—was meant to target terrorists, in that instance Hamas members responsible for attacking Israeli civilians and soldiers during the 2014 Israel-Hamas war. The Israeli airstrike accidentally took the lives of 10 civilians—like others whom Hamas frequently used as "human shields" to deter Israeli counterattacks.
In July 2014, an inspection by UNRWA found its own facilities to be housing missiles and other weapons used by Gazan terrorist groups in the Strip, including Hamas ("20 missiles found in UN-run school in Gaza," Times of Israel, July 17, 2014).
Lee quoted to Toner his department's statement after that August 2014 bombing, noting that at the time State asserted, "The United States is appalled by today's disgraceful shelling outside an UNRWA school in Rafah…the coordinates of the school…have been repeatedly communicated to the Israeli Defense Forces…Israel must do more to meet its own standards and avoid civilian casualties."
In particular, Lee emphasized the State Department's own pronouncement that "the suspicion that militants are operating nearby does not justify strikes that put at risk the lives of so many innocent civilians." The AP correspondent observed that these U.S. condemnations were issued prior to calling for an investigation. He then wondered if "the suspicion that militants are operating nearby a site like this, which is a school, that that suspicion does not justify strikes that put at risk the lives of innocent civilians? Is that still the Administration's position?"
Not answering Lee's question, Toner said Kunduz was "an active combat zone" and the U.S. takes "every measure possible and would encourage any government in the world to take any measure possible…to avoid civilian casualties."
The AP reporter noted that Doctors Without Borders claims to have given U.S. forces operating in Afghanistan advanced notice of its local coordinates "much in the same way the IDF had been given the coordinates of the school in Rafah."
Toner asked that Lee "give me a pass if we wait for the investigation" of Kunduz "to run its course."
Israel received no such "pass" for the Rafah bombing, which received widespread U.S. media coverage immediately after the attack. A Lexis-Nexis search reveals that The New York Times alone featured six stories (averaging 1,000 words each) and ran two Op-Ed columns—within the three weeks after the August 4 incident.
By contrast, Saudi airstrikes in July 2015 in the Yemeni city of Mukha—part of the ongoing Iranian-Saudi war in Yemen—hit residential compounds, killing at least 63 people—and received significantly less coverage in the weeks following. The New York Times mentioned the event only as an aside to a 322-word brief ("Saudi Forces Agree to Halt in Yemen War," July 26). To the extent that Mukha airstrikes were noted by other major U.S. media outlets such as USA Today, the Baltimore Sun and The Washington Post, the reporting consisted entirely of briefs.
It seems that Saudi airstrikes got virtual "passes," like those State asked of AP, from the media as well.
A transcript of the October 5 State Department press conference can be found here.—Sean Durns
Posted by SD at 04:53 PM | Comments (0)
October 05, 2015
Misinformation and Selective Outrage from a Land Called Holy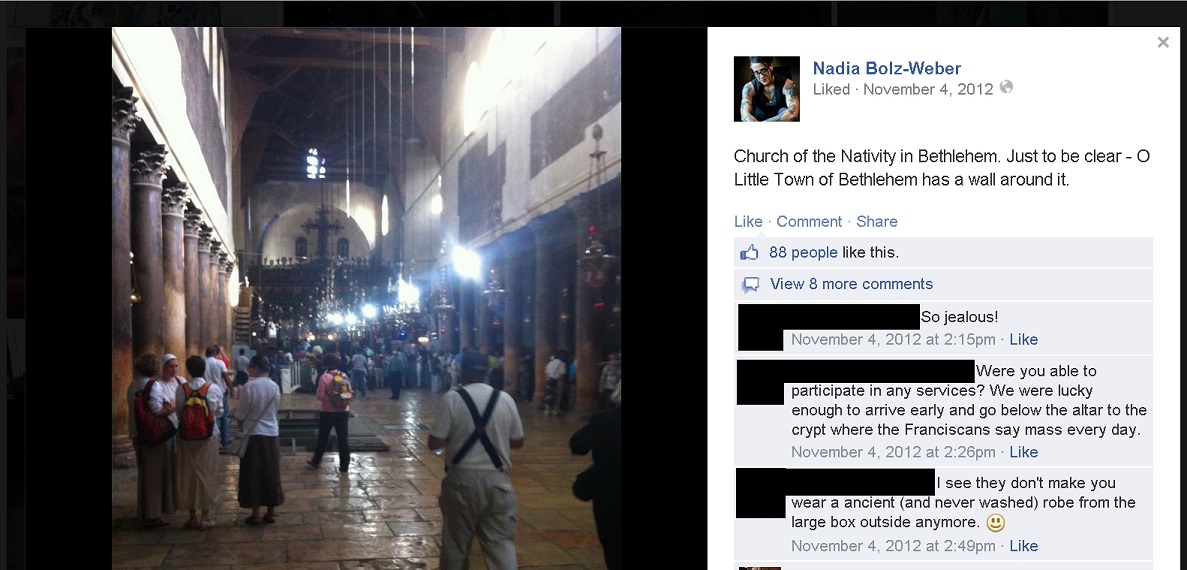 In 2012, Lutheran Pastor Nadia Bolz-Weber visited the Church of the Nativity in Bethlehem and misinformed her followers on Facebook, telling them that a wall completely surrounds the city.
Phrases like "O Little Town of Bethlehem" and "the Holy Land" are used to increase the drama and tension when talking about the ongoing conflict between Israel and the Palestinians. The fact that the conflict takes place in locations mentioned in the Bible makes the violence seem so much worse than it does if the conflict was taking place somewhere else in the Middle East or in the rest of the world. The Holy Land has a multiplier effect on the amount of attention directed toward the Arab-Israeli conflict.
It also has a multiplier effect on the contempt directed toward the Jewish state and its inhabitants. The rubric of the Holy Land is used to judge and condemn Israel much more often than the Palestinians. Peace activists portray Israel's security barrier as a blot on the Holy Land. Cartoonists regularly draw pictures of Mary and Joseph being unable to getting into the city of Bethlehem to give birth to baby Jesus because of the security barrier. Very rarely however, is the Holy Land or the phrase "O Little Town of Bethlehem" used to highlight the violence perpetrated by Palestinians or the corruption of the Palestinian Authority.
CAMERA researcher Dexter Van Zile highlights how Palestinian Christians have made effective use of this strategy in a piece published at The Commentator on October 3, 2015. The article, titled "The unholy abuse of the Holy Land," begins as follows:
You would think that an act of arson against a church in Bethlehem would provoke a huge amount of media coverage and outrage in the Western world. Bethlehem is after all, the city of Christ's birth.

Anytime Israel does something in or near Bethlehem that Western media outlets find offensive, it gets a lot of coverage.

When Israel built a security barrier near the city to stop suicide bombers from coming into Israel from the West Bank, numerous commentators repeated as fact false assertions that Israel had "completely surrounded" the city with a wall.

In 2012, Bob Simon, a reporter from 60 Minutes, an influential news show in the United States, falsely reported, "The wall completely surrounds Bethlehem, turning the little town where Christ was born into what its residents call an open air prison."

The news show never corrected, and its executive producer, Jeff Fager, repeated this falsehood at his church in New Canaan, Connecticut a year later -- even after he was given definitive proof that the barrier did not completely surround the city.

The story of the Jewish state turning Bethlehem into a prison was too good to correct, even when it was a lie. The symbolism is just too powerful for people to say no to.

For example, when, Rev. Nadia Bolz-Weber, a prominent Lutheran pastor and author in the United States, posted a picture of the interior of the Church of the Nativity on her Facebook page in late 2012, she added the following caption: "Just to be clear -- O Little Town of Bethlehem has a wall around it."

She was on a trip to the Holy Land, actually went into the West Bank, into the city of Bethlehem itself and told her friends on Facebook something that was simply not true. People believed her because she was there.
Read the whole thing here.
Posted by dvz at 11:52 AM | Comments (0)
October 01, 2015
Where's the Coverage? Repressive Kingdom of Saudi Arabia to Head Key UN Human Rights Panel

Last month, UN Watch reported that Saudi Arabia will chair an important panel of the United Nations Human Rights Council. First of all, yes, Saudi Arabia --one of the world's worst human rights violators-- is ON the UN Human Rights Council. And, yes, now it will CHAIR a panel that selects top officials who shape international human rights standards and report on violations worldwide.
UN Watch executive director Hillel Neuer said, "It is scandalous that the UN chose a country that has beheaded more people this year than ISIS to be head of a key human rights panel."
And though this development is indeed scandalous, judging by the dearth of media coverage of this matter, it is seemingly not newsworthy.
Other than blog posts on The Washington Post site and in Real Clear Politics and an opinion piece on The Daily Beast, there has been media silence. None of the major news outlets felt their readers and viewers should be made aware.
Just to put this in context, Saudi Arabia will be a powerful leader of the UN Human Rights Council, the same body that regularly condemns the democratic state of Israel, while the theocratic kingdom is set to behead and then crucify the body of a pro-democracy activist arrested at the age of seventeen.
Perhaps it would be too much to expect global condemnation and outrage. But at the very least, one must ask… Where's the coverage?

Posted by SC at 03:07 PM | Comments (0)
Life-Threatening Stone-Throwing Dangerously Played Down
In coverage of new policies in response an upsurge in Palestinian violence, Reuters quoted Israeli Prime Minister Benjamin Netanyahu, "The Security Cabinet unanimously adopted a series of measures within the framework of our fight against stone throwers, petrol bombs and flares."
The article goes on to say:
The Israeli human rights group B'Tselem lists 12 Palestinian minors who were shot and killed by Israeli forces during protests and clashes in the West Bank in 2014. In at least four of those incidents, Israel said the youngsters had been throwing rocks or petrol bombs, according to B'Tselem.
Beyond the well-documented mischaracterization of B'Tselem as a "human rights group," media coverage of this particular issue positions the violence as little more than children acting out, grossly underestimating the danger inherent in these violent attacks, which often include Molotov cocktails and explosive devices. While sometimes the perpetrators are the "youngsters" Reuters considers them, they are regularly teenagers and adults who are the same age, if not older, than the IDF forces attempting to stop them.
On numerous occasions, CAMERA has documented the true life-threatening nature of these attacks. Recently, one man died after he crashed his car in a desperate attempt to escape a rock-flinging crowd, a couple described the terror of being encircled by Palestinians wielding stones with the intention to kill them and their five-month old daughter, and a recently posted video reveals just one instance of Palestinian "youngsters" converging on a car and pummeling it with rocks.
צולם אתמול בירושלים , לא נגעתי

Posted by Gilad Hadari on Friday, November 7, 2014
One can imagine oneself in that car, watching as people approach and attack, knowing their goal is stoning those inside to death. Yet, the media seems to simply accept these acts as an element of Palestinian "resistance" culture.
--Rachel Frommer, CAMERA Intern
Posted by SC at 12:00 PM | Comments (0)