« Poll: Majority of Palestinians Support Another Intifada | Main | "European Advocate for Palestinian Rights" Misleads New York Times »
September 29, 2015
A Tale of Two Church Fires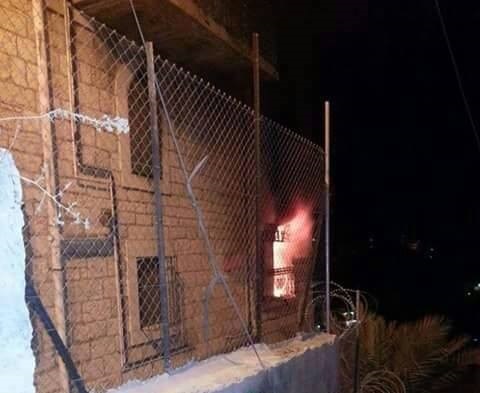 A fire at St. Charbel Monastery in Bethlehem.(Gabriel Naddaf)
The story is a familiar one. A church is set on fire and suffers extensive damage. Officials say they are investigating. The fire is an outrage, but for some reason it hasn't gotten much traction in the international media.
The fire in question took place on Sept. 26, 2015 at the St. Charbel Monastery in Bethlehem, a Maronite institution. (The Maronites are part of the Roman Catholic Church headquartered in Rome.)
Ma'an, a Palestinian news agency has published a very brief story on the fire, but for the most part, the fire has not gotten much coverage in Western media outlets. Israel National News reported that the Palestinian Authority has been "strangely silent" about the fire, and that the PA says the fire was an electrical fire.
It's an important story that calls for further coverage, but aside from an article in Asia News, which indicates that the fire was the work of Islamic fundamentalists, people interested in such things will have to go to blogs or to Facebook for more information.
On his Facebook account, Father Gabriel Naddaf, an Orthodox Priest living in Israel, issued a statement in response to the fire and the PA's silence in which he faults the PA for not condemning what he has concluded was an act of arson. "It is exactly this type of attitude by the leadership of the Palestinian Authority that encourage vandalism and terrorism against Christian sites as Palestinians extremists know that they will not be brought to justice or punished for their acts."
By way of comparison, another church fire, this one in Israel, got an extensive amount of coverage. When the Church of the Loaves and Fishes in Tagbha was set on fire in June, media outlets throughout the world covered the event.

For example, The Independent, CNN, and The New York Times all covered the story the same day of the fire.
But interestingly enough, a search for "Charbel fire" on Google News on Sept. 29, 2015, indicates that none of these outlets have covered the story.
It's funny. One church gets burnt and the entire world erupts in outrage. Same-day coverage of the attack is everywhere.
Another church located just a few miles away is torched and the media remains silent.
The reason is simple. The fire took place in the West Bank and makes Palestinians look bad and that's something that journalists working in the Middle East simply do not want to do.
Accountability? Scrutiny? Don't be silly. Those values are for the Jewish state, not for Arabs and Muslims.
Posted by dvz at September 29, 2015 02:42 PM
Comments
Guidelines for posting
This is a moderated blog. We will not post comments that include racism, bigotry, threats, or factually inaccurate material.
Post a comment