« August 2015 | Main | October 2015 »
September 30, 2015
BDS Activist Finds Sympathetic Audience in Malaysia, Where Jews Are Hated
Anna Baltzer recently got a hero's welcome at a BDS conference in Malaysia, where anti-Semitism is rampant, child marriage is practiced and bibles are burned.
Anna Baltzer, National BDS organizer for the U.S. Campaign to End the Occupation, recently traveled to Malaysia, a nearly Jew-free country where child marriage is legal and Bibles have been burnt. According to Robert Fulford, the Malaysian government has distributed antisemitic sermons to be read in mosques, and politicians distribute copies of Henry Ford's book, The International Jew.
The so-called human rights activist went to Malaysia to promote the cause of boycotts, divestments and sanctions against the Jewish state.
Baltzer, who was introduced as a "Jewish American" was given a positive reception at the Sept. 12 event. "I'm really honored to be here," she told the audience at a pro-BDS conference organized by the anti-Israel organization Viva Palestina in Malaysia. "I've been around your country, traveling a little bit, getting to know the people, loving the food. It's been wonderful."
During her talk, Baltzer, a St. Louis resident, indicated that she found the political atmosphere in Malaysia to be more amenable to the BDS cause than the United States, where "so much of our energy is spent fighting incredible ignorance and racism that people do not understand what's happening in Palestine."
There's state-repression against pro-Palestinian activists in the U.S., Baltzer said, but "here in Malaysia, you're starting from a place where the people of Malaysia already want to support Palestine. You are way ahead in that way."
In 1994, the Malaysian government banned Schindler's List because it promoted sympathy for the Jewish people.

The BDS movement, Baltzer said, "is an amazing gift to us in the international community and given the place that where your country is at, I believe that you can move mountains we cannot even dream about [in the U.S.]"
Because Malaysia currently has a seat on the United Nations Security Council it has a role to play in getting the UN to cut its ties with companies that do business with Israel, Baltzer said.
"We certainly have no better friend in the Security Council than Malaysia," she said. "We're not putting our hopes on the U.S. Mission to the UN. But Malaysia could be a huge, huge ally on this. You guys could be our secret weapon in this international campaign."
Before arriving in Malaysia, Baltzer was afraid that she might be violating the law by entering the country on a tourist visa because she was speaking at a conference. She asked one of the conference organizers if she need a work visa instead. The organizer told her she would have no trouble getting into the country.
"Just say you're presenting on Palestine and they'll let you in," the organizer said.
Baltzer found this heartening and the exact opposite of what she would face in the United States. "It's sort of symbolic of the context we're in," she said. "It's an incredible honor and it's an incredible opportunity where Malaysia is at."
The U.S. gives billions to Israel while Malaysia "has been a leader in having no diplomatic ties with Israel. In many ways your status quo is something that [Electronic Intifada Editor Ali Abunimah] and I dream about achieving in our context. It's our Holy Grail."
Her condemnations of the U.S. as a racist and ignorant country were particularly strong. She lamented that American bigotry has made it impossible for anti-Israel boycotts to get much of a footing in the U.S.
"Because we are up against such racism, such ignorance, because we are a small portion of the population that knows what's happening in Palestine and wants to take part in BDS, we actually … don't tell anyone I said this … we're not actually able to stop people from purchasing their products. Maybe here, maybe there, but we're not able to economically impact the companies through consumer boycotts. Usually victory means the store will stop selling the product because it became too much of a hassle for them, for example."
In Malaysia (where nearly two-thirds of the population expresses contempt for Jews), it's a different story, Baltzer stated happily.
"Here, you have an effective consumer boycott because you can get a majority of people to boycott products. That's what I mean when I say that Malaysia is in a very special opportune moment to take part in these tactics."
Baltzer promoted the cause of BDS at the 2012 and 2014 General Assemblies of the Presbyterian Church (USA).
Two days after Baltzer spoke in Malaysia, the country's former prime minister, Tun Dr Mahathir Mohamad declared that Americans and Jews clap when Muslims kill each other.

Posted by dvz at 07:14 PM | Comments (5)
Who Are the Palestinian Mourabitat and Why is the Toronto Star Heroizing Them?
According to the Ttoronto Star blurb on a Sept. 25th article by Joshua Mitnick, the "Mourabitat" are Palestinian women who are "defending the holy site [Temple Mount] from Jewish settlers who would like to rebuild their ancient temple in place of the mosques." The headline similarly takes them at their word, heroizing them and asserting that they "show solidarity" by "defending access to the Al Aqsa mosque" while author Mitnick credulously quotes one "activist" claiming that the mourabitat are "defending the holy site from Jewish settlers who would like to rebuild their ancient temple in place of the mosques."
Perhaps the newspaper's journalists should watch the mourabitat in action in this video filmed and posted on You Tube by one of their supporters. The victims here are neither "settlers" nor are they trying to enter the Al Aqsa mosque.on the Temple Mount. They are a Hassidic father and his young sons trying to make their way to the Western Wall on the first day of the Jewish festival of Sukkot. :According to a subsequent interview with the father about his ordeal, he was not only yelled at, but spat at and physically assaulted.

So much for the bogus claims of defending Muslim holy sites from marauding Jews.
Posted by RH at 03:27 PM | Comments (0)
Analyst: Palestinian Leadership Faces "Dangerous" Generational Crisis
Palestinian Authority (PA) leadership faces a "dangerous generational crisis" according to Grant Rumley, a specialist on Palestinian and Jordanian politics at the Washington D.C.-based think tank, Foundation for Defense of Democracies. Writing in Business Insider, Rumley argues there is growing and visible discontent within the PA over the rule of President and Fatah movement head Mahmoud Abbas ("The Palestinians are facing a dangerous generational crisis," Sept. 29, 2015).
Abbas—currently in the tenth-year of a four-year term—lacks a "clear successor or a national strategy." This is apparent, Rumley argues, as Palestinian dissent and dissatisfaction increase.
Footage of PA security forces "violently clubbing" West Bank Arabs spurred protests in refugee camps and street demonstrations against both the authority and Abbas. Abbas—similar to his predecessor Yasser Arafat—increasingly has consolidated his control over the PA, Fatah and the Palestine Liberation Organization (PLO). But the PA resident now faces growing discontent with his essentially one-man rule.
As CAMERA observed recently, a Palestinian Center for Policy and Survey poll shows a majority of West Bank (Judea and Samaria) Arabs feel the PA "has become a burden on the Palestinian people and for the first time…a majority now demands the dissolution of that authority"("Poll: Majority of Palestinians Support Another Intifada," Sept. 25, 2015).
The 80-year-old Abbas also faces internal criticism over what his critics allege to be a manipulation of PLO bylaws following his announcement that he and other members of the PLO's executive committee would resign to procedurally force a meeting of the PLO's legislative body, the Palestinian National Council (PNC).
Members of Fatah's legislative body, the Revolutionary Council, have been demanding that Abbas name a successor. The council, Rumley states, "is split on both a generational and an ideological level." These divisions have been exacerbated by internal arguments over Abbas' unilateral decision to exile a potential rival, Mohammed Dahlan, the PA's former head in the Gaza Strip before Hamas seized power there. Dahlan, aged 54, is representative of a younger generation seeking power in Palestinian politics.
According to FDD's Rumley:
"The debate over Dahlan and the contest over who gets nominated for the PLO executive committee will extend into Fatah's conference in November. According to Fatah's bylaws, the group is supposed to have a conference every five years in order to hold internal elections. However, the last conference was in 2009, and since the party's founding in 1965 it has only managed five other conferences. With questions surrounding Abbas's lack of a successor, his overall strategy, and the future of the party, the upcoming conference is potentially explosive."
The PA president's seeming solution to this turmoil inside and outside his ranks?
Abbas "appears set to deflect domestic criticisms by attacking Israel at the U.N. General Assembly meeting on September 30," Rumley said. There, some observers expected him to call for annulling the Oslo accords—the very agreement with Israel responsible for establishing the Palestinian Authority ("Want to Really Help Refugees?" Tablet, Sept. 24, 2015). In his speech, Abbas did just that ("Abbas: Palestine a state under occupation, no longer bound by Oslo accords," Times of Israel, Sept. 30, 2015).
Grant Rumley's article in Business Insider can be found here. His recent FDD report ("The Race to Replace Mahmoud Abbas," Sept. 3, 2015) examining possible successors to Abbas can be found here.
Posted by SD at 09:55 AM | Comments (0)
September 29, 2015
"European Advocate for Palestinian Rights" Misleads New York Times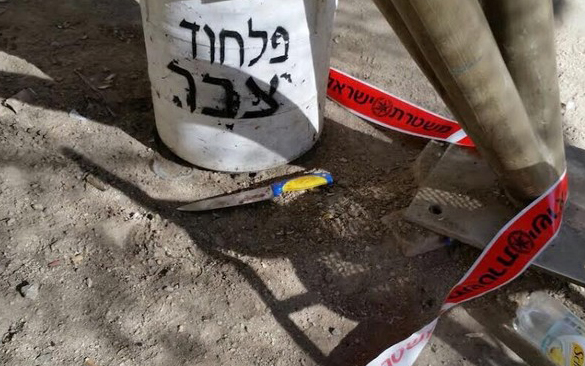 The New York Times hasn't needed much help lately skewing its reporting against Israel. Recall its recent coverage of the Israeli driver killed after his vehicle was stoned by Palestinian attackers. The Times said that the attackers, whose national background it did not specify, "pelted the road he was driving on with rocks." The road, not the car. In a follow up reference to the attack, the same reporter, Diaa Hadid, described the death as a result of an "accident."
But apparently they take help where they can get it. After a recent incident in which a Palestinian woman was shot at a checkpoint near Hebron, New York Times Hadid was able to rely on a anonymous witness described as "a European advocate for Palestinian rights" to cast doubt on Israel's contention that the woman was shot while holding a knife. According to the article's opening paragraph,
Israeli soldiers shot and killed a Palestinian woman early Tuesday at a checkpoint in Hebron in the West Bank. The Israeli military said the woman had pulled out a knife, but a European advocate for Palestinian rights, who said he had witnessed the episode, said the woman appeared to be only trying to open her purse for inspection.
Another witness quoted in the article, Fawaz Abu Aisheh, did not contradict the European witness's claim.
Israeli authorities later released a photo of the knife they say the woman, Hadeel Hashlamoun, was holding.
But Amnesty International, whose hostility toward Israel far exceeds even that of The New York Times, also spoke with Abu Aisheh. And according to the advocacy group, he said that upon being shot, the woman dropped "a knife with a brown handle that she had been holding under her niqab."
Putting aside Amnesty's predictable conclusions about excessive Israeli force — an Israeli investigation will hopefully determine whether the soldiers behaved appropriately relative to the clear danger they faced — some additional conclusions about New York Times reporting of the incident are apparent.
First, its lead witness, the European activist, was obviously wrong. Intentionally or not, he misled the newspaper, and an untold number of its readers.
Second, the newspaper did not get, or did not report, the full story from its second witness. This might be because, when questioned by The Times, he didn't want to admit what he saw, only to later decide to come clean. Or it might be because the reporter didn't do a sufficient job skeptically questioning the witness. (The only other possibilities: that that the Palestinian witness actually didn't see a knife but inexplicably decided to lie to Amnesty — extremely unlikely — or that he told the journalist about the knife and she decided not to report it — hopefully equally unlikely.)
The bottom line is that this was a journalistic failure, whether due to dishonest witnesses or other because the reporter couldn't get the essential quote that another organization managed to get. The New York Times should be concerned. And so should its readers.
Posted by GI at 03:49 PM | Comments (0)
A Tale of Two Church Fires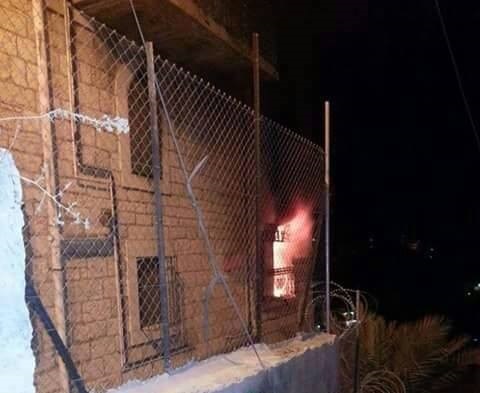 A fire at St. Charbel Monastery in Bethlehem.(Gabriel Naddaf)
The story is a familiar one. A church is set on fire and suffers extensive damage. Officials say they are investigating. The fire is an outrage, but for some reason it hasn't gotten much traction in the international media.
The fire in question took place on Sept. 26, 2015 at the St. Charbel Monastery in Bethlehem, a Maronite institution. (The Maronites are part of the Roman Catholic Church headquartered in Rome.)
Ma'an, a Palestinian news agency has published a very brief story on the fire, but for the most part, the fire has not gotten much coverage in Western media outlets. Israel National News reported that the Palestinian Authority has been "strangely silent" about the fire, and that the PA says the fire was an electrical fire.
It's an important story that calls for further coverage, but aside from an article in Asia News, which indicates that the fire was the work of Islamic fundamentalists, people interested in such things will have to go to blogs or to Facebook for more information.
On his Facebook account, Father Gabriel Naddaf, an Orthodox Priest living in Israel, issued a statement in response to the fire and the PA's silence in which he faults the PA for not condemning what he has concluded was an act of arson. "It is exactly this type of attitude by the leadership of the Palestinian Authority that encourage vandalism and terrorism against Christian sites as Palestinians extremists know that they will not be brought to justice or punished for their acts."
By way of comparison, another church fire, this one in Israel, got an extensive amount of coverage. When the Church of the Loaves and Fishes in Tagbha was set on fire in June, media outlets throughout the world covered the event.

For example, The Independent, CNN, and The New York Times all covered the story the same day of the fire.
But interestingly enough, a search for "Charbel fire" on Google News on Sept. 29, 2015, indicates that none of these outlets have covered the story.
It's funny. One church gets burnt and the entire world erupts in outrage. Same-day coverage of the attack is everywhere.
Another church located just a few miles away is torched and the media remains silent.
The reason is simple. The fire took place in the West Bank and makes Palestinians look bad and that's something that journalists working in the Middle East simply do not want to do.
Accountability? Scrutiny? Don't be silly. Those values are for the Jewish state, not for Arabs and Muslims.
Posted by dvz at 02:42 PM | Comments (0)
September 25, 2015
Poll: Majority of Palestinians Support Another Intifada
Fifty-seven percent of Palestinian Arabs in the West Bank and the Gaza Strip support another intifada (a violent uprising) according to a poll conducted by the Palestinian Center for Policy and Survey. Palestinian leadership planned the second, most recent intifada even before it engaged in U.S.-led peace talks with Israel at Camp David in 2000. That terror war lasted from 2000 to 2005, resulting in the deaths of more than 1,000 Israelis, mostly non-combatants and more than 2,000 Palestinian Arabs, mostly teenaged boys and young men—that is, males of military age.
The survey—conducted from Sept. 17-19, 2015—took place after Fatah (Movement for the Liberation of Palestine) head and Palestinian Authority (PA) President Mahmoud Abbas submitted his resignation to the Palestinian Liberation Organization (PLO) executive committee and called for a reconvening of the Palestinian National Council (PNC). The poll took place amid an increase in tensions and Palestinian attacks on Israelis following incitement by Abbas and PA state-run media, as CAMERA has noted ("Incitement over Temple Mount Leads to Palestinian Violence, Again," Sept. 16, 2015).
According to The Times of Israel, on Sept. 22 Abbas warned of another intifada—which he alleged Palestinian Arabs "don't want" ("Abbas warns of 'intifada risk' over Temple Mount," Sept. 22). Yet, results from this Palestinian Center survey contradict Abbas' claim.
Twenty-six percent of Palestinian respondents stated that their long-term goal should be "to conquer the state of Israel or conquer the state of Israel and kill most of the Jews." The survey polled 1,270 Palestinian Arabs, with a three percent margin of error.
Pluralities of Palestinian Arabs surveyed oppose a two-state solution, yet only 30 percent support a one-state solution in which Arabs and Israeli's "enjoy equal rights." Fifty-eight percent oppose mutual recognition of Israel as a state for Jewish people and Palestine as a second state for Palestinian people. Jordan, comprising 77 percent of the lands originally intended for the League of Nations/British Mandate for Palestine, also has a majority Palestinian Arab population.
More Palestinians polled (42 percent) feel that violence is the "most effective" means to obtain a state than non-violent resistance (24 percent) or negotiations (29 percent).
Other important trends also were highlighted in the Center's poll.
Two-thirds of West Bank Palestinians demand the resignation of Abbas from the PA and two-thirds do not believe his resignation from the PLO is real. Similar discontent with Palestinian leadership is evidenced by a decline in the popularity of Abbas' Fatah party, which has an iron grip over the Palestinian Authority in the West Bank. The Gaza Strip is ruled by Hamas (the Palestinian Islamic Resistance Movement).
Findings from the survey show that Palestinian trust in the PA is low. The Center notes "a majority believes that it [the PA] has become a burden on the Palestinian people and for the first time since we started asking, a majority now demands the dissolution of that authority."
Only 12 percent of Gazans and 31 percent of Palestinians in the West Bank evaluated their current conditions as "positive."
Perhaps related to this dissatisfaction: 79 percent of those polled perceive PA institutions to be corrupt and only 23 percent and 19 percent believe there to be press freedom in the West Bank and Gaza Strip, respectively. Thirty-one percent of West Bank Palestinians say they can criticize the PA without fear of retribution. Only 29 percent of Gazans said the same about Hamas, the U.S.-listed terror organization that has ruled Gaza since its election in 2007.
According to this survey, the individual receiving the most support to replace Abbas is Marwan Barghouti. Barghouti, the head of Fatah's Tanzim faction, is serving five life sentences plus 40 years in an Israeli prison for his role in the murders of a Greek monk in 2001 and four Israelis in 2002. He is perhaps best known for planning—in conjunction with Fatah's al-Aqsa Martyrs Brigade, a U.S.-listed terror group—over 300 terror attacks during the second intifada ("Is Fatah Moderate?" Aug. 14. 2007).
The poll by the Palestinian Center for Policy and Survey can be found here.—Sean Durns
Posted by SD at 08:51 AM | Comments (1)
September 21, 2015
English Haaretz Gets it Right on Sharon's Temple Mount Visit
In a refreshing change from an old and well-established pattern in which articles in Haaretz's English edition contain inaccurate information that doesn't appear in the Hebrew version of the very same article, today's English Op-Ed by Odeh Bisharat correctly refers to Ariel Sharon's controversial visit to the Temple Mount in 2000, while the Hebrew edition gets it wrong.
(Bisharat's apologist treatment of stone-throwing is beyond the scope of this piece.)
In English, the Op-Ed accurately describes the location of Ariel Sharon's visit to the Temple Mount plaza:
On September 29, 2000, a day after Sharon's provocative visit to the Temple Mount, the compound where the Al-Aqsa Mosque stands, seven Palestinians were killed . . .
The Hebrew edition, on the other hand, conflates the Al Aqsa Mosque, where Sharon did not visit, with the Temple Mount, also known as Noble Sanctuary, the plaza which the former prime minister did visit, and upon which Al Aqsa stands. The Hebrew incorrectly states that Sharon visited Al-Aqsa (CAMERA's translation):
On September 29, 2000, one day after Sharon's provocative to Al-Aqsa, seven Palestinians were killed. . . .
The English edition editors deserve commendation for their careful wording on a critical issue which is frequently mangled, and whose inaccurate coverage can fuel tension.
In a related matter, Haaretz editors have yet to correct, in both English and Hebrew, Amira Hass' misleading reference yesterday to "the entry of Israeli police into the Al-Aqsa Mosque" last week. In last week's incident, the Israeli police, just like Ariel Sharon in 2000, did not enter the Al-Aqsa mosque. They were on the Temple Mount, upon which the mosque stands.
The very same error has already been corrected by both The New York Times and Newsweek. CAMERA continues to urge Haaretz to likewise correct.
Posted by TS at 04:00 AM | Comments (2)
September 20, 2015
Which One of These Captions Is Not Like the Others?
Sept. 21 Update: AFP Corrects Caption: Bombed Gaza Site Was Hamas Base
Which one of these captions about destruction in the Gaza Strip yesterday resulting from an Israeli airstrike (which came after Palestinian rocket attacks on Ashkelon and Sderot) is not like the others?
The Associated Press caption states:
Palestinians look at damage caused by an Israeli airstrike on a Hamas training camp in Jabaliya, northern Gaza Strip, Saturday, Sept. 19, 2015. (AP Photo/ Khalil Hamra)
The Reuters caption states:
Palestinians look at damage at a training camp belonging to the Islamist group Hamas after it was hit by an Israeli air strike in the northern Gaza Strip September 19, 2015. Israel carried out air strikes in the Gaza Strip on Saturday after Palestinian militants there fired rockets into southern Israel. REUTERS/Mohammed Salem

From Agence France Presse:
BEIT HANUN: Palestinians look at the damage following an Israeli air strike overnight in the northern Gaza strip of Beit Hanun on September 19, 2015. Two rockets were fired into southern Israel by Palestinian militants in Gaza, causing no casualties but triggering a series of Israeli air raids. AFP PHOTO / MAHMUD HAMS
While Associated Press and Reuters responsibly note that the destruction in question was to a Hamas training camp, the influential French wire service omits that key information.
Posted by TS at 06:14 AM | Comments (0)
After International Media Corrections, Amira Hass Promotes Al Aqsa Falsehood
Days after Newsweek and The New York Times have both corrected the false claim that Israeli police last week entered the Al-Aqsa mosque, Haaretz's Amira Hass today misleads readers on the very same point. In an analysis of Mahmoud Abbas' statement that "We won't let them defile our holy places with their filthy feet," Hass writes:
The other interpretation was voice by Joint Arab List MK Ahmad Tibi: Abbas was denouncing the entry of Israeli police into the Al-Aqsa Mosque while shod, thereby desecrating the holy place and disrespecting Muslims.
Hass does not make clear to readers that while MK Tibi may have claimed that police entered the mosque, this was not the case. Indeed, the hyperlink that Haaretz provides along with the phrase "the entry of Israeli police" does not support Tibi and Abbas' claim that police entered the mosque. The hyperlink is to a Haaretz news story last week by Barak Ravid, Nir Hasson, and Jacky Khoury whose subheadline refers to Israeli forces entering the "flashpoint compound."
In addition, last week's news article, cited to supposedly support the claim that security forces entered the mosque, notes "Palestinians and Israeli police forces clashed at the Temple Mount compound," and Palestinian youth "reportedly attacked security forces from its entrance." Again, the Temple Mount compound is the plaza upon which the Al Aqsa mosque sits.
The New York Times correction about this very point appeared last Wednesday:
Likewise, Newsweek corrected:
We have contacted Haaretz editors for a correction. Stay tuned for an update.
Posted by TS at 02:43 AM | Comments (2)
September 18, 2015
Tweeting During GOP Debate, Ann Coulter Releases an Outpouring of Anti-Semitism
Conservative political pundit Ann Coulter tweeted shocking anti-Semitic comments during Wednesday night's GOP presidential debate. "How many f—ing Jews do these people think there are in the United States?" Coulter wrote, before calling out candidates who dared to mention Israel in answer to the question, "What will America look like after you are president." Her tweets echo the age-old libelous claim of surreptitious Jewish control behind the seats of government. As the debate continued, and the Republican candidates repeatedly mentioned support of Israel as a top priority of their respective platforms, Coulter tweeted that the candidates were "pandering" to their Jewish constituency and Israel.
The irony is not lost that the tweet of a regular Fox News commentator reflects the same sentiment as the Ayatollah Khamenei's, posted on his English-language Twitter handle:

Coulter's vitriolic anti-Semitic stream inspired a new hashtag #IStandWithAnn, which has been enthusiastically used by anti-Jewish, anti-Israel social media users of both high and low profile.
Though Coulter continues to attempt to explain her comments, as of this writing, she has not issued any apologies or removed the offensive tweets from her account.
--Rachel Frommer, CAMERA Intern
Posted by SC at 11:34 AM | Comments (5)
September 17, 2015
On Hamas TV, Child Wants to Become an Engineer to "Blow Up Jews"
As the school year begins in the United States and elsewhere, the "what do you want to be when you grow up?" conversation probably is occurring in thousands of classrooms, with parents and teachers encouraging children to dream of future occupations as teachers, doctors, inventors and the like. Yet, on al-Aqsa TV, a Hamas affiliate, children are encouraged to become murderers.
A clip of a Sept. 4, 2015 broadcast, translated by the Middle East Media Research Institute (MEMRI) shows several Palestinian Arab children in the Gaza Strip, being interviewed by a host for al-Aqsa TV. The children, looking no more than elementary school age, are clad in small versions of military fatigues.

The al-Aqsa host asks one child, "What do you want to be when you grow up, Muhammad?" The young boy replies that he wants to be a member of the "al-Qassam brigades"—a U.S.-listed terror group named after Sheikh Izz al din al-Qassem, a Syrian terrorist who murdered Jews and British officials in 1930's British mandate for Palestine.
Asserting that the boy's career choice is "fine," the smiling host asks another child about his aspirations. Seemingly unsatisfied with the response that the boy wants to become an "engineer," the host asks, "Why do you want to become an engineer?"
"So that I can blow up the Jews," the child responds.

Apparently relieved, the host doesn't discourage such homicidal goals, but does try to impart to the child politically correct language for murder that may be more palatable to some Western audiences. "You want to blow up the Jews? No, we want to blow up the Zionists. You mean the occupation, right? Okay, so that is why you want to become an engineer."
With prompting from the host another child then offers advice to the other children:
"Keep waging Jihad, and Allah willing, when you grow up, you will wage resistance against [murder] the Jews."
Despite being run by a U.S.-designated terrorist group Hamas, al-Aqsa TV was considered a legitimate news group as recently as two years ago by the Newseum, a Washington, D.C.-based museum that bills itself as an "interactive museum of news and journalism." The Newseum has a memorial wall that "honors fallen journalists" who died during the course of their work. As CAMERA has noted, the memorial includes deceased employees of propaganda arms of terrorist groups and dictatorial regimes such as those in Syria and Iran. Two al-Aqsa TV "journalists" are listed as well ("Newseum Discredits Itself," May 13, 2013).
Despite the Newseum's pledge to "reevalute" its standards for inclusion on the wall , over two years later it still pays tribute to fallen terrorists online. The title of journalist by extension would apparently cover the aforementioned Hamas TV host as well.
The translated clip by MEMRI can be found here.—Sean Durns
Posted by SD at 10:22 AM | Comments (0)
September 16, 2015
Newsweek's False Headline: Israeli Forces Storm Al-Aqsa
Update, 3:14 PM EST: Newsweek Corrects: Israeli Police Did Not Enter Mosque
In line with a long tradition of false media claims about Israeli leaders and troops entering the Al-Aqsa mosque, Newsweek published the following headline this week:
The accompanying article does not substantiate the headline's false claim that Israeli forces stormed the mosque. According to the article, by Jack Moore:
Israeli forces stormed Jerusalem's Al-Aqsa mosque compound as they clashed with Palestinians for the third day straight at the flashpoint site.

Dozens of Palestinians clashed with the Israeli forces around the mosque, throwing stones at police who had entered the compound and used stun grenades on protesters, according to The Times of Israel. . . .

Footage released by Al Jazeera showed Israeli riot police stormed the mosque complex on Tuesday as Palestinians throw stones towards them. Israeli police can then be seen standing on top of the roof of the Al-Aqsa compound, overlooking Jerusalem's Old City. (Emphases added.)
In other words, Moore writes, police "stormed" the mosque compound or complex, also known as the Temple Mount plaza, but did not enter the al-Aqsa Mosque itself which sits upon the plaza. Moore also cites, and links to, a Times of Israel article and Al Jazeera footage (below). Although Al Jazeera goes with the false headline ("Raw Footage: Israeli forces storm Al-Aqsa Mosque"), neither the raw footage nor the Times of Israel article supports the false headline that Israeli troops entered the mosque. The footage shows Israeli forces on the Temple Mount compound, referred to in the Newsweek article as "the mosque complex."
Police spokesman Micky Rosenfeld confirmed that Israeli police did not enter the Al-Aqsa mosque.
Stay tuned for news of a correction.
Posted by TS at 04:24 AM | Comments (0)
September 09, 2015
The New York Times Whitewashes its Complicity in Whitewashing Hitler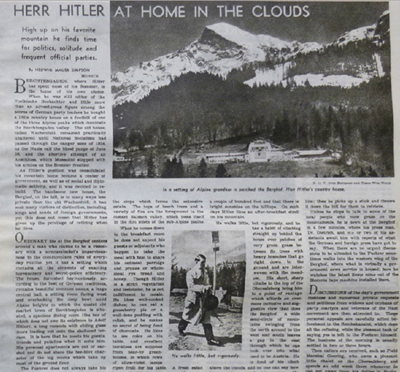 Over at our main website today, we posted an article highlighting an almost unbelievable puff piece about Adolf Hitler published in The New York Times Magazine in 1939.
That Magazine piece is perhaps the most prominent of a number of pre-war stories that, falling prey to the plan hatched by Hitler's propagandists, served to recast Hitler as a country gentleman with sophisticated tastes. Hitler's mountain home is "furnished harmoniously, according to the best of German traditions" and the Führer "is very partial to English flannels and tweeds," The Times explained. (And that's just the tip of the iceberg.)
All this is discussed in an upcoming book by University of Buffalo historian Despina Stratigakos — and in a number of recent media stories about the book release. Virtually all of those stories mention the stunning New York Times whitewash. One notable example, though, ignores the Times role in refurbishing Hitler's image. And since you've read the headline above, you know which one it is: The New York Times itself.
The newspaper reported late last month,
Before the Nazi invasion of Poland, British and American newspapers and magazines published flattering features about the interiors. The journalist and novelist William George Fitz-Gerald praised Hitler's "cozy but modest" rooms, furnished with bouquets of flowers, cactuses in majolica pots and books on "history, painting, architecture and music." Ms. Stratigakos said that her study was meant "in large part to show how dangerous those stories were."
And that's the only reference to those unnamed "newspapers and magazines." Quite a convenient omission by the New York Times

Posted by GI at 04:14 PM | Comments (2)
September 08, 2015
CAMERA Exposes Holes in Baltimore Sun commentary
The following letter to the editor was published in print by The Baltimore Sun on Sept. 7, 2015:
"Sean Durns
9/2/15
The Baltimore Sun
Letter to the editor:
Rabbi Floyd Herman's commentary "The Iran nuclear agreement will make America and Israel safer" (September 2) misrepresents the views of former senior Israeli security officials quoted and poll data allegedly showing a majority of American Jews support the deal.
Rabbi Herman notes that Ami Ayalon, former head of Shin Bet, Israel's domestic security service, has said the agreement "is the best possible alternative from Israel's point of view given the other available alternatives." However, in a July 26 interview with The Jerusalem Post, Ayalon makes clear that he begrudgingly supports the deal, declaring, "I think the deal is bad. It is not good."
Similarly, Herman cites Efraim Halevy, former head of Mossad, Israel's external intelligence agency, to imply his agreement with the present nuclear deal. Yet, in a July 24 interview with Israel's Channel 2, Halevy calls for a national debate and says, "This is not an agreement that is entirely bad. There are positive elements in it."
These statements, equivocal or critical, hardly support Rabbi Herman's assertion that these former officials feel "that this deal offers the best option for preventing Iran from acquiring a nuclear weapon."
Herman also says "recent polling" shows a "majority of American Jews" support this present deal. Again, not exactly. In contrast to an early Los Angeles Jewish Journal poll, more recent surveys of American Jewish voters, by both The Israel Project and Quinnipiac University, indicate that the more American Jews learn about the deal, the less they like it—a trend that parallels other U.S. voters.
On an issue of paramount importance to all Americans, the positions of Israeli security officials and U.S Jewish voters are more nuanced and critical than Rabbi Herman's commentary implies.

Durns is Media Assistant for CAMERA—the 65,000 member Committee for Accuracy in Middle East Reporting in America"
The published version of the letter to the editor can be found here.—Sean Durns

Posted by SD at 02:54 PM | Comments (0)
Iranian Agent Hides in Washington Post as U.S. Prof
The following letter to the editor was sent to The Washington Post, but went unpublished:
"Aug. 31, 2015
Letter to the Editor
The Washington Post
Washington, D.C.
Dear Editor:
The Washington Post identifies Op-Ed writer Seyed Hossein Mousavian ("The new pragmatism in Iran," August 30) as "a research scholar at Princeton University and a former spokesman for Iran's nuclear negotiators." He is much more than that, and for readers to evaluate his "lift the sanction permanently" argument, they should know.
Mousavian served as the Islamic Republic of Iran's ambassador to German in 1992 when Iranian terrorist agents assassinated dissident Iranian Kurdish leaders in a Berlin restaurant.
As World Affairs Journal has noted ("The Assassins' Trail: Unraveling the Mykonos Killings," November 2011) Iran's Berlin embassy under Mousavian's leadership, served as "headquarters for a government intelligence gathering operation largely focused on the activities of the exiled [Iranian] opposition."

German police arrested Kazem Darabi, an Iranian grocer "with ties to Iran's German embassy" along with several others. A four-year long trial included testimony from Abdel Ghassem Messbahi, a former senior Islamic Republic intelligence official who had defected. Messbahi described how the Mykonos assassinations were ordered by Supreme Leader Ayatollah Ali Khamenei and other high-ranking officials working off of a hit list of 500 or so exiled Iranian opposition figures living abroad. At the trial's conclusion, Darabi and another assassin were sentenced to 23 years. Mousavian and fourteen members of his staff were expelled.
Mousavian returned to Iran and was promoted to head the powerful Foreign Relations Committee of Iran's National Security Council.
In his Post commentary extolling alleged mutual benefits of rapid, permanent sanctions relief, Mousavian—whose research at Princeton is funded partly by Iran deal proponents the Ploughshares Fund—describes Iranian President Hassan Rouhani as a "moderate." Rouhani served as secretary of the Supreme National Security Council during the assassination of exiled opposition leaders in Germany in 1992, Austria in 1989 and elsewhere and during the Iranian-supported bombings of the Israeli embassy and Jewish community center in Argentina.
Absent adequate identification of Mousavian and financial supporters of his Princeton work, his Op-Ed was more of an advertorial.
Durns is Media Assistant for the Washington D.C. office of CAMERA—the 65,000 member Committee for Accuracy in Middle East Reporting in America"
—Sean Durns

Posted by SD at 02:16 PM | Comments (0)
September 06, 2015
Gaza Time Warp
Sept. 2 Update Appended: Time Corrects
The Sept. 1 Time Magazinearticle "Gaza Could Become 'Uninhabitable' by 2020, U.N. Report Warns," is chronologically challenged, claiming that extensive destruction in Gaza during this summer's war, when Hamas launched thousands of rockets at Israel's civilian population, including an untold number of projectiles from subsequently damaged and destroyed residential areas in Gaza, actually transpired following the war, a relatively quiet period. The article errs, claiming:
Since the most recent Israeli military operation in 2014

, more than 20,000 Palestinian homes, 148 schools and 60 healthcare centers in Gaza have been damaged or destroyed, according to the U.N.
But the United Nations report in question details that the aforementioned damage took place during the 2014 Israeli military operation in Gaza against Hamas, not since the operation, as reported. In particular, the U.N. document states on page 9:
35. OQR compiled a partial list of damages incurred by Gaza during the 2014 operation, which have significant economic and social effects, and reported the following (OQR, 2014):

(a) 18,000 housing units destroyed or severely damaged and 44,300 units damaged

(b) 26 schools destroyed and 122 damaged

(c) 15 hospitals and 45 primary health centres damaged
In addition, it is noteworthy that an article about the difficult situation in Gaza which cites "Israeli military operations and a nearly decade-long blockade" fails to mention the word Hamas even once. Hamas, a designated terror organization which rules the Gaza Strip and has put vast economic and human resources as well as building materials into its terror infrastructure, is responsible for the launching of thousands upon thousands of rockets at Israel: thus, the reason for the military operations and blockade.
Sept. 2 Update: Time Corrects
Editors at Time.com have commendably corrected. The text now accurately states:
The most recent Israeli military operation in 2014 left more than 20,000 Palestinian homes, 148 schools and 60 healthcare centers in Gaza damaged or destroyed, according to the U.N.
In addition, the following correction is appended to the bottom of the article:
Finally, editors took the additional, praiseworthy step of prominently noting at the very top of the article that a correction was appended.
Posted by TS at 04:02 AM | Comments (0)
September 03, 2015
PBS Ombudsman on Ifill Tweet: Self-Inflicted Wound
Michael Getler, the ombudsman for PBS, published a piece titled More Self-Inflicted Wounds in which he criticizes PBS Newshour anchor and Washington Week moderator Gwen Ifill for her mocking tweet "Take that, Bibi." Ifill's tweet was in response to an announcement that there were enough Democrat senators signed on to President Obama's nuclear deal with Iran to avert a Senate override of a Presidential veto of any Senate bill to block implementation of the deal.
Getler wrote,
"Take that Bibi," is in my book, inexcusable for an experienced journalist who is the co-anchor of a nightly news program watched by millions of people over the course of any week.
The question that remains is what will PBS do to censure or discipline Ifill for her breach of journalistic standards? Getler points out that this is not the first time Ifill has demonstrated her lack of professionalism and bias. He recounts an incident in 2012 when a reporter for Yahoo, David Chalian, unaware that his mic was still on, commented on Republican Presidential candidate Mitt Romney and his entourage, "They are happy to have a party with black people drowning."
This was an allusion to the flooding of New Orleans during Hurricane Katrina. Chalian was fired for this breach of professionalism.
Ifill tweeted, "One mistake does not change this. @DavidChalian is God's gift to political journalism. #IStandwithDavid."
Getler commented at the time, "I can understand Ifill's wanting to go to bat for a friend and colleague but my personal view is that this was a big mistake on her part, feeding, unnecessarily, a conviction among many critics and reflecting poorly on PBS."
Similarly, PBS has had to contend with a longstanding perception that it had an "Israel problem", a perception which it has sought to overcome. Ifill's taunt of Israel's Prime Minister also to borrow Getler's phrase, "feeds, unnecessarily a conviction" that PBS remains antagonistic toward the Jewish state and cannot be relied upon to cover issues relating to Israel free from bias.
Posted by SS at 01:56 PM | Comments (2)
Media Misses Iran Deal Proponents Influence
Ploughshares Fund is a grantmaking organization that bills itself as supporting "experts and advocates who implement smart strategies to secure a more peaceful world… free of nuclear weapons." The organization's president, Joe Cirincione, and other staff members are frequently quoted as experts by news outlets reporting on the deal between the United States, China, Russia, France, Germany, the United Kingdom and the Islamic Republic of Iran over the latter's purported nuclear program. However, many media have not highlighted the group's considerable role in funding advocates of the agreement.
Describing lobbying efforts, The New York Times ("Fierce Lobbying, Even on Vacation, for Iran Accord," Aug. 18, 2015) briefly mentions that Ploughshares "also finances many of the participants" in the pro-Iran deal effort, but fails to provide further details. Similarly, The Washington Post, while noting that those supporting the Iran deal have "received significant contributions from" Ploughshares, fails to identify the groups pocketing those funds. It does detail major Ploughshare donors ("Mega-donors opposing Iran deal have upper hand in fierce lobbying battle," August 13).
Writing in Commentary magazine, American Enterprise Institute (AEI) scholar Michael Rubin provides a more detailed look at the vast Ploughshares extensive role in doling out money to pro-deal elements. The number of organizations listed by Rubin as receiving Ploughshare funds is extensive.
The Arms Control Association—which Rubin notes "attested to the thoroughness of the agreement before its details were even negotiated"—receives Ploughshare Fund dollars. Donations were also made to the Center for New American Security to—in Rubin's words—"lobby" congressional staffers. He also says funds were dispersed to self-described "pro-Israel" group J Street, the anti-sanctions and pro-Iranian regime National Iranian American Council, the National Security Network and the anti-Israel Friends Committee on National Legislation, among others.
Rubin writes that "in addition, the Fund gave $75,000 to Gulf-2000" a group he says feeds "pro-Iran talking points to journalists." Gulf-2000 is run by Gary Sick, a former U.S. National Security Council staffer whose anti-Israel animus and proclivity for conspiracy theories CAMERA has documented ("New York Times Indicts Israeli Leader For Speech Exposing Iran," Oct. 4, 2013).
The AEI scholar says that Ploughshare's lobbying for policies favorable to the Iranian mullahs is nothing new and previously involved other organizations that receive special tax considerations and public funds:
"In 2010, Ploughshares gave National Public Radio [NPR] $150,000 in what appeared to be a pay-to-play scheme to get Cirincione and his grantees on air."
Rubin states that the grantmaking group—classified as a non-profit, tax deductible 501(c)(3) organization—gave an additional $100,000 to taxpayer-funded NPR in 2015.
Rubin's Commentary article examining the role of the Ploughshares Fund, can be found here.—Sean Durns
Posted by ER at 11:28 AM | Comments (1)
Customary Condemnation
The New York Times yesterday published an article titled "Images of Palestinian Pleasure Not Allowed." Not allowed by the Israeli oppressor, the piece's opening makes clear.
An illuminating exercise: In which paragraph does reporter Jodi Rudoren finally admit that the delayed delivery of books to a Palestinian activist, which is the main subject of the piece, "may well have been routine" and tax related?
Posted by GI at 10:29 AM | Comments (2)
September 02, 2015
Take That Bibi. Tweets PBS Anchor Gwen Ifill
Gloating over the news today that there is enough support for the Iran nuclear agreement to avert any Senate override of an Obama veto, Gwenn Ifill, PBS Newshour anchorwoman and moderator of Washington Week, tweeted:
Take that, Bibi
Bibi, of course, is Benjamin Netanyahu, to whom the citizens of Israel have entrusted their security by voting to have him serve as Prime Minister three times.
While there is legitimate debate over Prime Minister Netanyahu's gloomy assessment of the agreement, all who care about Israel's future share his concern over whether the agreement will impede or aid Iran in its pursuit of nuclear weapons. The Islamic Republic's leaders have repeatedly promised to annihilate the Jewish state.
There is no doubt that Netanyahu's opposition to the Iran nuclear agreement is based on his firm conviction that the agreement seriously jeopardizes the future of the eight million Israelis.
Gwenn Ifill does not merely mock Netanyahu; because he represents the citizens of the state of Israel, the world's only Jewish state, she taunts every Israeli and every Jew who dreads what Iran might do if the agreement turns out to be as flawed as its detractors claim.
Ifill earns her living on taxpayer supported public television. PBS newshour and Washington Week are generously funded by many foundations. Washington Week lists Prudential, Newman's Own and the Corporation for Public Broadcasting [CPB] as major donors. Along with CPB and PBS, Newshour lists the following sponsors:
Adrienne Arsht
S. D. Bechtel, Jr. Foundation
David & Faten Black Foundation
The California Wellness Foundation
Carnegie Corporation of New York
Doris Duke Charitable Foundation
Consuelo Duroc-Danner
Ford Foundation
J. Paul Getty Trust
The Gilchrist Foundation
Gruber Family Foundation
William and Flora Hewlett Foundation
Howard Hughes Medical Institute
Robert Wood Johnson Foundation
The John S. and James L. Knight Foundation
The Kresge Foundation
The Lemelson Foundation
Lumina Foundation
John D. and Catherine T. MacArthur Foundation
The Andrew W. Mellon Foundation
Howard & Abby Milstein Foundation
Gordon and Betty Moore Foundation
National Endowment for the Arts
National Science Foundation
John and Wendy Neu Family Foundation
Nicholas B. Ottaway Foundation
David and Lucile Packard Foundation
Park Foundation
Poetry Foundation
The Rockefeller Foundation
Roger and Vicki Sant
Tom and Laurie Saylak
The SCAN Foundation
Skoll Foundation
Alfred P. Sloan Foundation
George and Camilla Smith
The Starr Foundation
Judy and Josh Weston
James Wolfensohn
Posted by SS at 01:42 PM | Comments (19)
September 01, 2015
Jerusalem Tel Aviv Post Won't Correct Op-Ed Misidentifying Israel's Capital
The Jerusalem Post, the former flagship English language Israeli newspaper, located in Jerusalem since before Israel's founding, has refused to correct an Op-Ed which misidentifies Tel Aviv as Israel's capital.
The Post's decision not to correct the reference to Tel Aviv as Israel's capital is especially noteworthy given the fact that leading international media outlets such as The Los Angeles Times and The Washington Post have commendably corrected the identical error in both Op-Eds and news articles in recent years.
Thus, in a Jan. 15, 2015 Los Angeles Times Op-Ed, Kenneth Roth, the head of Human Rights Watch, used the common journalistic practice of referring to a nation's capital by naming its capital as shorthand for its government, erring:
In Washington, Ottawa, Paris and London, as well as in Tel Aviv, the response [to the Palestinians' move to join the International Criminal Court] has ranged from discouraging to condemnatory.
Los Angeles Times editors immediately agreed that a correction was in order, and commendably ran the following on Jan. 22:
Likewise, in March 2014, The Washington Post prominently corrected a news article which, using the same shorthand, misidentified Tel Aviv as Israel's capital:


Monitor Global Outlook, a research and intelligence service of The Christian Science Monitor, also corrected the very same shorthand error -- citing Tel Aviv instead of Jerusalem, thereby incorrectly denoting Israel's capital -- in 2014.
Here in Jerusalem, where neither a global outlook, nor research, nor intelligence, is needed to determine that Jerusalem is Israel's capital. Nevertheless, a The Jerusalem Post editor has declined to correct the Aug. 26 Op-Ed by Ramy Aziz, which states:
Other than Saudi Arabia and Egypt, there is no one more aware of the coming danger and more capable of meeting the challenge than Tel Aviv.
See also: "Who Knows How to Correct: Al Jazeera or The Jerusalem Post?"
Sept. 3 Update: Print Edition Runs Correction
The Jerusalem Post ran the following correction on page 14 of the print edition yesterday:
Editors have yet to correct the online edition, which enjoys a larger readership than its print counterpart.
Posted by TS at 06:14 AM | Comments (2)
Leading Israeli News Outlet Covers UK Media Watch Feature on Nabi Saleh Row
Cross posted at CAMERA's UK Media Watch
On Sunday, we posted about the latest "Pallywood" production from the Palestinian town of Nabi Saleh "where photographers gather every Friday to document repetitious scenes of…activists clashing with Israeli soldiers" and where protesters place their children in danger to score propaganda points. (The term "Pallywood" refers to the staging of scenes by Palestinian journalists in order to present the Palestinians as hapless victims of Israeli aggression.) We noted that the most popular Pallywood child star, known as "Shirley Temper" (aka Ahed Tamimi), revived her role as the symbol of Palestinian "resistance" on Friday, when she was seen biting the hand of an Israeli soldier who had detained a young rock-thrower during protests.
However, unlike in previous productions, the British media wasn't completely acquiescent to the desired Pallywood script. We noted that two major papers radically changed course and revised or deleted their initially sympathetic coverage. One other site known far and wide for their anti-Israel coverage, The Guardian, decided not to cover the story at all. This, we argued, represented an extremely significant development in the context of the extraordinarily biased coverage of the region in the UK media.
Today, our analysis of media coverage of the incident was featured in the Israeli paper Yedioth Ahronoth (the country's second most popular newspaper).
Yedioth highlights our analysis, as well as the graphics we used showing the changing headline at The Daily Mail and the completely deleted story at The Telegraph.
Here's a CAMERA translation of the first paragraph of the Yedioth article:
The international media sets a new trend: An altercation last Friday in Nabi Saleh north of Ramallah, between a Golani fighter who detained an 11-year-old boy suspected of throwing stones and female members of the boy's family, resulted in highly problematic coverage for Israel's image in the international media. But according to the pro-Israel site UK Media Watch, which monitors and analyzes coverage of Israel in the British media, coverage of the incident changed following claims that the Tamimi family, which was involved in the incident, and especially the girl who was photographed biting the soldier, is a known serial provocateur of Israeli soldiers for the benefit of journalists' cameras.
Yedioth goes on to agree with our main take-away regarding The Daily Mail and Telegraph retreats, and Guardian non-coverage: that even the British media – at the forefront of delegitimization efforts against the Jewish state – may be tiring of the transparent efforts by Palestinian activists to manipulate their coverage of the region.
Posted by TS at 03:26 AM | Comments (0)