« Iran Deal Enforcement Hoax Revealed in, Yes, NY Times | Main | Americans Oppose Iran Deal 2 to 1 »
August 04, 2015
In AFP Captions, Only Palestinians Are Peace Activists
On Sunday, an Israeli peace group organized an event drawing together Israelis and Palestinians who stood together against violence and for peace. Why did Agence France-Presse call only the Palestinians "peace activists" while referring to the Israeli participants as "Jewish settlers"?
The Aug. 2 event, organized by the Israeli peace group Tag Meir, took place along a major West Bank between Jerusalem and Hebron. In captions accompanying a series of photographs, the AFP wire service drew a remarkable distinction between Israeli and Palestinian participants.
Out of all seven of the captions, AFP consistently identified Palestinian participants as "Palestinian peace activists." At the same time, in all seven captions, the news agency called Israeli participants "Jewish settlers," or, in one instance, "Jewish man." A sampling of the images and captions follows.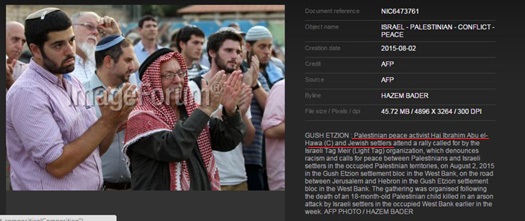 CAMERA has asked AFP: Are the Israelis demonstrating against violence and in favor of peace not "peace activists?" Why the partial and inconsistent terminology?
Posted by TS at August 4, 2015 06:29 AM
Comments
Grand moment d'espoir ! Et si tout devenait possible ?

Posted by: Piazzoli at August 5, 2015 07:58 AM
comme c beau les deux peuples réunis dans la paix et sérénité , espoir fait vivre !!
Posted by: hajjar at August 5, 2015 10:23 AM
Posted by: Barry Meridian at August 5, 2015 06:36 PM
Look at the name of the photographer, Hazem Bader. He probably writes the captions. Look at his past work, you'll see a pattern and a love for Arafat.
Posted by: Craig at August 6, 2015 02:28 PM
Posted by: Craig at August 6, 2015 02:31 PM
Guidelines for posting
This is a moderated blog. We will not post comments that include racism, bigotry, threats, or factually inaccurate material.
Post a comment