« Global Post Omits Key Facts While 'Interviewing' Iran's Jews | Main | New York Times: Reporter For Jewish Paper Finds No Anti-Israel Plot in Iran »
August 14, 2015
Former Joint Chiefs Chair Cites Iran Deal's "Deadly Consequences"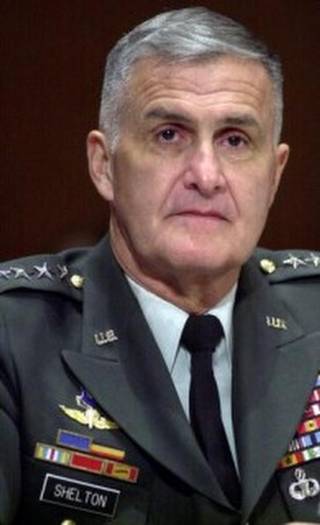 In an Op-Ed in the Miami Herald, Gen. Hugh Shelton, former chairman of the Joint Chiefs of Staff, expresses his opposition to the Joint Comprehensive Plan of Action (JCPOA), the proposed "Iran deal" negotiated between the U.S., Great Britain, France, Germany, Russia, China and Iran.
Gen. Shelton writes:
The main opposition, the National Council of Resistance of Iran (NCRI), and its many supporters in Western countries — myself included —understand that a regime that can't be trusted with the lives of its own people can't be trusted with a weak nuclear deal. The deadly consequences of such an agreement will not come 10 years from now when Iran has the acknowledged ability to launch a nuclear weapon; they will come as soon as the current regime is granted legitimacy on the international stage and gains economic or political leverage over democratic nations, which will happen as soon as their coffers are filled with unfrozen assets and the oil flows unfettered.

If the administration can't be bothered with the voice of the over 75 million Iranians, there is no shortage of American former officials, military officers, and academics who can attest to the power and legitimacy of the Iranian people and opposition working towards democracy. Former CIA Director James Woolsey, former FBI Director Louis Freeh, former Homeland Security Secretary Tom Ridge, former Attorney General Michael Mukasey and retired General George Casey are among them. All are men of unimpeachable integrity.

President Obama would do well to heed the serious, thoughtful and constructive criticisms about the nuclear deal.
Posted by SC at August 14, 2015 04:11 PM
Comments
I agree with Gen.Shelton Iran simply cannot be trusted with a working Nuclear device because the instant it goes live will be the the instant they will consider they now have control of the Middle East and expect all countries to do exactly as they demand or be annihilated. What will be sitting on the launch pads is three ICBM's one with Europe's name on it the other two with the US and Israel. I grew up living under the Cold War as did many millions of other people and I do not wish that to happen again.

Posted by: Barbara Griffith at August 15, 2015 12:04 AM
I am appalled at Obama's Joint Comprehensive Action Plan (JCPOA).
Gen. Shelton is absolutely correct, as are all of the former Intelligence and Security officials. When the sanctions are lifted and Iran get $150 Billion, they will funnel large sums of money to terrorists such as Hamas and Hezbollah. The arrogant Mullahs in Iran are hellbent on destroying Israel, while dreaming of destroying America. Tens of thousands of Iranians, inspired by their leaders, still chant "Death to Israel!" and "Death to America!"
So, the JCPOA deal is Bad for civilization, while good for Iran. The Iranians couldn't be happier.
Thanks Obama!!@
Posted by: Ben Yosef at August 18, 2015 01:13 PM
Guidelines for posting
This is a moderated blog. We will not post comments that include racism, bigotry, threats, or factually inaccurate material.
Post a comment