« UPDATED: The New York Times Should Respond to Michael Oren (Can We Use That Word?) | Main | International High Level Military Group Commends Israel Defense Force's "Scrupulous Adherence to Laws" »
June 22, 2015
Fuzzy Math at The NY Times: A Review
In response to the outpouring of interest in a recent New York Times correction about the number of Eritreans detained in Israel (it's 464, not 34,400), CAMERA decided to review the The New York Times' fuzzy numbers concerning Israel over the years.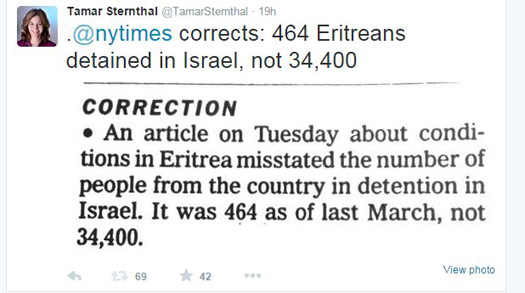 While CAMERA did not prompt the correction about the Eritrean detainees (though CAMERA's Tamar Sternthal flagged it in the above tweet that was widely shared), the following corrections were all the work of CAMERA.
Thousands, Not Hundreds, of Rockets
Error (Somini Sengupta, 2/2/15): . . . .during the Gaza conflict, in which Palestinian militants fired hundreds of rockets into Israel . . .
Nazareth: 50 Percent, not 5 Percent, of Land Compared to Jewish Town
Error (Jodi Rudoren, 12/9/14): Professor Jamal said the Arab city of Nazareth has twice the population but 5 percent of the land of its neighbor, predominantly Jewish Upper Nazareth. . .
Grossly Inflated Number for Gaza Refugees
Error (International New York Times, Jodi Rudoren, 9/15/14): The United Nations Relief and Works Agency runs schools through the ninth grade for the children of Palestinians who were expelled from or fled homes in Israel and the West Bank, about 70 percent of Gaza's 1.8 million residents.

Correction (9/19/14):

How Many Bedouin To Be Relocated?
Error (online slideshow photo caption, 12/7/2013): Bedouins and supporters protested last weekend against the plan to forcibly relocate about 70,000 residents from 35 recognized villages.
3,500 or Zero New Settlements?
Error (International New York Times, Mark Landler and Jodi Rudoren, 11/6/13): An absence of progress on the core issues, an ill-timed Israeli plan to build 3,500 more settlements on the West Bank and East Jerusalem. . .

Correction (11/7/13):

1 Million Palestinian Refugees, Not 4.7 Million
Error (New York Times, 8/18/10; International Herald Tribune, 8/19/10, Nada Bakri): While about 4.7 million refugees from the Arab-Israeli wars of 1948 and 1967 are spread across the region, many of them in the West Bank, Gaza, Jordan and Syria, the estimated 400,000 in Lebanon have endured some of the most wretched conditions.

Correction (8/21/10 in NY Times, 8/24/10 in Tribune): An article on Wednesday/Thursday [CAMERA notes: Wednesday was noted in the Times and Thursday in the IHT] about the passage of a law in Lebanon granting Palestinian refugees the same rights to work as other foreigners referred imprecisely to the refugees. Although the United Nations now registers about 4.7 million Palestinian refugees throughout the region, most are the descendants of the 700,000 who fled the Arab-Israeli war of 1948 and the 300,000 who fled in 1967.
Millions of Palestinian Refugees in Camps for Generations?
Error (Neil MacFarquhar, 12/16/04): Economic issues here often come secondary to the emotional desire to see some sort of overall settlement that will return occupied lands, particularly the holy mosque in Jerusalem, and find some solution for millions of Palestinian refugees stuck for generations in camps.

Correction (1/27/05): A news analysis article on Dec. 16 about a thaw in relations between Egypt and Israel referred imprecisely to the numbers of Palestinian refugees living in refugee camps. Currently almost 4.2 million Palestinian refugees are officially registered, of whom 1.3 million live in camps, according to United Nations figures. The number of officially registered refugees passed one million in 1957; the camp population passed one million in 1995. Thus the number of Palestinian refugees who have lived in camps for generations is not in the millions. (Official refugee numbers do not reflect Palestinians who fled the West Bank during the 1967 war or their descendants, now believed to exceed 800,000; they are officially considered displaced persons.) The error was reported to The Times on Dec. 16; this correction was delayed for checking with several refugee organizations.
Millions of Refugees From 1948?
Error (James Bennet, 4/14/04): Mr. Sharon wanted three commitments: backing for the Gaza withdrawal, American recognition that Israel would hold on to parts of the West Bank, and an American rejection of the right of millions of Palestinian refugees from the Arab-Israeli war of 1948 and their descendants to return to their lands in what is now Israel.

Correction (4/17/04): A news analysis article on Thursday about President Bush's endorsement of Prime Minister Ariel Sharon's plan to withdraw the Israelis from Gaza referred imprecisely to the number of Palestinian refugees for whom Arabs have demanded the "right of return." The reference to millions encompassed not just Palestinian refugees from the Arab-Israel war of 1948 but also their descendants.
Zero Injuries From Crude Rockets?
Error (James Bennet, 8/31/03): While Hamas has not successfully sent suicide bombers into Israel from the Gaza Strip, it has repeatedly fired crude rockets over Gaza's fenced boundary. The attacks have not caused any injuries, however.

Correction (9/3/03): Because of an editing error, an article on Sunday about Israeli tank and missile attacks that left two Palestinian militants and an 8-year-old Palestinian girl dead misstated the toll taken by crude rockets fired by Hamas over Gaza's fenced boundary. While they have indeed caused no injuries in recent days, rockets have damaged several homes and factories over the last 18 months, leaving Israelis suffering from shrapnel wounds, broken limbs, smoke inhalation and shock.
Marwan Barghouti: Arrested at 16 or 19? Deported Once or Twice?
Error (Serge Schmemann, 8/15/02): Mr. Barghouti was first arrested and deported by the Israelis at the age of 16, but he returned to become president of the student body at Birzeit University, a hotbed of Palestinian nationalism in the West Bank. That led to another deportation, from which he returned in 1993. . .

Correction (9/17/02 ): An article on June 14 about potential successors to Yasir Arafat and one on Aug. 15 about the indictment of Marwan Barghouti, a Palestinian leader who is being tried by Israel on murder charges, misstated the history of his arrests and deportation. He was first arrested in 1978 at the age of 19, not 16. He was deported once, in 1987, not twice, and returned to the West Bank in 1994, not 1993. (A reader reported the errors by e-mail on Sept. 2; this correction was delayed for fact checking.)
614,000 Israel Children Under Age 5, Not 264,000
Error (Week in Review chart, 3/3/02): Chart indicates that Israel's population of those under five years old is 264,000.

Correction (3/17/02): A chart on March 3 showing comparative statistics for Israel and the West Bank and the Gaza Strip misstated the population of children under 5 in Israel. It is 614,000, not 264,000.
No Fatal Palestinian Attacks On Israelis?
Error (William Orme, 7/12/01): Though Palestinians have made no fatal attacks on Israelis in the last several days, Mr. Peres said he did not believe the Palestinians were yet making the requisite '100 percent effort' to control violence.

Correction (7/14/01): An article on Thursday about Foreign Minister Shimon Peres's views on the Israeli-Palestinian conflict misstated the extent of recent violence by Palestinians. There had in fact been a fatal attack by Palestinians on an Israeli in the previous several days; an Israeli officer died after a bomb exploded under his vehicle Sunday night.
Posted by TS at June 22, 2015 02:26 AM
Comments
Guidelines for posting
This is a moderated blog. We will not post comments that include racism, bigotry, threats, or factually inaccurate material.
Post a comment