« May 2015 | Main | July 2015 »
June 30, 2015
Son of Fatwa? What Fatwa?
The Washington Post has made recurrent references to a fatwa--an Islamic religious decree--in which Iran's "Supreme Leader," Ayatollah Ali Khamenei purportedly ordained that the faith bars Iran from acquiring nuclear weapons. U.S.-led negotiations with Iran over the latter's suspected illegal nuclear weapons program make the fatwa's existence, or non-existence, newsworthy.
When the newspaper repeated the fatwa claim recently CAMERA submitted the letter to the editor reproduced below. It appeared, slightly edited, in the June 27, 2015 print edition under the headline "Recalling the Fact Checker's Iran advice."
"The Post's 'Kerry hints at possible compromise in Iran nuclear talks' (June 17, 2015), claims that in 2003 a fatwa, or religious decree, was 'issued by Iran's supreme leader, Ayatollah Ali Khamenei, that, according to some interpretations, banned the production and use of nuclear weapons as a sin under Islam.' However, as CAMERA and others have noted, there is no written proof that such a religious edict exists ('Fatwa? What Fatwa? Does Ayaltollah Khamenei's Edict Exist?' Apr. 30, 2015,).
"A 2011 report by Shiite theologian Mehdi Khalaji and Michael Eisenstadt of the Washington Institute for Near East Policy notes that religious edicts in the Islamic Republic are 'grounded not in Islamic law but rather in the regime's doctrine of expediency, as interpreted by the Supreme Leader….if the Islamic Republic's leaders believe that developing, stockpiling, or using nuclear weapons is in its interests, then religious considerations will not constrain these actions' ('Nuclear Fatwa: Religion and Politics in Iran's Proliferation Strategy,' September, 2011, Washington Institute for Near East Policy).
"In fact, The Post previously cited this report—and explored the issue of a 'nuclear fatwa'—in Glenn Kessler's 'Fact Checker' feature ('Did Iran's supreme leader issue a fatwa against the development of nuclear weapons?' Nov. 27, 2013). This item cautioned, 'U.S. officials should be careful about saying the fatwa prohibits the development of nuclear weapons, as that is not especially clear anymore.'
"Has The Post changed its mind regarding its own advice? Or was 'Fact Checker' advice meant for U.S. officials and not the paper's own journalists? If Ayatollah Khamenei indeed issued a fatwa against creating, stockpiling, and using nuclear weapons, The Post usefully should translate and print it as a sidebar to its next article on the nuclear negotiations between Iran and the United States and other participating countries."
Sincerely,
Sean Durns
Media Assistant
Committee for Accuracy in Middle East Reporting in America

Posted by ER at 02:45 PM | Comments (2)
AFP Attempts to Justify Terror Attack That Killed Malachi Moshe Rosenfeld
Malachi Rosenfeld, killed in Palestinian terror attack.
On Monday night, a Palestinian terrorist attack targeted four young Israeli men in a car fired on while travelling from a basketball game in the Binyamin region of the West Bank. Three men were seriously wounded, while the fourth, Malachi Moshe Rosenfeld, died of his wounds. The attack is believed to have been carried out by a Palestinian terror cell. It is the latest of several terrorist attacks, some deadly, that have taken place in the region since the beginning of the Muslim Ramadan, when Israeli security forces ease restrictions on Palestinian travel between the West Bank and Jerusalem. A June 30th AFP article, "Shooting wounds four Israelis near West Bank settlement" includes the following "explanation" for the terrorist attacks:
A shooting near a Jewish settlement in the occupied West Bank wounded four Israelis ..

...West Bank settlements are considered illegal under international law and Israelis have been attacked previously in and around them, as well as in annexed east Jerusalem.
This comes across disturbingly as AFP's attempt to legitimize/justify Palestinian terrorism and blame the victims.
Posted by RH at 12:46 PM | Comments (4)
Where's the Coverage? U.S. Position on Jerusalem More Hard-Line than PLO

On June 8, the U.S. Supreme Court decided Zivotofsky v. Kerry, the case of a boy, an American citizen born in Jerusalem in 2002, whose parents wanted to list "Jerusalem, Israel" as the birthplace on his passport, as was their right under a law passed by Congress. The State Department, first under the Bush administration and currently under the Obama administration, would not allow it, disregarding this law. According to the majority opinion, the Constitution gives the president – or the administration, as opposed to Congress – the exclusive power to recognize foreign sovereigns. In plain English, Jerusalem doesn't have to be part of Israel if the president doesn't want it to be.
This got quite a bit of attention by the media. But, the press did not delve too deeply into this issue. (No surprise there.) When it comes to recognizing Jerusalem as the capital of Israel, the United States is even more extreme than the Palestinian Liberation Organization (PLO).
After the War of Independence, Israel held part of Jerusalem, referred to by the media as "West Jerusalem," and established it as the capital in 1949. Part of Jerusalem was illegally occupied by Jordan from 1948-1967, frequently called "East Jerusalem."
While theoretically the PLO recognizes that Palestinian Arabs have no claim on "West Jerusalem," publicly claiming to seek Israel's withdrawal to the 1949 armistice lines or "the 1967 borders," the American government refuses to.
In an opinion piece in The New York Jewish Week, law professor Avi Bell writes:
The State Department, backed by both Republican and Democrat-controlled White Houses, has insisted that no part of Jerusalem be recognized in any way as part of Israel... None of it.

The Obama administration has explained that refusing to recognize Israeli sovereignty in any part of Jerusalem is necessary to avoid interference with the "peace process." Jerusalem, says the White House, must be dealt with solely in negotiations between the parties.

But this justification falls apart upon the slightest examination.

The current PLO territorial demands, repeated often and in every forum imaginable, are for Israeli withdrawal from the West Bank and "East Jerusalem." No senior PLO figure has demanded in recent years that Israel also withdraw from "West Jerusalem." In demanding that Israel acquire PLO approval for its sovereignty over "West Jerusalem," the White House is taking a more hardline anti-Israel position than even the PLO.

[…]

Historically, the anti-Israel position of the U.S. on Jerusalem developed without any connection to the Israel-PLO peace negotiations that began in 1993. The U.S. never recognized Israeli sovereignty in Jerusalem, even in 1948, when Israel's War of Independence left parts of Jerusalem in Israeli hands. When Israel declared Jerusalem ("West Jerusalem") its capital in 1949, the U.S. refused to recognize it, even though international law makes states the sole determinants of their own capital.
In 1949, there was no "peace process" between Israeli and Palestinian leaders. Not in 1949, 1959, 1969, 1979, or 1989. So what did the "peace process" have to do with Jerusalem as Israel's capital for all those years? Why has the American government taken such an anti-Israel position? And… where's the coverage?

Posted by SC at 09:59 AM | Comments (1)
June 26, 2015
Nuclear Free Middle East, or, The Secret Life of Walter Pincus
Washington Post columnist Walter Pincus has opined again on Israel, Iran, and nuclear weapons. And again, his compulsion to play "gotcha" against Israel cripples his analysis.
Pincus' "Nuclear-free Middle East is worth imagining" (June 16, 2015) flawed premise leads to a flawed conclusion—just like his "Is the U.S. going too far to help Israel?" (May 17, 2012), as CAMERA noted at the time.
The Post columnist says his reading of Ari Shavit's book My Promised Land: The Triumph and Tragedy of Israel—a key chapter of which CAMERA exposed for falsely portraying the 1948 battle for Lydda (Lod) as a "massacre at the heart of Zionism"—sparked the thought that if Israel would just agree to sign the nuclear Non-Proliferation Treaty, a nuclear-free Middle East eventually would emerge.
Pincus says that according to Shavit "the Iranians have been doing what Israel did…if Iran succeeds, Saudi Arabia, Egypt, Turkey and Algeria could be next." The veteran correspondent muses:
"That thought made me realize how different this all would be if Israel, rather than opposing a P5+1 [Germany and the five permanent members of the U.N. Security Council] agreement calling for new economic sanctions against Iran and threatening a military attack on Tehran's nuclear facilities, would put its energy into developing a rational NPT option."
By this logic, nuclear proliferation in the Middle East is Israel's fault. By its extension, other Middle Eastern countries are not independent actors with their own motivations; they only react to actions of Israel and the West. In this line of thinking, Iran—despite its own calls to "wipe Israel off the map"—wants a nuclear weapon only because Israel has had one before the treaty existed.
To Pincus, the solution is simple: Israel should quit calling for Iran—a signatory to the NPT—to abide its promises and instead propose a "rational" NPT option. How this would elicit a different response from the world's leading state sponsor of terror, a regime that repeatedly refuses to cooperate with the International Atomic Energy Agency (IAEA) he doesn't say.
A clouded crystal ball
Perhaps this is because nuclear proliferation in Middle Eastern countries isn't the primary focus of the article—Israel's defense policy is.
The Post's long-time reporter and columnist asserts the Jewish state has no need for nuclear self-defense because "the threat to Israel that generated its bomb—overwhelming Arab armies—no longer exists. The Israel Defense Forces have far more conventional capability than the nation's neighbors put together, including Iran."
By this logic, Hamas, Hezbollah, ISIS, and their terrorist ilk pose little or no threat to Israel—even as they gobble up territory (including some near the Israeli-controlled portion of the Golan Heights), mount operations to kill Israelis, and in the case of Hezbollah in Lebanon and Hamas in the Gaza Strip—receive support from Iran. Similarly, had not Israeli bombers conducted "nuclear arms control" against Iraq in 1981 and Syria in 2007, conventional or terrorist armies might be protected today by radioactive umbrellas.
But in Pincus' crystal ball photograph, as opposed to the Middle East's unspooling video of upheaval, today's tactical threats will never change into strategic dangers, Arab armies will never serve aggressive pan-Islamic regimes and Israel with its inescapable population inferiority will remain militarily superior to any combination of threats without a presumed nuclear arsenal.
Pretzel logic and crucial omissions leave the author comfortable with his mind-numbing claim "the best way to remove the Iran nuclear threat is to create a Middle East nuclear-free zone." After all, he says, as if it mattered, it "has been on the U.N. agenda since the 1960s…promoted initially by Egypt and Iran [emphasis added]."
Not only CAMERA recognized Pincus' faulty reasoning. Anti-Defamation League (ADL) Executive Director Abraham Foxman noted in a June 21, 2015 letter to the editor that Pincus' attempt to compare Israel to South Africa—which cancelled its nuclear program—was "faulty" since "South Africa faced no enemies committed to its destruction. Israel faces an Iran that openly calls for the end of the Jewish state."
Pincus concludes by "sadly" noting demands by theocrats in Tehran for Israel to sign the treaty—which the Iranian regime regularly violates—are not likely to be heeded.
In James Thurber's 1939 short story "The Secret Life of Walter Mitty"—enlarged if not improved as a 2013 Ben Stiller film—the main character daydreams his fantasies into apparent reality. Many children play with imaginary friends; Pincus periodically writes about an imaginary Middle East.—Sean Durns

Posted by ER at 04:12 PM | Comments (0)
June 23, 2015
Does Christ at the Checkpoint Have a New Agenda?
The most recent Youtube video promoted by Christ at the Checkpoint includes a cryptic and oblique message from a well-known anti-Israel polemicist, Michel Sabbah, the Latin Patriarch Emeritus of Jerusalem.
The stated mission of the biannual Christ at the Checkpoint (CaTC) conferences in Bethlehem "is to challenge Evangelicals to take responsibility to help resolve the conflicts in Israel/Palestine by engaging with the teaching of Jesus on the Kingdom of God."
This mission has been carried out through the targeting of a western – and in particular, American – evangelical audience with a message that blames Israel for the problems Palestinian Christians face. In the process, key American evangelical leaders and organizations have not only been involved in every conference since the first one in 2010, but they are actively engaged in promoting the Christian Palestinian narrative to followers in the US.
One of the ways CaTC disseminates its message and that of its sponsoring institution, Bethlehem Bible College (BBC), is through the use of social media and the production of online videos. Since the targeted audience of these organizations is American evangelicals, the facebook pages of BBC and CaTC, as well as the videos they produce, are in English.
However, CaTC has recently posted two videos on YouTube that were produced in Arabic. This fact, combined with the content of these clips, raises the question: Does Christ at the Checkpoint have a new agenda? Is it possible they intend to communicate a different message to an Arabic-speaking audience than the one they present to their Western friends? The material presented in these newest videos suggests that this might be the case.
A video posted on May 6, 2015 by CaTC documents a televised meeting held at Bethlehem Bible College on April 2, 2015 that was allegedly addressed to the persecuted churches of the Arab world. Participants in this meeting included Jack Sara, president of Bethlehem Bible College, Madleine Sara, leader of Counseling and Coaching at BBC, Yohanna Katanacho, Academic Dean of BBC, Michel Sabbah, the Latin Patriarch Emeritus of Jerusalem, Orthodox Archbishop Atallah Hanna, and Noura Karmi, project coordinator of Kairos Palestine, which is an organization known for its issuance of a document by the same name in 2009.
The Kairos Palestine document asserts, among other things, that Jewish sovereignty or self-determination is contrary to God's plan for humanity. The document is so egregious that a resolution adopted by the Central Conference of American Rabbis (CCAR) has declared it to be supersessionist and anti-Semitic. In light of this, it is troubling to say the least, that four of the six people involved in the televised meeting at BBC in April played major roles in the development of an anti-Semitic document that delegitimizes Israel's right to exist on theological grounds.
In addition to the participation of Karmi as project coordinator, Katanacho, Sabbah and Hanna were all co-authors of this document. The involvement of these people in this meeting, and Katanacho's position as Academic Dean of BBC, suggests that the president of BBC and the institution itself support this position as well.
The content of Michel Sabbah's talk as recorded on the video is no less disturbing.
According to a translation of the Arabic by George Michael, one of the professional translators who provided the US government with a translation of Osama Bin Laden tapes in 2001, Sabbah says:
During the Palestinian resistance, and the intifada, there was a lot of Christians "involved", their position was a true and correct Palestinian position, but they lacked something else and that is to have a Christian position. They would have been stronger; they should have a Palestinian and Christian position at the same time, that makes them stronger.
Sabbah's comments about Christians being involved in the Intifada are vague. He does not say exactly how they were involved. But it is clear from this statement, as well as the context in which it appears, that Sabbah is encouraging his audience to continue to be involved in some form of resistance against Israel.
As with his reference to the past, it is not clear what kind of future involvement he is encouraging. If asked, he may claim he is only encouraging non-violent activity. However, due to the vagueness of his statements, he could easily be interpreted as offering an encouragement of violent means.
In light of CaTC's professed intent to help resolve the conflicts in Israel/Palestine by engaging with the teaching of Jesus on the Kingdom of God, and in light of the volatile state of affairs in the Middle East, it is irresponsible for someone associated with CaTC to state that Christian involvement in Palestinian resistance was "a true and correct Palestinian position" without being much more specific about what form that involvement should take.
The second recent video, posted on YouTube on March 26, 2015, promotes a Christ at the Checkpoint Young Adult conference this coming July through the use of explicit imagery in which Israel is demonized by being equated with ISIS.
Images of ISIS captives about to be beheaded are juxtapositioned with images of the security barrier Israel was forced to build to protect its citizens from suicide bombers.
Images of the Jordanian pilot about to be burned alive in a cage are juxtapositioned with scenes of people going through a checkpoint.
And images of the ISIS flag are juxtapositioned with those of the Israeli flag.
The obvious implication is that the security measures Israel has been forced to take in response to Palestinian suicide bombers is equivalent to what ISIS is doing to people as it seeks to forcibly establish a caliphate ruled by an extreme form of Islamic law.
The video also equates Israel and ISIS with the H1N1 virus, or swine flu. In so doing, the contagious spread of swine flu is equated with the terrifying ease with which ISIS is conquering territory, and with the existence of Israel, or at the very least, Israel's need for a security barrier with checkpoints.
The analogy between Israel and swine flu is reminiscent of the raging of Hitler against the Jews as a "dangerous bacillus," and it is consistent with the dehumanizing designation of Jews as pigs that is common throughout the Muslim world. However, this video was not produced by Nazis or Muslims, but by those who claim to be Christians!
The production of these two videos, in Arabic, with such inflammatory content, causes one to wonder if Christ at the Checkpoint has a new agenda.
The presentation of such material also makes one question how these latest videos are consistent with the stated mission of CaTC, which "is to challenge Evangelicals to take responsibility to help resolve the conflicts in Israel/Palestine by engaging with the teaching of Jesus on the Kingdom of God."

And in light of the fact that the content differs so radically from other videos produced by the same organization, one has to ask whether CaTC would show these videos – particularly the one that equates Israel to ISIS – to the English speaking audience it looks to for spiritual and financial support.
Ultimately, the question is: Do the leaders of Christ at the Checkpoint really intend to promote the peace they tell their Western audience they want?

Posted by tricia at 11:23 AM | Comments (1)
June 22, 2015
International High Level Military Group Commends Israel Defense Force's "Scrupulous Adherence to Laws"
The High Level International Military Group [HLIMG] published preliminary findings of its inquiry into the conduct of the Israeli Defense Forces during its summer 2014 military operation in Gaza. The report is available on the web site of UN Watch. UN Watch is an organization dedicated to exposing and combatting the corruption of the United Nations human rights mission.
The HLIMG report concludes:
Our overall findings are that during "Operation Protective Edge" last summer, in the air, on the ground and at sea, Israel not only met a reasonable international standard of observance of the laws of armed conflict, but in many cases significantly exceeded that standard. We saw clear evidence of this from the upper to the lower levels of command. A measure of the seriousness with which Israel took its moral duties and its responsibilities under the laws of armed conflict is that in some cases Israel's scrupulous adherence to the laws of war cost Israeli soldiers' and civilians' lives.
The Group's findings refute and repudiate the findings of an inquiry by the United Nations Human Rights Council [UNHRC]. The UNHRC inquiry was headed by veteran anti-Israel activist William Schabas until he was forced to resign when it was revealed he was on the Palestinian payroll.
According to Hillel Neuer of UN Watch, the UNHRC is a key part of a bureaucratic infrastructure created at the UN that is dedicated to isolating and undermining the world's only Jewish state. UN Watch recently observed, "The 47-nation body has condemned Israel in 80% of its country censures, in 20 of 25 resolutions." Meanwhile, massive abusers of human rights like the governments of Sudan, North Korea and Iran receive only a fraction of the condemnation directed at Israel.
UN Watch criticized the council for elevating two of the worst human rights offenders, Iran and Saudi Arabia, to leadership positions in the UNHRC. The appointments make a mockery of the UN's obligation to defend human rights worldwide.

In sharp contrast to the UNHRC inquiry, the HLIMG group found that "The measures taken [by the Israel Defense Forces] were often far in excess of the requirements of the Geneva Conventions. They sometimes placed Israeli lives at risk."
Members of the High Level International Military Group are listed below:
Giulio Terzi – former Foreign Minister of Italy.
General Klaus Naumann – former Chief of Staff of the Bundeswehr and Chairman of the NATO Military Committee.
General Vincenzo Camporini – former Chief of the Defence Staff of Italy.
Admiral Jose Maria Teran – former Chief of the Joint Staff of Spain.
Ambassador Pierre-Richard Prosper – former US State Department Ambassador at Large for war crimes issues.
Mr Rafael Bardaji – former National Security Adviser for the Spanish government.
Lieutenant General David A Deptula – former Standing Joint Force Air Component Commander, United States Pacific Command.
Major General Jim Molan – former Chief of Operations, Headquarters Multi National Force, Iraq and Commander of the Australian Defence College.
Colonel Eduardo Ramirez – Member of Colombian Congress and former Chief of Security, Colombia.
Colonel Vincent Alcazar – former senior United States Air Force officer in Iraq and Afghanistan.
Colonel Richard Kemp – former Commander of British Forces in Afghanistan
Posted by SS at 11:44 AM | Comments (0)
Fuzzy Math at The NY Times: A Review
In response to the outpouring of interest in a recent New York Times correction about the number of Eritreans detained in Israel (it's 464, not 34,400), CAMERA decided to review the The New York Times' fuzzy numbers concerning Israel over the years.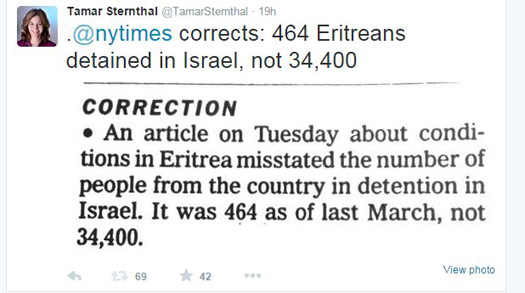 While CAMERA did not prompt the correction about the Eritrean detainees (though CAMERA's Tamar Sternthal flagged it in the above tweet that was widely shared), the following corrections were all the work of CAMERA.
Thousands, Not Hundreds, of Rockets
Error (Somini Sengupta, 2/2/15): . . . .during the Gaza conflict, in which Palestinian militants fired hundreds of rockets into Israel . . .
Nazareth: 50 Percent, not 5 Percent, of Land Compared to Jewish Town
Error (Jodi Rudoren, 12/9/14): Professor Jamal said the Arab city of Nazareth has twice the population but 5 percent of the land of its neighbor, predominantly Jewish Upper Nazareth. . .
Grossly Inflated Number for Gaza Refugees
Error (International New York Times, Jodi Rudoren, 9/15/14): The United Nations Relief and Works Agency runs schools through the ninth grade for the children of Palestinians who were expelled from or fled homes in Israel and the West Bank, about 70 percent of Gaza's 1.8 million residents.

Correction (9/19/14):

How Many Bedouin To Be Relocated?
Error (online slideshow photo caption, 12/7/2013): Bedouins and supporters protested last weekend against the plan to forcibly relocate about 70,000 residents from 35 recognized villages.
3,500 or Zero New Settlements?
Error (International New York Times, Mark Landler and Jodi Rudoren, 11/6/13): An absence of progress on the core issues, an ill-timed Israeli plan to build 3,500 more settlements on the West Bank and East Jerusalem. . .

Correction (11/7/13):

1 Million Palestinian Refugees, Not 4.7 Million
Error (New York Times, 8/18/10; International Herald Tribune, 8/19/10, Nada Bakri): While about 4.7 million refugees from the Arab-Israeli wars of 1948 and 1967 are spread across the region, many of them in the West Bank, Gaza, Jordan and Syria, the estimated 400,000 in Lebanon have endured some of the most wretched conditions.

Correction (8/21/10 in NY Times, 8/24/10 in Tribune): An article on Wednesday/Thursday [CAMERA notes: Wednesday was noted in the Times and Thursday in the IHT] about the passage of a law in Lebanon granting Palestinian refugees the same rights to work as other foreigners referred imprecisely to the refugees. Although the United Nations now registers about 4.7 million Palestinian refugees throughout the region, most are the descendants of the 700,000 who fled the Arab-Israeli war of 1948 and the 300,000 who fled in 1967.
Millions of Palestinian Refugees in Camps for Generations?
Error (Neil MacFarquhar, 12/16/04): Economic issues here often come secondary to the emotional desire to see some sort of overall settlement that will return occupied lands, particularly the holy mosque in Jerusalem, and find some solution for millions of Palestinian refugees stuck for generations in camps.

Correction (1/27/05): A news analysis article on Dec. 16 about a thaw in relations between Egypt and Israel referred imprecisely to the numbers of Palestinian refugees living in refugee camps. Currently almost 4.2 million Palestinian refugees are officially registered, of whom 1.3 million live in camps, according to United Nations figures. The number of officially registered refugees passed one million in 1957; the camp population passed one million in 1995. Thus the number of Palestinian refugees who have lived in camps for generations is not in the millions. (Official refugee numbers do not reflect Palestinians who fled the West Bank during the 1967 war or their descendants, now believed to exceed 800,000; they are officially considered displaced persons.) The error was reported to The Times on Dec. 16; this correction was delayed for checking with several refugee organizations.
Millions of Refugees From 1948?
Error (James Bennet, 4/14/04): Mr. Sharon wanted three commitments: backing for the Gaza withdrawal, American recognition that Israel would hold on to parts of the West Bank, and an American rejection of the right of millions of Palestinian refugees from the Arab-Israeli war of 1948 and their descendants to return to their lands in what is now Israel.

Correction (4/17/04): A news analysis article on Thursday about President Bush's endorsement of Prime Minister Ariel Sharon's plan to withdraw the Israelis from Gaza referred imprecisely to the number of Palestinian refugees for whom Arabs have demanded the "right of return." The reference to millions encompassed not just Palestinian refugees from the Arab-Israel war of 1948 but also their descendants.
Zero Injuries From Crude Rockets?
Error (James Bennet, 8/31/03): While Hamas has not successfully sent suicide bombers into Israel from the Gaza Strip, it has repeatedly fired crude rockets over Gaza's fenced boundary. The attacks have not caused any injuries, however.

Correction (9/3/03): Because of an editing error, an article on Sunday about Israeli tank and missile attacks that left two Palestinian militants and an 8-year-old Palestinian girl dead misstated the toll taken by crude rockets fired by Hamas over Gaza's fenced boundary. While they have indeed caused no injuries in recent days, rockets have damaged several homes and factories over the last 18 months, leaving Israelis suffering from shrapnel wounds, broken limbs, smoke inhalation and shock.
Marwan Barghouti: Arrested at 16 or 19? Deported Once or Twice?
Error (Serge Schmemann, 8/15/02): Mr. Barghouti was first arrested and deported by the Israelis at the age of 16, but he returned to become president of the student body at Birzeit University, a hotbed of Palestinian nationalism in the West Bank. That led to another deportation, from which he returned in 1993. . .

Correction (9/17/02 ): An article on June 14 about potential successors to Yasir Arafat and one on Aug. 15 about the indictment of Marwan Barghouti, a Palestinian leader who is being tried by Israel on murder charges, misstated the history of his arrests and deportation. He was first arrested in 1978 at the age of 19, not 16. He was deported once, in 1987, not twice, and returned to the West Bank in 1994, not 1993. (A reader reported the errors by e-mail on Sept. 2; this correction was delayed for fact checking.)
614,000 Israel Children Under Age 5, Not 264,000
Error (Week in Review chart, 3/3/02): Chart indicates that Israel's population of those under five years old is 264,000.

Correction (3/17/02): A chart on March 3 showing comparative statistics for Israel and the West Bank and the Gaza Strip misstated the population of children under 5 in Israel. It is 614,000, not 264,000.
No Fatal Palestinian Attacks On Israelis?
Error (William Orme, 7/12/01): Though Palestinians have made no fatal attacks on Israelis in the last several days, Mr. Peres said he did not believe the Palestinians were yet making the requisite '100 percent effort' to control violence.

Correction (7/14/01): An article on Thursday about Foreign Minister Shimon Peres's views on the Israeli-Palestinian conflict misstated the extent of recent violence by Palestinians. There had in fact been a fatal attack by Palestinians on an Israeli in the previous several days; an Israeli officer died after a bomb exploded under his vehicle Sunday night.
Posted by TS at 02:26 AM | Comments (0)
June 18, 2015
UPDATED: The New York Times Should Respond to Michael Oren (Can We Use That Word?)
Note June 19, 2015: This post has been updated. See the update after the jump.
Michael Oren, former Israeli Ambassador to the United States, has leveled a serious charge at Andrew Rosenthal, editorial page editor of the New York Times. Oren, who is now a member of the Israeli Knesset, reports that Rosenthal exhibited a troubling indifference to factual misstatements made by Mahmound Abbas, president of the Palestinian Authority in 2011 and in the words of Jamie Weinstein at the D.C. Caller "is unable to distinquish between fact and opinion."
Oren lays the story out in his soon-to-be published book, Ally: My Journey Across the American-Israeli Divide (Random House, 2015).
When The Times published Abbas' factually challenged piece in The New York Times in May 2011, Oren called Rosenthal to complain. Weinstein reports that Oren recreates the conversation went as follows:
"When I write for the Times, fact checkers examine every word I write," I began. "Did anybody check whether Abbas has his facts exactly backwards?"

"That's your opinion," Rosenthal replied.

"I'm an historian, Andy, and there are opinions and there are facts. That the Arabs rejected partition and the Jews accepted it is an irrefutable fact."

"In your view."

"Tell me, on June 6, 1944, did Allied forces land or did they not land on Normandy Beach."

Rosenthal, the son of a Pulitzer Prize-winning Times reporter and famed executive editor, replied, "Some might say so."

Oren's allegation against Rosenthal is pretty serious given The Times' stated commitment to getting it right. In 2004, David Shipley, who was then serving as editor of the Op-Ed pages for the paper wrote a piece titled, "And Now a Word from Op-Ed." The piece describes how an opinion piece ends up in The Times. It states explicitly that if a submission is accepted for publication, "we'll edit and fact-check your work."
Really?

The following year, Shipley wrote a follow up titled "What We Talk About When We Talk About Editing." In the piece, Shipley reported that editors at the paper will "fact check" before publishing them. "While it's the authors responsibility to ensure that everything written for us is accurate, we still check facts – names, dates, places quotations," Shipley wrote. "We also check assertions," he added. "If news articles – from The Times and other publications – are at odds with a point or an example in an essay, we need to resolve whatever discrepancy exists."
If there is a discrepancy, Shipley wrote, the paper will "try to find a solution that preserves the writer's argument while also adhering to the facts."
What Shipley wrote in 2004 and 2005 should not be all that revelatory. The American Society of News Editors declares in its statement of principles that "Editorials, analytical articles and commentary should be held to the same standards of accuracy with respect to facts as news reports. Significant errors of fact, as well as errors of omission, should be corrected promptly and prominently."
The story in Oren's book indicates that these policies are no longer in force. It's a serious issue that so far has not been addressed America's paper of record.
Weinstein reports that efforts to elicit a response from Rosenthal have been unsuccessful, which is no surprise in light of a story about his tenure as Editorial Page Editor that appeared in The Observer in February, 2014.
In the piece, written by Ken Kurson, Rosenthal does not come off too well. He is depicted as a lazy and petty tyrant obsessed with maintaining a monopoly on the word "should."
Apparently, Rosenthal does not like it when the word appears in articles outside of the New York Times' editorial pages. One reporter told The Observer that "The world 'should' belongs to him and his people." Another reporter told The Observer, "You know, I think he literally had a Google alert for the word 'should' and, like, goes reading through the entire newspaper for it, and that's what he does all day instead of improving his section."
It is unfortunate that Rosenthal does not police his editorial pages for errors with the same vigor with which he reportedly scours the Times for errant uses of "should."
At the risk of eliciting the ire of Andrew Rosenthal, former Ambassador Oren has raised an issue about Rosenthal's commitment to factual journalism that the New York Times really should address: Does its editorial page editor care about the facts?
Or is fact-checking a thing of the past under Rosenthal's leadership?

Update, June 19, 2015:
Larry Cohler-Esses has weighed in on behalf of Andrew Rosenthal in a piece at The Forward. It asserts in part that former Ambassador Oren mischaracterized the article by Mahmoud Abbas. Kohler-Esses writes that "that nowhere in his piece of May 17, 2011 does Abbas assert that 'the Arabs had accepted the U.N.'s Partition Plan in 1947 while Israel rejected it.'"
Cohler-Esses, however, is refuting something Oren did not assert. What he has done is mischaracterize what Oren wrote to establish a straw-man argument and then knock it down. Oren did not state that Abbas "asserted" that Arabs had rejected partition and that Israel had accepted it. Oren said Abbas "suggested" it.
This point was made effectively by Elder of Ziyon, who writes:
Michael Oren didn't say that Abbas wrote those words; he says that Abbas suggested it.

The Forward is doing what they accuse Oren of doing - fabricating the facts.
Did Cohler-Esses honestly think people would not see how he transformed Oren's use of the word "suggested" into "assert"?
So to borrow a phrase from a commenter below, "It turns out there are some objective factual problems" with the piece in The Forward.
Posted by dvz at 04:43 PM | Comments (3)
June 17, 2015
Palestinian 'Pragmatist' Asserts Extremist Goals
A high-ranking Fatah leader, Abbas Zaki, has claimed that the United States is responsible for the creation of the Islamic State of Iraq and Syria terror movement. ISIS, also known as ISIL, Islamic State (IS) or Daesh, has overrun large portions of Syria and Iraq, murdering thousands, in the past year.
Zaki told Syrian News TV in a June 2, 2015 interview, "They [the U.S.] created IS, but cannot control it." Zaki—a close associate of Palestinian Authority President Mahmoud Abbas—also claimed, "the U.S. is destroying itself by its own hand" as a result of its purported creation of the terrorist group. Middle East Media Research Institute (MEMRI) highlighted Zaki's interview.
Zaki—as CAMERA has noted—was one of 14 new members of the Fatah Central Committee called "more pragmatic than their predecessors" by The New York Times in April, 2009.
The U.S. did not, of course, create ISIS. The terrorist group—an offshoot of Al Qaeda—originated as the group
Jama'at al-Tawhid wa-l-Jihad in 2000, according to Aaron Zellin a researcher at the Washington Institute for Near East Policy.
A history of Zaki's statements reveal not just conspiratorial, but also violent and antisemitic thinking. According to MEMRI, Zaki has asserted "those Israelis have no religion and no principles. They are nothing but advanced tools for evil. They talk about the Holocaust and so on. So why are they doing this to us? Therefore, in my view, Allah will gather them so that we can kill them. Every killer is bound to be killed. There is no other option. …"
Dispossession if not genocide of the Jews of Israel—though the former without the latter is virtually impossible to imagine—which he has referred to as "the inspiring idea," long has been part of Zaki's thinking, as CAMERA has noted. In 2008, Zaki advocated Yasser Arafat's 1974 "phased plan" to destroy the Jewish state: "Let me tell you, when the ideology of Israel collapses, and we take, at least, Jerusalem, the Israeli ideology will collapse in its entirety, and we will begin to progress with our own ideology, Allah willing, and drive them [the Jews] out of all of Palestine."
The Fatah leader's conception of pragmatism was on full display in a Sept. 23, 2011 Al Jazeera broadcast in which he admonished, "If one says that one wants to wipe Israel out…C'mon, it's too difficult. It's not [acceptable] policy to say so. Don't say these things to the world. Keep it to yourself."
Zaki the rejectionist here lives up to The New York Times' definition of a "pragmatic" Palestinian leader: Highly immoderate, he advises expedient discretion in pursuit of extremist goals.--Sean Durns

Posted by ER at 12:16 PM | Comments (1)
Where's the Coverage? Arabic, Islamic Studies Expert Exposes BDS Dishonesty

Denis MacEoin earned a B.A. and an M.A. in English Language and Literature from Trinity College, Dublin, followed by a second 4-year M.A. in Persian, Arabic, and Islamic Studies from Edinburgh and a PhD in Persian/Islamic Studies from Cambridge (King's College). He has lectured in Arabic and Islamic Studies at Newcastle University, and written several academic books, numerous articles as well as reports on hate literature, Shari'a Law, and Islamic schools.
As an expert on Arabic and Islamic studies, fluent in Arabic and Persian languages, one might think that Dr. MacEoin's point of view on the Arab-Israeli conflict and its related controversies would get some coverage in the press. Well, not so much.
Dr. MacEoin sent a letter to the Executive Council of the National Union of Students (NUS), an umbrella organization representing 600 student unions across the UK, calling them to account for voting to boycott Israel. The NUS, which comprises 95% of higher and further education unions in the country, recently passed a motion to boycott Israeli companies and to affiliate to the Boycott, Divestment and Sanctions movement.
But none of the popular press has covered this important response. Dr. MacEoin writes:
The world you live in is upside-down: you claim to act in defense of human rights, but your motions do not reflect this. You give free passage to the worst abusers of human rights -- countries that persecute religious minorities, suppress and kill women, throw homosexuals from high roofs, execute hundreds of dissidents every year, imprison, torture and slaughter -- without rebuke. Yet you fulminate against Israel, which does none of those things. It does not use torture, it does not execute anyone, not even Palestinian terrorists who have committed mass murder against innocent civilians and children -- and all this while being forced to defend itself against more wars, more terrorist attacks, and more hatred than are suffered by the rest of the world combined.

[…]

Your prejudice is as appalling as your refusal to act fairly and honestly. Criticize Israel if you must, but at least learn that it does great good for mankind and that the best hope for the Palestinian people, with whom you express solidarity, does not lie in further acts of terrorism and warfare, nor in defiance of international legal norms, but in encouraging the paths to real peace: free speech for the Palestinians, and freedom from their own barren leaders, who hope to keep their jobs-for-life by deflecting blame for their own corrupt governance onto their neighbor. You could insist on their ending their incitement, which is only radicalizing the Palestinians to turn to the waiting arms of Hamas and ISIS. Why not encourage the Palestinians to accept Israel's frequent offers to help them actually build their infrastructure and economies?
More of the letter can be read on the Gatestone Institute Web site. It is worth reading. The media should read it. And, they should write about it. Where's the coverage?

Posted by SC at 12:02 PM | Comments (0)
June 16, 2015
Even in Describing Ministries, NY Times Treats Israel Differently
The New York Times will occasionally refer to government ministries in various countries. Nothing strange there. It's an internationally focused newspaper, and it covers, among other things, foreign governments.
But, as is so often the case, there is something strange about how the coverage looks when the subject of Israel comes up.
Let's consider some examples of how The New York Times has referenced government ministries responsible for conveying and controlling information. It won't be hard to notice the recent exception:
About Myanmar: "Photographs posted online by the Myanmar Ministry of Information showed scores of men crowded inside a wooden boat…" (May 23, 2015)

About Liberia: "The Information Ministry issued a statement saying… (March 21, 2015)

About India: "A senior official in the Information and Broadcasting Ministry denied…" (January 17, 2015)

About the PA: "The Palestinian Authority's Information Ministry issued a statement…" (September 28, 2009)

About Israel: "The government's ministry of Hasbara — responsible for what Israel calls public diplomacy and its critics call propaganda…" (June 15, 2015)
Myanmar, Liberia, India, and the Palestinian Authority each have their fair share of "critics," of course. Plenty have charged those countries with propaganda. So why are only Israel's critics given the opportunity to define, in disparaging terms, the country's efforts at communication and advocacy?
Note also that Robert Mackey, the author of the language about Israel above and perhaps the most biased journalist at the newspaper, refers to the (now defunct) Ministry of Public Diplomacy and Diaspora Affairs as the "ministry of Hasbara." The New York Times doesn't refer to India's ministry of Sujna, or the Palestinian ministry of El Yaalan. (Thanks Google Translate.) So why, when it comes to Israel, do we read about the capital-h Hasbara ministry?
Although hasbara is a Hebrew word that means, more or less, explanation, Israel's critics have taken to using it as a derisive word. For example, the anti-Israel and sometimes anti-Jewish website Mondoweiss called on readers to "Make 'hasbara' a household word," and insisted the word "describes a concerted form of propaganda that no one word in English captures."
It is no coincidence that the Mondoweiss piece focused largely on use of the word hasbara by none other than Robert Mackey. And this helps explains the Mackey's most recent use of the term. He knows his fellow-travelers would understand his use of the word as a negative. And he wants more people to see it that way. It is "thanks to Mackey," the Mondoweiss piece explained a year ago, that Americans will hopefully "start using the word hasbara with all its cynical implications." (One month after that Mondoweiss piece was published, Mackey referred to hasbara as "a Hebrew euphemism for propaganda.")
Every pro-Israel utterance should be suspected as inauthentic and malicious. That, Mondoweiss insists, is what hasbara means. It's a theme Mackey himself has worked hard to promote in the past, and as we can see, it's one that he continues to push.

Posted by GI at 02:13 PM | Comments (0)
AFP on 17 Slain 'Journalists,' 'No Terrorists Here'
June 17 Update: AFP Corrects Regarding 17 'Journalists' Killed in Gaza
June 16 -- In an article today about a short video produced by the Israeli Foreign Ministry mocking journalists' coverage of the war last summer between Israel and Hamas, Agence France Presse parrots Palestinian propaganda about journalists killed in the fighting ("Israel ministry video lashes out at foreign journalists"):
Some 17 journalists were killed covering the July-August Gaza war. . .
The AFP does not attribute this claim to any source. The influential wire service does not inform readers that the figure is a Palestinian (Hamas) claim, disputed by Israel, which maintains that eight of the 17 were Hamas and Palestinian Islamic Jihad terror operatives or were journalists who worked for Hamas media.

According to the Meir Amit Intelligence and Terrorism Information Center ("Examination of the Names of 17 Journalists and Media Personnel Whom the Palestinians Claim Were Killed in Operation Protective Edge," Feb. 11, 2015):
About a week after the end of Operation Protective Edge the Palestinian Journalists Syndicate issued a list of 17 names, allegedly of journalists who had been killed in [the summer 2014 Gaza] operation. The list was published by the PA's Wafa News Agency, which received it from the Hamas-controlled Gaza office of the ministry of information.
Among the Hamas operatives counted by the Palestinian sources as among the 17 journalists killed was Abdallah Fadel Mortaja, a military operative in the Shejaiya battalion of the Izz al-Din al-Qassam Brigades and a member of Hamas' "information office." In the YouTube clip below, he reads his last will in a Hamas produced video (uploaded Oct. 30, 2014).
UNESCO, which originally had identifed Murtaja as a "Palestinian journalist" in an Aug. 29 statement condemning his death, commendably followed up with this commendable Nov. 14, 2014 statement:


On 14 November, the Director-General of UNESCO, Irina Bokova, issued an update about the statement she issued on 29 August, 2014, regarding Abdullah Murtaja, in the context of UNESCO's mandate to defend freedom of expression and press freedom.

The original statement issued on 29 August was in line with UNESCO's policy of condemning all killings of journalists. During this week, information has been brought to the attention of UNESCO that Mr Murtaja was a member of an organized armed group -- an active combatant, and, therefore, not a civilian journalist. This has come to light in a video was posted recently on the Internet with Abdullah Murtaja speaking as a member of an organized armed group.

UNESCO therefore withdraws the statement of 29 August.

"I deplore attempts to instrumentalize the profession of journalists by combatants," declared Irina Bokova. "The civilian status of journalists is critical, especially in situations of conflict, to ensure the free flow of information and ideas that are essential to the wider public and the restoration of stability and peace," declared the Director-General.
Other "journalists" included in the list of 17 and exposed as Palestinian combatants include Ezat Salameh Doheir (shown below wearing an Islamic Jihad cap and holding an M-16 rifle) and Suleiman Muhammad Marouf (his death notice, issued by Islamic Jihad, follows the image of Doheir, and identifies him as a "jihad fighter shaheed.")
During the November 2012 conflict in Gaza, AFP steadfastly refused to retract a false Hamas propaganda claim which the agency had reported as fact, despite overwhelming evidence which prompted numerous other media outlets to correct.
CAMERA has asked AFP editors to publish a clarification making clear that though Hamas and the Palestinian Journalists Syndicate has asserted that 17 journalists were killed, their list includes the names of eight Hamas and Islamic Jihad combatants and operatives.
If AFP fails to issue a clarification, the quip by the apparently foreign journalist featured in the Israeli Foreign Ministry's video (below) criticizing media coverage -- "there are no terrorists here, just ordinary people" -- might have well been issued by the AFP bureau.
Posted by TS at 07:40 AM | Comments (0)
June 15, 2015
UN Human Rights Council Member Saudi Arabia Carries Out 100th Beheading This Year
Indonesian maid executed

The United Nations Human Rights Council has a well-documented obsession with Israel. With that in mind, it is interesting to note a news report on June 15, 2015 that the Kingdom of Saudi Arabia, which currently is a sitting member of the Human Rights Council, recorded its 100th beheading two weeks shy of the mid-year. Apparently, the Saudis are on a record pace. The majority of those decapitated are said to be murderers and drug offenders, however, apostasy is also listed as a capital offense. The executions are usually carried out in public.
Earlier this year, the Saudi practice of beheading those who commit serious crimes gained attention when two Indonesian maids were executed. Questions were raised as to whether the harsh sentences were meted out fairly or tended to be imposed on those with low societal standing.
Internet searches configured to discern the level of interest in the mainstream media for the Saudi beheadings will turn up only infrequent coverage by outlets like The New York Times or National Public Radio, who fervidly scrutinize any whiff of injustice allegedly committed by Israel.
Amnesty International, which monitors rights abuses in the Middle East, but tends to garner attention when it excoriates Israel for its policies and demands that Israelis be investigated for war crimes after the Jewish state responds forcefully to Hamas rocket attacks, is quoted in several news articles as stating that Saudi judicial proceedings "fall far short" of global norms of fairness.
Posted by SS at 01:28 PM | Comments (0)
June 11, 2015
Lieutenant General Michael Flynn's Sober Warning on Iran
Lieutenant General Michael Flynn (Retired- U.S. Army) testified on June 10, 2015 before the Joint Foreign Affairs and HASC subcommittees of the United States Congress on Iran. Flynn was the Director of the Defense Intelligence Agency from April 2012 to November 2014. The Defense Intelligence Agency (DIA) is a Department of Defense combat support agency.
Flynn's testimony on Iran is unequivocal. The picture he paints is one of an ominous and increasingly unstable future for the Middle East and for the world as a whole. The following are some selected quotes from his testimony:
Our closed, 20th Century bureaucratic system appears unable to adapt to the rapid and complex changes and threats we face in the 21st Century.
Iran has every intention to build a nuclear weapon. They have stated it many times, they have attempted well over a decade to move rapidly to nuclearizing its capability...
Iran's stated desire to destroy Israel is very real. Iran has not once contributed to the greater good of the security of the region.
The notion of "snap back" sanctions is fiction.
Iran's nuclear program has significant – and not fully disclosed – military dimensions. The P5+1 dialogue with Iran has glossed over a number of such programs (including warhead miniaturization blueprints) in pursuit of an agreement.
Iran possesses a substantial inventory of theater ballistic missiles capable of reaching as far as parts of southeastern Europe. Tehran is developing increasingly sophisticated missiles and improving the range and accuracy of its other missile systems. Iran is also acquiring advanced naval and aerospace capabilities, including naval mines, small but capable submarines, coastal defense cruise missile batteries, attack craft, anti-ship missiles, and armed unmanned aerial vehicles.
In his testimony Flynn recounts how monitoring the nuclear weapons development activities of North Korea and South Africa and Pakistan failed and he sees no likelihood that efforts to track the Iranian program will be any more successful.
What does a more proliferated region mean for US security? Pretty much, what Prime Minister Netanyahu predicted to Congress, which was we would see the end of the Non Proliferation Treaty for all intents and purposes.

What does this mean for Israel?
The worst-case scenario is a reversion to a pre-Yom Kippur War security environment, except with less restraint.
Finally, Flynn had some choice words for those foreign policy "realists" like Columbia University professor Kenneth Waltz who argue in favor of Iran possessing nuclear weapons, claiming that it might actually be a good thing, in a June 2012 article in Foreign Affairs magazine. Flynn commented,
Delusions abound these days, but anyone who can argue for an ICBM or nuclear capable Iran is more a pyromaniac than pragmatist.
Posted by SS at 10:50 AM | Comments (2)
June 10, 2015
NPR's Diane Rehm 'Likes' Facebook Neo-Nazi Claim
Now we know where National Public Radio's The Diane Rehm Show, or the host herself, gets research from—a neo-Nazi website.
In an interview with U.S. Senator Bernie Sanders (I-Vt.) on June 10, 2015 the radio show host suddenly asserted that Sanders held dual U.S.-Israeli citizenship.
Diane Rehm: Senator, you have dual citizenship with Israel.
Bernie Sanders: Well, no I do not have dual citizenship with Israel. I'm an American. I don't know where that question came from. I am an American citizen, and I have visited Israel on a couple of occasions. No, I'm an American citizen, period.
Rehm: I understand from a list we have gotten that you were on that list.
Sanders: No.
Although Sanders rebutted the claim—calling it "nonsense that goes on in the Internet"—Rehm persisted with an insinuation smacking of the classic antisemitic dual loyalty canard.
Rehm: Interesting. Are there members of Congress who do have dual citizenship or is that part of the fable?
Sanders: I honestly don't know but I have read that on the Internet. You know, my dad came to this country from Poland at the age of 17 without a nickel in his pocket. He loved this country. I am, you know, I got offended a little bit by that comment, and I know it's been on the Internet. I am obviously an American citizen and I do not have any dual citizenship.
Sanders correctly noted that one can read it "on the Internet." But where exactly?
As CAMERA documented, C-SPAN's Washington Journal program on May 22 featured an anti-Israeli, anti-Jewish caller making the same claim, along with two other phone-ins from the lunatic fringe essentially agreeing with her. This is typical for C-SPAN's Journal. But one caller traced this particular lunacy, as repeated June 10 by Rehm, to its source.
"Nancy from Toledo" claimed "Bernie Sanders has dual citizenship with Israel. What is wrong with that picture? What is wrong with that picture? Why are there so many people in Congress and the Senate that have dual citizenship? Why is [Sic.] there so many people in our government that has [Sic.] dual citizenship with Israel?"
Nancy also claimed the Sept. 11, 2001 al-Qaeda terrorists attacks on New York City's World Trade Center and The Pentagon in Washington, D.C. were part of a Jewish conspiracy. She noted that she "read that online. I think Counterpunch [a left-wing Web site] has it."
A later caller to the show, however, traced Counterpunch's source: "I found an article on a Nazi Web site called 'StormFront' and then lots of other sites quoting that information. So there is actually a Facebook page which talks about congressman with dual citizenship and what it does is just list random Jewish people [falsely] claiming that they hold dual citizenship."
Rehm, 2013's recipient of the Arab American of the Year award from the Arab American Community Center for Economic and Social Services, has exhibited anti-Israel bias in the past, documented by CAMERA. Knowingly or unknowingly, her staff—or Rehm herself, judging by her later apology to Sanders—gets "research" from neo-Nazi Web sites. Like "Nancy from Toledo," they "read it online."
Later in the day, Rehm issued an apology (to find it one initially had to click on Rehm's interview with Sanders on NPR's Web site, then scroll to the bottom. It has since been moved to the top, beneath the headline):
"On today's show, I made a mistake. Rather than asking Senator and Presidential Candidate Bernie Sanders whether he had dual U.S./Israeli citizenship, as I had read in a comment on Facebook, I stated it as fact.
"He corrected me, saying he did not know where the question came from. I apologized immediately. [Not "immediately"—she followed up by asking if other members of Congress were dual U.S.-Israeli nationals.]
"I want to apologize as well to all our listeners for having made an erroneous statement. I am sorry for the mistake. However, I am glad to play a role in putting this rumor to rest."
Sanders deserved Rehm's apology. For Rehm's listeners, however, it was not so much an apology as the latest warning: When it comes to Israel, and Jews, you can't believe everything you hear on NPR's The Diane Rehm Show.—by Sean Durns
Posted by ER at 06:33 PM | Comments (5)
June 09, 2015
New York Times, Washington Post Ignore Local Israel Celebrations
Celebrations of Israel's 67th anniversary occurred on May 31, 2015 in, among other places, New York City and Washington, D.C. Yet, readers of The New York Times or Washington Post could be forgiven if they had no clue—neither paper provided anything that could be called coverage of events that drew an estimated 30,000-40,000 in Manhattan and 6,500 at two separate Washington sites. The Times did run an Op-Ed questioning Israel's democracy ("Israel's Charade of Democracy," June 1, 2015) rather than cover the 51st annual "Salute to Israel Parade" in midtown Manhattan, celebrating the lone democracy in a region dominated by Islamic terrorism, upheaval and totalitarianism.
The Washington Post took note—if it can be called that—of Israel's 67th anniversary activities by featuring a black-and-white picture of an unidentified person at the New York parade holding an Israeli flag. The accompanying cutline read "People carry a giant Israeli national flag at the Israel Day Parade in Manhattan. The annual celebration drew thousands of supporters, as well as anti-Israel protesters." Meanwhile, in the Washington area, an estimated 2,500 people in Rockville, Md. and 4,000 in Fairfax, Va. attended twin "Israel-Fest" activities beneath The Post's radar.
While The New York Times ignored the city's annual "Celebrate Israel" parade, Mayor Bill de Blasio, Israeli Minister of Science Technology and Space Danny Danon, Grammy-award winning violinist Miri Ben-Ari and others attended.

The Times of Israel reported: "American and Israeli politicians joined 30,000 other people who marched up Manhattan's Fifth Avenue in a show of solidarity with Israel for the all-day event marking Israel's 67th birthday." Festivities in New York counted "some 35 organizations including the Israeli government, Nefesh B'Nefesh and the UJA Federation of New York, [which] sponsored this year's parade entitled 'Israel Imagines Peace.'"
Instead of reporting the celebration of one democracy by another, The New York Times chose to give space on its Op-Ed page to an anti-Israeli organization. The writer was Hagai El-Ad, executive director of the Israeli Information Center for Human Rights in the Occupied Territories, also known as B'Tselem.
B'Tselem, as CAMERA has noted, periodically manipulates facts and figures to malign Israel. NGO-Monitor charged that it also has disseminated propaganda from Hamas—a U.S.-listed terrorist organization—on civilian casualties in the summer 2014 Hamas-initiated war in the Gaza Strip. NGO-Monitor notes B'Tselem "has faced serious criticism for its misrepresentations of international law, inaccurate research, and skewed statistics."
In New York City, tens of thousands marched in or turned out to watch the "Salute to Israel" parade. In the nation's capital, thousands participated in two "Israel Fest" gatherings sponsored by the Jewish Federation of Greater Washington.
Yet neither The New York Times nor The Washington Post covered them—an omission most unlikely to have occurred had the celebrants been black, Native American, Muslim America, feminists, gay or representative of virtually any other racial, ethnic, national, religious or otherwise newsworthy group.
In the case of The New York Times any news coverage, neutral or positive, vanished in favor of an anti-Israel commentary from a highly questionable source.
Where was the coverage, and why was it missing?—by Sean Durns

Posted by ER at 02:51 PM | Comments (1)
New York Times Article on Removing Israel From "Grim" List Omits Crucial Information

An article appearing in The New York Times discusses the decision by United Nations Secretary General Ban Ki Moon to leave Israel and Hamas off a list of army and guerrillas groups that kill and maim children.
The article states,
The United Nations, in a separate report in April, found that Israeli military actions killed 44 Palestinian civilians who had sought refuge in seven schools run by the organization. The conflict left more than 2,200 Palestinians dead, while 72 were killed on the Israeli side, including 66 soldiers.

The war was a sharp escalation of tensions between Israel and the United Nations, which provides an array of services to the Palestinians in Gaza. United Nations officials said they had repeatedly communicated the locations of facilities harboring civilians to the Israeli military.
Crucial information is missing from this article that explains why Israel targeted certain schools. The separate report referenced in the article refers to an internal inquiry released on April 27, 2015. Here, in the report summary, is the crucial information contained in it that the Times article on June 9, 2015 left out:
It also said that weapons had not been found inside those United Nations schools, but rather in three other United Nations-run schools that were vacant at the time, that were used by Hamas militants to stash arms and that were "probably" sites from which rockets were fired at Israel.
So the Times article on June 9 does not inform readers that the United Nations confirmed that Hamas used schools to store munitions and launch rockets, albeit not the same ones the report notes were hit by Israeli fire. That is important information in trying to understand why Secretary General Ban chose to not include Israel on the "grim" list.
The entire inquiry report released on April 27, 2015 can be found here.
Posted by SS at 01:31 PM | Comments (0)
June 07, 2015
Haaretz Editorial & 'Errant' Rockets from Gaza
"Israel is busy maintaining the balance of terror with Hamas, which any errant rocket fired from the Gaza Strip could end. . . " begins the Haaretz editorial today ("Let the people of Gaza go").
The thing is, as reported in the news section of the very same newspaper, none of the recent rockets fired from Gaza at Israel were "errant." They were all intentionally targeting Israel.
As Haaretz today reports about the rockets that landed last night in the Hof Ashkelon Regional Council:
A Salafist group calling itself the Omar Brigades, which identifies with ISIS, claimed responsibility for the rocket fire on Twitter later Saturday night. The group said it would not abide by an informal truce agreed between Hamas and Israel after last summer's 50-day Gaza war, adding that that the rockets were a reminder to Hamas that Israel, not the Salafists, were "the enemy."
About last Wednesday's rockets, which reportedly landed in the Sdot Negev Regional Council, Haaretz reported last week:
A radical Islamist Salafist group posted a statement on Twitter claiming responsibility for firing the rockets, saying three rockets were fired. The group, calling itself the Omar Brigades, said the cross-border shooting on Wednesday was in retaliation for Hamas' killing of an Islamic state supporter a day earlier in Gaza."We are continuing with our jihad against the Jews, the enemies of God and no one will be able to deter us," the statement said, using the term in Arabic for holy war.
Regarding the Katyusha rocket fired May 27 at Gan Yavne, Haaretz's Amos Harel had reported:
Both Israeli defense officials and sources in Gaza provided identical explanations for what happened. The head of Islamic Jihad's military wing is currently trying to impose a new local commander on his men in northern Gaza. The field operatives oppose his appointment, and a violent conflict has erupted between the sides – one of which then decided to escalate it by launching a rocket at Israel.
Similarly, the story was much the same for the rocket fire on April 24, Israel's Independence Day. Haaretz reported:
Estimates are that the rocket fire at Israel reflects a power struggle in Gaza between Hamas and other factions.
In short, all of the rockets fired at Israel in recent weeks, without exception, were intentionally targeting Israel, and were not "errant," contrary to the Haaretz editorial.
In another sleight of hand, the editorial's reference to Israel's "balance of terror with Hamas" is equally deceptive. On the one hand, various terror organizations in Gaza violate the ceasefire by launching rockets indiscriminately at civilian populations. On the other hand, in each of the aforementioned incidents, Israel responded by bombing apparently empty buildings used by Hamas.
Posted by TS at 04:49 AM | Comments (0)
June 05, 2015
Debunking Old Lies: Focus on Tantura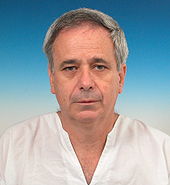 Ilan Pappé.
The Israel bashers are again cycling through their tired repertoire of long-discredited lies, aided by notorious anti-israel activist/University of Exeter professor, Ilan ["The struggle is about ideology, NOT about facts"]Pappé.
Yet again, the lie claiming that Israelis perpetrated a massacre of Arab residents of Tantura in 1948 is dredged up. Never mind that the originator of the lie was sued for libel. Never mind that he retracted his claims. Never mind that his sources denied his lies. It is a good enough lie for the famously dishonest Israel-bashing website Electronic Intifada and its frequent contributor Jonathan Cook to promote, resorting to a conspiracy theory of a cover-up by Israel and a vast network of its supporters , including CAMERA.
Let us re-examine the facts:
Theodore (Teddy) Katz, a kibbutznik and supporter of the left-wing Meretz party, submitted a Master's thesis in 1998 to the University of Haifa, alleging a previously unknown massacre by Israel's army had taken place in the Arab fishing village of Tantura during the1948 war. Purportedly based on testimonies he had gathered from 60 Tantura residents, Katz claimed that over 200 Arab villagers had been lined up and slaughtered by the IDF's 33rd battalion after surrendering on May 22-23, 1948.
In an apparent attempt to join the ranks of the post-Zionist "new historians" who professed to re-examine Israel's history and dispel what they claim are "Zionist myths" of heroism and bravery, Katz contacted journalists and television crews to try to publicize his story across the country. On Jan. 21, 2000, the Israeli daily Ma'ariv carried a five-page story by journalist Amir Gilat promulgating Katz's claims.
Having discovered they were publicly accused of war crimes in the pages of Israel's largest newspaper, veterans of the 33rd battalion of the Alexandroni Brigade were outraged. They maintained that the battle for Tantura was a strategic one, an attempt to stop the maritime smuggling of arms and food and to prevent the Haifa-Tel Aviv road from being cut off; and that throughout the fight for survival in a bloody war launched by the Arabs, they had maintained the strictest ethical standards. While the battle for Tantura was difficult – 14 members of the IDF battalion and about 40 Arabs were killed in street fighting – the veterans insisted Katz had lied about a massacre.
Indeed, they noted that by 10 a.m. on the morning of the alleged massacre, 99 percent of the villagers had already been transferred out of Tantura —the women to the nearby village of Faradis, and the fighters to the Zichron Ya'akov police station. In April 2000, attorney Giora Erdinast, a Peace Now activist and son-in-law of one of the battalion members, agreed to represent the veterans and filed a libel suit in Tel Aviv court against Teddy Katz. Katz reportedly received approximately $8,000 from former Palestinian Authority minister Faisal Husseini to pay for his defense.
During the December 2000 trial, attorney Erdinast discredited Katz's so-called evidence. For example, in his thesis Katz had quoted a central witness called Abu Fahmi saying that the IDF had rounded up villagers, lined them up against the walls and murdered them. Erdinast, having obtained a court order forcing Katz to hand over the tapes of his interviews, demonstrated that there were no such quotes. On the contrary, Abu Fahmi had repeatedly asserted that the IDF did not murder the villagers after they surrendered.
Confronted with many such gross discrepancies between the quotes in his thesis and the recorded interviews, Katz insisted under oath that he had been misunderstood and that he had never believed there was a massacre. Under court order, he later signed an apology and agreed to publish ads at his own expense publicizing his disavowal of the massacre claim. He wrote:
After checking and re-checking the evidence, I am now certain beyond any doubt that there is no basis at all for the allegation that after Tantura surrendered, there was any killing of residents by the Alexandroni Brigade, or any other fighting unit of the IDF. I would like to clarify that what I wrote was misunderstood, and that I did not mean to suggest that there had been a massacre in Tantura, nor do I believe that there ever was a massacre at Tantura..
But within a day, Katz recanted his apology, claiming that because he was in poor health he was pressured by his family to sign an apology in exchange for dropping the charges against him. He insisted now that he was "sure there was a massacre even if I can't know because I wasn't there." The judge refused to accept Katz's retraction, and his appeal to a higher court was similarly dismissed.
Meanwhile, University of Haifa appointed a committee to re-examine Katz's thesis. The committee discovered fabrications and distortions of quotes in Katz's work and disqualified the thesis, removing it from the university's bookshelves. Katz accepted the offer to revise his thesis, and resubmitted it in 2002 to five new university-appointed examiners, but the new, lengthier thesis did not receive passing grades; Katz was awarded a "non-research" degree.
Ilan Pappé, Katz's mentor and unofficial advisor – Katz's thesis director was Druze historian Kais Firro, but the work was dedicated to Pappé,"my teacher and friend" – made the student's case his cause de jour, insisting Katz's claims were true despite the discredited evidence. Feeding Palestinian eagerness to adopt the debunked "Tantura massacre" as part of their historical narrative, Pappé wrote an article for the Journal of Palestine Studies, expanding upon Katz's original claims and excoriating the Haifa university for not accepting "a solid and convincing piece of work whose essential validity is in no way marred by its shortcomings." Indeed, the introduction to Pappé's article stated:
Though the researcher, Teddy Katz, is himself a Zionist, the case sheds light on the extent to which mainstream Zionism is prepared to go in discouraging research that brings to the fore such aspects of the 1948 war as "ethnic cleansing."
Pappé then used his article to appeal to the international academic world to pressure University of Haifa to back down on the decision to disqualify Katz's thesis. Describing the work as the revelation of "one of the worst massacres in the war" in a letter to American and British historical and Middle Eastern societies, Pappé requested their intervention because "Israeli academics cannot find in themselves the courage to remain loyal to the basic rules of academic research and freedom."
This letter, as well as Pappé's public criticism and personal abuse of his colleagues, resulted in a formal complaint by University of Haifa's dean of humanities, Yossi Ben-Artzi, seeking Pappé's dismissal. Ben-Artzi emphasized that his complaint was "not a matter of freedom of speech or an attempt to attack Pappé for his anti-Zionist opinions" but rather "a matter of non-collegial, unethical and immoral conduct, lies, badmouthing, and impudence."
But, according to an official statement by the University of Haifa, despite Pappé's transgression of all common ethical standards of academic life ...Pappe was never summoned by the disciplinary committee as the committee's chairperson decided not to pursue the complaint. Moreover, and contrary to Dr. Pappe's claim, the university made no attempt to expel him.
Pappé does not pretend to objectively search out the truth. He admits that he is driven by ideology rather than facts. In his Journal of Palestine Studies article, he acknowledged that Teddy Katz was "well aware of the 'murkiness' of the picture derived from the memories of participants and survivors so long after traumatic events," that the student "was not interested in fine details," or "certainties about exact chronology and names and precise numbers." Pappé dismissed the need for such rigor when writing a historical thesis.
Nevertheless, the professor managed to mobilize an international community of Israel's detractors to penalize major academic institutions for pursuing the truth. In 2005, the British Association of University Teachers decided to boycott Israeli universities, based on Pappe's lies. This decision sparked a bitter internal debate and an international firestorm over the executive committee's kangaroo-court procedure and judgement. Worldwide criticism of the AUT's biased decision-making was so great that on May 26, 2005, just over a month after the original vote to boycott, the committee reconvened and rescinded its resolution.
Ten years later, Pappé continues to lie and disseminate his poison.
Posted by RH at 07:01 AM | Comments (2)
June 04, 2015
Touro Human Rights Institute Documents Legal Assault on Israel
Director of the Touro Institute on Human Rights of the Holocaust, Anne Bayefsky, and the team at Human Rights Voices, have created an online tool for educating the public, the media, advocates, and legislators, about every aspect of the UN's handling of the Gaza war and the forthcoming McGowan Davis/Schabas report. This is the opportunity to arm yourself with the facts, and with an understanding of the law, and prepare for battle -- against the legal pogrom that is now unfolding against the Jewish state.
The database on the UN's Legal Pogrom and McGowan Davis/Schabas report will be updated regularly.
Posted by GI at 10:38 AM | Comments (2)
June 03, 2015
Baltimore Sun Gives Islamic Circle a Free Pass
The Baltimore Sun's "Muslims work to dispel myths about Islam" (May 26, 2015) omitted important details regarding the Islamic Circle of North America (ICNA). Mentioning the organization's laudatory work helping victims of Baltimore's April riots as well as its upcoming convention, the paper failed to give readers key ICNA background.
Omitted by The Sun were ICNA's roots as a subsidiary of the Islamic Society of North America, itself a spin-off of the Muslim Brotherhood. The Egyptian-based, Sunni Brotherhood seeks to spread sharia (Islamic law) globally. Part of a network of groups stemming from the Brotherhood or its North American initiatives, ICNA originated in 1968 as an offshoot of the Islamist Muslim Student Association.
The Islamic Circle has a history of questionable associations and rhetoric ("Tablighi Jamaat: Jihad's Stealthy Legions," Middle East Quarterly, Winter, 2005). For example, in 2009, five young men from an ICNA Alexandria, Va. mosque were arrested in Pakistan for seeking to join the Pakistani Taliban. ICNA stated that "extremism has no place in Islam, and ICNA works tirelessly to oppose extremist and violent ideology." But the Anti-Defamation League termed ICNA's joint anti-extremism effort with MSA bogus.
If sincere, an ICNA anti-extremism campaign would have represented an about-face from the group's 1997 Southeastern Conference, which honored Lawrence Nicholas Thomas (also known as Jibril Abu-Adam)—a U.S. citizen and convert to Islam—for traveling to Pakistan and dying while fighting for Lashkar-e-Taiba ("ICNA's Search for Radicalism Should Start Within," Dec. 15, 2009, The Investigative Project on Terrorism). Lashkar-e-Taiba later was designated by the U.S. government as an al Qaeda support organization.
ICNA's rhetoric also has been troubling. A December, 1997 article in the group's magazine, The Message, glorified Abu Adam's decision to join the terrorist affiliate and exhorted others to follow his example. More recently, at a December 2010 joint conference with the Muslim American Society, ICNA featured several speakers who, according to the Anti-Defamation League (ADL), "made anti-Semitic and conspiratorial remarks, portraying Jews as a privileged group with undue power."
ADL also noted that a December, 2009 conference featured calls to destroy Israel ("Muslim-American Organizations' Anti-Radical Effort 'A Sham,' " Jan. 11, 2010, ADL). The writings of Anwar al-Awlaki—an American-born leader of al Qaeda in the Arabian Peninsula later killed by a U.S. drone strike—were featured at that conference along with speeches by Rafiq Jaber, former president of the Islamic Association of Palestine—an affiliate of Hamas, another U.S.-listed terror organization. Ra'ed Salah, the leader of Israel's Northern Branch of the Islamic Movement who served jail time in Israel for financing Hamas, was listed as a conference speaker although he apparently did not attend.
A convention of 20,000 people certainly was newsworthy. That being so, Sun coverage of the Islamic Circle of North America should have provided readers fuller disclosure of group's activities, associations and rhetoric.—by Sean Durns
(A shorter version of this SNAPSHOT was submitted to The Baltimore Sun as a letter to the editor but neither posted online nor published in the print edition.)
Posted by ER at 05:56 PM | Comments (0)
Haaretz Expunges Khader Adnan's Islamic Jihad Affiliation
Not for the first time, Haaretz whitewashes the violent past of a Palestinian prisoner.
The following prominent, four column, above the fold, stand alone Agence France Presse color photograph appears on page 2 of the English print edition today:
The accompanying caption reads:
The father of Khader Adnan, a Palestinian prisoner who is on a hunger strike in protest over his detention without trial, sits next to a framed poster of his son in the West Bank village of Araba, near Jenin, yesterday.
Haaretz's caption includes no mention of Khader Adnan's senior position in Islamic Jihad, a designated terror organization, although the original AFP caption (below) did specify Adnan's affiliation.
The original AFP caption states:
The father of Palestinian prisoner Khader Adnan, a senior member of Islamic Jihad who is jailed in Israel, sits next to a framed poster of his son inside his house in the West Bank village of Araba, near Jenin, on June 2, 2015. Adnan has been on hunger strike for nearly 28 days to protest against his detention without trial. (Emphasis added.)
There is room on the Haaretz page for the additional six words ("a senior member of Islamic Jihad"), which are essential to the story, but an editor at Haaretz made the deliberate decision to strike them.
Posted by TS at 02:57 AM | Comments (0)
June 02, 2015
Christ at the Checkpoint Activists Equate Israel with ISIS in Video
In a publicity video produced in March to publicize a July 2015 gathering of young adults under the rubric of the Christ at the Checkpoint movement, filmmakers have juxtaposed the victims of ISIS who have been set on fire and decapitated with Palestinians going through a checkpoint.
They have also juxtaposed the ISIS flag with the Israeli flag.
If you watch the video (which is located beneath the jump and is not for the faint of heart), you'll see horrific images of the Jordanian Air Force pilot standing behind metal bars as he is being set on fire followed by images of Palestinians walking through a checkpoint, which itself is comprised of metal bars.
The inference that the viewer is encouraged to draw is that there is a connection between the plight of the Jordanian pilot stuck in a cage, about to be set on fire, and the Palestinians going through a checkpoint.
The same video also juxtaposes ISIS fighters driving down the road and through the streets of a city (flying the easily recognizable ISIS flag) with images of a vehicle flying an Israeli flag as it travels away from the camera.
The implications presented to readers are that the plight of the Palestinians is somehow similar to that of the Jordanian pilot who was set on fire and that there is a meaningful similarity between support for ISIS and support for the Jewish state.
Neither of these messages is supported by the facts, but that's what the filmmakers who made this video would have viewers believe.
The video ends with a summons for the viewers, who are presumably young Palestinians, to attend an upcoming conference that will take place during July 16-18, 2015.
The Christ at the Checkpoint movement, supported by Christians associated with Bethlehem Bible College in the West Bank, is well-known for its efforts to demonize the Jewish state, but this video is a new low.
Click the "Continue Reading" link below to see the video, but again, it's not for the faint of heart.

Posted by dvz at 04:30 PM | Comments (0)