« The Iran Nuclear Deal: What the NY Times Needs to Know | Main | Civil-Rights Veteran Slams the Anti-Israel 'Jim Crow' Smear »
April 29, 2015
Where's the Coverage? Israel Sent More Manpower Nepal than Nearly Any Other Country

Israel frequently sends aid teams to countries hit by natural disasters such as post-earthquake Haiti and tsunami-stricken Japan. Nepal is no different. The Times of Israel reports:
Israel's aid team to the earthquake-battered Himalayan nation of Nepal is one of the largest in manpower of any international aid mission.

Over 250 doctors and rescue personnel were part of an IDF delegation that landed Tuesday in the Nepalese capital, Kathmandu, in the wake of Saturday's magnitude-7.8 earthquake that devastated large swaths of the mountainous country, killing at least 5,000 and leaving some 8,000 wounded and tens of thousands seeking shelter and food.

The Israeli group set up a field hospital with 60 beds that began operations on Wednesday in coordination with the local army hospital.
By comparison, according to the BBC, the United Kingdom has sent "a team of more than 60 search and rescue responders and medical experts" and Time magazine reports that the United States is sending "about 70 American personnel". Remember, Israel has a population of approximately 8 million. The United States is a nation of roughly 350 million. In that context, the magnitude of Israel's efforts is even more staggering.
But instead of lauding Israel's extraordinary response to Nepal's distress, the mainstream media seeks to cast Israel in a bad light, highlighting of all things the fact that a number of Israeli couples employ Nepalese women as surrogate mothers to carry their children. A Time magazine headline states that "Israel Evacuates Surrogate Babies From Nepal but Leaves the Mothers Behind" although, if a reader managed to make it to the sixth paragraph of the article, he would read that, of the women in Nepal still carrying Israeli babies:
The Israeli Attorney General Yehuda Weinstein said he would allow the most heavily pregnant to be flown to Israel to give birth and outgoing Interior Minister Gilad Erdan promised to remove immigration hurdles for the rest.
Newsweek also chose to highlight the surrogacy issue with its article, "Israel Evacuating Babies Born to Surrogate Mothers in Nepal" as did UPI with "Israel evacuates surrogate babies and their Israeli parents but left behind expectant mothers".
Worse still, instead of clebrating Israel's herculean humanitarian efforts in a country half way around the world, as someone who cares about those in need would be expected to do, the executive director of Human Rights Watch, Kenneth Roth, actually tweeted, "Easier to address a far-away humanitarian disaster than the nearby one of Israel's making in Gaza. End the blockade!"
And here's something else interesting that the media chooses to completely ignore: the commander of Israel's field hospital in Nepal is a Druze, IDF Colonel Dr. Tarif Bader.
To keep abreast of Israel's aid efforts in Nepal, follow Libby Weiss, the Head of the IDF Spokesperson's North American Media Desk, on Twitter. You certainly won't hear about it from the popular press because… Where's the coverage?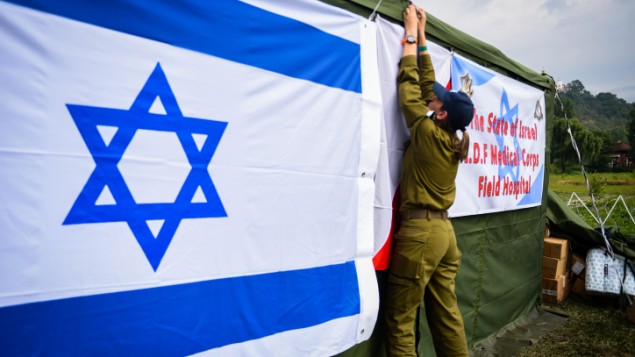 Israeli soldiers set up a field hospital together with the Nepalese army in Nepal following the deadly earthquake on April 29, 2015. (IDF Spokesperson)
May 4 Correction:Based on erroneous information provided by Times of Israel, and incomplete information provided by CNN, this post had originally reported incorrectly that Israel provided the most manpower out of any country for the aid operation in Nepal. In fact, India provided more manpower than Israel. We regret the error.
Posted by SC at April 29, 2015 05:40 PM
Comments
Israel sent the SECOND largest. India was the largest.
Posted by: cba at April 30, 2015 04:57 AM
There at Nepal have another mothers and kids. Why other country like Iran don't send rescuer .For Tame and other find why blame Israel

Posted by: Riji Michael at April 30, 2015 08:41 AM
The Time Magazine article (Jewish author--Deborah Kamin) is blatantly selective and critical. The Newsweek article is better--clearly mentions BOTH the surrogacy issue and the large Israeli rescue mission. NPR as usual made no mention of Israel's humanitarian mission, but what do you expect from such a biased network??
Posted by: Anonymous at April 30, 2015 12:36 PM
Everyone shod contact these sources that print or broadcast anti-israel stories to correct them .
Posted by: Robert Cohen at April 30, 2015 03:16 PM
Your headline is inaccurate (although the content is correct). India sent the largest delegation, numbering 300.
Please let's keep it accurate! Our achievements are amazing, there's no need to undermine our credibility with easily disprovable claims.
Thanks and שבת שלום
Posted by: cba at May 1, 2015 05:49 AM
We owe our Men & Women a debt of gratitude and they are in Harms way possibly facing additional aftershocks and danger from collapsing structures. Unfortunately we will always have the Ken Rothschild of the World to detract from the goodness that we do. It's just odd and a shame the misnomer Human Rights Watch that he is the Executive Officer. It's plain to see that both are not what they purport to be!
Posted by: Jack HOLAN at May 1, 2015 07:02 AM
The "humanitarian disaster" is made by the Arab League as was the 1948 expulsion of 865,000 Mizrahi Jews from ten Arab League member states. Where are all the lands stolen from the Jews?
Posted by: Emanuel Lombard at May 1, 2015 08:37 AM
Israel is clearly attempting to Quake Wash!
Posted by: Robert at May 1, 2015 10:07 AM
And Canada probably sent a broken down Sea King....
Posted by: R Spiro at May 1, 2015 06:59 PM
Can you include for comparison NGO contingents.
For example, the antisemitic Oxfam does a lot of bragging on their natural disaster responses in a general way but their own website carefully avoids disclosing the size of their Nepal operation (though they have a lot of photos of water tanks they claim to be erecting).
Posted by: wsg at May 2, 2015 05:00 PM
Guidelines for posting
This is a moderated blog. We will not post comments that include racism, bigotry, threats, or factually inaccurate material.
Post a comment